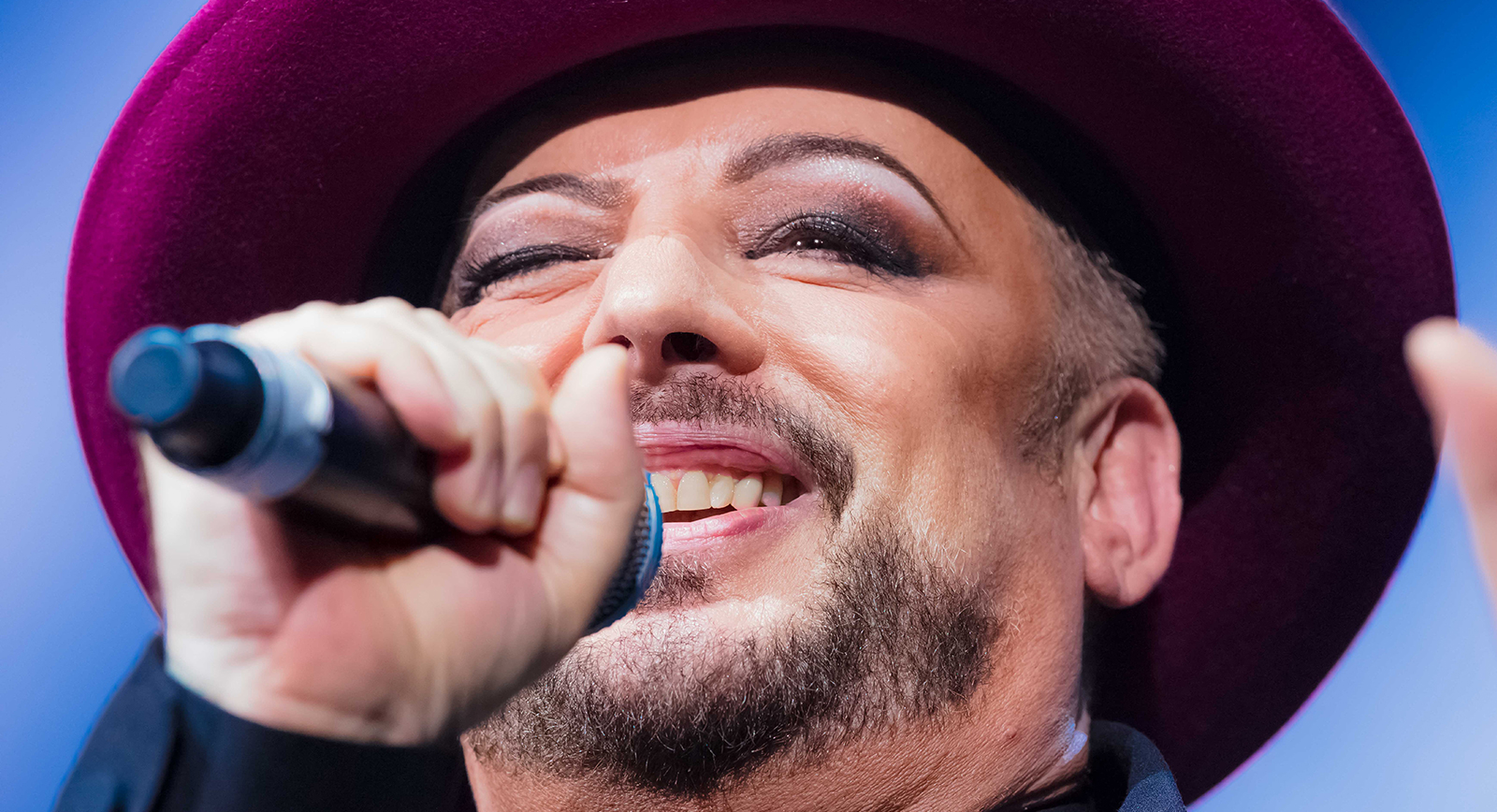 "It's lovely to be here celebrating beautiful memories"… Boy George in one of his asides during his headlining performance at the inaugural "iHeart80s Birthday Bash" live concert event at SAP Center in San Jose.  The special show on Saturday night featured Boy George, Tiffany, The Romantics, A Flock Of Seagulls, Farrington & Mann of the Original When In Rome UK, Tommy Tutone, Animotion and Nu Shooz, with former original MTV VJ Martha Quinn hosting along with radio personalities Christie James and Morris Knight.  It was really a stellar show with end to end 80s-era hits and hitmakers putting on non-stop entertainment for four hours.
What: iHeart80s Birthday Bash
Who: Boy George
Who: Tiffany
Who: The Romantics
Who: A Flock of Seagulls
Who: Animotion
Who: Tommy Tutone
Who: Farrington And Mann: Original Members of When In Rome UK
Who: Nu Shooz
Host: Martha Quinn
Venue: SAP Center
Where: San Jose, California
Promoter: Pacific Concert Group & iHeartMedia
When: August 26, 2017
Seating: (photo pass)
iHeartMedia San Francisco's iHeart80s @ 103.7 is hosted their first massive 80s music event at SAP Center in San Jose. 
iHeart80s launched in June 2016 as "the first-ever iHeartRadio-branded FM broadcast station and features music from the most beloved icons of the decade. The '80s dedicated station is a broadcast extension of the popular iHeart80s station on iHeartRadio, the all-in-one streaming music, podcasting and live digital radio service".
With so many artists performing in one event, the first five sets ran about 20 minutes each, with The Romantics and Tiffany going for about 30 minutes each and then Boy George going maybe a bit longer before hitting the hard curfew of 11:45.
The whole presentation put on by Pacific Concert Group was pretty flawless throughout, with quick changes to the stage set up to accommodate each artist.  SAP Center is huge, and the place was just packed with fans of 80s music, a real testament to the love for the artists and their music and the excellent promotion by iHeart80s radio.
It was very cool to see host Martha Quinn introducing a lot of the artists, as I grew up on MTV.  I remember my first exposure to MTV in the very beginning via family trips to Lake Tahoe – we would stay in these little hotels and they would boast HBO and MTV.  Me and my sister would sit in front of the TV for hours watching all those videos and the original MTV VJs.  Then eventually getting cable television for our home it was like being in heaven, tuning into MTV every day and watching all those now classic videos debut for the first time.
DJ Scotty Fox did an awesome job bridging all the sets with favorite tunes from the 80s in a massive megamix.
Note: I wasn't the photographer on the stage – I was discreetly taking photos from the pit below the front of the stage.
Below are some photos of the venue and hosts for the evening (scroll downward and photos will begin to appear – click any image to open a virtual lightroom with higher resolution versions of each photo):
Nu Shooz
Formed in 1979 with a dozen members, the Portland, Oregon group did not find mainstream recognition until they released "I Can't Wait" as a single in 1986, off their third studio album, Poolside, which went gold in the U.S. selling half a million copies.
The story of their success with that single is one of those interesting stories that you couldn't make up, actually coming off their second album and getting some play on local radio, but it wasn't until someone in the Netherlands got a hold of it and remixed it that they got a major label willing to sign them.
Nu Shooz, fronted by husband and wife founders John Smith and Valerie Day, were nominated for Best New Artist for the 1987 Grammy Awards.
I'd seen them a few times now in the past few years and love watching them perform – they are so fun and always sound amazing.  And as you'll see from John's footware in the photos that follow,  they are true to the Pacific Northwest culture!
Valerie Day does her thing on vocals while John Smith plays those catchy guitar riffs along with backing vocals.
They did an awesome job getting the audience pumped for an evening of 80s music.
Their latest album is Bagtown and you can get all the details about that on their official site: LINK
They are so much fun and I love their music style and they just seem so down to Earth.
Below are some photos of Nu Shooz performing on stage (scroll downward and photos will begin to appear – click any image to open a virtual lightroom with higher resolution versions of each photo):
Farrington And Mann: Original Members of When In Rome UK
As mentioned in the past, I've been a big supporter and friend to Clive Farrington of When In Rome over the years, and this marked the second time I've gotten to see him perform with Andrew Mann on vocals was well.
With this version of the band, Clive and Andrew brought along Francisco Pancho Burgos Goizueta on keyboards, which I didn't realize until I bumped into them backstage in the afternoon.  Francisco is such a talent – I met him a few years ago rehearing with Clive and came away very impressed.  Plus he's such a kind guy.
The band When in Rome originally formed in 1987, and had broken up by 1990. In that time, they had released just the one eponymous album, which included the huge pop hit, "The Promise", which has proven to be one of the most enduring and decade-defining songs of the 80s.
I've seen Clive perform many times, but he always seems to change things up each show, and it's really cool to see him and Andrew perform together and share the vocals.
By the time they worked up to "The Promise", the crowd went wild for their set.  They were really on point and sounded amazing!
Below are some photos of Farrington And Man performing on stage (scroll downward and photos will begin to appear – click any image to open a virtual lightroom with higher resolution versions of each photo):
Tommy Tutone
Tommy Tutone is fronted by Tommy Heath, best known for the huge 80s hit, "867-5309/Jenny".
The band was originally formed as Tommy and the Tu-tones in 1978 with Heath (lead vocals and rhythm guitar) and Jim Keller (lead guitar and backing vocals), but it evolved to Tommy Tutone.
When I saw Tommy perform last year, he did a solo acoustic set, but this year had had a band and it was a very different performance but very cool to get the full effect.
Below are some photos of Tommy Tutone performing on stage (scroll downward and photos will begin to appear – click any image to open a virtual lightroom with higher resolution versions of each photo):
Animotion
Today, founding members and lead vocalist Astrid Plane and lead vocalist and guitarist Bill Wadhams represents the band, which was originally formed in 1983. They released their debut album in 1985, which featured the biggest hit and most well-known song, "Obsession".
Bill's son Chris now plays bass guitar for the band, going on several years now. Some of the other members from the past still perform with them, like Don Kirkpatrick and Greg Smith.
As in the past, I thoroughly enjoyed their set and especially their live performance for "Obsession", one of my all-time favorite songs.
You can check out all new music from them on their official website at www.animotion-obsession.com.
They put on an awesome set and really capture the spirit of what they started so long ago.
Below are some photos of Animotion performing on stage (scroll downward and photos will begin to appear – click any image to open a virtual lightroom with higher resolution versions of each photo):
A Flock of Seagulls
The New Wave band was formed in Liverpool, England in 1979 by brother Mike Score (vocals, keyboards, guitar) and Ali Score (drums).  After filling out the band, they found their greatest success with two singles off of their eponymous album released in 1982 with the aforementioned "I Ran" and "Space Age Love Song".
The video had tremendous rotation on MTV, and the unique style and irreverent presentation, along with the distinct style (and now infamous "Flock of Seagulls" hairstyle) launched them into the pop culture lexicon on many fronts.  The band, the sound, and the images were synonymous with the 80s.
The band was really cutting edge from the start, and maybe more than people appreciated until many years later, and obviously was a huge influence on many bands that followed.  In a short time, they had a huge impact on the music scene and direction of music in the 80s.
Mike Score has been touring as "Flock of Seagulls" for years, with a very capable band of new members who do the music justice – they sound great.
Mike Score released his own debut album, Zeebratta, in 2014.
These guys always put on such a great set and I think a lot of my generation hold a special place in their heart for A Flock of Seagulls.  Pure 80s.
Below are some photos of A Flock of Seagulls performing on stage (scroll downward and photos will begin to appear – click any image to open a virtual lightroom with higher resolution versions of each photo):
The Romantics
First off, there is an excellent biography about The Romantics on their own website – worth checking out here.
One unfamiliar with their origins, listening to them, might mistake them for a British band, based on the style of their music, but they are actually from Detroit, Michigan.  The formed on Valentine's Day in 1977, and have obvious influences (not just in sound but, at the time and even now, in dress and style) from the 60's British Invasion was well as punk.
Current members of the band include Wally Palmar (front man, singer, guitar, harmonica), Mike Skill (bass, vocals), Coz Canler (lead guitar, vocals), and Brad Elvis (drums, percussion).
"What I Like About You" was there first big hit was off their debut self-titled album.  Their most successful album, In Heat, was released in 1983, which included "Talking In Your Sleep".
As noted, I am a huge fan of 80s music, particularly modern rock/new wave music, and "Talking In Your Sleep", for me, is such a classic song, with an awesome hooky guitar riff that just screams early 80s for me.
They sounded amazing at this show and I'd really love to see them do a full headlining show – they are just soooo stellar in live form at this show.
Below are some photos of The Romantics performing on stage (scroll downward and photos will begin to appear – click any image to open a virtual lightroom with higher resolution versions of each photo):
Tiffany
Tiffany is the one artist for this event that I'd never seen live in concert before.  I am old enough (44) to have seen her crazy rise to fame with her 1987 cover of Tommy James and the Shondells' "I Think We're Alone Now".
Tiffany Darwish did a shopping mall tour and also found success with a cover of The Beatles' "I Saw Her Standing There".
She actually appeared on Star Search back in 1984, before her #1 charting achievement with "I Think We're Alone Now".  She also hired New Kids on the Block to open for her prior to that group really exploding in popularity.  So in many ways she was a pioneer in teen artists and teen bands blowing up with their peers as well as singing competition shows that came much, much later like American Idol.
She has been prolific with new music and appearances in various television shows over the years, and her most recent album was 2016's A Million Miles.
Below are some photos of Tiffany performing on stage (scroll downward and photos will begin to appear – click any image to open a virtual lightroom with higher resolution versions of each photo):
Boy George
"We don't need technology!"
Boy George's set encountered a problem before it even began on Saturday night.  With a streamlined band consisting of long-time collaborators Kevan Frost (percussion) and John Themis (guitar), some of the backing tracks did not start up as planned.  Unfazed, Boy George just started the song anyway, semi-acoustic.  It was actually quite a brilliant rendition of Karma Chameleon, and somehow the unplanned became really special.  Filling out the group were two young women with amazing vocals (though I could only track down one of their names – Karina Fernandez – please contact me if you know the other vocalists name so I can update with proper credit).
More from Boy George early in his set:
I try not to get stuck in any decade because really without the 70s and the 60s there wouldn't be the 80s and so on and so on.  It's all connected… I learned to be who I am definitely during the 70s.  And after what just happened, I can predict that things will go wrong.  But the best thing you can hope from any obstacles… there are some beautiful moments.  That I will try to deliver.  I think this one's called "It's A Miracle".
I know from his show with Culture Club that I covered last year, Boy George is always introspective and thoughtful with his comments in-between songs, connecting with the audience not only through his music, but ideas and philosophy:
You know, songs… music is a wonderful, wonderful thing.  I mean, here we are in this massive room.  Most of us probably have very different opinions about everything.  But the one thing that brings us together…  The wonderful thing about music is that it unites us all in the moment and helps us to forget all the bullshit in the world.  Remember, you are what you think, so try and think positive.  And if you give me everything, I'll try to give you everything I am too.
He is also very grateful for his life, and open and vocal about his appreciation for his place in life:
You know we do this a lot.  This is the best job in the world.  How many people get up every day and get to do the thing they love?  There's loads of crazy people.  Yeah you!  Boy George is a sexpot.  Okay.  I'm not called that very often but I'll take it.
I've mentioned in past articles (Boy George solo as well as Culture Club) that Culture Club put out one of the first cassette tapes I ever bought…
I actually remember literally as if it were yesterday buying Colour By Numbers at Gemco or Gold Circle (think early 80s version of Target).  I remember the record department and talking my mom into buying it for me, at 10 years old (circa 1983).  I became aware of Culture Club via MTV and Casey Kasem's "American Top 40" radio station.  I would record the songs off the airwaves onto tape, but the idea of owning the whole album took me over.  That year I bought my first three albums…  the other two being Michael Jackson's Thriller and Duran Duran's Seven and the Ragged Tiger.  That is how it all started for me.  And why I do this website and take these photos and write about these artists… my way of giving a little back for all that they've given me.  But it's funny because at 10 years old I didn't really understand what Culture Club's music was about (or what Boy George was about for that matter), but I just loved the music.  It was all so happy and catchy.
Boy George (born George Alan O'Dowd) was truly one of the most unique individuals of the early 80s, and that is saying quite a bit, as it was a time in which there was a lot going on in music, fashion, and politics.
Culture Club found significant critical and popular success with its first two albums, which served to fuse a lot of different musical styles including pop, reggae, soul, blues, and more…  and it was imported from England into the U.S. along with the broader New Wave movement, though it was kind of in a class all it's own, with a very unique style and sensibility.
Of course, all of it was famously intertwined with Boy George and his persona, which was given even more of a showcase with the explosion of popularity with music videos, thanks to MTV.  Part of the reason behind that second British invasion and the New Wave was simply because music videos were something that got going in the UK first, and MTV needed something to play…  obviously it had a massive impact on the direction of popular music world wide as a result.
Prior to the formation of Culture Club, Boy George performed with Bow Wow Wow (who were former members of Adam and the Ants and a creation of Malcolm McLaren), but he was not a member of that band.
Culture Club was formed in 1981 with Boy George on vocals, Roy Hay on guitar and keyboards, Mikey Craig on bass, and Jon Moss on drums and percussion.  They found the most success with their first two albums: 1982's Kissing to Be Clever and 1983's Colour by Numbers.
Kissing to Be Clever had massive hits with "Do You Really Want To Hurt Me?", though "Time (Clock of the Heart)" charted even higher in the U.S. at #2 (the former went to #14).  "I'll Tumble 4 Ya" subsequently cracked the U.S. Top 10 as well.
"I'll Tumble 4 Ya" is just pure Culture Club.  That reggae and island sound and instantly catchy chorus…  They knew who they were from the start.  That signature sound.
For me, "Do You Really Want To Hurt Me?"…  Hands down, their best song.  Hands down one of the best songs of the era.  It doesn't get much better than this.  It still gives me a chill down my spine to this day.
Just a year later, Colour by Numbers had the crazy hot single "Karma Chameleon" as well as "Church of the Poison Mind", "Victims", "Miss Me Blind", and "It's a Miracle".  If not for Michael Jackson's unstoppable Thriller, Culture Club's sophomore album would not have hit a wall at #2 on the charts for six weeks straight.
Looking back, "Karma Chameleon" is an even more perplexing song today.  Super catchy, and very Culture Club, but it sounds like Englishmen doing American Country.  The plucky guitar and harmonica really put out that folksy, country vibe.
"It's A Miracle" is more of a straight pop song with a slight island tweak.
"Church Of The Poison Mind" to me sounds a bit like less intense and happy Eurythmics – I absolutely LOVE the female vocals in this song – it really takes it to another level.
Never released as a single, "That's The Way (I'm Only Trying To Help You)" is absolutely one of my favorite Culture Club songs, and it's such a perfect companion piece to "Church Of The Poison Mind".  Beautiful and brilliant.  And those female vocals – oh my God!
"Miss Me Blind" to me is maybe their most New Wave song, with the funky guitar and infectious chorus and more traditional structure; it also does not have that strong reggae foundation nor some of the other Culture Club traits like the strong horns.
After early success, Culture Club fell apart for a variety of reasons, and the band came to an end circa 1986.
But the band have not written their last song…  they announced a new album – Tribes – though no release date has been scheduled, it has been in the works for about three years.
Boy George has had a successful solo career, and he continues to make incredible music.  So for those who are only interested in the early hits of Culture Club, you are truly missing out.  He has a fantastic voice and complex soul with a lot to say about the world.
This show on Saturday night was quite different from my other Boy George shows.  All have been wonderful, but this one felt a little more intimate, in spite of the massive venue and thousands in attendance.  Especially cool was the series of covers they performed, from Bread's "Everything I Own" to "Sweet Dreams (Are Made of This)" by Eurythmics and Soft Cell's "Tainted Love".
All in all, a spectacular showing and what a way to end an incredible celebration of 80s music.  But more than anything, I just really love and respect Boy George as a public figure.  He's been such a trailblazer and lived such a fascinating life, and he just has such a stellar attitude and has grown to be a kind of elder statesman, but while retaining a youthful energy and attitude, and still looks fantastic.
Setlist:
Karma Chameleon
It's A Miracle
I'll Tumble 4 U
Time (Clock of the Heart)
Everything I Own (Bread cover)
Sweet Dreams (Are Made of This) (Eurythmics cover)
Tainted Love (Soft Cell cover)
Do You Really Want To Hurt Me
Miss Me Blind
Purple Rain
Bang a Gong (Get It On) (T. Rex cover)
Fly Me To The Moon (Frank Sinatra cover)
Below are some photos of Boy George performing on stage (scroll downward and photos will begin to appear – click any image to open a virtual lightroom with higher resolution versions of each photo):
Jason DeBord