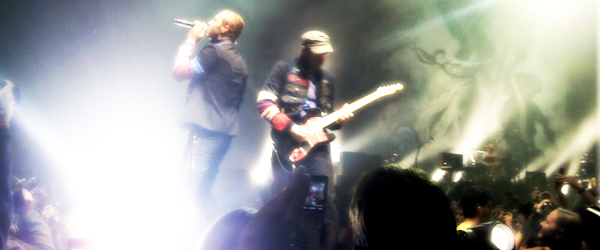 As reported two weeks ago, Grammy Award-winning rock band Coldplay offered memorabilia for auction for their "End of Decade Clearout Sale", with auctions having ended Monday through today, New Year's Eve. The instruments, wardrobe, and other memorabilia items auctioned on eBay raised over $400,000 for their designated charity, "Kids Company".
PLEASE NOTE:  This article first appeared in different form on the Original Prop Blog (click here for original), and has been copied to the Rock Subculture Journal after the fact.
Items offered at auction covered each of Coldplay's albums and performances from each era, including Parachutes, A Rush of Blood to the Head, X&Y, and the latest Viva La Vida or Death and All His Friends.
Below is a link to the 52-page auction catalog (PDF format):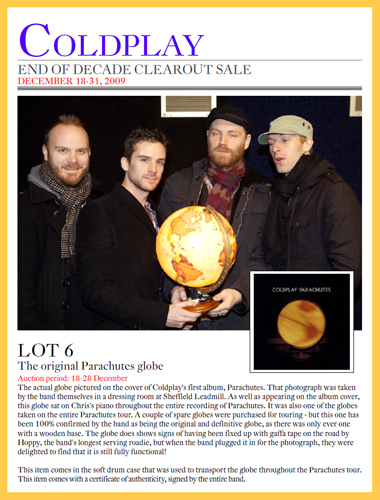 Included in the sale were instruments used in studio to record albums, in live concerts, and in videos, as well as other memorabilia and autographed lithographs. Items include certificates of authenticity signed by all four members of Coldplay – Chris Martin (lead vocals, keyboards, guitar), Jonny Buckland (lead guitar), Guy Berryman (bass guitar), and Will Champion (drums, backing vocals, other instruments).
The pieces that realized the highest values were the guitars that were custom painted for the Viva La Vida album and tour, which all ended on the final auction day today, with Jonny Buckland's "Viva" Fender '72 Thinline Telecaster realizing over $24,000 and Chris Martin's four painted Gibson's selling fetching approximately $20,000, $20,000, $16,000, and $16,000 each. Chris Martin's tour jacket sold for nearly $20,000 and his painted Vox Teardrop guitar realized $13,000. On the opening day of the sale, Chris Martin's first guitar sold for $13,000 and the original light-up globe that is featured on the Parachutes album cover sold for the same.

Key instruments used for the Viva La Vida tour will continue to be used by the band through mid-March 2010 while they finish their last dates in Latin America.
There were also some incredible bargains sprinkled throughout the sale, such as Lot 7, Chris Martin's old acoustic amp, which is clearly seen throughout their "Shiver" video with "COLDPLAY" sprayed over the side – this sold for about $1,700 – less than many of the limited lithographs.

Also selling for a relatively reasonable amount were Lots 8 & 9 – pianos/keyboards used early in the band's career going for just $6,400 and $4,000 respectively. These two pieces were listed on eBay.co.uk only, due to the "pick-up only" stipulation due to their size.
Below is a list of the prices realized at auction for all items, sorted by price from highest to lowest in U.S. dollars (the $16.01 Lithographs were special "Buy It Now" listings to reward fans):
$24,015.75 Coldplay EODCS Lot 39: Jonny's Viva Thinline '72 Tele
$20,413.39 Coldplay EODCS Lot 43: Chris's Gibson Blues King spare1
$19,372.71 Coldplay EODCS Lot 40: Chris's Gibson Blues King
$19,212.60 Coldplay EODCS Lot 46: Chris's Viva tour jacket
$16,090.55 Coldplay EODCS Lot 41: Chris's Gibson Blues King 3
$16,010.50 Coldplay EODCS Lot 44: Chris's Gibson Blues King spare2
$13,000.53 Coldplay EODCS Lot 33: Chris's white Vox Teardrop
$12,968.51 Coldplay EODCS Lot 1: Chris Martin's first ever guitar!
$12,968.51 Coldplay EODCS Lot 6: The original Parachutes globe
$10,566.93 Coldplay EODCS Lot 50: Jonny's Telecaster """"42″""""
$9,766.41 Coldplay EODCS Lot 52: Chris's Strawberry Swing outfit
$9,286.09 Coldplay EODCS Lot 3: Chris's Takamine acoustic guitar
$9,045.93 Coldplay EODCS Lot 32: Chris's Gibson J200 M1 guitar
$8,325.46 Coldplay EODCS Lot 51: Jonny's Fender '72 Tele Thinline
$8,165.36 Coldplay EODCS Lot 31: Chris's Gibson J200 acoustic KC1
$7,685.04 Coldplay EODCS Lot 46: Guy's Viva tour jacket
$6,964.57 Coldplay EODCS Lot 46: Jonny's Viva tour jacket
$6,804.46 Coldplay EODCS Lot 2: Guy's Blue Rickenbacker 4001 bass
$6,404.20 Coldplay EODCS Lot 8: Chris's Yamaha CP70
$6,164.04 Coldplay EODCS Lot 46: Will's Viva tour jacket
$6,164.04 Coldplay EODCS Lot 47: Guy's Jag bass guitar
$5,763.78 Coldplay EODCS Lot 45: Coldplay's Viva Autoharp
$5,603.68 Coldplay EODCS Lot 17: Jonny's Fender 'Thinline' Tele
$5,123.36 Coldplay EODCS Lot 30: Chris's spare black Deluxe Tele
$4,482.94 Coldplay EODCS Lot 18: Jonny's Black Fender JD Tele
$4,082.68 Coldplay EODCS Lot 35: Jonny's X&Y platinum disc signed
$4,010.63 Coldplay EODCS Lot 9: Chris's Fender Rhodes piano
$3,770.47 Coldplay EODCS Lot 48: Jonny's Viva cap
$3,762.47 Coldplay EODCS Lot 37: Chris's X&Y platinum disc signed
$3,759.95 Coldplay EODCS Lot 20: Guy's Guild SG-style bass guitar
$3,282.15 Coldplay EODCS Lot 5: Guy's Fender Squier bass guitar
$2,961.94 Coldplay EODCS Lot 38: Will's drum from Talk video
$2,801.84 Coldplay EODCS Lot 28: Guy's travel guitar
$2,641.73 Coldplay EODCS Lot 16: Will's Yahama Manu Katche snare
$2,481.63 Coldplay EODCS Lot 23: Signed AROBTTH poster Chris
$2,177.43 Coldplay EODCS Lot 27: Signed Yellow lithograph (9of10)
$1,961.29 Coldplay EODCS Lot 27: Signed Yellow lithograph (8of10)
$1,921.26 Coldplay EODCS Lot 27: Signed Yellow lithograph (6of10)
$1,921.26 Coldplay EODCS Lot 27: Signed Yellow lithograph (7of10)
$1,873.23 Coldplay EODCS Lot 14: Signed Parachutes lith (2 of 10)
$1,873.23 Coldplay EODCS Lot 14: Signed Parachutes lith (10of10)
$1,777.17 Coldplay EODCS Lot 19: Guy's Marlin steel guitar
$1,745.14 Coldplay EODCS Lot 27: Signed Yellow lithograph (4of10)
$1,713.12 Coldplay EODCS Lot 27: Signed Yellow lithograph (5of10)
$1,682.70 Coldplay EODCS Lot 7: Chris's Marshall acoustic amp
$1,636.00 Coldplay EODCS Lot 27: Signed Yellow lithograph (1of10)
$1,636.00 Coldplay EODCS Lot 27: Signed Yellow lithograph (2of10)
$1,633.07 Coldplay EODCS Lot 29: Signed football shirts (2 of 2)
$1,615.19 Coldplay EODCS Lot 27: Signed Yellow lithograph (3of10)
$1,613.86 Coldplay EODCS Lot 4: Will's Kay Les Paul copy & amp
$1,602.65 Coldplay EODCS Lot 25: Jonny's old effects pedals
$1,601.05 Coldplay EODCS Lot 21: Signed AROBTTH lith (1 of 10)
$1,553.02 Coldplay EODCS Lot 23: Signed AROBTTH poster Will
$1,474.57 Coldplay EODCS Lot 21: Signed AROBTTH lith (3 of 10)
$1,472.97 Coldplay EODCS Lot 21: Signed AROBTTH lith (2 of 10)
$1,472.97 Coldplay EODCS Lot 21: Signed AROBTTH lith (4 of 10)
$1,472.97 Coldplay EODCS Lot 22: Signed In My Place lith (9of10)
$1,464.96 Coldplay EODCS Lot 21: Signed AROBTTH lith (8 of 10)
$1,450.55 Coldplay EODCS Lot 21: Signed AROBTTH lith (9 of 10)
$1,440.95 Coldplay EODCS Lot 22: Signed In My Place lith (8of10)
$1,392.91 Coldplay EODCS Lot 22: Signed In My Place lith (6of10)
$1,376.90 Coldplay EODCS Lot 21: Signed AROBTTH lith (5 of 10)
$1,376.90 Coldplay EODCS Lot 22: Signed In My Place lith (7of10)
$1,328.87 Coldplay EODCS Lot 21: Signed AROBTTH lith (6 of 10)
$1,328.87 Coldplay EODCS Lot 21: Signed AROBTTH lith (7 of 10)
$1,328.87 Coldplay EODCS Lot 22: Signed In My Place lith (4of10)
$1,316.06 Coldplay EODCS Lot 22: Signed In My Place lith (5of10)
$1,312.86 Coldplay EODCS Lot 23: Signed AROBTTH poster Jonny
$1,312.86 Coldplay EODCS Lot 34: Signed X&Y cover lith (3of10)
$1,312.86 Coldplay EODCS Lot 34: Signed X&Y cover lith (4of10)
$1,312.86 Coldplay EODCS Lot 34: Signed X&Y cover lith (6of10)
$1,312.86 Coldplay EODCS Lot 34: Signed X&Y cover lith (8of10)
$1,285.61 Coldplay EODCS Lot 34: Signed X&Y cover lith (10of10)
$1,284.04 Coldplay EODCS Lot 22: Signed In My Place lith (1of10)
$1,280.84 Coldplay EODCS Lot 22: Signed In My Place lith (2of10)
$1,280.84 Coldplay EODCS Lot 22: Signed In My Place lith (3of10)
$1,248.82 Coldplay EODCS Lot 26: Signed Radio City poster (1of2)
$1,240.81 Coldplay EODCS Lot 14: Signed Parachutes lith (3 of 10)
$1,232.81 Coldplay EODCS Lot 14: Signed Parachutes lith (5 of 10)
$1,232.81 Coldplay EODCS Lot 14: Signed Parachutes lith (7 of 10)
$1,184.78 Coldplay EODCS Lot 13: Signed Shiver lithograph (1of9)
$1,184.78 Coldplay EODCS Lot 23: Signed AROBTTH poster Guy
$1,168.77 Coldplay EODCS Lot 14: Signed Parachutes lith (4 of 10)
$1,160.76 Coldplay EODCS Lot 34: Signed X&Y cover lith (9of10)
$1,152.76 Coldplay EODCS Lot 14: Signed Parachutes lith (6 of 10)
$1,152.76 Coldplay EODCS Lot 34: Signed X&Y cover lith (5of10)
$1,152.76 Coldplay EODCS Lot 34: Signed X&Y cover lith (7of10)
$1,126.07 Coldplay EODCS Lot 14: Signed Parachutes lith (9 of 10)
$1,112.73 Coldplay EODCS Lot 29: Signed football shirts (1 of 2)
$1,098.32 Coldplay EODCS Lot 14: Signed Parachutes lith (8 of 10)
$1,072.72 Coldplay EODCS Lot 13: Signed Shiver lithograph (4of9)
$1,072.70 Coldplay EODCS Lot 15: Signed Don't Panic lith (9of10)
$1,072.70 Coldplay EODCS Lot 26: Signed Radio City poster (2of2)
$1,067.90 Coldplay EODCS Lot 14: Signed Parachutes lith (1 of 10)
$1,040.68 Coldplay EODCS Lot 15: Signed Don't Panic lith (1of10)
$1,032.68 Coldplay EODCS Lot 13: Signed Shiver lithograph (2of9)
$1,029.48 Coldplay EODCS Lot 15: Signed Don't Panic lith (8of10)
$1,027.86 Coldplay EODCS Lot 49: Guy's Bose speakers
$1,007.06 Coldplay EODCS Lot 15: Signed Don't Panic lith (2of10)
$997.45 Coldplay EODCS Lot 13: Signed Shiver lithograph (3of9)
$952.62 Coldplay EODCS Lot 15: Signed Don't Panic lith (5of10)
$952.62 Coldplay EODCS Lot 15: Signed Don't Panic lith (6of10)
$936.61 Coldplay EODCS Lot 15: Signed Don't Panic lith (3of10)
$920.60 Coldplay EODCS Lot 15: Signed Don't Panic lith (7of10)
$897.10 Coldplay EODCS Lot 13: Signed Shiver lithograph (8of9)
$896.59 Coldplay EODCS Lot 13: Signed Shiver lithograph (5of9)
$896.59 Coldplay EODCS Lot 15: Signed Don't Panic lith (4of10)
$882.18 Coldplay EODCS Lot 13: Signed Shiver lithograph (6of9)
$848.56 Coldplay EODCS Lot 13: Signed Shiver lithograph (7of9)
$837.35 Coldplay EODCS Lot 12: Jonny's Laney practice amp
$816.54 Coldplay EODCS Lot 10: Jonny's first pedalboard
$816.54 Coldplay EODCS Lot 11: Coldplay's Glastonbury wellies
$16.01 Coldplay EODCS Lot 13: Signed Shiver lithograph (9of9)
$16.01 Coldplay EODCS Lot 15: Signed Don't Panic lith (10of10)
$16.01 Coldplay EODCS Lot 14: Signed AROBTTH lith (10of10)
$16.01 Coldplay EODCS Lot 22: Signed In My Place lith (10of10)
$16.01 Coldplay EODCS Lot 27: Signed Yellow lithograph (10/10)
$16.01 Coldplay EODCS Lot 34: Signed X&Y cover lith (1of10)
$16.01 Coldplay EODCS Lot 34: Signed X&Y cover lith (2of10)
The following video was produced to promote the event:
Learn more about the designated charity at kidsco.org.uk: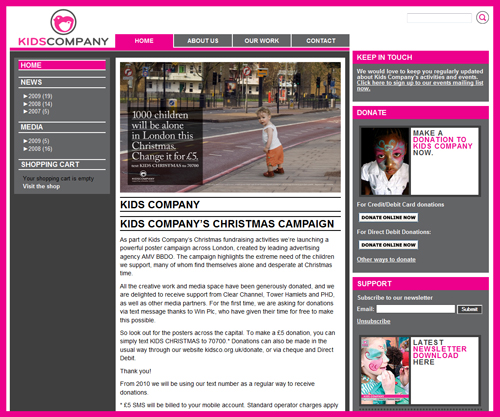 Jason DeBord