Because I do travel for some concert events, I thought it might be helpful to share my impressions and experiences staying at various hotels and resorts, and doing so will build on the "travel for concerts" theme of this website. This review is for Hotel Atlantico in Madrid, Spain during my trip to Madrid (October 2011).
Property: Hotel Atlantico
Location: Madrid, Spain
Address: Gran Via 38, 28013 Madrid, Spain
Phone: +34 915226480
Website: www.hotelatlantico.es
Room Type/Class: Double Bed
Date: October 25-27, 2011
TripAdvisor Page/Reviews: LINK
Booking Source: Best Western
Overall Rating: 4.5/5
This was part of my trip to Madrid for a special Coldplay concert at Plaza de Toros de Las Ventas in Madrid.  This was my first visit to Spain, and I thought I would split my stay across two properties – one more economical (for which I chose Hotel Atlantico) and one a little more luxury (and I selected the ME Madrid Reina Victoria for the second half of my visit).   This is my review for the former, the Hotel Atlantico.
After doing a lot of research on TripAdvisor, I decided to stay at the Hotel Atlantico based on the reviews (and at the time it was the #1 ranked hotel in Madrid; at the time of this writing, it is ranked #2 of 454 hotels in Madrid).
The hotel is centrally located, and fairly easy to find (and I know from trying to find my friend's hotel in the area, some are very hard to find!).
Check in was very straight forward, so I quickly made my way up to the room.
For a European hotel, the room was actually nicely sized, especially traveling alone.  It was very clean, and somewhat updated in appearance (though I wouldn't characterize it's overall look as "modern".
The room featured an appropriately-sized bed, a desk, and a television, as well as a sitting area with a small round table.  The bathroom was fairly large and well appointed, with a lot of "accessories"  It featured a shower over bath, and as I've experienced in most of the European hotel rooms I've stayed in, is a bit tricky to get in and out of it.
I would say that visitors should exercise some caution in this neighborhood, especially making their way to and from the hotel at night.  I found that I was approached/harassed as well as followed by shady-looking characters every night.  Additionally, the morning I checked out, someone had been killed across the street, at the corner.
Having said all that, I think that there are similar dangers all around Madrid, so it is not necessarily specific to this hotel.
If I were to visit Madrid again, I would consider staying at the Hotel Atlantico again.  It was clean, in a convenient location (to the metro stations, etc.) and was reasonably priced.
Below are photos I took of the room while I was staying at the property: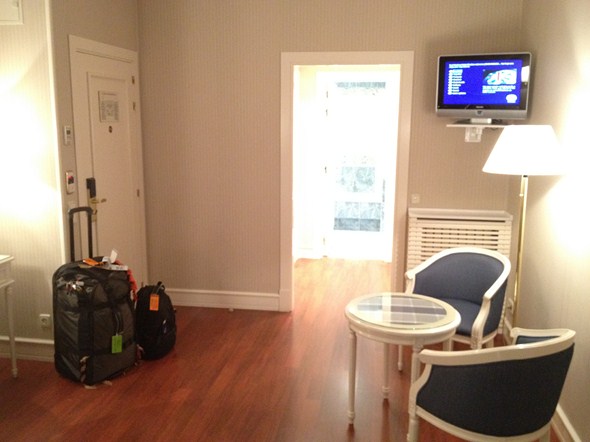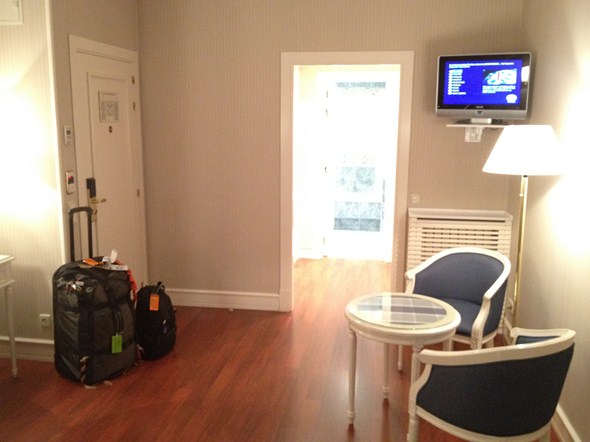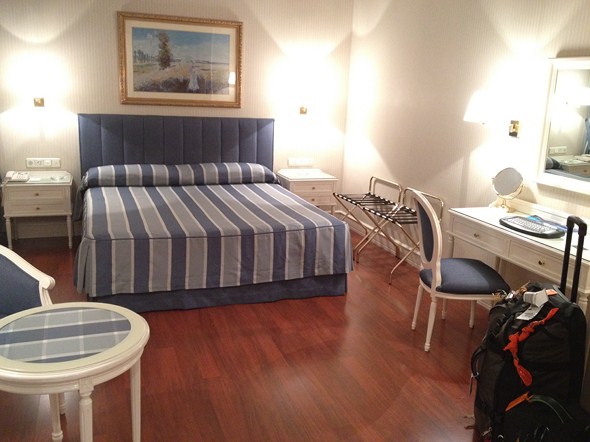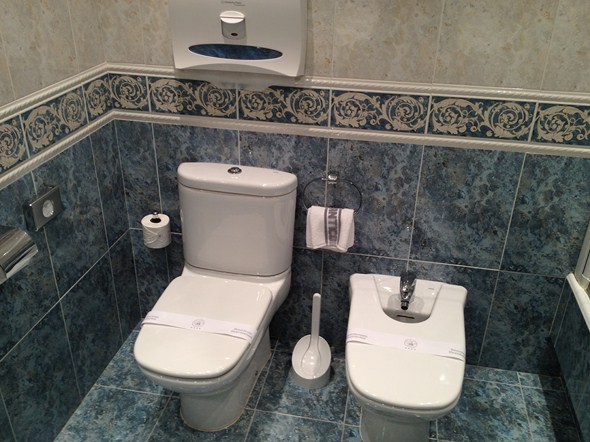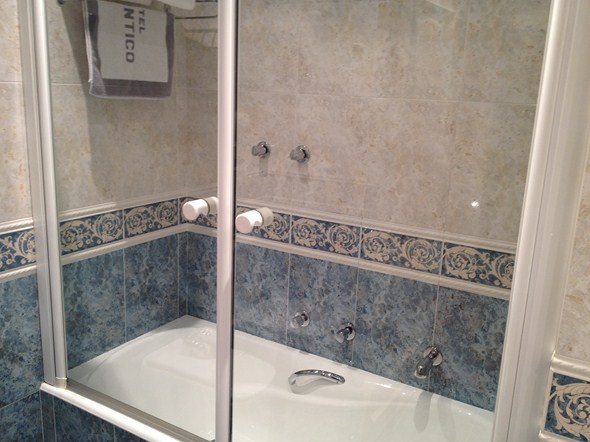 Jason DeBord