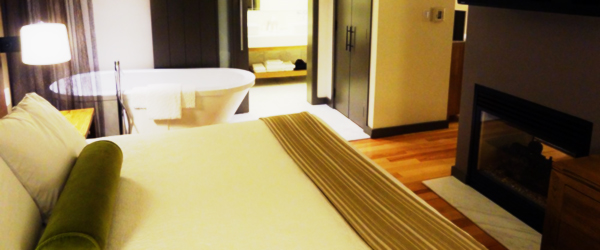 Because I do travel for some concert events, I thought it might be helpful to share my impressions and experiences staying at various hotels and resorts, and doing so will build on the "travel for concerts" theme of this website. This review is for the AVIA Napa in Napa California, where I stayed following a Pixies concert at the Uptown Theater about a block away.
Property: AVIA Napa
Location: Napa, California
Address: 1450 First Street, Napa, CA 94559
Phone: (707) 224-3900
Website: www.avianapa.hyatt.com
Room Type/Class: Tower Suite
Date: November 20-21, 2011
TripAdvisor Page/Reviews: LINK
Booking Source: AVIA Napa
Overall Rating: 4.5/5
I had stayed here about a year earlier and did not have the best experience.  There was a Christmas parade going on, on the main road in front of the hotel, and it took about an hour of driving around and being stuck in traffic to park, and then walk a long way to even get to the hotel.  Given that, I thought the hotel should have alerted incoming guests as to what was going on, to plan accordingly.
In any event, hotel management had said that they would make up for it if I should ever give them another chance.  About a year later, I was making plans to see The Pixies at Uptown Theater, which is literally across the street from the AVIA, so I thought I would try them again.  They were nice enough to provide an upgraded room at a reduced rate, so I stayed in their nicest room, the "Tower Suite".
It was a very spacious room, with a living area as you walk in with couch, wet bar, and dual-sided fireplace that also faces out to the sleeping area (there is an LCD TV on both sides of the wall in-between as well).
It has a very modern appearance, and there is a very large tub adjacent to the bed, as well as a full (very large) bathroom with double sinks and a standing shower.
The customer service was top notch – they even sent up a note with champagne.
It is the perfect property if you are going to an event at Uptown Theater, as it is literally a one minute walk out the lobby and across the street.
I would definitely recommend it if you are staying in and around downtown Napa.  It is also convenient to the wine train.
Below are some photos I took of the property: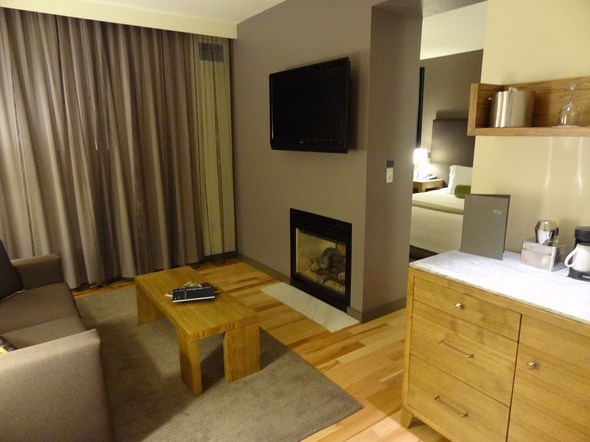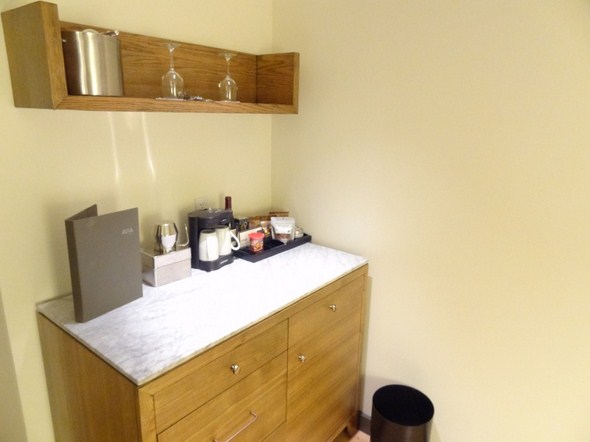 Jason DeBord