Because I do travel for some concert events, I thought it might be helpful to share my impressions and experiences staying at various hotels and resorts, and doing so will build on the "travel for concerts" theme of this website. This review is for Megaro Hotel at King's Cross and St. Pancra, London, England during my recent England/France Trip (December 2011).
Property: Megaro Hotel
Location: London, England (St. Pancras & King's Cross Adjacent)
Address: Belgrove Street | St. Pancras, London WC1H 8AB, England
Phone: 02078432222
Website: www.hotelmegaro.co.uk
Room Type/Class: Executive King
Date: December 8-13, 2011
TripAdvisor Page/Reviews: LINK
Booking Source: Expedia
Overall Rating: 4/5
This was part of my trip to London, Paris, and Liverpool for a series of concerts, and I was staying in London for the first and last legs of my trip (the former for this stay over 5 nights). The hotel is Megaro Hotel.
I choose this hotel based on the recommendation of a friend, TripAdvisor reviews, and proximity to St. Pancras and King's Cross, as I planned to leave for Paris via the Eurostar at the end of this stay, which makes this the ideal location for convenience.
As this was the start of my trip, I came in from a long series of flights and traveling (Sacramento to DC, DC to Frankfurt, Frankfurt to London – not the most direct itinerary!).  I'd visited England the year before, so had the Heathrow Express and tube down easy enough.  The Megaro was fairly easy to find – it is across the street from the train stations, though it is easy to get turned around, and it is also down a narrow street and doesn't have great signage.
When I arrived, it was before check-in (had requested an early check-in) and my room wasn't ready.  I explained I'd been traveling for many, many hours via red eye from the States, with weird routing, and they suggested I wait in the restaurant/bar in the lower level.  I'd asked if they could alert me when the room was ready, and they said that they would.  At least an hour passed with no contact, so I went back upstairs and inquired, and the room was ready, but not one thought to let me know.
In any event, I made my way to the room, and it was very nice – clean, modern, a good size for a UK hotel room.  Bed, desk, and closet for storage, was well as a fairly large bathroom with sink, toilet, and shower over tub.  As I've cautioned in other reviews, I've found hotels in England/France/Europe have inherently dangerous tubs/showers to get in and out of, so I would be sure to be careful.
The room included one window, which in my case offered a view across the street to the King's Cross station.
Overall, it was a very nice stay, and the location is awesome if you need to get in and around London, especially if you need to travel by train or the Eurostar.
The only real problems I encountered were things happening just outside of the hotel.
One, it is very noisy – it is a very noisy street right outside, in-between the hotel and the station.  Noise doesn't particularly bother me personally, but I can see how it could disturb some guests.
Two, based on what I witnessed transpiring just outside of the hotel entrance, it is a dangerous area, particularly at night.
The second night of my stay, I was up using the computer at the desk at about 3am (not yet adjusted to UK time) and I heard some arguing outside.  Long story short, I witnessed three men beat up upon two other men, right outside of my window.  I actually videotaped it as it happened, and after the two men escaped, the other three troublemakers broke out the window out of the back of a car.  A few minutes later, a worker from King's Cross came over – it was his car – I got dressed and went downstairs and showed him the video, and gave him my contact information (I was later contacted by the police and shared my information and images with them).
The third night, again right outside of my window, I witnessed a group of younger men trying to steal the Barclay's rental bicycles from the rental rack, and also were tampering with the payment machine – this was the exact same spot where I witnessed the assault the night before, which is right outside of the hotel entrance.
Traveling by myself as a youngish six foot tall man, I never felt any sense of danger, but given what I'd seen occurring right outside of the entrance of the hotel, it would definitely be a potential consideration for others.
One plus is that there is a storage facility on the other side of the street, so if you bring lots of luggage into London and plan to visit another area or country by train and return, you can leave some of your things behind and travel lighter (I did this myself).
Overall though, I found that the positives outweighed the negatives, and I would return and stay at the Megaro again – it is a great location (well, for getting around London anyway) and features nice and clean rooms.
Below are photos I took of the room and views from my room during my stay: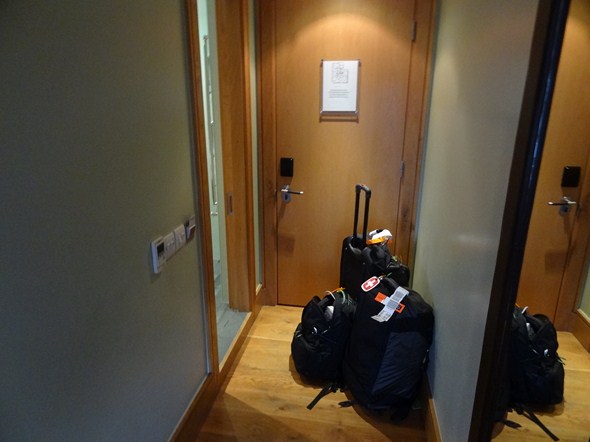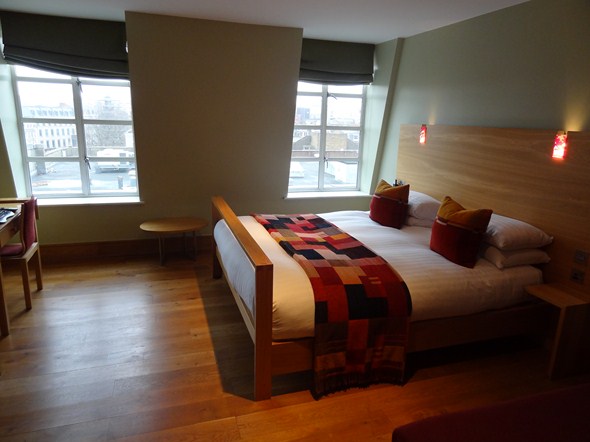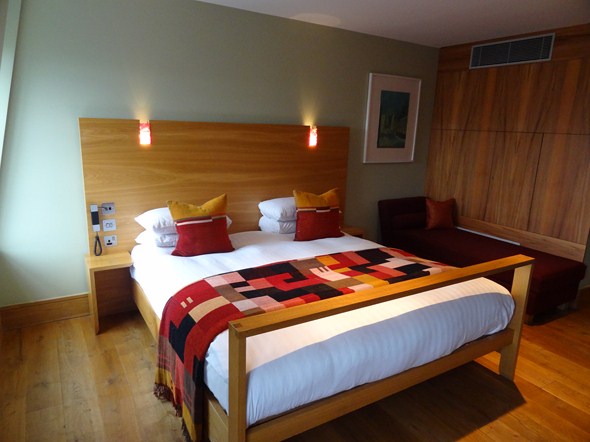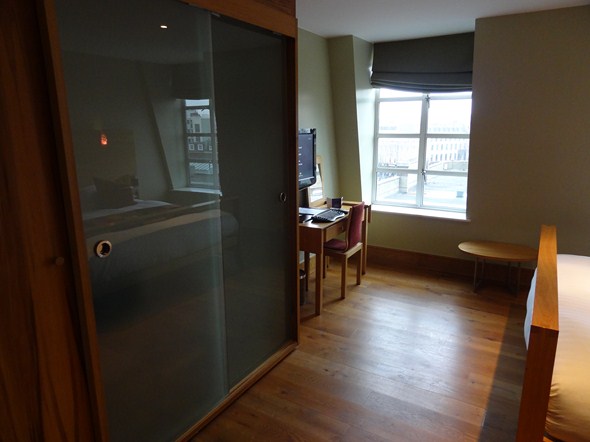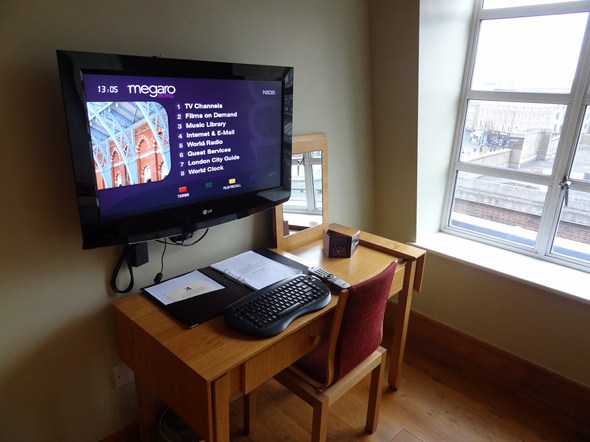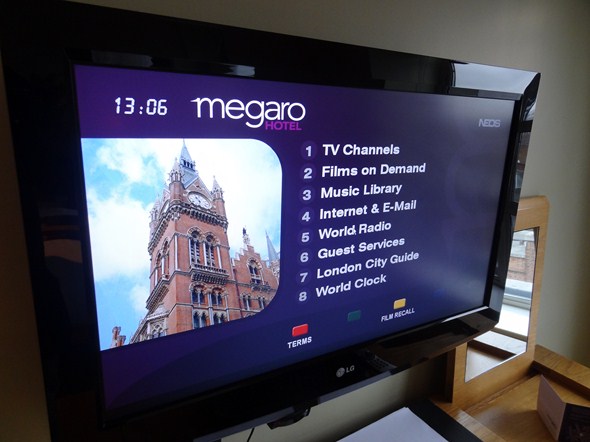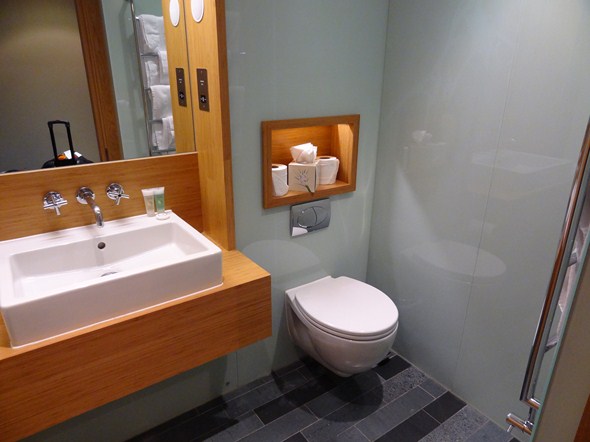 Jason DeBord