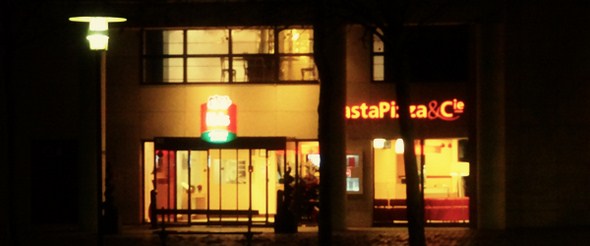 Because I do travel for some concert events, I thought it might be helpful to share my impressions and experiences staying at various hotels and resorts, and doing so will build on the "travel for concerts" theme of this website. This review is for ibis Paris Bercy Village in Paris France, during my recent England/France Trip (December 2011).
Property: ibis Paris Bercy Village
Location: Paris, France
Address: 19, place des Vins de France, Paris, France 75012
Phone: (+33) /49280606
Website: www.ibishotel.com
Room Type/Class: Base Room
Date: December 13-15, 2011
TripAdvisor Page/Reviews: LINK
Booking Source: Accorhotels.com
Overall Rating: 3/5
This was part of my trip to London, Paris, and Liverpool for a series of concerts, and I decided to split my Paris leg with stays in two properties – the first near the Palais Omnisports de Paris Bercy (which is how I learned of the hotel that is the subject of this review), and another more in the heart of Paris proper for some sightseeing.
My objective was to find something fairly new and clean, and not terribly expensive (for Paris, at least) and the ibis seemed to fit that, at least from what I read online via TripAdvisor reviews.  It was also close to the venue where I was attending the concert.
I was in London (visiting from the U.S.) for five or so days prior, and took the Eurostar into Paris.  As a preface, I speak absolutely no French whatsoever, so that obviously impacts things a bit.  Someone actually tried to pickpocket me not less than 5 minutes off the Eurostar.
I love the tube in London, but found the Paris counterpart very challenging, from buying a pass (again, not speaking French) to trying to figure out where to go.  A woman tried to help me, but I ended up being directed off the wrong stop for this hotel, and walked a very long time (using navigation software on my phone).
I eventually found my way to the hotel; the front is kind of nondescript – I'd seen a photo, but even then it looked a little different in the photo than what I expected (it is part of a larger building/structure).
The check-in process was a little challenging (again, my lack of ability to speak French), and I got the sense that the front desk attendant checking me in didn't like the fact that I only spoke English (and he did not speak any English).
Once I got up to the room, I couldn't figure out how to use WiFi, so went back down to the front desk, and was provided codes to login (not sure why they don't give you these at check in as a matter of practice?).  In practice, the speed of the Internet service offered is very, very slow (at about dial-up speeds over their WiFi, but not as reliable or consistent).
Being in Europe/France/Paris, the room is very small.  There is pretty much enough room to walk around the bed, and an Ikea-like book case where you can stack some clothes from your suitcase (no where else to put anything – no drawers, no closet).  I was traveling alone, so not a problem, but if I had someone with me, it would be extremely claustrophobic.
As with most bathrooms I've encountered in European hotels, it is extremely small as well.  A sink, toilet, and standing shower stall, and just enough room to turn around.
Tiny window in the room – just enough to let some light in, but not designed for viewing.
The aspect of this stay that was most disappointing was the bed.  Cheap and low to the ground, the frame and "mattress" would probably retail for $30 in the U.S.  While the room is small, and that is understandable, the bed would qualify as really the lowest cost "bed" that one could get away with in a hotel of this class, I would imagine.
In any event, no major complaints or problems, but I was not impressed by any stretch of the imagination.  It served the purpose and function that I needed, but really just at the bare minimum, and it was generally just an unspectacular place to stay.  I would probably not stay there again, though I might consider if I were seeing something at that same venue in Bercy.  Outside of that, it is too far removed from the other attractions to make it a viable "Paris" choice, in my opinion, but to be fair it is pretty close to the Cours Saint-Emillion metro stop, it just felt like that was a bit further from everything else.
Below are a few photos I took of the room I stayed in, and one exterior shot at night: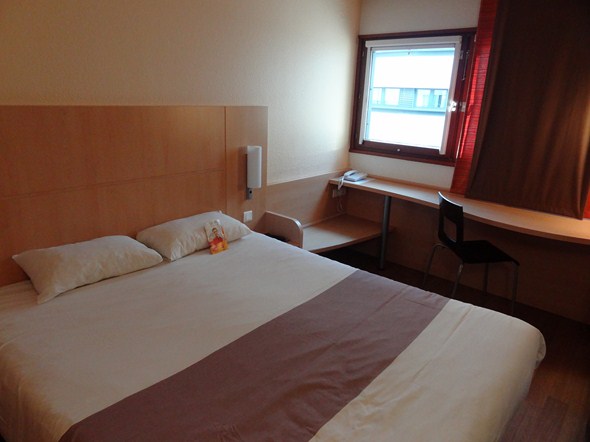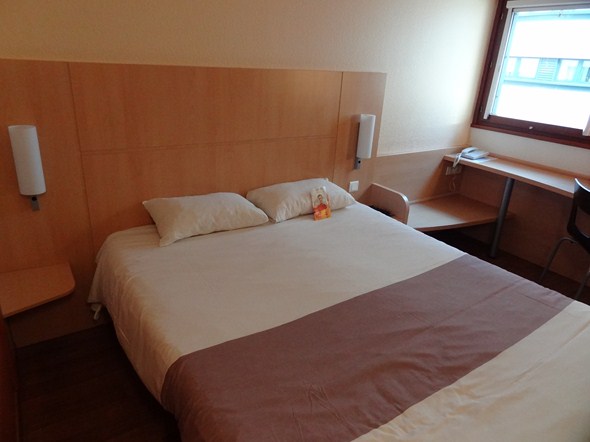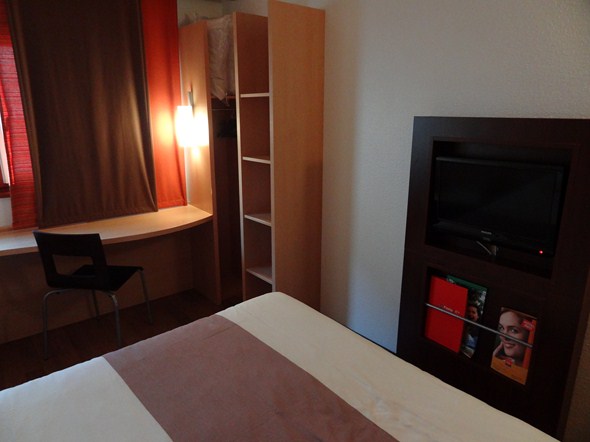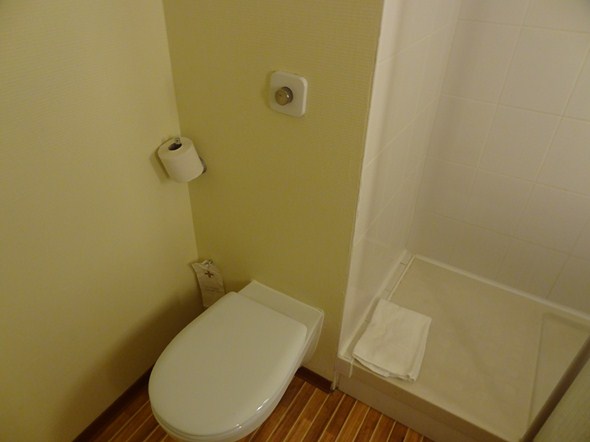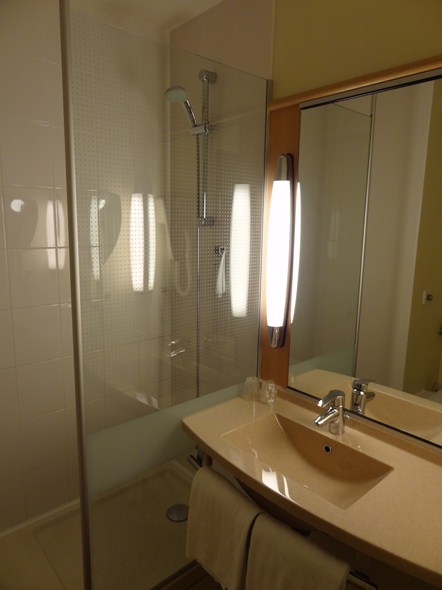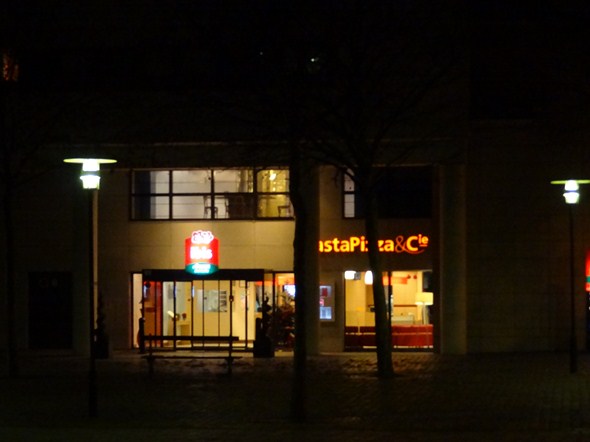 Jason DeBord