Because I do travel for some concert events, I thought it might be helpful to share my impressions and experiences staying at various hotels and resorts, and doing so will build on the "travel for concerts" theme of this website. This review is for base2stay Kensington in London, England during my recent England/France Trip (December 2011).
Property: base2stay Kensington
Location: London, England (Earl's Court Adjacent)
Address: 25 Courtfield Gardens, Kensington | Kensington, London SW5 0PG, England
Phone: +44 (0)20 7244 2255
Website: www.base2stay.com
Room Type/Class: Superior King/Twin
Date: December 18-22, 2011
TripAdvisor Page/Reviews: LINK
Booking Source: base2stay
Overall Rating: 4/5
This was part of my trip to London, Paris, and Liverpool for a series of concerts, and I was staying in London for the first and last legs of my trip (the latter being 4 nights).  The hotel is called the base2stay Kensington, but to me it "feels" like you are actually in Earl's Court – that is the metro station that it is closest to as well (maybe a 5 minute walk).
I selected this hotel based on my very favorable experience staying at the base2stay Liverpool a year earlier, and also because I was scheduled to see a concert at Earl's Court (though it was ultimately canceled due to health problems with the performer).
As with the Liverpool property, the Kensington can be classified as 1) newer (or at least newly renovated), 2) clean, and 3) economical.
As has been my experience with the base2stay staff at the other location, the staff at the front desk were wonderful, and helpful with directions and suggestions.
The "Superior King/Twin" class room was large by UK standards, but I would say about the same size as the "Large Double" classed room I stayed at the night before a the base2stay in Liverpool.
The room I stayed in was nicely decorated, clean, and modern in appearance. There was a fairly nice bed, desk area, and LCD TV. The bathroom is also fairly large by standards, with sink, toilet, and shower over bathtub. As I mentioned in the review for the other property, the same caveat applies here – exercise caution getting in and out of the tub/shower. It is at an usual height with nothing to grab onto, so having an accidental slip or spill is very possible.
The base2stay Kensington has decent WiFi connectivity (for UK properties).
Overall a nice stay, though I would recommend looking at routes in and out of the Earl's Court metro station to see if it is the best place to stay, based on your activities.  There are more centralized places to stay in London, and there is not as much to do in and around the hotel (though there are fast food type establishments and pharmacies/convenience stores near the metro).
I would recommend it if you are doing things in and around Earl's Court and adjacent areas, but would probably recommend alternative hotels if you are visiting London and doing a lot of sightseeing – there are better areas which would serve as a better "home base" as well as offer more things to do in and around the hotel (walking distance).  So for me, the biggest drawback is the location.
Below are photos I took of the hotel: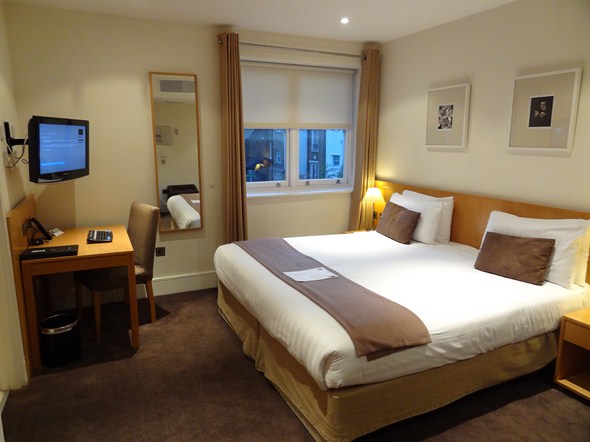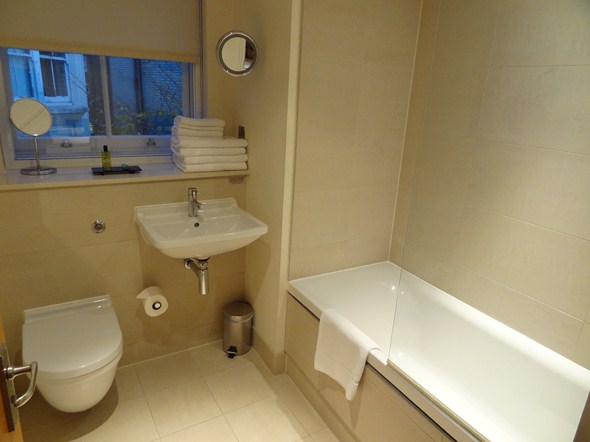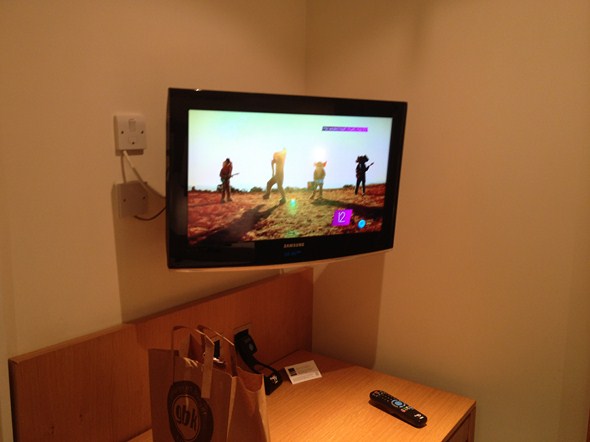 I was amused by the fact that I came to see Coldplay in concert (twice) along with other artists, and the one time I turned on the TV in any room after nearly two weeks, a Coldplay video was playing (Para-para-paradise…)
Jason DeBord