During my trip this past week to Las Vegas, I had taken an opportunity to check out the Hard Rock Cafe Las Vegas, and was treated to a lengthy private tour, so I thought I would share some photos of some of the material on display at this location, including stage and studio used instruments, wardrobe, and other rock and roll memorabilia.
Many thanks to RJ at the Hard Rock for taking time to show me around and for the hospitality.  Not only is it a restaurant, but it also has a live concert facility on the top floor, which is used very frequently and has served as a platform for local artists making a name in the industry.
Below is the description from their official website:
The world renowned Las Vegas Strip is now home to the most highly anticipated, state-of-the-art Hard Rock Cafe in the world, Hard Rock Cafe Las Vegas.

Featuring 42,000 square feet of pure unadulterated rock n' roll, the new cafe, located next to the MGM Grand Hotel, provides three-floors of non-stop action and features the world's largest Rock Shop. An interactive "Rock Wall™", interactive "Microsoft Surface" tables, hi-speed Internet access, a contemporary lounge and bar, and patio dining are yours to experience while enjoying an unobstructed view of the world famous Las Vegas Strip. A Hard Rock Live multi-function venue on the 2nd floor rocks with concert seating for 1000, while state-of-the-art in-house audio visual equipment offers mind blowing imagery and sound. The cafe also features a built-in stage with an attached Green Room that will be occupied by artists from around the globe.

Hard Rock Cafe Las Vegas is located on Las Vegas Boulevard (The Strip) in the Showcase Mall, next to the MGM Grand and adjacent to the Monte Carlo.
As an aside, if anyone is really interested in stage and studio used music memorabilia, I can't recommend enough their 2001 coffee table book, "Treasures of the Hard Rock Cafe: The Official Guide to the Hard Rock Cafe Memorabilia Collection".  It's really well done with beautiful photos and great information.
Below are some of the photos I took during my tour for the three story facility – the bottom floor is "for sale" memorabilia (i.e. Hard Rock branded t-shirts and other mass market collectibles), the second floor is the restaurant (with indoor and outdoor seating) with a large bar, and the third floor is the live concert facility, also with a dedicated bar.  There is memorabilia on display on each floor, though most of it is found on the second and third floor.
In many cases, I took a second photo of the description of the item, which will be embeded below the item in the photo pictorial below: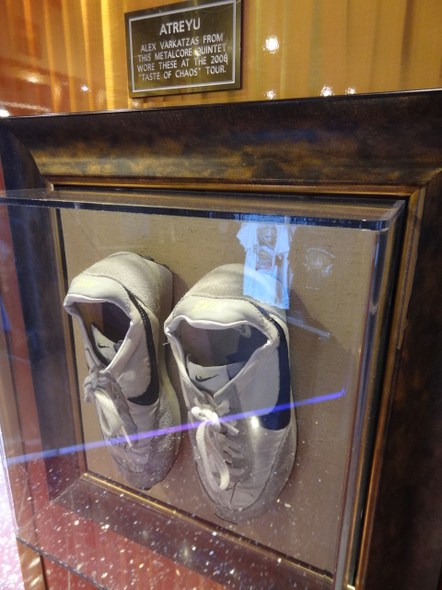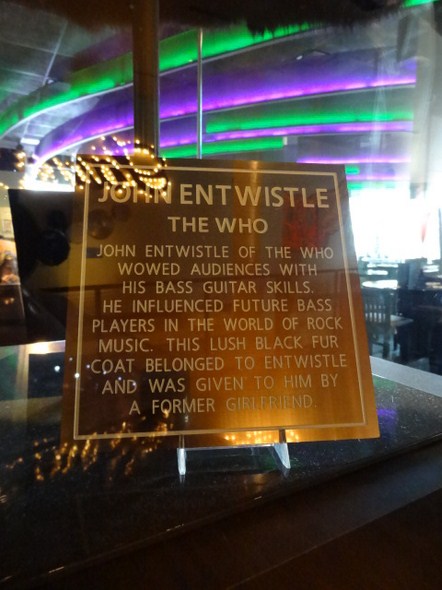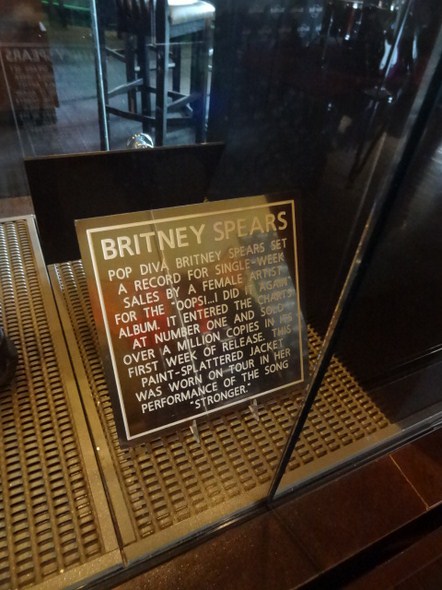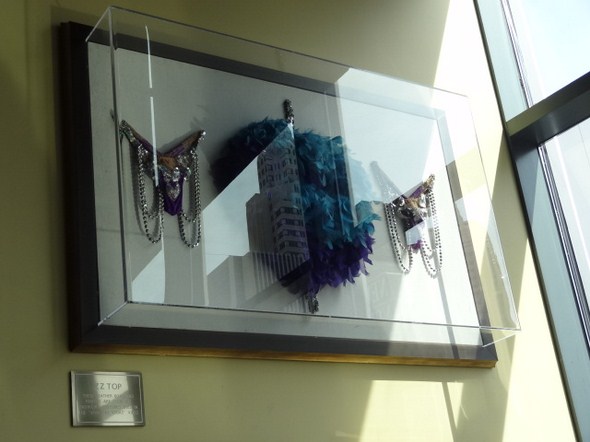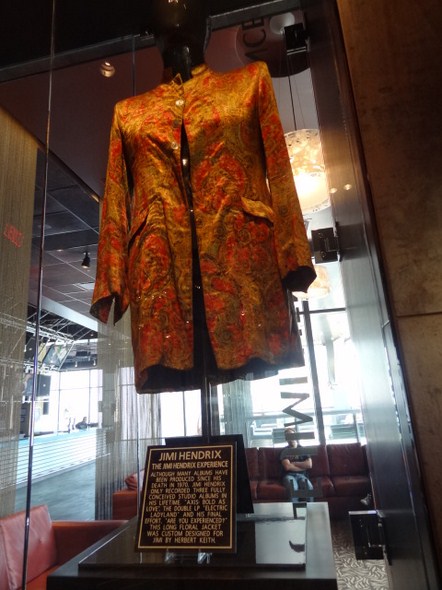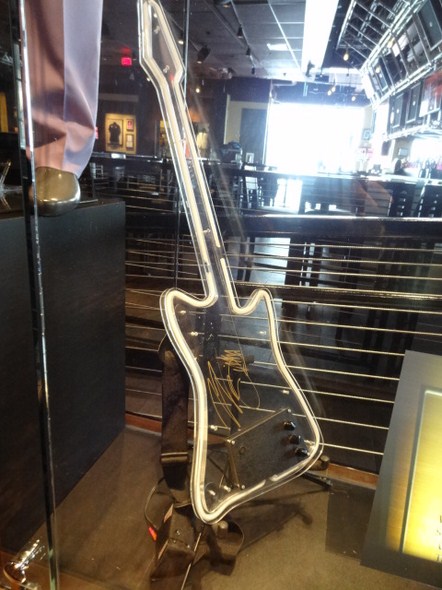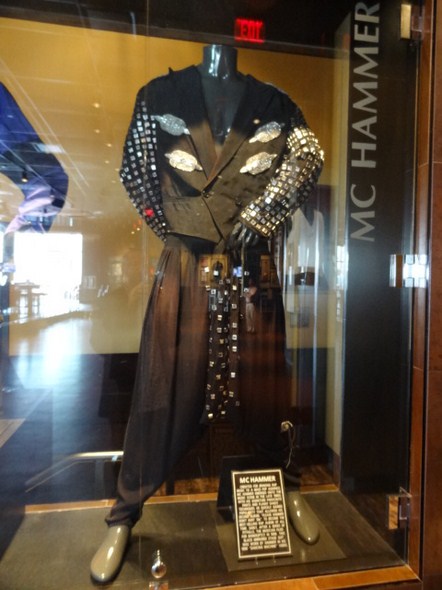 This is the green room where artists wait before going on to perform at the Hard Rock Cafe Las Vegas…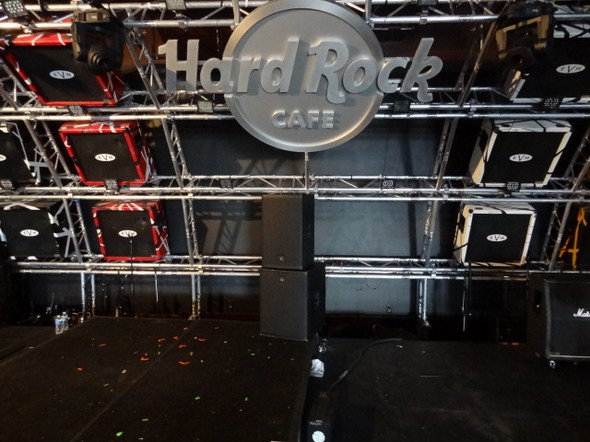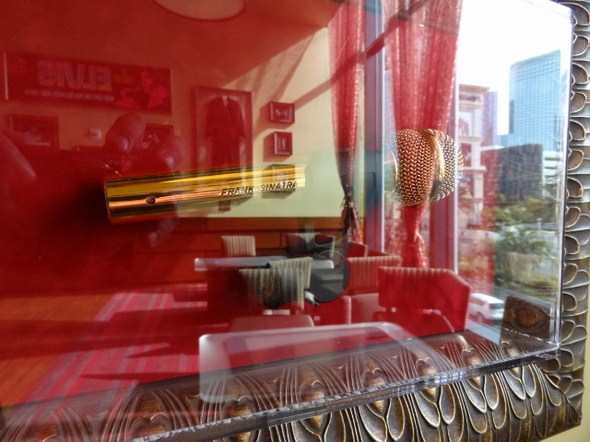 Jason DeBord