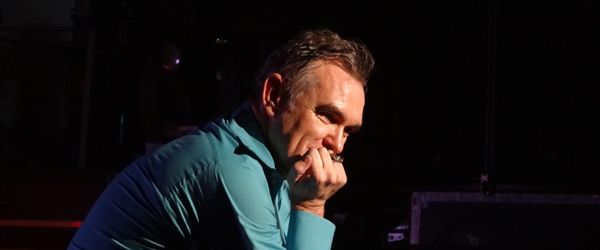 It seems that Morrissey can open a show in a variety of ways – with a thought provoking question, a philosophical remark, or, as was the case for the concert in Stockton last night… with something a little more humorous, such as "my ass is back in town".  As previously reported, last week I made a trip out to the Hawaiian islands to be able to see two special Morrissey concerts, back to back on two islands. The first was on Maui, at the Castle Theater on May 18th with the second show at the Kaka'ako Beach Park Amphitheater on Oahu the following night, May 19th.  Being from California, the dates in the state here weren't announced until some time after the Hawaii dates, so I decided to add just a third show for the venue most local to me, in Stockton (which is about a two hour drive).  I am glad to have made the trip for the added experience with this show, as it was quite different from the other two.
As noted in the prior articles, Morrissey was singer and frontman for The Smiths in the early to mid 80s, and then publishing solo work following the break-up of that band, Morrissey has been one of the most influential musical artists of the past thirty years.
Who: Morrissey
Supporting: Kristeen Young
Venue: Bob Hope Theater
Presented By: Richter Entertainment Group
Where: Stockton, California
When: May 26, 2012
Seating: Orchestra Center, Row D, Seat 106 (front floor, second row center); though I ended up in an impromptu pit in front of the stage, far left, second row
Kristeen Young
As with the other shows on this tour, Kristeen Young provided support as the opening act. Below are a few photos from her set: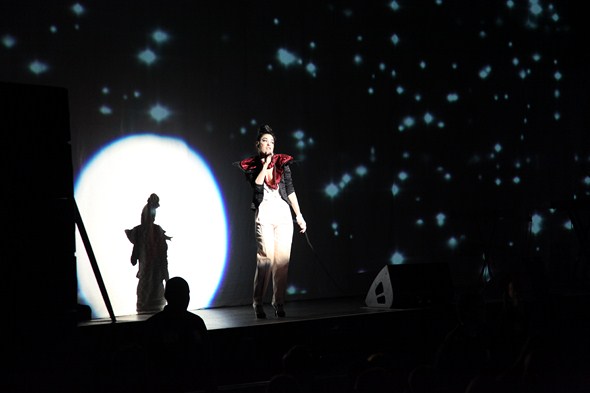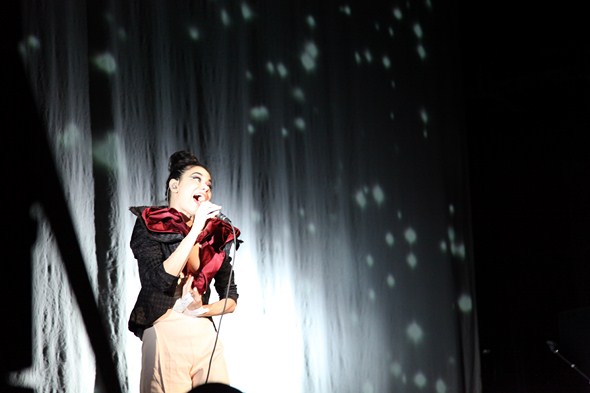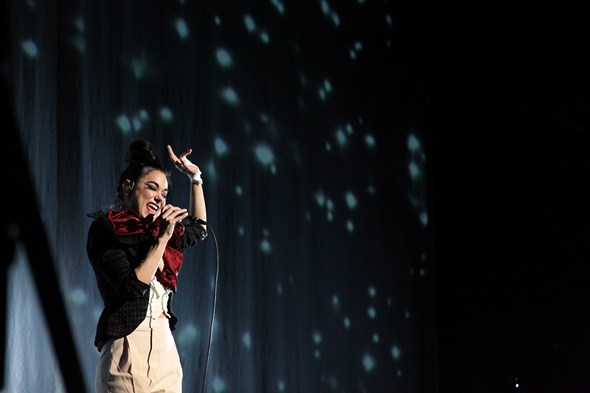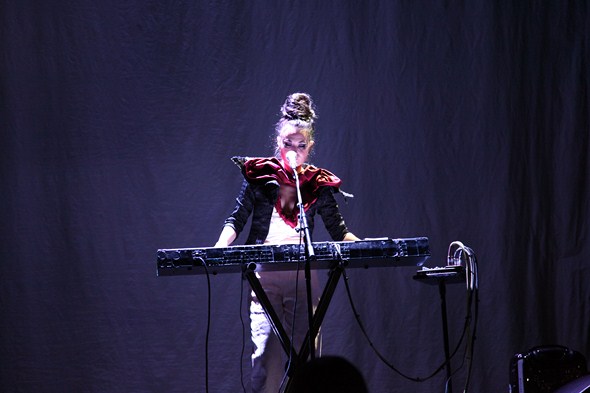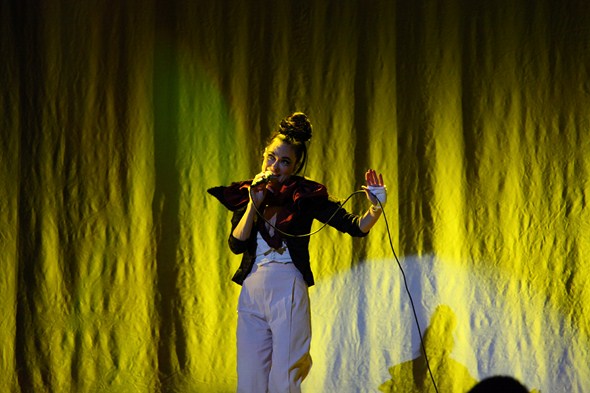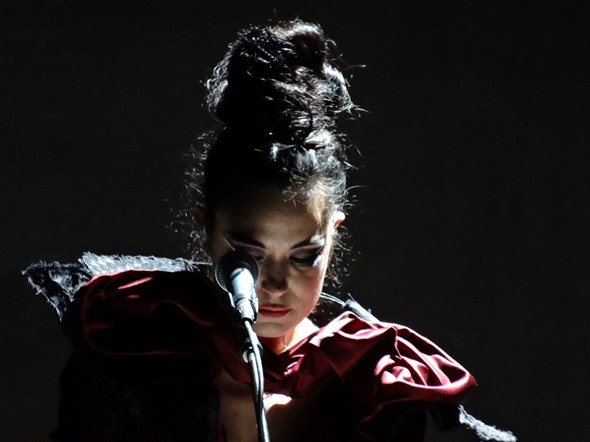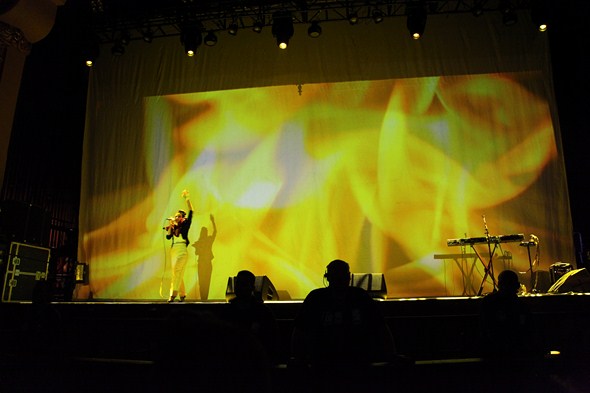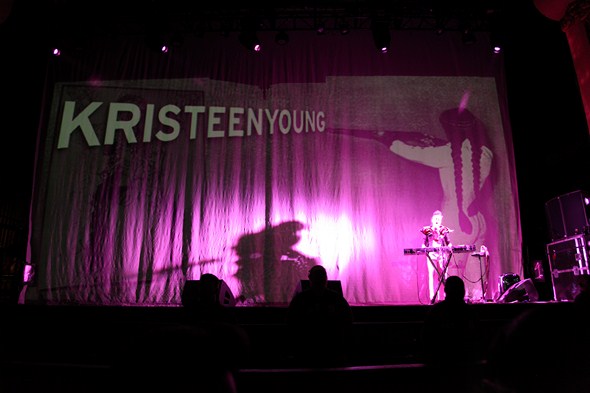 Morrissey
The Band:
Boz Boorer – Guitar
Jesse Tobias – Guitar
Matt Walker – Drums
Solomon Walker – Bass
Gustavo Manzur – Keyboards, Accordion, etc.
As I provided some background and thoughts on Morrissey and his history in the prior two articles, I will not republish here, but jump right to the concert in Stockton itself.
So this was a very different show for me in many regards.  For starters, Stockton is quite different from Maui and Oahu.
Special thanks to the guys at REG and Labrynth and Morrissey's staff for the press pass, which allowed me to bring in and use professional camera equipment for the first three songs (I used a Canon 5D Mk II for the first 70 or so still photos below).
In a short time, I managed to talk with a lot of different people prior to the show – a gentleman associated with the promotion of the event, various staff at the beautiful Bob Hope Theater, and many fans.  A number of people I recognized immediately from the gigs in Hawaii, as they follow Morrissey on and off all over the world.  One was especially interesting to talk with, and Morrissey even mentioned him twice during the show, and handed him the microphone at one point and allowed him and another fan to share their thoughts, which was really cool.
I was a bit puzzled leading up to the show, as it is a seated-only venue, and Morrissey concerts pretty much beg for a stage front pit, so I was curious to see how that would all shake out.  I had purchased two tickets on StubHub (there were no close singles) and bought center section, second row floor tickets, and then resold my one extra back through StubHub (as a tiny loss – I don't like to scalp tickets); funny enough, I found the buyer of the extra ticket and talked with him for a while too – another huge Morrissey fan and really nice and interesting guy.
In any event, once Kristeen Young cleared the stage, there was a mad dash for the space between the front row and the barricade in front of venue security.  I expected them to be ordered to return to their seats (which happened when the venue opened), but more and more people poured in from their seated area.  They then dropped venue security back, and allowed a select number of people to drop down into a sunken pit area up further.
At this point, I wasn't sure where to go at this point for good photos, so I ended up making my way to the front (sunken) section and dropped in to the far stage left; which was cool because I was right of center at the two Hawaii gigs, so had no good close-up pics of Boz, who performs stage left.
As noted in my opening, Morrissey appeared to be quite happy and funny for this concert; not that he wasn't happy at the two Hawaii shows, but he seemed to be especially witty and upbeat at this show.
For me, the Maui show was more just hardcore rocking, especially with the "How Soon Is Now?" opener.  This show, which had a pretty different set list, and what was the same was in a totally different order, just had a different tone for me entirely.  Maybe part of it is just seeing Morrissey for the third time in a week – now it feels like I'm dropping in on an old friend, whereas last Friday, it was like finding a long lost relative I hadn't seen for over a decade.
Anyway, it was another fantastic show – just so incredibly enjoyable and fun.  The highlight for me was the choice for the final song – "Panic" – for which I've included a video below.  I had to stop shooting a little prematurely, as there was a bit of chaos around me with people trying to get to the stage and those finding any success being throw back into us bystanders.  But to go to a concert with yet another classic Smiths song played was just awesome.  "Panic" was not played at either show I attended last week, though with this gig, "Meat Is Murder" and "Still Ill" were both cycled out.
In addition to the actual experience, I ended up with a souvenir – one of Boz's guitar picks.  At one point in the show, Boz tossed one of his picks right at me – I had one hand on my camera, so was unable to catch it and it dropped down below me – another fan dove down to find it… he was actually really cool, so I was fine with him keeping it if he found it, so I turned on my light on my iPhone and pointed it down to help him with some more light.  Ultimately he came up, unsuccessful in locating it.  So I made a mental note to look for it after the show – it had to be somewhere!
So after "Panic" and the drop down section around me cleared out, I looked around and didn't find it either.  Then I noticed that there was a chunk of cement flooring missing – a large chunk – and it was so deep you could see the dirt below the foundation.  The pick was way deep inside, turned at an angle that no one would ever notice it/see it unless they knew what they were looking for.  So I was actually able to retrieve it, and have a nice little memento from the show.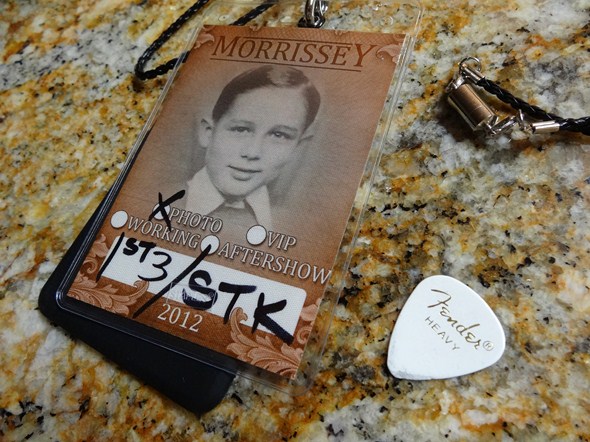 But the one really special thing that struck me about this show is the notion that a hugely popular artist like Morrissey would call out a fan by name, hand him the microphone, and turn the show over to him.  And if you look at the (jump) graphic at the top of this article, that is Morrissey listening intently (and counter to his persona, with joy) to his most ardent fans.  How cool is that?
Below are the videos I shot during the performance:
"Speedway"
"Ouija Board, Ouija Board"
"How Soon Is Now?"
"Panic"
UPDATE 5/28:  One update I wanted to make to this article is on a political topic…  as one might note from the shirts worn by Morrissey's bandmates – "ASSAD IS SHIT" – Morrissey did make a comment about this and in reference to the massacre in Syria by President Bashar al-Assad's forces.  I did happen to catch this on video, which I just found in my files and have now uploaded to YouTube and have embedded below:
Below are some photos I took at the event: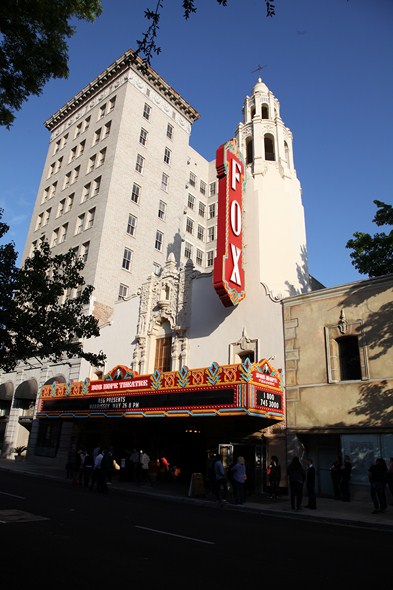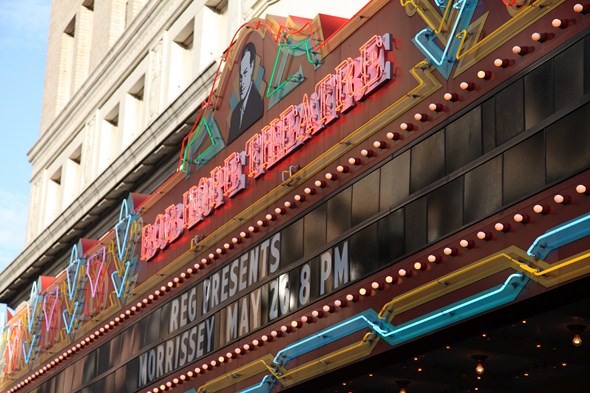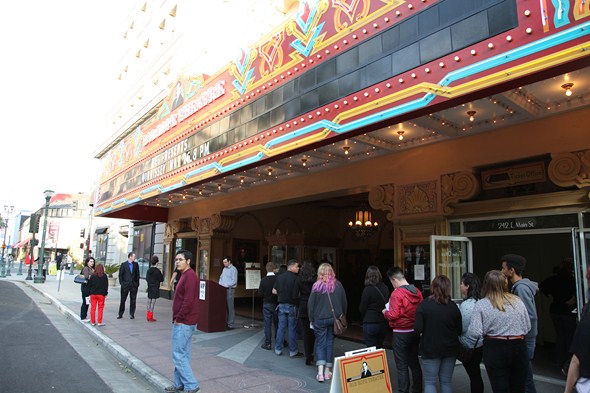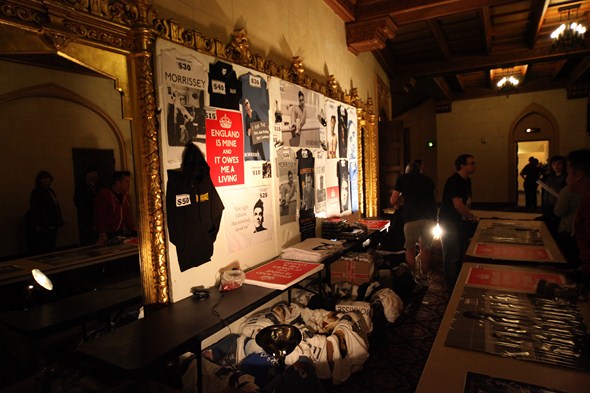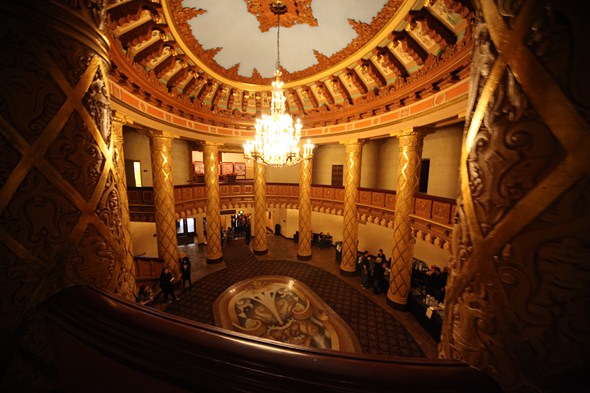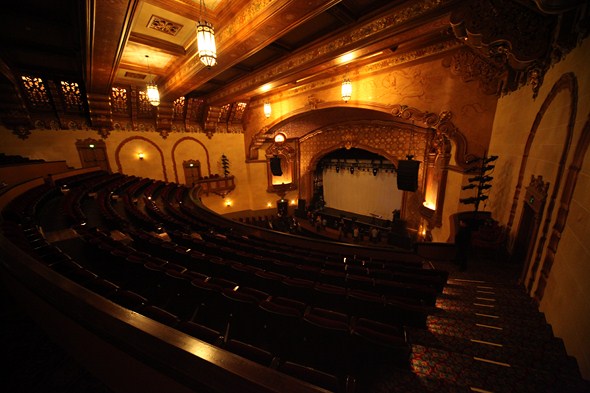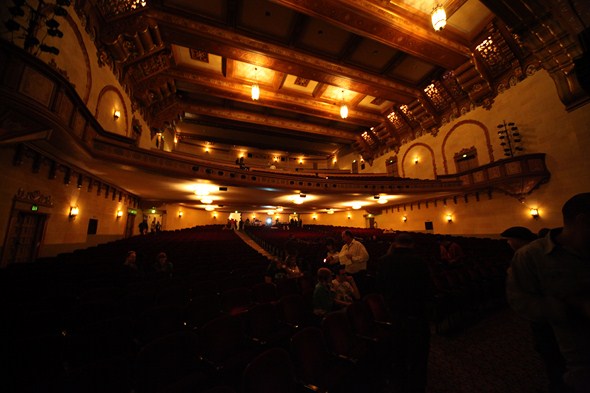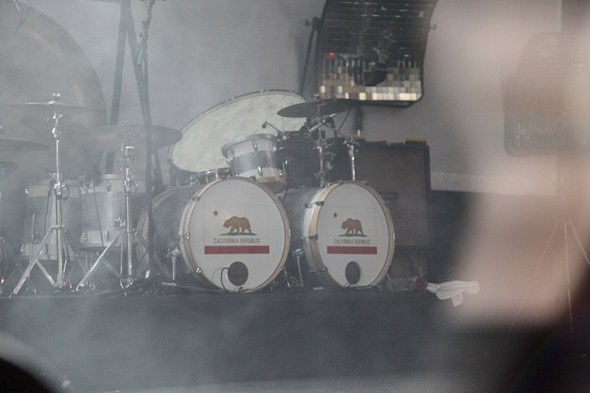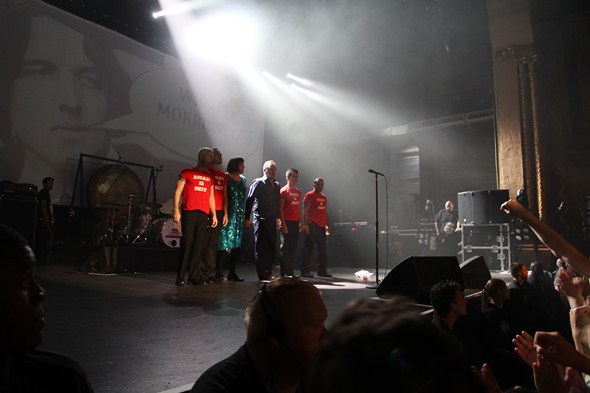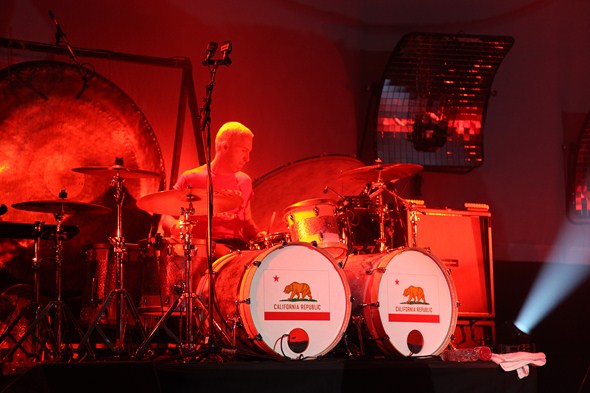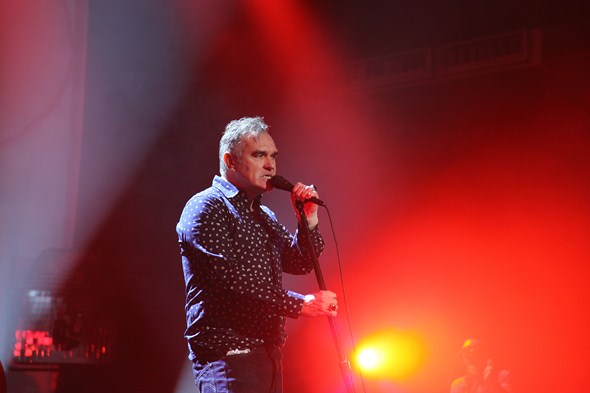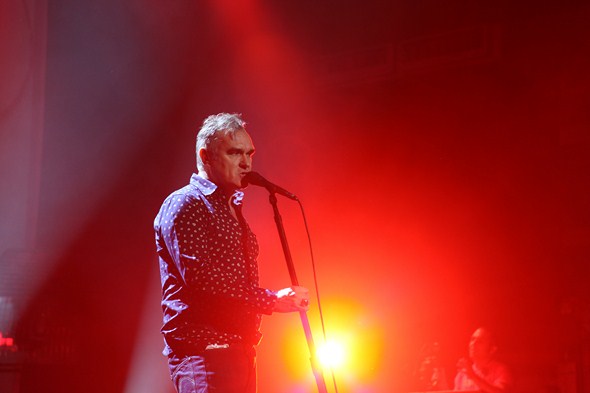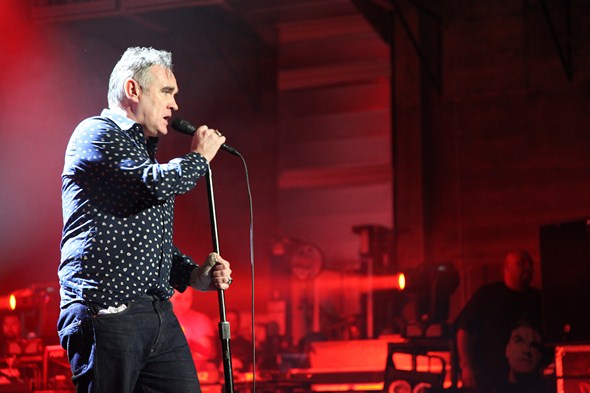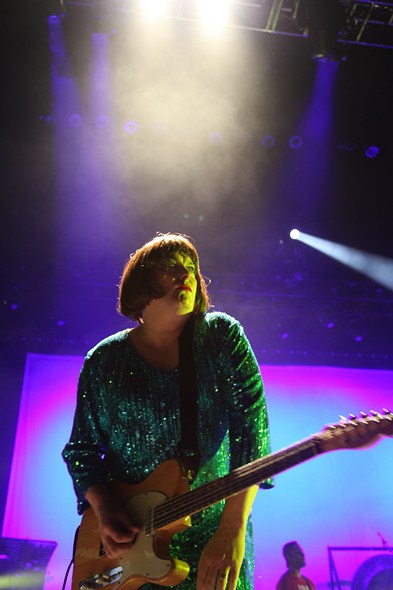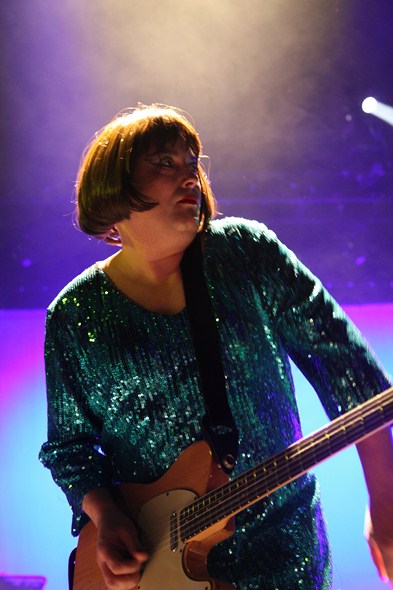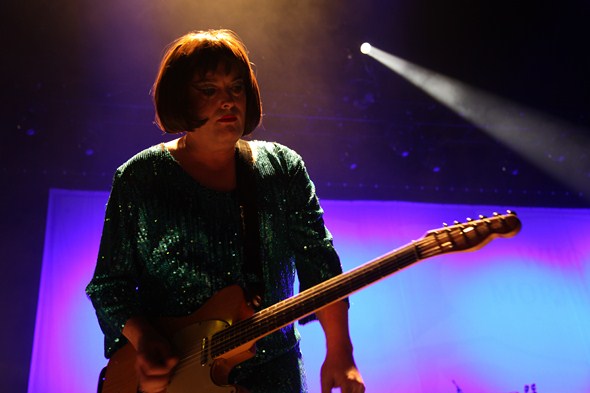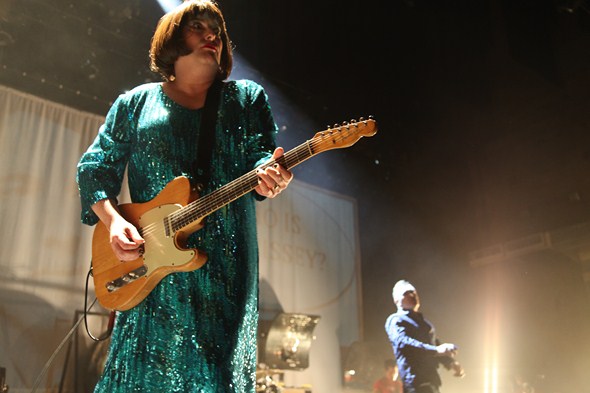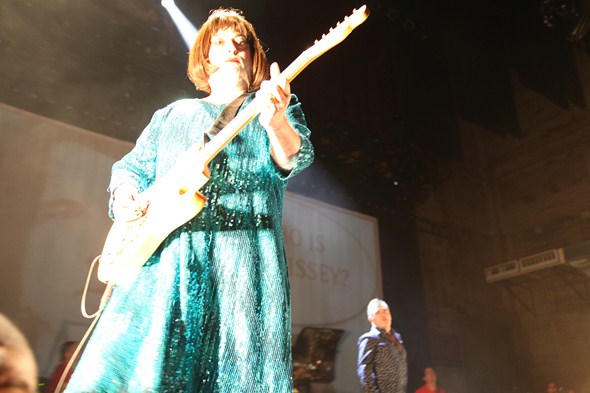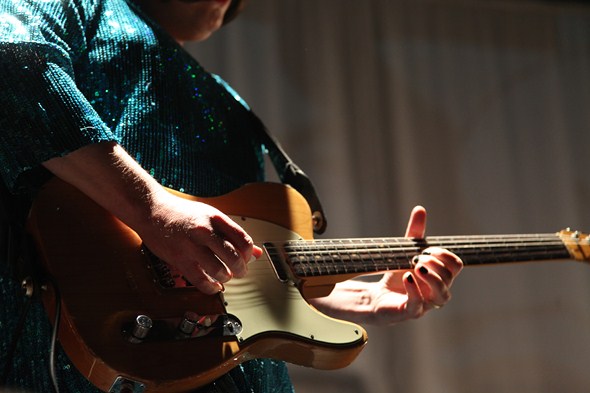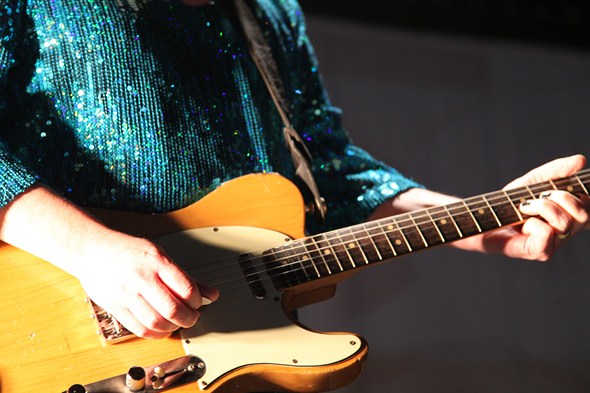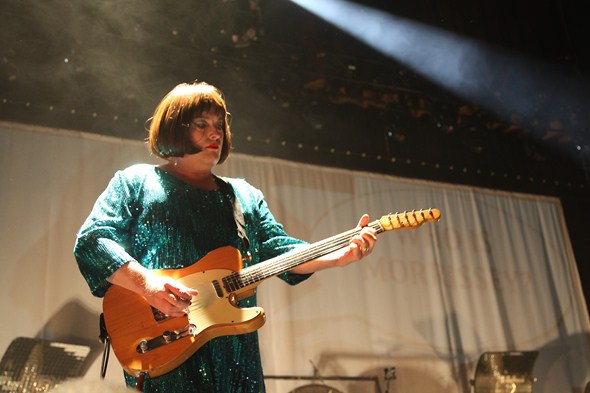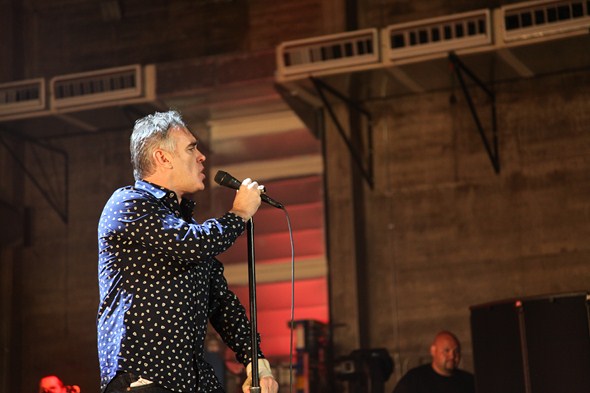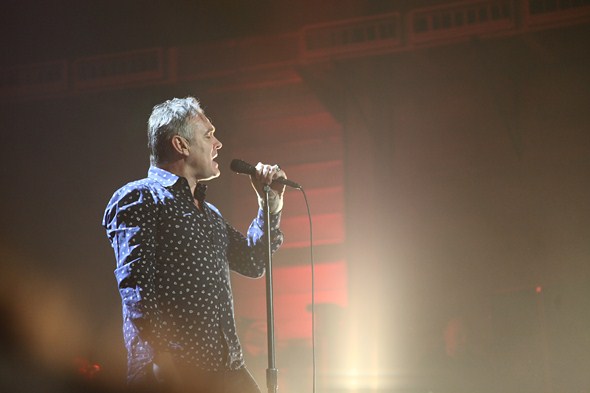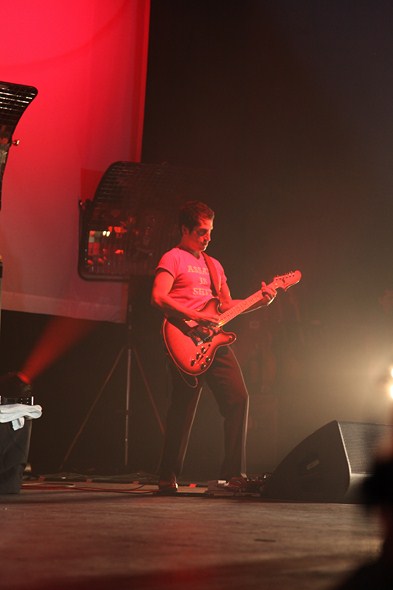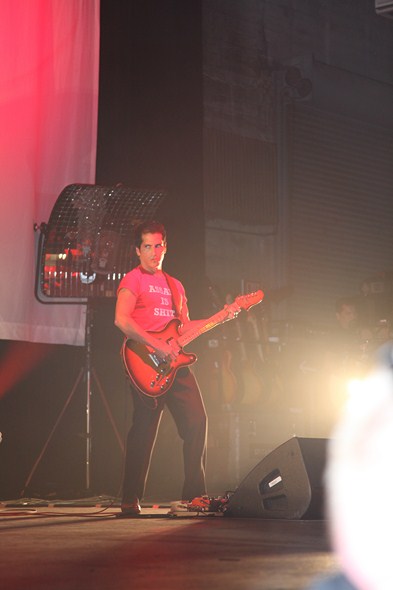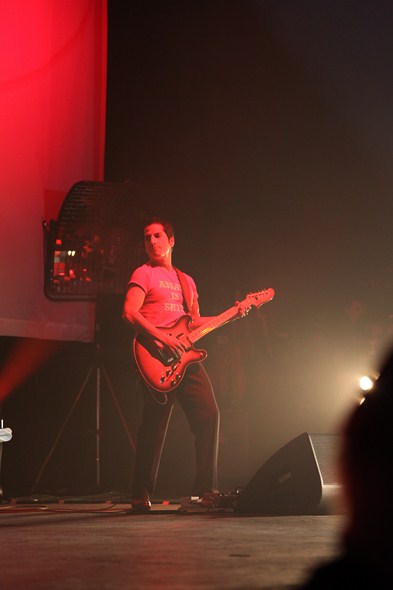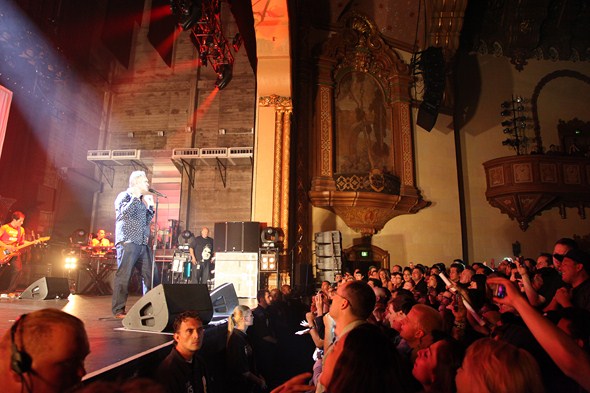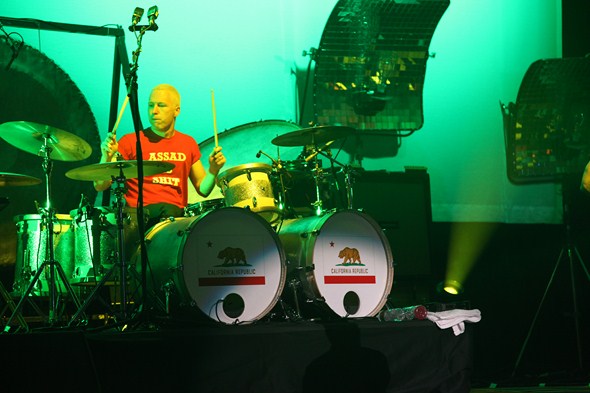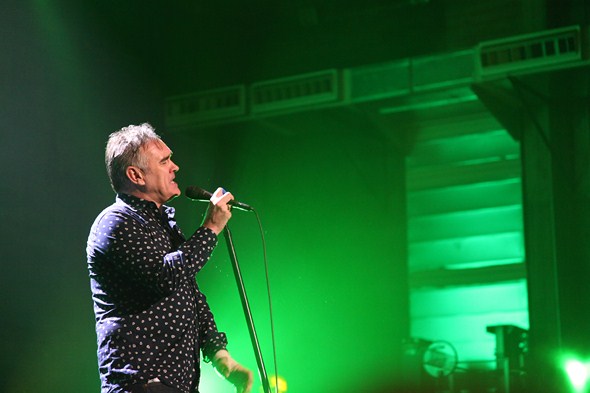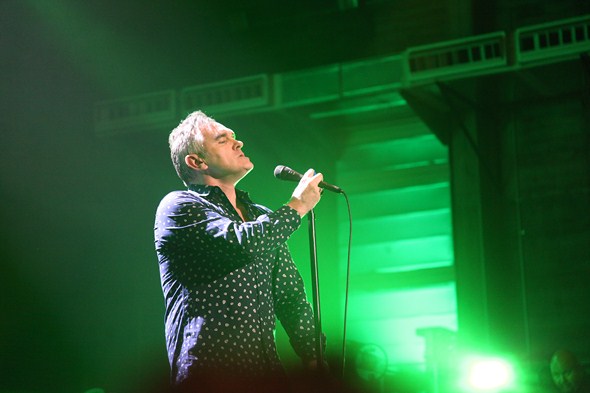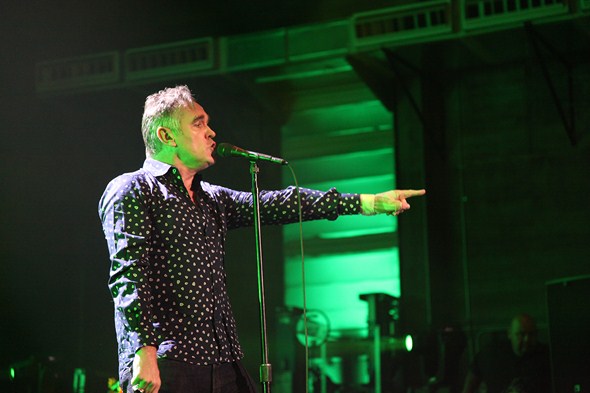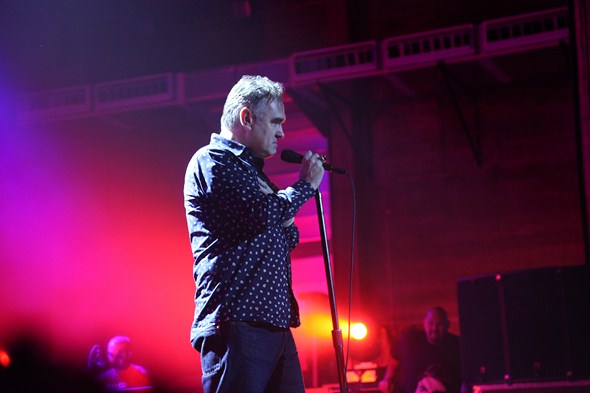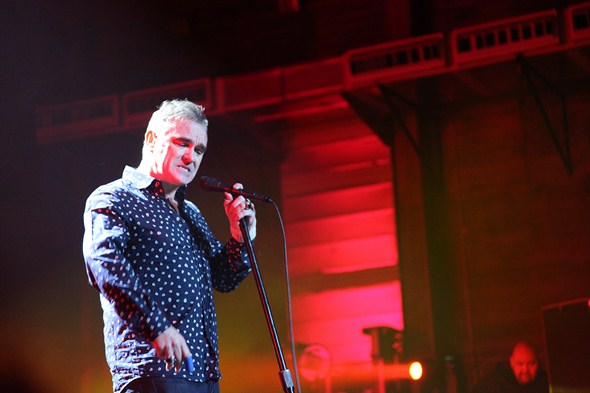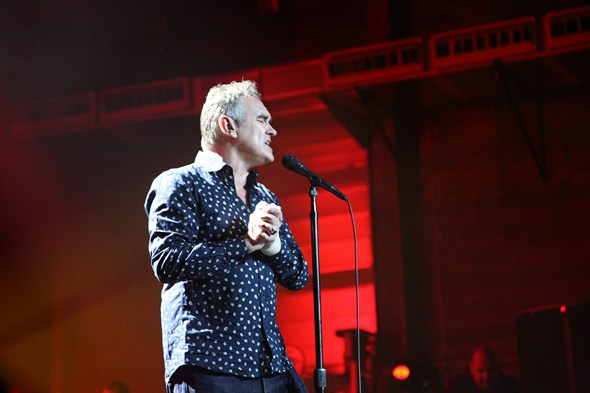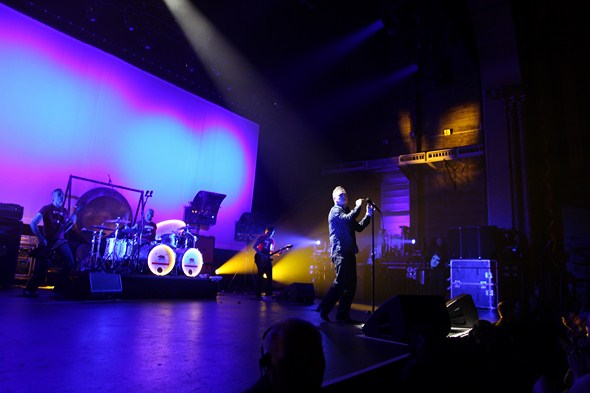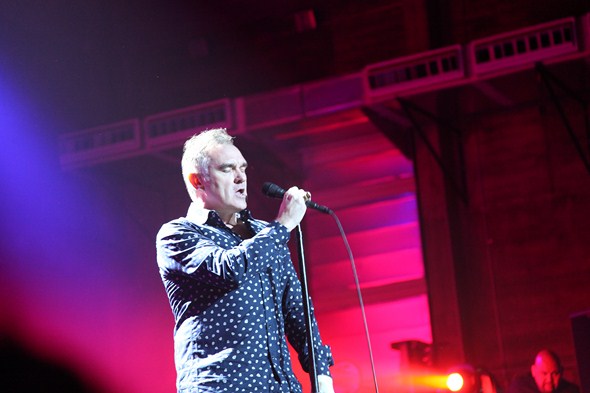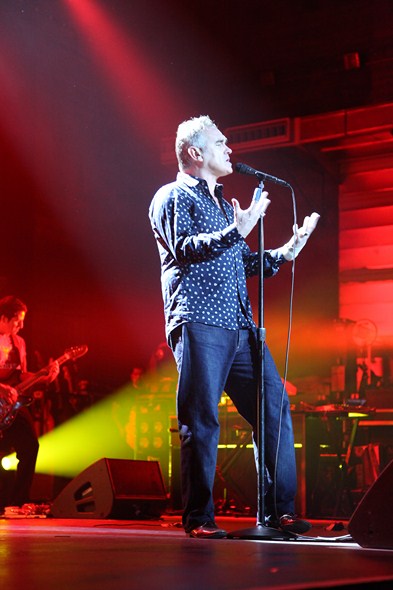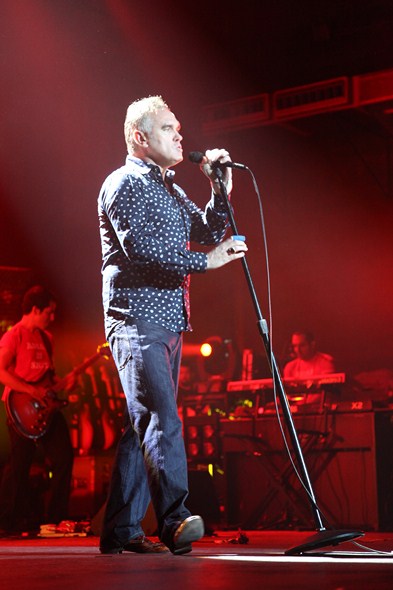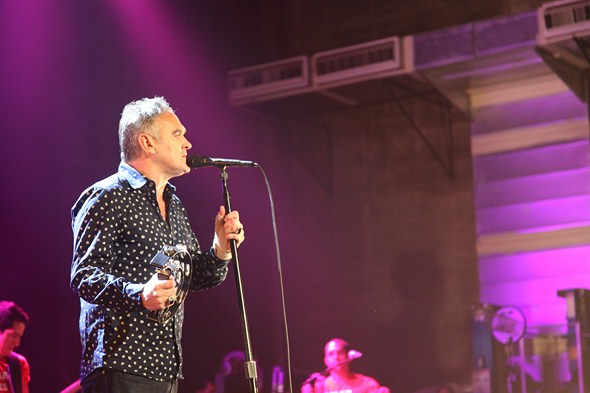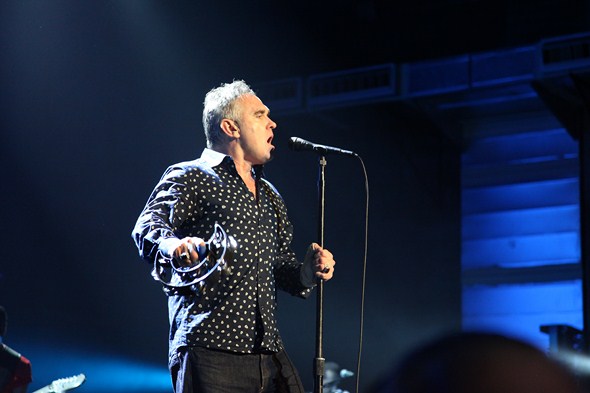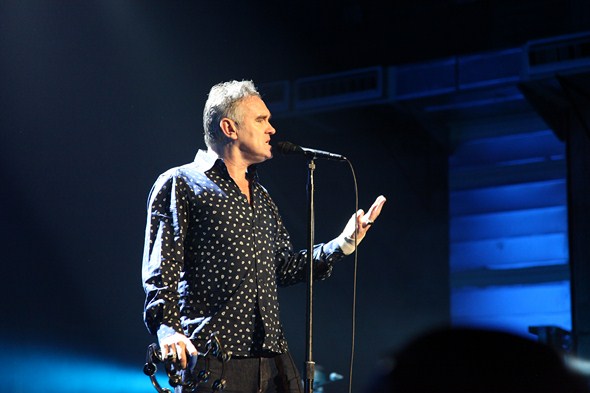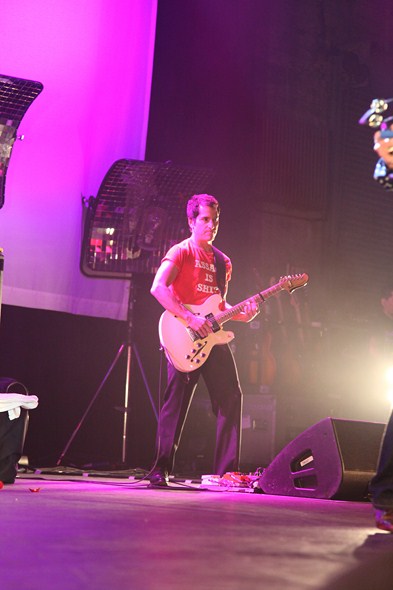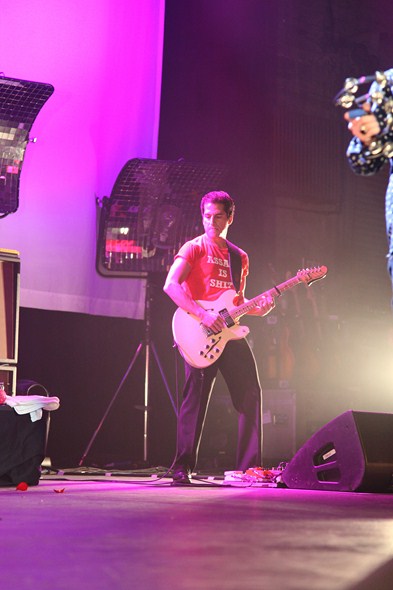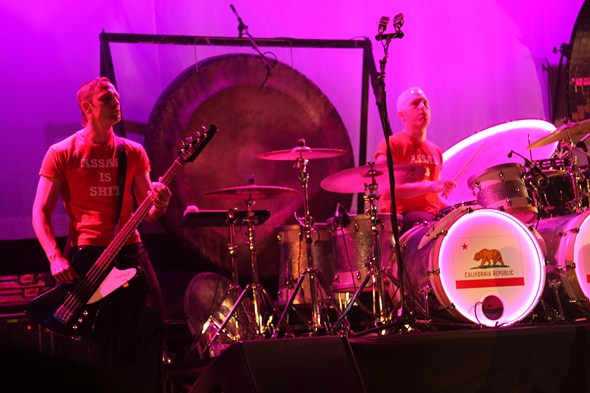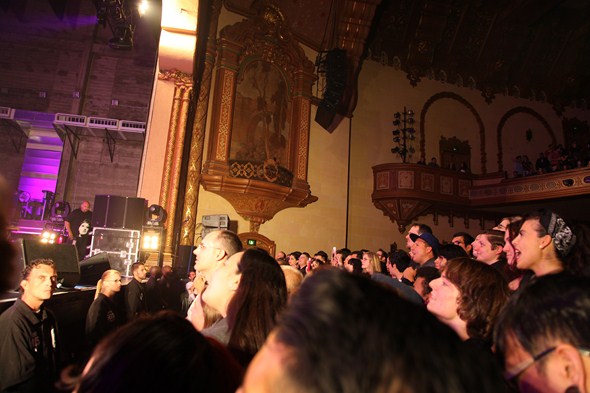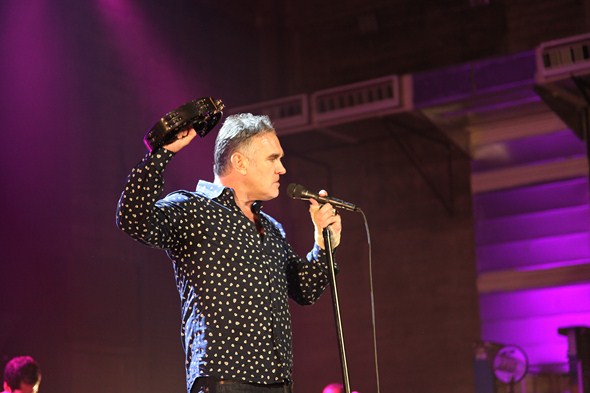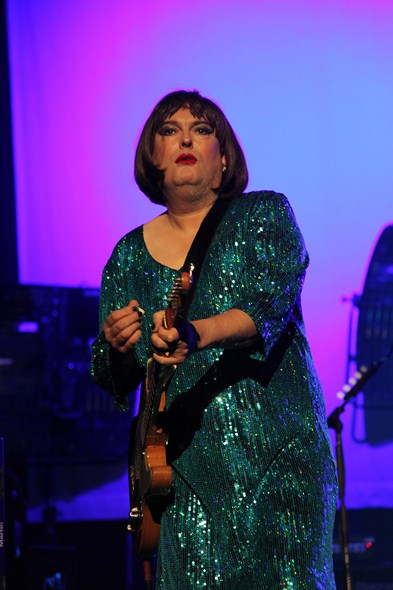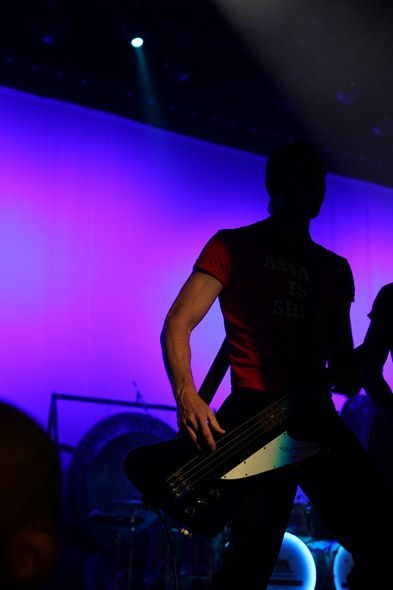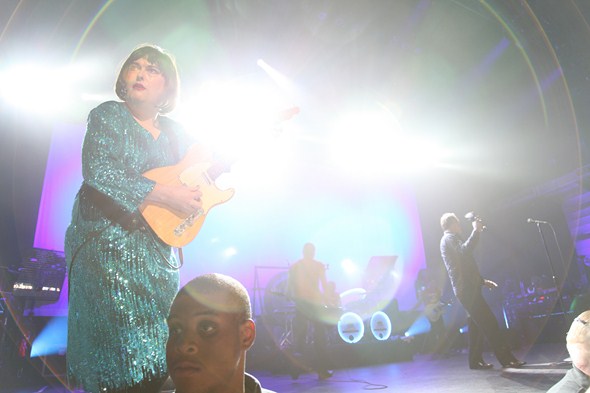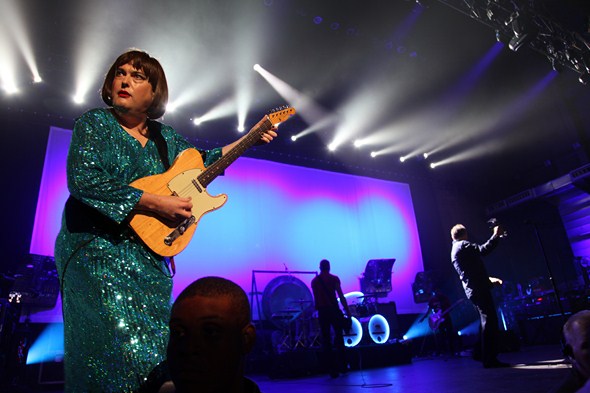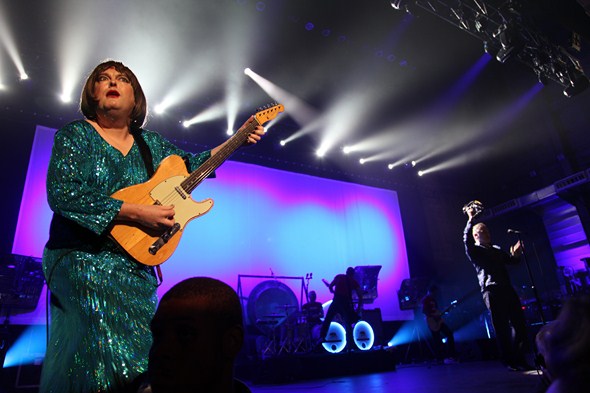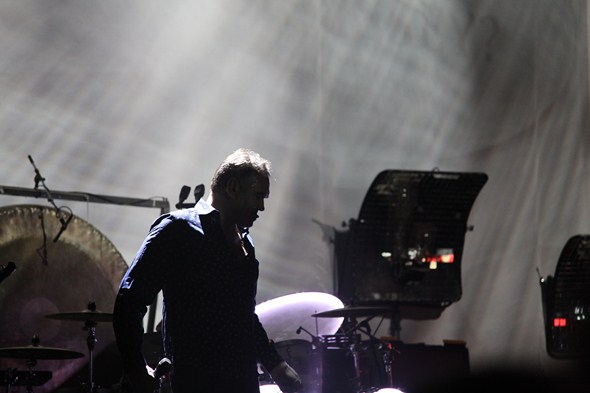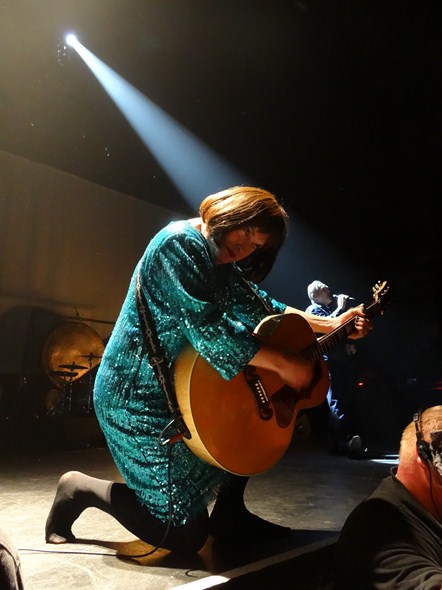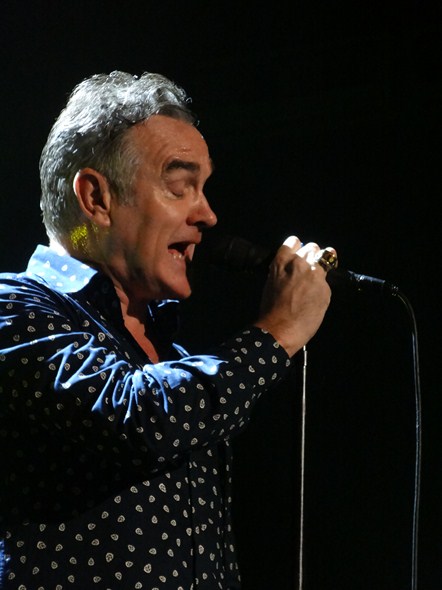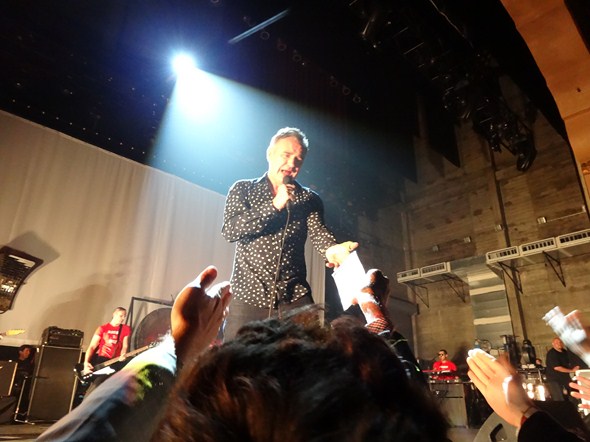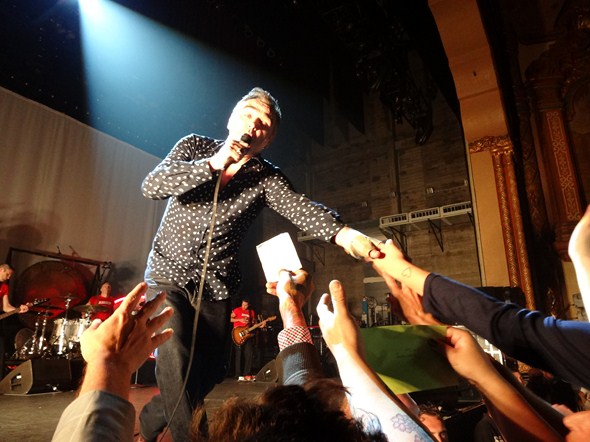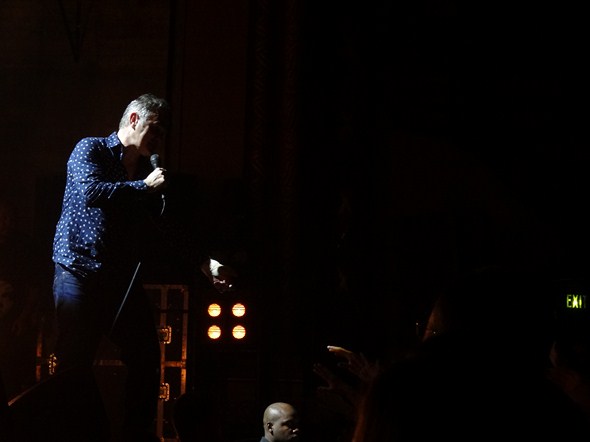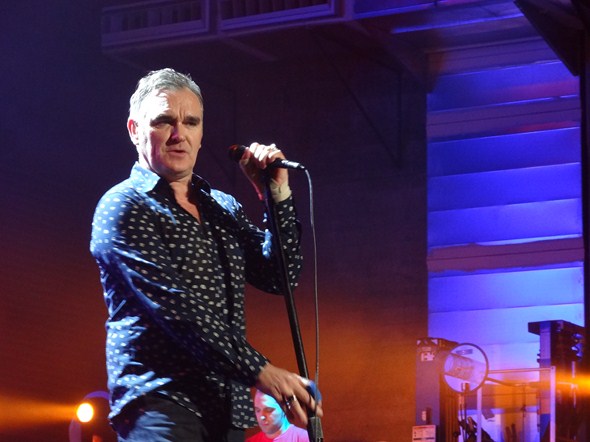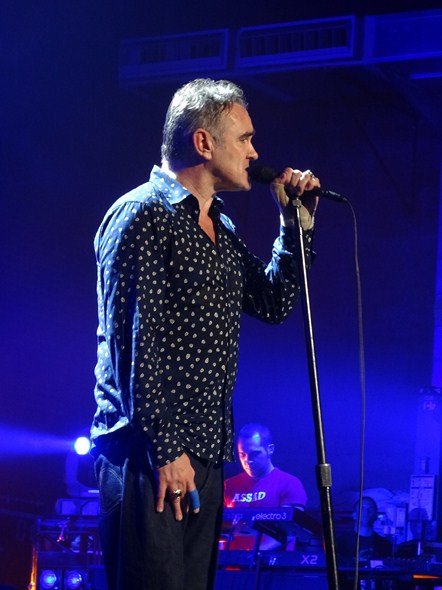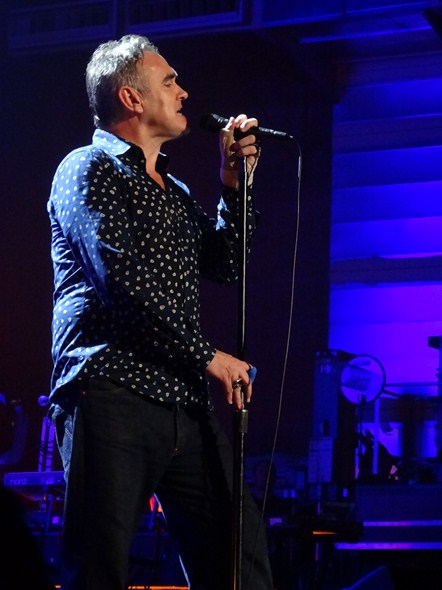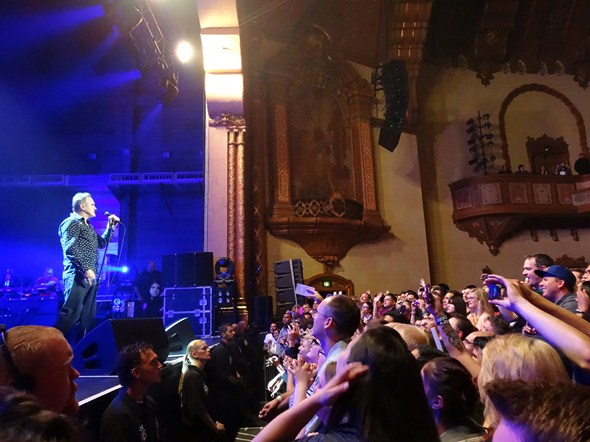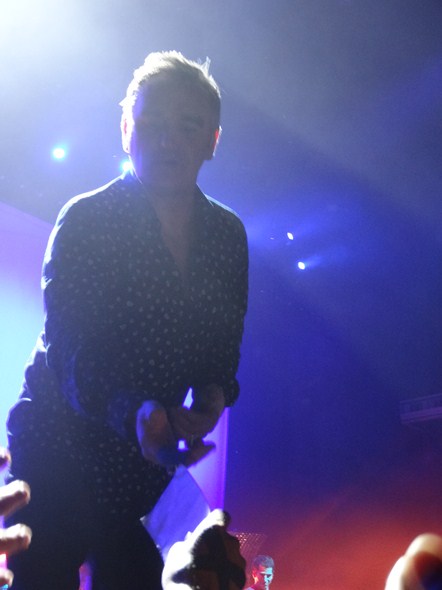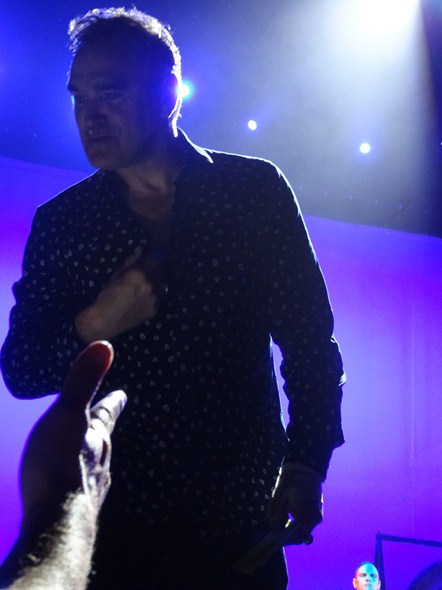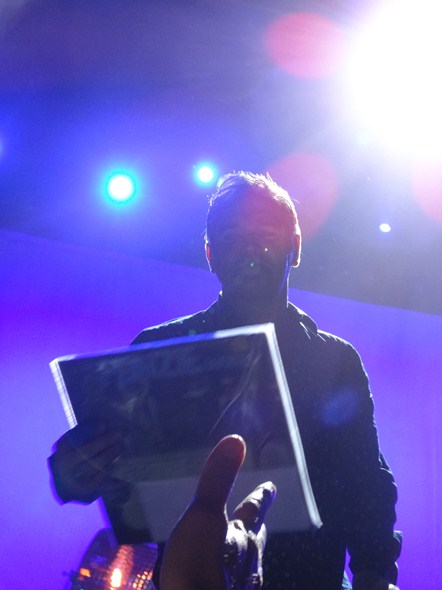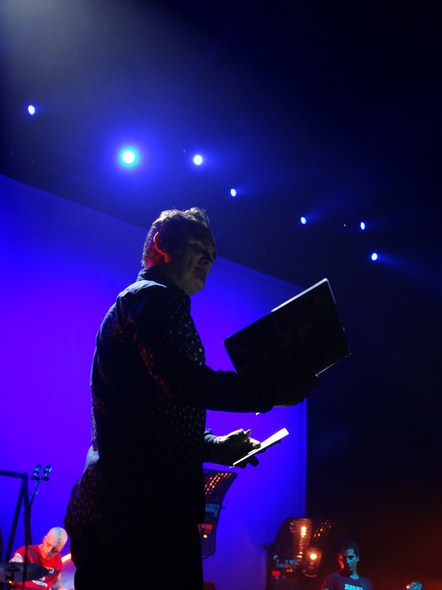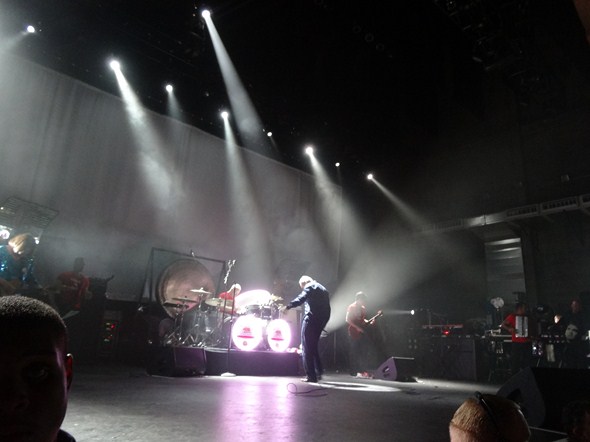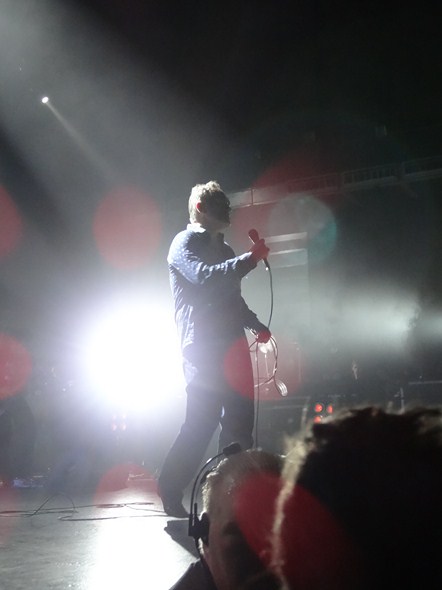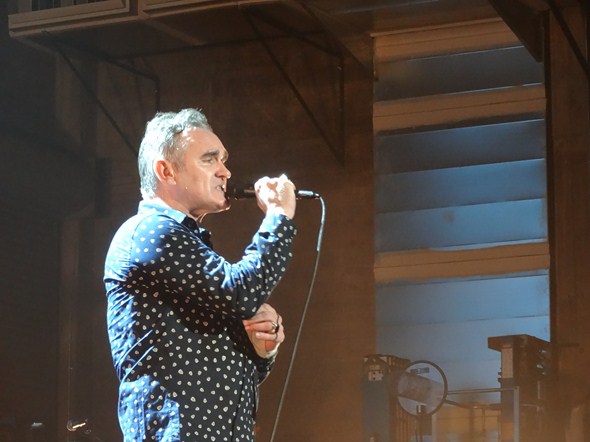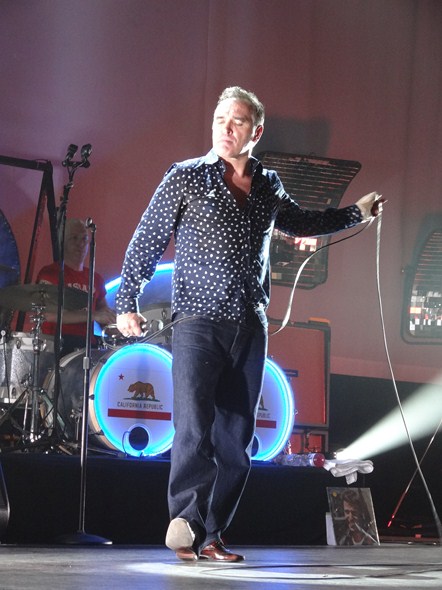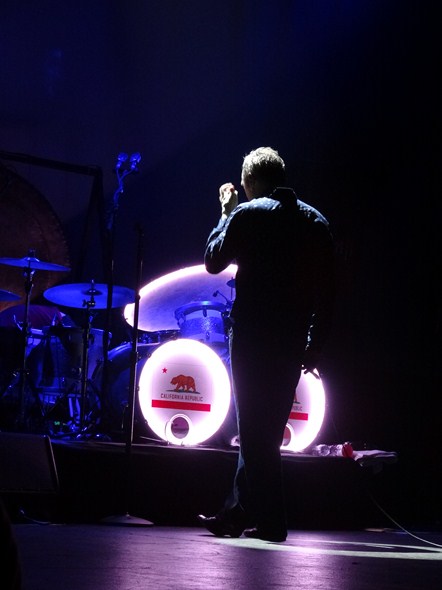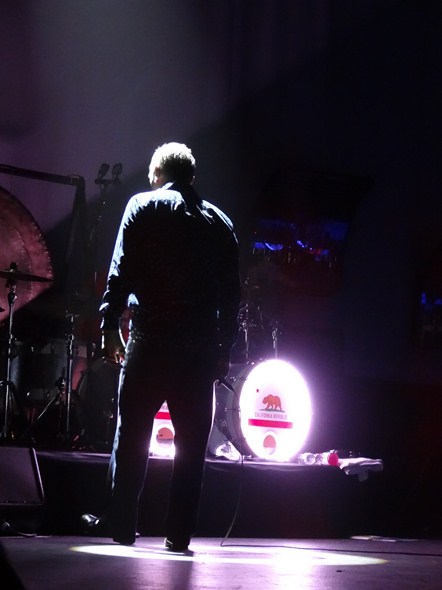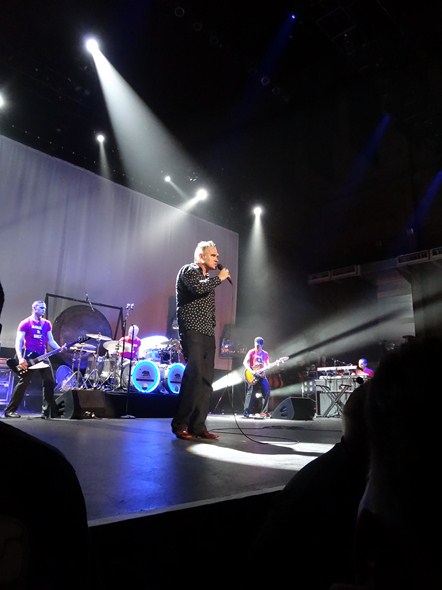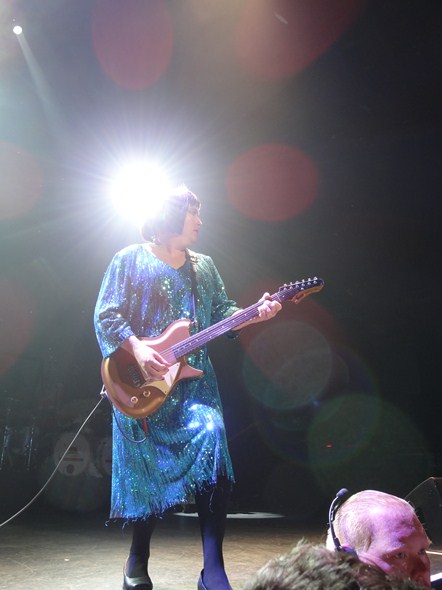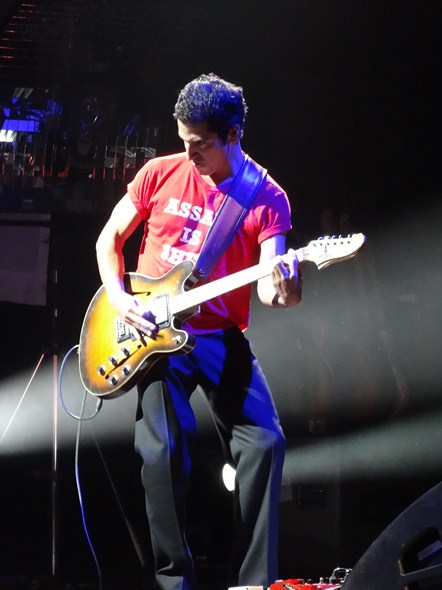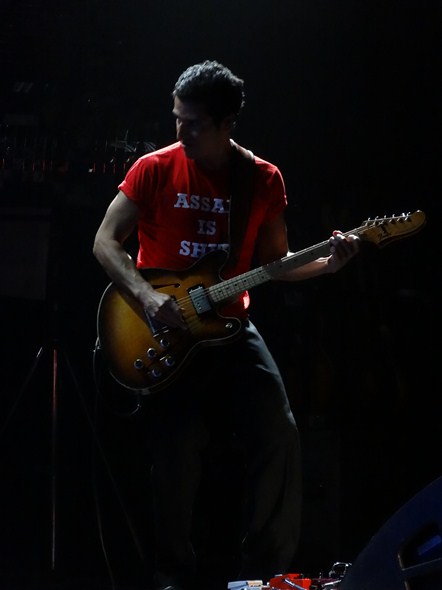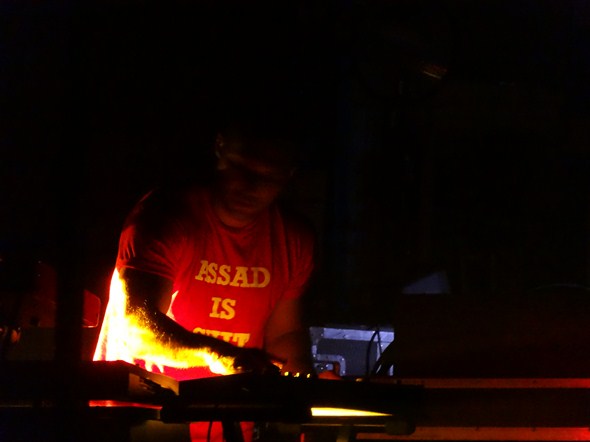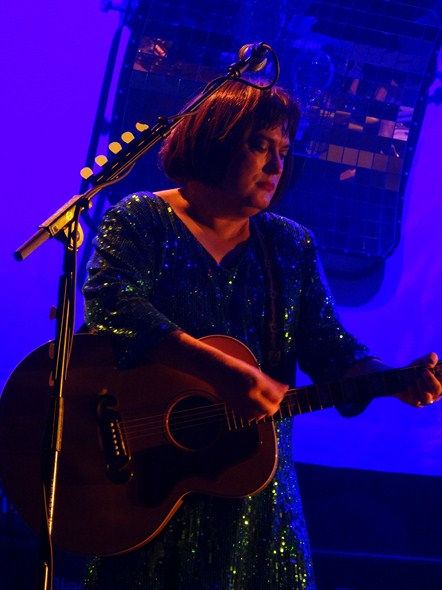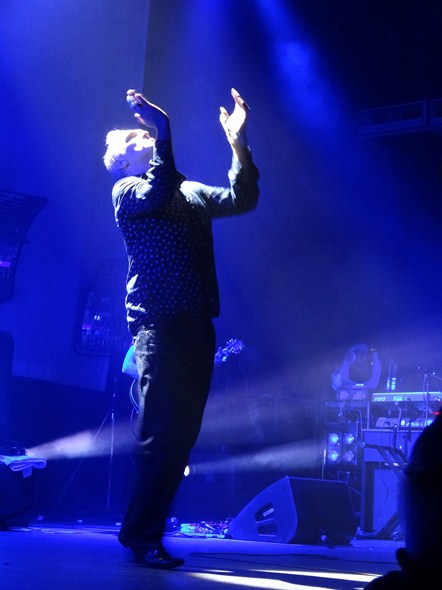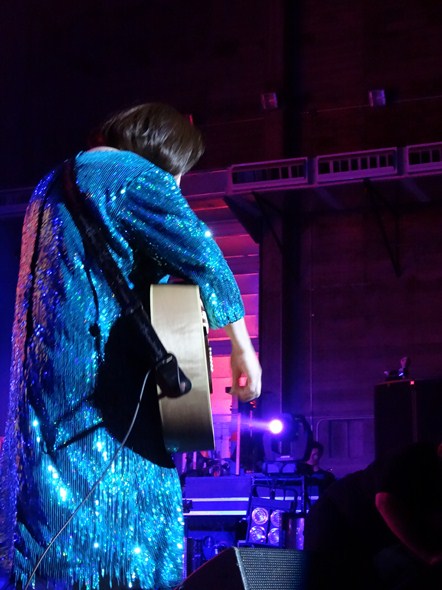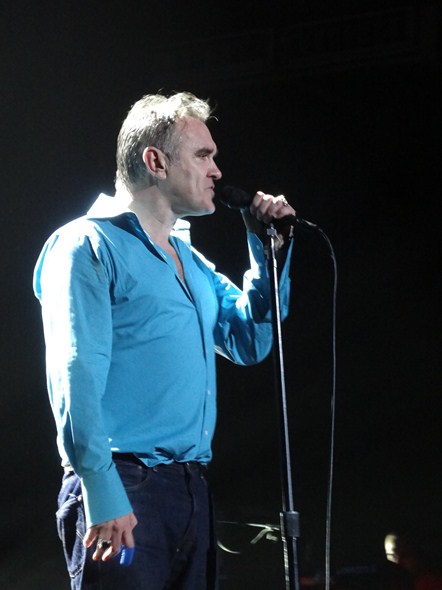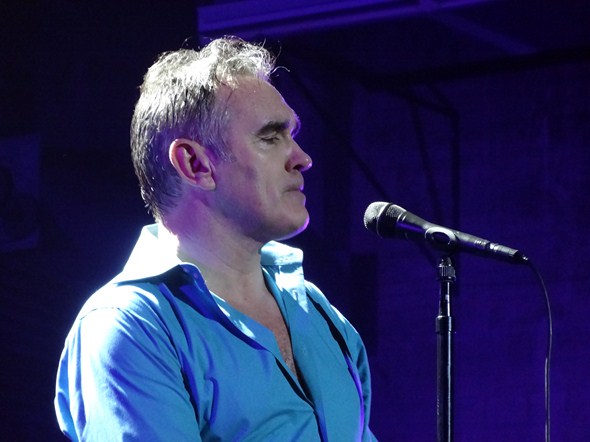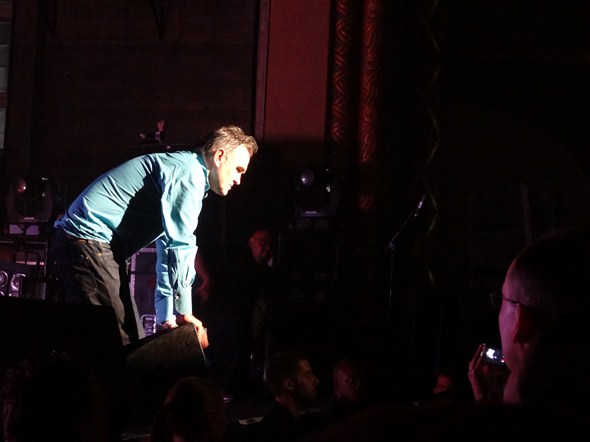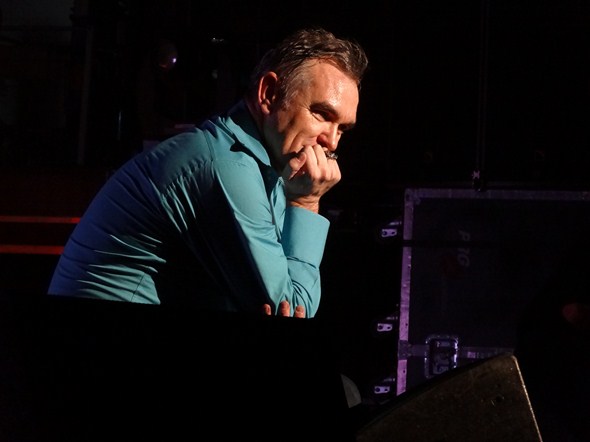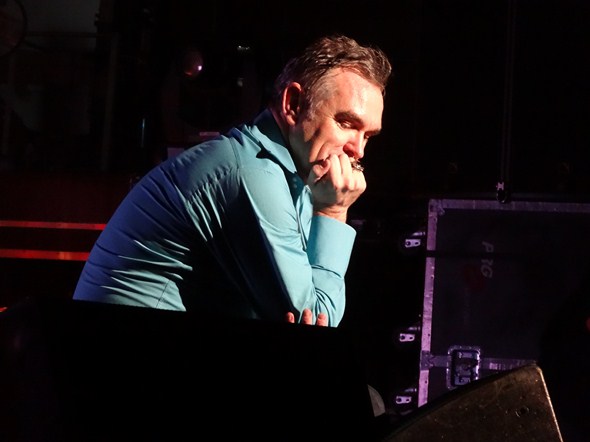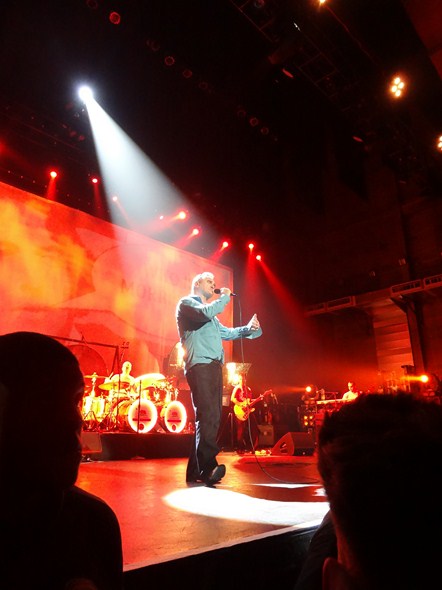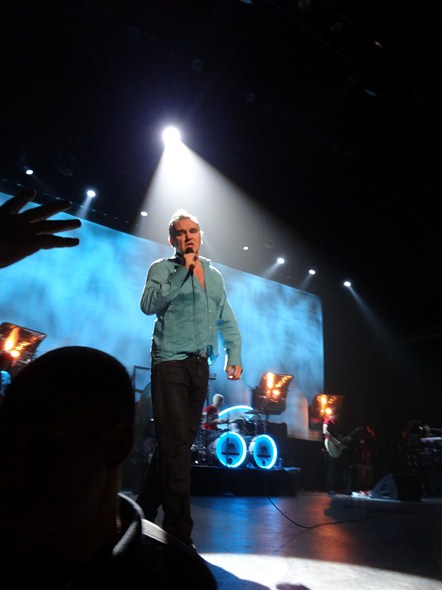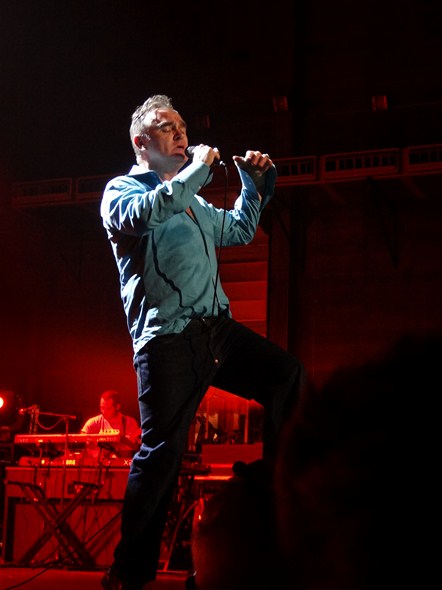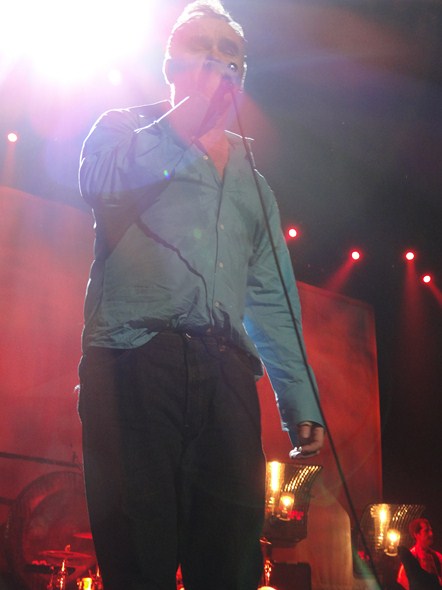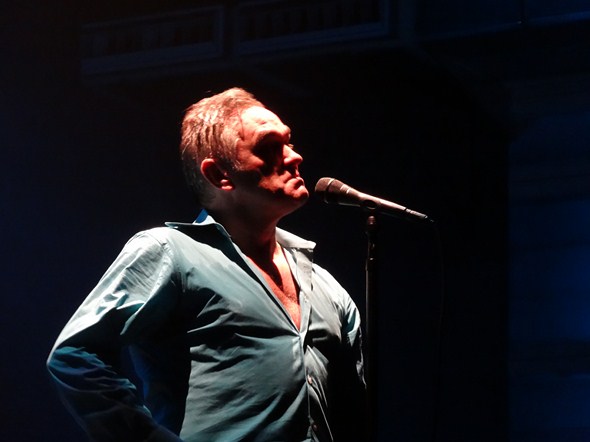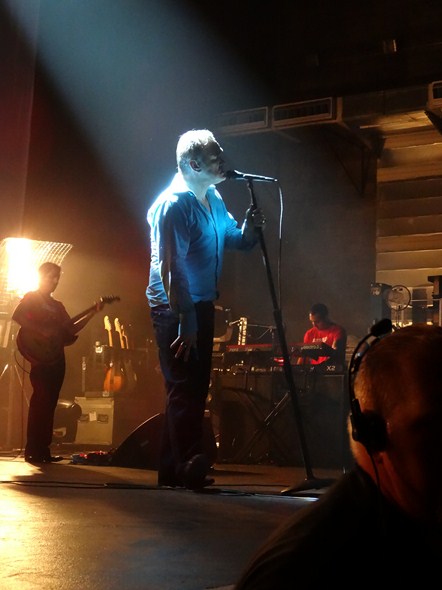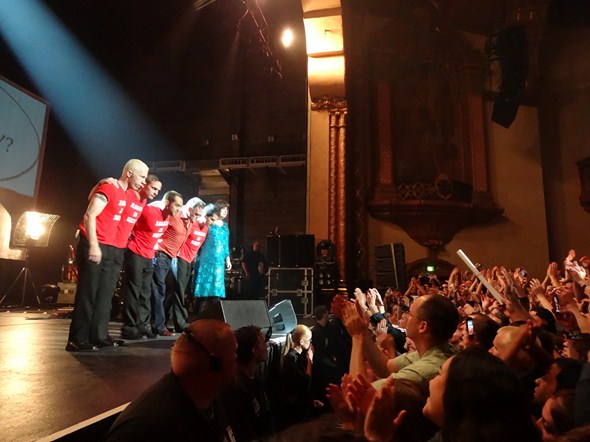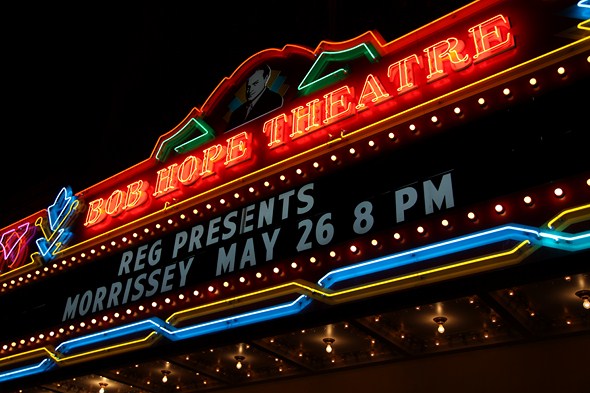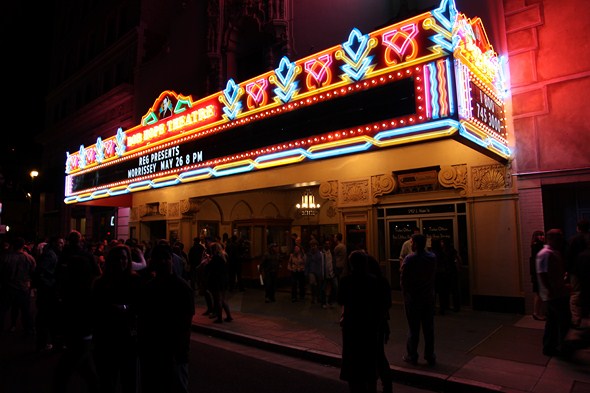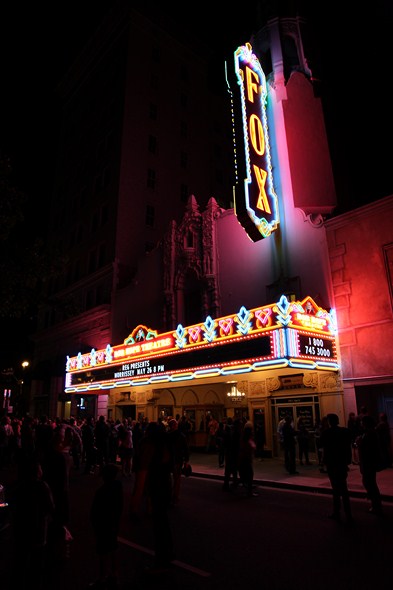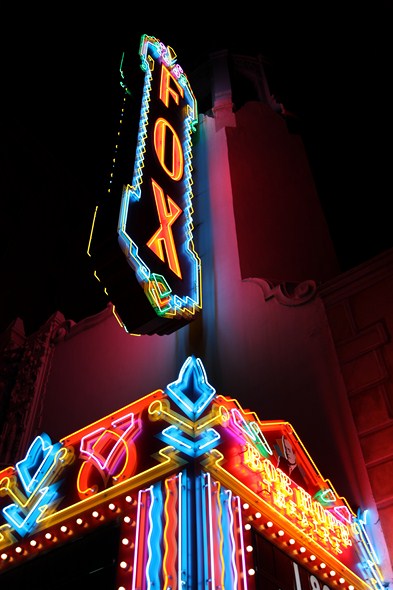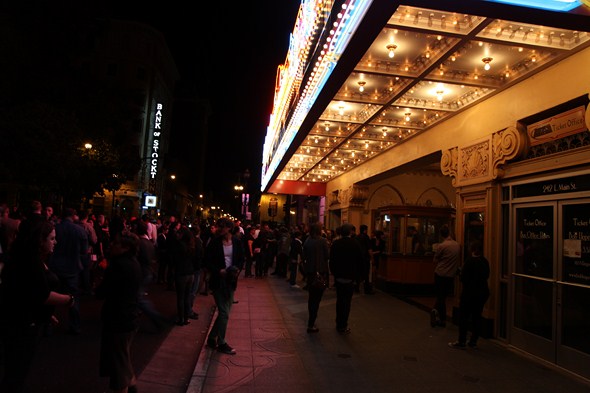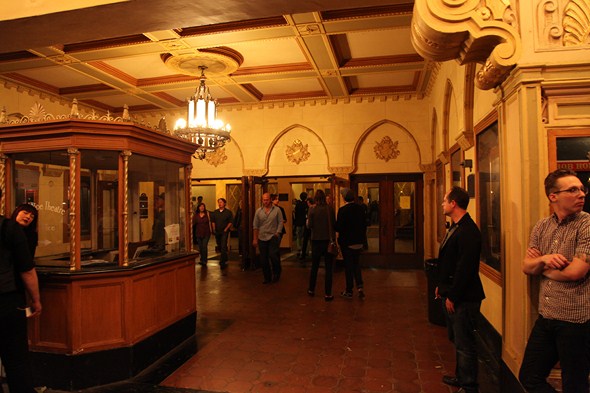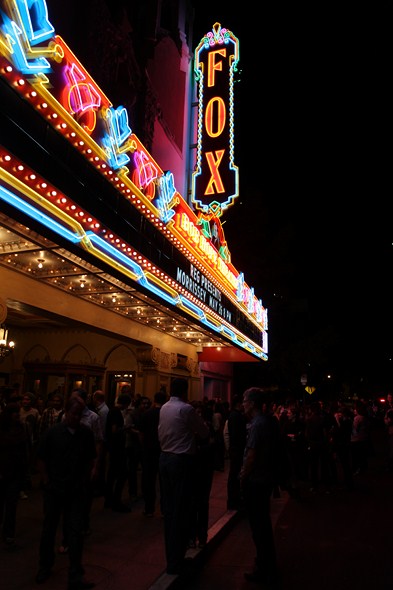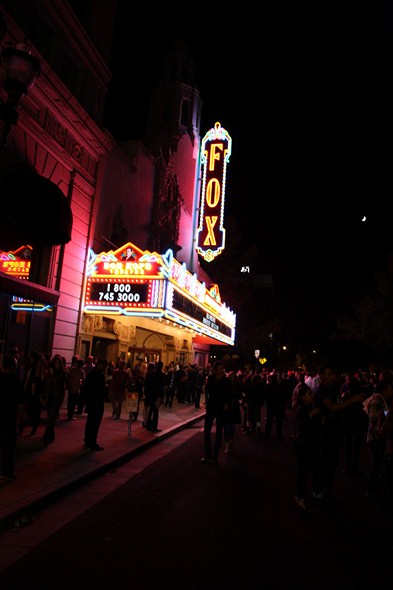 Jason DeBord