This is one in a series of seven reviews for seven hotels and resorts I stayed at during a recent trip to Hawaii (Maui and Oahu) in the month of May 2012. This is part of a continuing series of my impressions and experiences staying at various hotels and resorts while traveling to attend concerts worldwide. This review is for The Modern in Hololulu, Oahu, Hawaii.
Property: The Modern Honolulu
Location: Honolulu, Oahu (Hawaii)
Address: 1775 Ala Moana Boulevard, Honolulu, Oahu, HI 96815
Phone: (808) 970-4161
Website: www.themodernhonolulu.com
Room Type/Class: 3 – Ocean View (Room 816)
Date: May 19-20, 2012
TripAdvisor Page/Reviews: LINK
Booking Source: Direct
Overall Rating: 3.75/5 [Note: Score is totally subjective based on price, location, and comparison to "like" properties within same area and price range]

I choose The Modern Honolulu in searching for a property for a one night stay in the Honolulu/Waikiki area, and chose this resort based on TripAdvisor reviews.  This was my first visit to Honolulu, so do not have any competing properties with which to compare.
The Modern has a well-staffed valet service, but the drive up to the property can be problematic, depending on the time of day and traffic.  If approaching from the opposing side of the street, I found that other drivers can easily block entry into the drive up area, leaving you stranding and blocking traffic for five minutes or more (there is no center turning lane, so you are literally blocking the fast lane on the street).  It's not so much attributable to lack of space, but lack of management.  This was especially problematic at night, due to non-guests visiting their nightclub.  So depending on your arrival and how backed up their valet is, this can lead to a negative/frustrated first impression, as you are left waiting in the street with your turn signal on for up to ten minutes, and when you finally have space to pull in, and there is room for many cars, you are left wondering who is in charge of the mess.
The Modern lives up to its name, as it is very trendy, hip, and contemporary in appearance in the lobby and rooms.  Check-in was fairly smooth; the room I had booked was not ready, so I opted to accept a lesser room in order to not have to wait for the one that was apparently in a better location.
This is one of those hotels where you need to use your room key to activate the elevator; I suspect this is in part due to the aforementioned nightclub and flood of young/immature people that populate the common areas at night.
The room itself is very clean and neat, with modern-style decor and appointments (kind of like an Ikea showcase).  Not large, but certainly big enough for one or two people.  In addition to the bed is a (very) small desk and lounge.  I hard a challenging time finding outlets for electronic devices, and finally figured out that there were a few along the side of the desk.
The room included a balcony with chairs and a small table, with a view of a marina off to the side.  This room faced out the front of the hotel, and I found that it was a very noisy street below, in terms of traffic as well as noise from people (especially at night), even from the 8th floor.
The resort features a really nice outdoor pool (with beach-like sand) with a full bar.
Overall, the property skews very young, hip, and, for lack of a better term, "attractive".  Seems like everyone staying there must be supermodels and the like, so if you are the type who might be self conscious about that sort of thing, that is the sort of atmosphere I had found during my short stay.  It definitely did not come across to me as family friendly at all, especially at night.
It is a great hotel if you are young and looking for a place with nightlife and the like; if you are not, you might be annoyed by that sort of thing going on in and around the resort.  It would seem that the former is the sort of clientele that they are cultivating.  It is also not very close to what some would call "the action" in and around Waikiki – you really need to get in your car or a taxi to local attractions.  They also charge $28/night for valet parking, which seems like a lot since incoming traffic is not really managed at all, leaving you waiting in the street for up to ten minutes just to pull up to the lobby area of the hotel.
I would probably not stay here again, but don't say that as a non-recommendation, just that I had no interest in that sort of scene even when I was younger, so just not my kind of hotel.
Below are photos I took of the resort and the room I stayed in: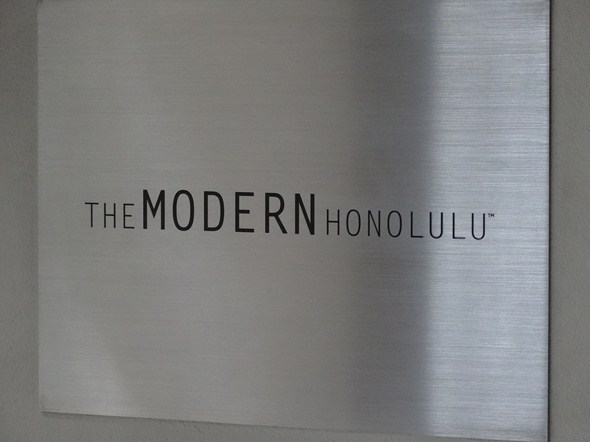 Jason DeBord