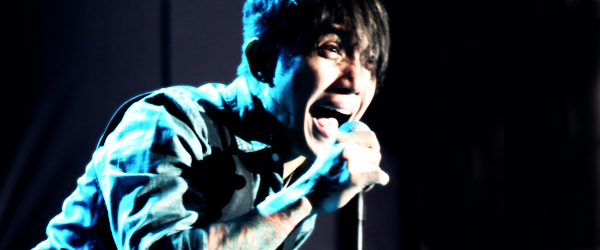 As part of their Summer Concert Series, Harvey's hosted an incredible night of music at their Lake Tahoe Outdoor Arena on Sunday, July 22nd.  The concert featured Journey as headliner, Pat Benatar and Neil Giraldo, and Loverboy. Truly an amazing line-up particularly for fans of 80s music, as all three had many hits during that decade, though their works of course span multiple decades, and their popularity has been ongoing.  It's hard to summarize what was an amazing show in a couple of lines to open this review, but it was just an unforgettable evening, even for someone like me that regularly goes to many, many concert events.  Really, it was one of the best.
Who: Journey
Who: Pat Benatar and Neil Giraldo
Who: Loverboy
Venue: Lake Tahoe Outdoor Arena at Harvey's
Presented By: Another Planet Entertainment
Where: Stateline, Nevada (South Lake Tahoe)
When: July 22, 2012
Seating: Section 5, Row 1, Seat 16 (front row, center section, middle row; also photo pass first three songs)
NOTE: There are reviews and photos for all three bands below, but many, many photos so be sure to keep scrolling to read the full review.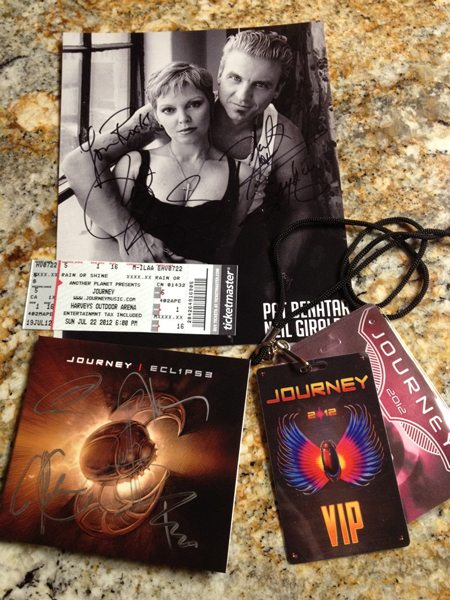 So being a fan of all three artists, this show was akin to a triple header for me, as I would go to see each of them independently, had I an opportunity, so to see them all in one night, back to back to back, was amazing.
As an aside, one thing struck me about this audience, and I think it is reflective of our (changing) times and newer generations of music fans… things have changed considerable just in my lifetime, in terms of music, artists, and their followers (and the latter's general outlook on music).
With this show, I spoke with a lot of other concert goers, as I had purchased a meet and greet/VIP package, which entailed some opportunities to socialize with other fans at a pre-show party, going backstage for a tour, meeting the band, etc., and all the time in-between.  And while each person I spoke to in and out of this grouping had their own favorite of the three artists performing (and I found a number of people there for each of the three), everyone had a respect and appreciation for all of the artists, and were there to enjoy the entire line-up and performances for the evening.
This may all sound quite normal, but I couldn't help to compare and contrast with me experience at the concert a few months ago with The Black Keys and The Arctic Monkeys.  At that show, being 39 years old, I couldn't help but notice that crowd skewed much, much younger.  As an example, talking to concert goers there, who were very into contemporary music, I would bring up arguably the most important band in the 90s (Nirvana) and find either blank stares or responses like "I've heard of them", which I found kind of shocking.  The other thing I found shocking about that concert is that it seemed to be an either/or situation – many people were fans of one band or the other; not both.  In fact, as I mentioned in my article, some Arctic Monkeys fans left after their set, and didn't even bother to stay for The Black Keys (and I'm certain if the bill were reverse, the same would hold true for the fans of The Black Keys).  Obviously, I still haven't quite wrapped my head around the, well, fickleness of some within a younger generation of concert goers.
So what I'm getting at is that it was so refreshing to be part of a crowd that loves music, and has a broader appreciation of these bands who have produced wonderful records and managed to stay active with their craft with new music and touring to give their fans an experience that they will remember.   Sadly, this seems to be going away with what is becoming an infinite and fractured mainstream pop culture and short attention spans, and I think what those of us who were around in the 80s had is something that will never be repeated.  There isn't anything I can do about this, but certainly will continue to try to see as many concerts as I can that are put on by bands and artists who flourished in what will always be my favorite decade for pop culture.
Loverboy
Members
Mike Reno (vocals)
Paul Dean (guitar)
Ken Sinnaeve (bass guitar)
Doug Johnson (keyboards)
Matt Frenette (drums)
Loverboy was formed in 1979 in Calgary, Alberta and their first album was a huge hit in native Canada, selling over 700,000 records.  Funny enough, after touring with Def Leppard, ZZ Top, and others in 1980, they began touring with Journey after releasing their second album in 1981, which included one of their biggest hits, "Working for the Weekend", which reached #7 on the U.S. Billboard album charts.
The band had a number of hits and significant success throughout the 80s, though broke up and reformed and parted ways again at the end of the decade.  They then reformed in 1991 in a charitable effort to raise funds for a friend battling cancer, and went on to record new material as well, and to date have published seven studio albums.
Loverboy definitely had their own fan contingent in the Lake Tahoe Outdoor Arena Sunday night – I can't recall the last time I saw so many Canadian flags in one place.  Everyone around me in this area were singing along to all of their songs, and I would guess that a good percentage of American Radio Stations play "Working for the Weekend" religiously at 5:00 on Friday afternoons every week.
I had never seen the band play live before, and they totally rocked it out – they sounded great, and really appeared to be enjoying themselves, and getting the crowd energized.
Below is a video of Loverboy performing "Working for the Weekend":
Below are some photos of Loverboy performing on stage: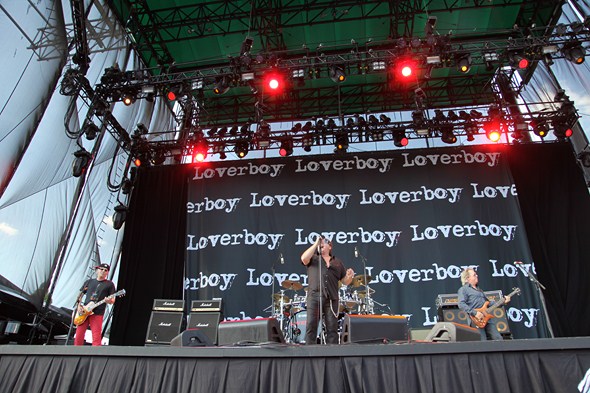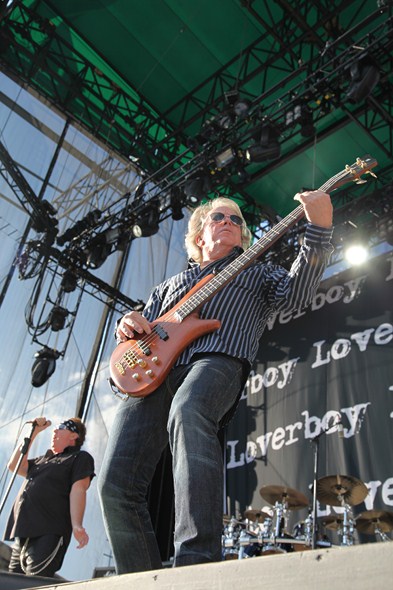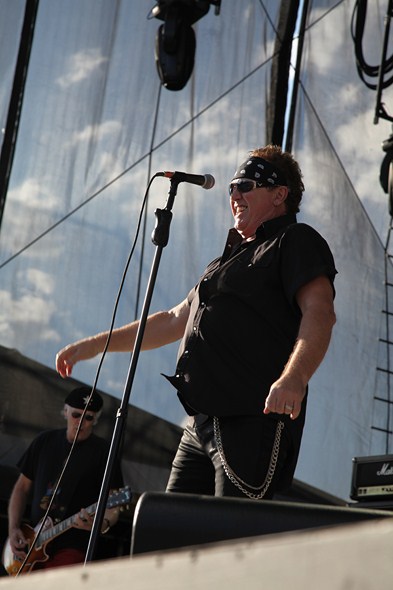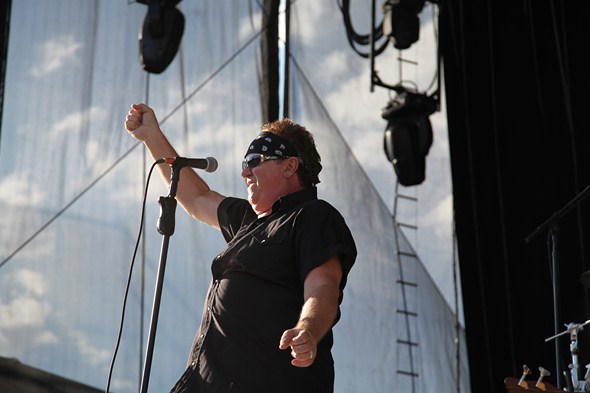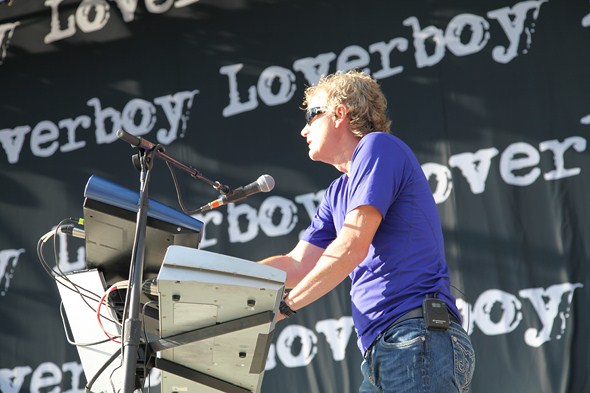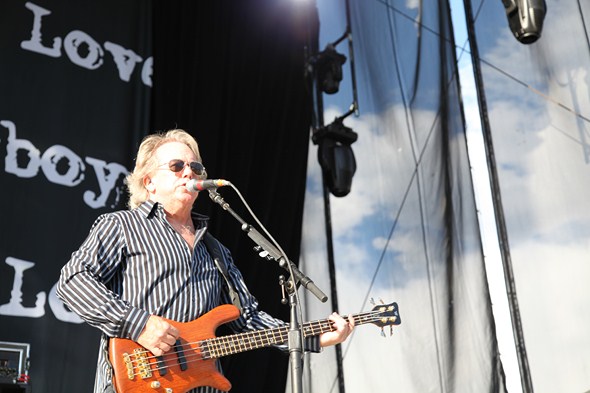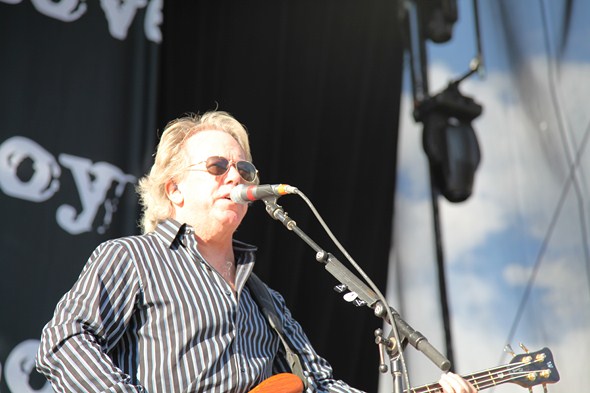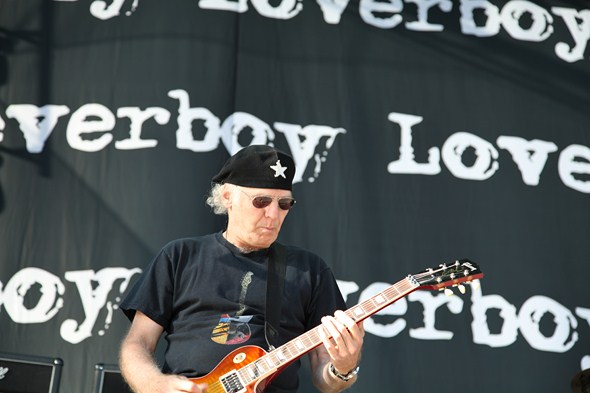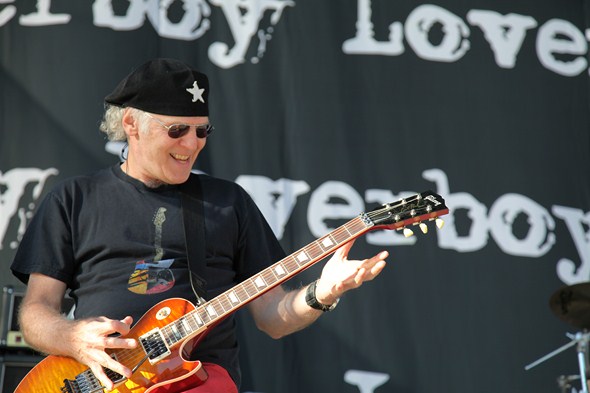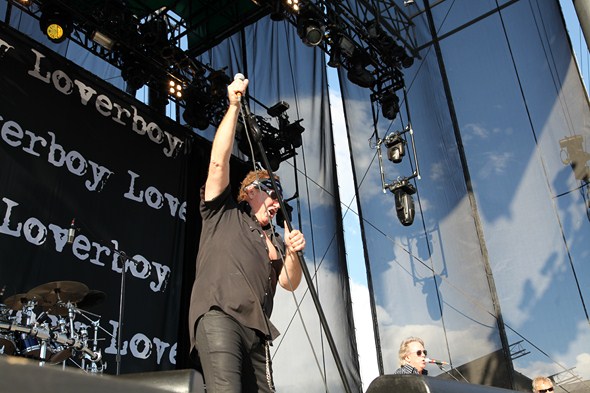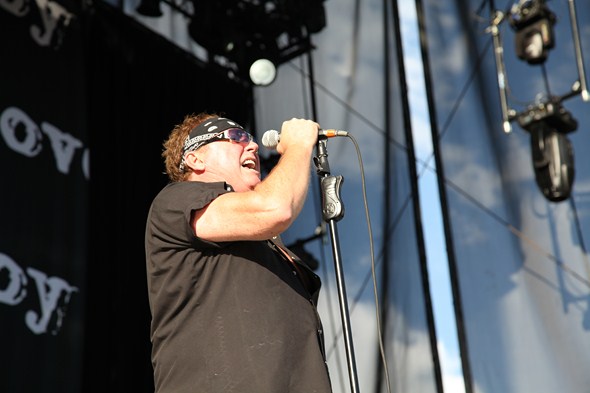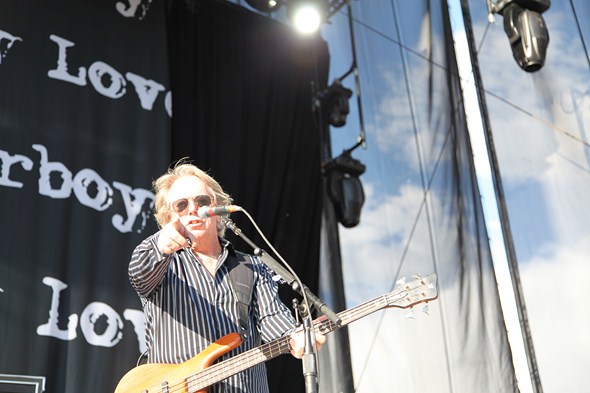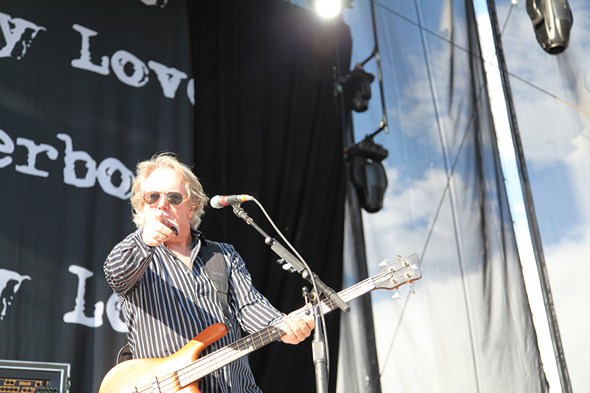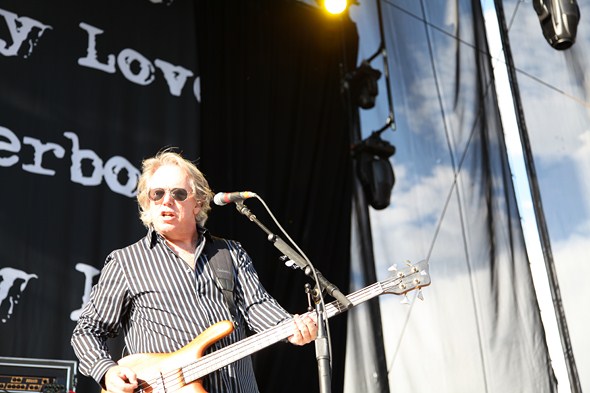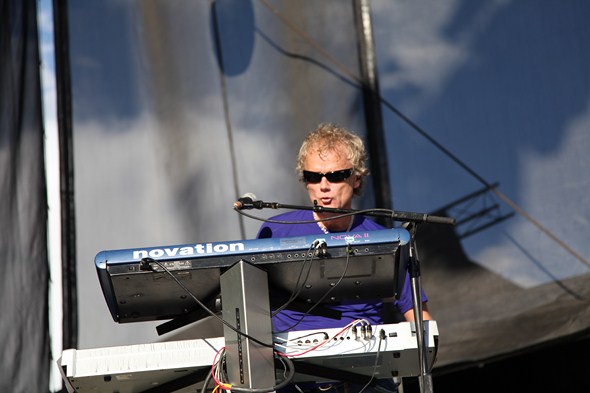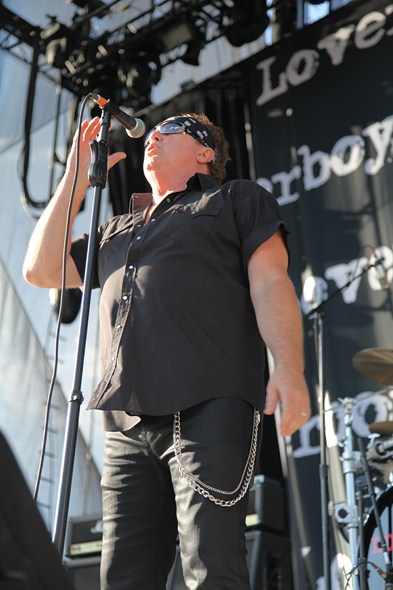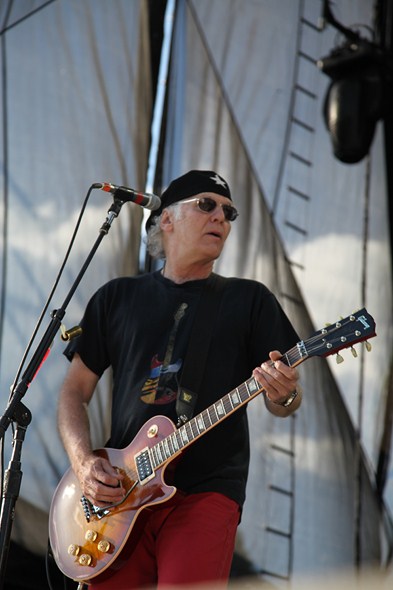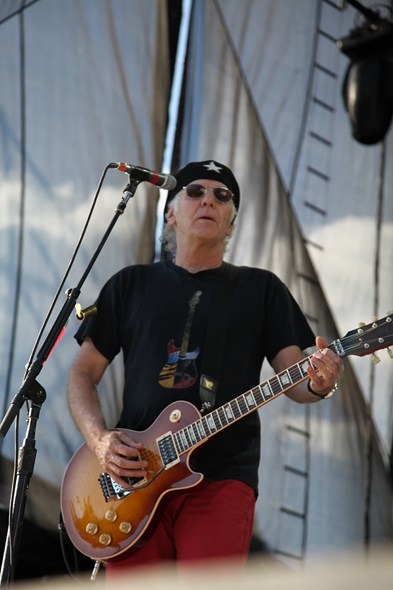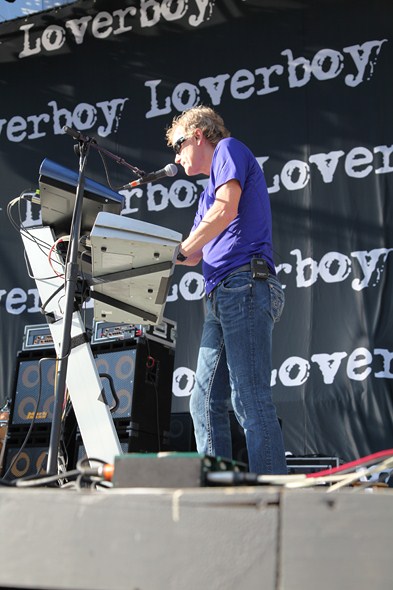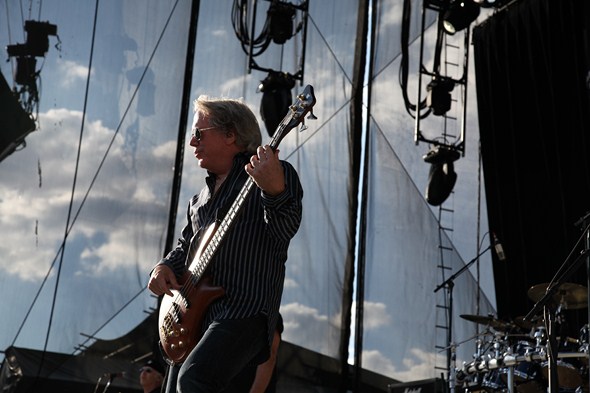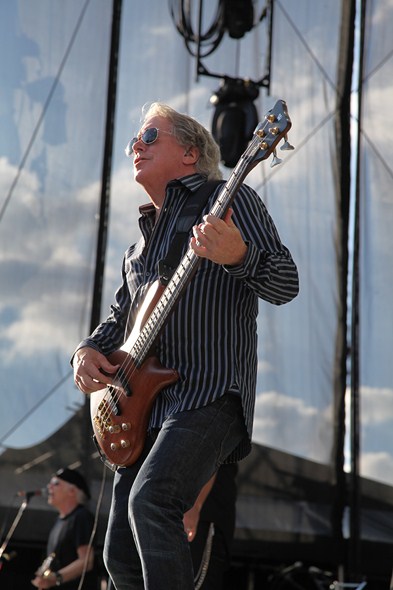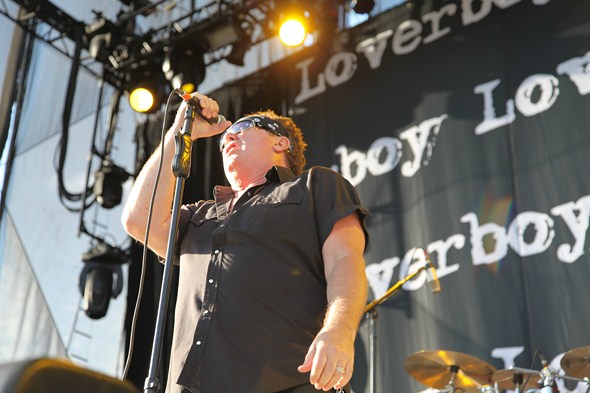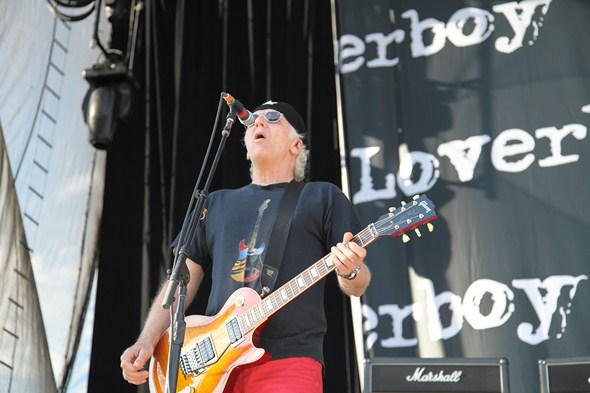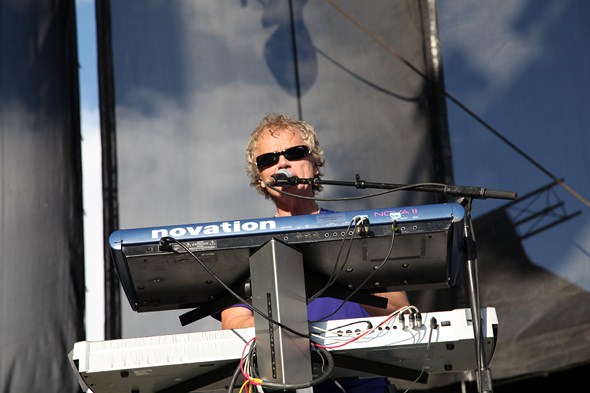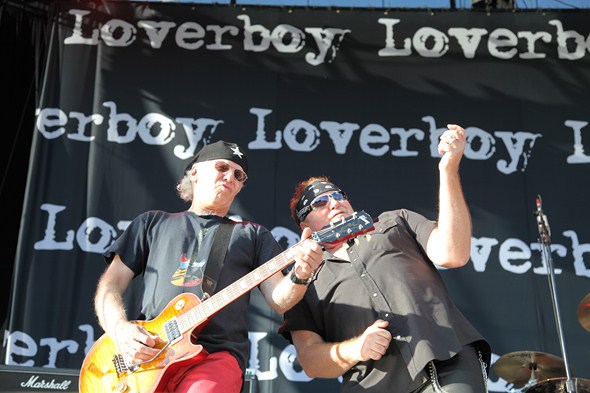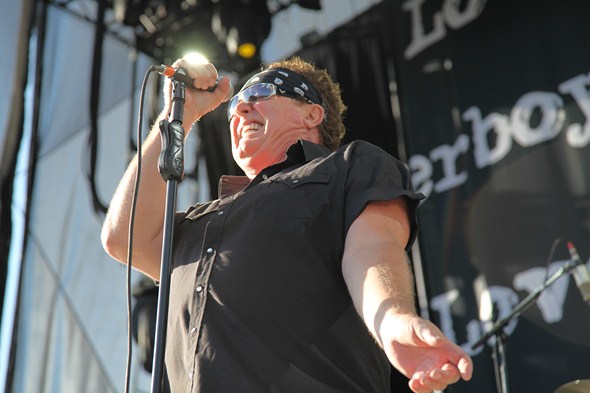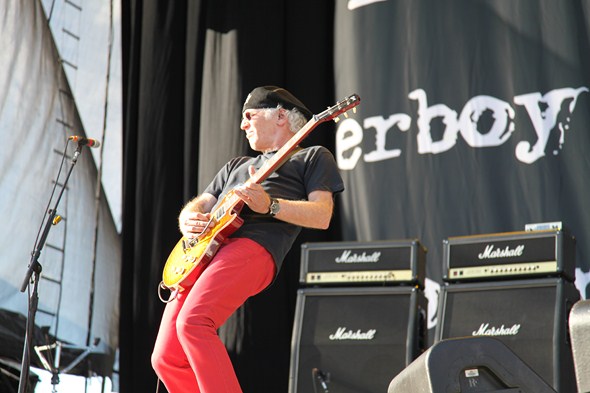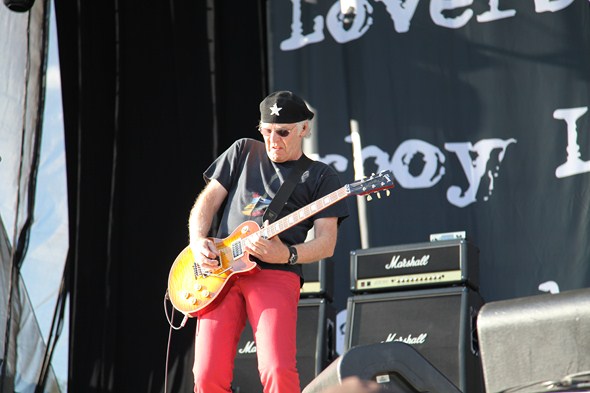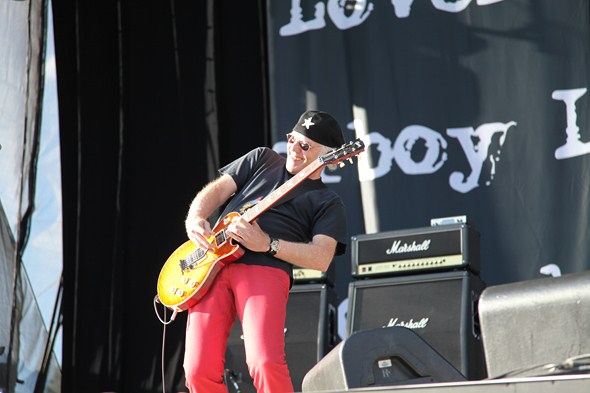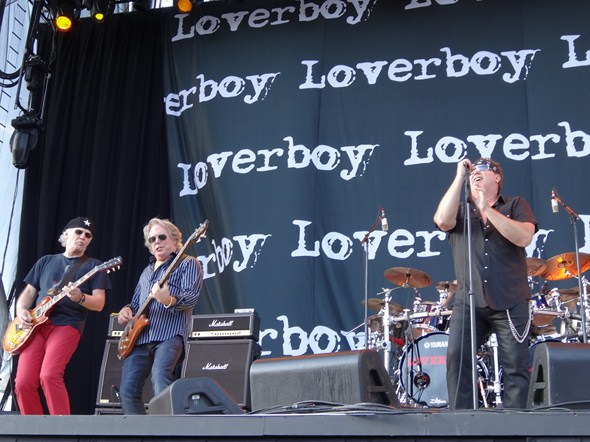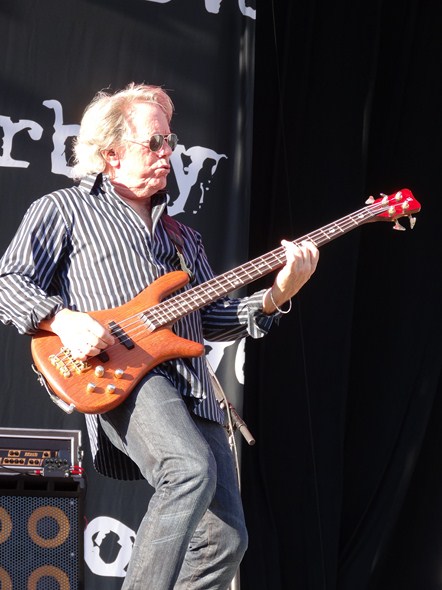 Pat Benatar and Neil Giraldo
For me personally, Pat Benatar is an icon.  Though she started her music career much earlier, I felt that she helped to define the 80s music scene with an incredible number of hit songs, and she really stood out in an industry that was very much defined and dominated by men.  In spite of that, she has won four Grammy awards and had 19 Top 40 singles.  In addition to her musical talent and ability, she was a mainstay on MTV, and of course that fact that she had amazing beauty didn't hurt her career, I would imagine.
Pat Benatar married her guitarist and producer Neil "Spyder" Giraldo in 1982, and in stark contrast to most marriages born of the entertainment industry, they are still happily married and working together today.  Neil Girado is a phenomenal guitarist and artist in his own right, and I'm still amazed that he does not receive the recognition he truly deserves.
The pair have had such interesting lives and had so many accomplishments that it is too much to even try to summarize here, but there is a very detailed accounting in Wikipedia HERE.
As far as female vocalists go, I can count on one hand the number of them that have published as many personal favorites of mine, and Pat Benatar is within that group.  "Heartbreaker", "Hit Me With Your Best Shot", "Love Is A Battlefield", "We Belong", "Invincible".  All of these songs and more inspire, and also fill me with nostalgia for the era in which they were contemporary songs on the radio.
It was truly awesome to see Benatar and Giraldo take the stage and start performing.  Seriously, it really excited me more than most acts I see, as I just have such a love for her music, and they sounded phenomenal.  Her voice was as amazing as its ever been, and Giraldo's guitar playing was spectacular.  More, they both still look as striking as ever.
Particularly cool was a rendition of "Heartbreaker" that transitioned into a cover of Johnny Cash's "Ring of Fire", and back again, with Giraldo closing out the song with an electric guitar version of the Godfather theme.  I had actually started video taping this closing number, but some drunk guy came up to me and slapped his hand on my shoulder and eventually staggered away… still haven't quite figured that one out…  hopefully he heeded Pat Benatar's advice earlier in the set and didn't get behind the wheel of a car.
My hope is to see them again soon, as it was such a rocking set, it went by faster than I could soak it all in.
Below are a few videos I shot of the performance…
"Love Is A Battlefield":
"We Belong":
"Hit Me With Your Best Shot":
Below are some photos of Pat Benatar, Neil Giradlo, and their band performing on stage: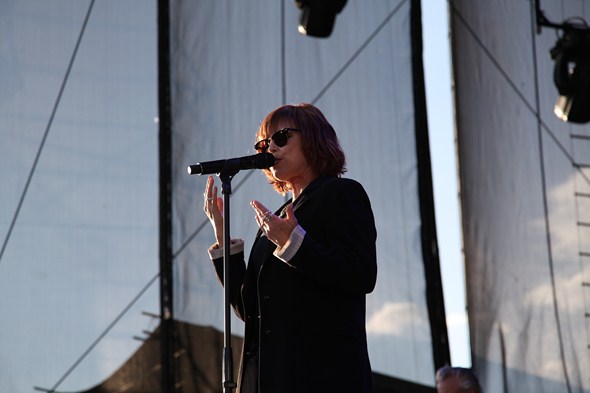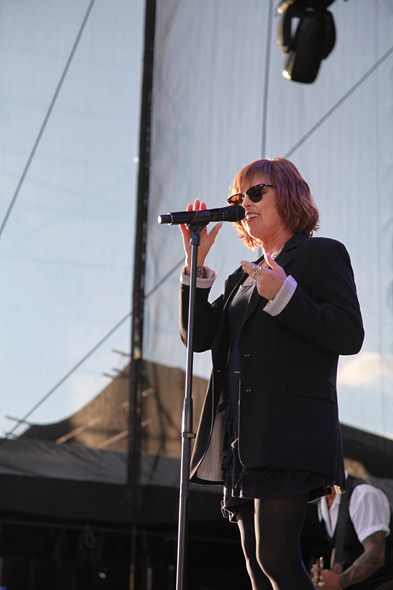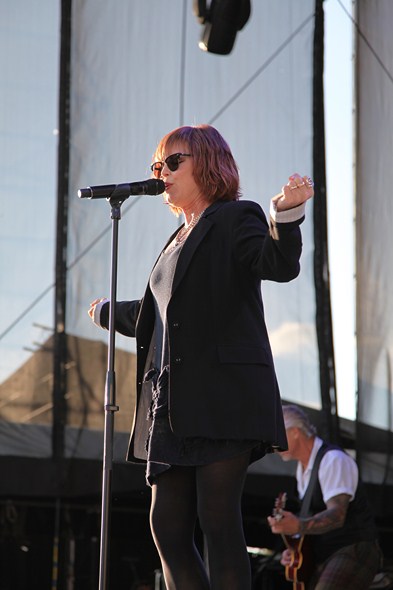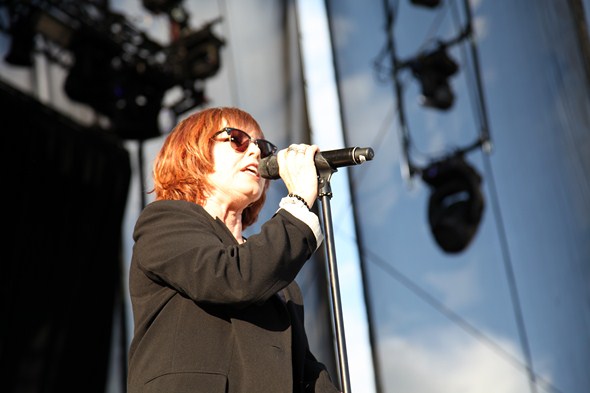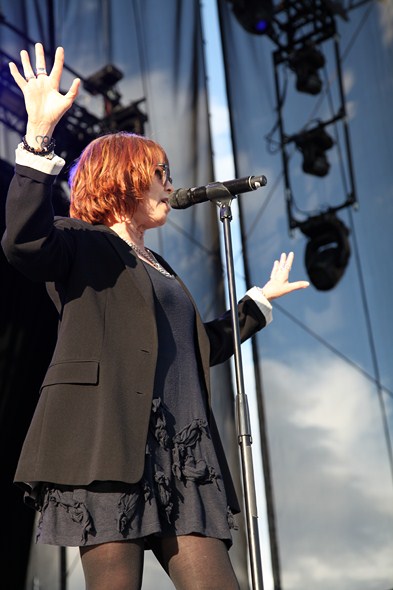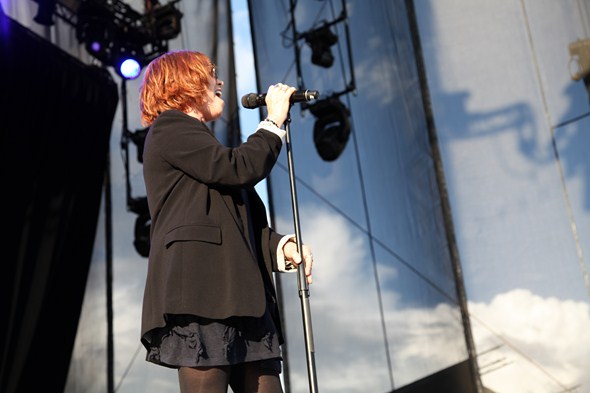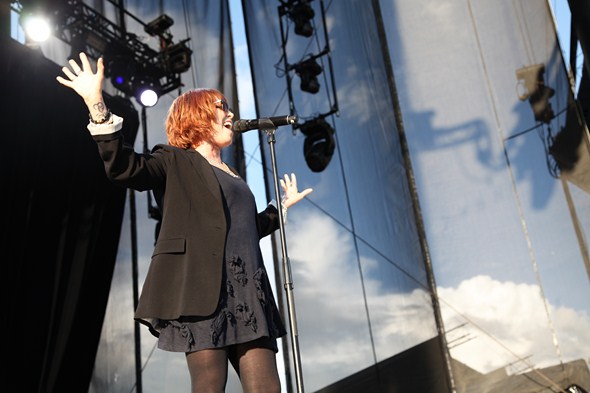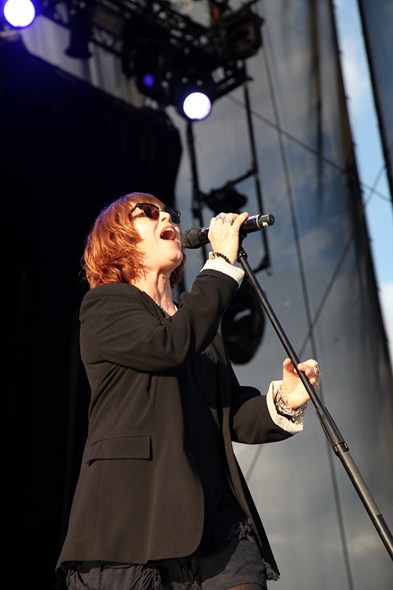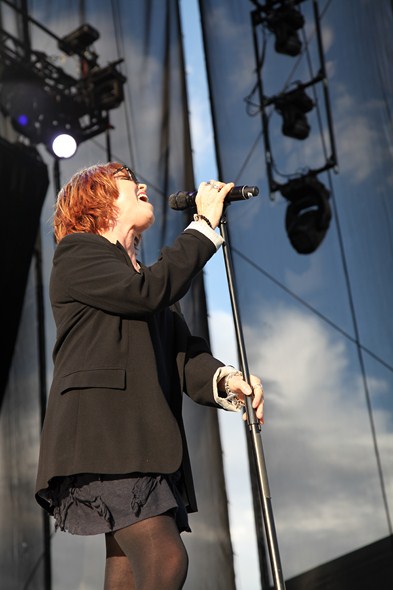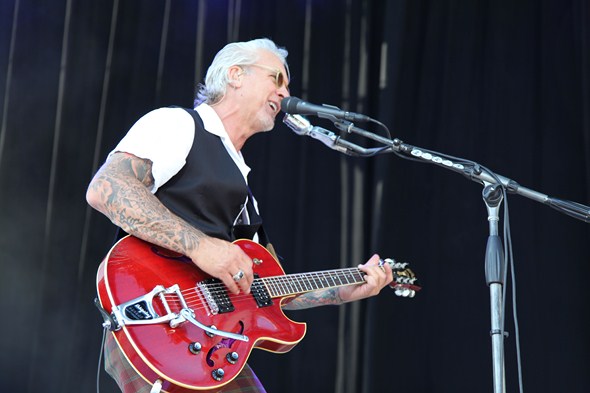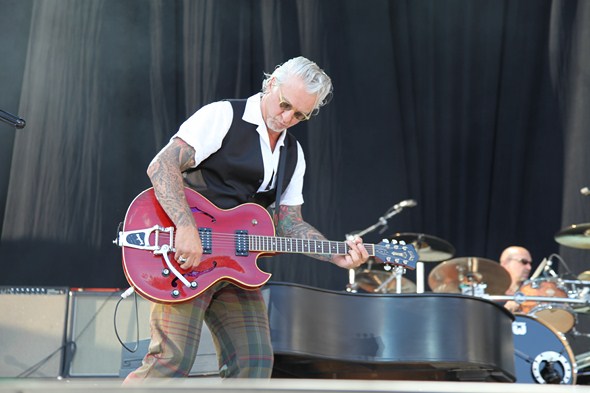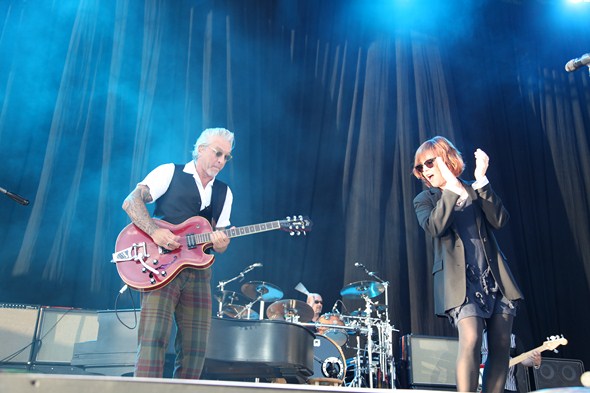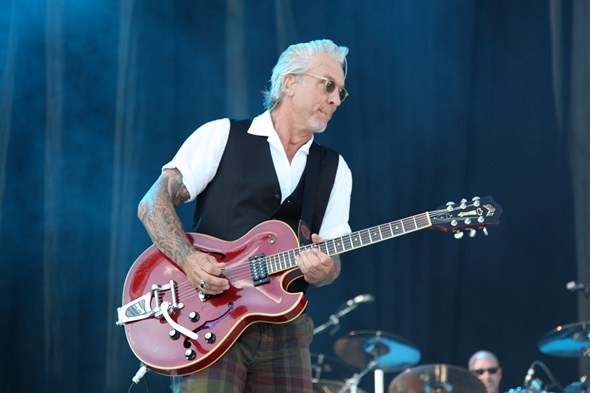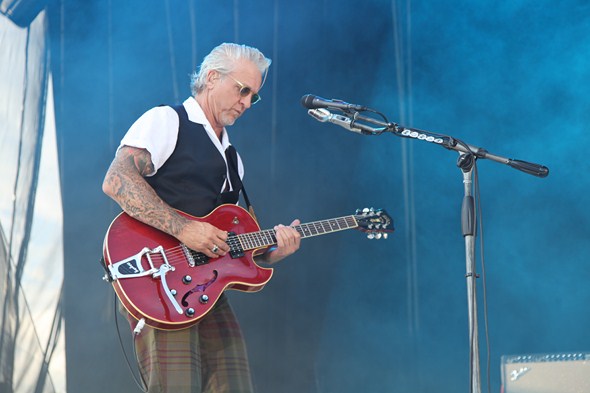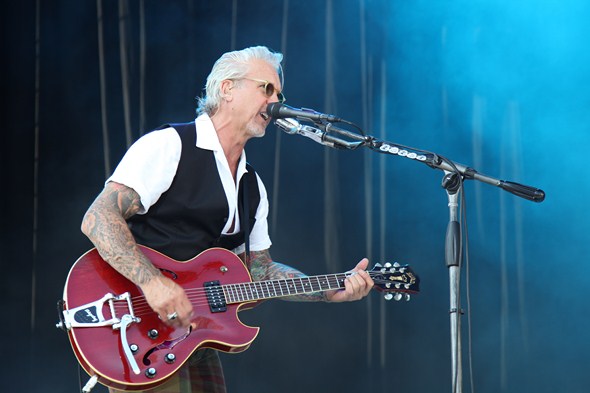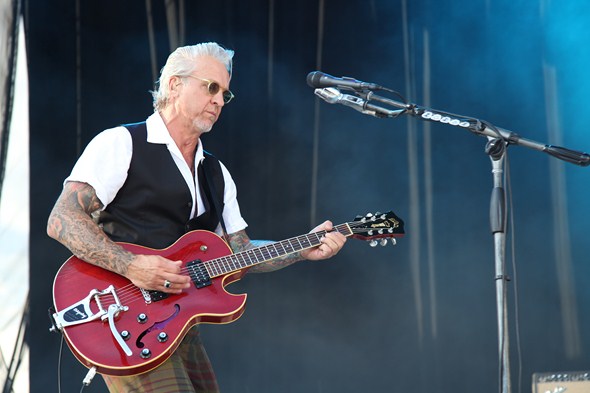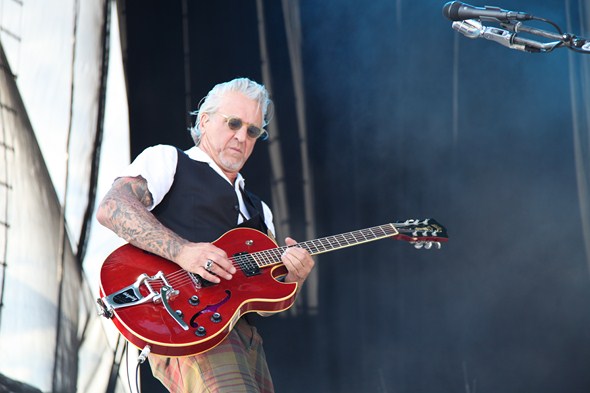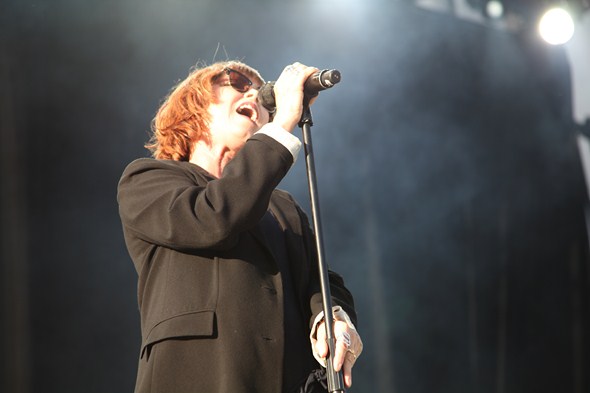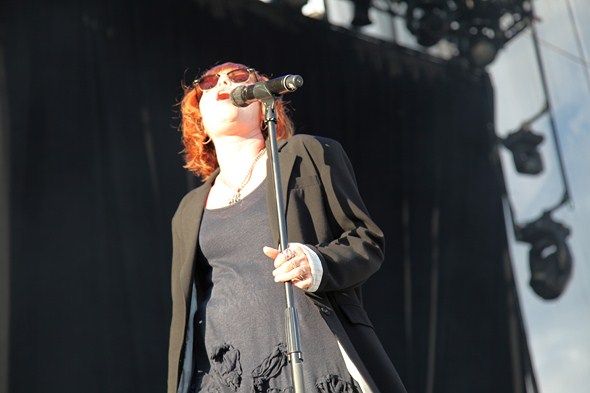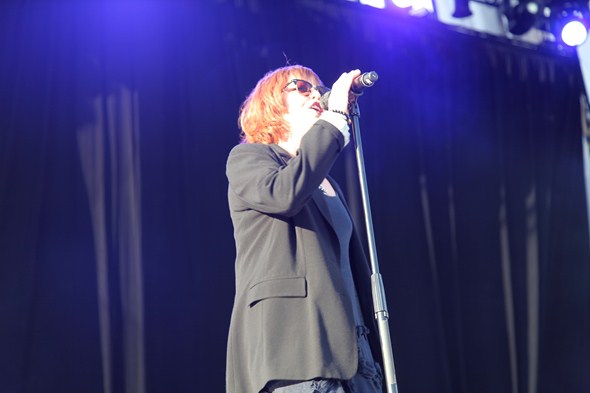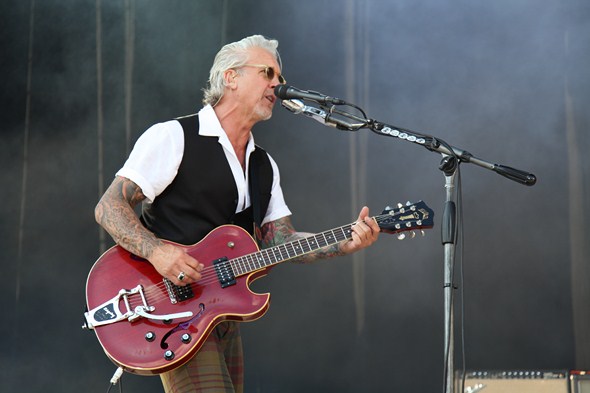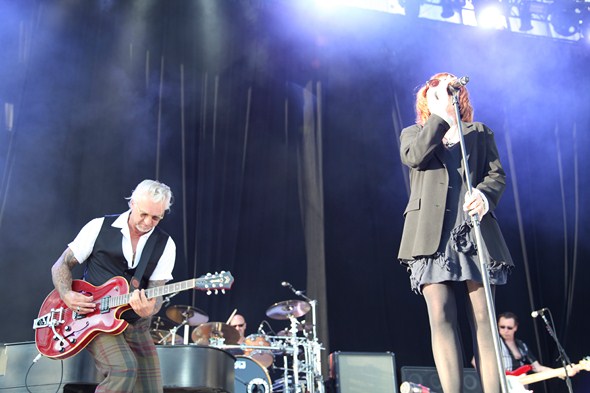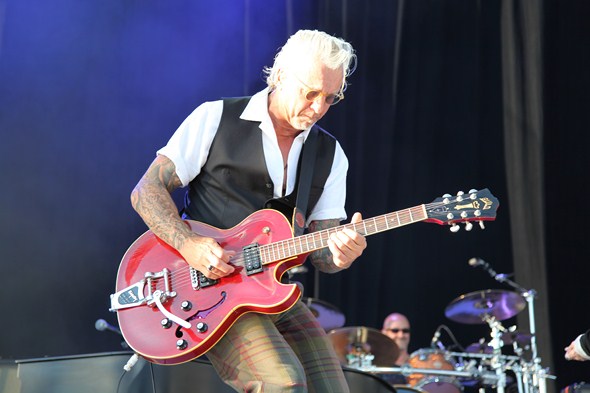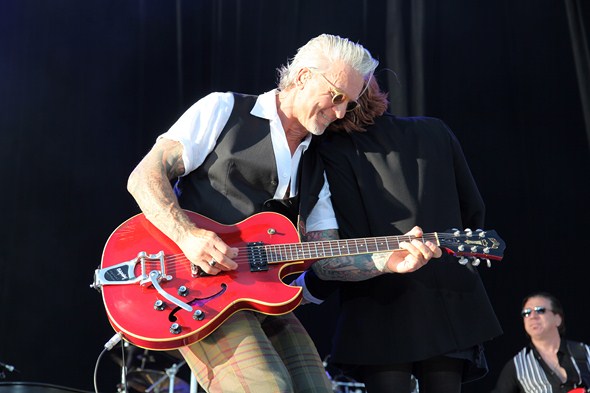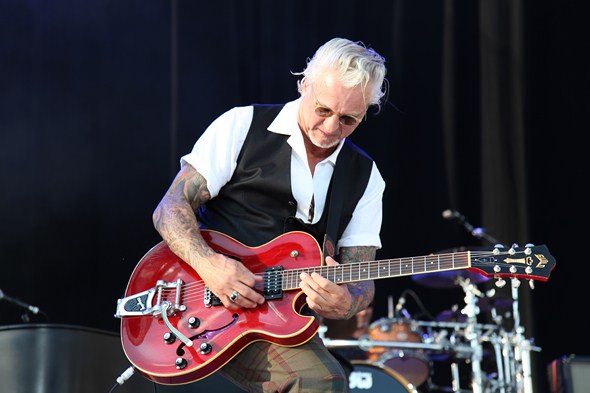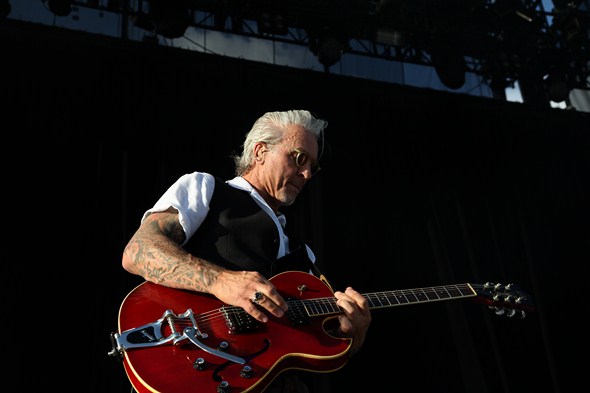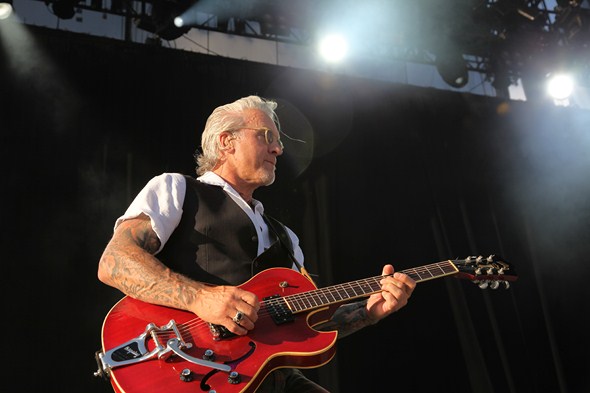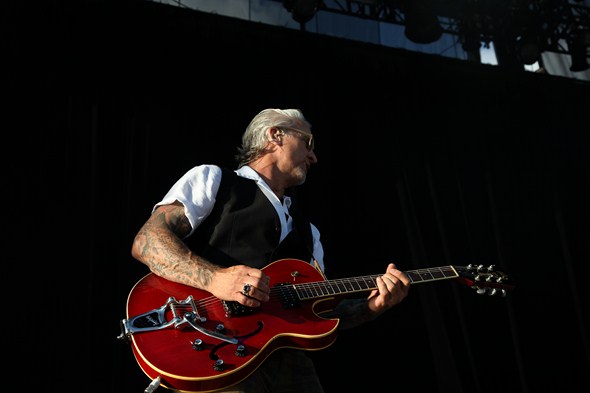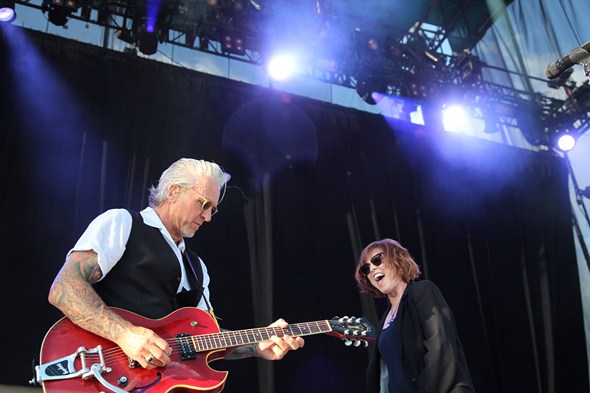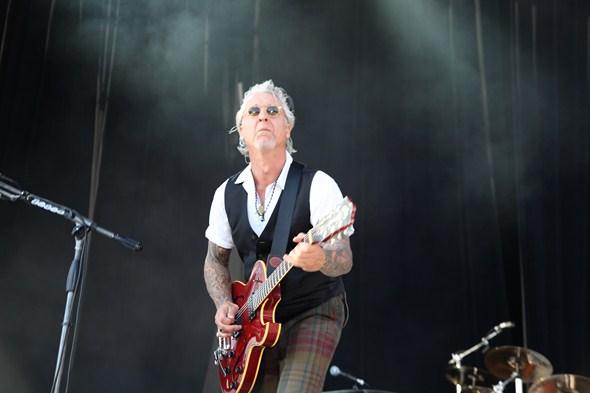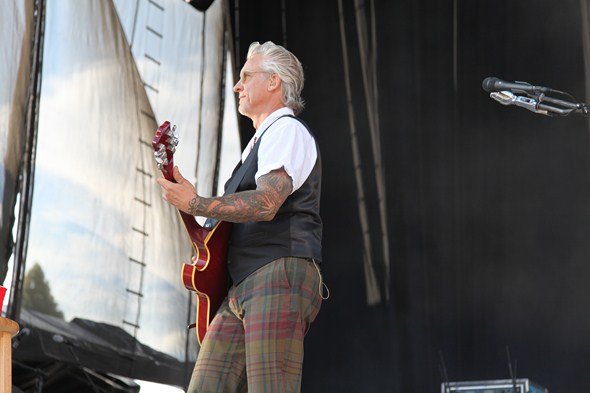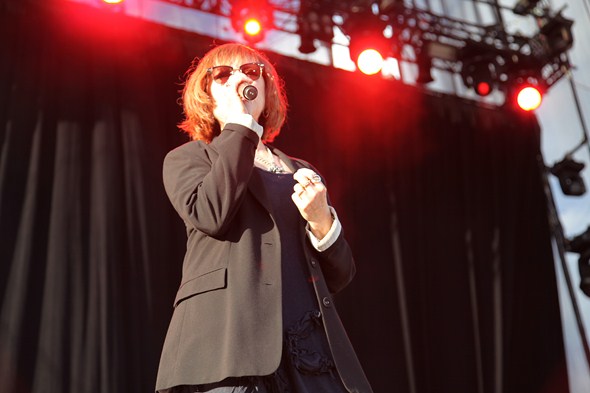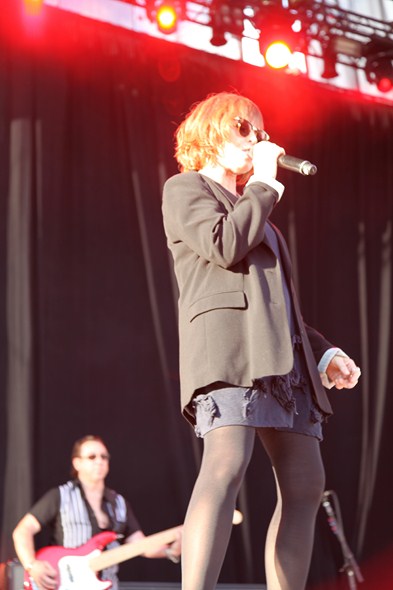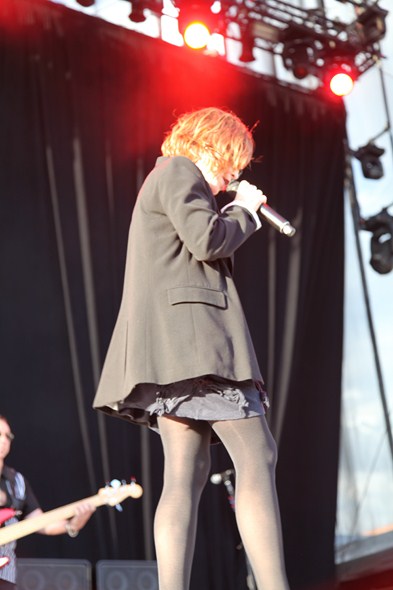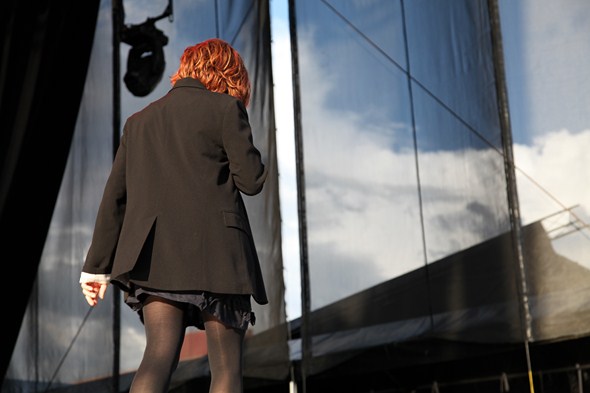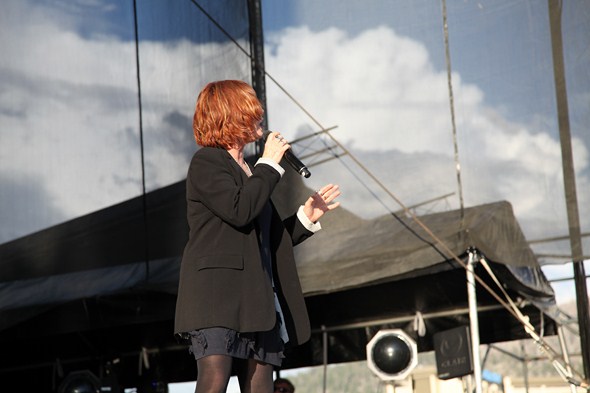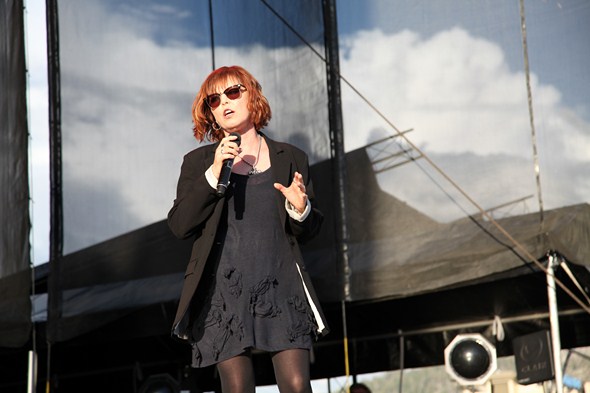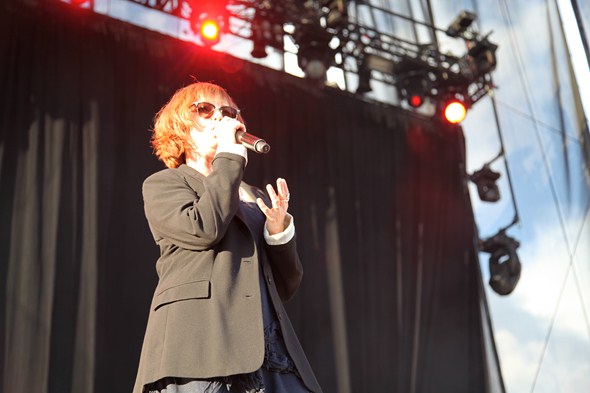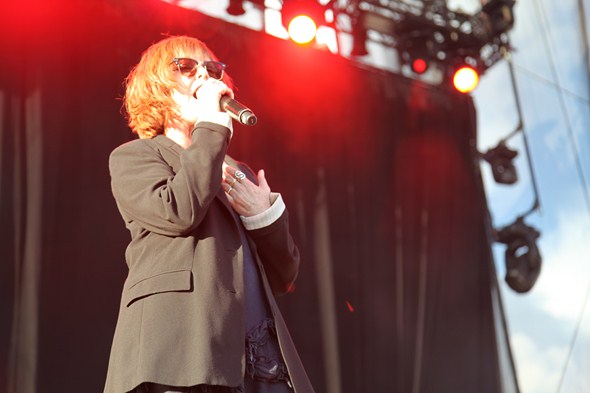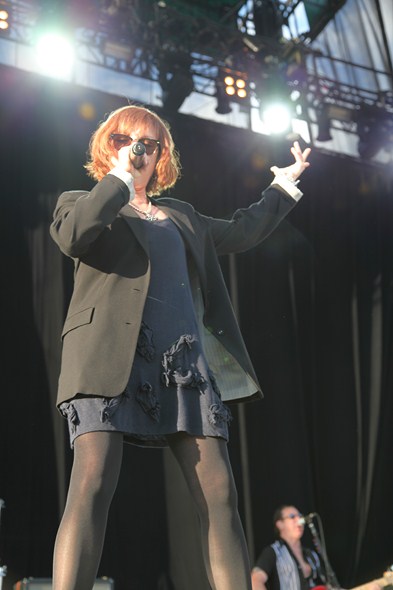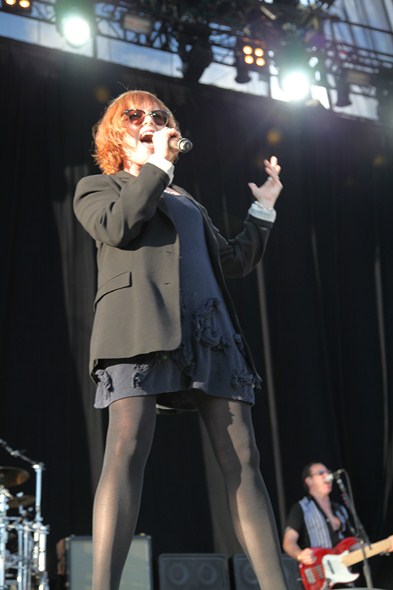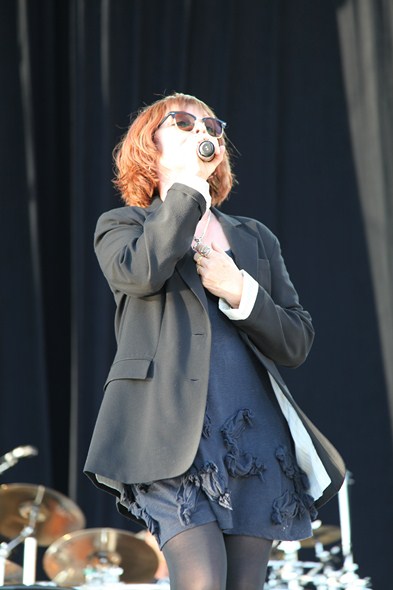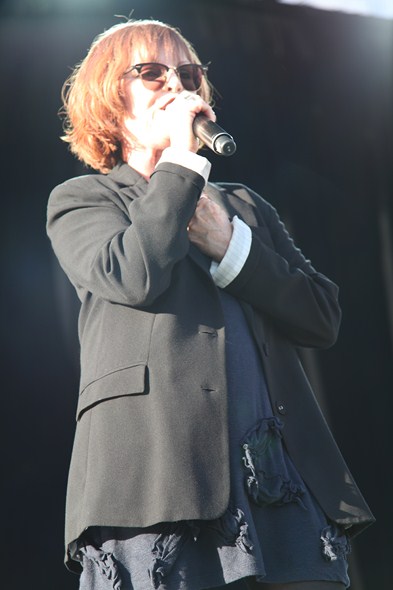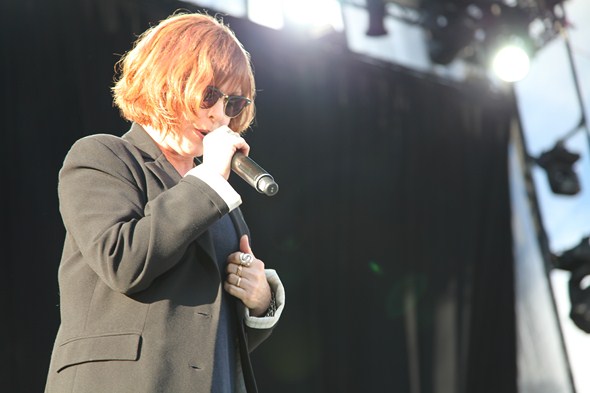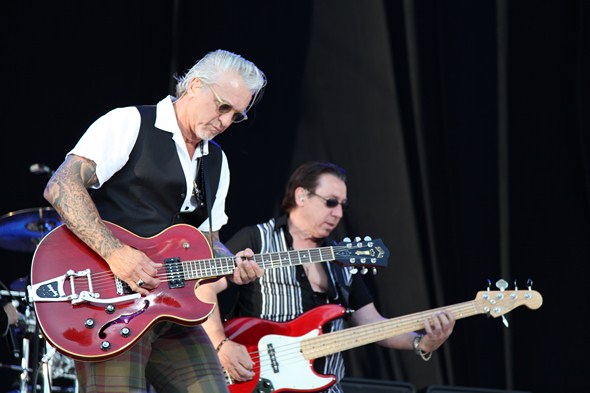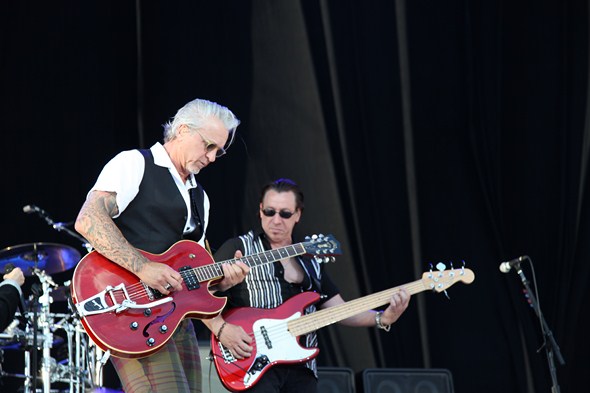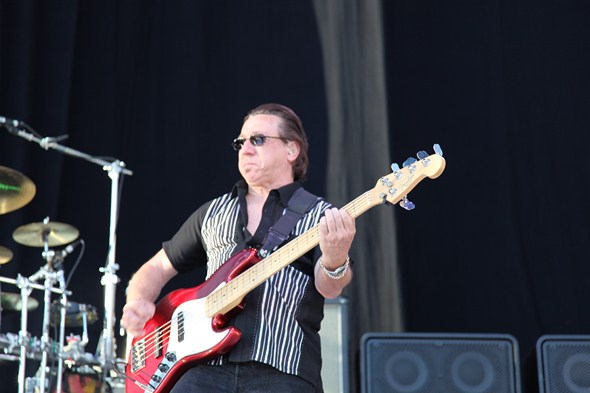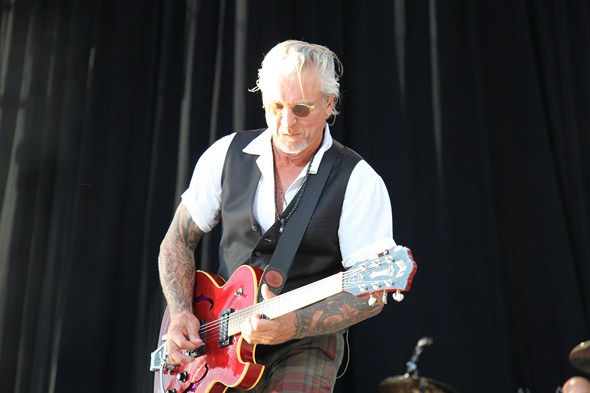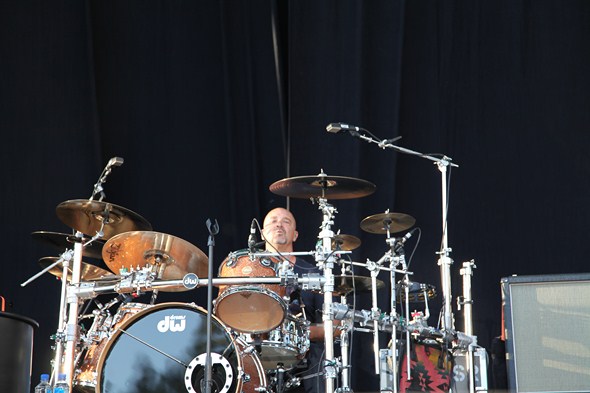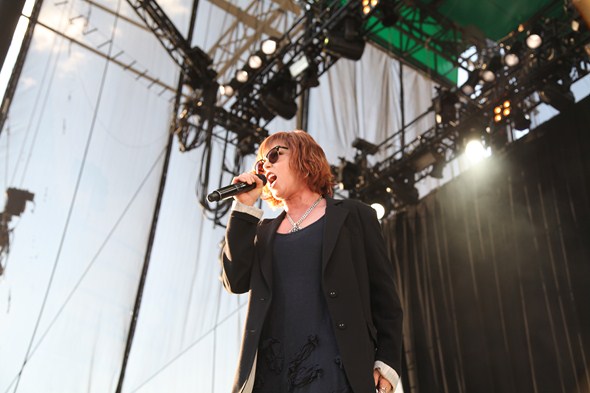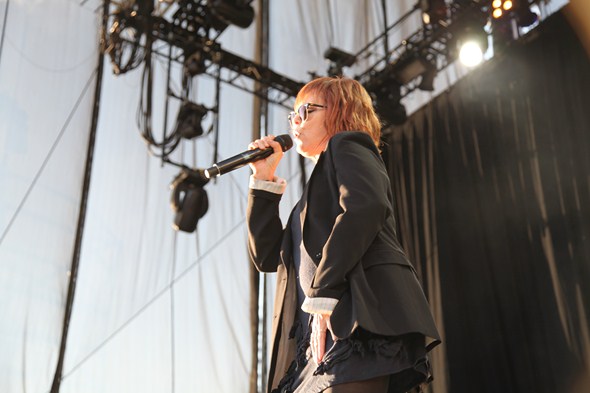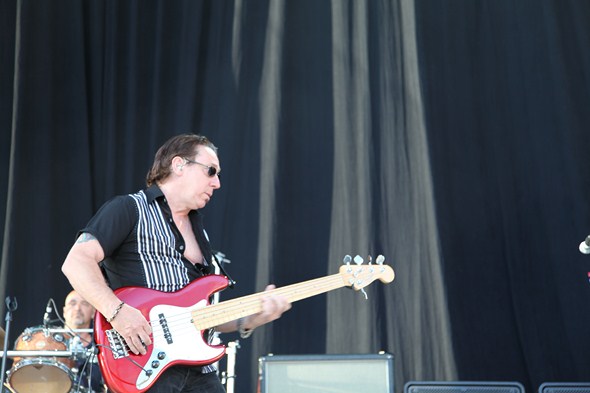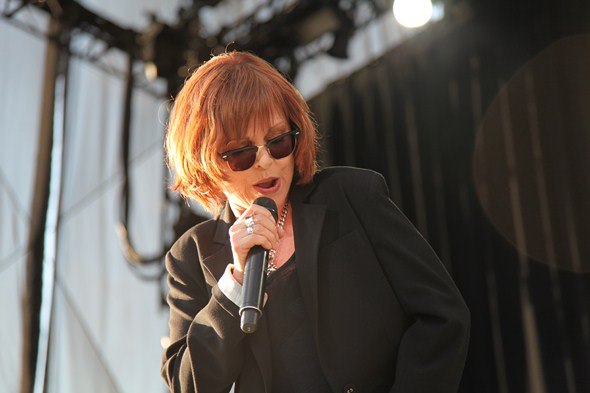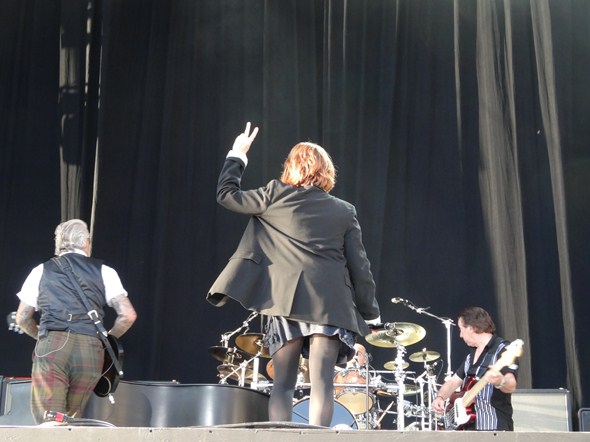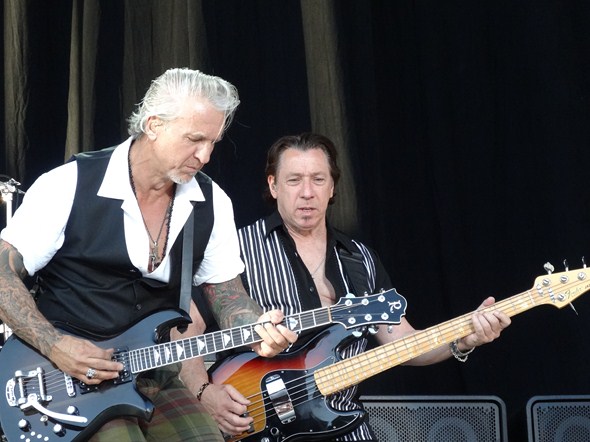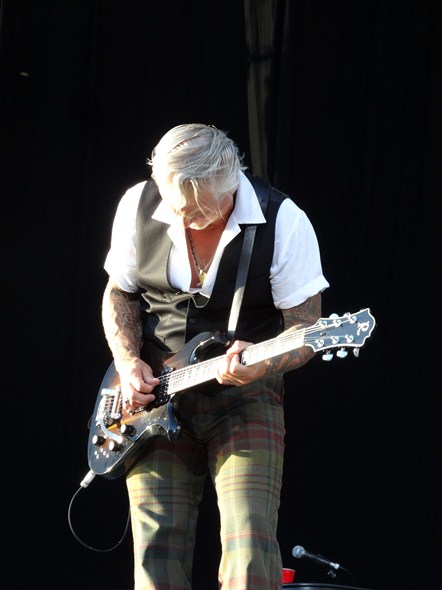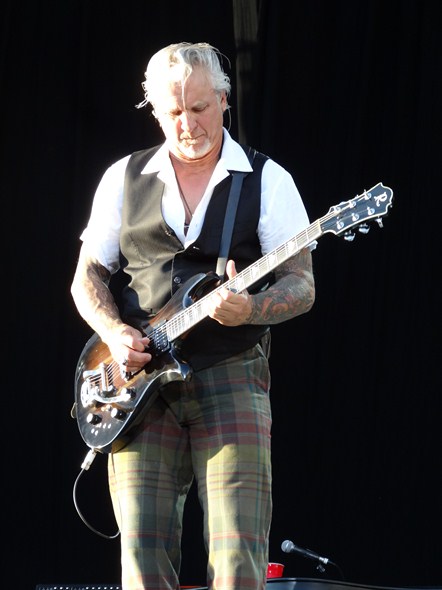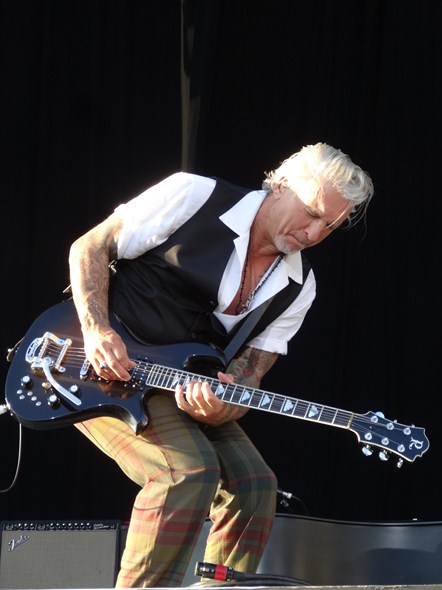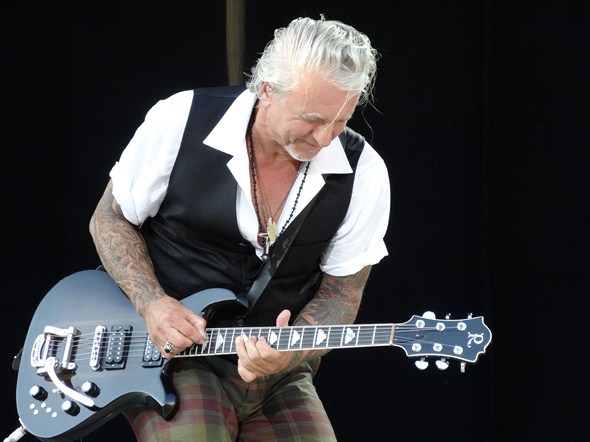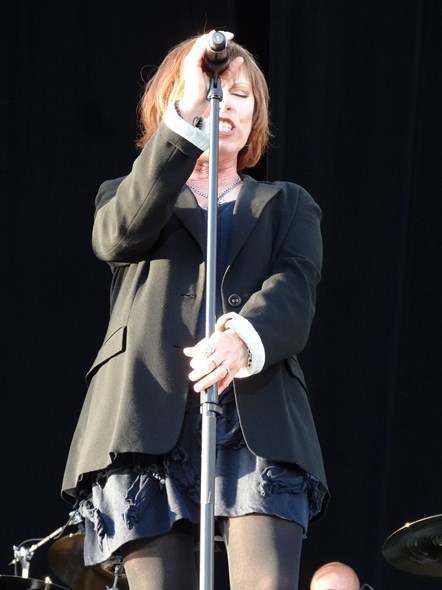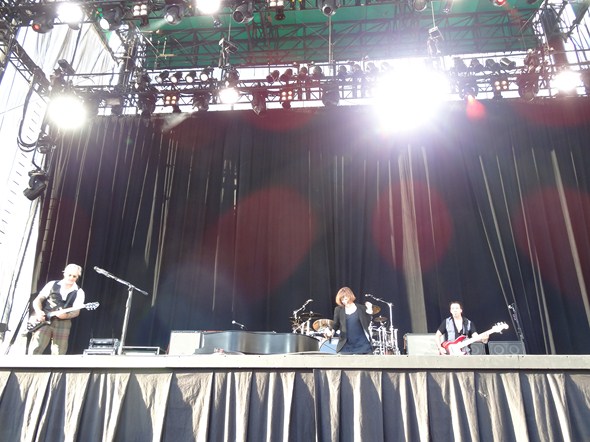 Journey
Members:
Neal Schon (lead guitar, vocals – 1973-present)
Jonathan Cain (keyboards, rhythm guitar, vocals – 1980-present)
Ross Valory (bass guitar, vocals – 1973-1985, 1995-present)
Deen Castronovo (drums, vocals – 1998-present)
Arnel Pineda (lead vocals – 2007-present)
For the past few years, you mention "Journey" and "concert" in the same sentence to someone, and 5 out of 10 times the first thing to come out of their mouths is something akin to "there can't be a Journey without Steve Perry".
Backing up a little, the first time I learned of the current lead singer for Journey was one of those double take moments… A few years ago, I had seen that there was a Journey concert on Palladia, so I set my TiVo to record it, and on one of those days where you do a lot of multitasking, I put it on in the background, as I worked on various things… so I'm listening and enjoying it, and a bit into the first song or so, I look up at the screen, and I hear what I think is Steve Perry's voice, but I see a young Filipino man singing.  I stop all my multitaking, and of course Google "Journey"…  then I read the account about Steve Perry leaving the band some time ago, some replacement efforts that did not prove out, and then read about Neal Schon (founding member of Journey and lead guitarist) discovering current singer Arnel Pineda on YouTube, singing covers of Journey songs.  Really a wild story, and the replacement of Steve Perry (1977-1987, 1995-1998) continues to be a point of discussion resulting in a variety of opinions among fans.
I had a number of thoughts and feelings about this myself.  Steve Perry was always the voice and frontman for Journey in their most popular years (77-87), though when I researched the band further some years ago, found it interesting just how many musicians have been a member of this band, and how many have come and gone.  Which raises a larger question, really, in that what makes a band?  And what event or change would make a band the band no more?
Looking back at other bands I have been a big fan of, it seems to be more of something that comes to a point of decision and evaluation when a member has died.
As one example, tragically when Ian Curtis took his own life while lead singer of Joy Division, the remaining members of the band reformed as New Order, and began to make an entirely different genre of music.  Joy Division essentially died along with Curtis.
In another example, after Michael Hutchense died, the band took time off and later experimented with guest vocalists, and then used a reality television series as a vehicle to find a new lead singer.
I was a huge fan of INXS, and for me, I just really can't imagine a replacement that would satisfy me.  Not so much because Hutchense had unparalleled vocal abilities (he didn't), but because to me, he was the face and overall identity of the band.   He was the epitome of a front man.  The only thing that they did that I could have gotten on board with was when they brought in Terence Trent D'Arby as a guest vocalist, as he was a star in his own right, with a unique (but just as appealing) charismatic persona.  But recruiting an otherwise anonymous singer, for me, just doesn't fly, and it would have zero to do with vocal talent and ability.
Which brings us back to Journey.  Steve Perry was and is an incredible vocalist.  Not only does he possess an obviously natural ability, but he can convey real emotion in his voice, tone, and delivery like almost no one else in pop music today.  More, people associate some of Journey's most popular songs with him, his voice, and Steve Perry performing them (compounded by the fact that he was also the recording artist who's voice is heard on the albums).
Having said all that, and with all due respect, Steve Perry is not the most visually arresting rock band front man.  Strictly from that standpoint, and as a point of comparison, I can't imagine, say, Aerosmith without Steven Tyler, because he is so unique and he is really one of a kind.  Having said that, as I write this, I would love to see Steven Tyler fill in as a guest lead vocalist for INXS!  But I think that kind of gets to my point…  there are some amazing voices in the music industry, there are unique voices, and then there are the commanding and/or unique stage presences that some bring to the table.
For me personally, Steve Perry has few peers in the vocal department, but he is not one to have a really unique sense of style, or run all over the stage during a show (and I'm not saying that is good or bad, but everyone takes this all in differently – what entertains and inspires and excites each of us is purely subjective).
I went into this Journey concert with some skepticism (having not seen them live), though also with an open mind about Arnel Pineda as lead vocalist, performing truly iconic songs.
With what I'd seen in concert videos, I felt that Pineda had incredible vocal ability, and sounded a lot like Steve Perry, but I could tell the difference, in that I felt (with these older performances on video) that Pineda maybe "oversang" the vocals (in range and dynamics) maybe a bit too much for my tastes (equivalent to maybe an electric guitar solo that goes a bit too much and over the top), and also I didn't feel the raw – very raw – emotion that I got from Steve Perry singing these songs.
So jumping ahead to Sunday's performance…  Watching Pineda live – and listening to him – I really feel as though he has grown leaps and bounds into his role with Journey.  I didn't feel with this live show that he "oversang" even one note – he had incredible control, but really his voice is more powerful and persuasive when he is actually holding back a little bit, and more importantly, with this show, with these songs, I felt real emotion.  Maybe not quite as "raw" as with Steve Perry, but Pineda is a different person with his own experiences, and it all felt real and genuine, and that is what is most important.  And this also made his voice stand out as unique, and while he can sing the songs in a similar manner to how we expect to hear them from the studio recordings, I think he has found – and is comfortable with – his own unique (and incredibly impressive) voice.
Additionally, he brings such energy and joy to the stage, it is just awesome to watch him and come along for the ride, and I think in this regard, he brings something entirely new to Journey that is his own.  He brings real youth and excitement and optimism to the band, and I think it comes across as quite contagious to those of us lucky enough to watch these live shows and see the band members having fun and really enjoying each other and themselves, and I think Pineda really helps the band to connect with the audience in a unique and personal way.  And maybe becoming part of this band will keep it and it's music alive longer than it would have otherwise.
So in my own meandering and non-linear way, the point I am getting to is that, in spite of my instincts to the contrary (from an abstract point of view), I actually accept Arnel Pineda as the lead singer of Journey, and I think he is a choice that is so unlikely, it actually makes complete sense as well.
I had come across this video on YouTube that is a teaser for a movie that is actually all about Pineda and his personal "journey" and story about becoming a member of this legendary American band, which is embedded into the player below:
I mean seriously, what an unbelievably inspiring story.  This man is not just singing the song, "Don't Stop Believin'", he's lived it.  I'd find it impossible not to get behind this guy and cheer on his success.
And getting back to the point, Journey is such a legendary band, it's really an institution – a band with incredible works that has proven over time to withstand members coming and going.  So it is really a question of whether you want this band – something that's become bigger than each of it's members to continue on, to continue making new music, and in my opinion more importantly, to continue performing these classic songs live, so that people can come and experience them live.  These are experiences which can be infinitely inspiring and unforgettable, and this is what I found with the concert Sunday night in Lake Tahoe – an epic show.
So after my lengthy preface to this show (or maybe dissertation is a better adjective), let me restart at the beginning.  The beginning of an unforgettable night.
Leading up to this one, I had hoped to score front row seats, as I had F5'd the VIP Nation site when the special VIP Packages went on sale, which guaranteed a seat in the first three rows.  I was sure I was the first sale, so hoped these were allocated based on that.  I also had secured a press photo pass to take photos beneath the stage for the first three songs (for the purposes of this review).  When I checked into the VIP Nation booth at 4:00, and received my envelope with the ticket inside, I opened it to find that not only did I get the front row, but literally dead center – within a grouping of the best seats in the venue.  I could not have been more thrilled.
As part of the program, we received a lot of perks (crowd-free shopping in the venue, what the rest of us called "the grassy knoll party", drinks, swag, etc.).  We also got a bit of a backstage tour (in small groups).  Being there a bit early, there was also time to socialize with other fans, which was awesome – I met a lot of really, really cool people (hey out there!).
We were eventually brought back stage again for the meet and greet and photo with the band (see below).  I was near the very end of the line, and in my mind I imagine the band would probably be pretty burnt out with the dozens of fans passing through, the anticipation of going on stage, etc., etc…  So I finally get back there with them (solo) and I am confident that they were having more fun than the fans.  What an awesome bunch of guys!  They were laughing, joking around, doing all kinds of crazy poses for the camera – seriously, I am sure that they were enjoying the meet and greet as much as if not more than the fans.  A truly cool experience.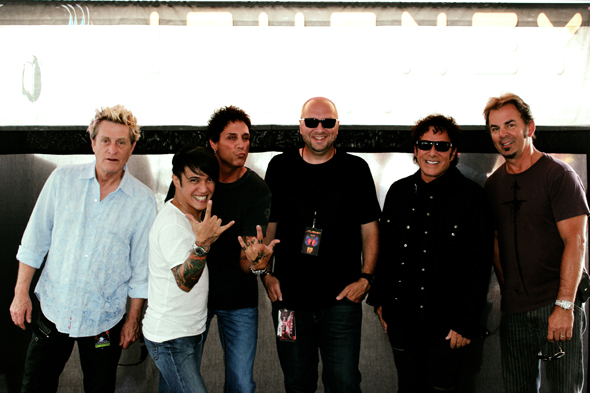 One other funny thing about my own experience… somehow with my seat in the front row for the show, I ended up right in the middle of a group of who I imagine are the biggest Journey fans on the planet – a large contingent of women who follow the band (and had even seen them at another venue the night before).  I mean, how much better can it get than being surrounded with good people that have such positive energy for this band?  They were really cool people, and I really got that much enjoyment out of the show being surrounded with such hardcore and dedicated fans (who the band acknowledged throughout, which I thought was awesome).
All of this generally brings me to the start of the Journey portion of the set (after the first two artists as detailed earlier in this article).  As noted, I got to take photos just below the stage for the first three songs.  As they came out, one by one, I got that great adrenaline rush of just being feet away from this legendary band taking the stage.  It was just awesome, and maybe the fact that the stage was about six feet off the ground made everything that much more grand, but honestly, I really enjoyed the vantage point – it seemed appropriate for this stadium rock band.
It was immediately obvious this band loves to play.  And this observation carries through the entire performance… you know how some bands will work through their material, building up to a grand finale, and work up to one rocking song that everyone knows, and just play the hell out of that song, with one huge vocal solo, a spectacular electric guitar solo, and closing it out with a massive rolling drum solo?  Journey does all that too.  But they do it with nearly every single song all the way through.  They put everything into each song performance like it might be their last – it's like a concert of show closers.  It's just insane.  And they love every second of it.  And each member of the band has such unique personalities, and all of this comes through so clearly when you watch them play right in front of you.  And, as mentioned, they are so engaging with anyone that they can lock eyes on that at times it feels like your own private concert.
These guys really understand the live concert experience, and what it does for people, what it can do for them, and they have the catalog of incredibly important songs – catchy, universal songs – that totally deliver to an audience.
I actually have sympathy for those who might swear off seeing this band live, today, because it features a new and different lead singer.  I understand where they are coming from, but based on my own personal experience, they are totally missing out.  Just an amazing experience, and one I hope to repeat some day.
All in all, just a fantastic show, and I can't say enough about it.  I very much look forward to seeing this band again some day, though this was one of those singular experiences that I know I could never improve upon, but I am content with that, and it really underscores the purpose of this website – to archive and share such experiences.
Below are videos I shot of Journey performing on stage…
"Faithfully":
"Separate Ways":
"Open Arms":
"Lovin', Touchin', Squeezin'":
"Lights":
"Don't Stop Believin'":
Below are photos taken during the event: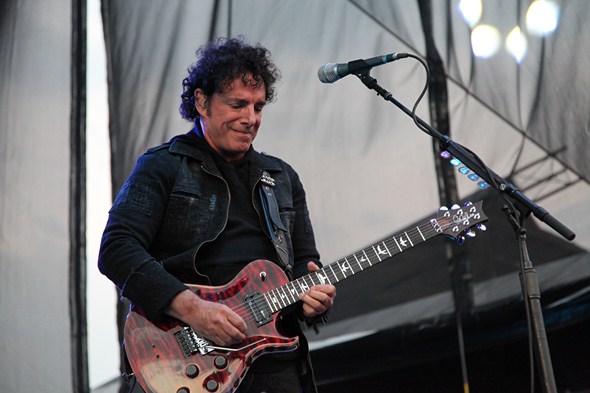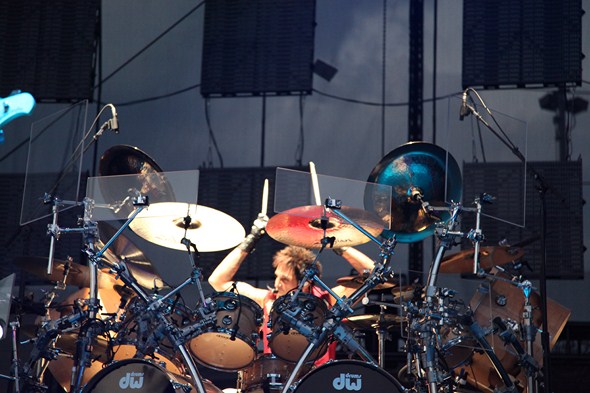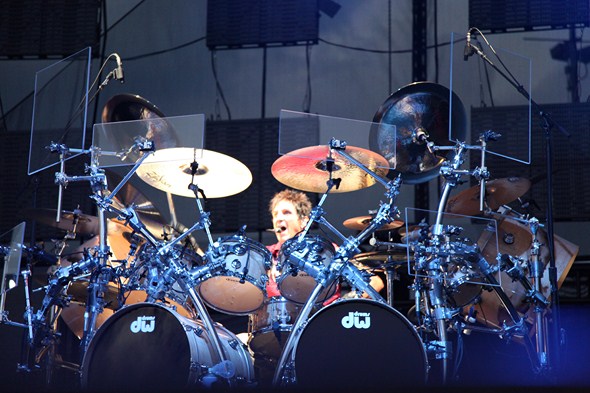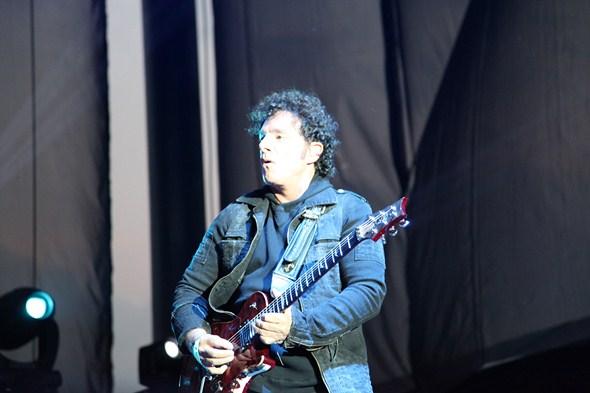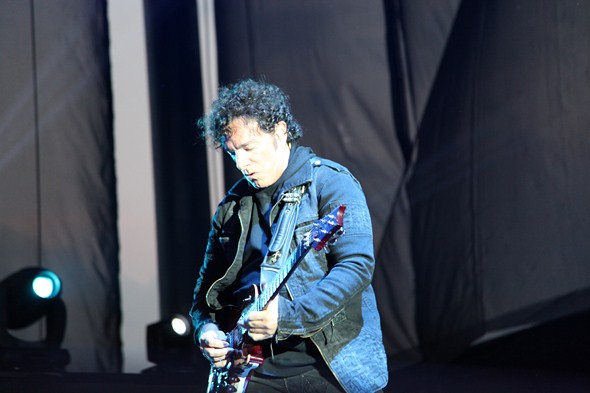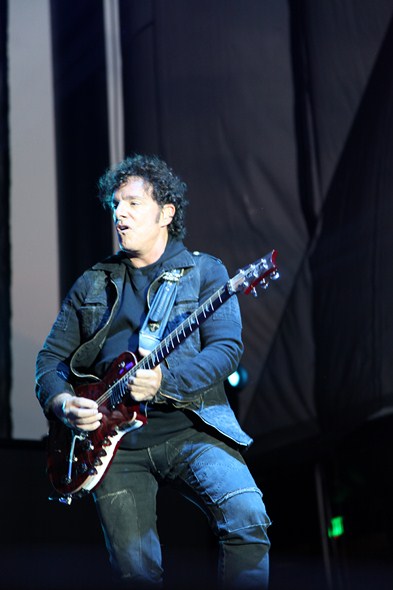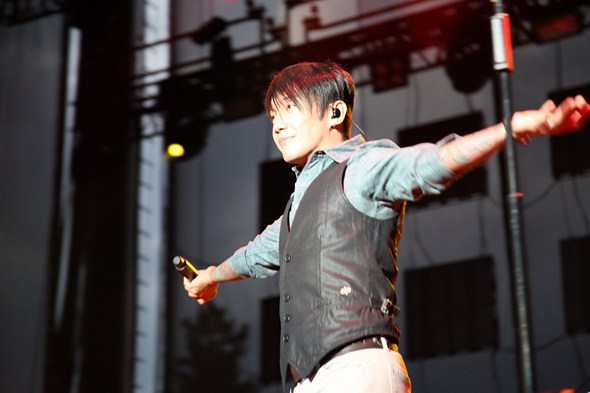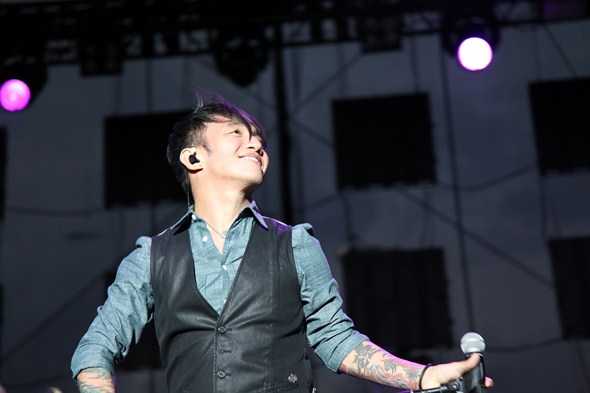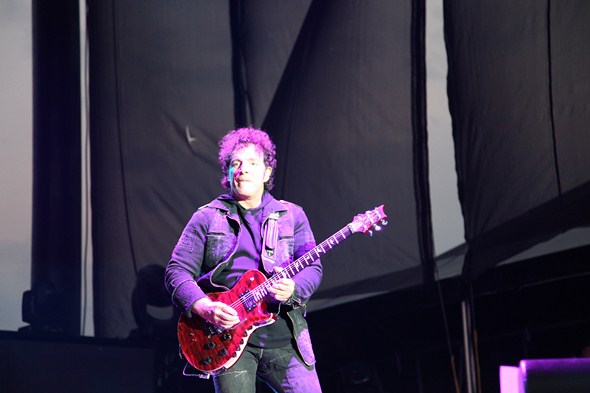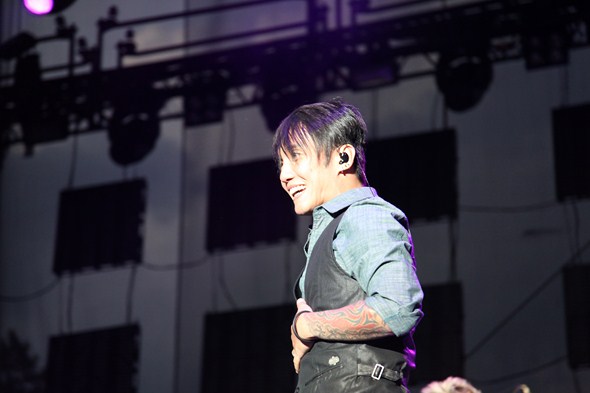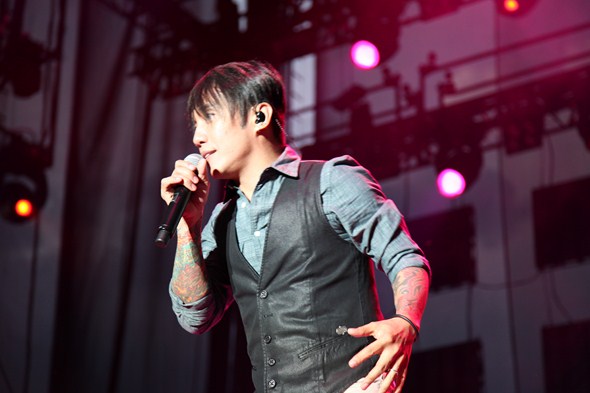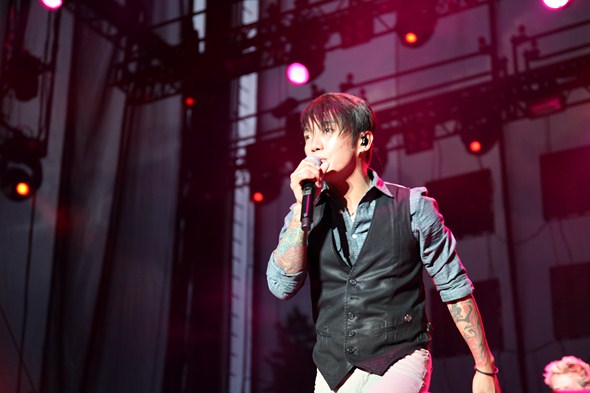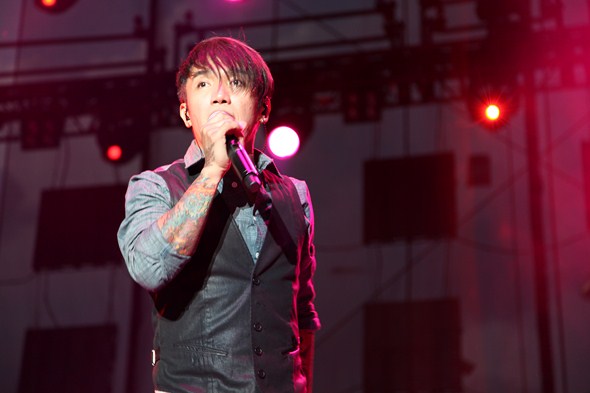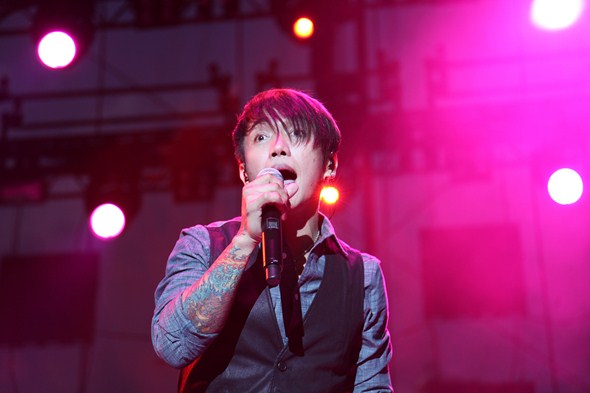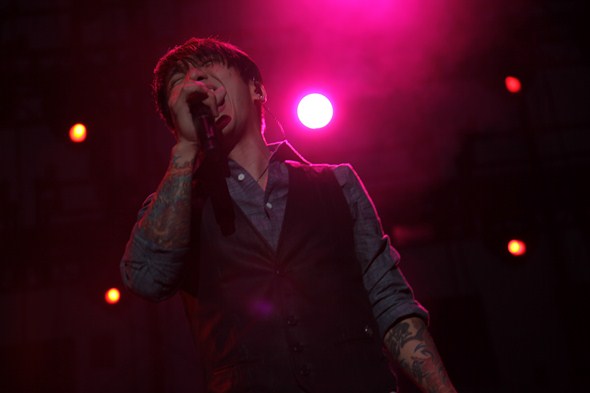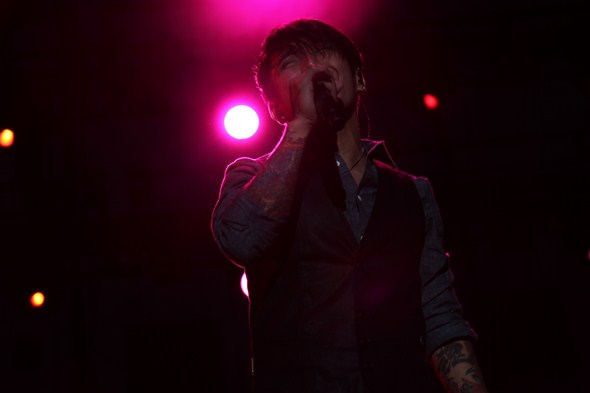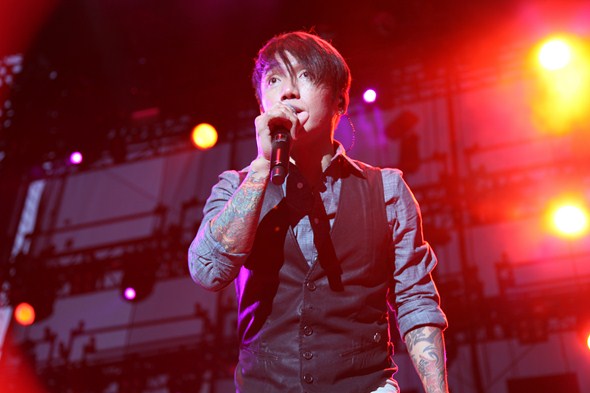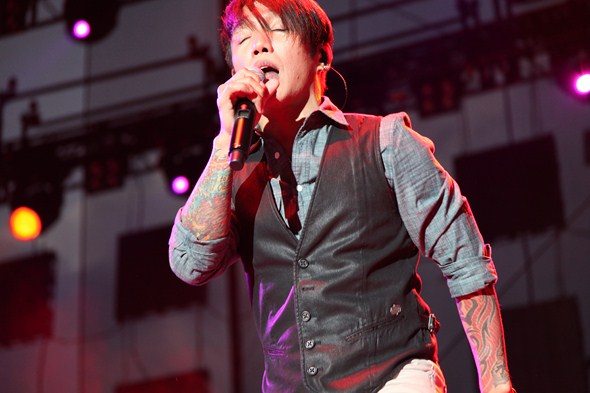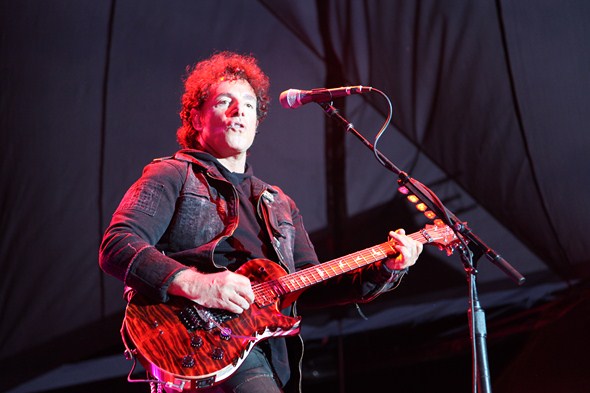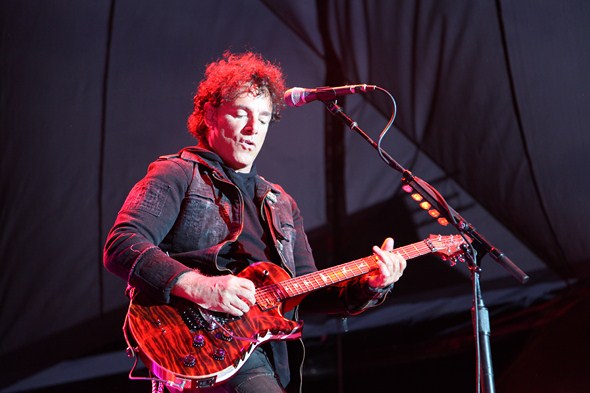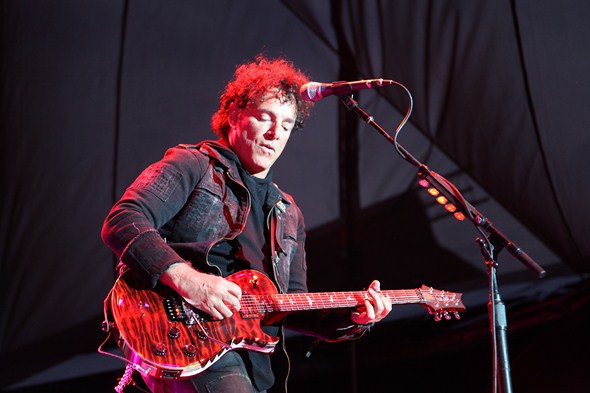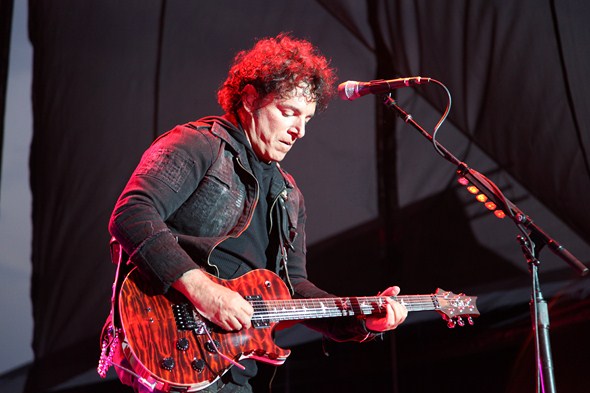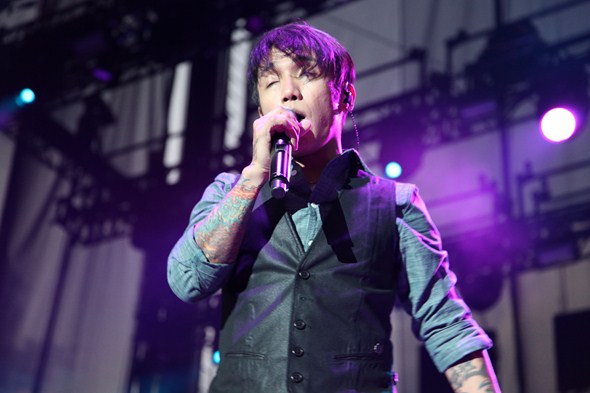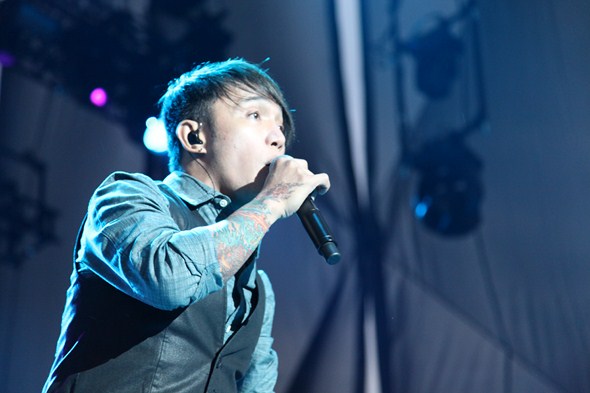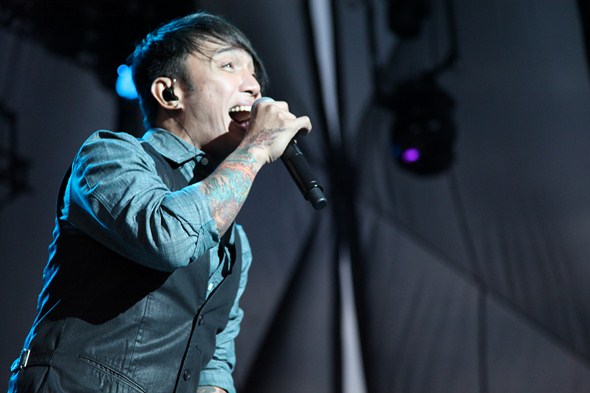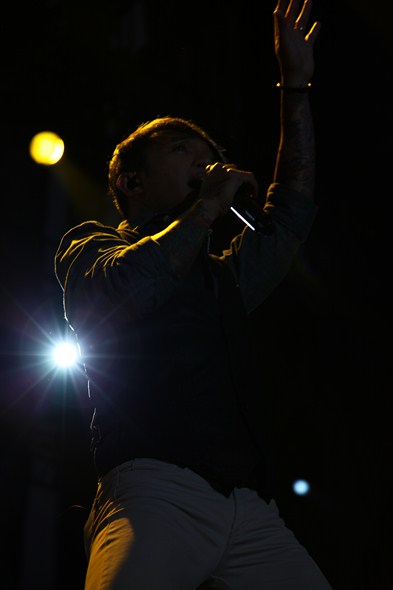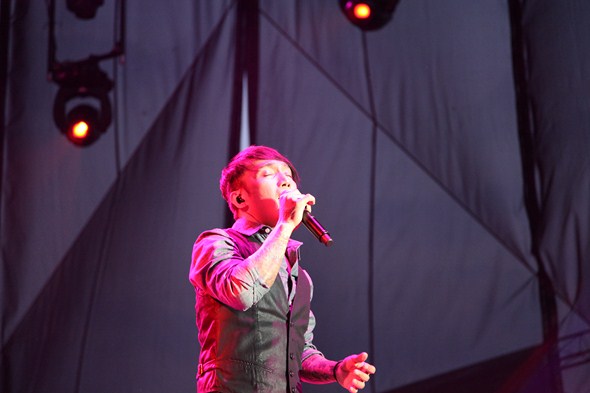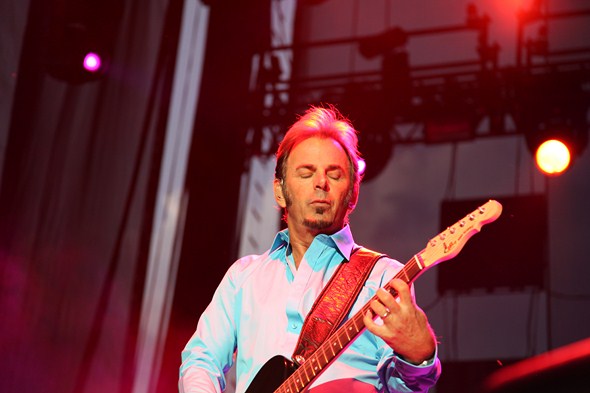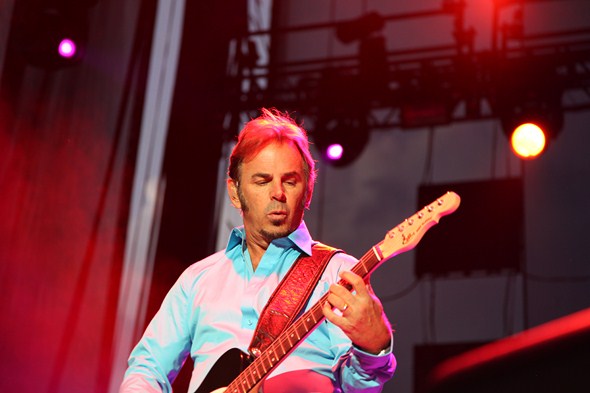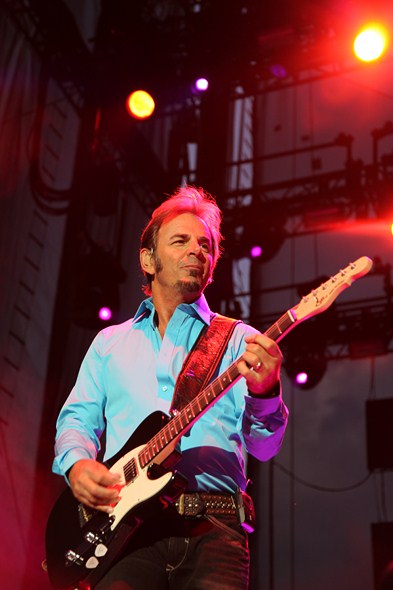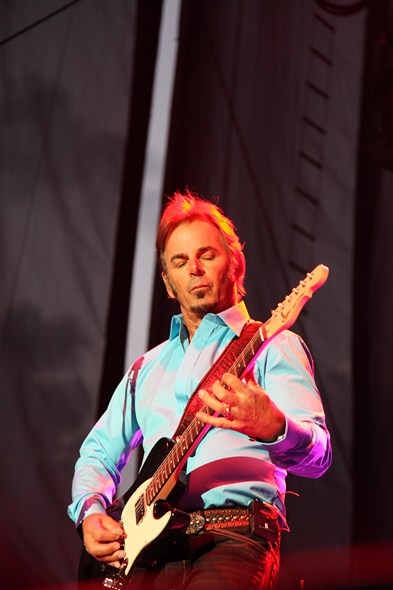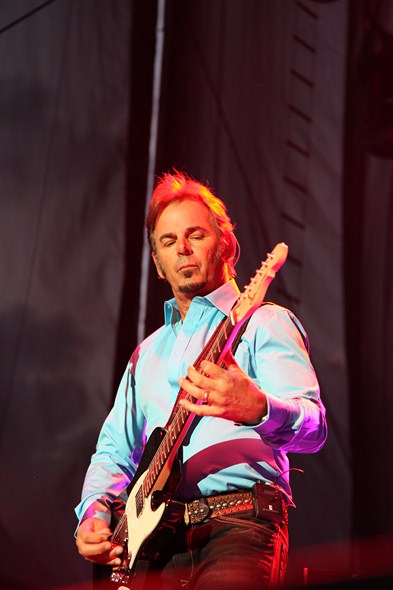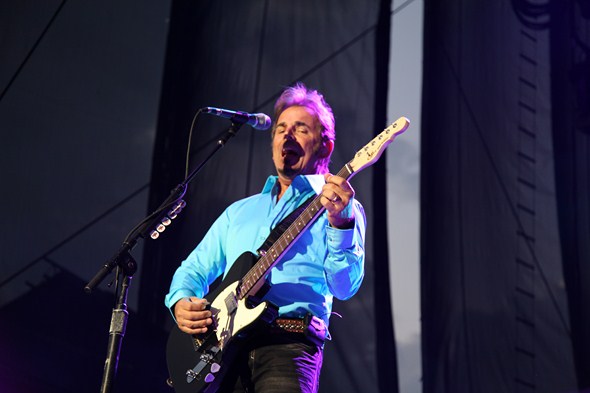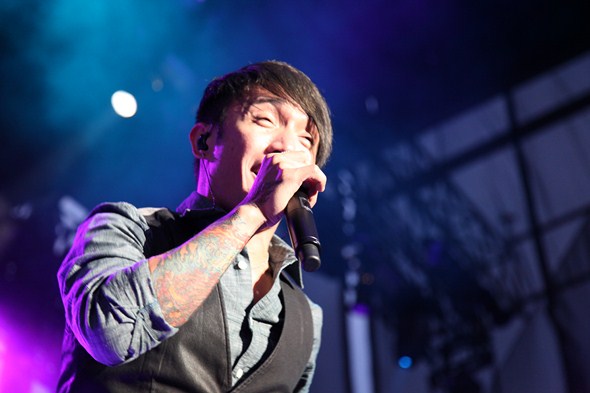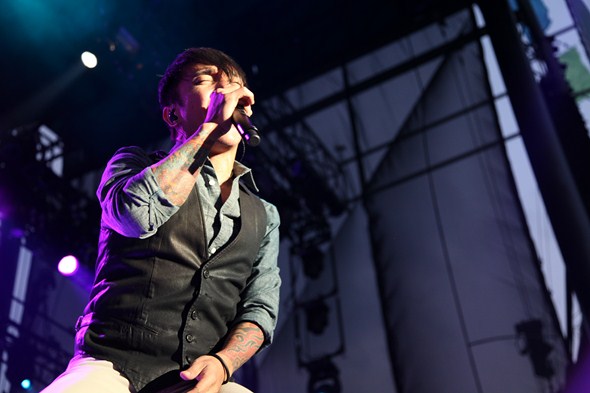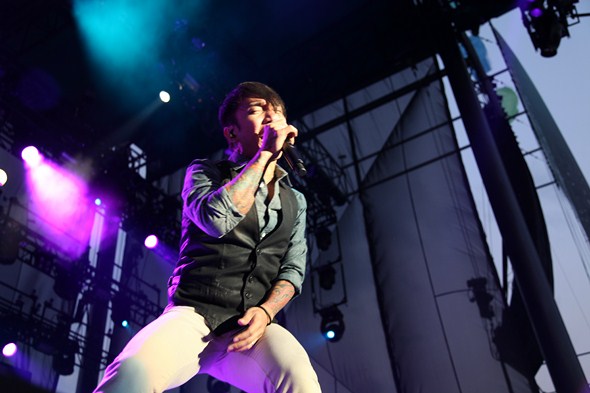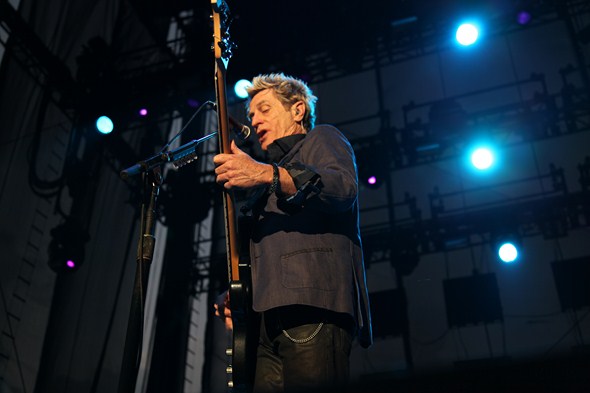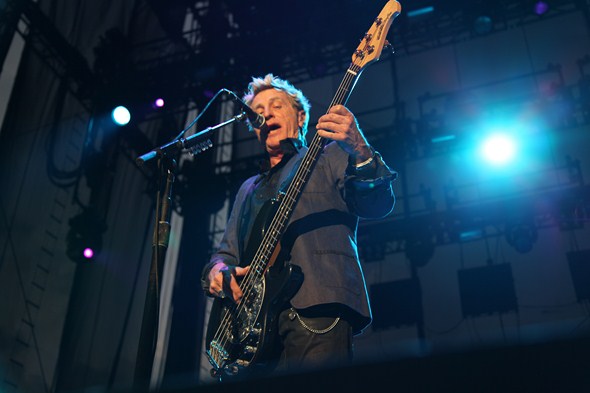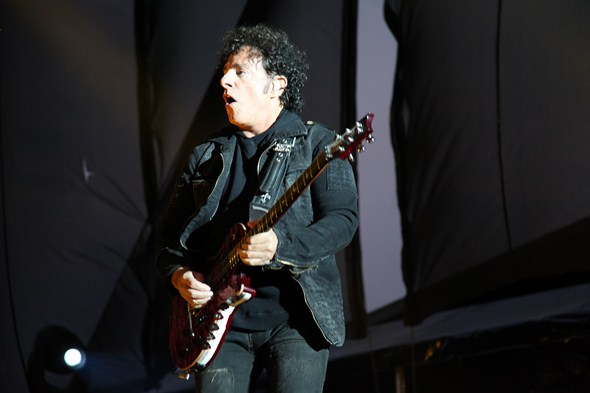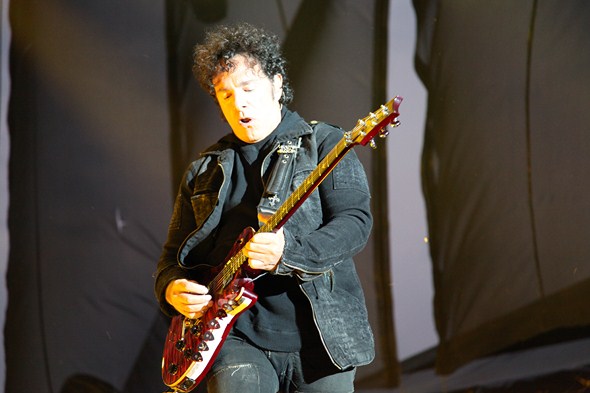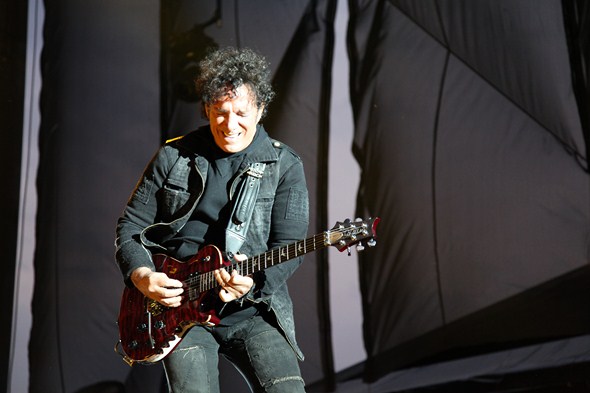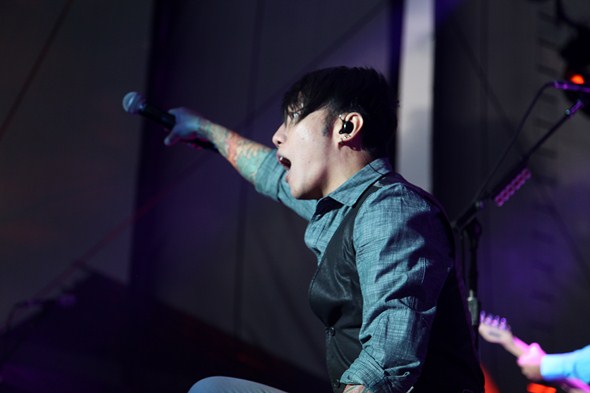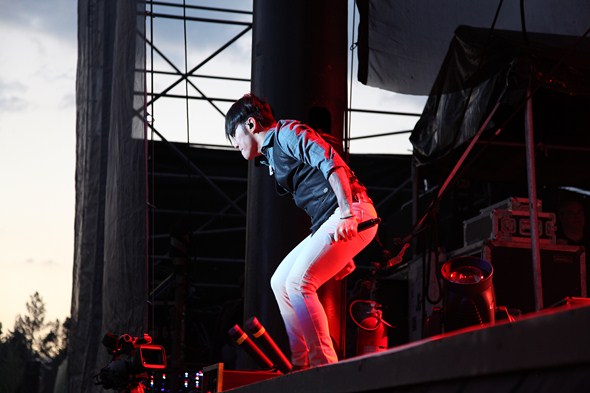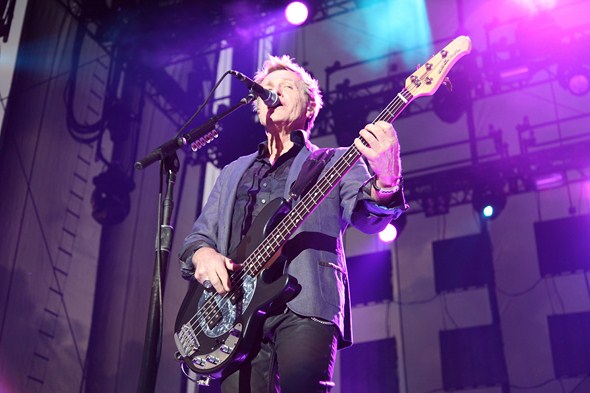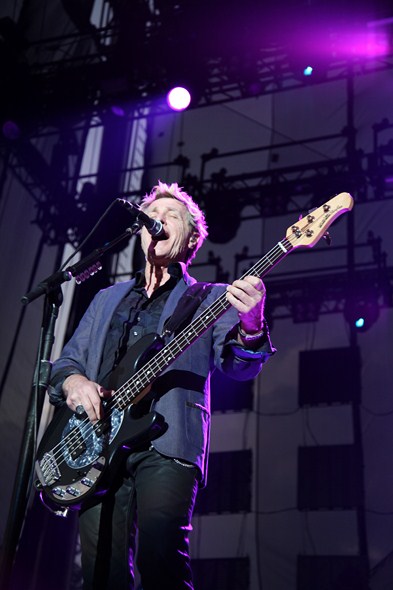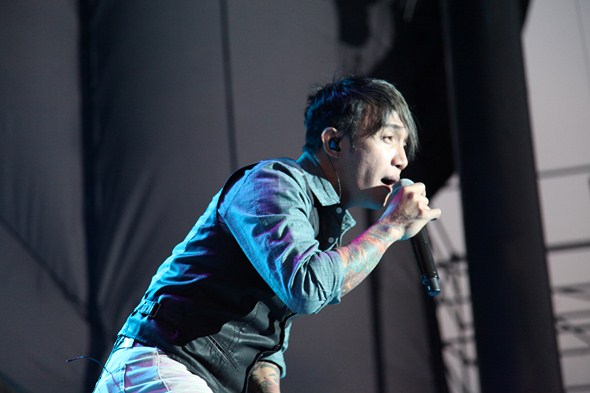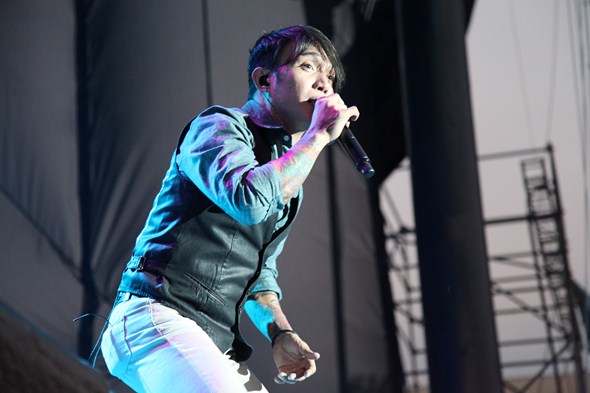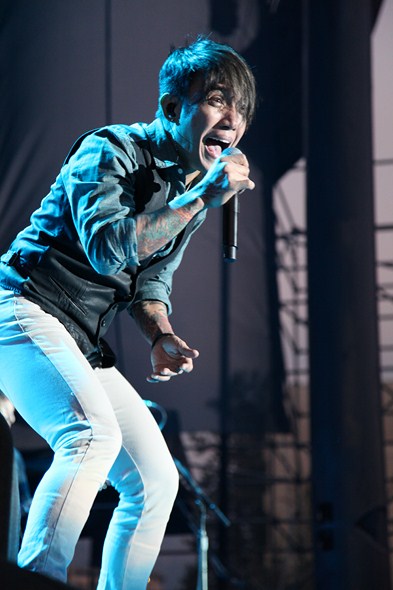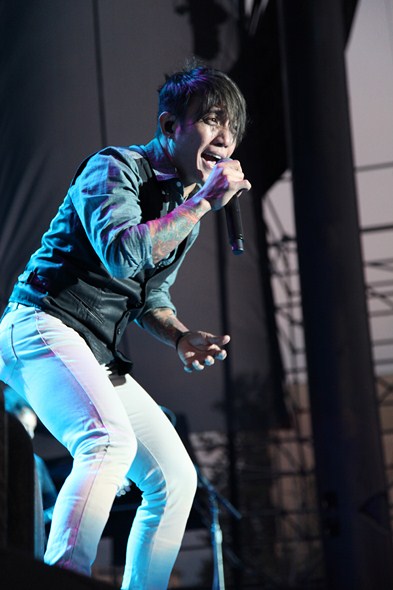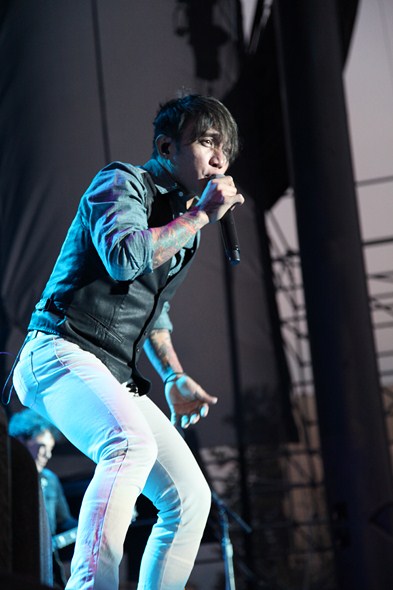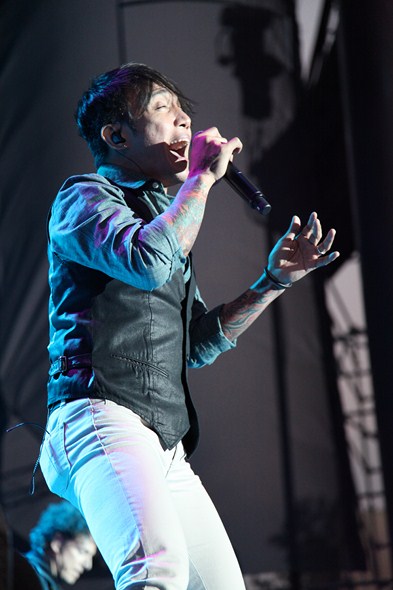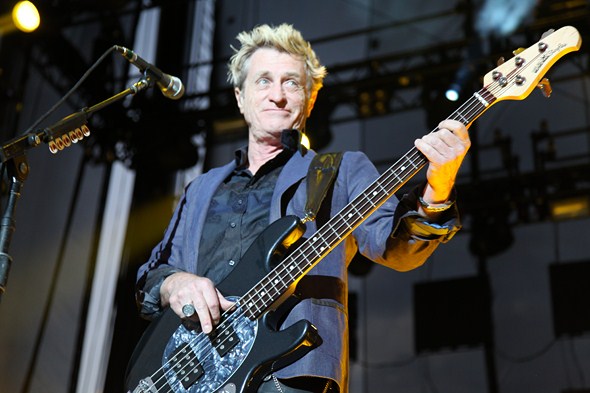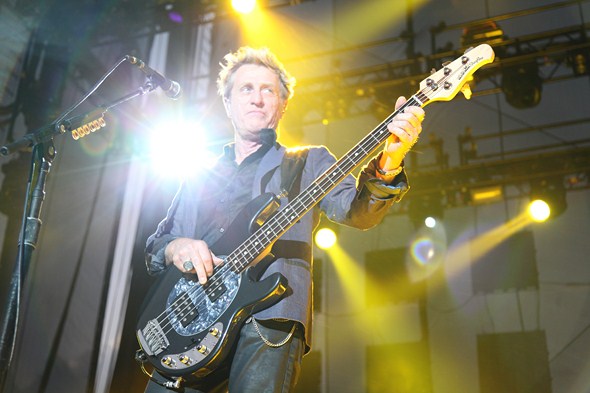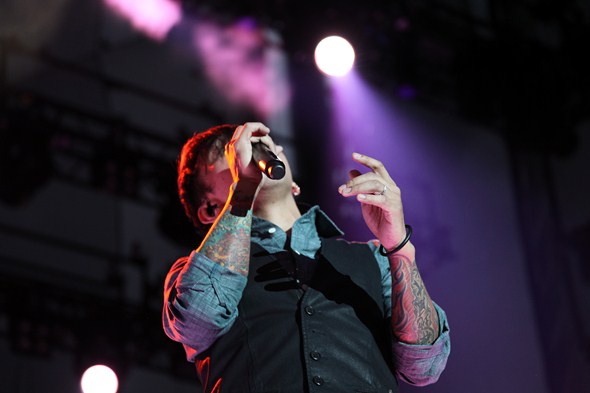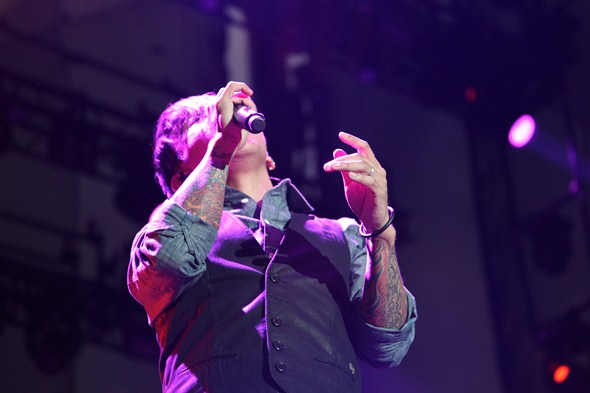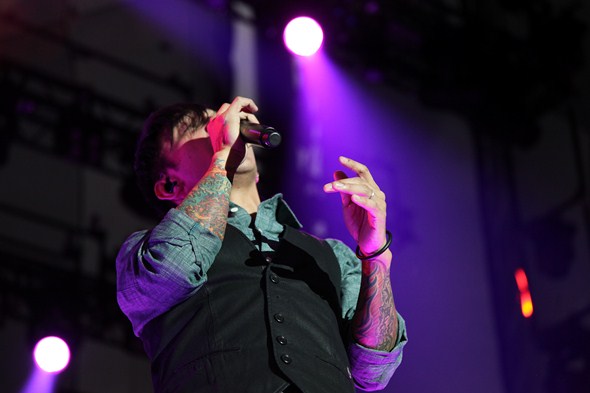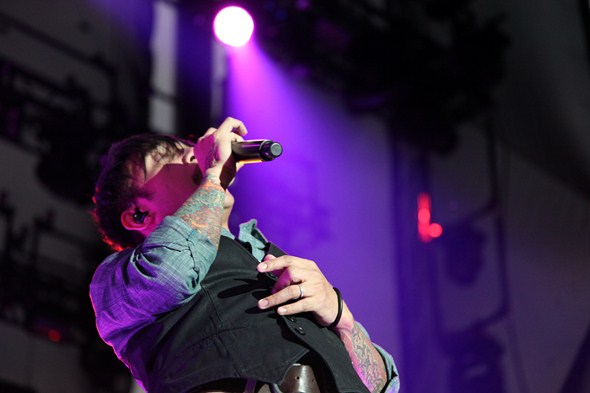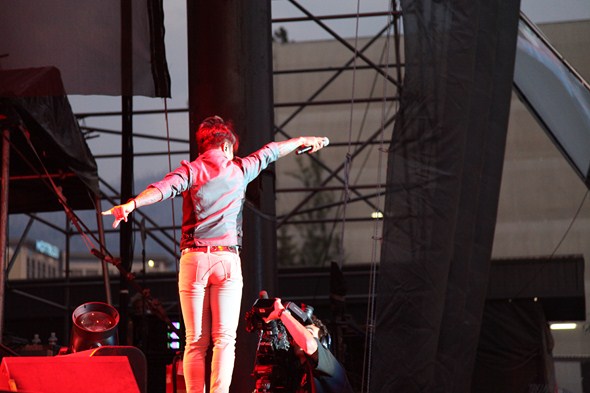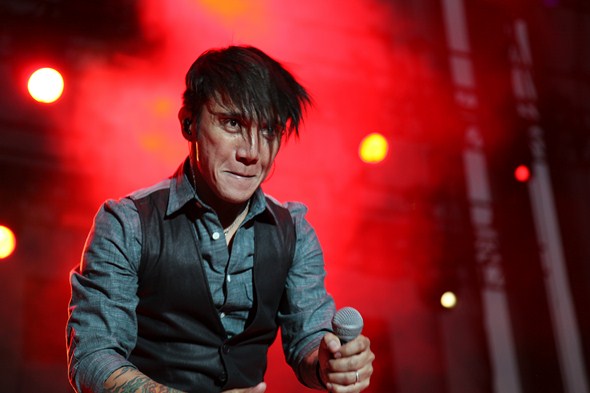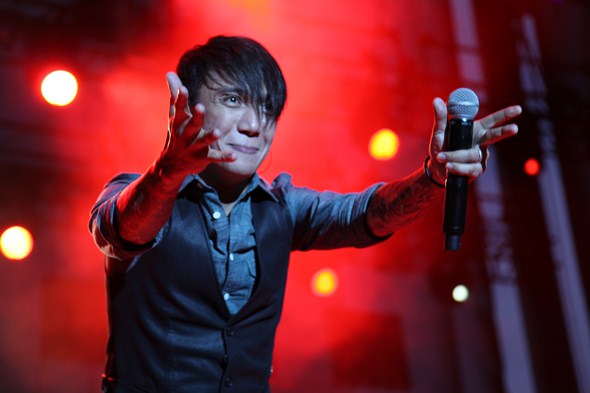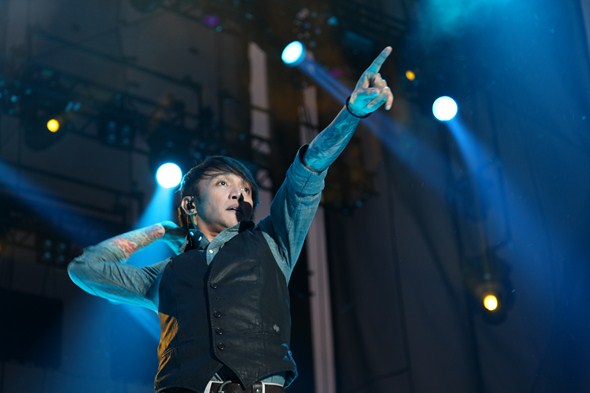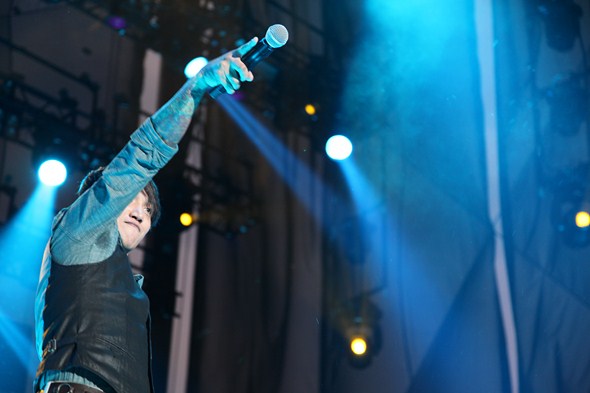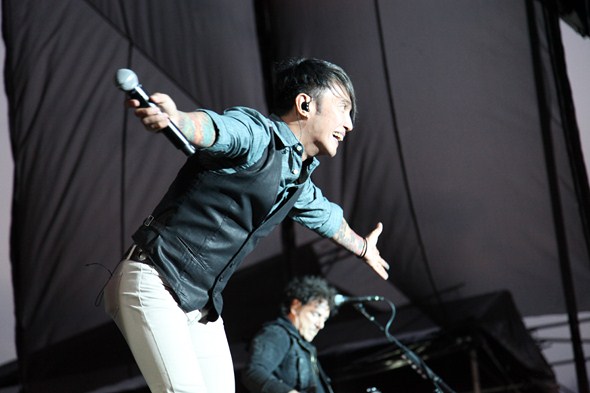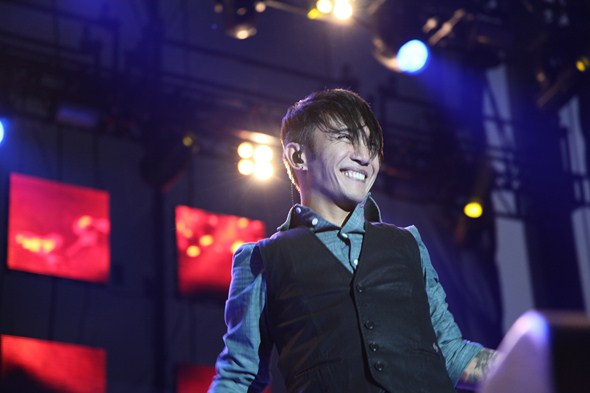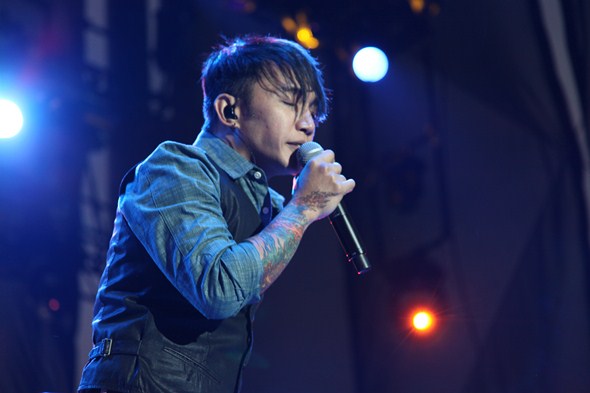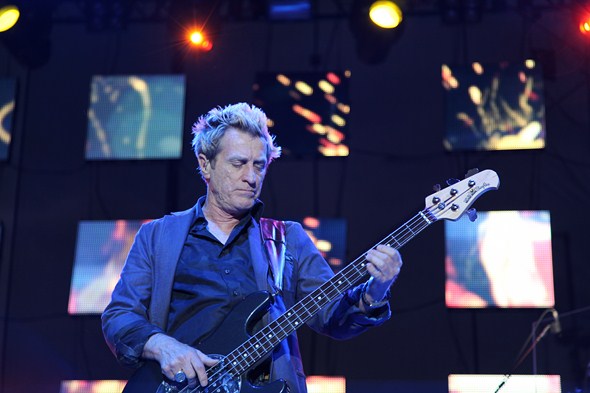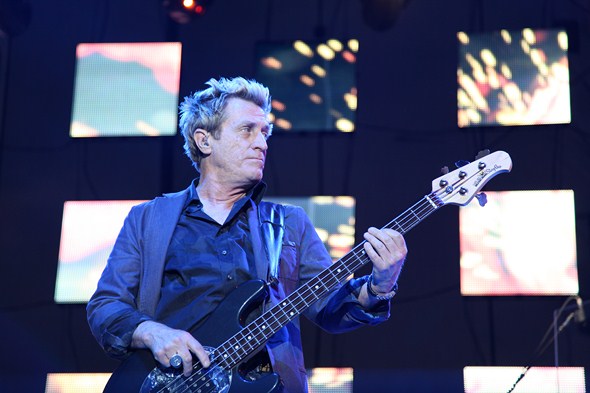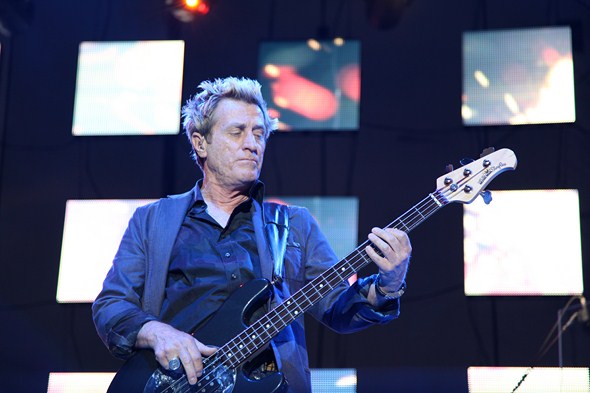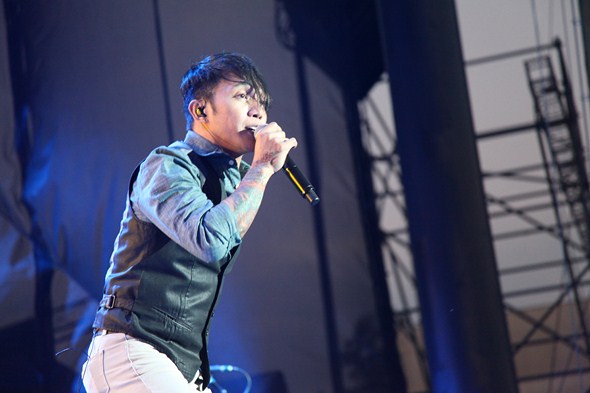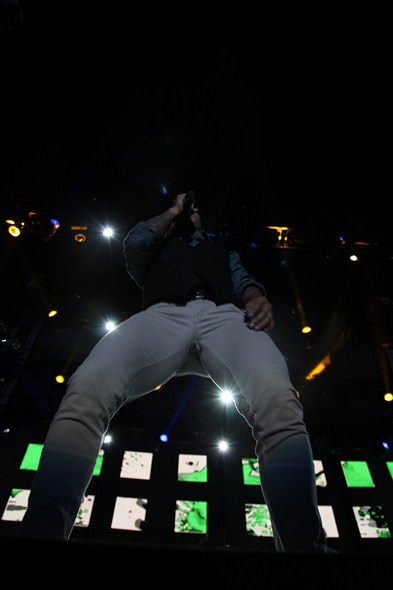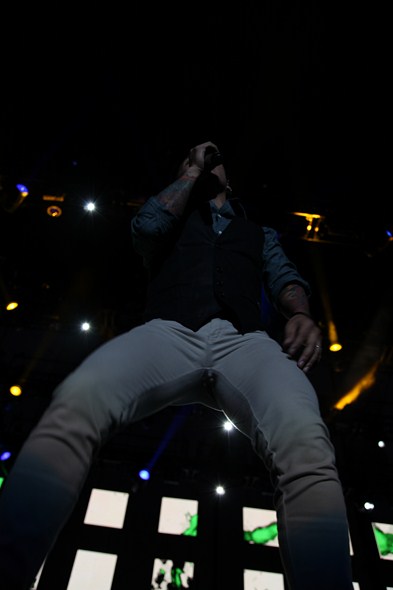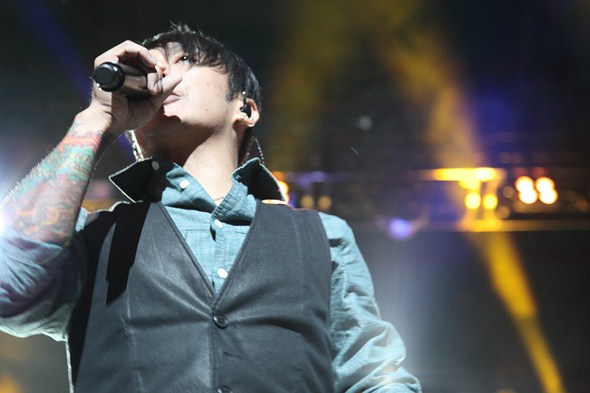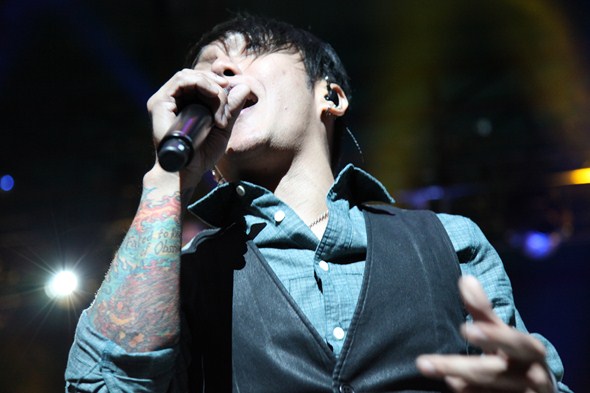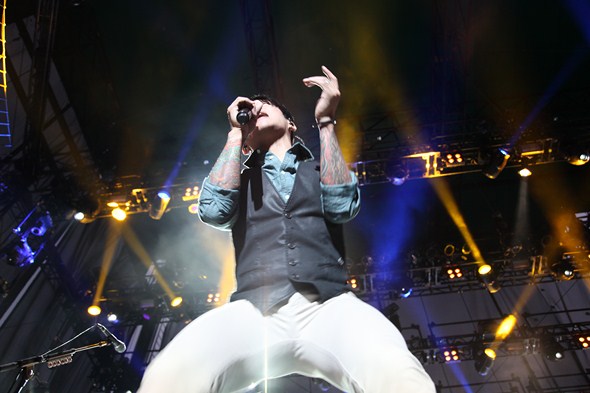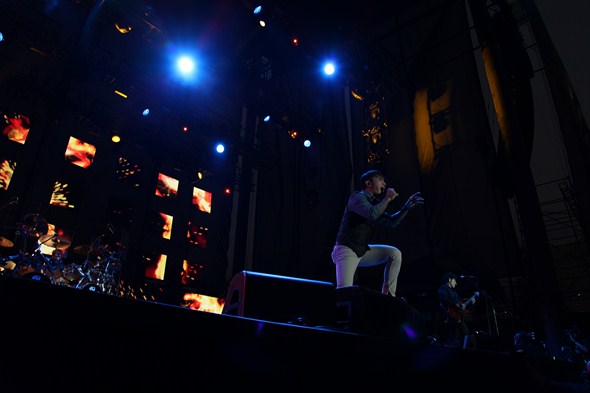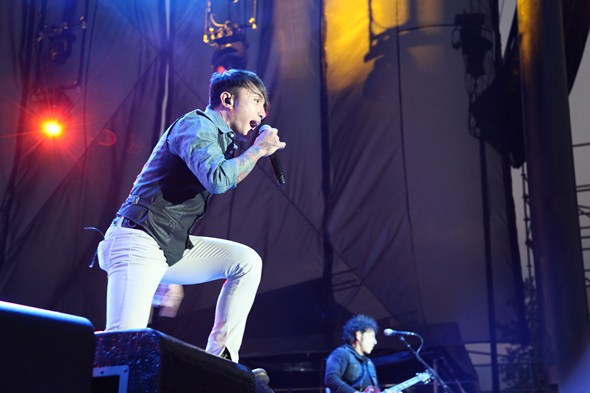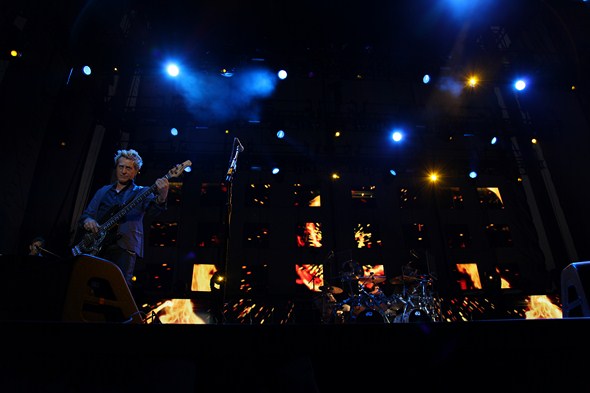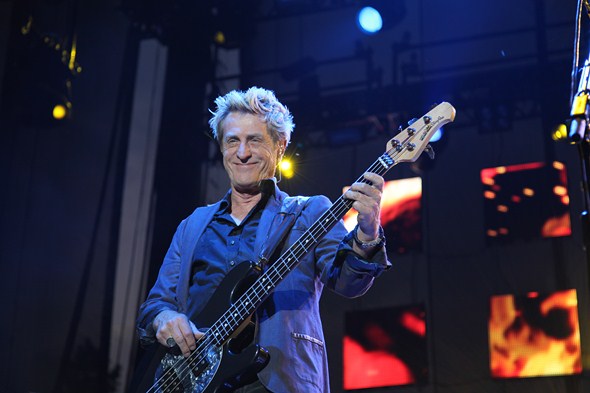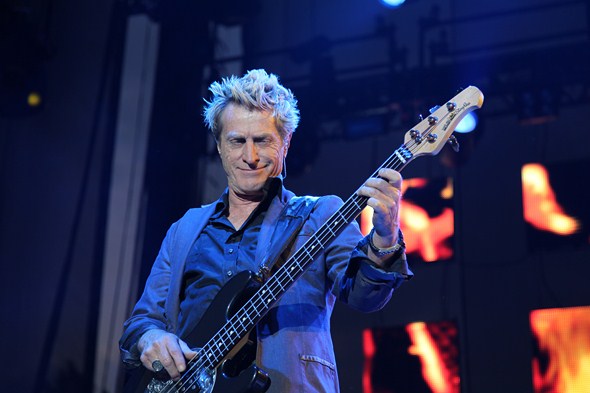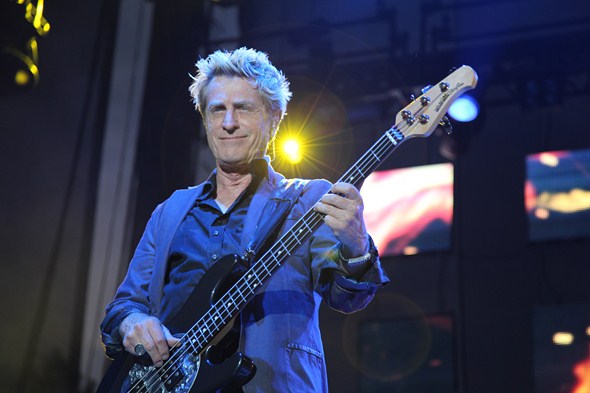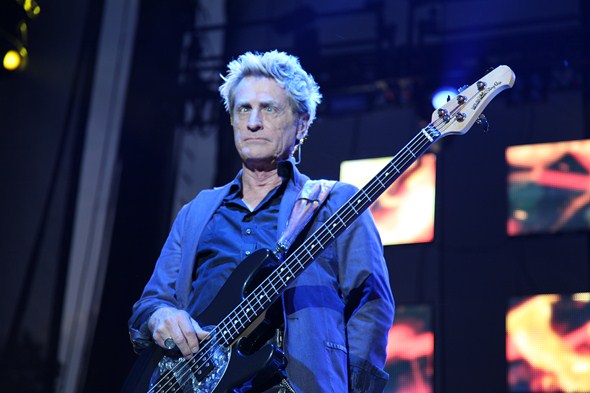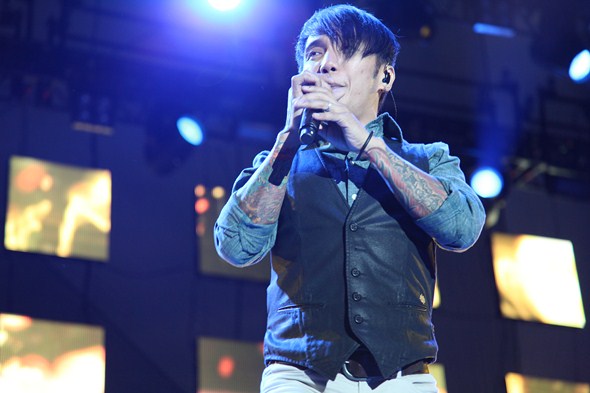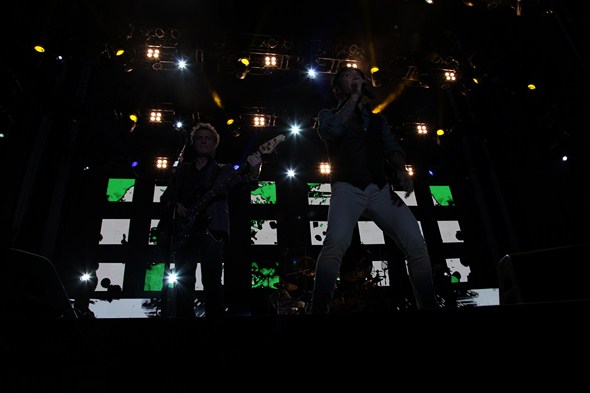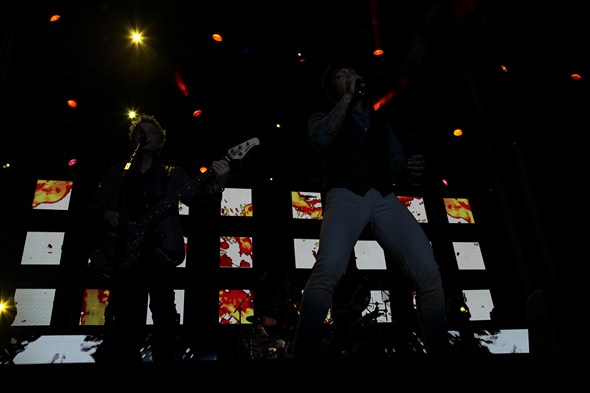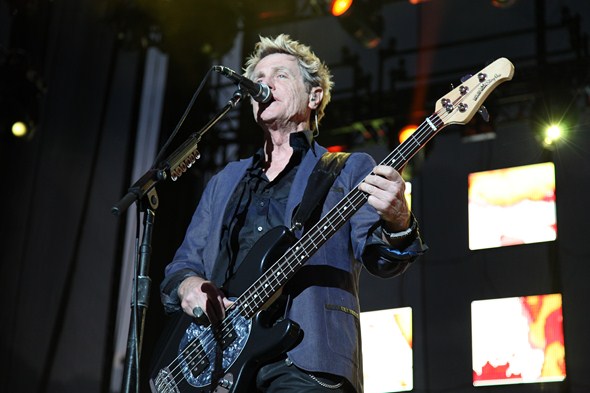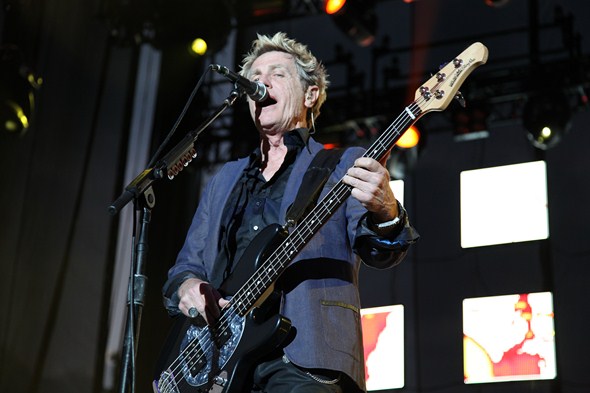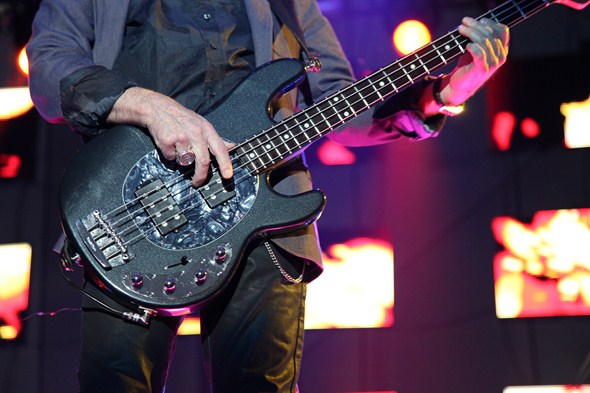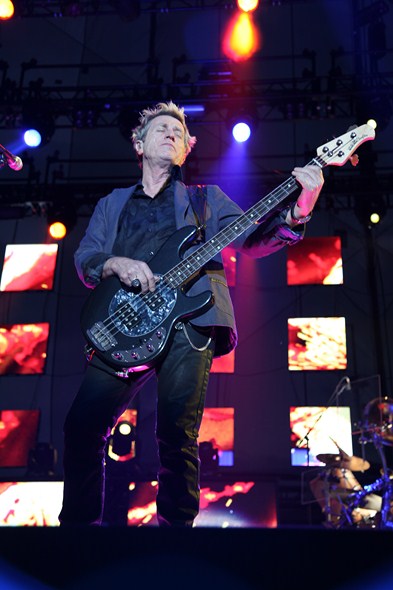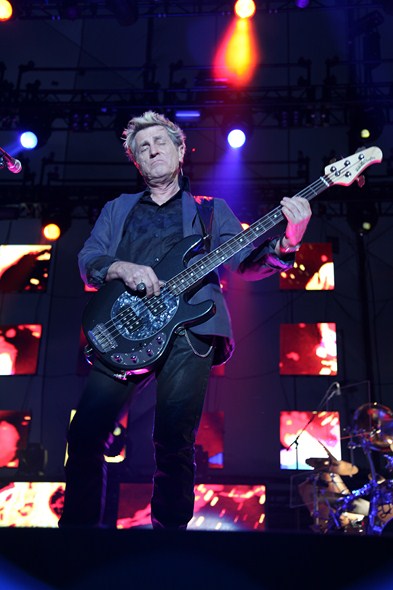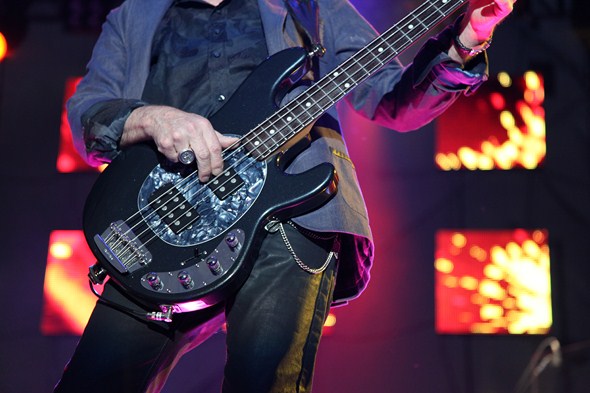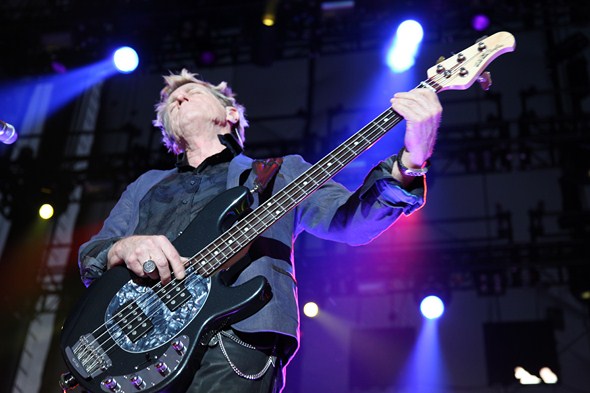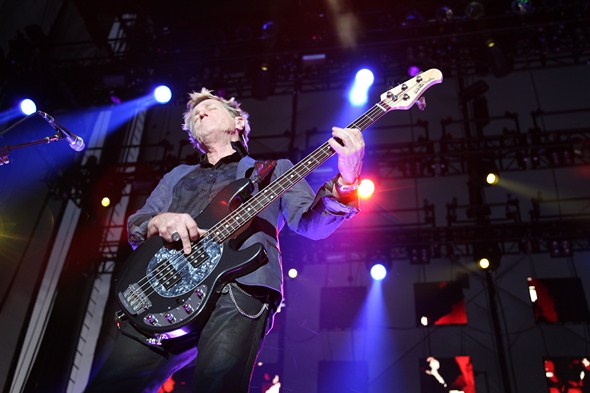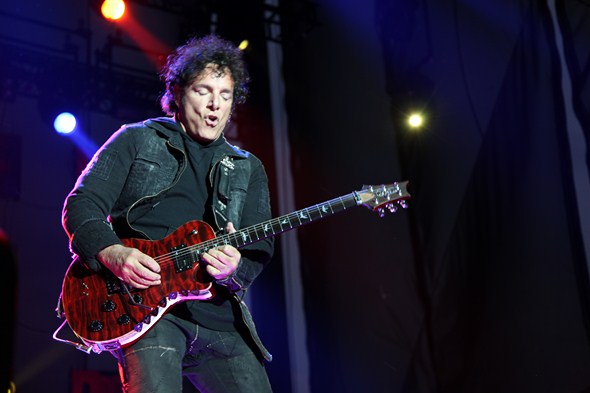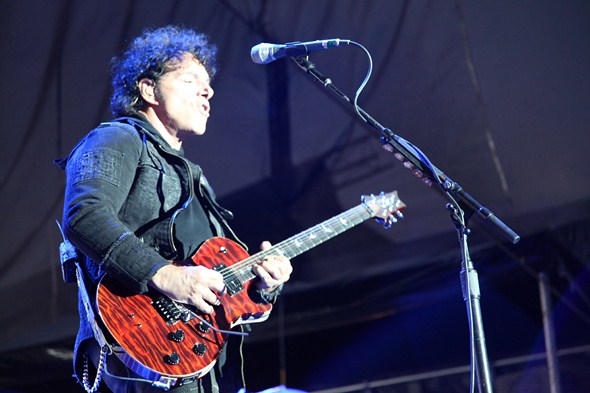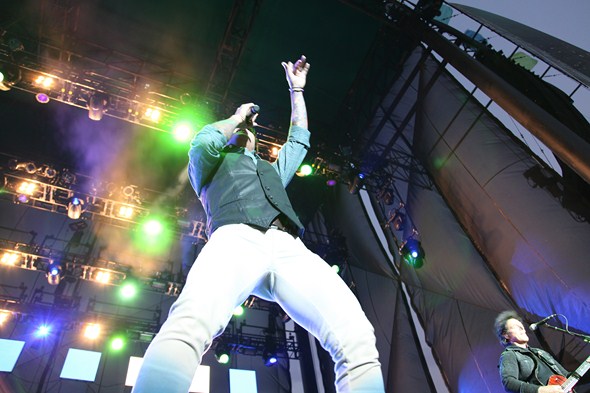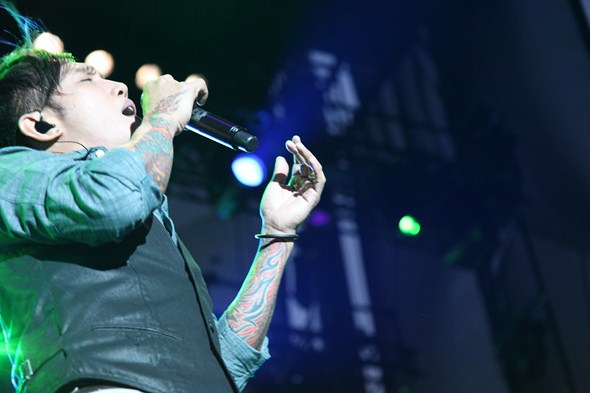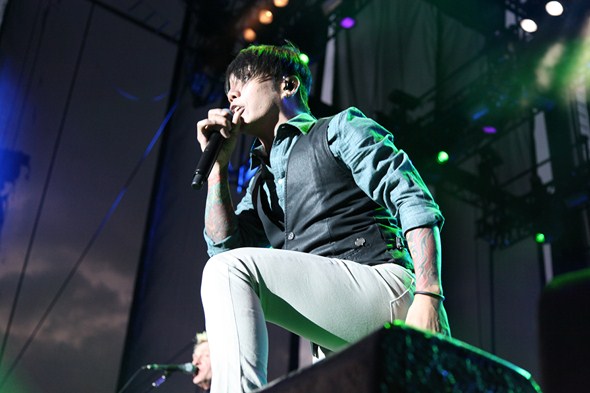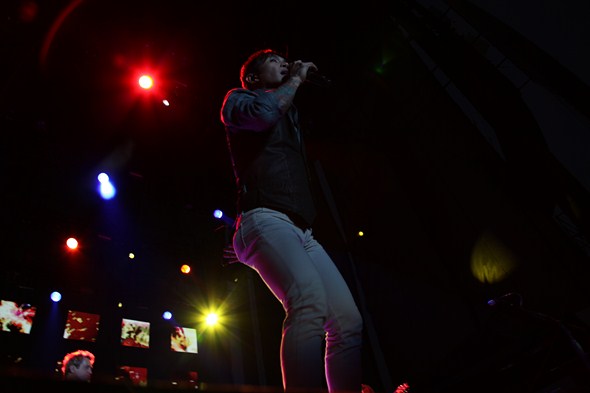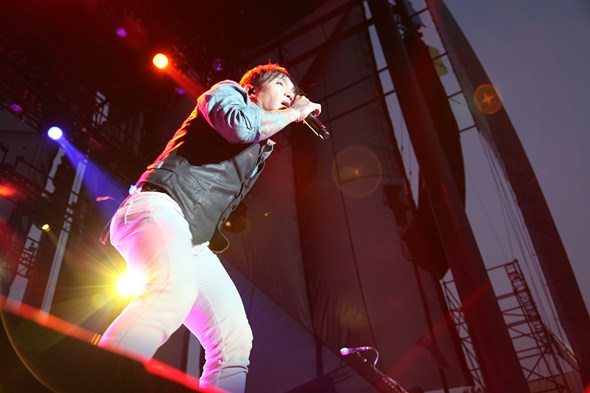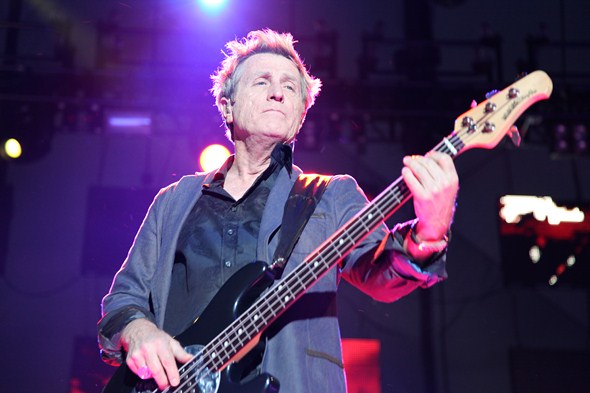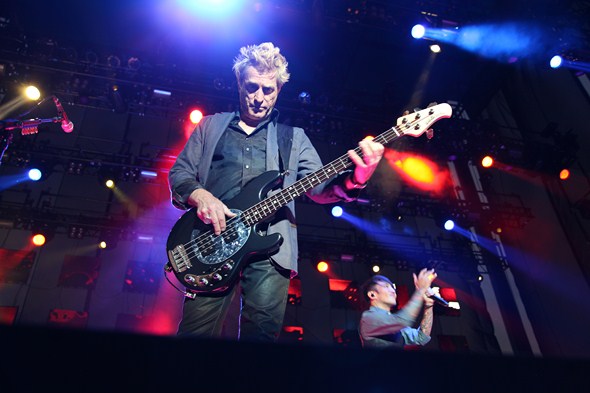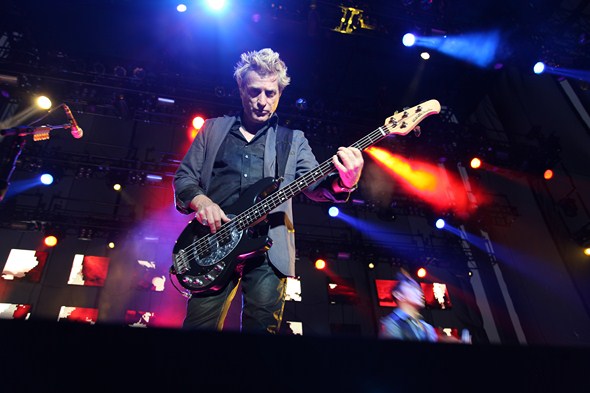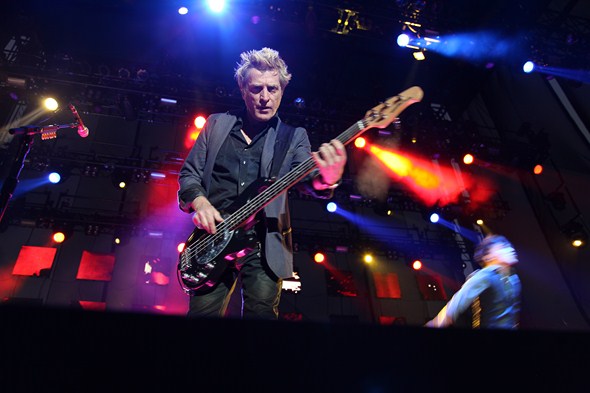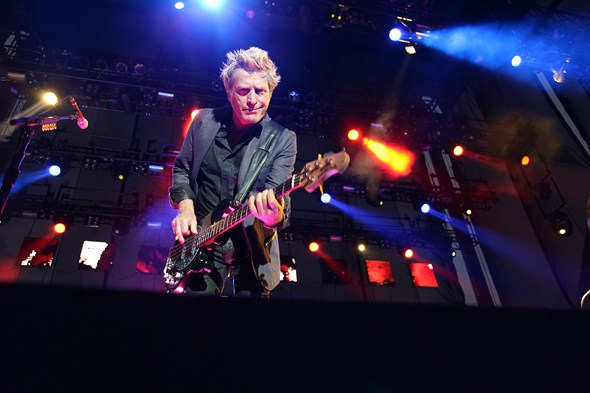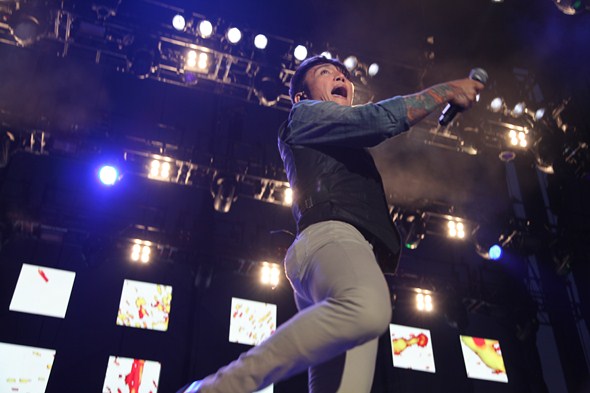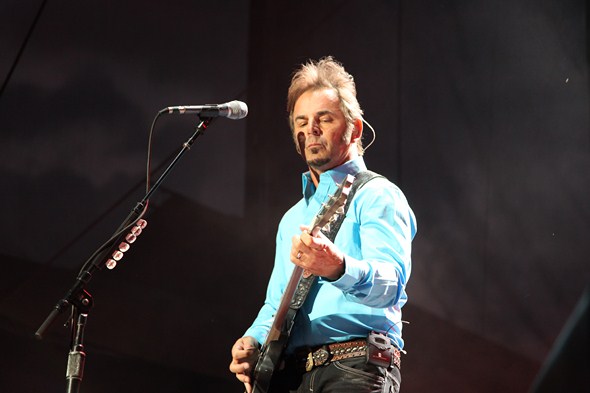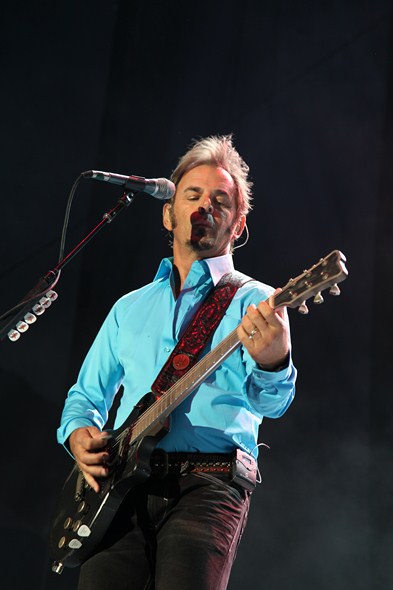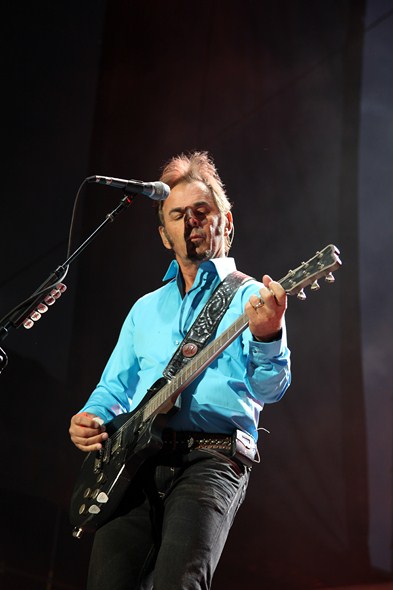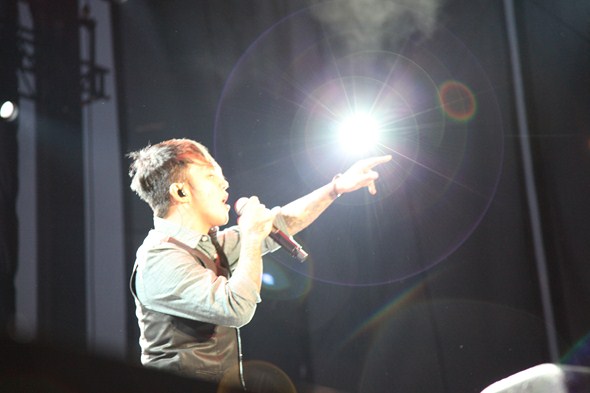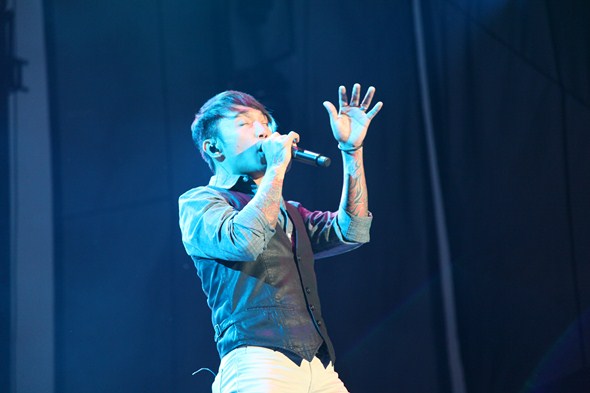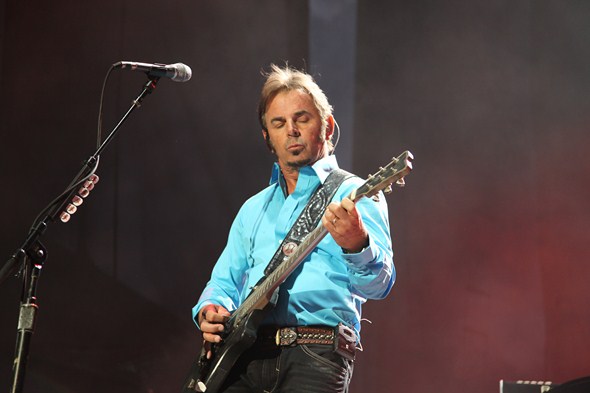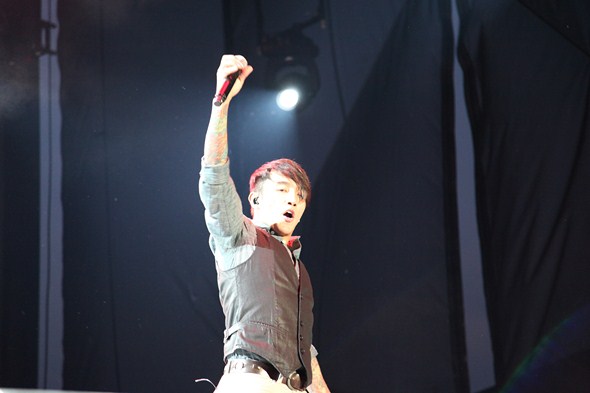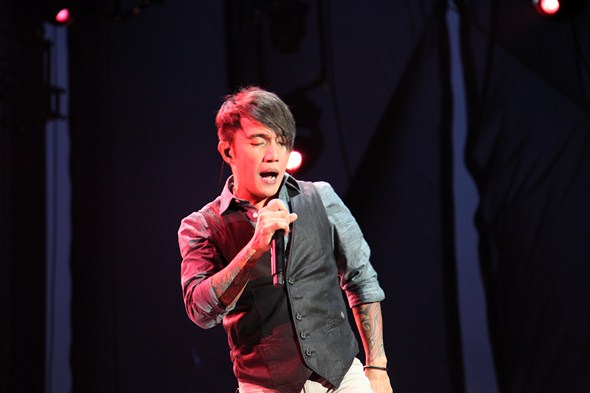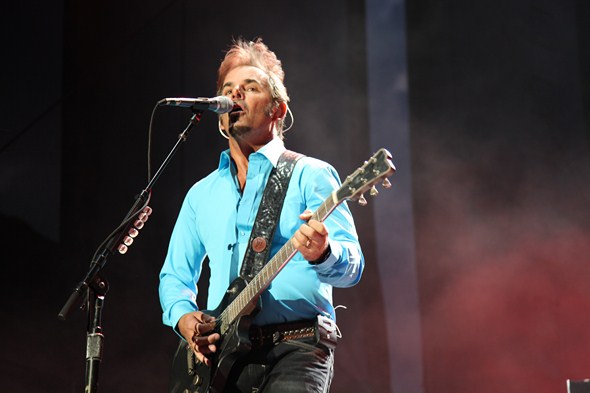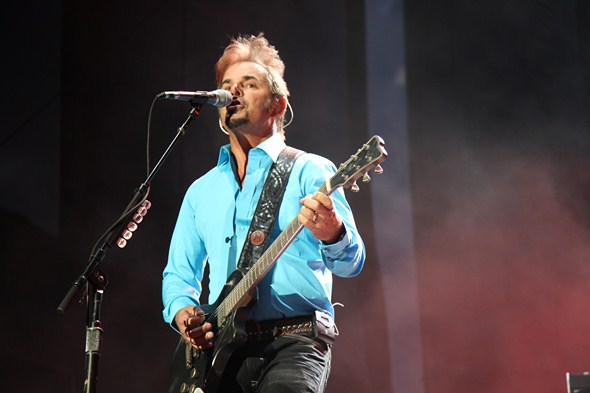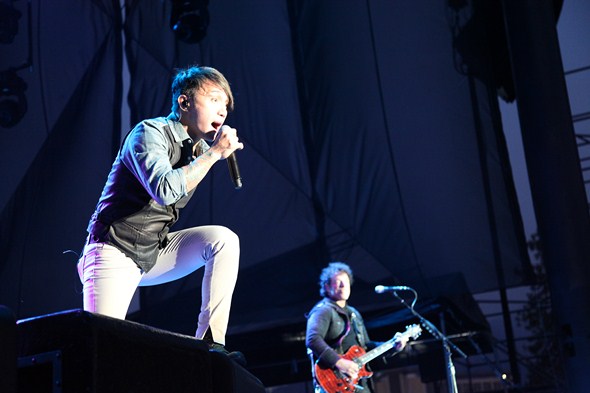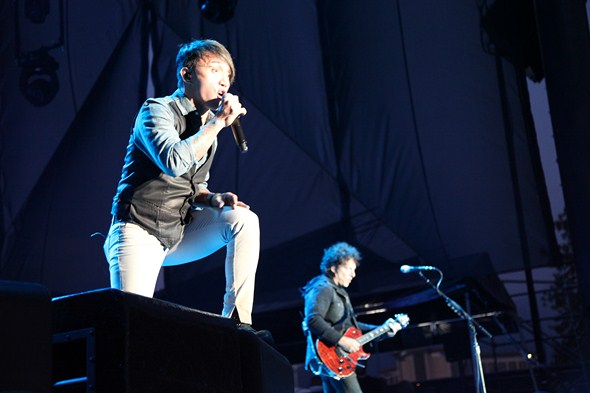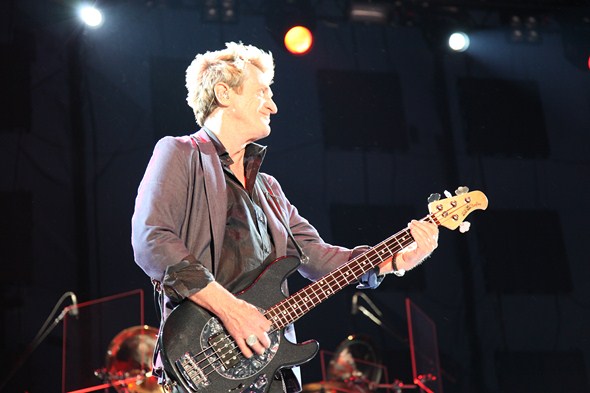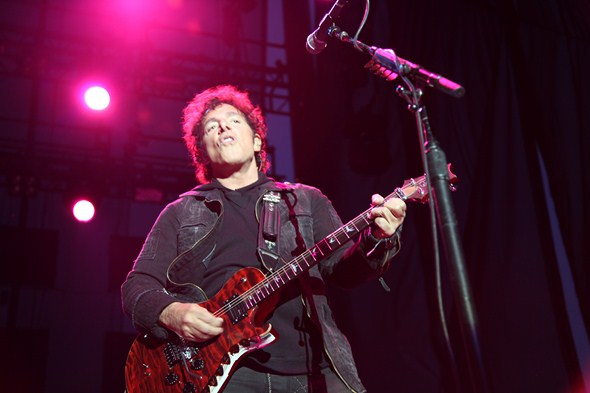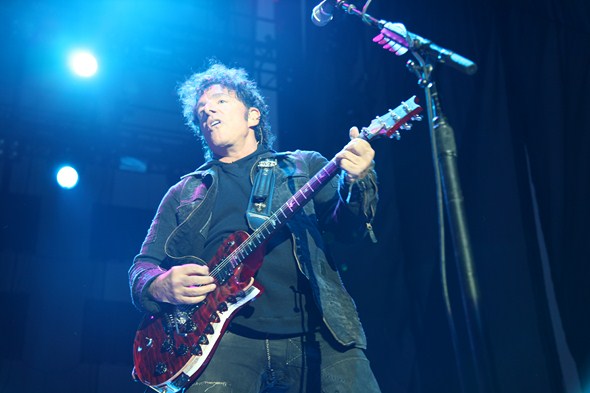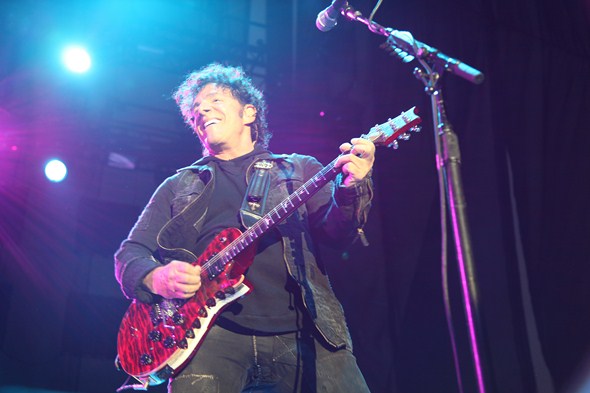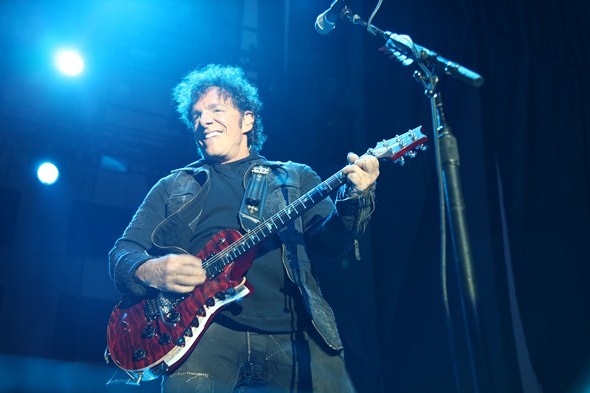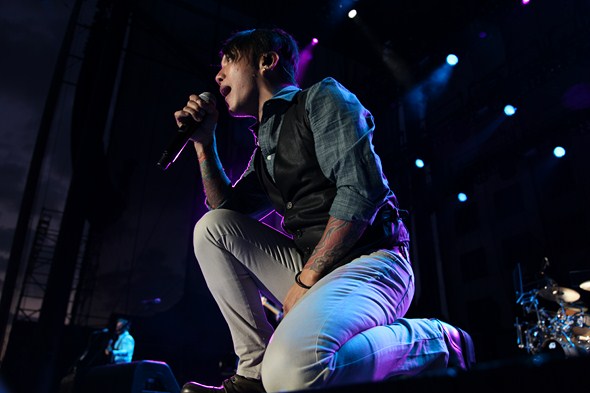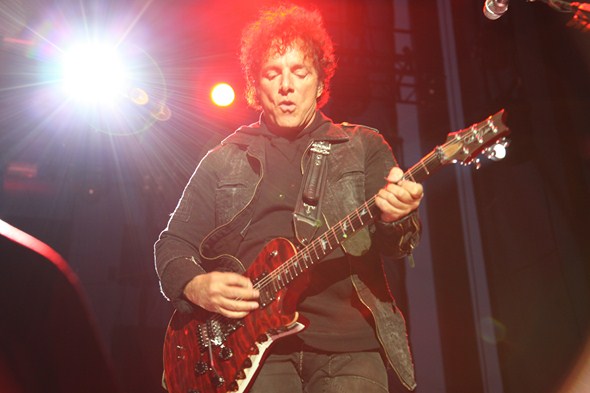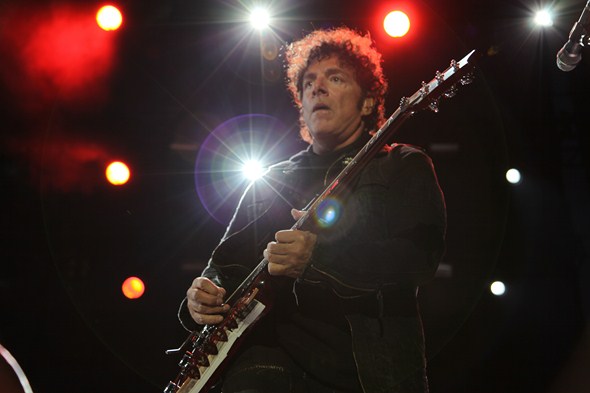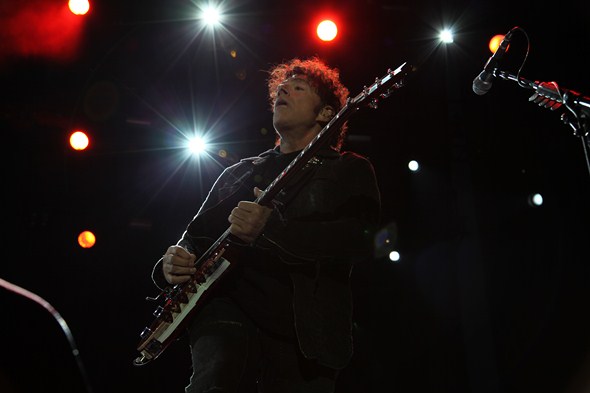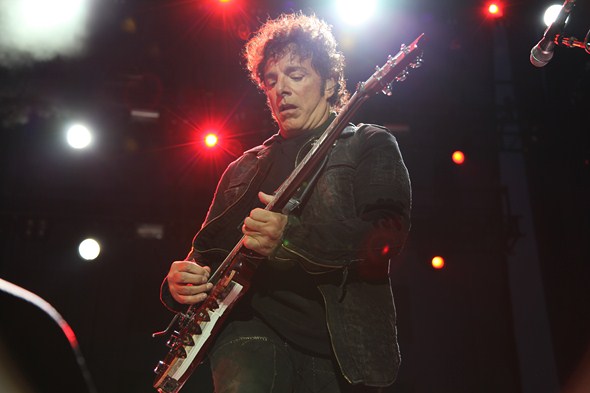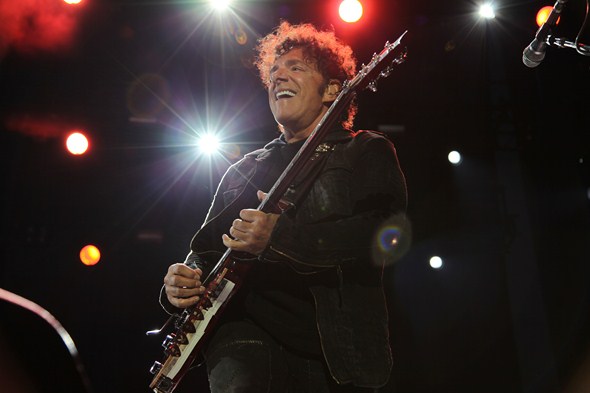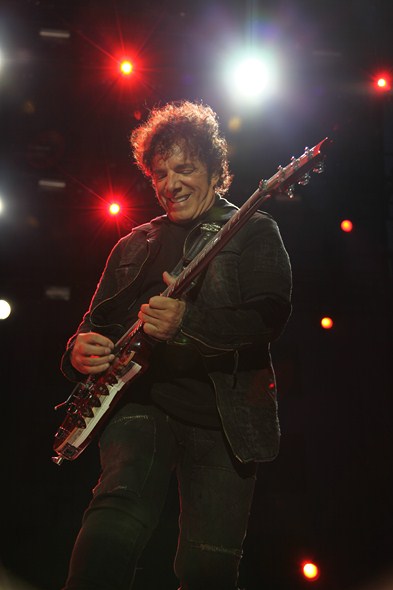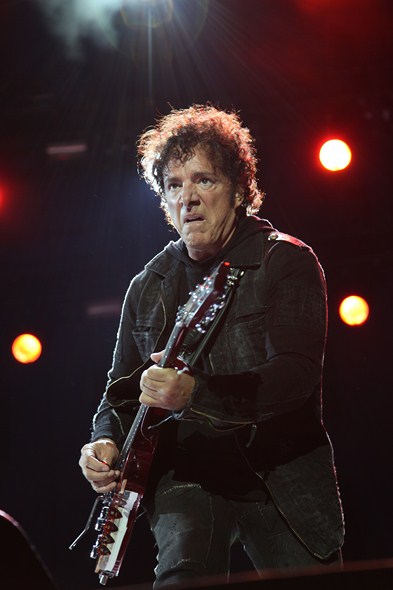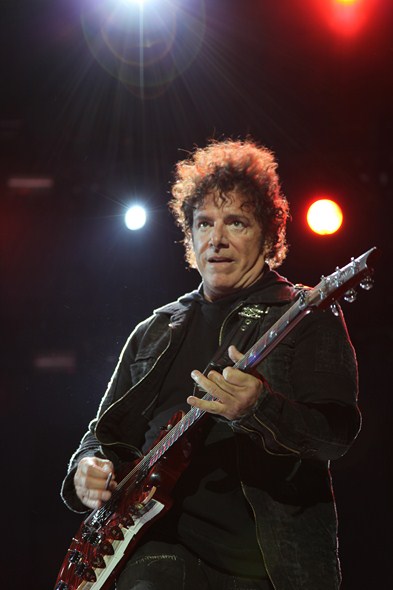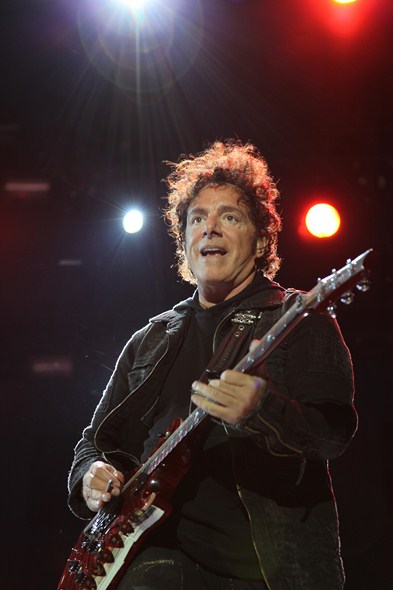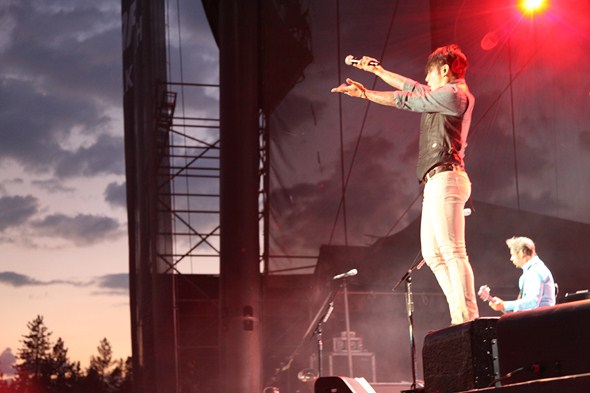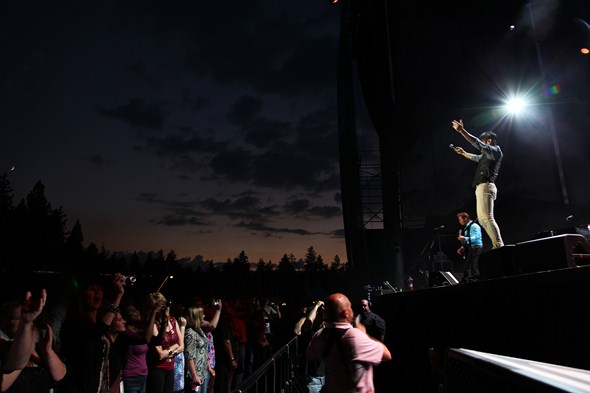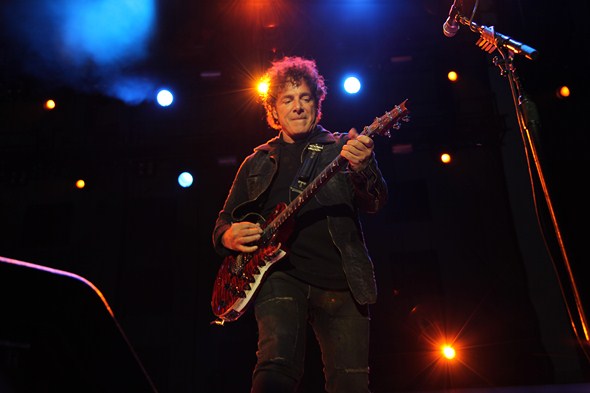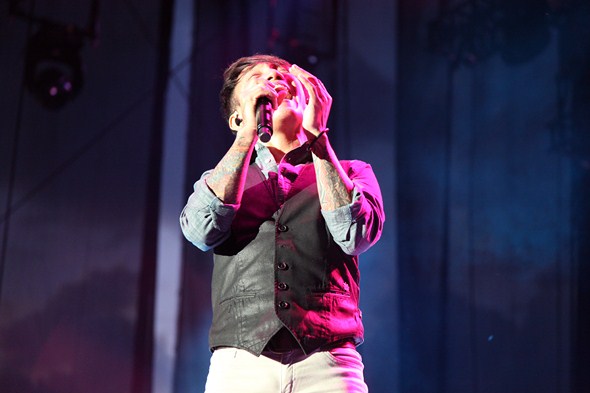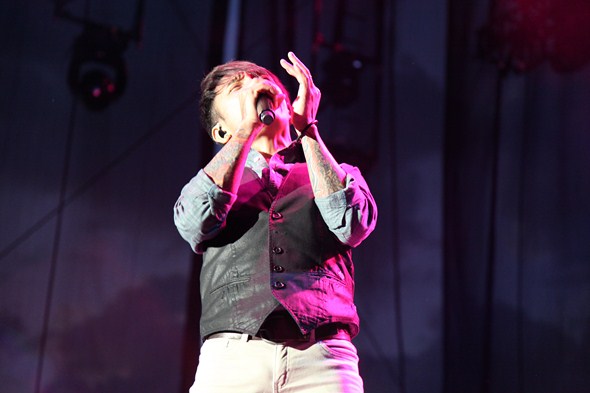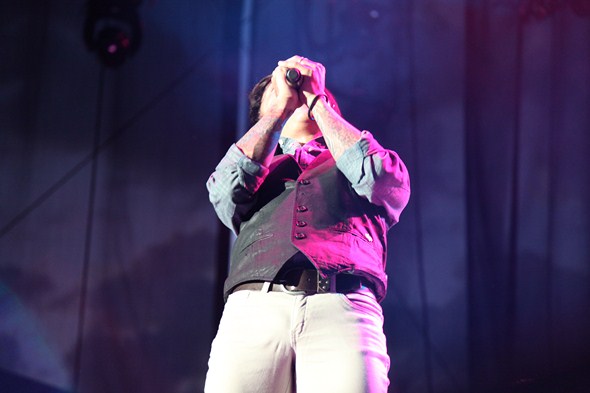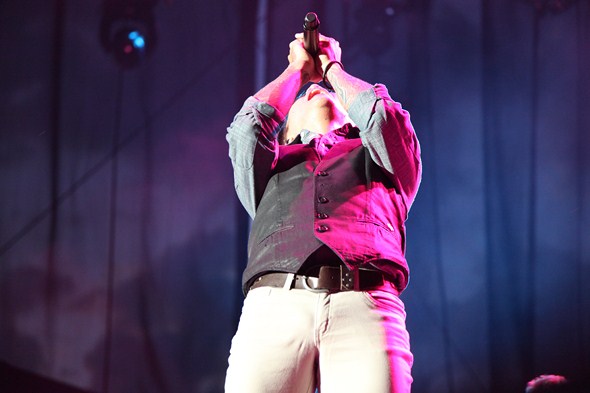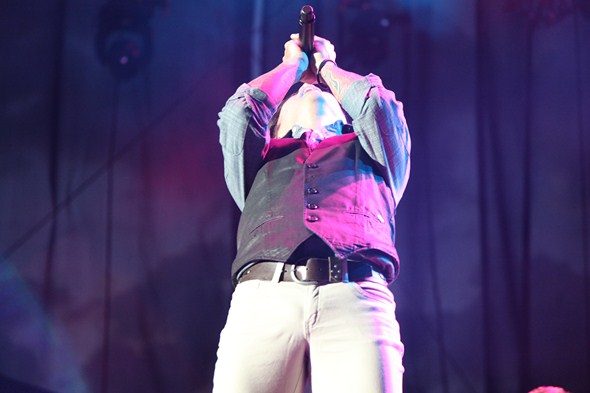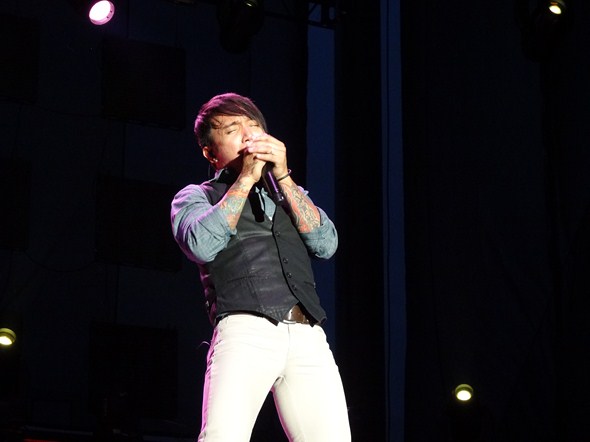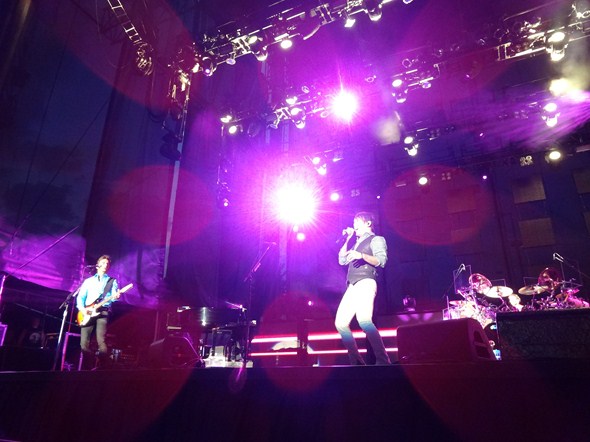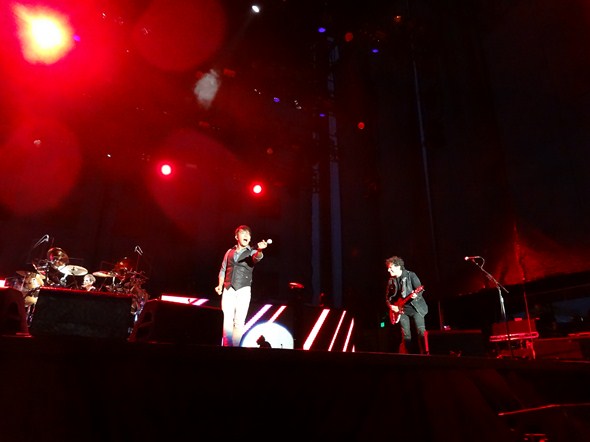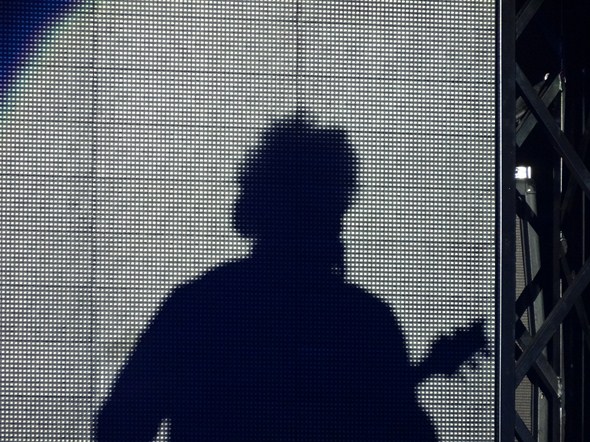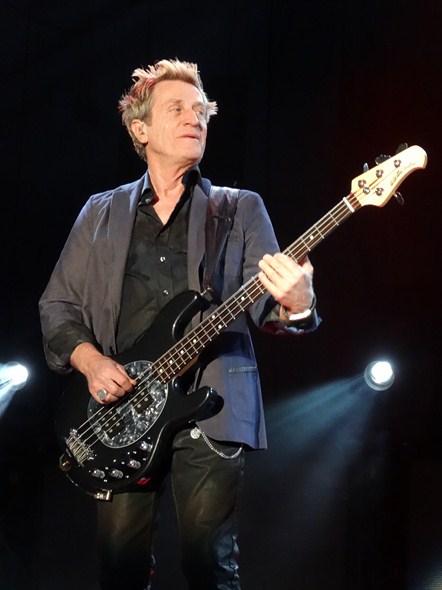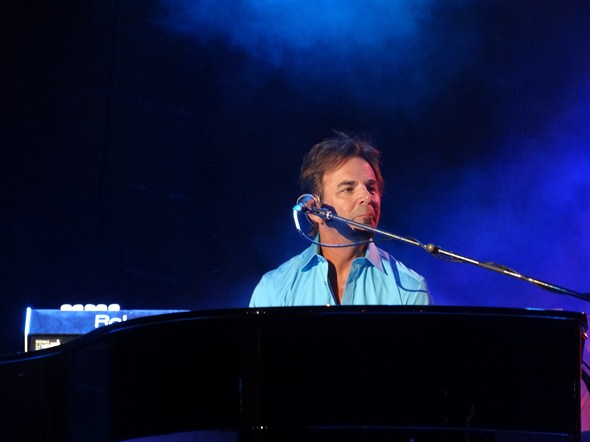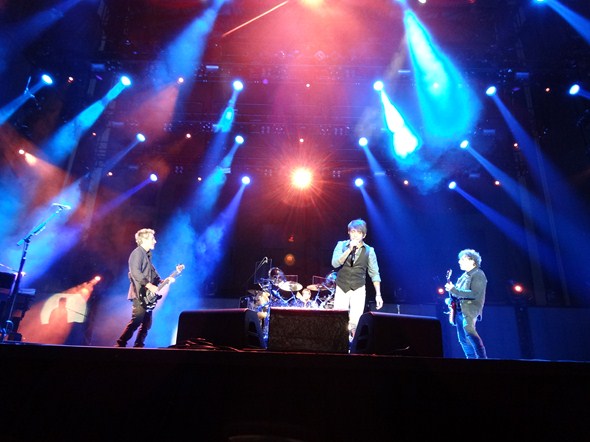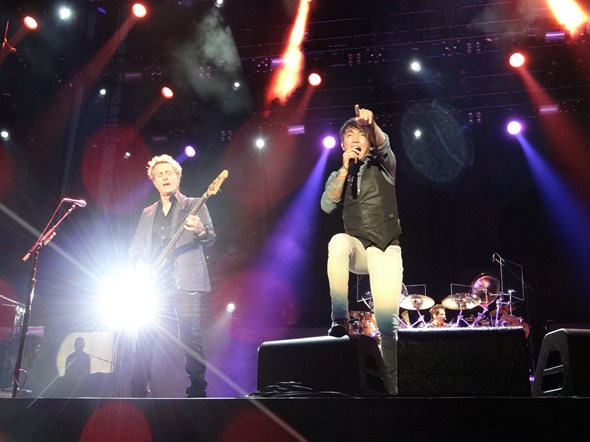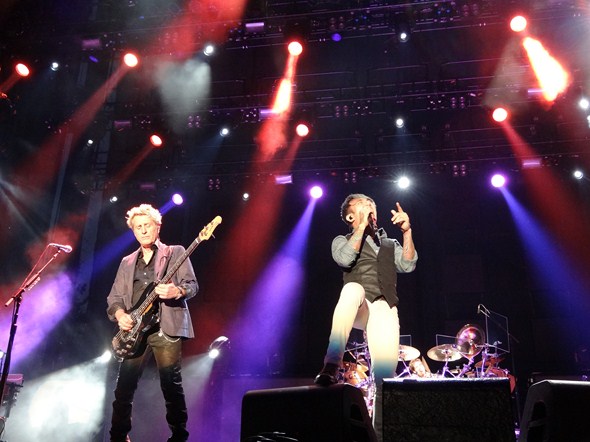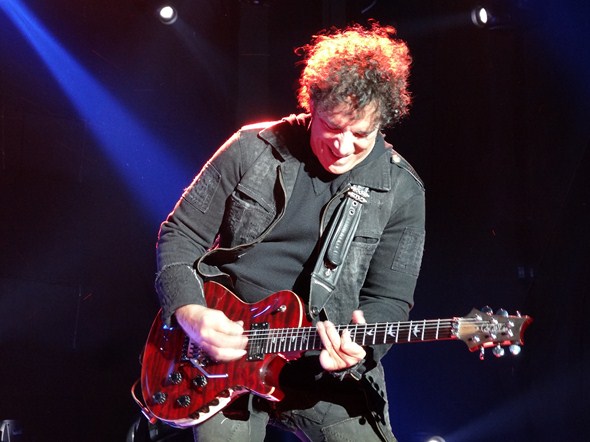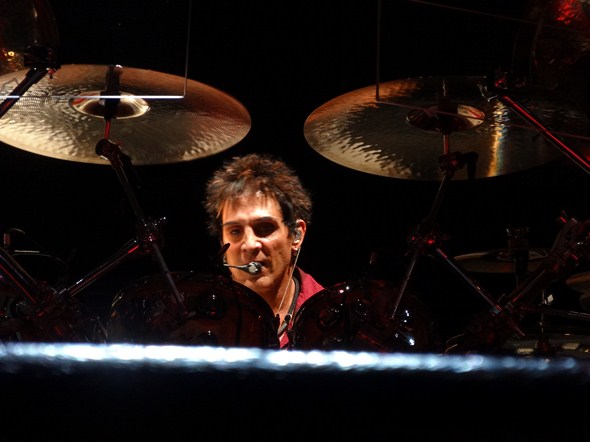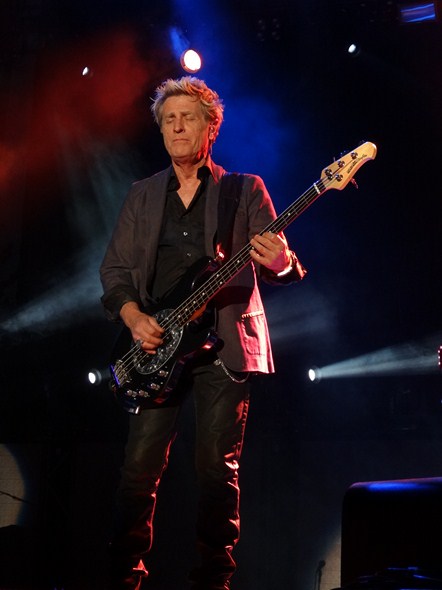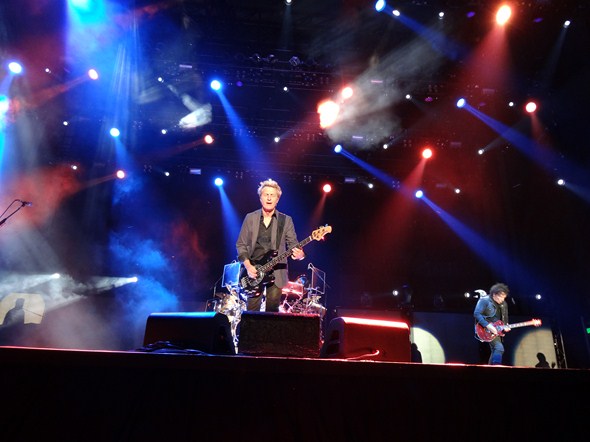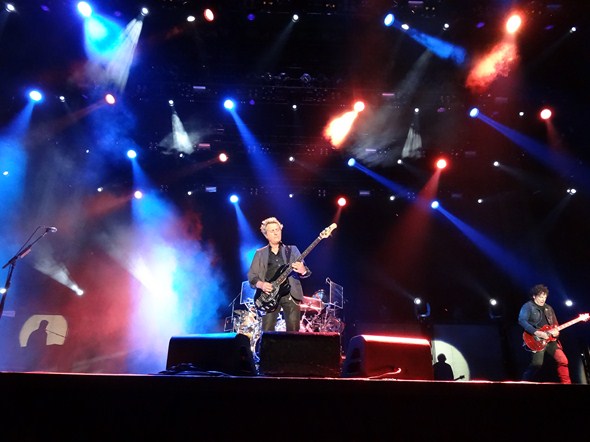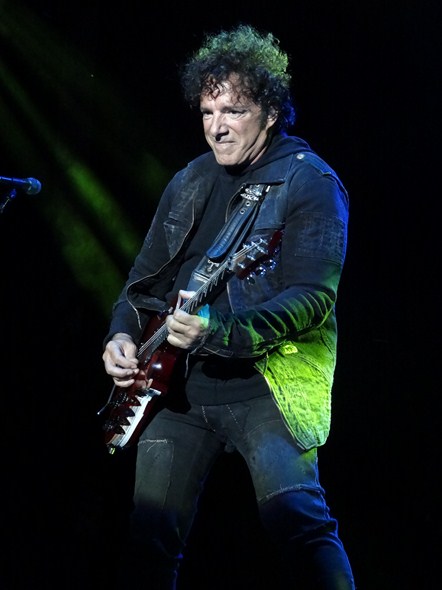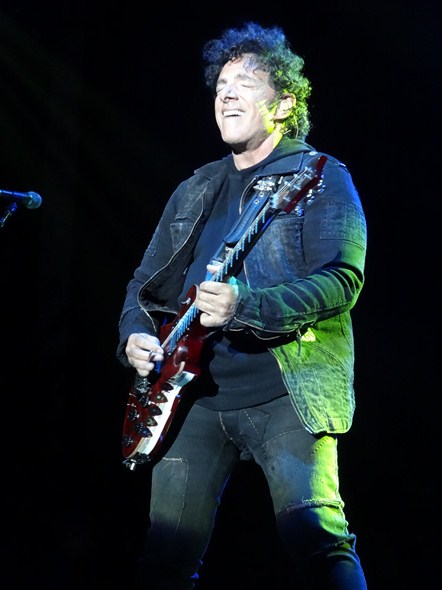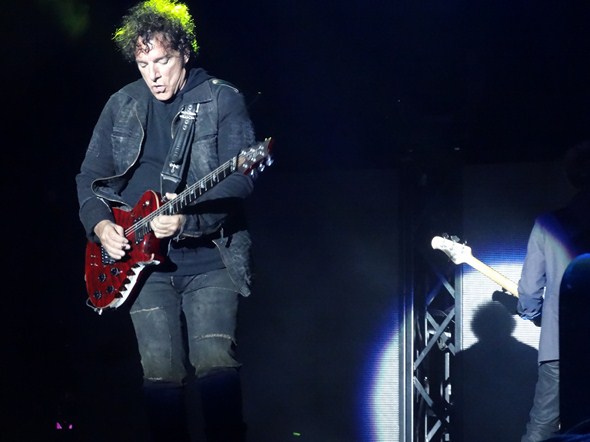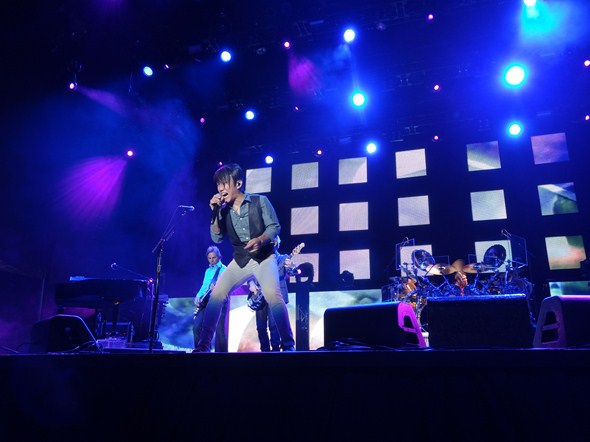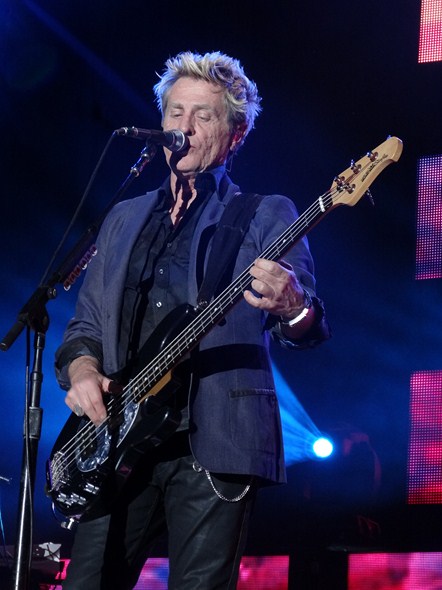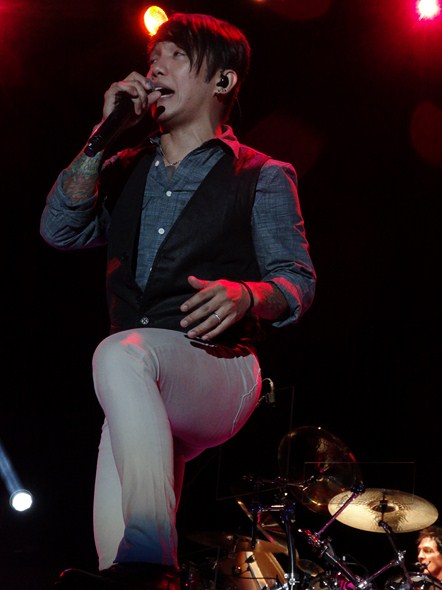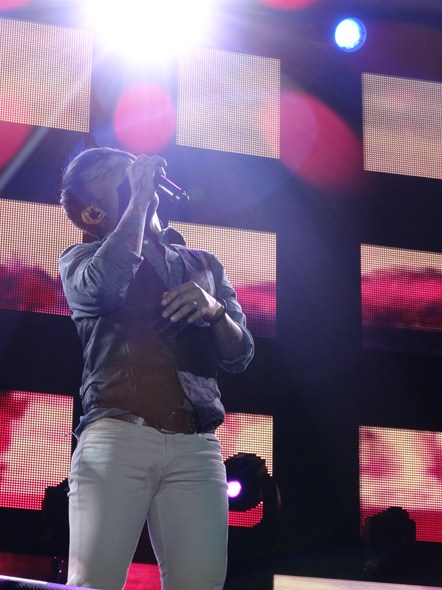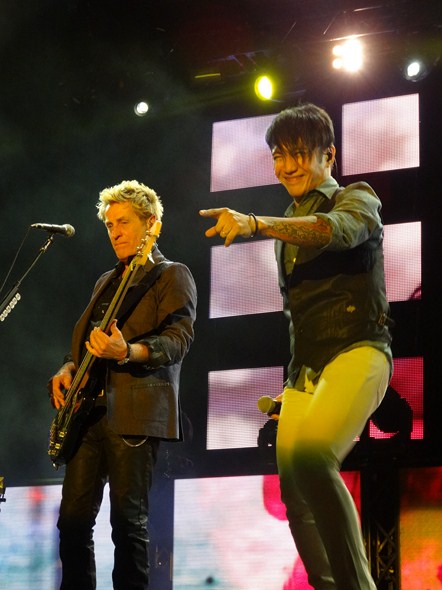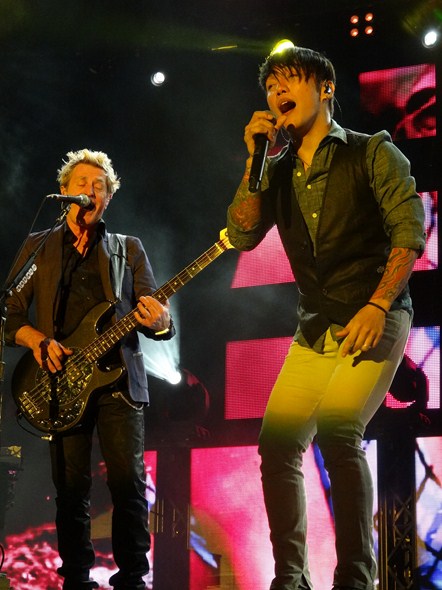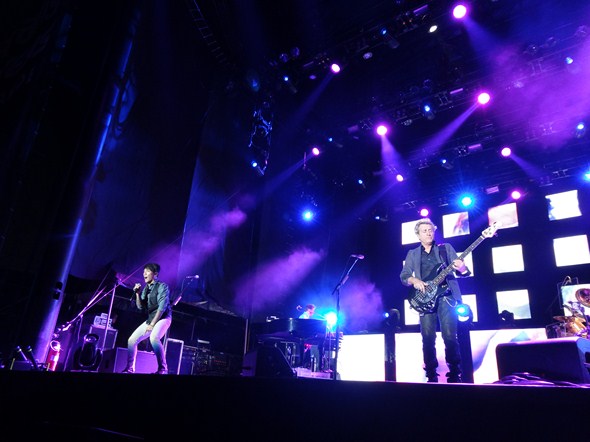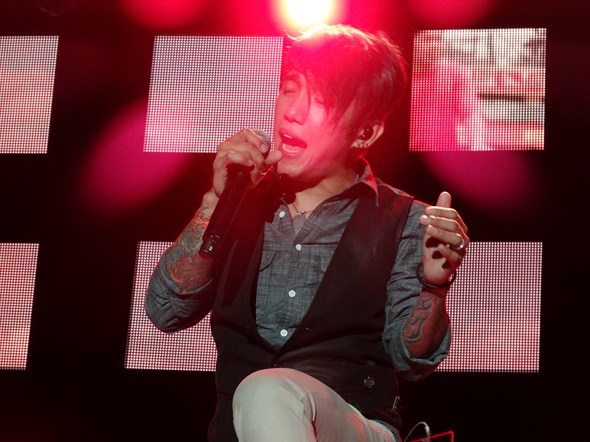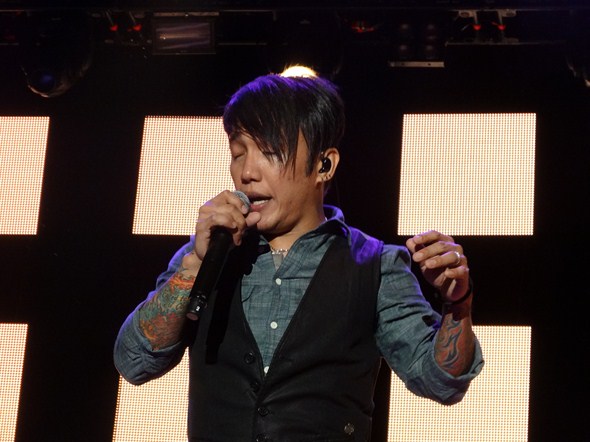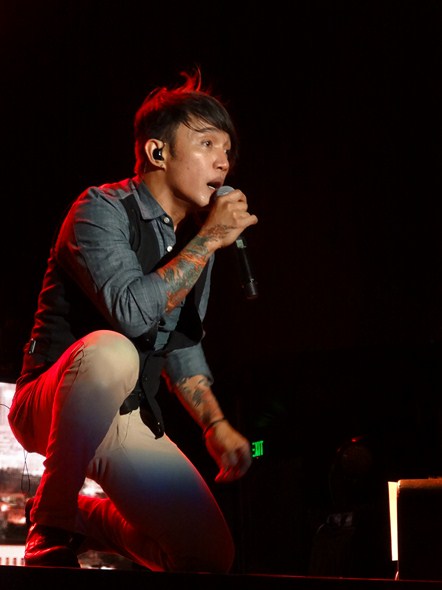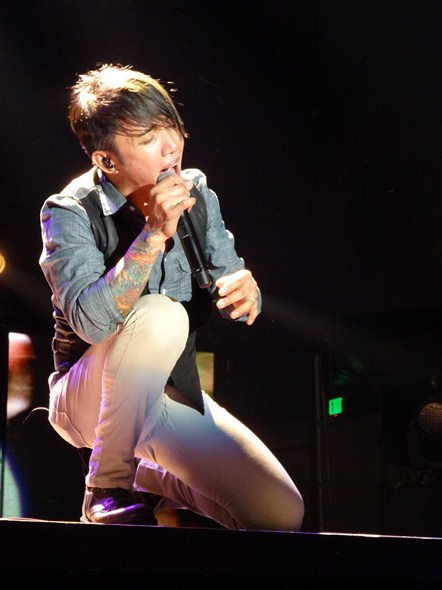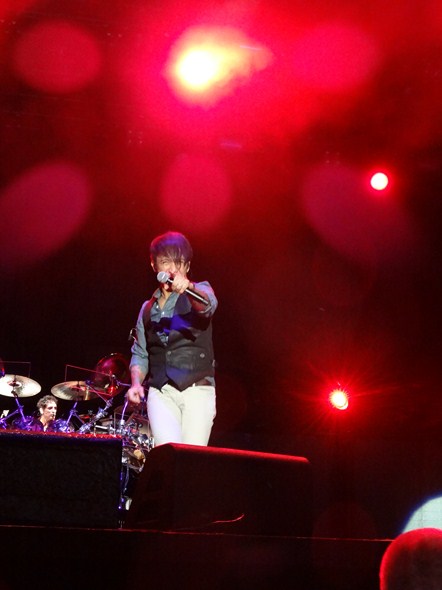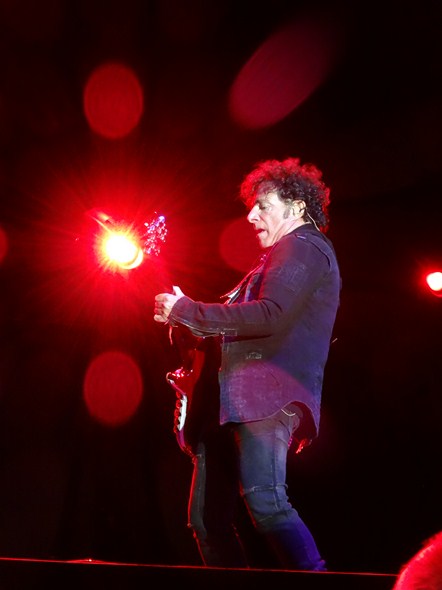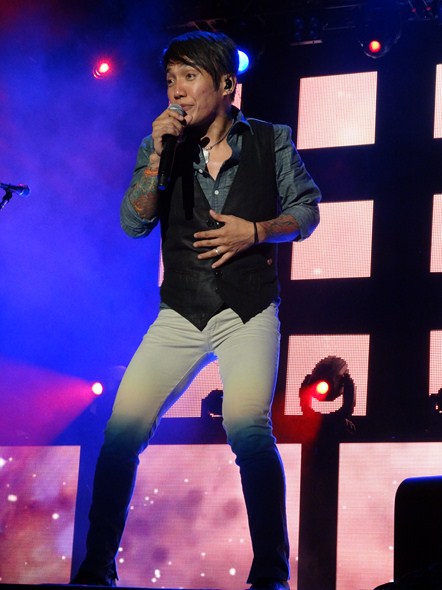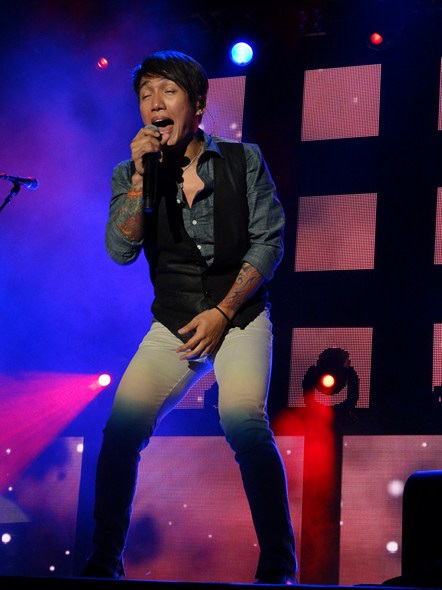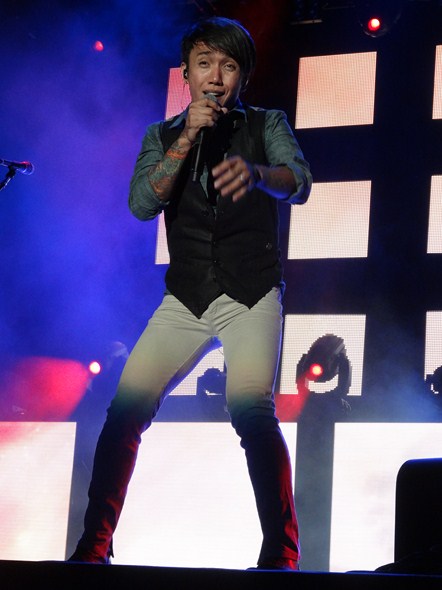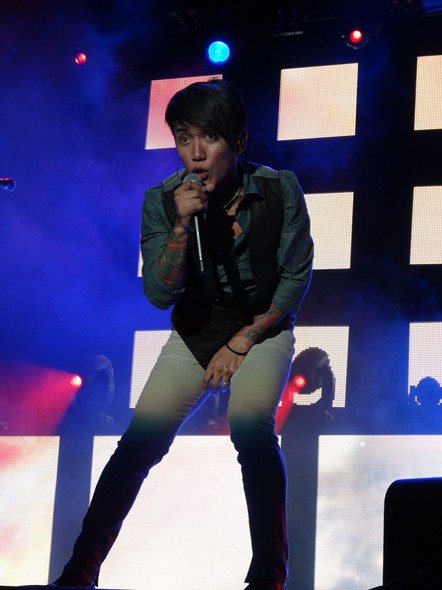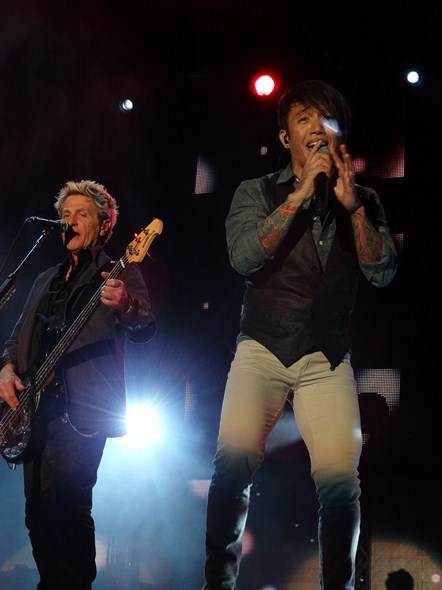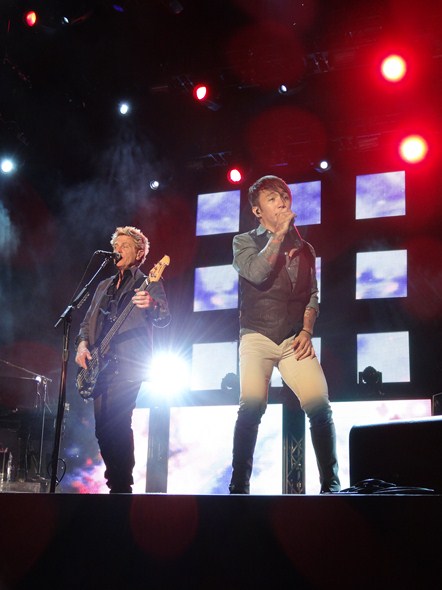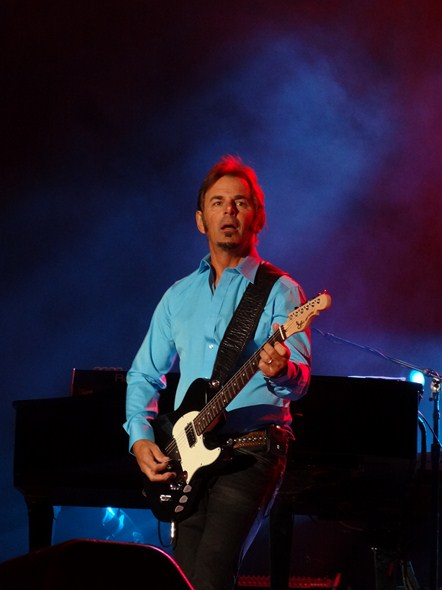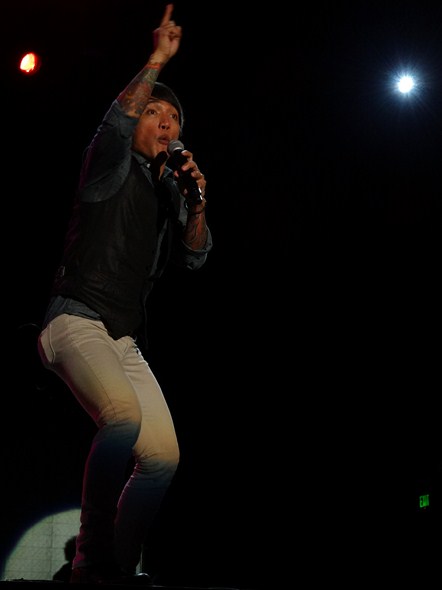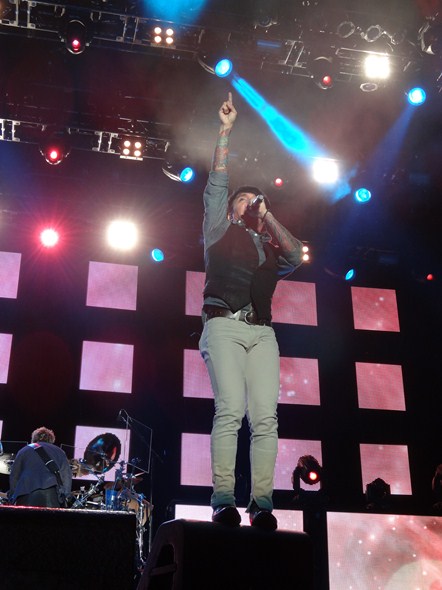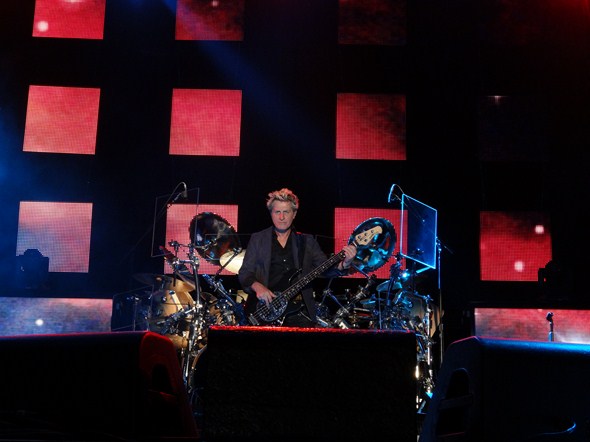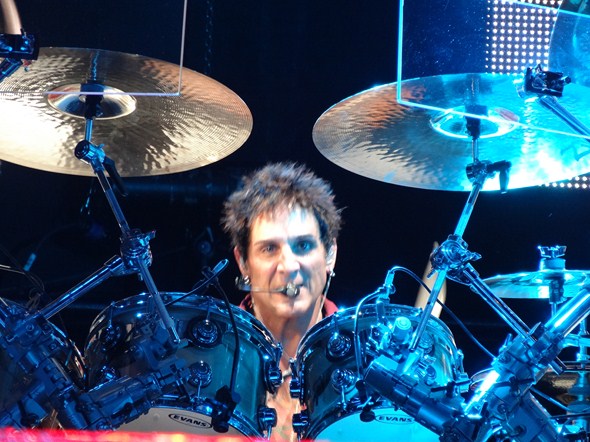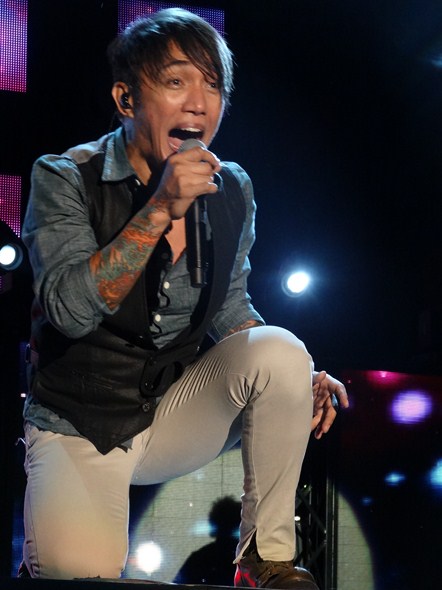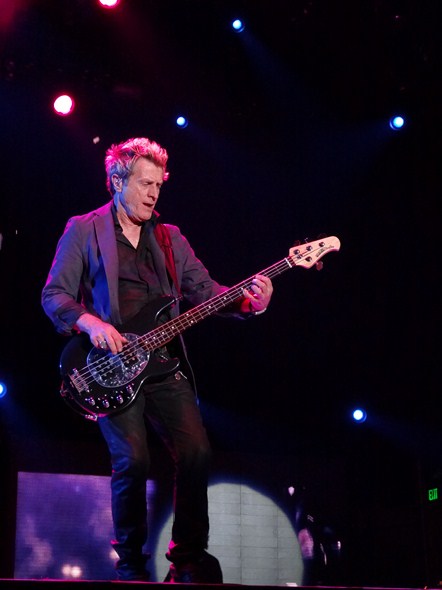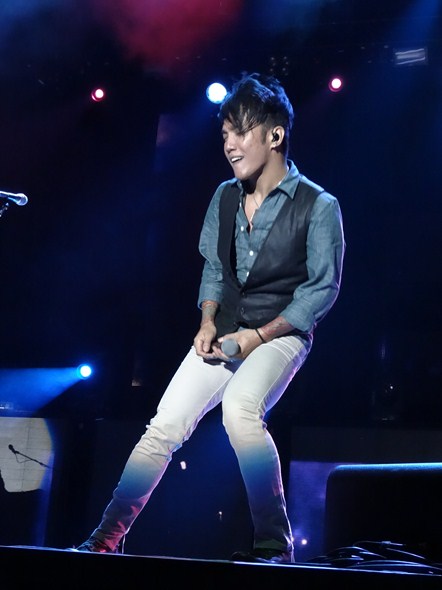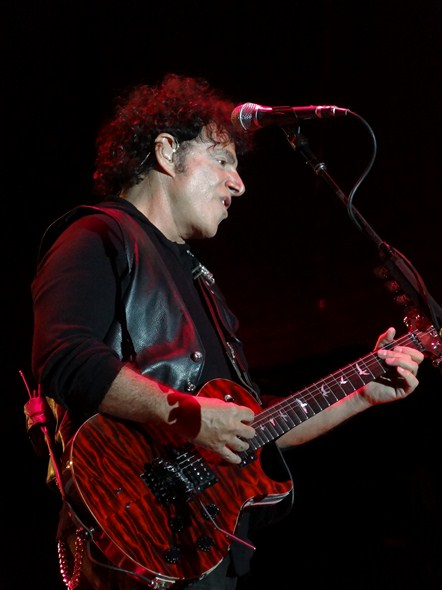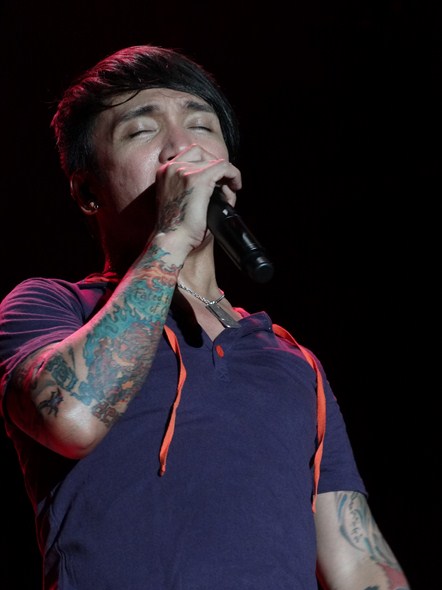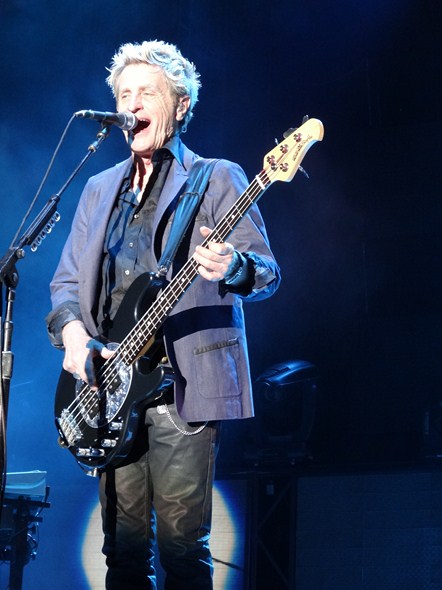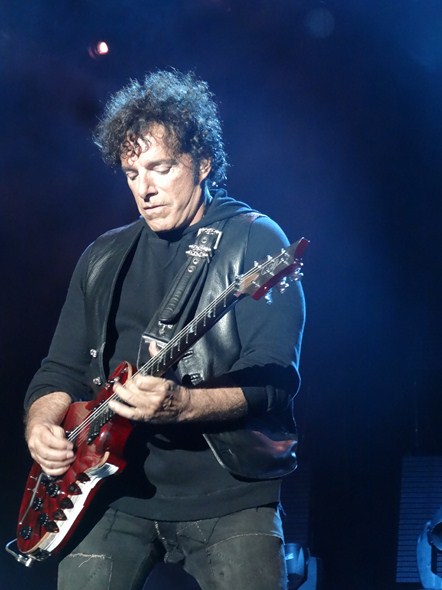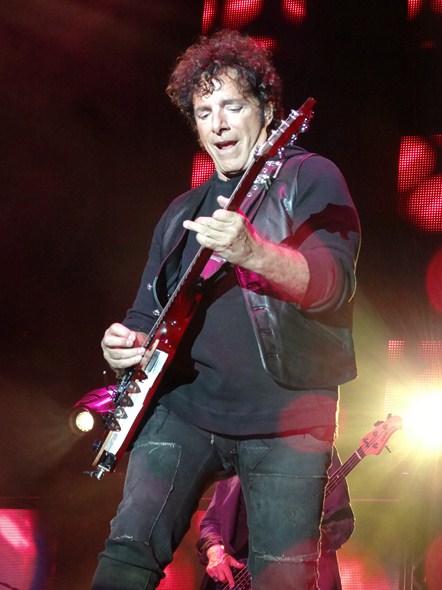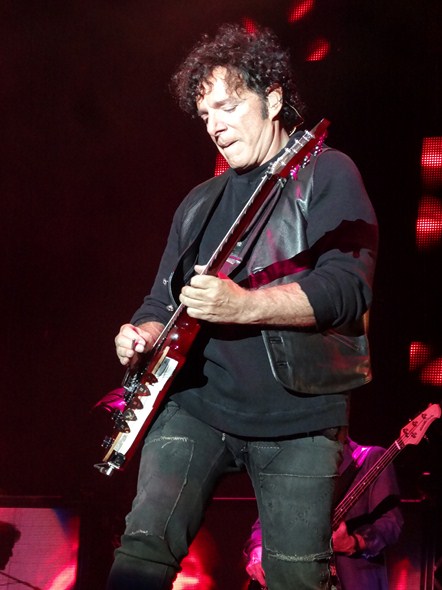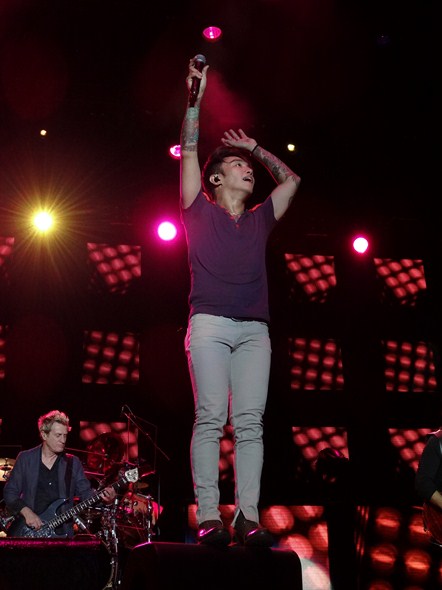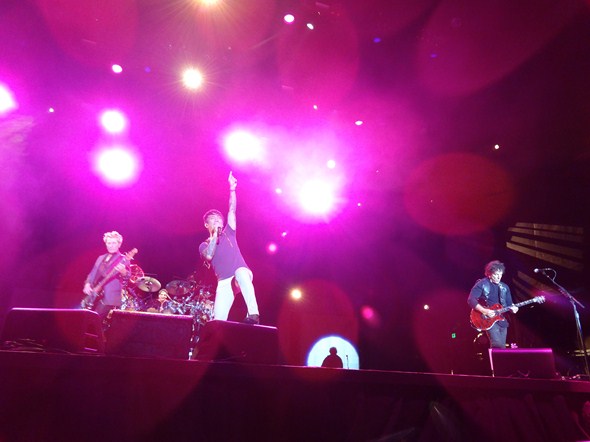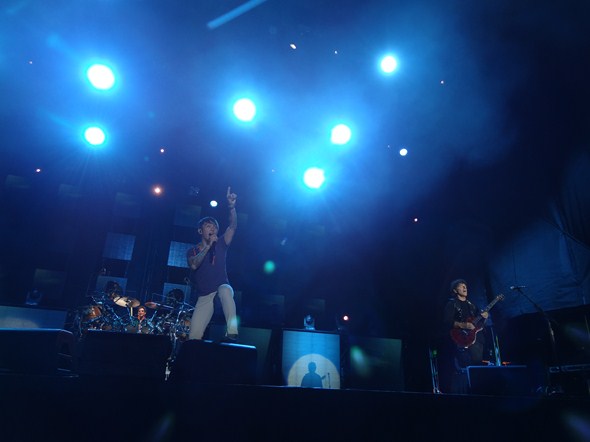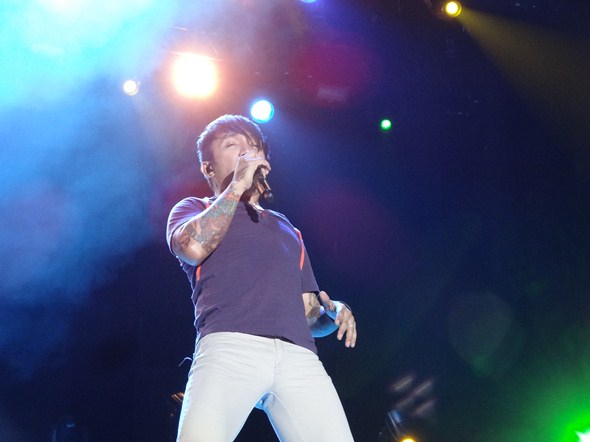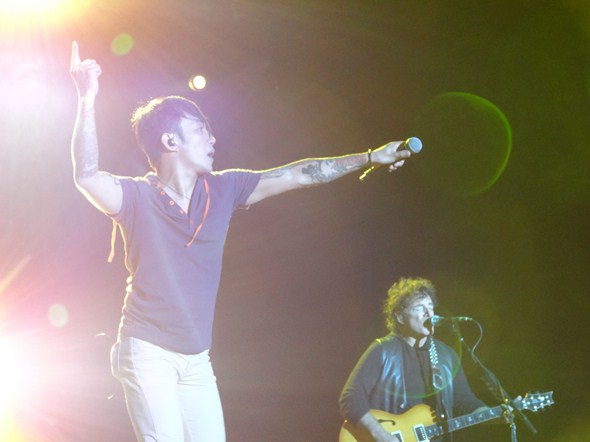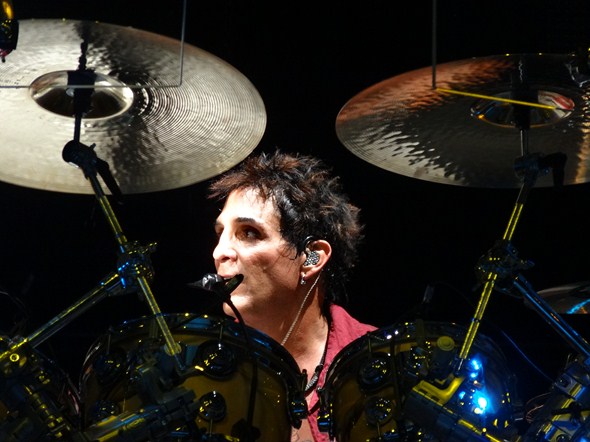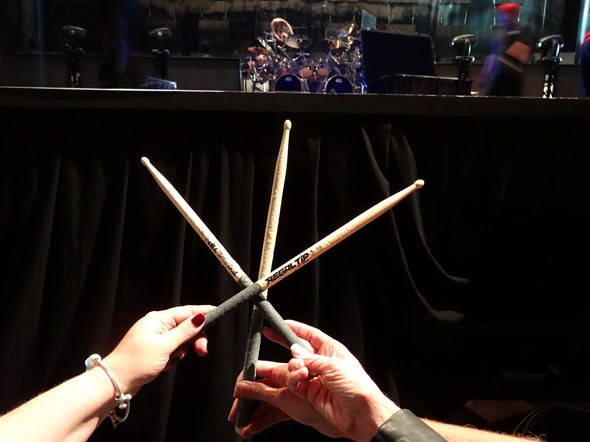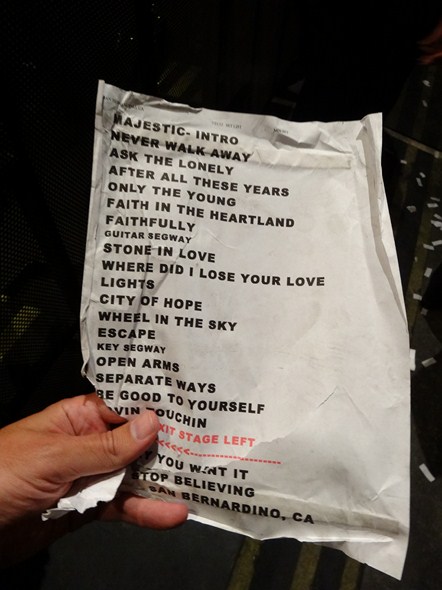 Jason DeBord