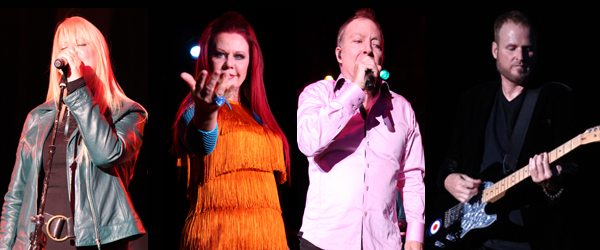 So I just saw the B-52s three months ago (to the day) at Ovations Live! in Arizona… and from the experience, knew that I wanted to see them again, at the earliest opportunity.  So last night I found myself at Harrah's South Shore Room at Stateline, Nevada, to more or less repeat the awesome experience from earlier this year.  And the band – a favorite of mine since childhood – did not disappoint.  Given the differences in the venue – 100% seated at Ovations Live! and with a mix of options at the South Shore Room including a vast GA pit in front of the stage, the latter was a feature that was a huge benefit for experiencing their incredible music live.  The set list was also completely rearranged since the last show I attended, so it was very much a fresh and unique experience, and as always they put on a phenomenal show.  I'm left wondering, as I write this, when I might get to catch them again.
Who: The B-52s
Venue: South Shore Room at Harrah's
Where: Stateline, Nevada (South Lake Tahoe)
When: September 8, 2012
Seating: General Admission

The band on tour currently consists of:
Fred Schneider – Vocals
Kate Pierson – Vocals
Cindy Wilson – Vocals
Keith Strickland – Guitar, Keyboards/Piano
Tracy Wormworth – Bass Guitar
Sterling Campbell – Drums
Paul Gordon – Organs, Synth/Keyboards/Piano
As my review from a few months ago featured a lot of personal perspective and anecdotes, some of the preface of my review here will be a bit redundant.
I have been a fan of the B-52s going back nearly 30 years, finding their music when I was a kid, and being really moved and inspired by their unique and always catchy sound. As articulated previously, the B-52s are all about celebrating life and doing so in the most positive manner we know how – through great music. And the B-52s continue to deliver after all these years.  And, further into my review, I'll touch a bit on how one audience member's behavior at this latest show was in complete contrast to the celebratory music that we were all enjoying.
I was first introduced to the B-52s in 1983, when I was 10 years old. My older sister's friend gave me a mix tape that had several songs from Whammy! on it, and I soon after found their two other albums, the debut eponymous record and the follow-up, Wild Planet. I remember being kind of fascinated by Kate and Cindy's hair, never having seen anything like it before. And, of course, no other band before or after sounds anything like them at all.
There were so many songs I fell in love with in the early 80s era of their music… "Planet Claire", "52 Girls", "Dance This Mess Around", "Rock Lobster", "Lava", "Party Out Of Bounds", "Give Me Back My Man", "Private Idaho", "Mesopotamia", "Legal Tender", "Whammy Kiss", "Trism", "Queen of Las Vegas"…
The 80s is known for having a disproportionate number of one and two hit wonders… yet somehow the B-52s beat the odds and consistently deliver new material with many hits on each "front to back" album. They found a winning formula and made it work, without being repetitive or derivative, and they always seem to evolve a bit with the times (in sound and ideas)
The band was extremely prolific in the early 80s era, releasing albums (and one EP) in 79, 80, 82, 83, and 86.
What to me always felt like their biggest mainstream album was 1989's Cosmic Thing, which featured a more mature and I think universally accessible sound, with hits like "Love Shack" and "Roam". I don't think I've been at a wedding in the past 20 years in which "Love Shack" was not played. And I think that really speaks to the heart of their music. At it's core, it's happy, uplifting, and catchy/hooky. With a foundation of the mind-blowing vocals from Kate and Cindy, contrasted against Fred's really unique voice and unparalleled delivery, and some of the coolest guitar riffs ever, and usually an urgent beat and bassline, I've always found myself immediately hooked into their work.
People love to hear it, and it gets them up out of their chairs, and can reset people's attention and perspective. Powerful stuff.
And the band has been consistent over the years, releasing music that is evolutionary – staying true to their unique sound, but changing to and reflecting the times.
Since the last B-52s concert I attended, I've thought more and more about their music.  Many bands work for years and years, and may get lucky to find that magic formula of creating a real hit record that captures the imagination of the masses, and that becomes a staple of our pop culture.  Usually when I speak with people in the industry, this is one of the things that I ask them about, as I'm always curious about getting real perspectives from people who make their living in music, especially those artists who have had hits.
Somehow, the B-52s have amassed this vast catalog of songs – consistently and throughout their career, up to and including their last studio album – and these songs really feature all of the elements that make great songs.  They produce work that is just so catchy and hooky – immediately so – that you just want to listen to it over and over, without tiring of it.  If it was the soundtrack of your life, you would have a really wonderful one, I imagine.
But these songs…  I started thinking back to who I can most directly compare them to – as I see and hear them – regardless of genre and era.  Some people may think I'm crazy, but to me the most comparable band is The Beatles.
The Beatles seemed incapable of creating music that was not a hit.  It was all immediately catchy.  Simple, yet not really.  Simple in a way that it really had no excess – it was like music that just was perfect for what it was.  Great, simple lyrics.  Even if you are a terrible singer, you can't help but to sing along (at least when no one is around – driving in your car is always good).  Generally uncomplicated but instantly hooky guitar riffs.  Awesome drum beats – really providing the direction and tempo of the song.  For me, there are tremendous parallels, just listening to the music, how it works, and how it completely and totally makes me covet it.
Maybe not everyone can see, or hear, or appreciate what I do in the music of the B-52s, but I really mean it as the greatest of compliments.  And I have to wonder, if in some alternate universe, had the B-52s been around a few decades earlier, if they might be better appreciated and regarded and heralded for the genius that is their rock music.  But I feel lucky in that I at least recognize it, and enjoy it, and nothing can take that away.
In any event, on to tonight's concert…
This was my first show at the South Shore Room for many years… maybe five or so.  The last concert I came to this venue for was Cyndi Lauper (awesome!), and there was no GA at all, if I am remembering correctly – I think it was 100% seated.  Now (as seen in my photos further below), it is in a completely different (and much, much better, in my opinion) configuration.  Having traveled to many concert venues in the past year, and talking with staff at their respective venues, this seems to be a big trend in the industry at the moment.  Even the Nob Hill Masonic Auditorium, per a security staffer there, is moving to this model – ripping out the floor seats and making a big GA pit.  It enables them to increase capacity (and number of tickets sold) as well as increase revenue via sale of alcoholic beverages.
I was inside prior to opening the doors to the public, and elected to take a position at the front of the stage in the GA pit for optimal photography for this review, and it was interesting to see fans file into the venue, and where they elected to sit/stand for those with GA tickets.  I was kind of surprised by some who passed up an opportunity to be directly in front of the stage (and a very low stage at that), though, being Stateline, and at Harrah's, I suspect some are just casual fans and their trip to Tahoe and the clubs is more about other things.  Though as minutes passed, the divide between the concert goers and the dedicated fans of this great band became more and more apparent, as those that came down to the stage did so in a hurry, and had little celebrations among themselves once securing a spot.  My kind of people.  By the time it came around to the start of the performance, the place was completely packed.
I became acquainted with some really cool people around me, and that is always a huge bonus for me in attending these shows – meeting new people, and sharing stories with people who "get it" – really understand how amazing an opportunity it is to see favorite bands perform live, be moved by their music, and sometimes have those special, unforgettable moments; the hair on the back of the neck, chill down the spine, and the like.
As with the last show, there was no opening act (which is often preferable), and the band was fairly prompt about getting the night going.
One thing with both shows that I rather enjoyed… the curtain.  It's rare any bands nowadays are waiting for you as the show starts, curtain rising to the excitement of the crowd.  I don't know if this is the case with many of their shows on this current tour, but I'm two for two in the ones I've now attended this year.  A bit old school way to kick it off, and I like it.
As noted earlier, the set was reordered since the show months ago, so that was cool as well.  The best I could get, as far as the set list goes, is a photo of Fred's during the performance: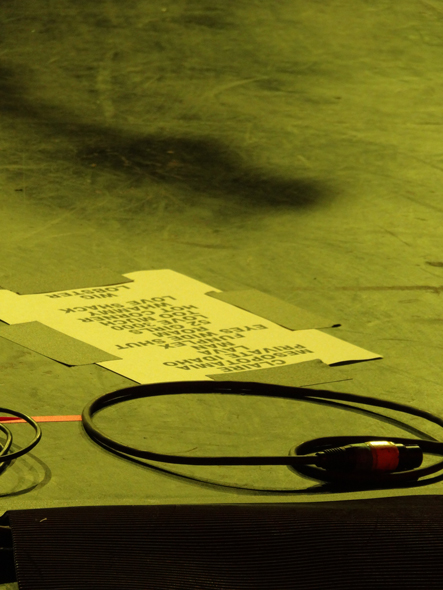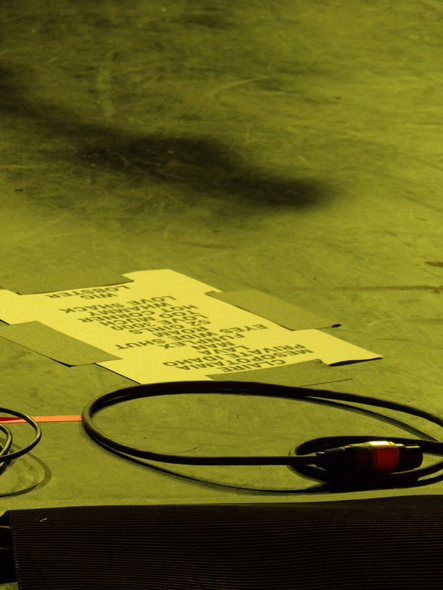 Planet Claire
Mesopotamia
Lava
Give Me Back My Man
Funplex
Eyes Wide Open
Roam
52 Girls
Love In The Year 3000
Too Much To Think About
Hot Corner
Whammy Kiss
Love Shack
Wig
Rock Lobster
Really, those are all such awesome songs, and the other nice thing was that with this show, time went by at a more reasonable rate for me, whereas the last show seemed to flash by in an instant.  So I feel like I got to let it soak in a bit this time around.  Also, the staging with this show seemed a bit more intimate and closer together and, even being front center, I felt like I could take it all in a bit more this time, which was awesome.  They are such a collaborative band, but I found that I wanted to focus on all of them as they engage in their craft.  That's obviously impossible, but having listened to their music over and over (much of it literally for decades), I find maybe a subliminal cue as the studio recordings kind of play in the background, following along in my mind as I hear the live versions performed in front of me, and kind of automatically look as I know who's vocals are going to fade in, or a particular emphasis on a guitar riff, or a focus on the drum, or bassline…  I almost feel like I've been pre-programmed for their shows.
Of course, they each have tremendous stage presence, and they do move around a bit (particularly Fred and Kate), so when you find one of them standing in front of you, it's hard not to just stare in amazement.
The show was really phenomenal, and obviously, by my gushing, I'm sincerely a huge fan.  So it was really another fantastic night, and I'm so grateful to have had another opportunity to see them, photograph them, and share my thoughts about their work and this latest performance.
Now I don't want to end on a negative note, but I do have to make mention of one incident here, and maybe it will be informative to someone who reads it.  I really don't know.  But we live in an increasingly dangerous world with unpredictable people, and these things do come up, and I think an open and transparent discourse at least puts it on the table for debate, discussion, and consideration.  And I'll try to be as succinct here as possible.
There was an individual who, about one third of the way into the show, came from outside of the GA pit, generally pushed everyone out of his way, pushed aside the couple next to me that I'd been chatting with since the venue opened, and was generally, well, out of control.  At first I thought maybe it was simple exuberance, which I don't have any issue with, though it became apparent it was more than that in short order.  I don't know what his issues is or was (drugs, alcohol, or mental illness), but he was really disruptive to everyone around him – his arms everywhere, on people, even banging on the stage in front of us.  I even found, reviewing my photos, I inadvertently shot one of him lunging over the barricade and smashing his forehead onto the stage.  He was warned many times by security, which had no affect.  And it was obvious to me, as security warned him, their words were just bouncing off of him.  Fred noticed that something was going on (since we were right below him), and at one point, he gave him a drumstick (maybe to placate him?); this guy was so out of control, the drumstick ended up back on the stage minutes later (after which a band member had to give it to him a second time).
This individual was accompanied by another man (relation unknown), who was generally there to try his best to restrain and control him and apologize for him (and was not effective in any of his efforts).  He was warned by security four times (the last three being "final" warnings).  It wasn't until someone working for the band came over in-between songs and told this person to stop banging the stage and hitting the cables taped to the stage that security finally made him leave.
Fast forward to the final song of the night – "Rock Lobster" – closing out the encore.  Fred made a point to give his other remaining drum stick to a really sweet and enthusiastic woman standing on the other side of me – making sure she and only she get the drum stick, which was awesome (see video below, which captured the moment – I love this kind of stuff at concerts).  She was thrilled.  The song ended, Keith said a few nice words at the microphone as the band lined up to bow, and the problematic individual appeared from out of the blue, grabbed hold of the drum stick that the tiny, petite woman next to me was given and holding, and he started pushing, hitting, and pulling her hair with his other hand.  I was stunned, and without thinking tried pulling him off, tried pulling his hand off hers – to no avail – and then got behind him and put him in a choke hold around his neck with my arm and started pulling him away.  The band is standing there… thankfully Paul Gordon yells, "get him out of here" and pointed at him, and then finally security came and took him from me and escorted him out.  The woman he assaulted was shaken up and crying.  I eventually spoke with five or so security officers, and someone over security for Harrah's was nearby, and I asked what they did with him, and they said that they let him return to his room "because his dad is a high roller".  In my opinion, he should have been arrested and charged with assault.  The act of physically assaulting a woman tells me that this person has a serious, serious problem, and if there are no consequences or action taken to correct this behavior, there is more risk that it will happen again, and that is inexcusable.  He seemed to be a dangerous person with no self awareness about the wrongness or consequences of his own actions.
UPDATE 1: Fred Schneider (@FredSchneider3) actually tweeted about this incident the next morning:  "Well Stateline NV SHOW went well until some crazy guys started fights. On nut got clocked be a tough gal and had to be carried out!!"
UPDATE 2: Kate Pierson also made a comment about this on her Facebook page: "On the way to Tahoe! The show last night was fun – the audience was kind of wild! No more fighting over drumsticks please!"
UPDATE 3: I also found that someone videotaped this incident, which starts at about 5:50 in their YouTube video (embedded below)… you'll see Keith saying good night, and he and Cindy start walking off stage, then at 6:00 you see the rest of them rush to the edge of the stage, pointing into the crowd… the people filming it talk about "that guy"… the band and crew try to get security to help… at 6:26-6:27, you can briefly see me hauling the person backwards through the crowd… eventually a security guard gets down and removes him (again)

Below are some screen captures from the video above so that you can see what is going on…  and the guy fought with the security guard the entire way out, never turning his back to the stage…  (click any image for higher resolution)
In any event, I don't want this to detract from my review, and obviously this event was about as contrary to what I know about and love about this band as I can imagine, and given that most to all of them witnessed as least part of this, I'm sure it really concerned them.  It's a shame that someone with some serious issues acted out in a way to inject such negativity into the show for those there in attendance on the floor, but I don't think many in attendance saw what had happened, and the target of the assault seemed okay, apart from being shaken up by the experience.  Hopefully she can hold on to the joy from the show and the experience and put this out of her mind.
Below are a few videos I shot to memorialize this particular event…
"Give Me Back My Man":
"52 Girls":
"Roam":
"Rock Lobster":
As mentioned in my last review, for those who can and can't see the band, I highly recommend buying their live concert video that was released earlier this year – "B-52s with the Wild Crowd!: Live in Athens, GA" – it is fantastic, and available in both DVD and Blu-Ray format.
Below are my photos from this gig. Note that some were taken with my Canon 5D Mk II (variety of lenses) while others were shot with my Sony Cyber-shot DSC-HX20V (and they have slightly different aspect ratios).
Photos from pre and post, show, first three songs (Canon 5D Mk 2):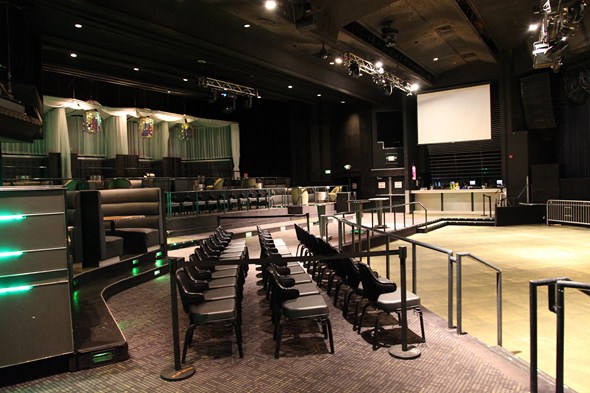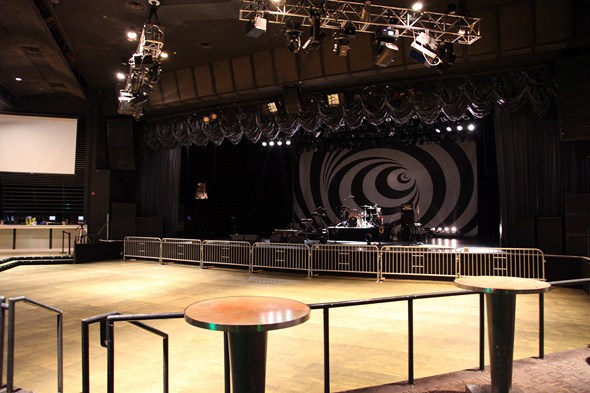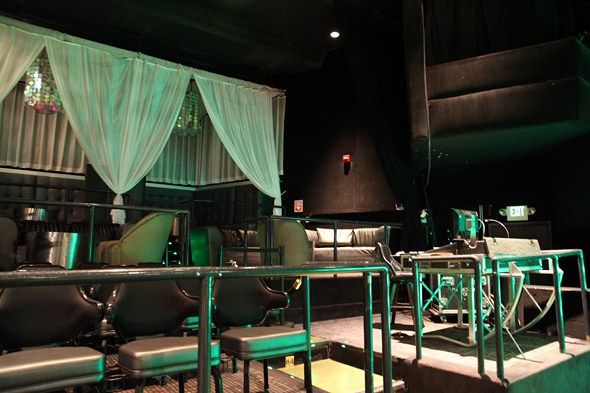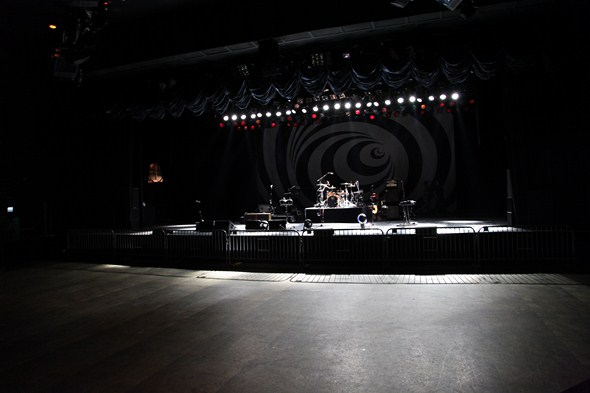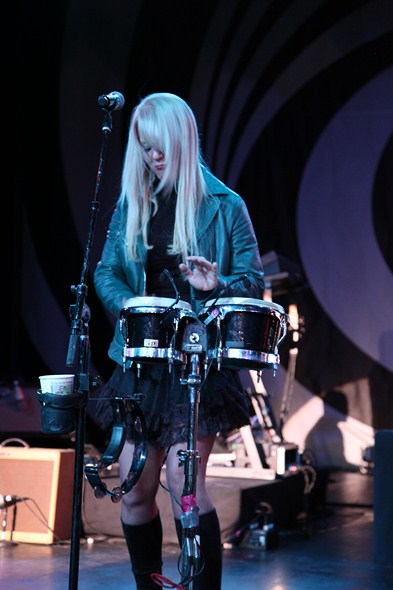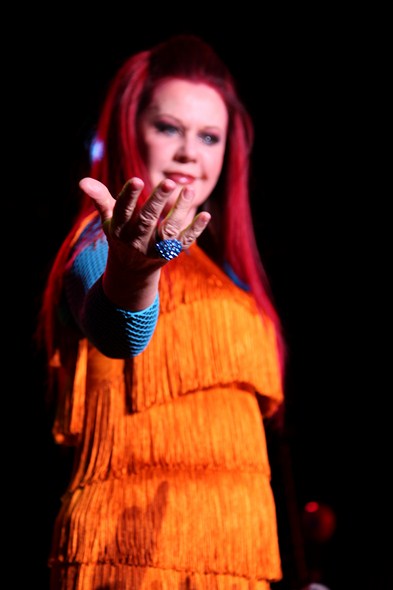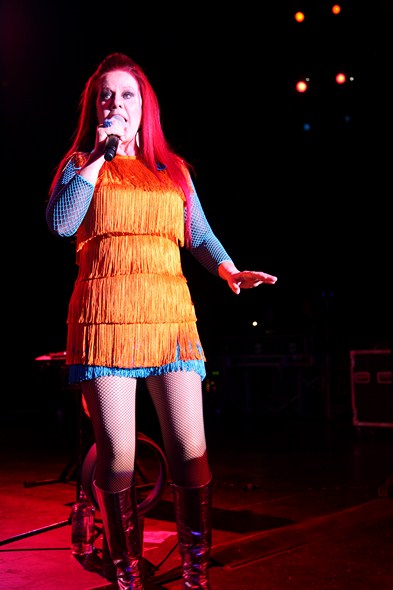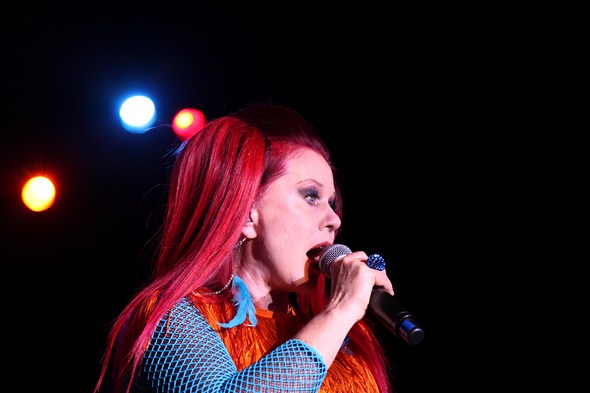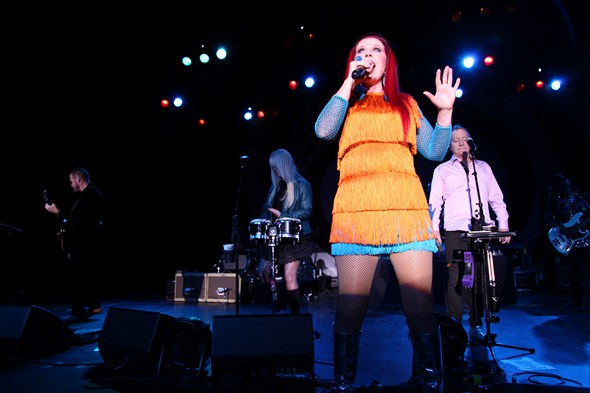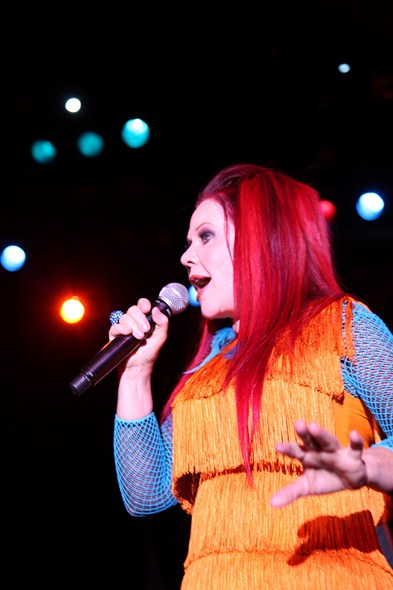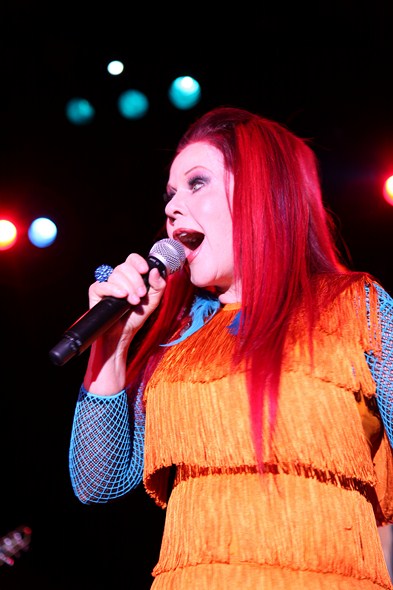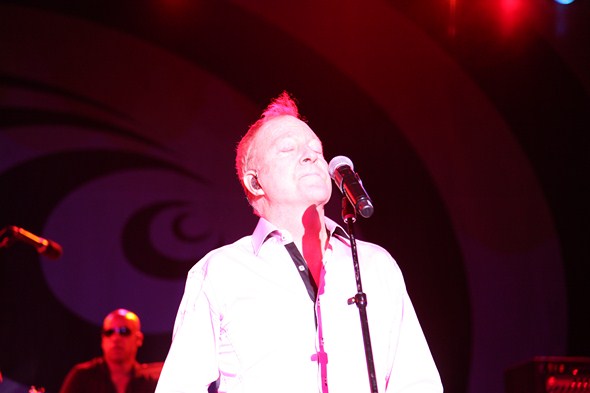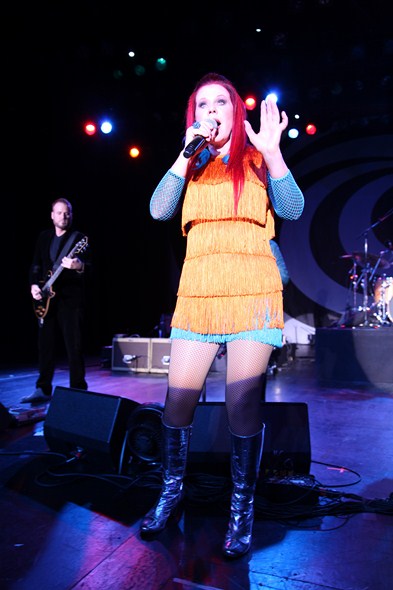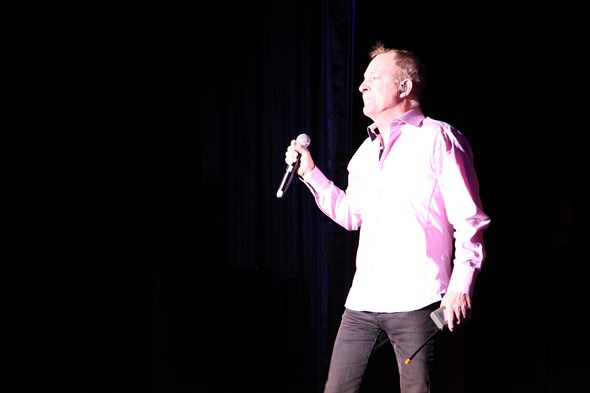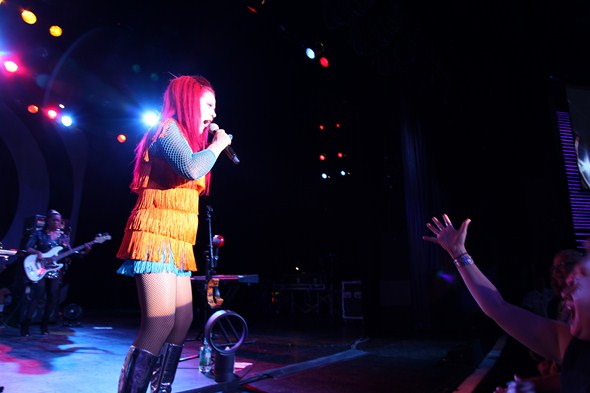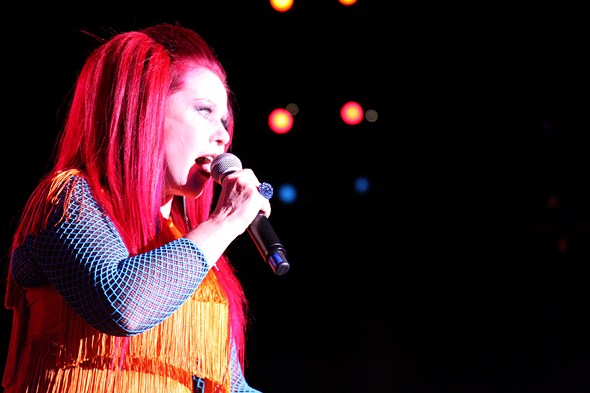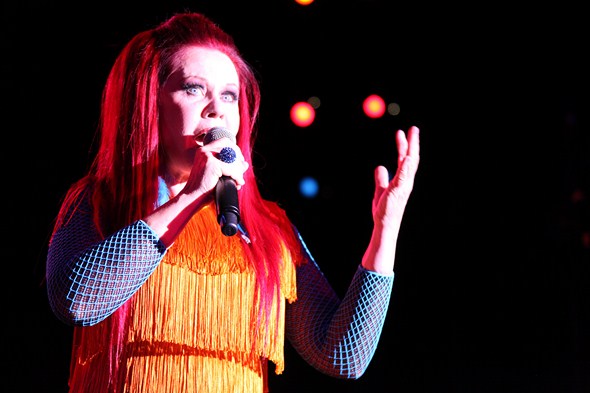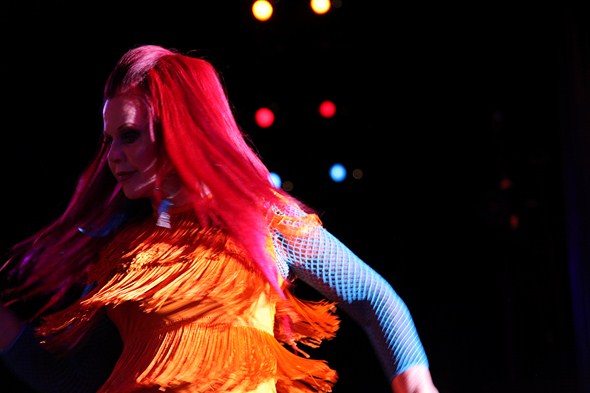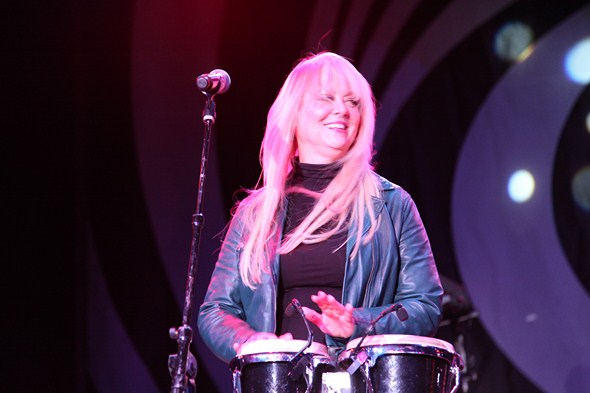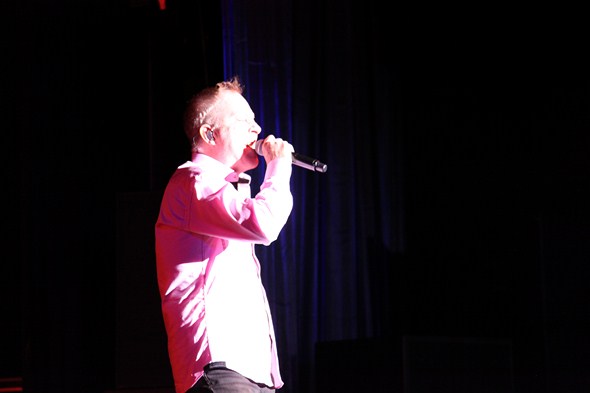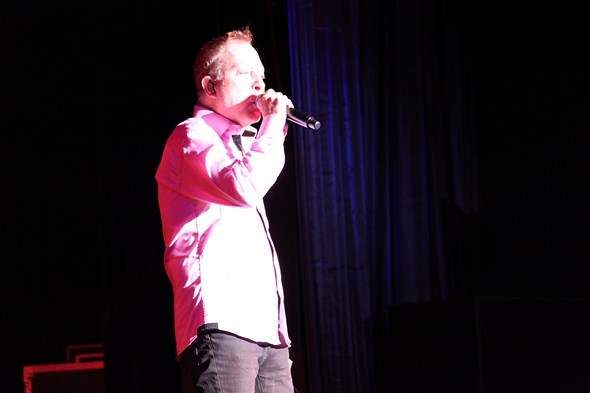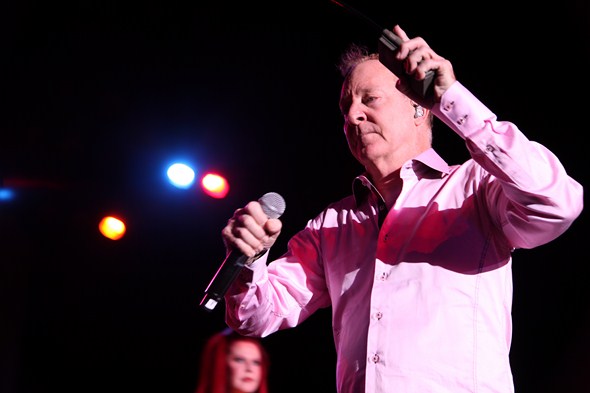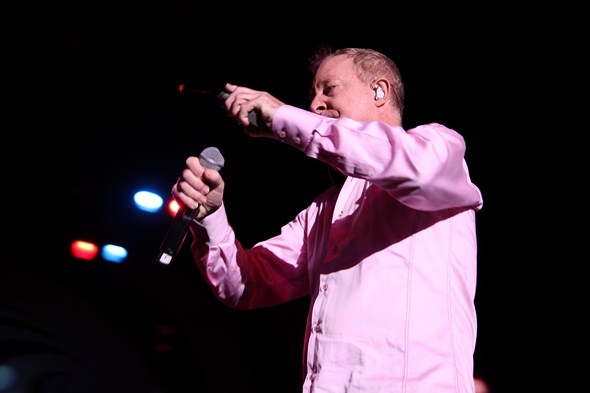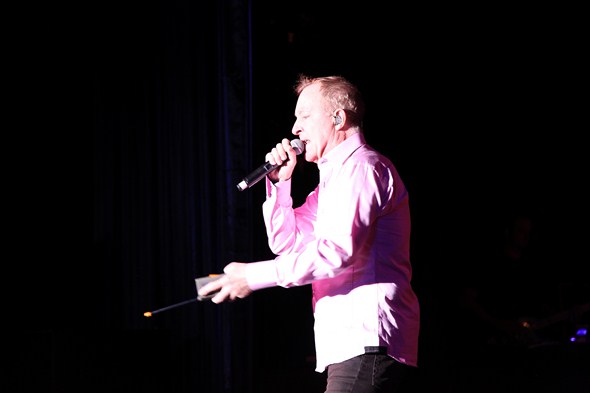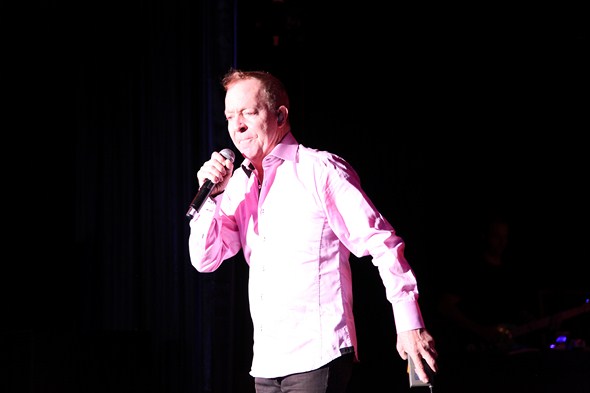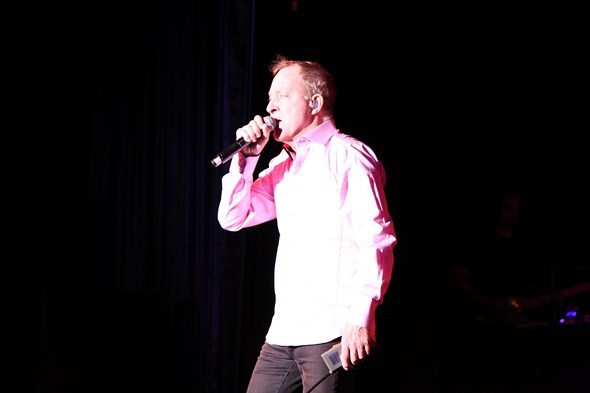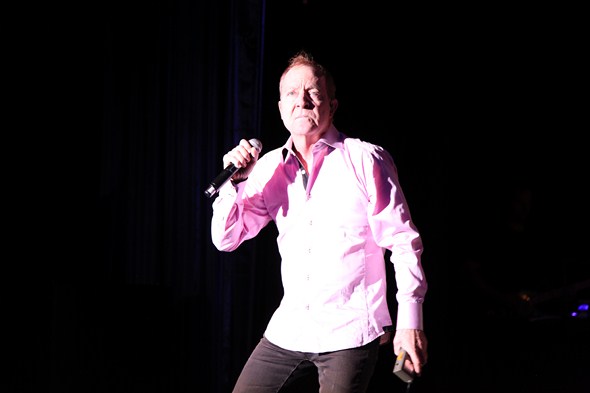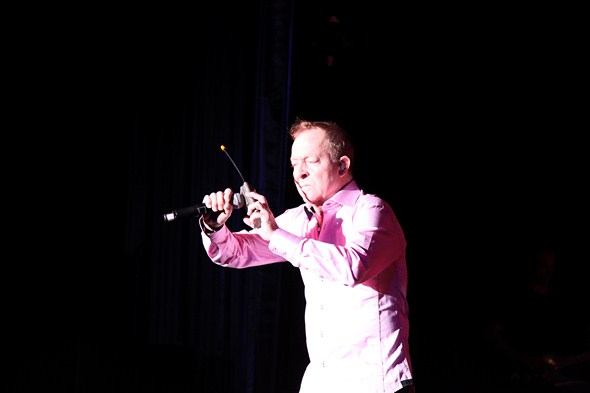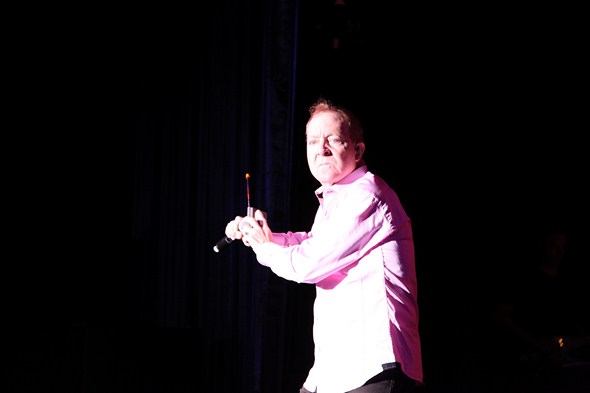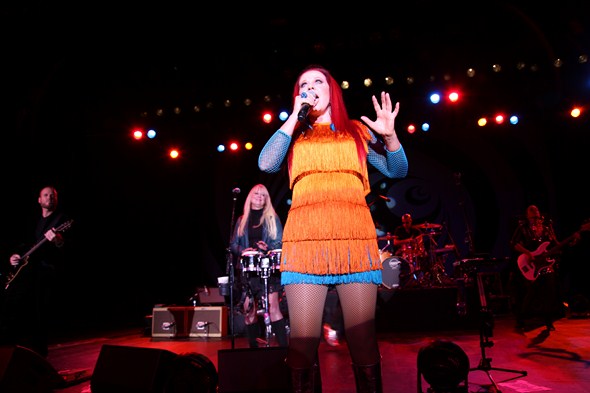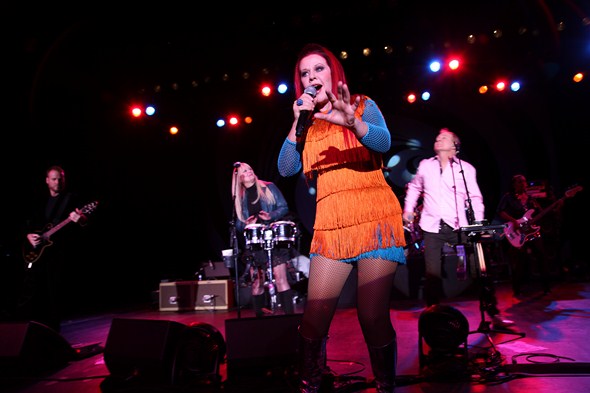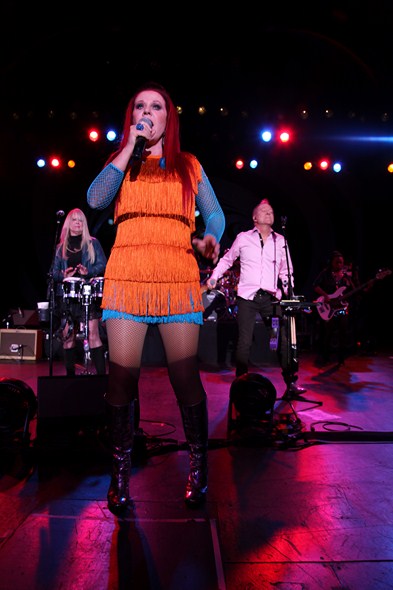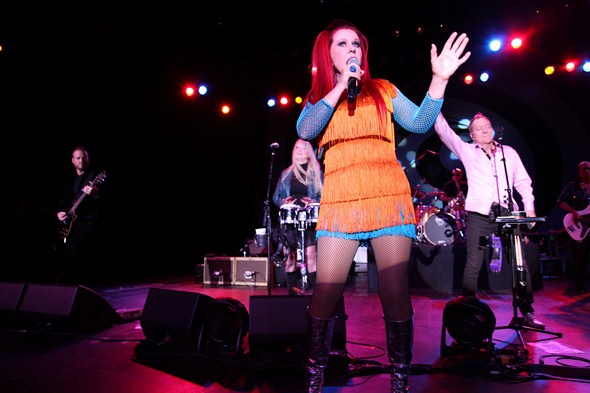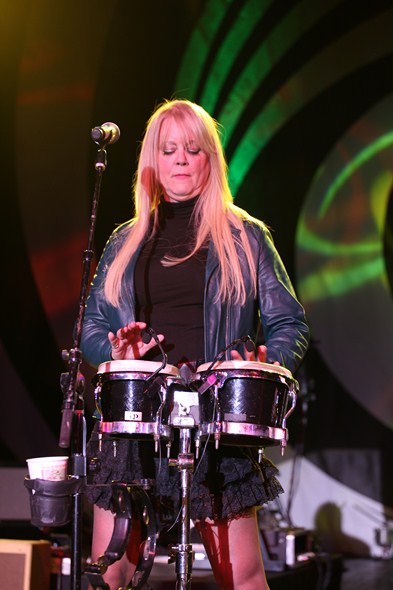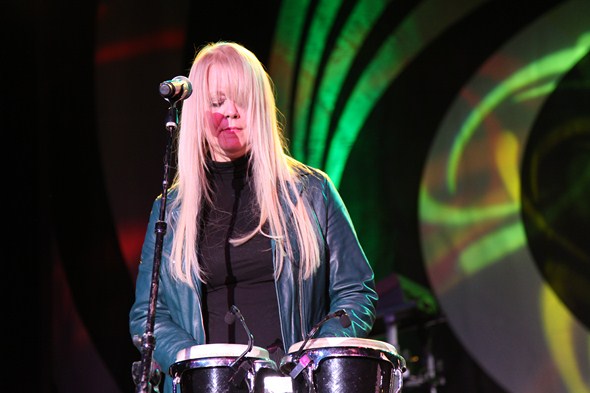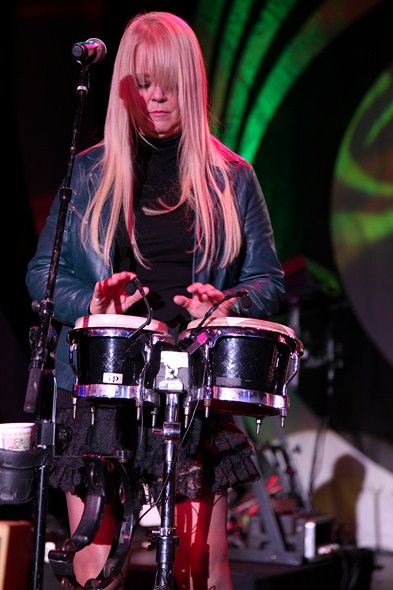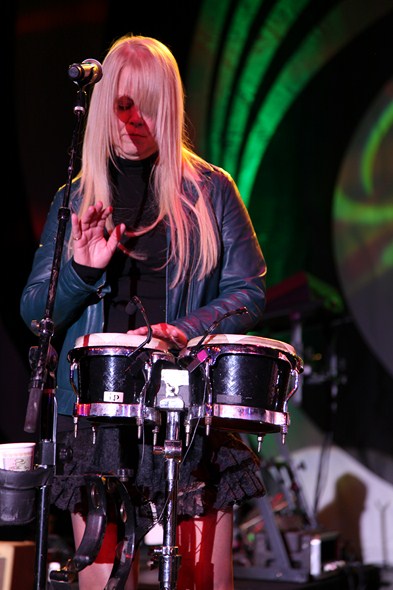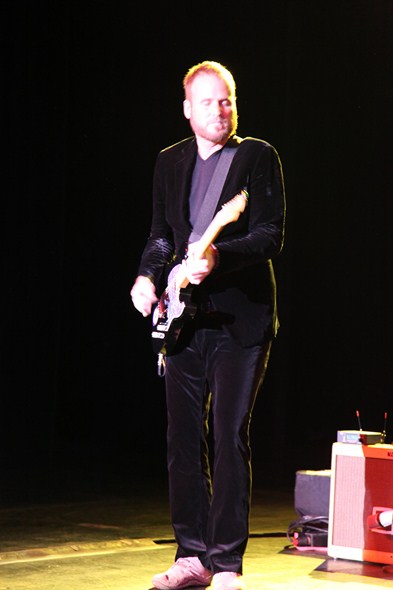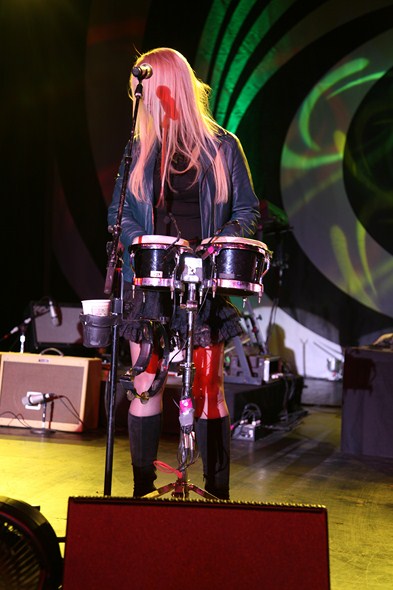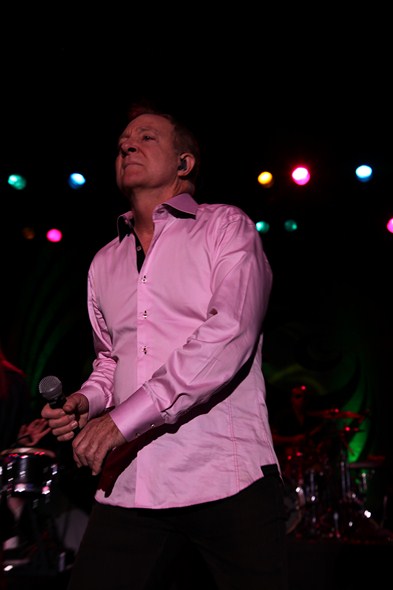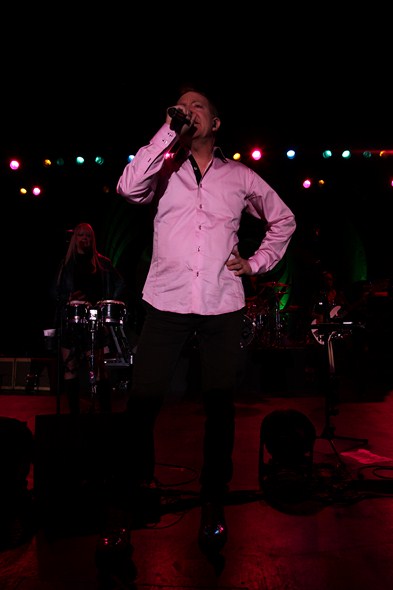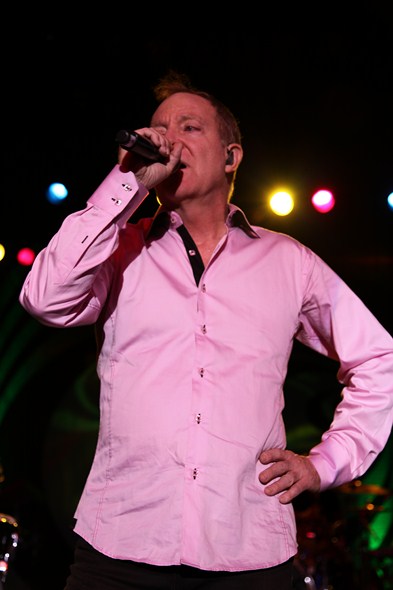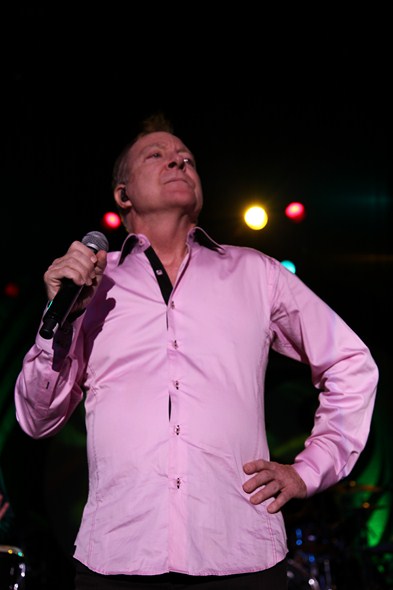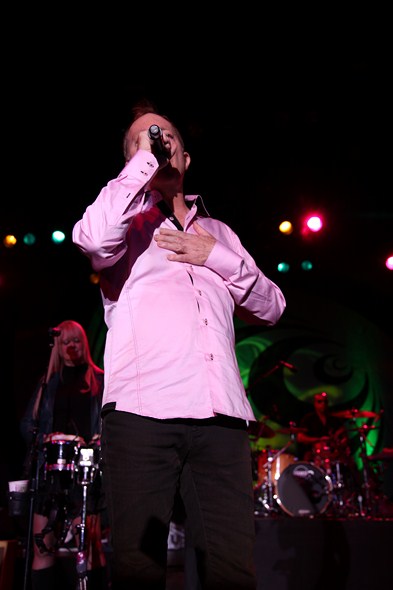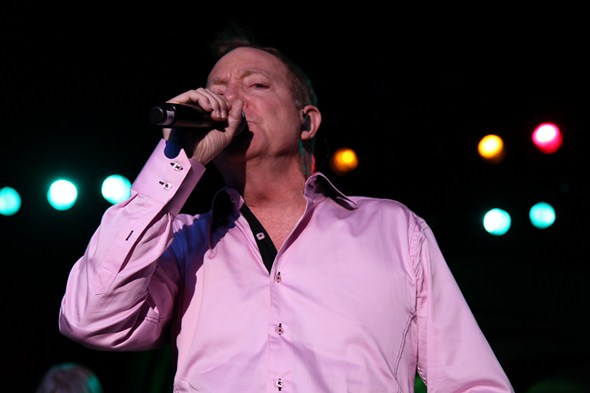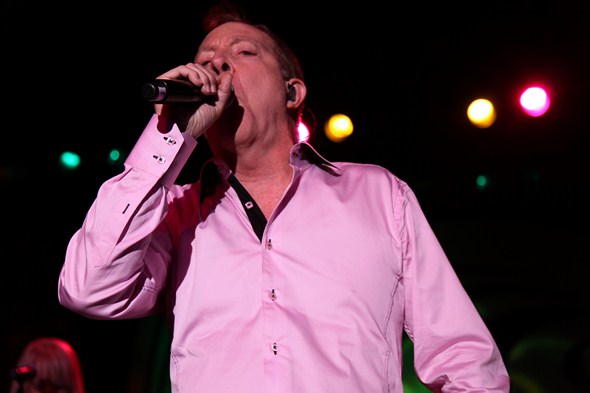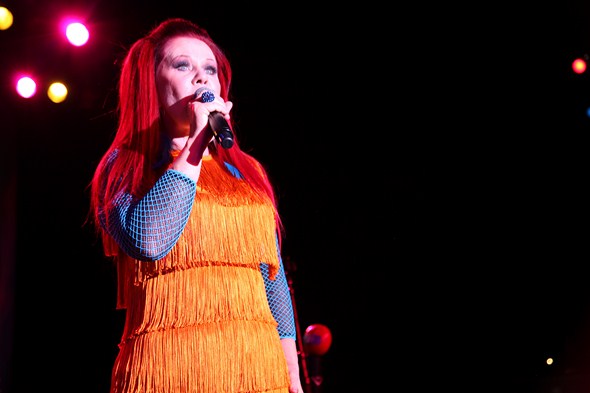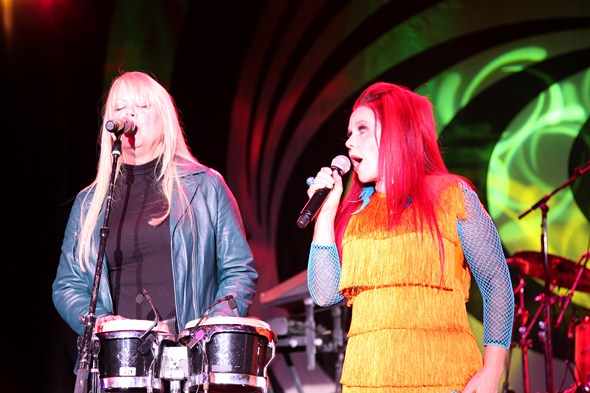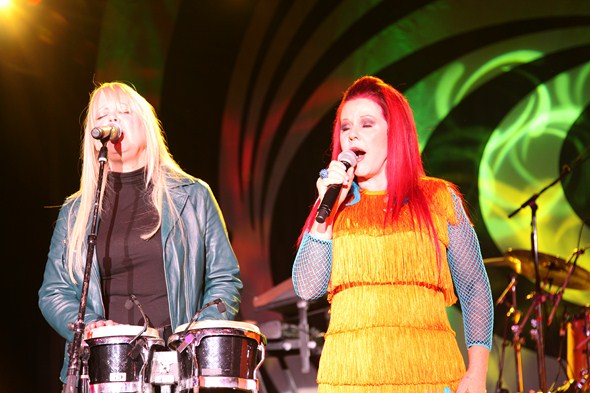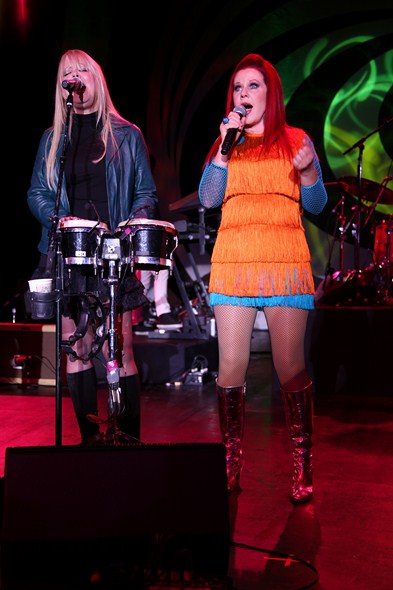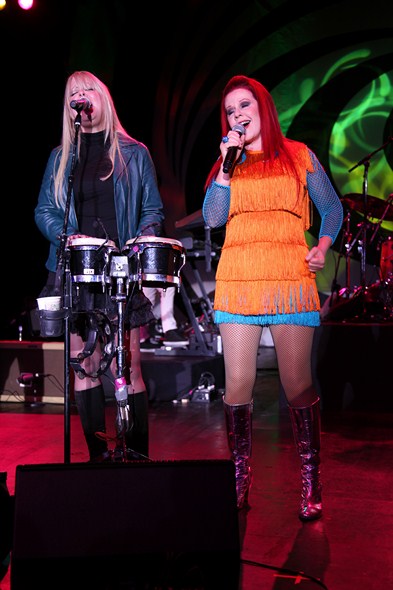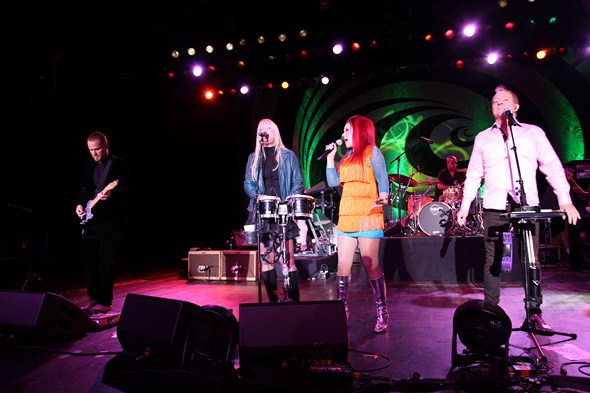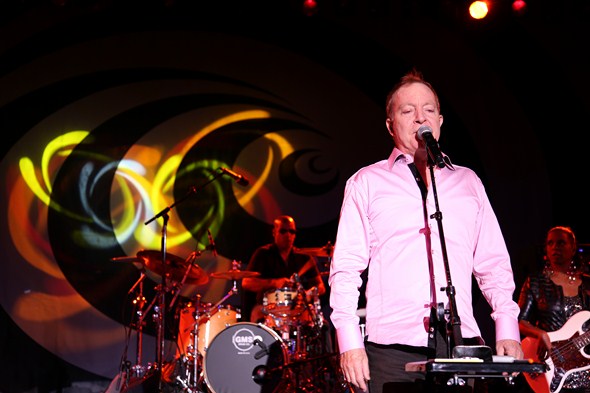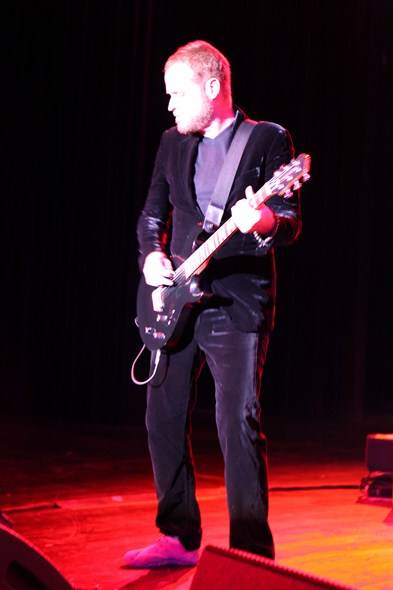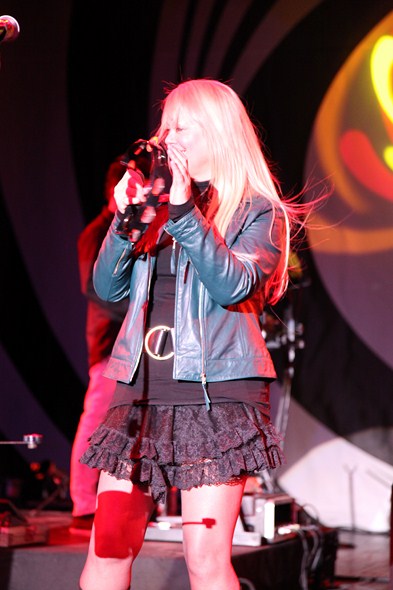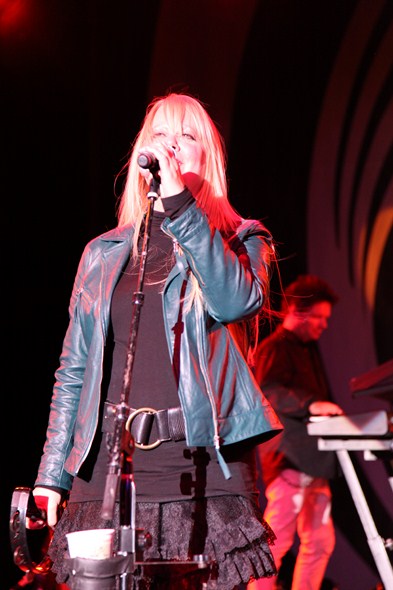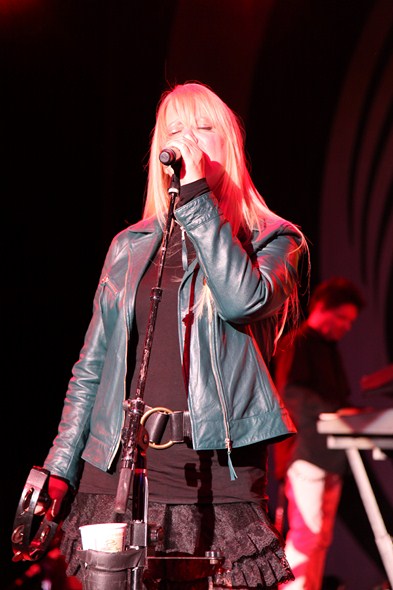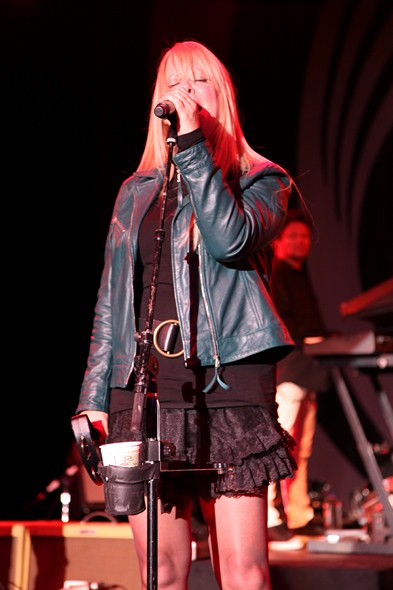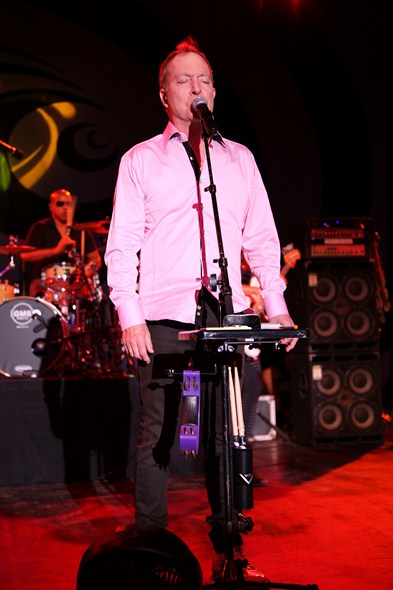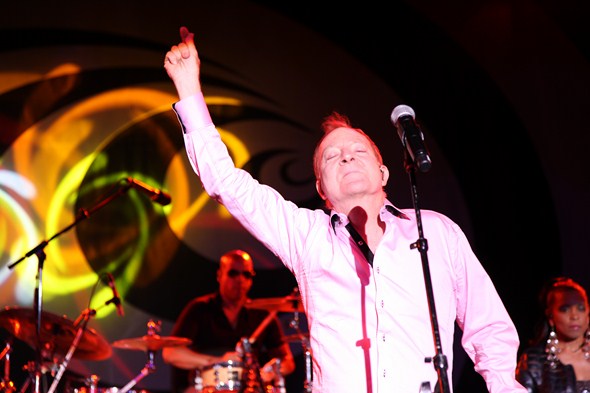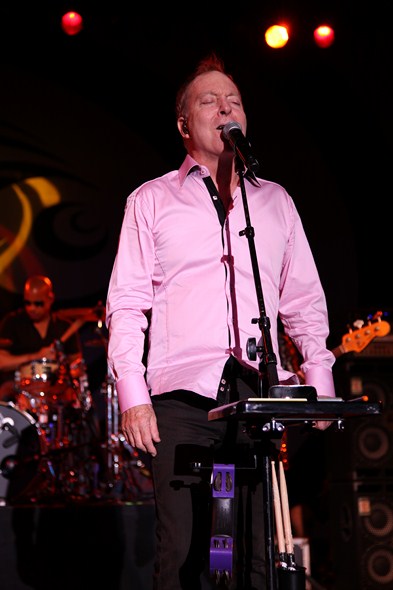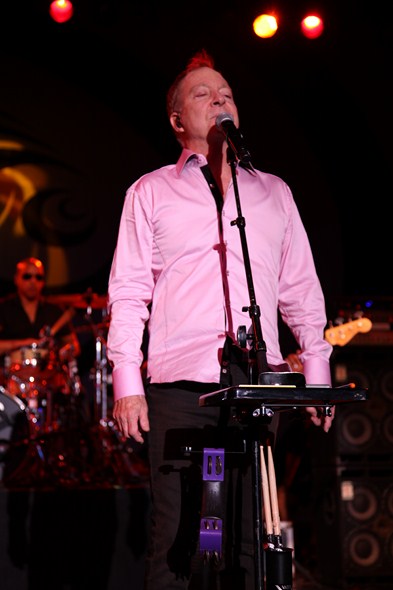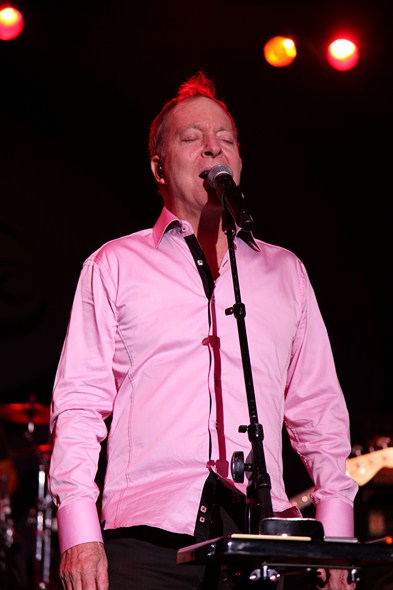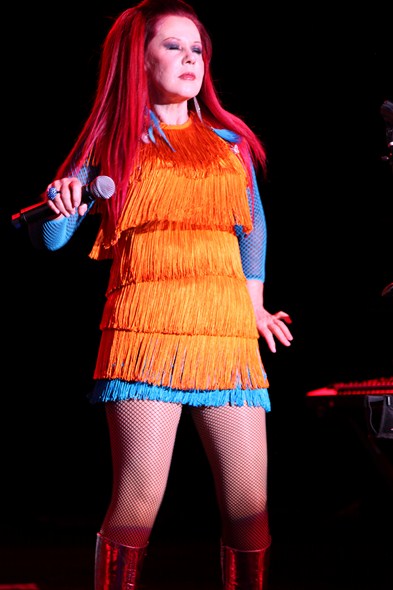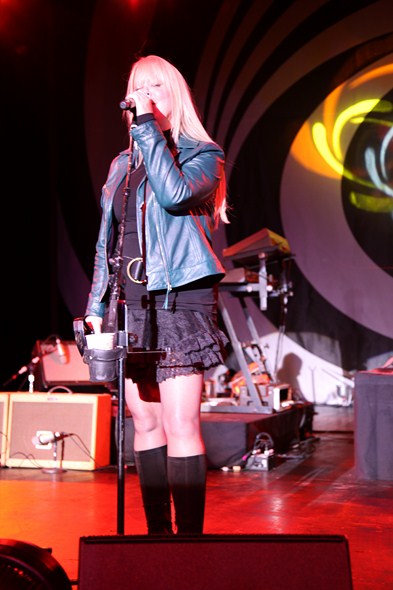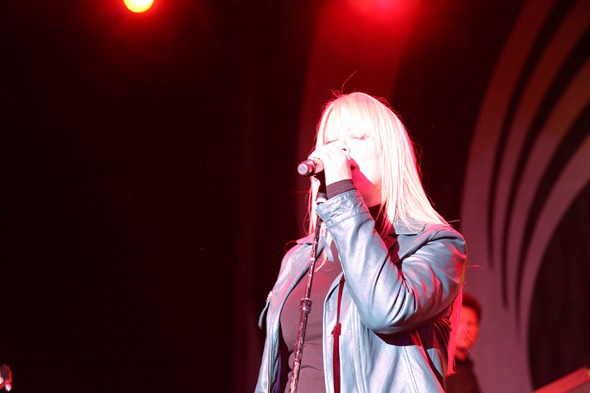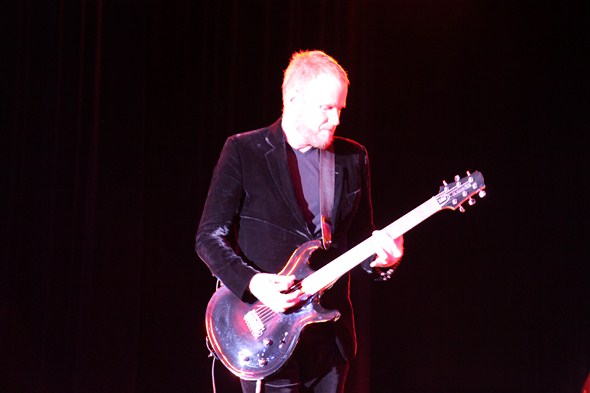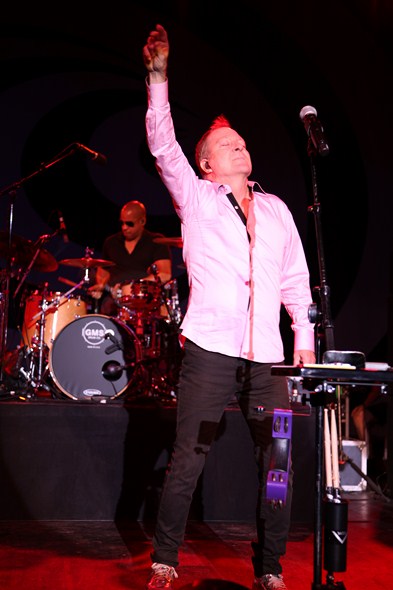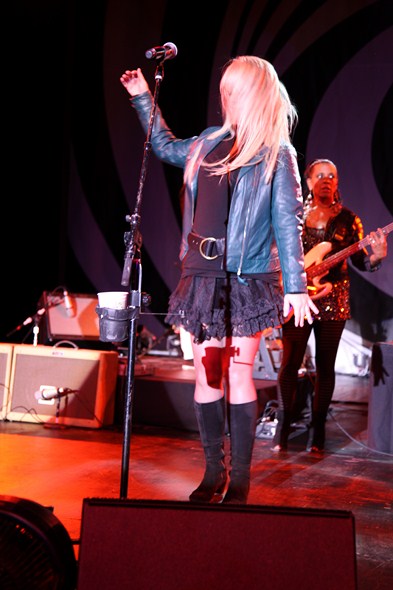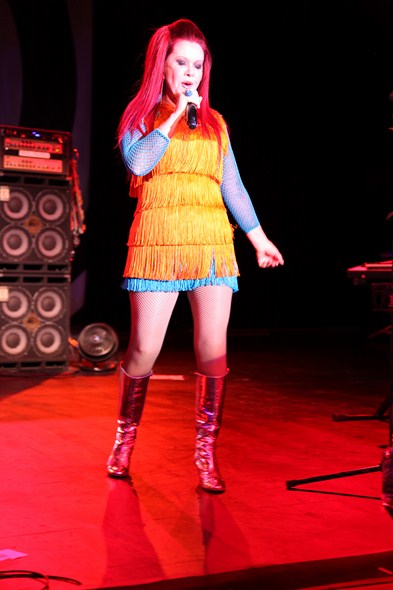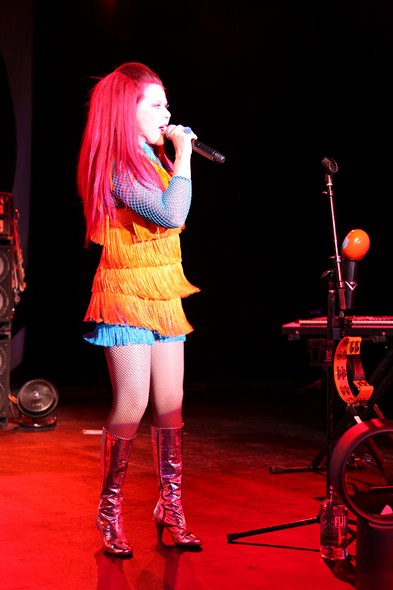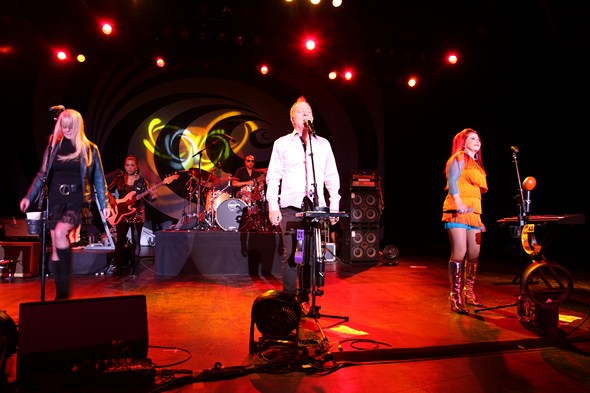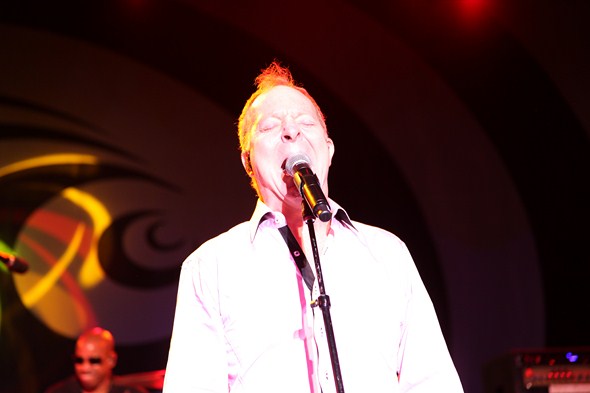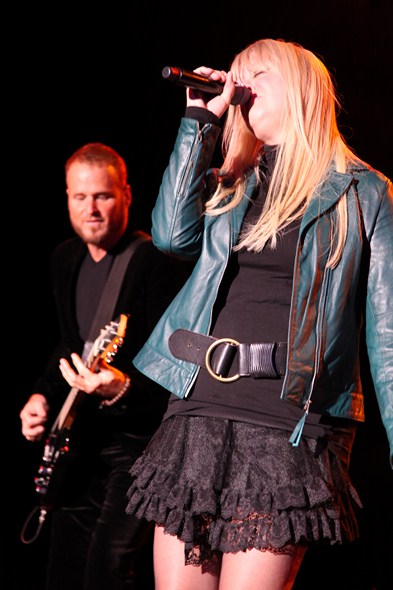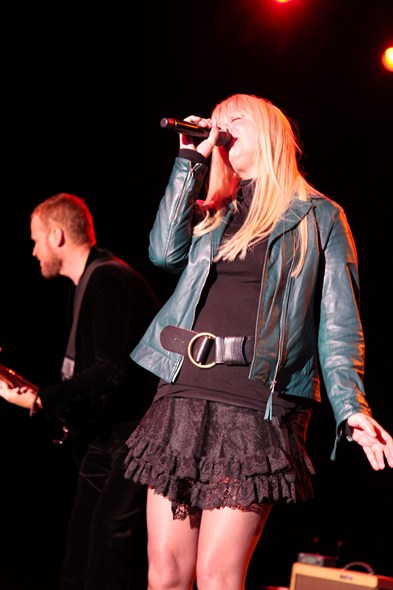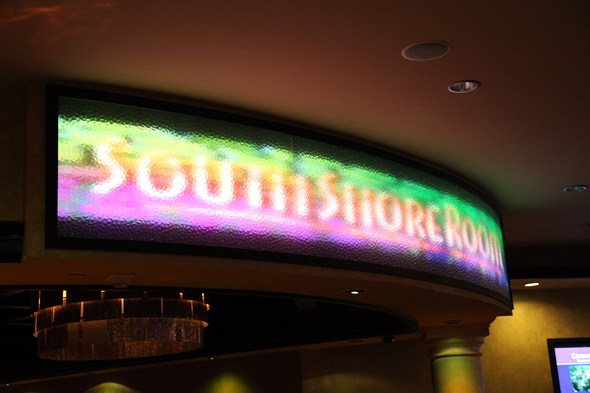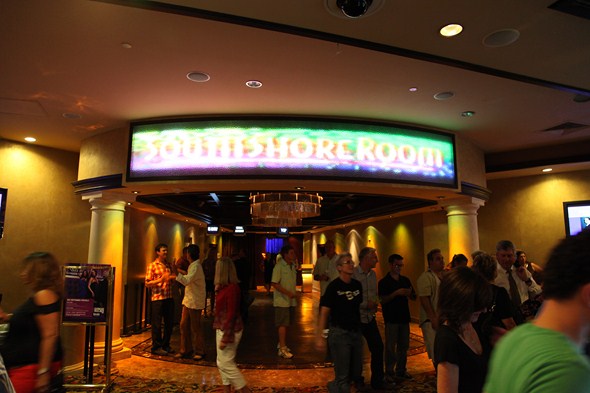 Below are additional photos shot throughout the rest of the set with my pocket Sony DSC-HX20V: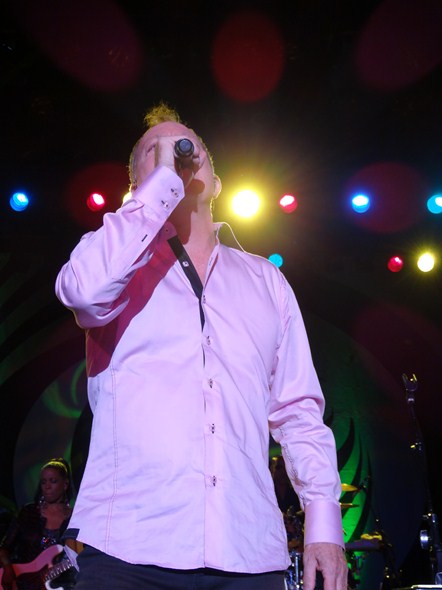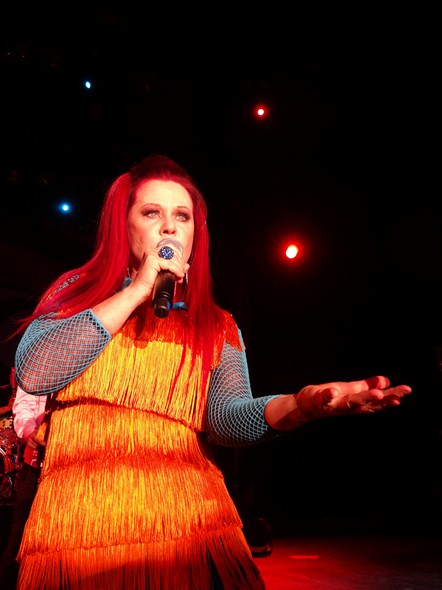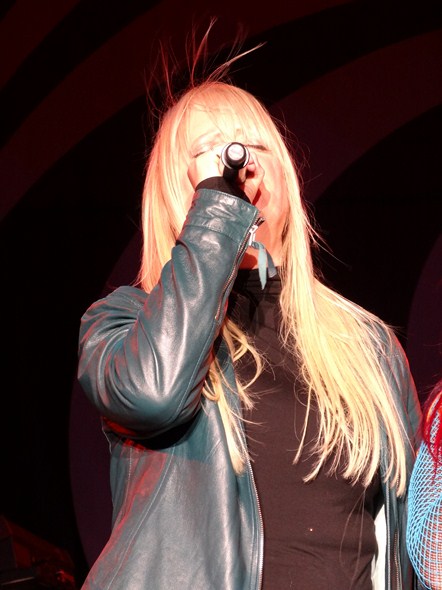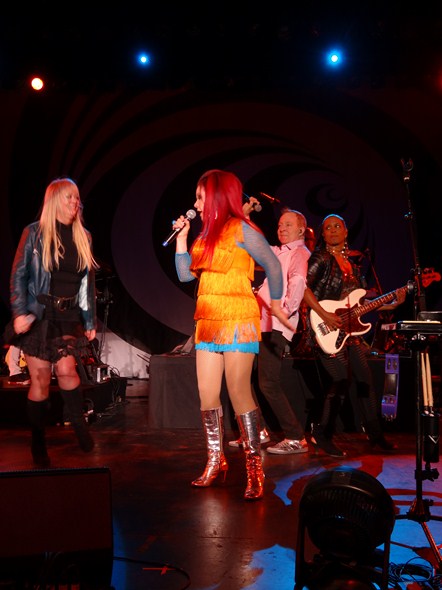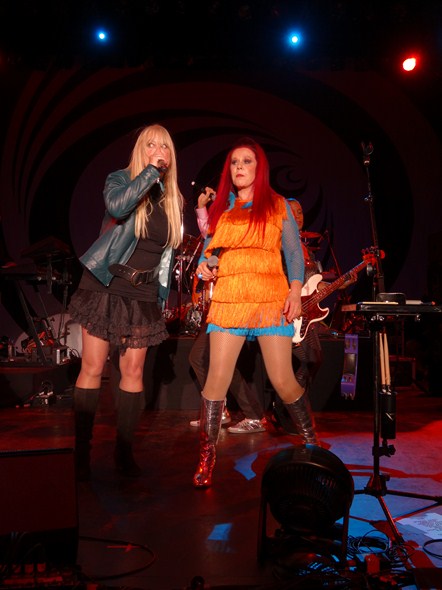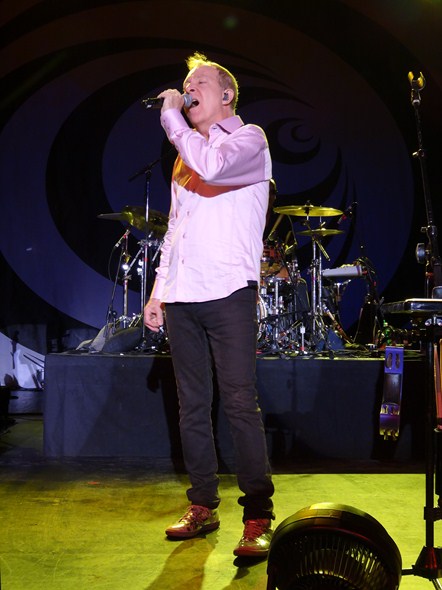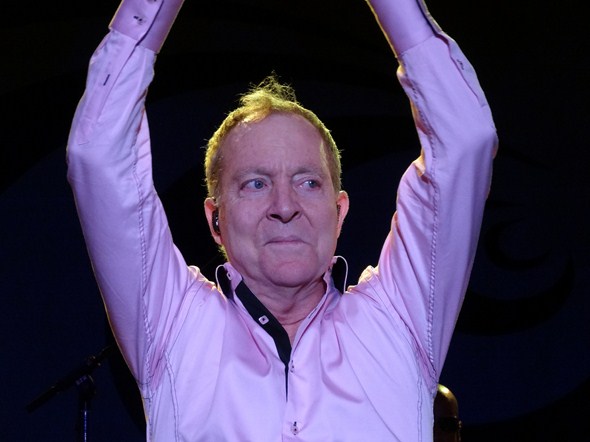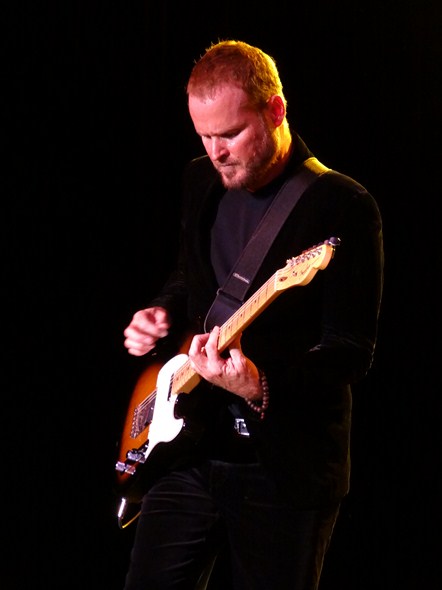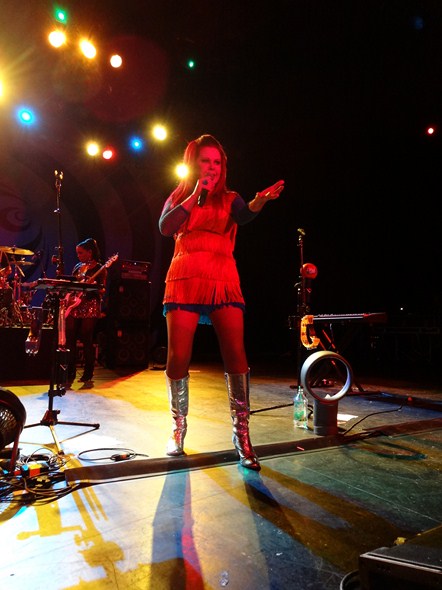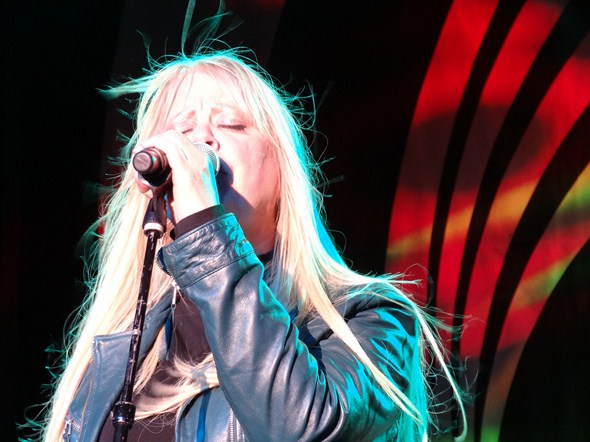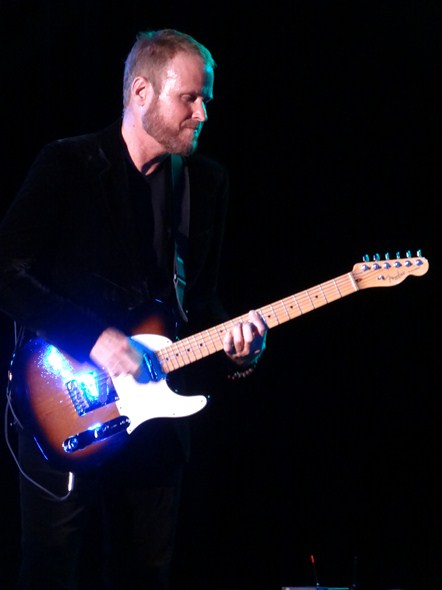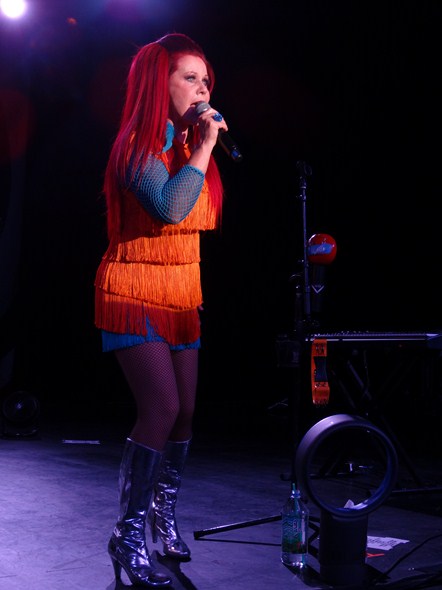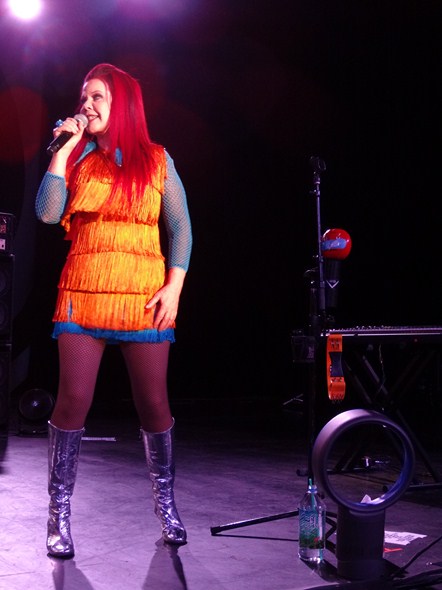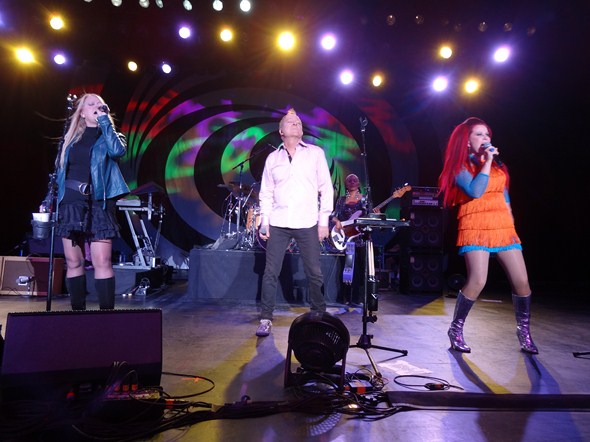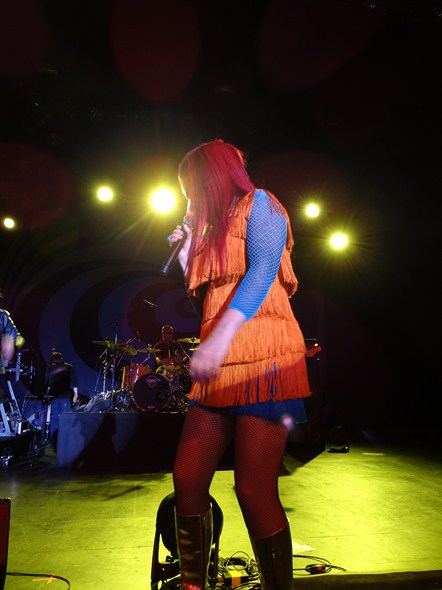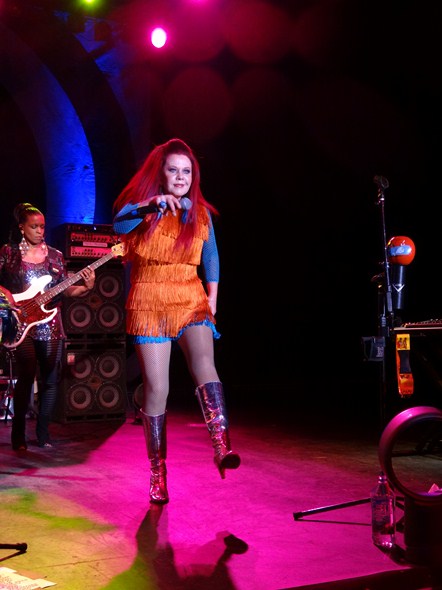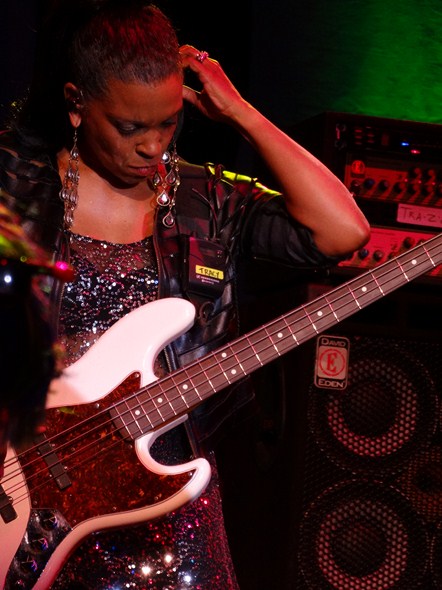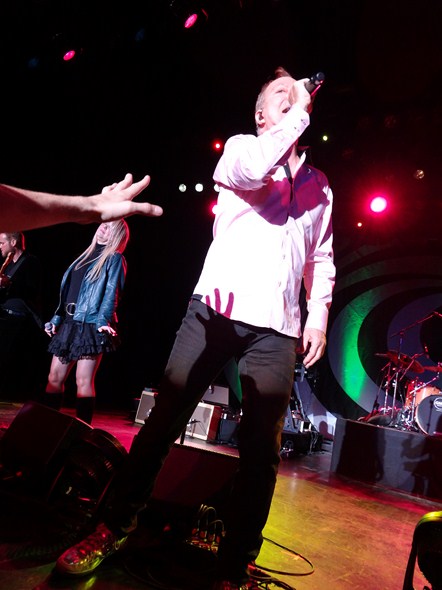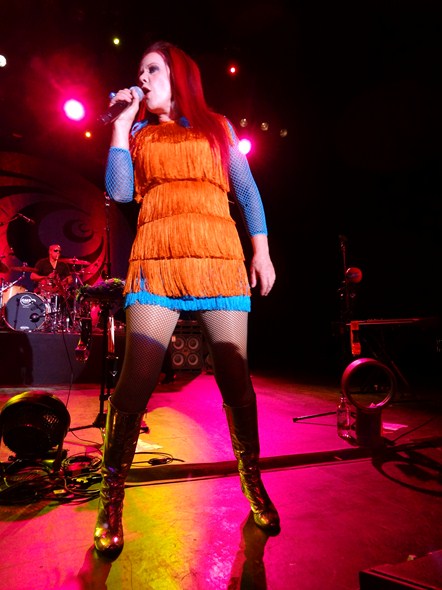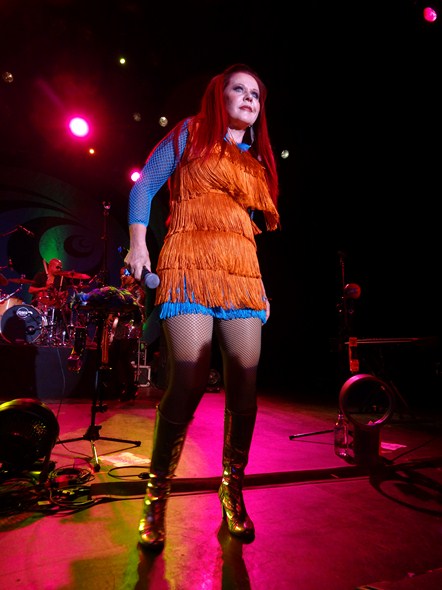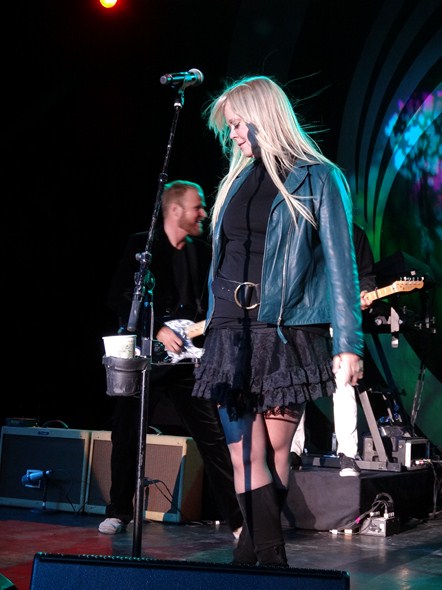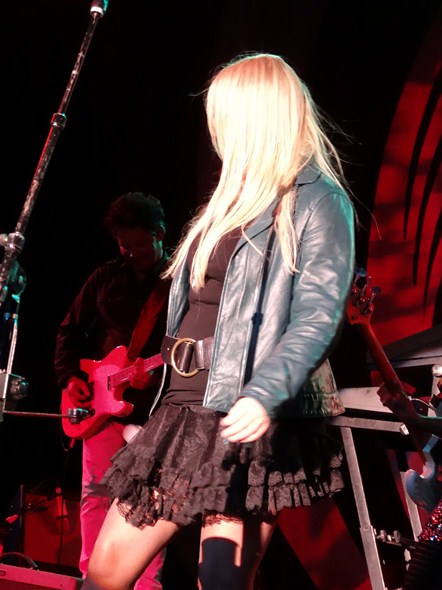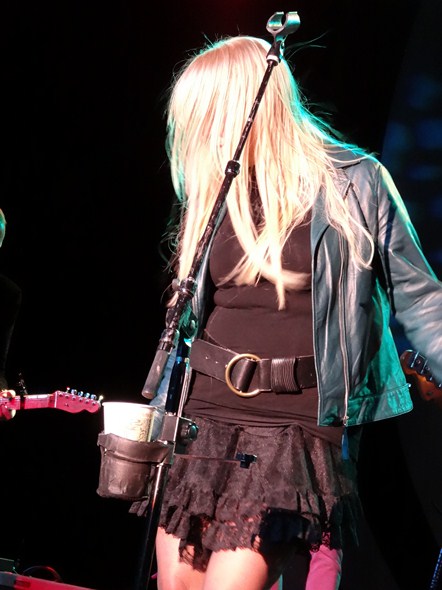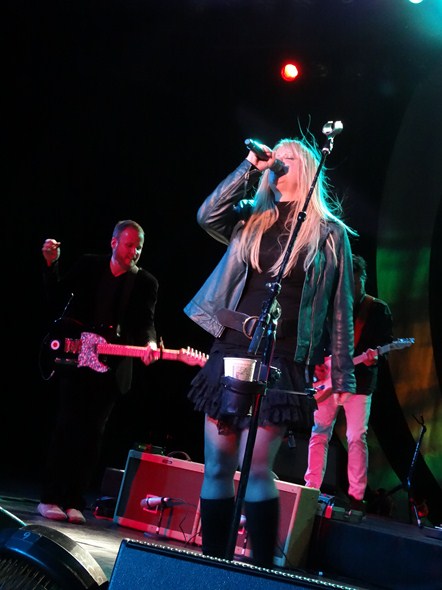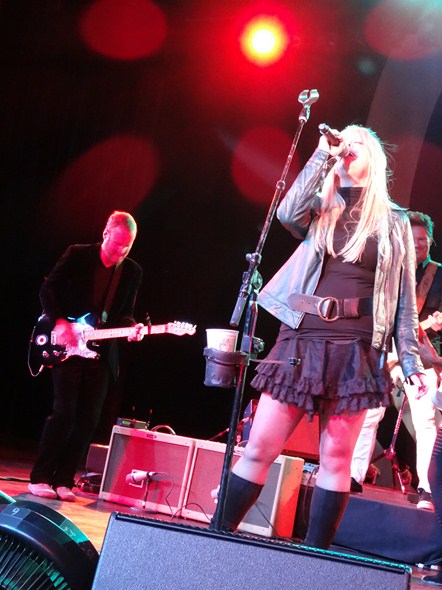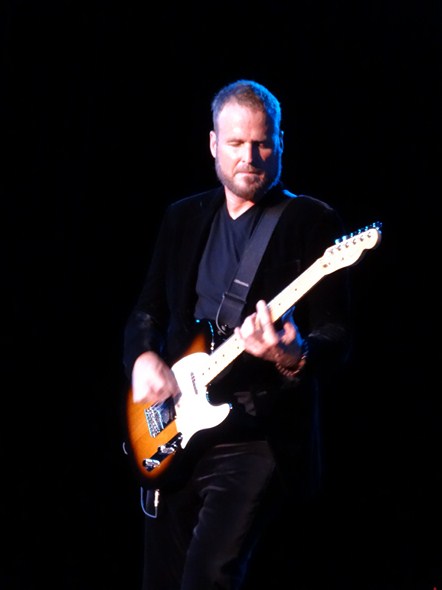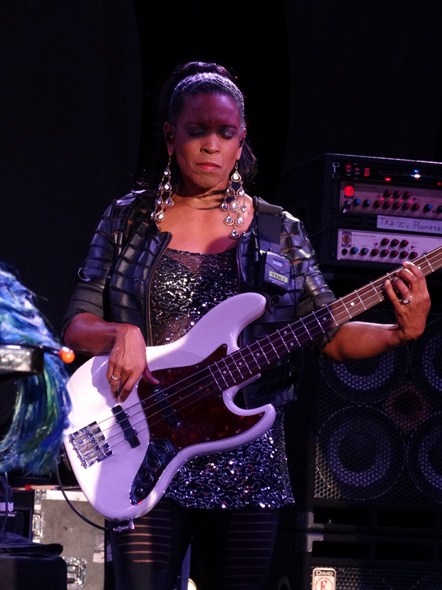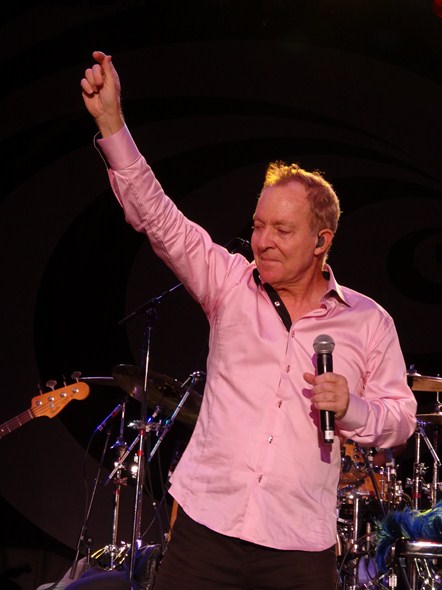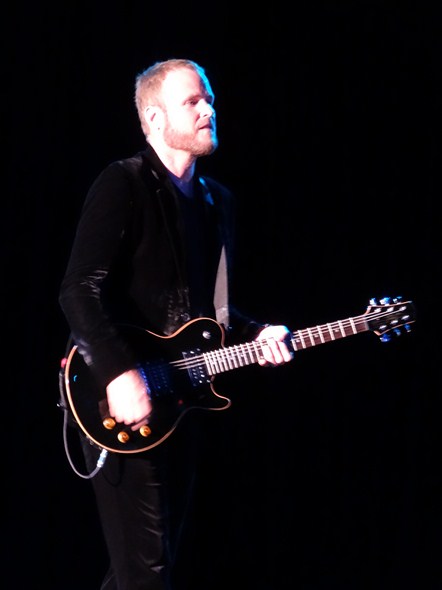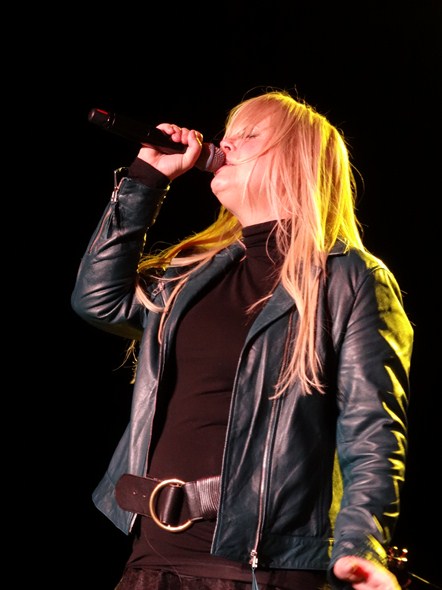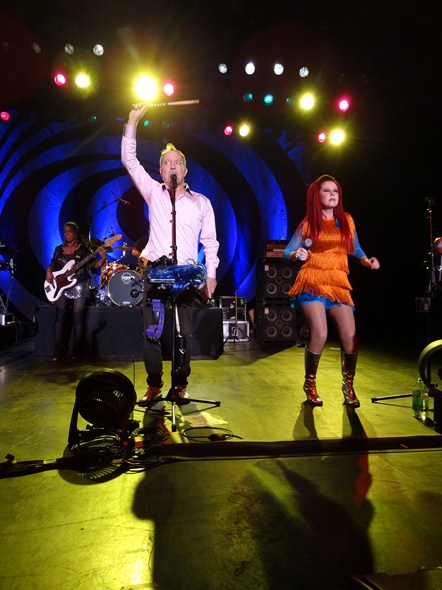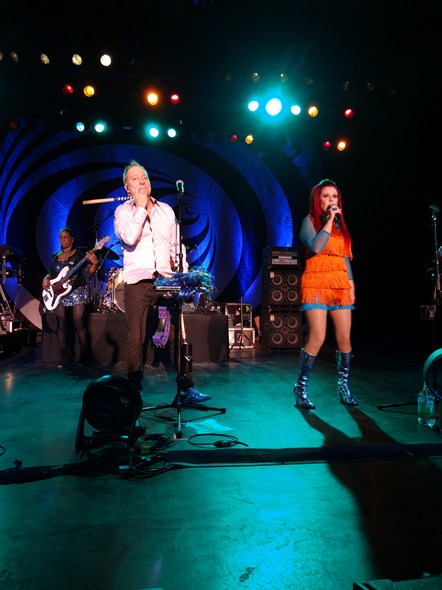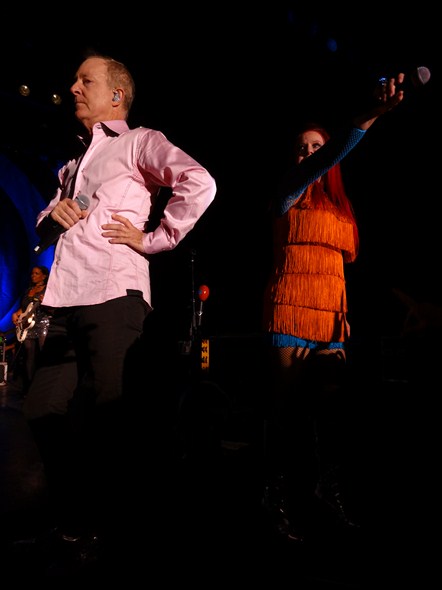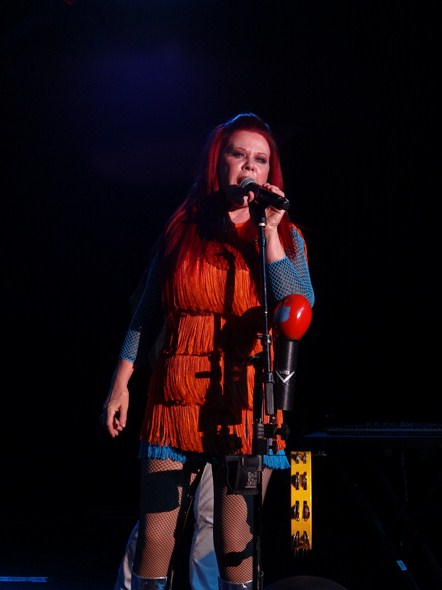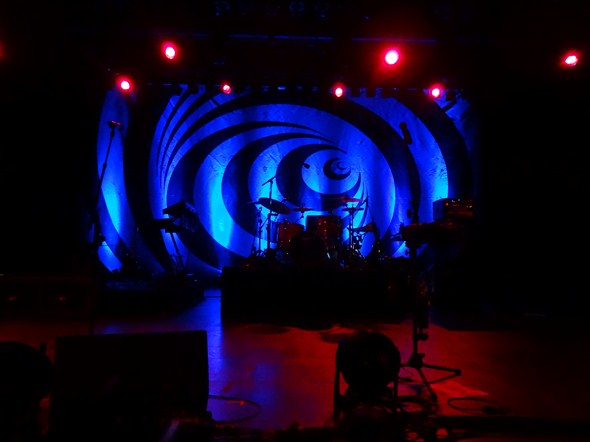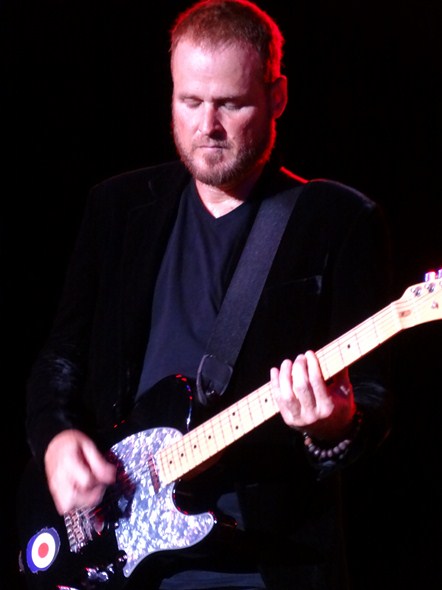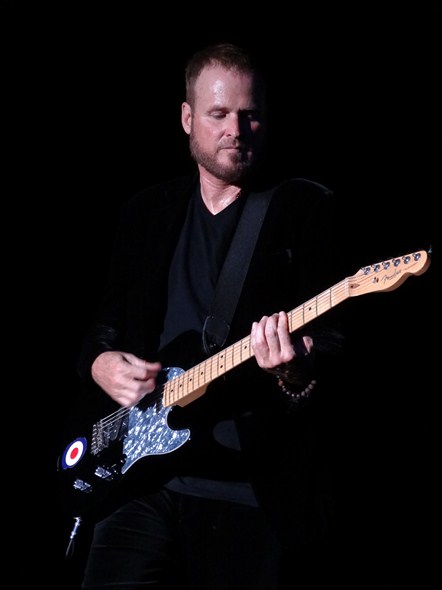 Jason DeBord