This is part of a continuing series of my impressions and experiences staying at various hotels and resorts while traveling to attend concerts worldwide. This review is for the Tangerine Hotel in Burbank, California for a stay in October 2012.  Sadly, based on my experience, I can safely say that I would never stay there again.
Property: Tangerine Hotel
Location: Burbank, California
Address: 3901 West Riverside Drive, Burbank, CA 91505
Phone: (818) 843-1121
Website: www.tangerinehotel.com
Room Type/Class: Standard
Date: October 14-16, 2012
TripAdvisor Page/Reviews: LINK
Booking Source: Expedia
Overall Rating: 1/5 [Note: Score is totally subjective based on price, location, and comparison to "like" properties within same area and price range]

I recently had a short trip in Los Angeles and needed to book a room for two nights.  Since I was flying in and out of Burbank, and attending shows at The Greek Theatre and The Hollywood Bowl (both of which are less than 15 minutes away) I thought it might be convenient to stay there, and consulted TripAdvisor reviews for suggestions.  The #1 of 18 hotels in Burbank was Tangerine Hotel.
This may be a quibble, but I wonder if it should actually be called the Tangerine Motel, rather than the Tangerine Hotel (as there is a difference between a hotel and a motel, and this property would seem to fit the definition of the latter).
In pulling up to the property, the first question that came to my mind is… where am I supposed to park?  There appeared to be about 3-4 standard parking spaces and 1-2 handicap spaces, and all were occupied.  There was no signage with any parking directions, and it is located on a busy street, so no time to slow down.  After driving around for a few minutes, I found that there were parking spaces designated for the motel in the alley behind it.
The front desk was located in a small self contained lobby area/room, and was unremarkable.
All rooms are accessed from the front parking lot, and on two levels.
The rooms are opened via card key.  The first impression of the room, upon entering, was that it has a very strong (unpleasant) odor.  There is an AC unit under the solitary window, which I immediately turned on, which seemed to help a little after running for several hours.
The room was fairly standard motel fare – aged, dated, maybe a 6/10 on the cleanliness factor.  Some elements of it seemed fairly cheap, most notably the bathroom.  The towel rack was pulled down/bent, so could not actually hold any towels without risk of them falling on or into the toilet below.  Strangely, the sink faucet is the "spray" emitter type, not the running water type, so it tended to splash water all over.  Some simple things were lacking that would seem obvious to someone staying as a guest… for example, though a bar of soap is provided to wash your hands at the sink, there is no dish or indentation in which to place it… leaving one to wonder what to do with it (I opted to place it on top of a washcloth).
There a few extra amenities – a small refrigerator, a coffee maker, an iron and ironing board.
WiFi is included, though I could barely connect with my new ThinkPad workstation which has the most powerful WiFi card offered.  I did have an ethernet cable in my bag, and found an ethernet port near the phone.  The supplied login work for the wired connection, and the Internet speed was actually remarkably fast.  I had videos and photos to upload from my concert reviews, and it was very, very fast; compared with all of the hotels and motels I've stayed at in the past year, it was near the top.
So the first night was generally unremarkable.  The second night was something else entirely.
Early that afternoon, when I went to park in the spaces in the alley behind the motel, there were workers with spaces blocked with orange cones, and some kind of utility vehicle to change lightbulbs.  One of the spaces was opened, so I parked.
Late afternoon on the second night of my stay, in leaving my room at around 6 PM, I found a letter folded up and stuffed into the key card slot for my door.  I opened it, and found the message below:

I took the letter to the front desk, and they explained, as written in the letter, that all guests would need to park in an off-site parking garage. As I left, I noticed two men blacking out the vending machine front with black paint and black tape.
So later that night, I parked in the offsite parking garage, and in walking to my room, there was a man in a security guard uniform sleeping in a car…
Beginning prior to 6am, I started hearing noise and commotion and voices outside.  I tried to ignore it.  Between 6am and 7am, it became increasingly worse.  Prior to 7am, even though my window drapes were drawn closed, it was suddenly as bright as daylight within my room.  I opened the drapes and there was a giant film spotlight shining right at my window (my friend in the business saw the photos and said it is an ARRI HMI with "daylight" bulbs).  There were dozens of film crew personnel in the parking lot, and giant trucks in the street with endless equipment being hauled out into the parking lot and all around the motel.  All were yelling back and forth, talking on loud walkie talkies (just outside my window even), and there was someone walking around on the roof, throwing things down into the parking lot.
I called the front desk, and he wasn't very apologetic.  I explained that I do write and publish hotel and resort reviews, and he didn't seem to believe me, and said it wouldn't impact how he is going to handle my complaint.  I told him this was all unacceptable, and he ultimately agreed to credit me back one night's cost.
I was up until at least 5am working on my article from the concert I attended the night before, so I essentially was limited to 1-2 hours of sleep.  The noise and activity outside got worse and worse, through the rest of my stay through check-out around noon that day.
Because they were so loud, I know that they were shooting a scene where ultimately an actress is stabbed outside of my room, and they shot scene after scene of her walking up and down the stairs outside my room.  With each take, another actor would push a noisy housekeeping trolly across the hall and stop in front of my door.  Over and over and over and over and over and over… for hours and hours.
When they changed to a different shooting location within the hotel, there was a knock at my door.   I of course had no idea if this was related to the filming production or the motel.  It was the (actual) housekeeper, and she pointed to the "Do Not Disturb" tab I placed into my keycard slot – which someone had turned over to the "Please Clean My Room" side.  I guess the film production was trying to get all of the guests to leave the motel, however they could.
Being completely fed up at that point, I decided to check out… but I could not even do that properly, as they were at that point filming additional scenes in the lobby/front desk area.
My biggest problem with this stay is that the management of this motel obviously rented their property to this film production – and I assume were well paid for this – and elected to rent rooms out to guests anyway, instead of blacking out the rooms.  So in my opinion, this speaks volumes about how this motel views its guests, and really tells me everything I need to know about the motel.  I would never stay here again – not even for free.
They could have alerted guests prior to the stay about the filmmaking disruption.  They did not.  They could have informed me at check-in (and I would have canceled and made alternate arrangements).  They did not.  They could have explained in the letter given to guests the afternoon before – that filming was going to start before sunrise the next morning, and last all day…   And, they did not even extend that courtesy.
Below are photos I took of the Tangerine Hotel during my stay.  Note, I did not take any proper exterior photos as I had intended to do that the last day of my stay, which obviously did not go as planned.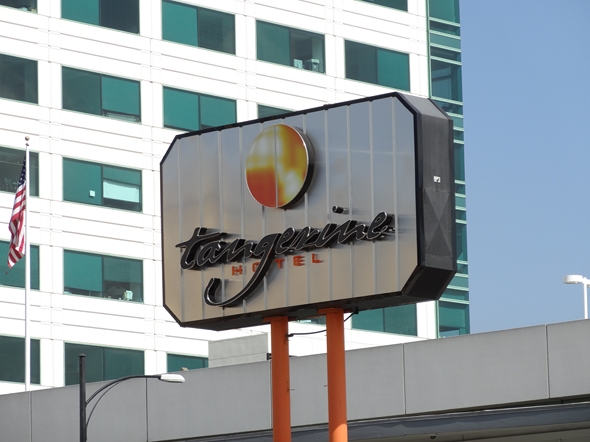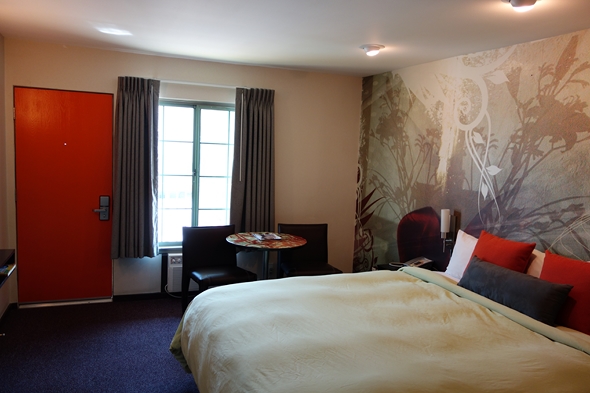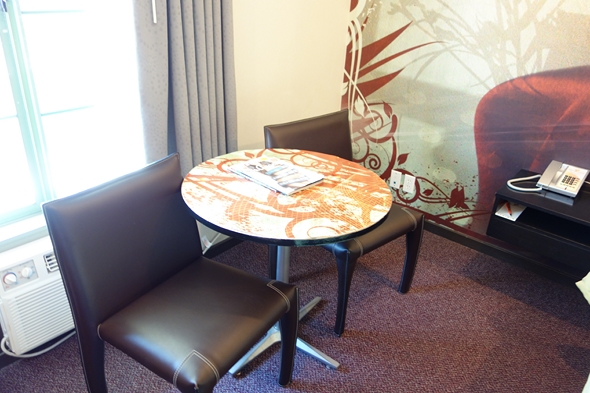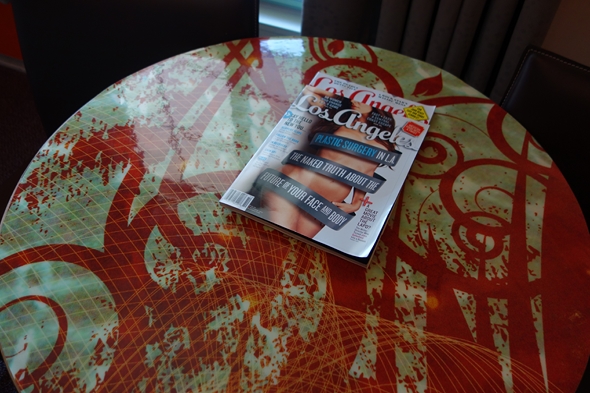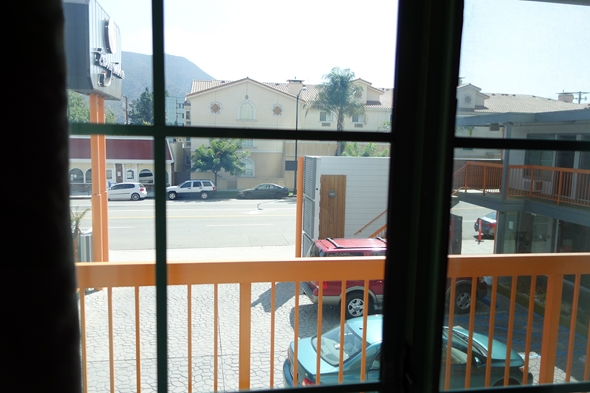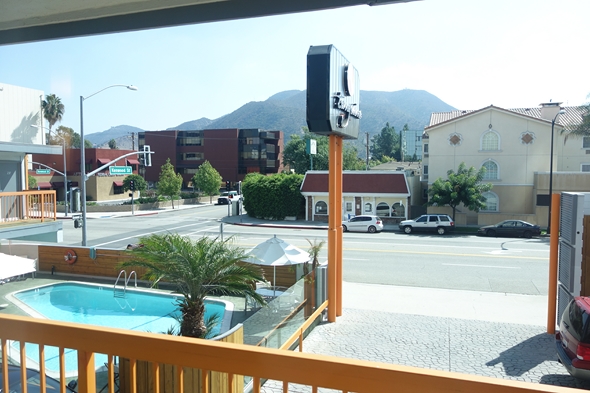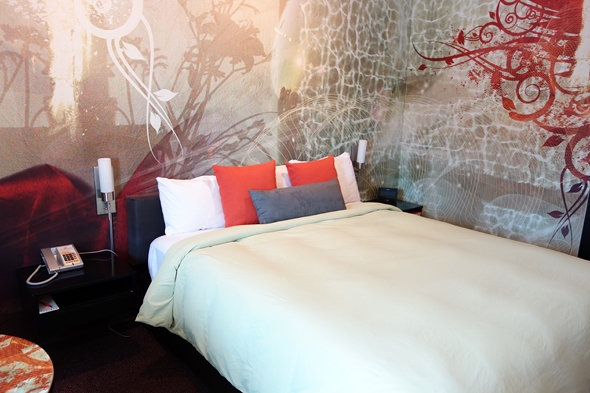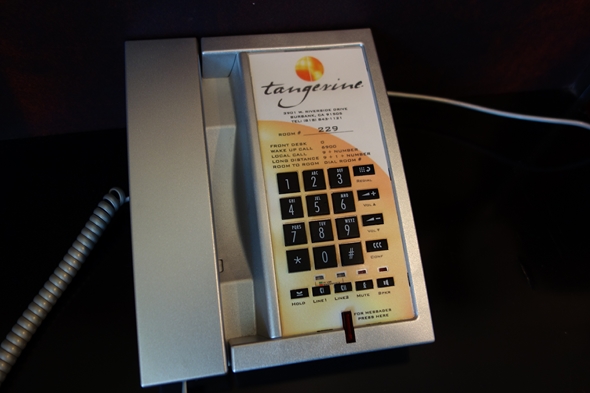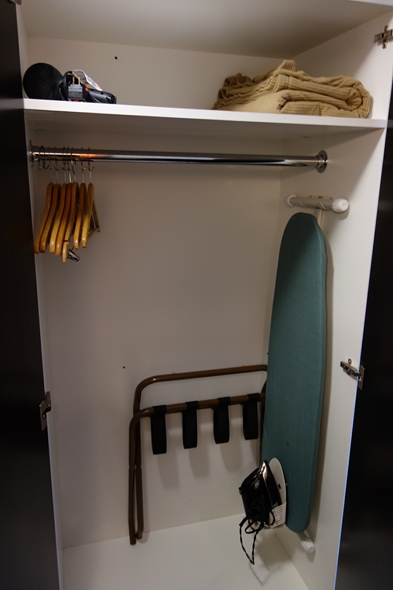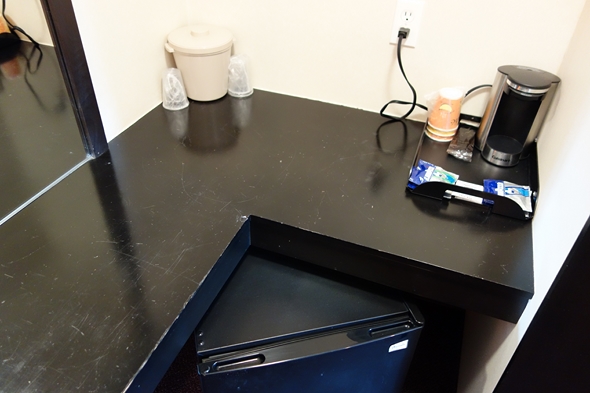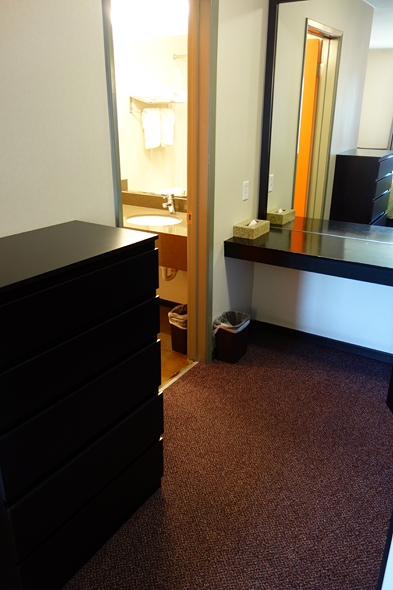 Jason DeBord