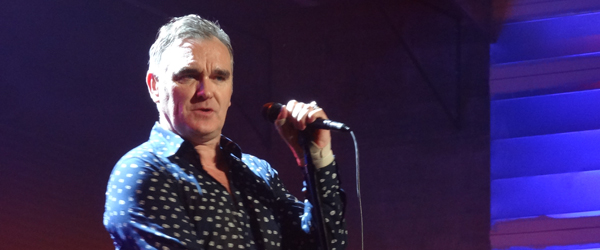 Morrissey will be completing his tour of the United States, which was postponed late last year after his mother became ill.  The concerts picked back up in New York last night, following his appearance on this week on the Late Show with David Letterman.  Moz will have a very busy schedule over the next three months, covering much of the U.S., and one final date in Mexico.
The best official resource to keep track of his shows is his official Facebook page, www.facebook.com/Morrissey: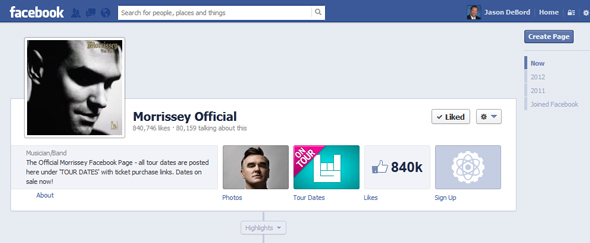 Below is the list of dates as of the time of this article:
Jan. 9: Tilles Center for the Performing Arts, Greenvale, Long Island, NY
Jan. 11: Brooklyn Academy of Music, Brooklyn, NY
Jan. 12: House of Blues Atlantic City, Atlantic City, NJ
Jan. 15: Count Basie Theatre, Red Bank, NJ
Jan. 16: Strathmore, North Bethesda, MD
Jan. 18: Sovereign Performing Arts Center, Reading, PA
Jan. 19: Capitol Theatre, Port Chester, NY
Jan. 21: Heinz Hall, Pittsburgh, PA
Jan. 22: LC Indoor Pavilion, Columbus. OH
Jan. 24: The Whiting, Flint, MI
Jan. 25: Orpheum Theater, Minneapolis, MN
Jan. 26: Chicago Theater, Chicago, IL
Jan. 28: Orange Peel, Asheville, NC
Jan. 29: Ryman Auditorium, Nashville, TN
Jan. 31: Cobb Energy Center for the Performing Arts, Atlanta, GA
Feb. 2: Liberty Hall, Lawrence, KS
Feb. 5: Surf Ballroom, Clear Lake, IA
Feb. 6: Rococo Theatre, Lincoln, NE
Feb. 9: The Chelsea at The Cosmopolitan of Las Vegas, Las Vegas, NV
Feb. 10: Marquee Theatre, Phoenix, AZ
Feb. 12: Tricky Falls, El Paso, TX
Feb. 13: Austin Music Hall, Austin, TX
Feb. 15: Pharr Events Center, Pharr, TX
Feb. 16: Jefferson Theater, Beaumont, TX
Feb. 18: Palladium, Dallas, TX
Feb. 21: Temple Hoyne Buell Theatre, Denver, CO
Feb. 22: Kingsbury Hall, Salt Lake City, UT
Feb. 24: Davies Symphony Hall, San Francisco, CA
Feb. 27: Balboa Theatre, San Diego, CA
March 1: Staples Center, Los Angeles, CA (w/ Patti Smith)
March 2: John Ascuaga's Nugget – Rose Ballroom, Sparks, NV
March 4: Robert Mondavi Center at UC Davis, Davis, CA
March 6: Moore Theater, Seattle, WA
March 8: Arlene Schnitzer Concert Hall, Portland, OR
March 9: Regency Ballroom, San Francisco, CA
March 14: Vive Latino Festival, Mexico City, Mexico
The dates in San Diego on February 27th and San Francisco on March 14th were just added this week (and I know the SF show just went on pre-sale this morning).
As The Rock Subculture Journal, I rated the Morrissey shows I attended in Maui and Oahu in Hawaii and in Stockton, California last year as the best of the year, as part of my 2012 Year in Review.
Consequently, I will be attending a number of the shows local to me and will publish reviews and photos.  Currently, I plan to attend the February 9th show in Las Vegas, February 24th in San Francisco, March 4th in Davis, and March 9th in San Francisco.
Click on the image below for the latest and up to date full Rock Subculture Journal schedule of pop and rock music concerts/tours coming up for review (2013 Rock Subculture Schedule):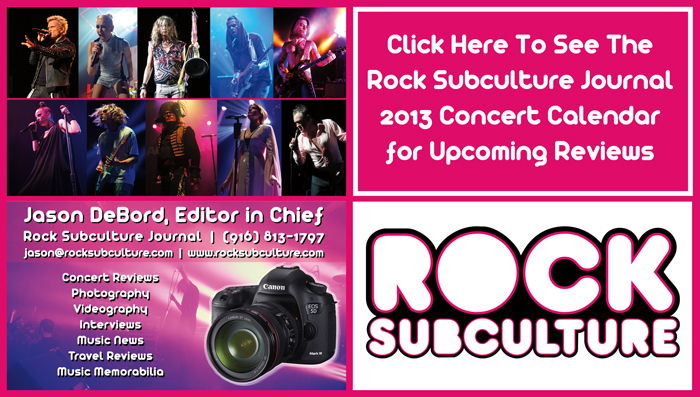 Jason DeBord