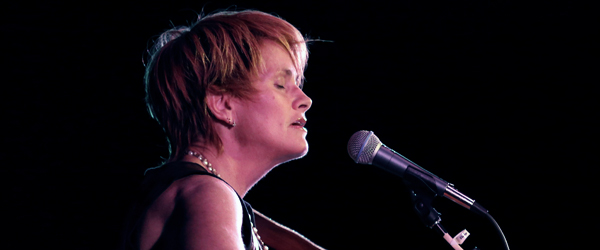 "So that's what that last song was; that was my contribution.  I kinda infused it with my own special brand of hopelessness, because the person is never going to get out…"  Part of an explanation about one of her songs, and her sometimes  facetious and self-deprecating view of the unwritten rules of being a part of the singer-songwriter world.  Shawn Colvin provides a lot of thought-provoking entertainment during her concerts, including a few bits of dark humor and perspective here and there, in contrast to the "bright and cheery" impression that the delivery of her music might leave on someone who listens to her music without learning the meanings and ideas behind the words.  Shawn Colvin really puts her heart and soul into her music, and in a live music setting, holds nothing back. 
Just as with her music, her candid monologues with the audience as she tunes her guitar between songs is always based on honesty and openly questioning herself and the world we all live in.  She's a truly insightful woman, and when she declares "I don't care anymore", it's more a lesson in maturity, wisdom, self-reflection, and freedom than it is as most would view it – a concession and surrender.  With Shawn Colvin, it is an empowering realization about life.  And, with her, life – and music – is supposed to mean something.  And she has never lost sight of that, and her concerts are a musical celebration of relentless self-examination as much as it is the music itself.
Who: Shawn Colvin
Supporting: Valerie Orth
Venue: Sacramento City College Performing Arts Center
Where: Sacramento, California
Promoter: SBL Entertainment
When: January 27, 2012
Seating: FF 2 (single row side section to right of stage; photo pass)
This show had an interesting… well, rocky start.  Doors were scheduled to be opened at 6:30, and I was running late, having been stuck in traffic, and arrived at about 7:00.  I was surprised that there was a huge line of concert attendees standing outside.
Long story short, there was an issue with the originally intended sound technician for the promoter/venue being unavailable, which caused significant delay in dialing in the sound for the artists and allowing them to conduct their pre-show sound checks.  Ultimately, concertgoers were not admitted entrance into the venue until about 8:00…  which left everyone waiting outside in 40 degree weather for upwards of an hour and a half.
In spite of this, once inside, the venue appeared nearly full, so it looked like most of the fans waited out the uncertainty, and were ultimately awarded with fantastic performances by both artists.
Once inside, little time was wasted and things progressed along quite smoothly.  And in spite of the delays being due to sound-related issues, the sound was phenomenal – great clarity and dynamics, excellent volume level, really well done.
The auditorium at Sacramento City College was recently renovated and modernized, and they did a wonderful job.  It's a really nice-sized venue with a large and wide stage and three floor sections of seats that rise slightly as you go front to back, and two single-rows on each side that are elevated.  Capacity is 612.  You can learn more about the venue on the Los Rios site.
Valerie Orth
Opening for Shawn Colvin was Valerie Orth, a fellow singer-songwriter who delivers a unique mix of musical styles that are once, collectively, quite contemporary but timeless in that she draws on folk, indie-rock, and soul.  She is definitely one of the most impressive supporting acts I've seen in some time, and is one of those artists who have the ability to going from being an unknown to you and turning you into a fan.
While her studio work features a full band, and she tours with them as well, tonight it was just her, the microphone, and her two guitars.
I've always felt the singer-songwriters to be the most brave of musical artists, in that when they perform alone on stage, usually performing songs that actually mean something (more on that later), they are not only in many ways baring their soul, but their vocals and overall performance is really "out there" to succeed or fail on its own merits…  with nothing to have behind.
In addition to all of this, Valerie opened with an a capella song, in a completely silent auditorium, filled with people who were already, as explained, a bit bent out of shape having waited outside for quite some time.
It was immediate to me that Valerie has a very disarming and warm personality – a mix of confidence and a celebratory sort of fun.  By the time she picked up her guitar and went into her music, she'd quickly won the crowd over.
One thing that I really liked about her (in addition to her awesome music) is that she would talk about each song a little before going into them… and shared with the audience what the songs are about.  Which is refreshing, because a lot of music today isn't intended by the artist to actually be about much of anything.
As noted, her music is a bit of a mix of a variety of genres that all really works well.  In addition, and just as importantly, she has an amazing voice.  While I was listening to her during her set, and felt I heard some things in her voice that reminded me of other artists, but I just couldn't quite place it during the show.
I did have an opportunity to meet her in-between sets, and picked up her latest EP, Life on the Moon, and her LP, Faraway City (both available via her online store), and had a chance to give them a full listen on the way home, and figured out these impulsive connections that I just couldn't quite place at the time…
I think, vocally, she has in part a quality that reminded me a bit of Natalie Merchant…  just in flourishes – that bit of a flutter at times, like there is such power in her voice it can't be fully controlled, if that makes any sense.
The other artist that she reminds me of (the studio work more than the live performance) is Amanda Ghost (who I love), both in her vocal range and tone as well as delivery in some songs.
For me mentioning these other two artists is intended as a huge compliment.
In any event, I really enjoyed her performance and would definitely go out of my way to see her live again.  I'd really recommend checking out her work, and the easiest way to do that is via her YouTube channel, and a good example of her work is the official "Blinding" music video:
Below are a few of the photos I took during and after her performance (click any image for higher resolution):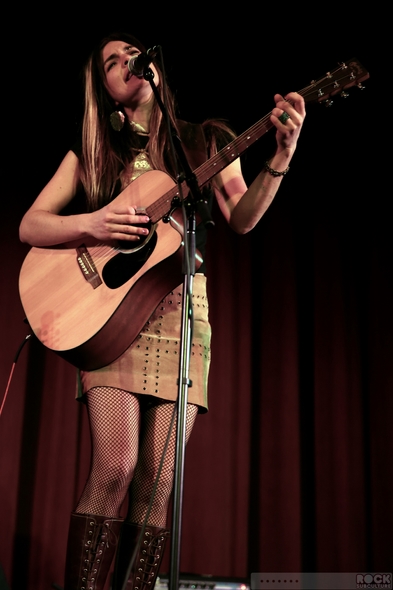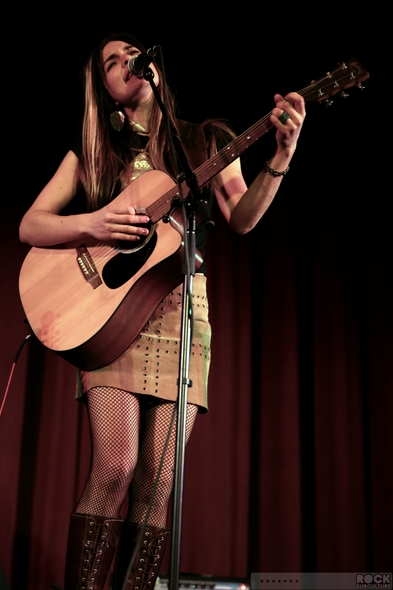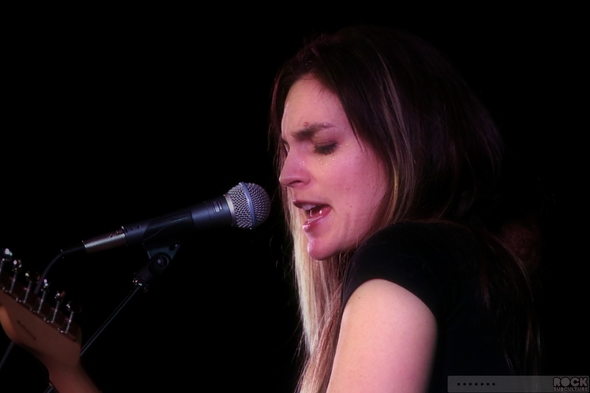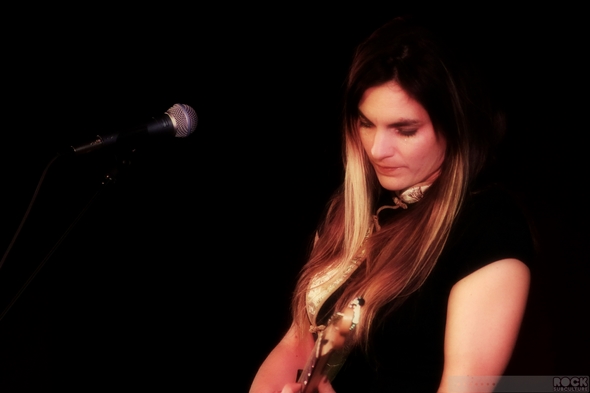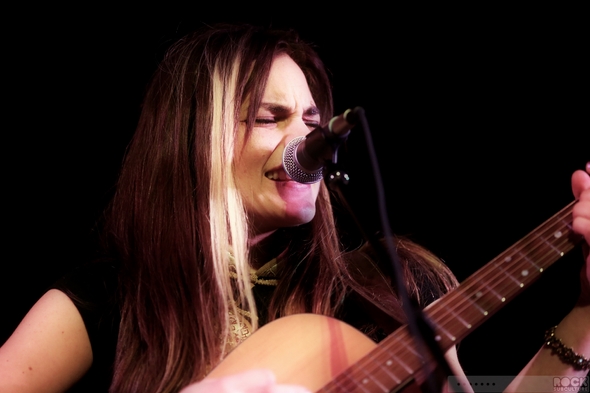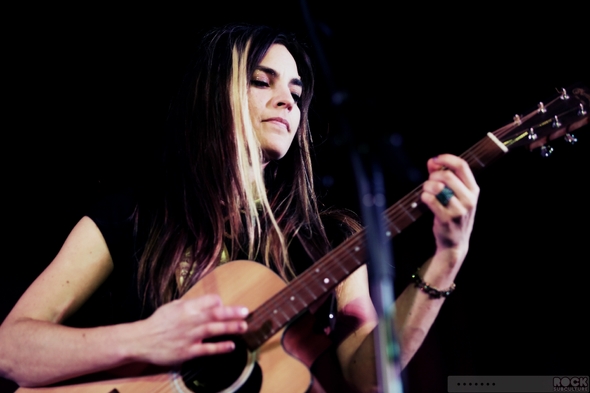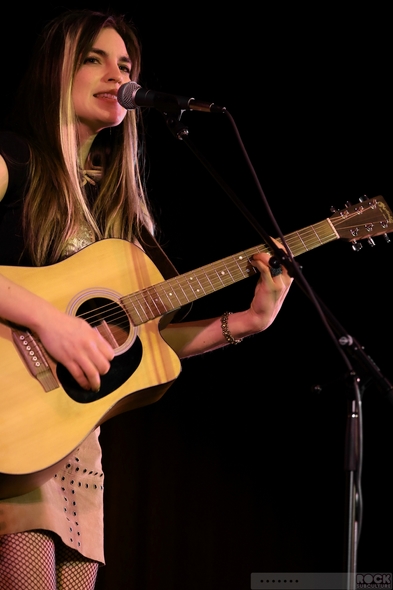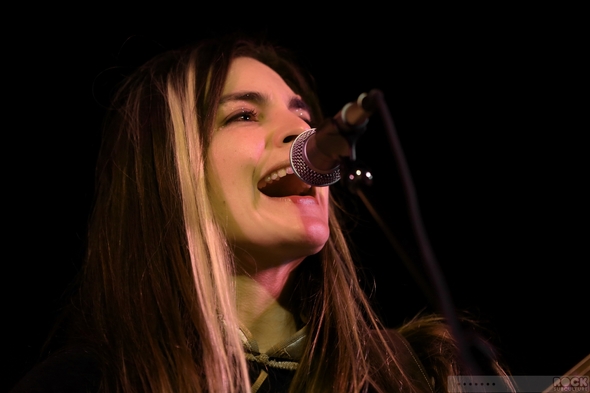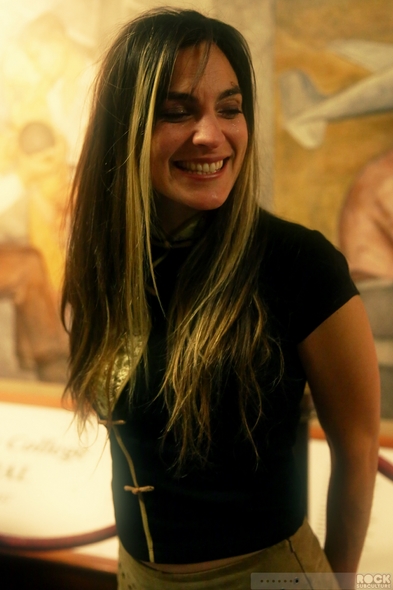 Shawn Colvin
Shawn Colvin is a Grammy-winning singer-songwriter from South Dakota best known for her 1997 song, "Sunny Came Home".  She has a long history with music, going back to her childhood, which was spent in London, Ontario, and Illinois.
Her start was with a band called the Dixie Diesels in Texas, but eventually she took a different path and started creating folk music in Greenwhich Village in New York.
Touring with Suzanne Vega (and providing backing vocals on hit "Luka", she was signed by Columbia and her debut album, Steady On, resulted in her first Grammy Award.
Shawn has been quite prolific over the years, and in 2012 released her eighth studio album, All Fall Down, as well as an autobiography, Diamond in the Rough: A Memoir.
She was featured in the Sacramento Bee this weekend (see "Shawn Colvin: Graceful melodies, unsentimental observations"),
Thankfully, she is not one of those artists who frowns on the idea of covering the works of others, and has done some amazing personal renditions of popular songs.  She opened last night's show with her version of Gnarls Barkley's "Crazy".
This was my first time seeing Shawn Colvin live, and I was extremely impressed.  She sounds *exactly* the same as she does on her studio work.  Well, even better live, but her voice has remained consistent throughout her career, and I can understand the efforts with ensuring that each venue she plays at can offer the sound system to give the audience the full effect of her music.
All in all, she took us on a journey covering a lot of her career, old and new.
A bonus to her wonderful music are her stories and anecdotes, and general observations on life, that are shared in-between songs as she tunes her acoustic guitar.  Most of these are sarcastic and/or self-deprecating, and she is extremely funny.  I recorded the sound from some of these quips so I could later transcribe for this article, to give a sense of her personality and wit:
"I know what I'm doing.  Doesn't always seem like it.  You never know with me.  You know I might talk a lot.  I might.  I can't say right now.  I'm not sure.  If I do, talk a lot.  And I might.  The only good news I have for you is that, I've been in therapy so long, that at about 45 minutes into the hour I just naturally wind down."
"Some nights its easier than others with the guitar.  I wish I could blame the altitude here."
"I do have good news.  Let's review…  Can't hear…  see…  remember…  I feel hot…  But the upside is, I don't care.  I really don't, and it's all making sense to me now.  I'm old, and I don't care.   And that's what makes old people weird.  Because they just don't care anymore.  Right?  It's a great thing."
"As a songwriter…  singer-songwriter… it's a requirement.  They won't let you graduate from singer-songwriter school – the singer-songwriter police will come get you if… you don't write a song, several songs if possible, about wanting to leave your home town.  It's really important.  So that's what that last song was; that was my contribution.  I kinda infused it with my own special brand of hopelessness, because the person is never going to get out.  It's clear in the song that they've given up and their never going to get out.  You couldn't tell really from the fact that it was bright and cheery and then kind of bounced along, but that's what's going on…  And then, what you do, after you um… it's in the manual, by the way…  after you write those songs about 'you need to get out of your home town'…  Then you go on to do well, and… you come back, and you're talking to people, and you say, 'well, this town made me everything I am today'.  That's in the manual.  That's textbook.  I'm trying to think if I've said that about my home town yet?  I grew up in Vermillion, South Dakota…  have I said that about Vermillion, South Dakota, it made me everything I am today?  I'm not sure if I've said that yet…  I'm not sure if I did?"
All in all, it was a very enjoyable show and fantastic performance.  Shawn Colvin has tremendous talent and humor, and is very open in sharing both with her fans.
Below are some photos of Shawn Colvin performing on stage (click on any image for higher resolution):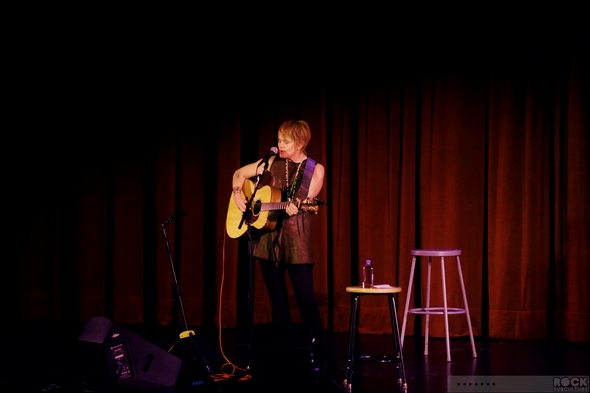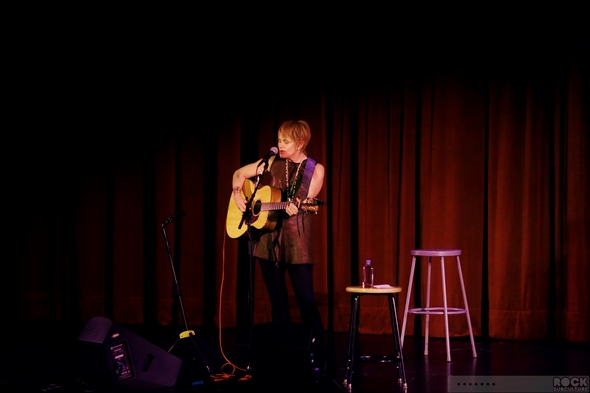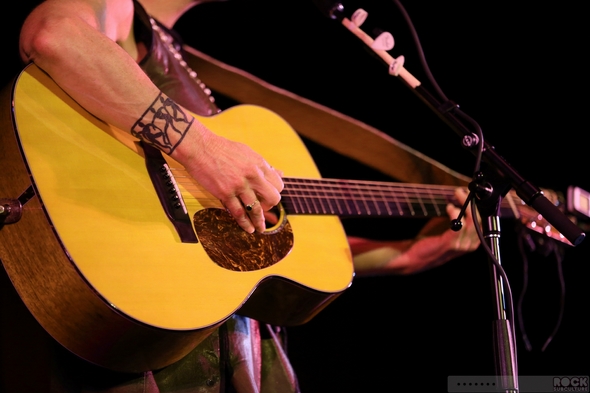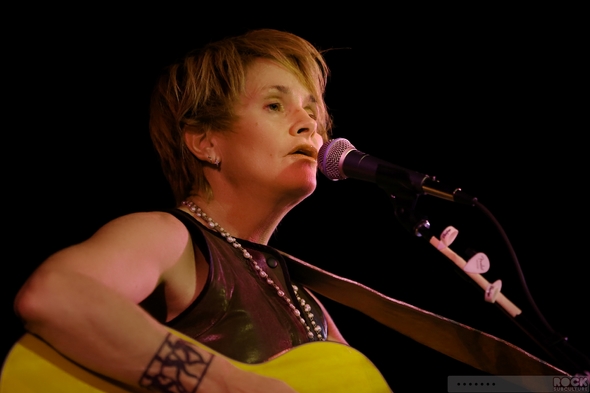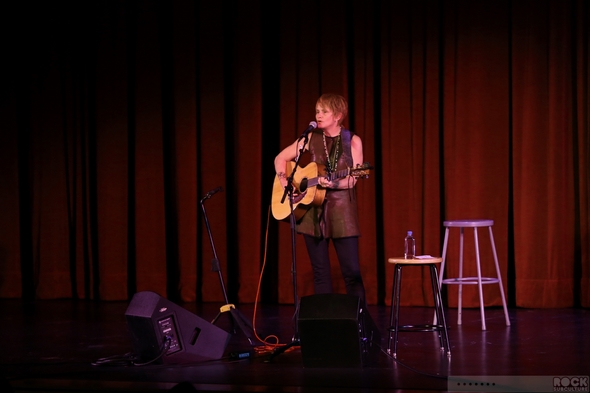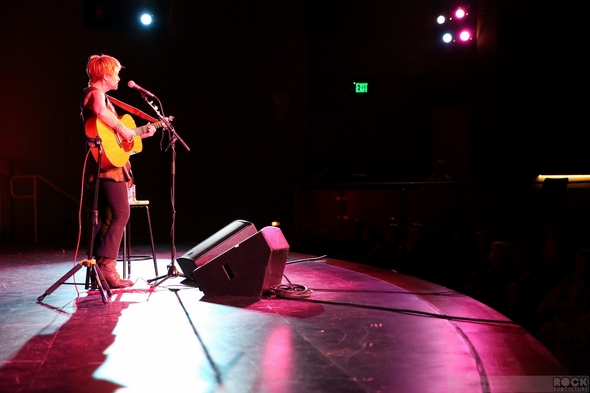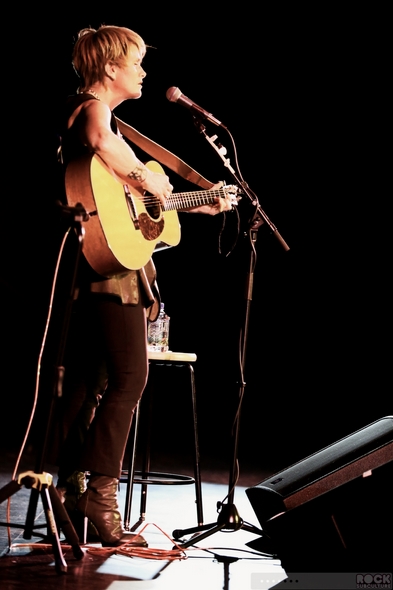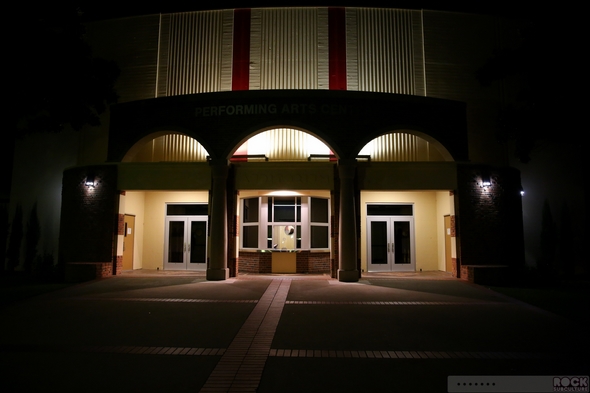 Jason DeBord