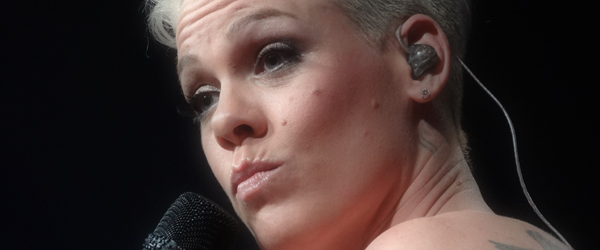 P!nk's "The Truth About Love" tour is part pop/rock concert, part carnival, part dance revue, part live movie, and part acrobatics.  It's such a tight and interactive event, most of it happens faster than you can really process it.  P!nk is like part rock star, part Olympian, and it's amazing how much energy she can put into the "show" part of the show and still manage to catch a breath to sing in addition to everything else.  But somehow she pulls it off, and of all of the artists touring today, makes use of a massive indoor arena to create both spectacle and up close and personal opportunities between her and her fans (no matter where they might be sitting or standing).  A really fantastic event, and pioneering way of building on great music with really unique and innovative performances.

Who: P!nk
Supporting: The Hives
Venue: HP Pavilion
Where: San Jose, California
Promoter: Live Nation
When: February 18, 2014
Seating: VIP GA Pit (against stage at end of ramp into pit)
As is becoming more and more a trend with big pop and rock acts, this was another show which featured "VIP" types of ticketing packages for placement and perks.  I know that there were non-VIP general admission tickets so for this event – so that fans could stand near the stage, rather than in the vast seated portion of the arena – but I never figured out when or where those were sold.
This was actually the first concert ticket I purchased for 2013 – way back in September!  The seating chart for the show illustrated a really unique ramp protruding from the main stage, with a small GA pit all around, so that to me was an appealing offering.  All in all though, this VIP package including not only a GA Pit ticket but early entry, as well as a nice bundle of swag (including a huge blanket):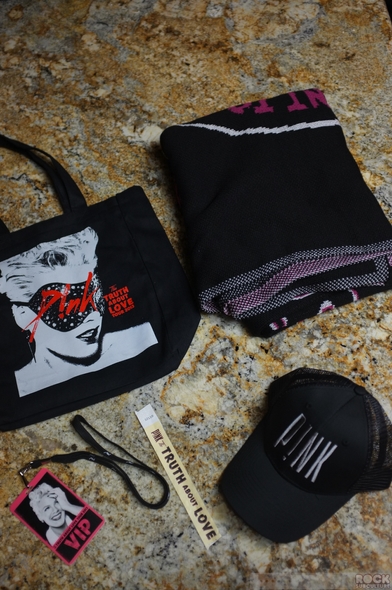 Because of the set up of the stage, this was a no pro photography tour (no photo pit – the audience is right up against the stage and ramp), so I shot this show from the audience.
The organization of the VIP and entry into the pit was all well organized and smooth.  P!nk is one of those artists with really dedicated fans, so it was fun chatting with others waiting in line.
When we were eventually led into the GA Pit, it was a pretty awesome set up, and I think everyone who was a part of it had a lot of options as far as where to stand, and it wasn't the typical "mad dash", as honestly there really wasn't a bad spot anywhere, as it was so small.
I choose to grab a spot at the very end of the ramp/heart.  The ramp part of the stage was about shoulder height for me (I'm 6′ tall); some of the shorter people around me could not see the top of it, but I could easily, so it really depends on how tall you are.  There is a rail hanging on the side all the way around, but the audience was pretty much right up against the ramp potion of the stage.  The stage proper was higher.
The Hives
Members
Howlin' Pelle Almqvist
Nicholaus Arson
Vigilante Carlstroem
Dr. Matt Destruction
Chris Dangerous
The Hives are a Swedish garage rock band that were part of the garage rock revival about ten years ago, though they've been active since 1993.
The band is best known for their second studio album, Veni Vidi Vicious, and their song "Tick Tick Boom".
I've followed this band a bit but never seen them live.  They are really a lot of fun, with good energy and self deprecating humor.
The band are all dressed in tuxedos, with a puppetmaster and faux strings as backdrop.  They also have some roadies on stage to assist with their cabling…  and of course they are dressed as ninjas (!).
I initially thought the pairing of The Hives with P!nk was an odd choice as an opening act, but really I think it set the right tone and somehow it all really makes sense.  P!nk has in my mind always been kind of an alternative pop, and in light of that, I think the choice reflects her own unique taste in music.
My friend Anna managed to pick up one of the set lists, pictured below: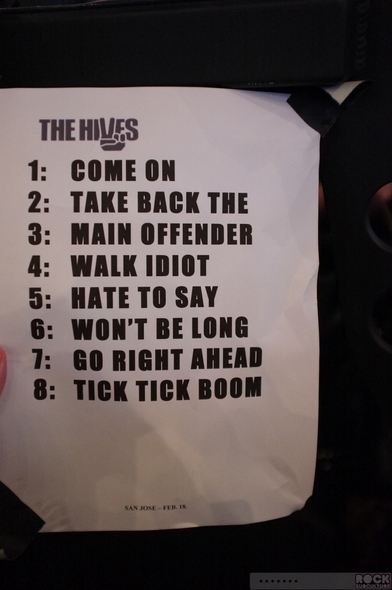 Set List:
Come On!
Take Back the Toys
Main Offender
Walk Idiot Walk
Hate to Say I Told You So
Won't Be Long
Go Right Ahead
Tick Tick Boom
Below is a video of The Hives performing "Tick Tick Boom", in extended format as the wrapped up their set:
Below are some photos of The Hives performing on stage (click any image to jump to higher resolution photo):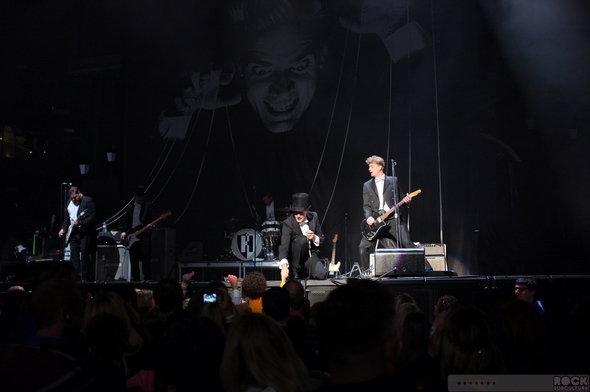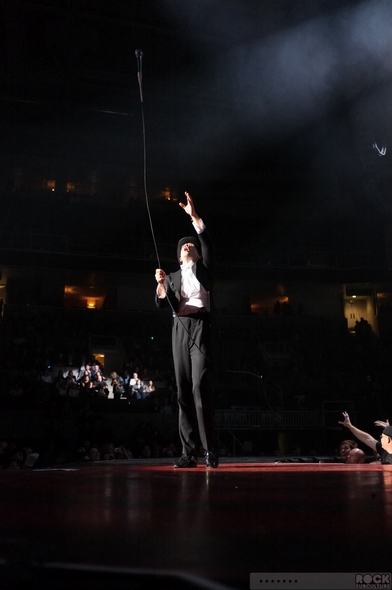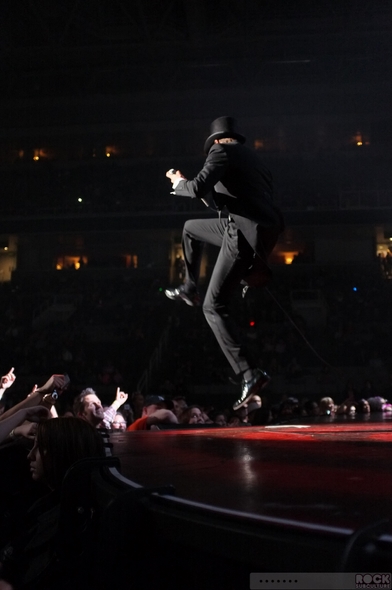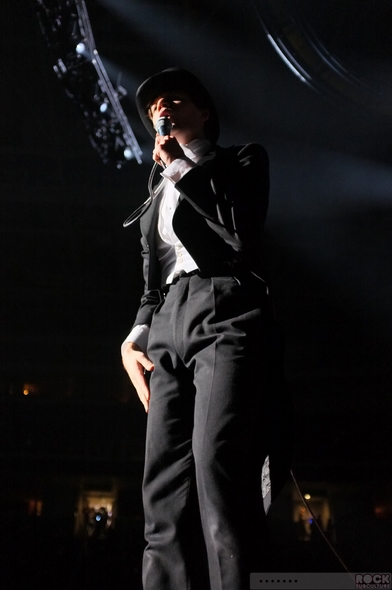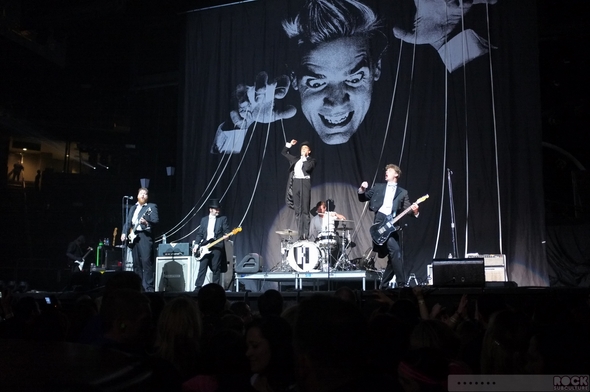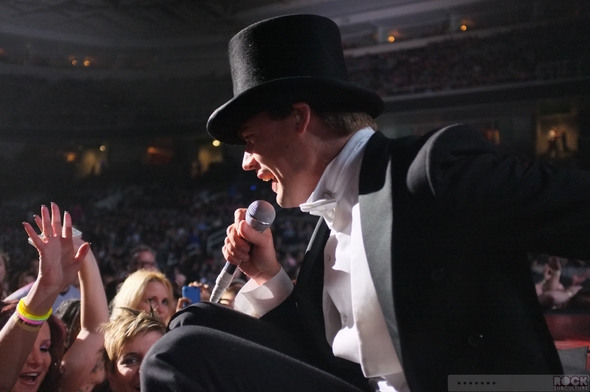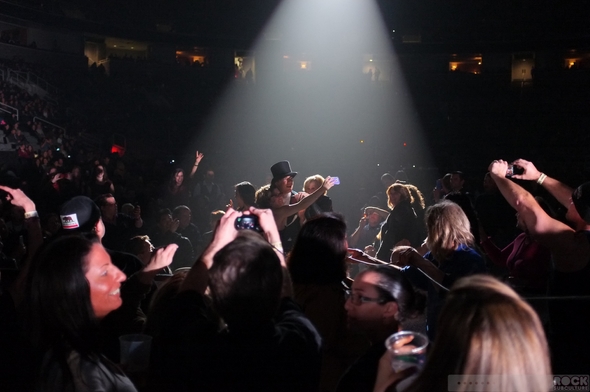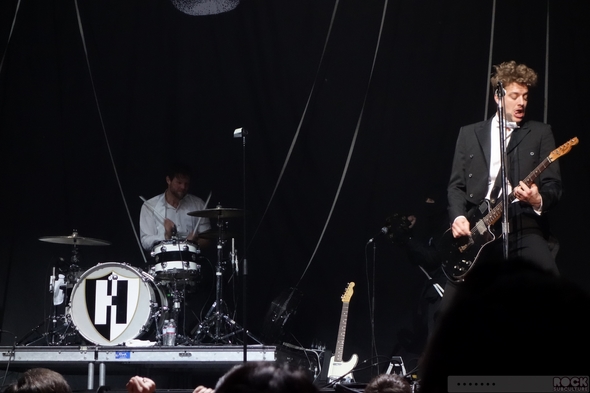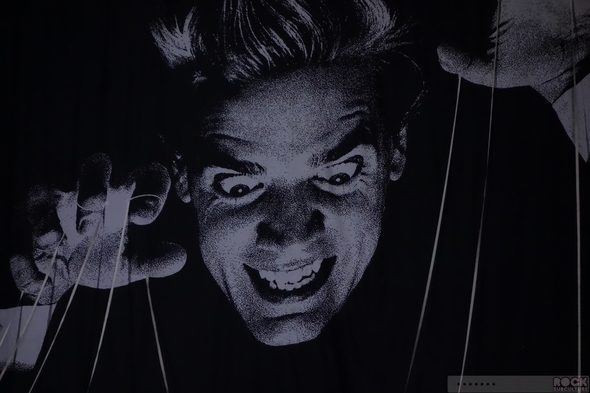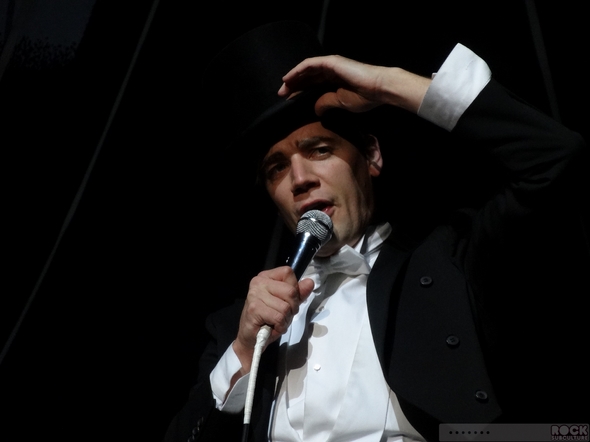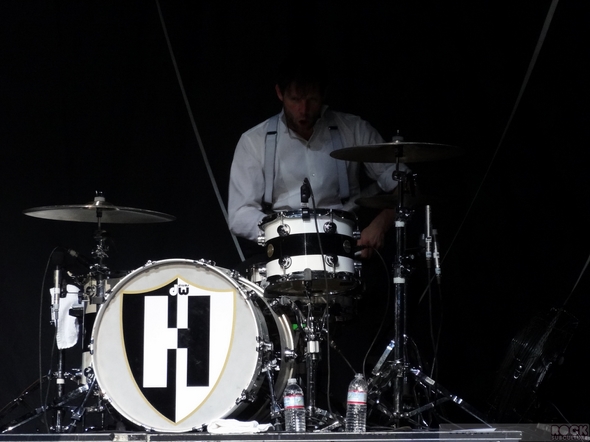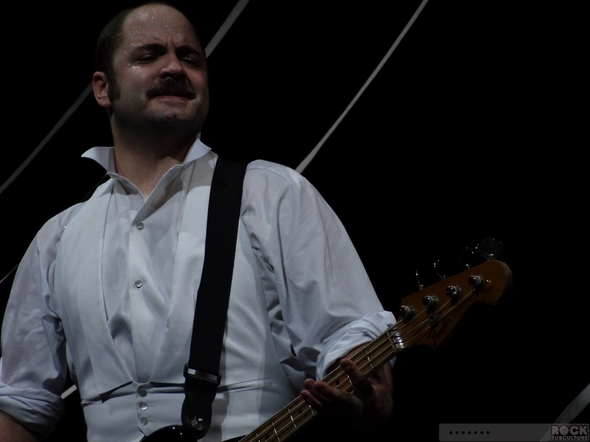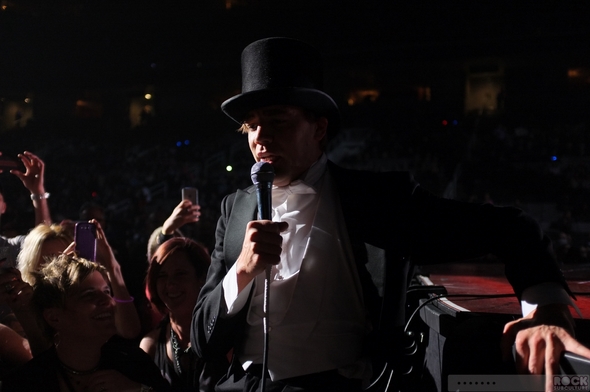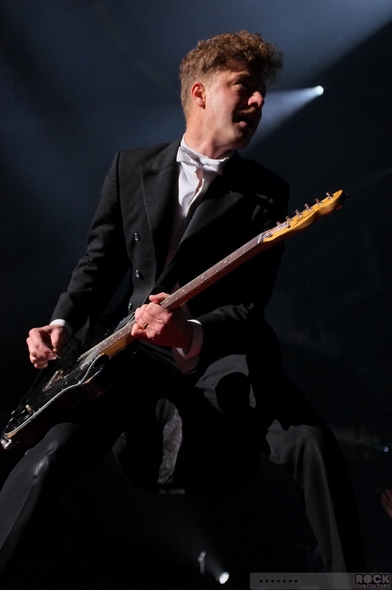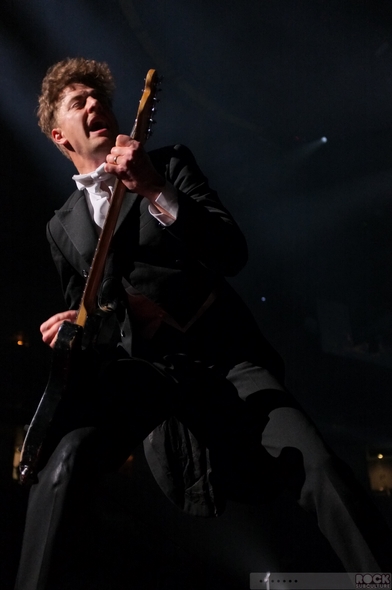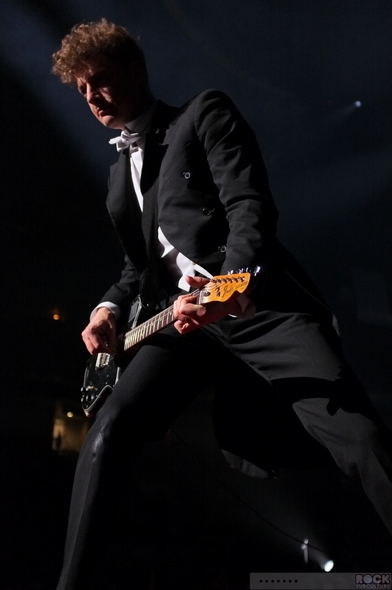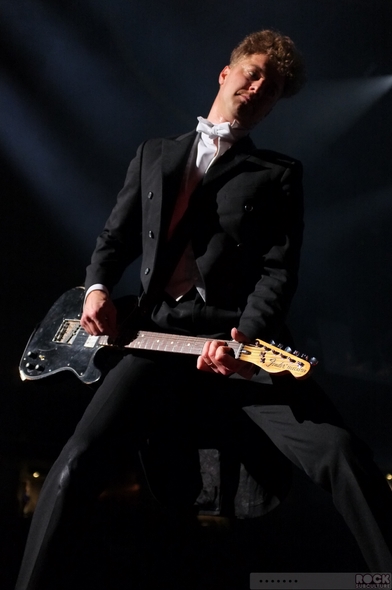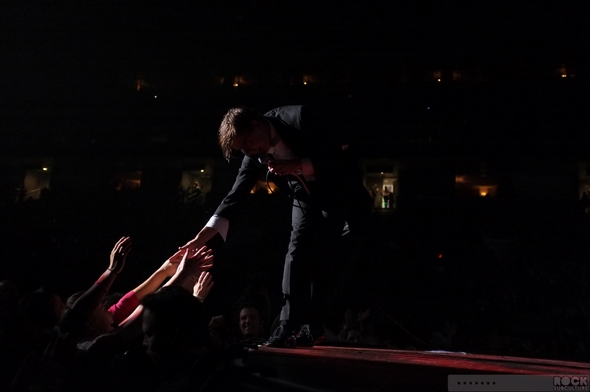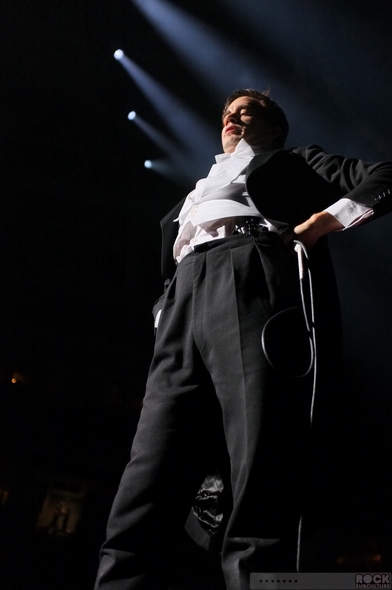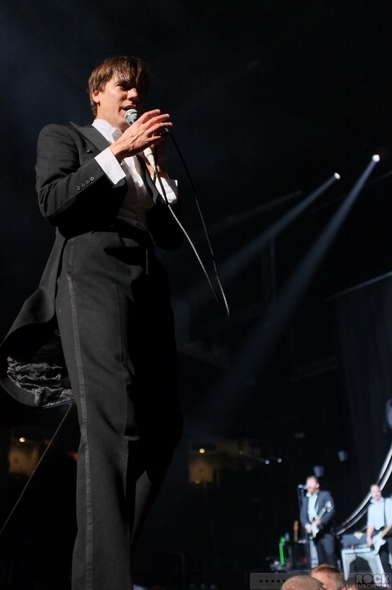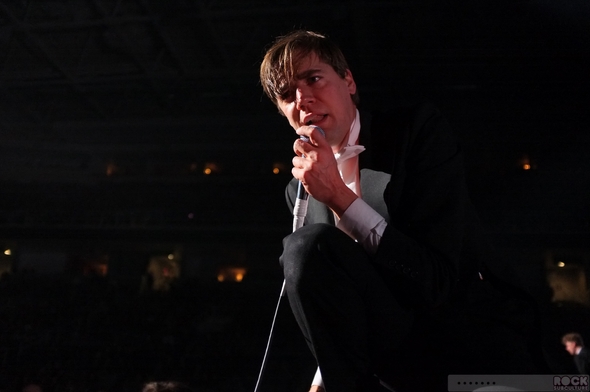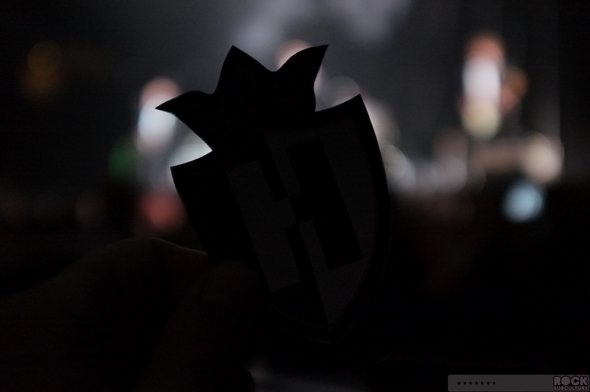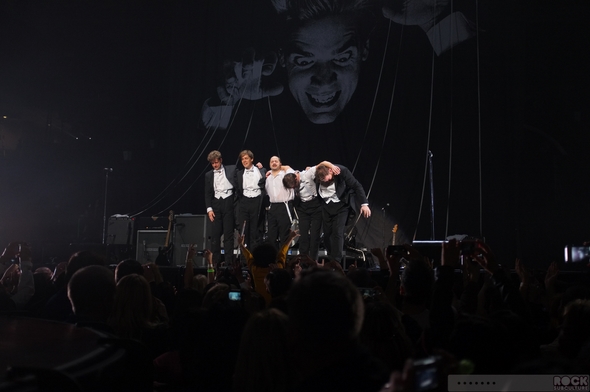 P!nk
Born Alecia Beth Moore, the Grammy-winning singer-songwriter P!nk is known by her stage name that she adopted when she was only 14 years old.  She has sold over 40 million albums to date, and is one of the most recognizable pop stars today.
This marks P!nk's first return to touring since 2009's "Funhouse", which also featuring high energy acrobatics, and her "Glitter In The Air" part that featured in 2010's Grammy Awards ceremony.  I believe HP Pavilion's capacity in last night's configuration accounted for upwards of 12,000 or more, and it was completely sold out.
Prior to the show started, an interesting character was roaming the vast arena, spotlighted and captured on video screen overhead, interacting with unsuspecting audience members to humorous effect.  Ultimately, the man known as Ruben made his way to the stage, in his stylish clown/carnival barker like attire.  His routine served as somewhat of a series of framing sequences for the show, part player, part MC.  P!nk's somewhat fantastical version of reality at that point blending into ours, taking us on an exciting and fun journey celebrating her music in an amazing way, refining and building upon ideas first launched in her "Funhouse" tour.
The event and theme borrowed heavily from P!nk's sixth studio album of the same name, which came out last September.  She has always consistently delivered hits, album to album, and the latest is no different, with great hooky/catchy (sometimes anthemic) tracks that reflect her unique personality.  P!nk has always come across as a "no bullshit" artist and both her music and her stage persona reflect her confidence and strength (literally and figuratively).
She is not only a talented singer-songwriter, but an amazing athlete, and her show is simply stunning.
While some of the songs feature amazing acrobatics, others complex dance numbers, she also took the time to slow things down for a few of the numbers, such as her cover of Chris Issack's "Wicked Game" and her own "Who Knew" for example (though the former featured a more ballet-like element, the latter was an acoustic rendition).  The was also a touching piano-only performance of "Family Portrait", which showcased images from her family.
With her hit "So What", P!nk launched from her platform out into HP Pavilion like a rocket, essentially flying (by aid of cables) throughout the full interior of the large arena.
The fairly long set closed out with "Glitter in the Air", with P!nk suspended literally directly above me for much of it, after going through the center of the heart at the end of the ramp/walkway into the GA Pit and then coming back up dripping wet…  as she passed over, I got pretty wet myself, and if you scroll to my images at the bottom of the article you will see why.
All in all, a very impressive show.  Among her peers, I would put P!nk at the forefront of artists who put real effort into the art outside of (that accompanies) their music and employs innovation in delivering an eventful show to their fans.  Her love of her fans really comes through in her concert, and from talking with many of them before and after, it would seem to be reciprocal.
My friend Nick got one of the set lists from the show, pictured below: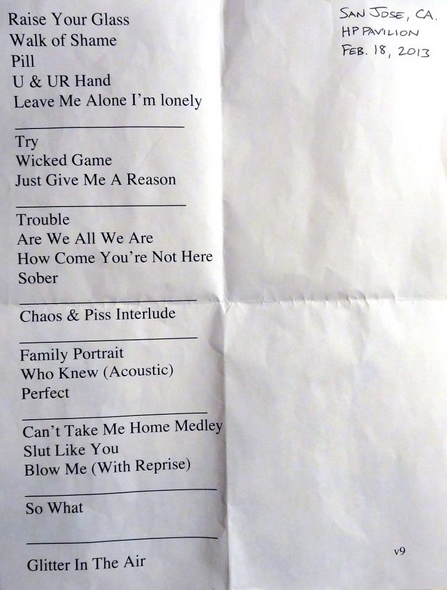 Set List:
Raise Your Glass
Walk of Shame
Just Like a Pill
U + Ur Hand
Leave Me Alone (I'm Lonely)
Try
Wicked Game
Just Give Me a Reason
Trouble
Are We All We Are
How Come You're Not Here
Sober
Family Portrait
Who Knew
Fuckin' Perfect
Can't Take Me Home Medley
Slut Like You
Blow Me (One Last Kiss)
Encore:
So What
Glitter in the Air
Below are a few videos I shot of the performance…
"Wicked Game"
"Are We All We Are"
"Sober"
"So What"
Below are some photos of P!nk performing on stage (click any image to jump to higher resolution photo):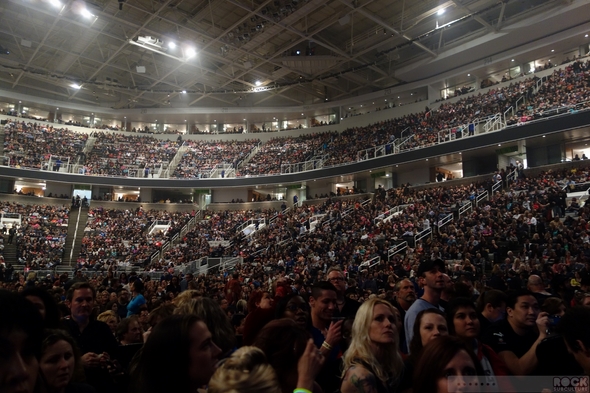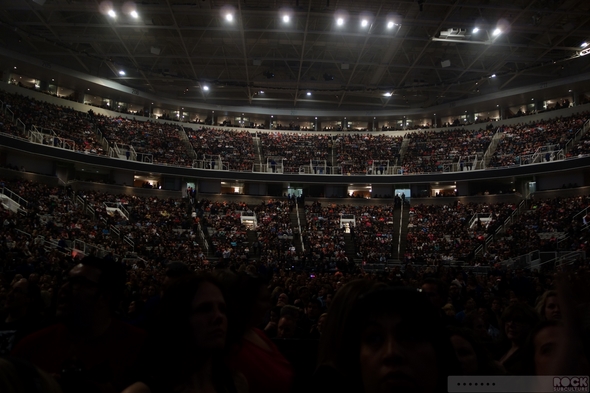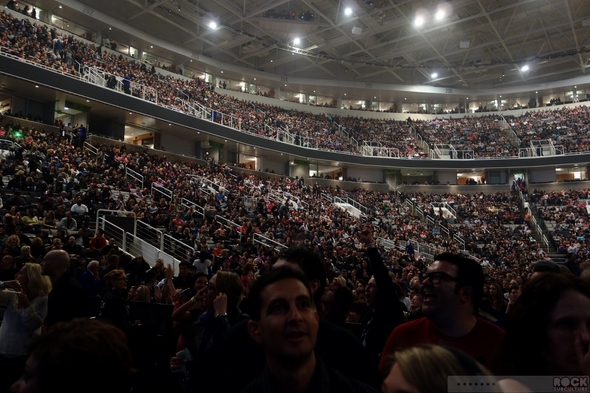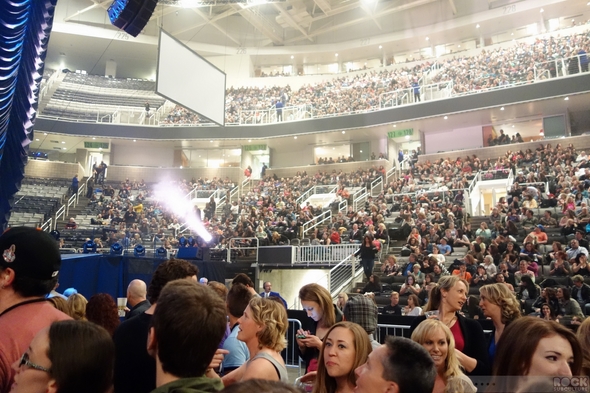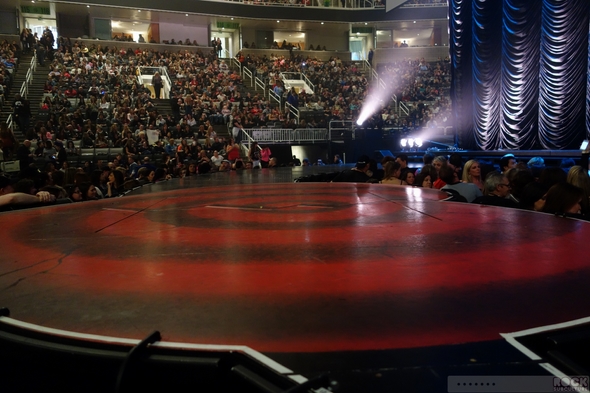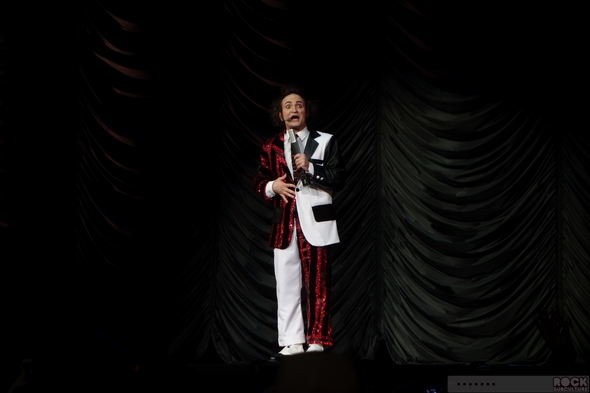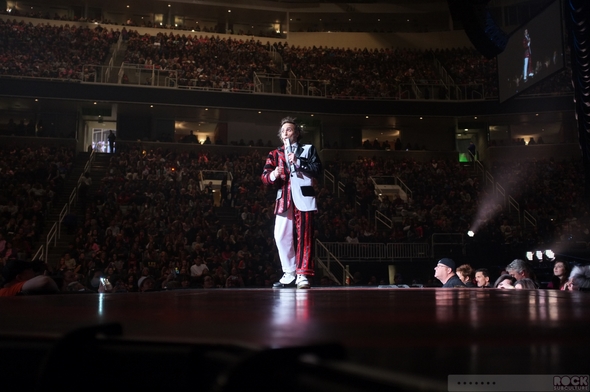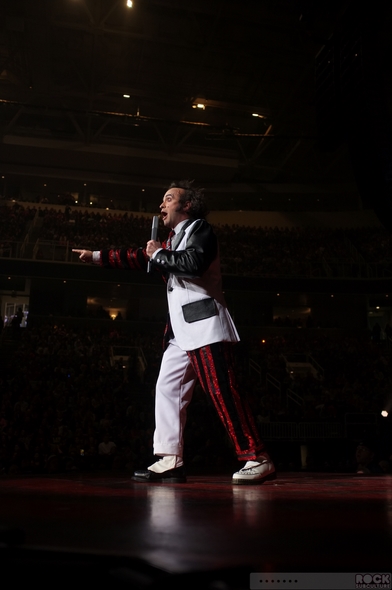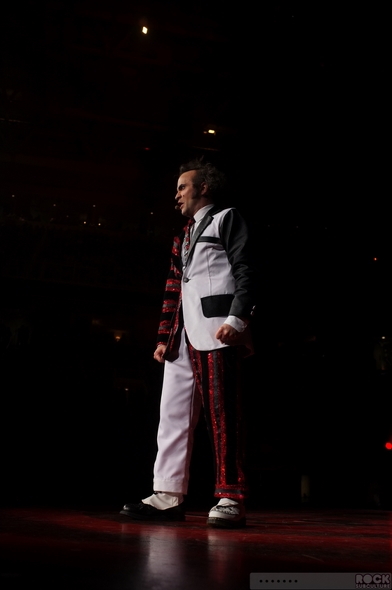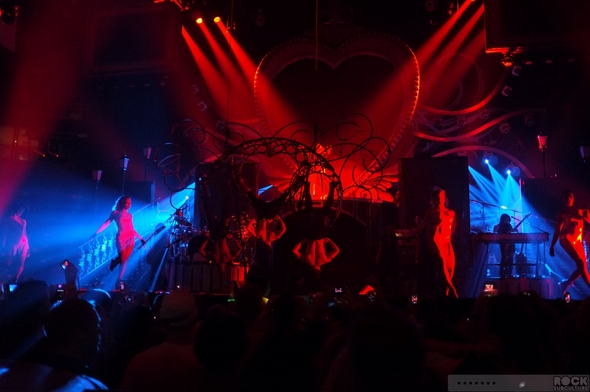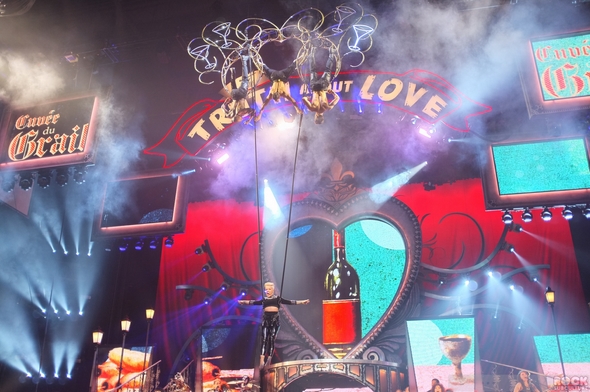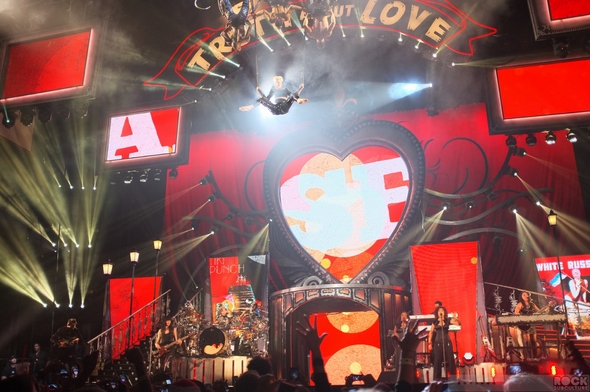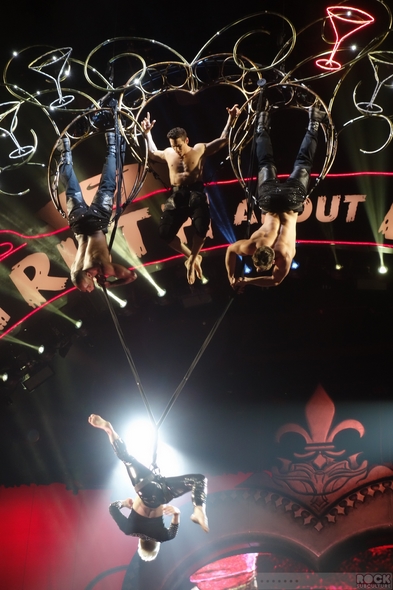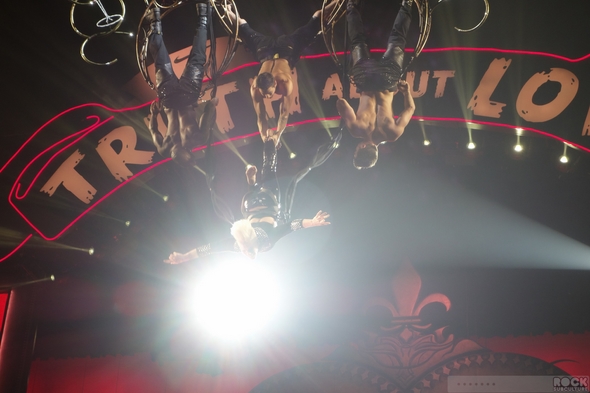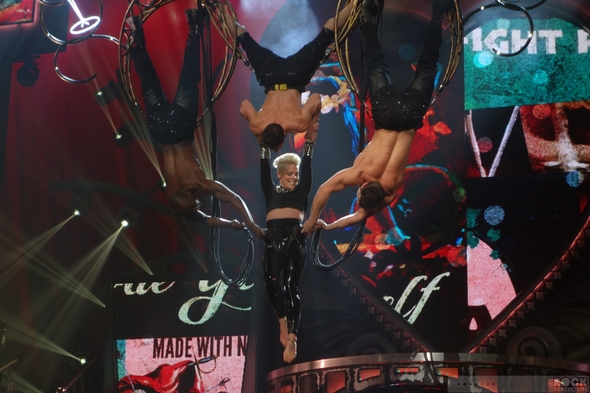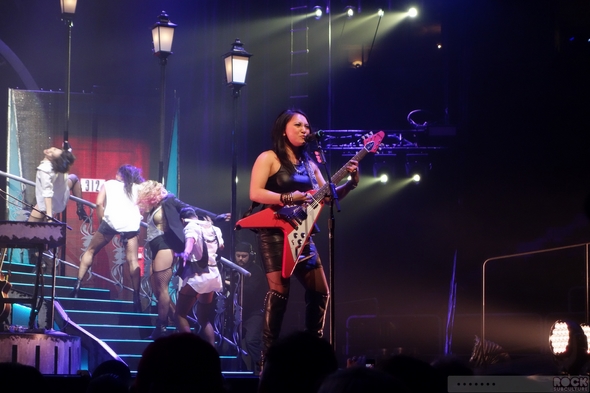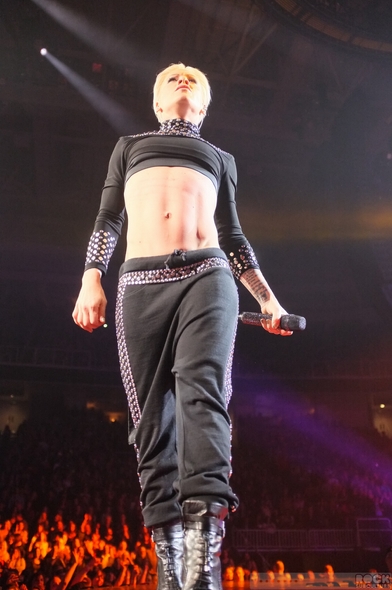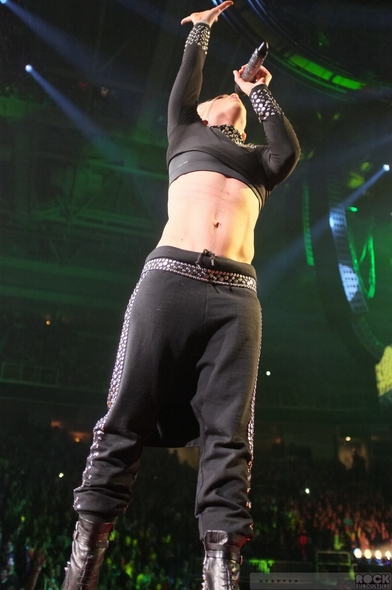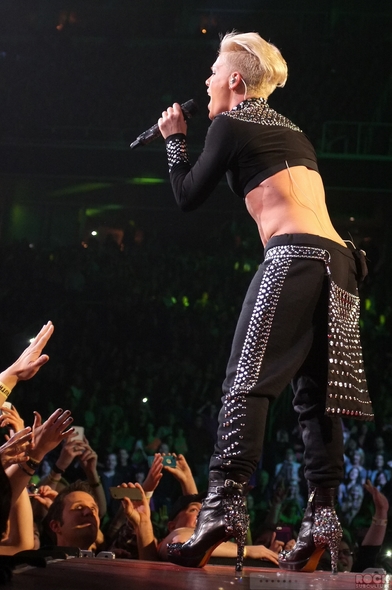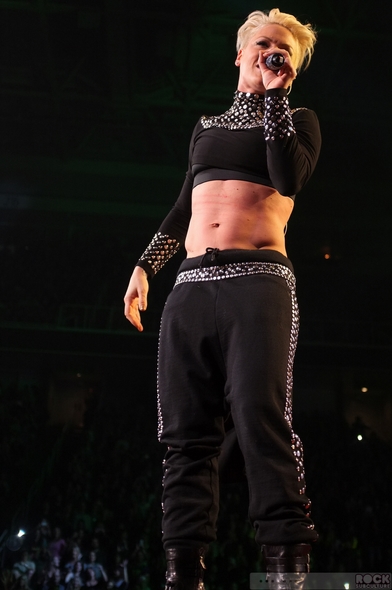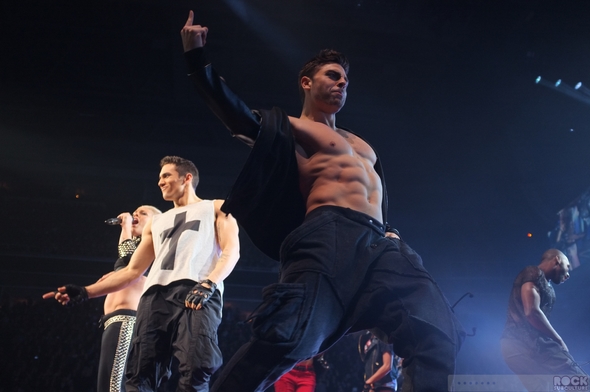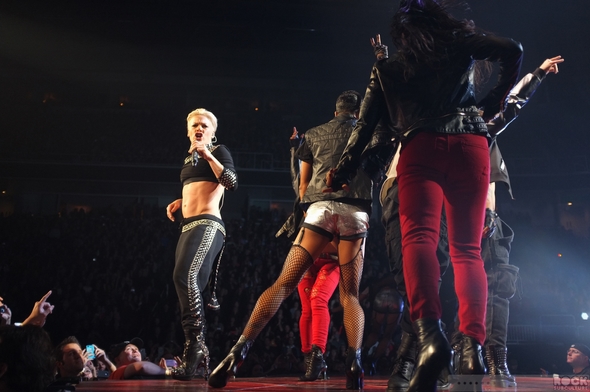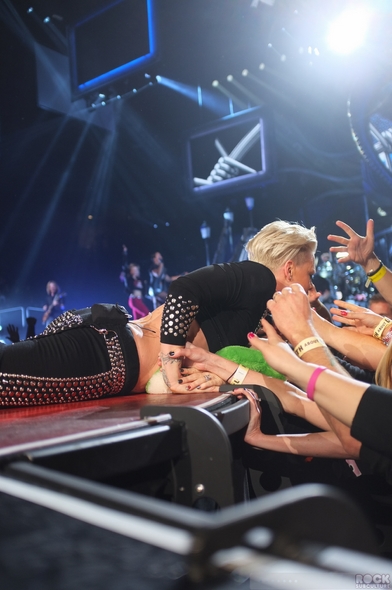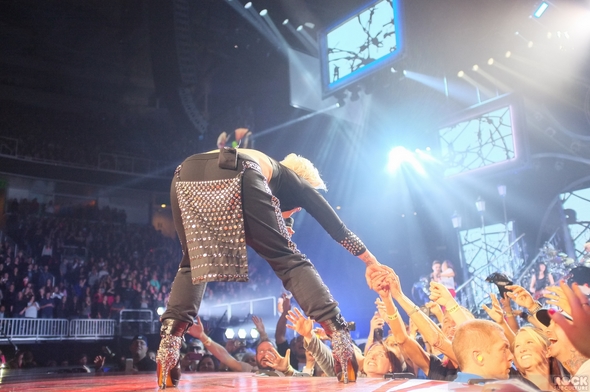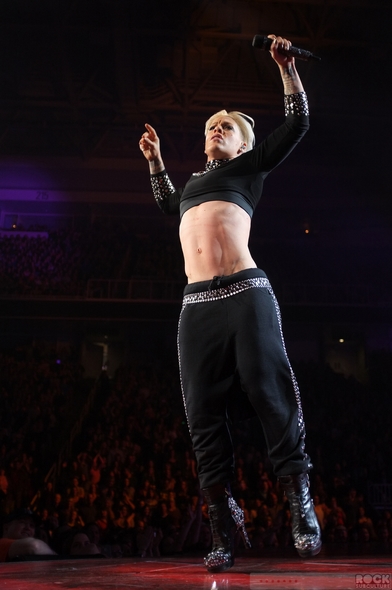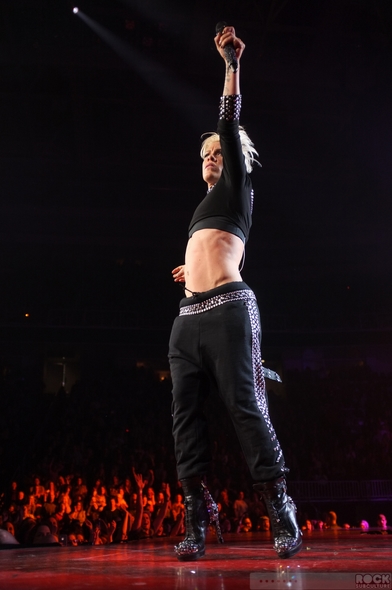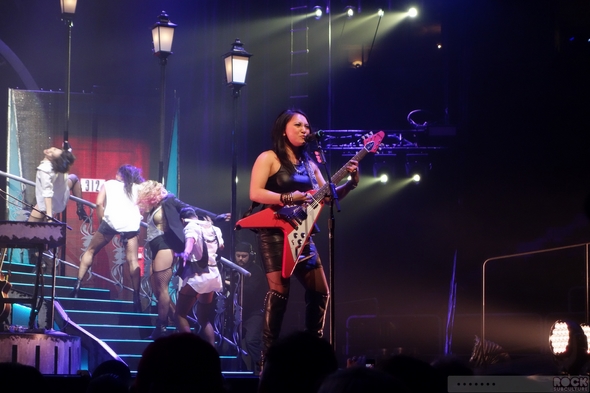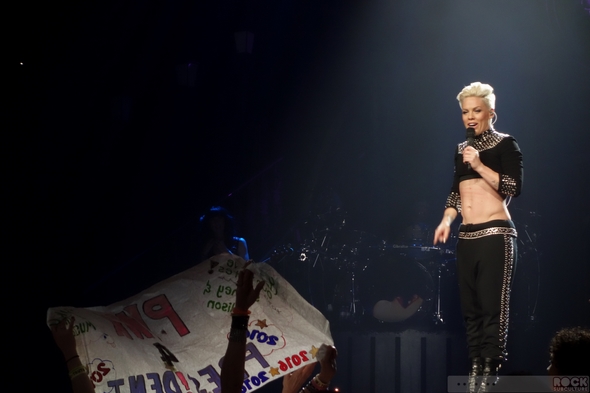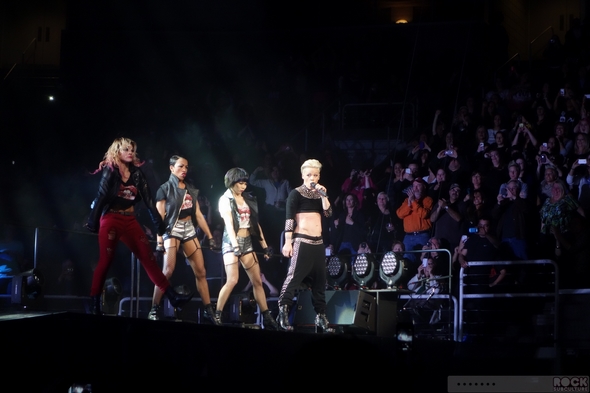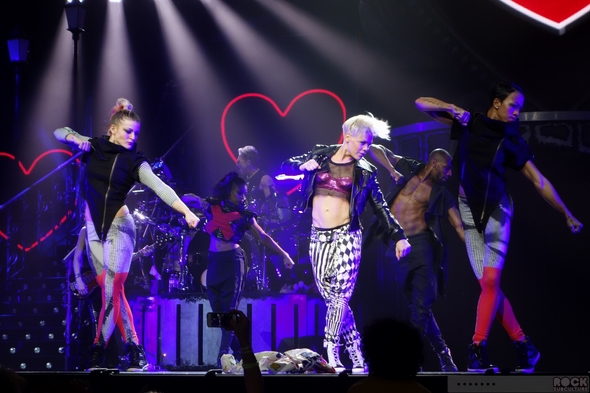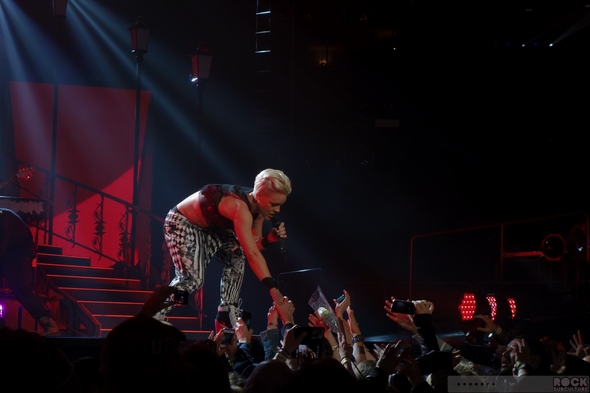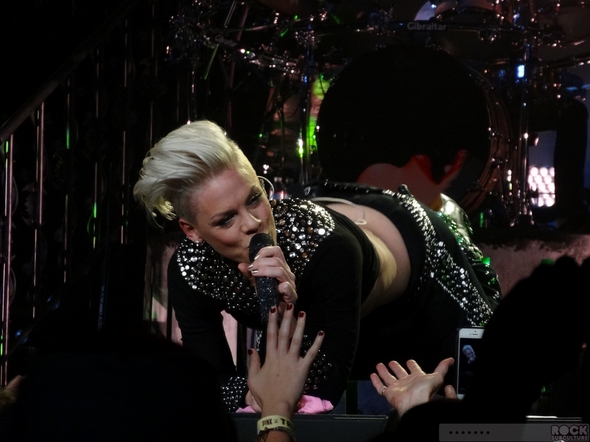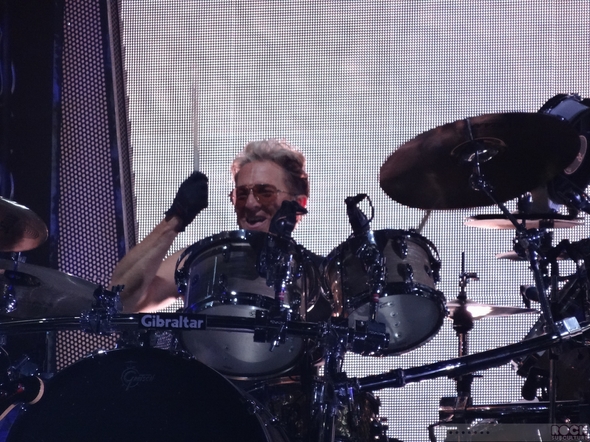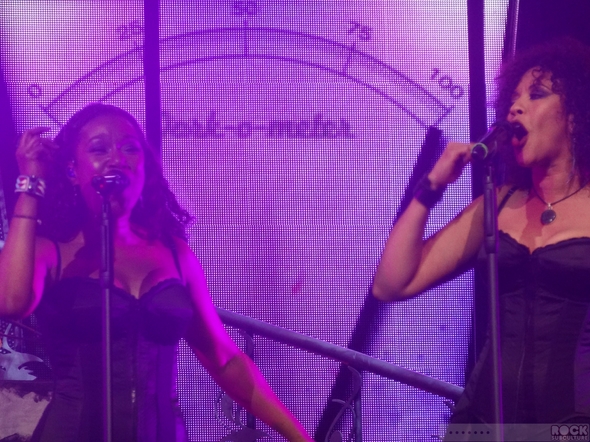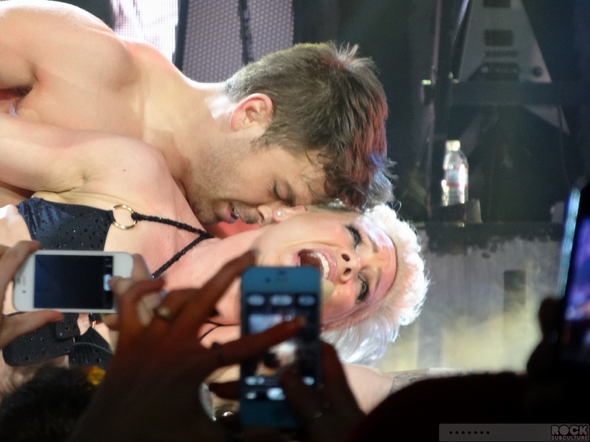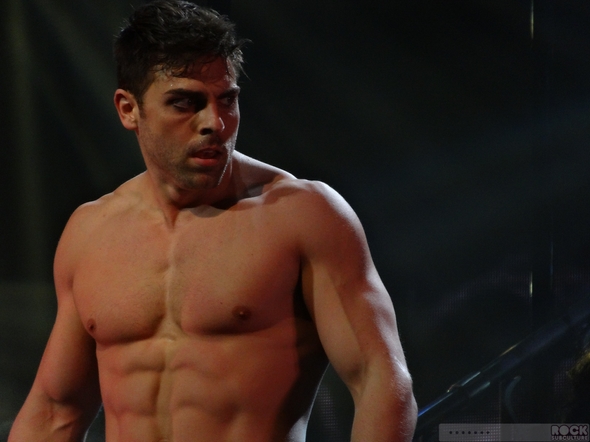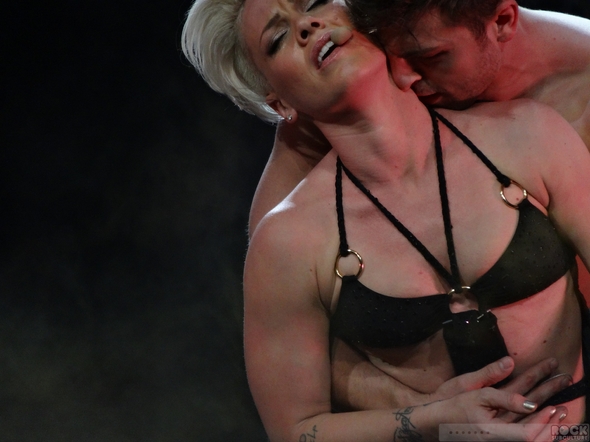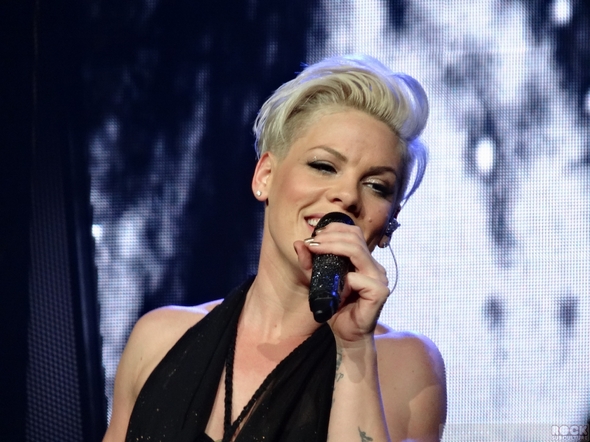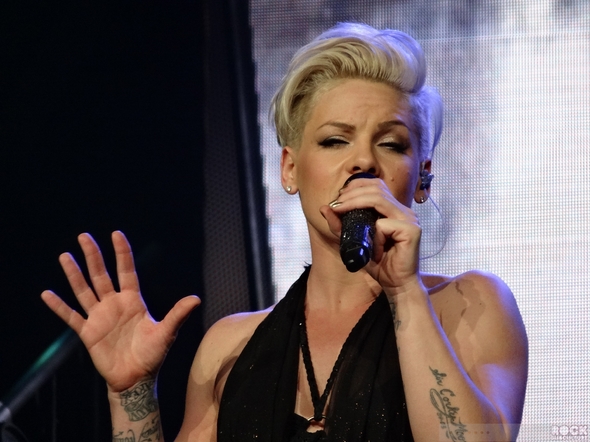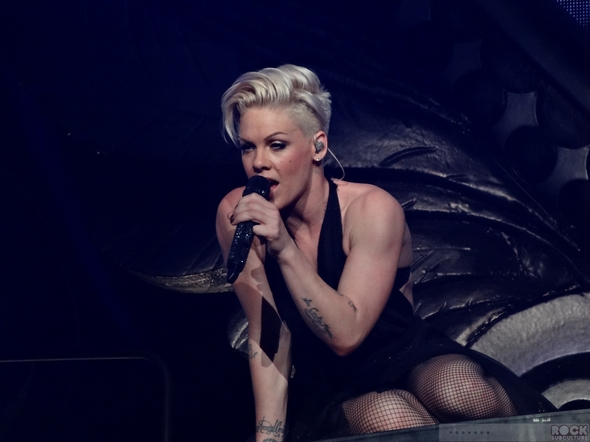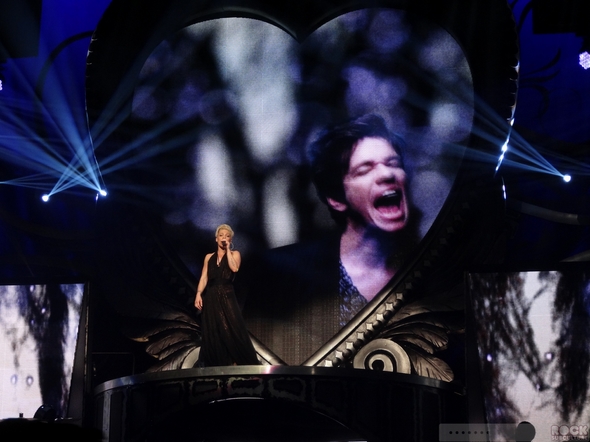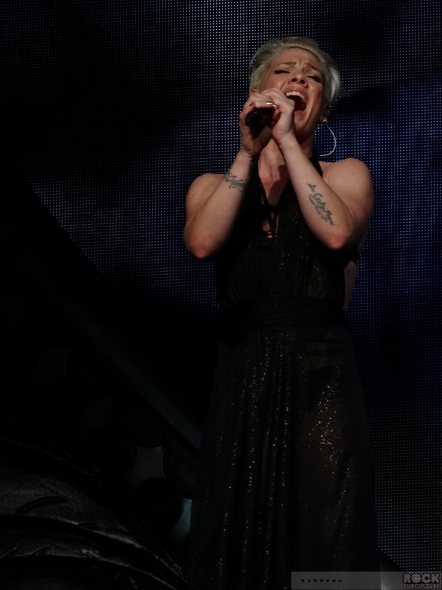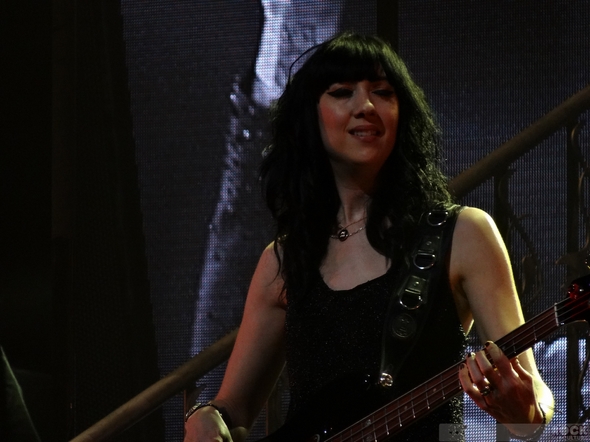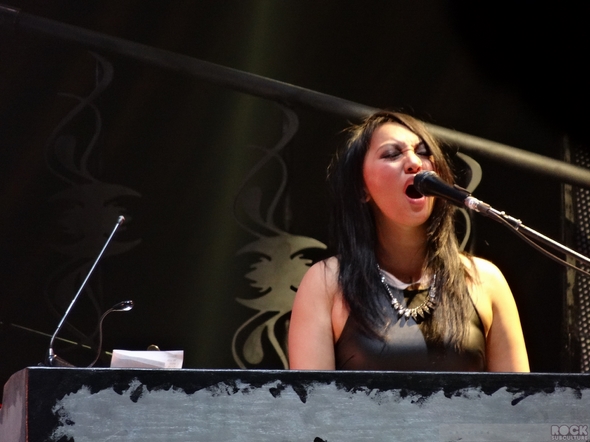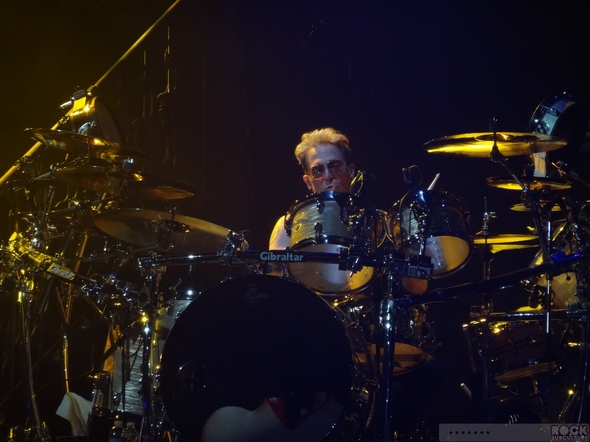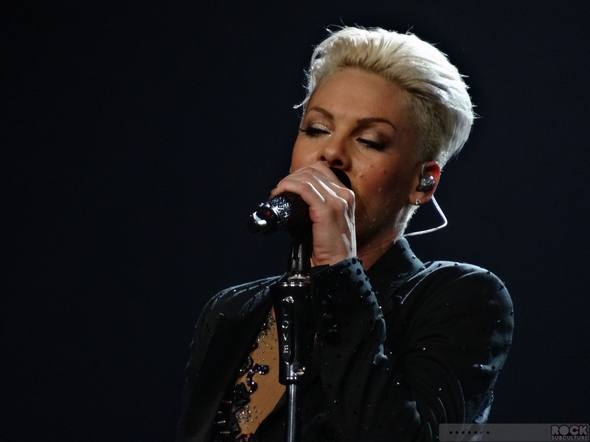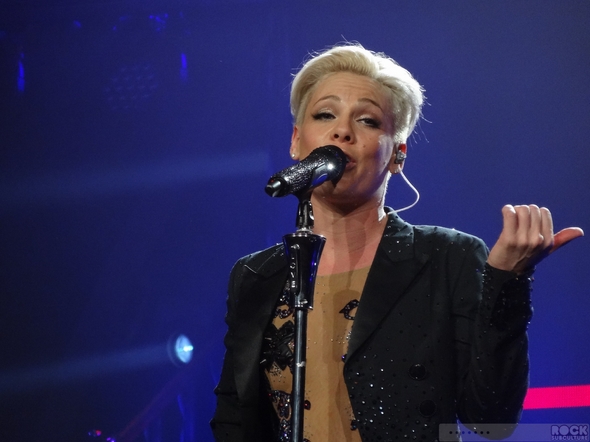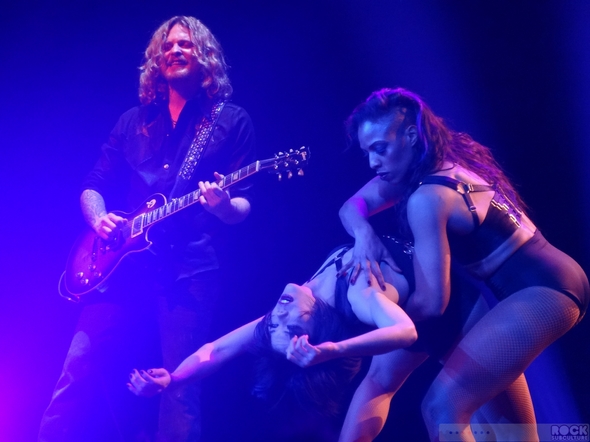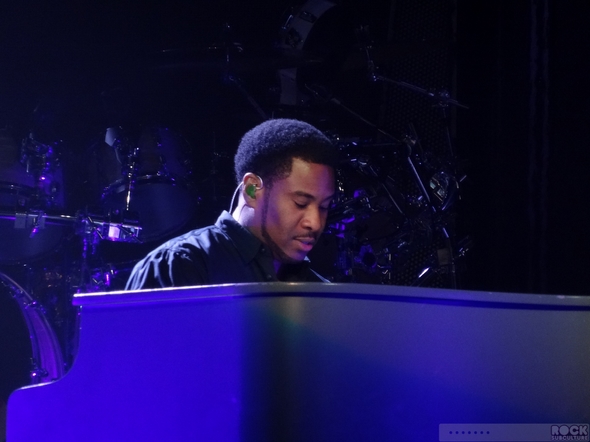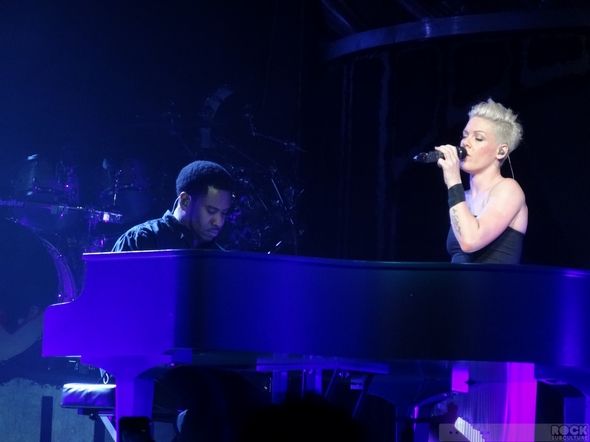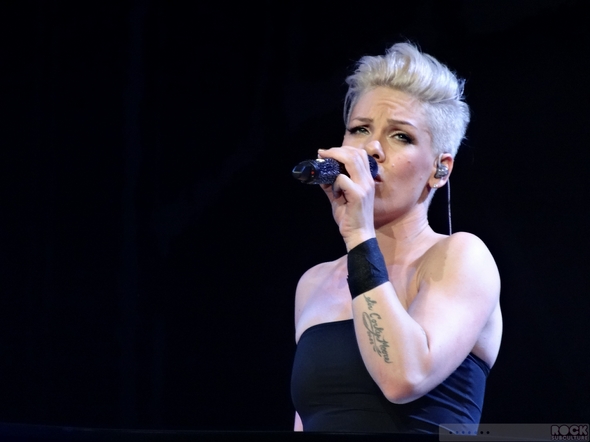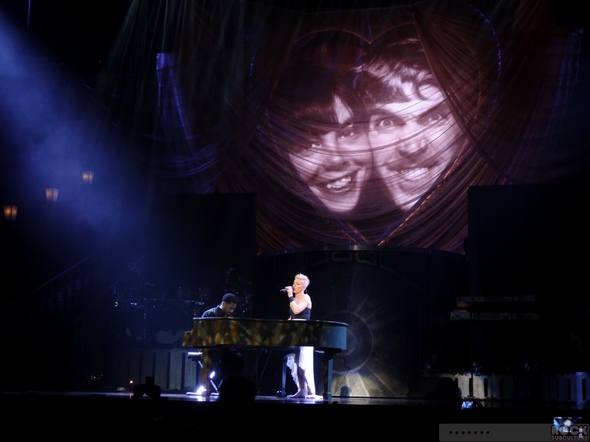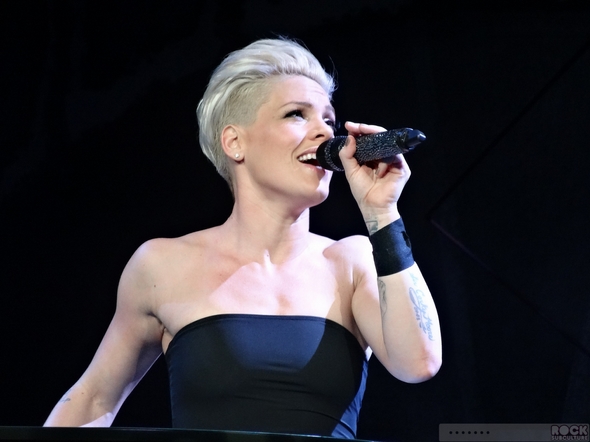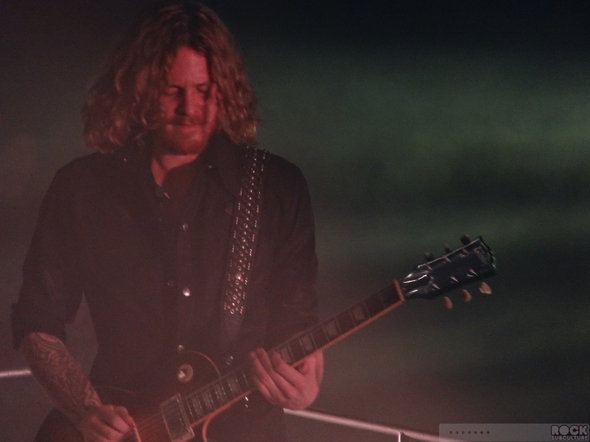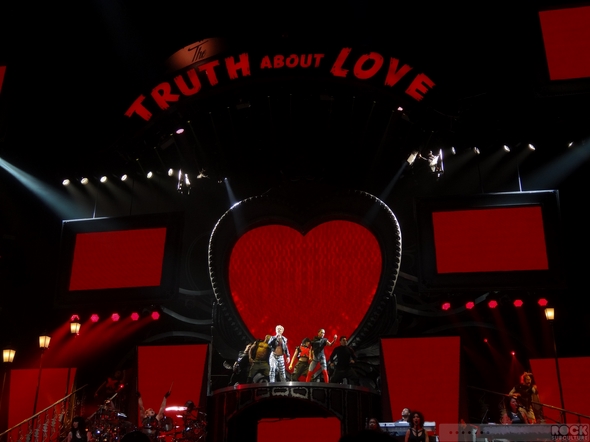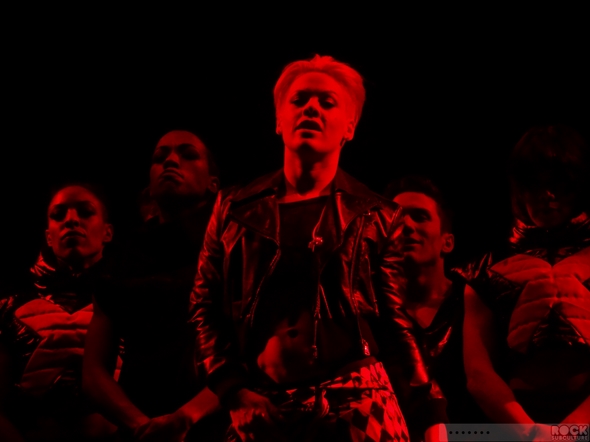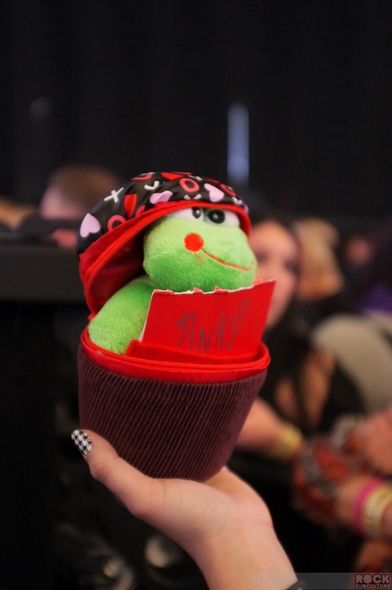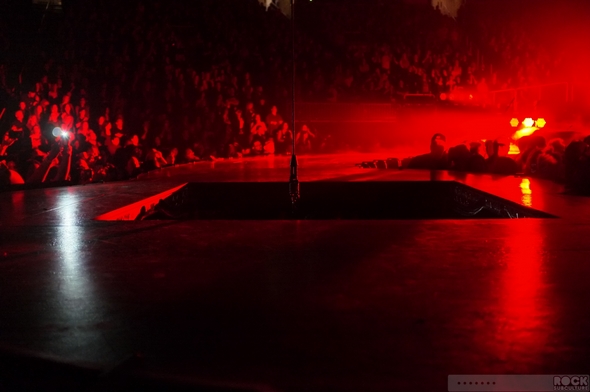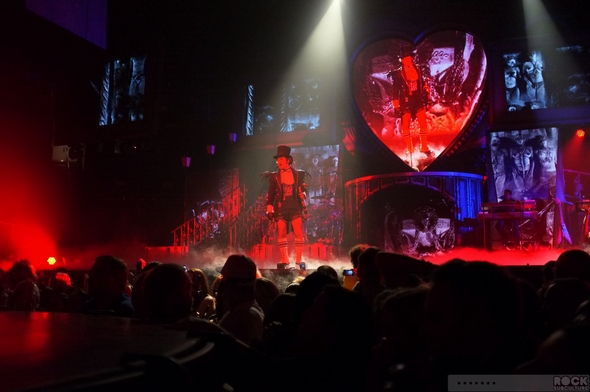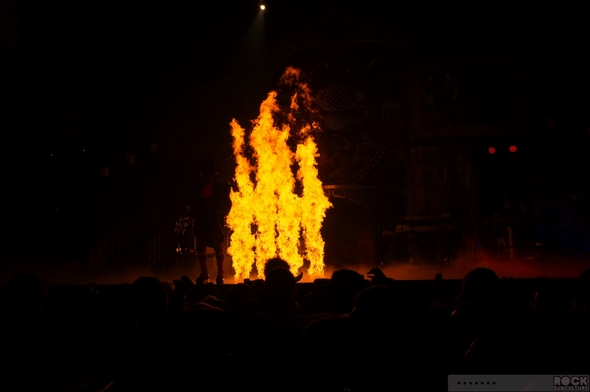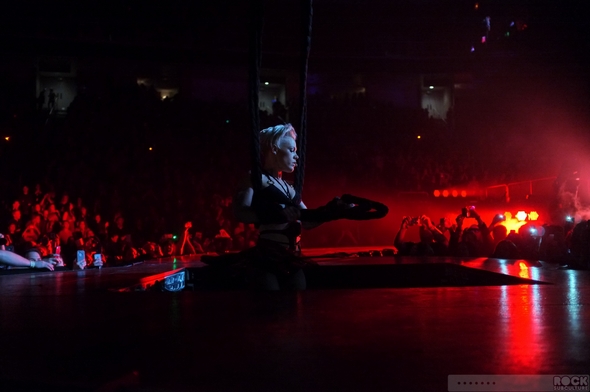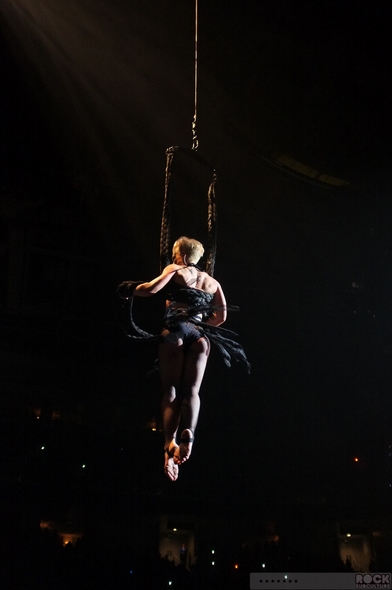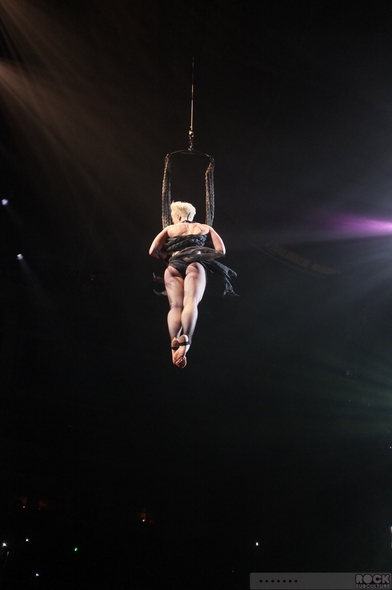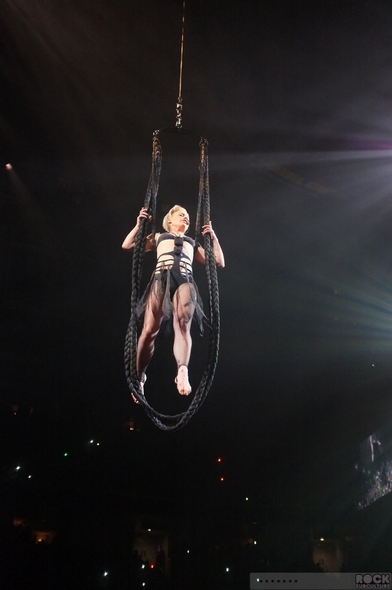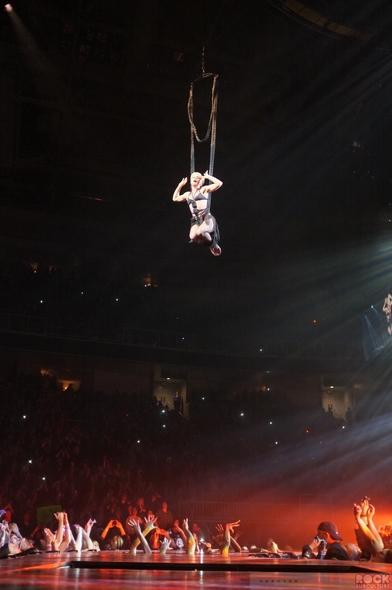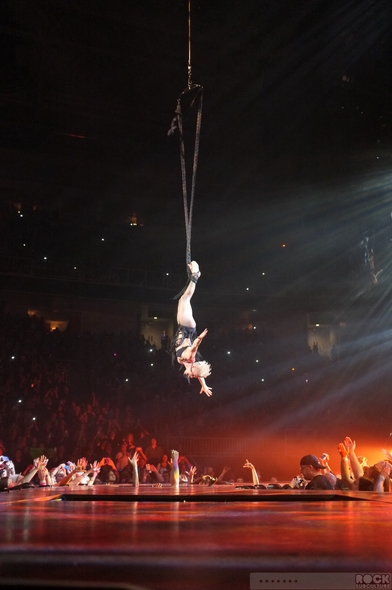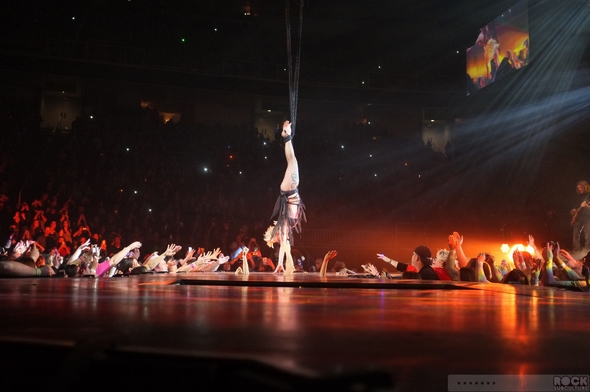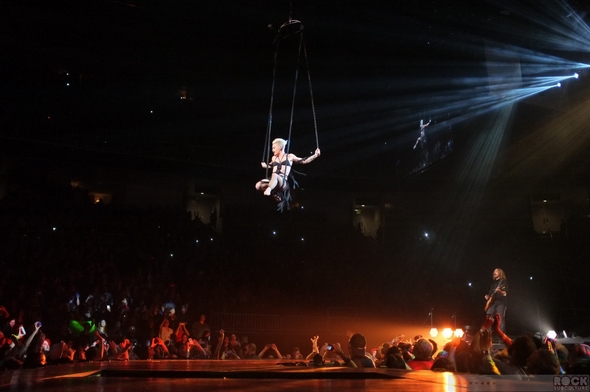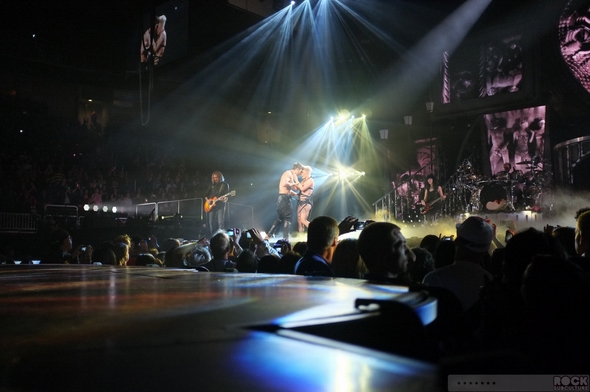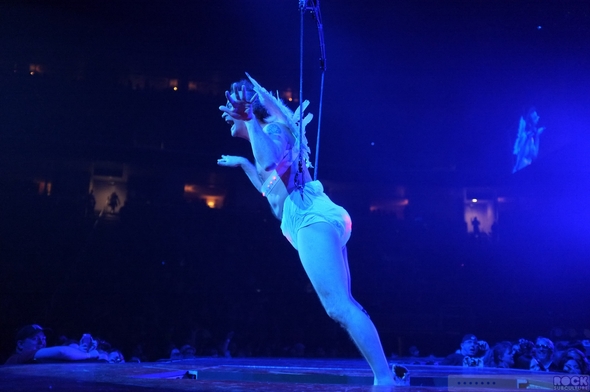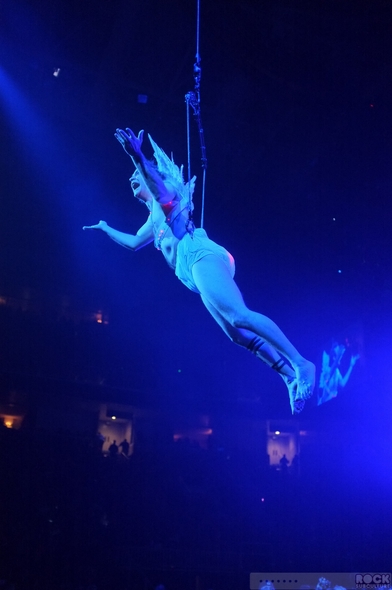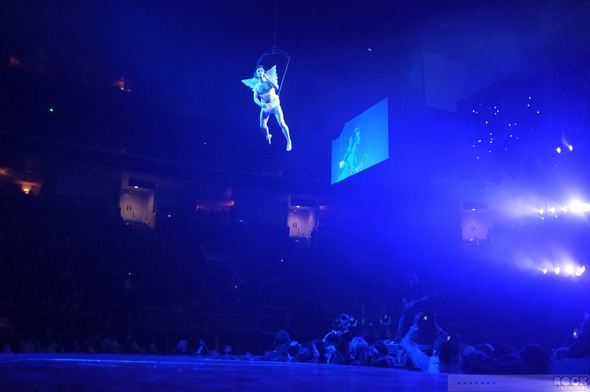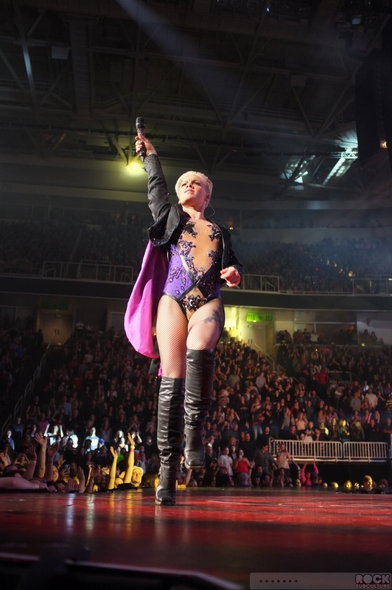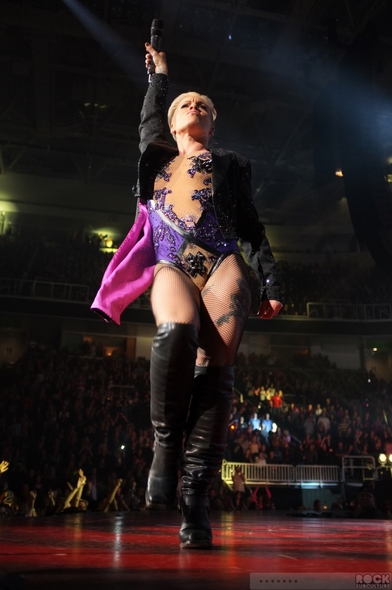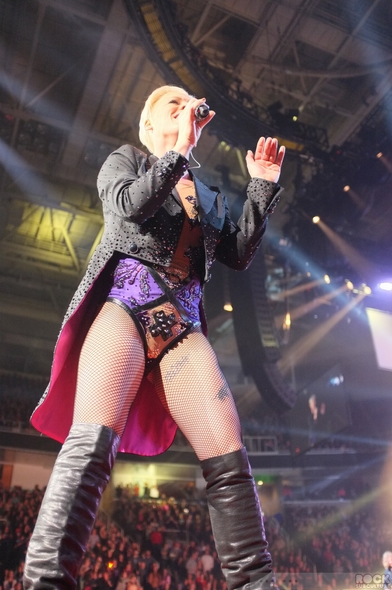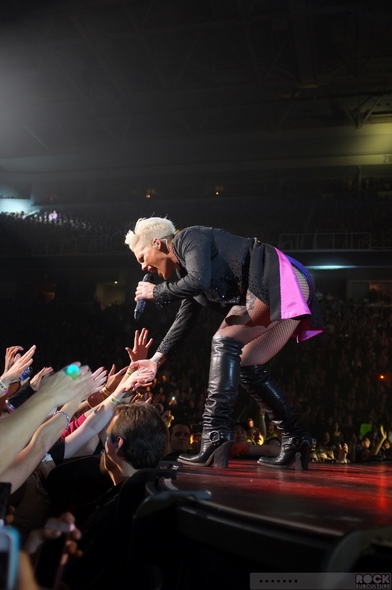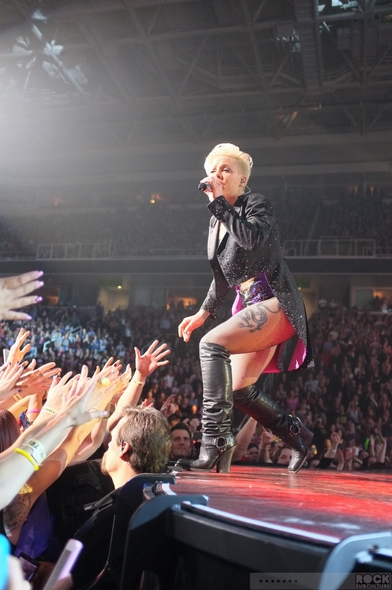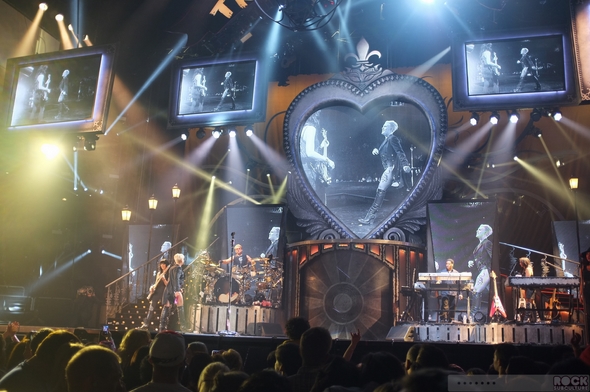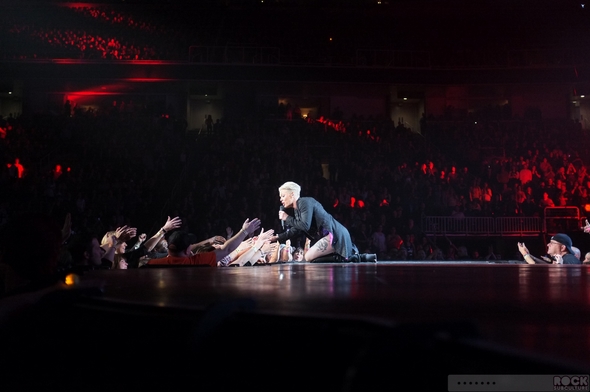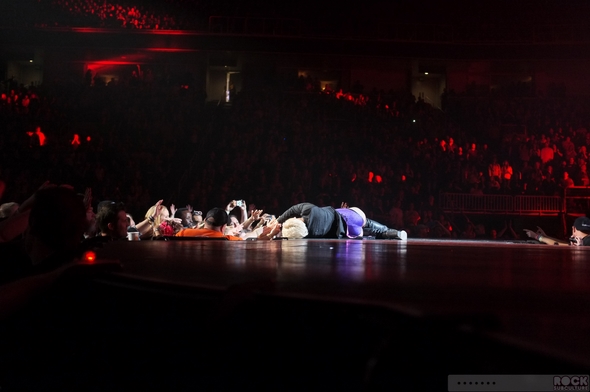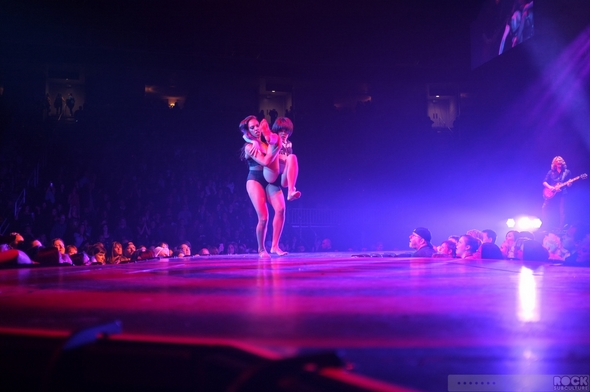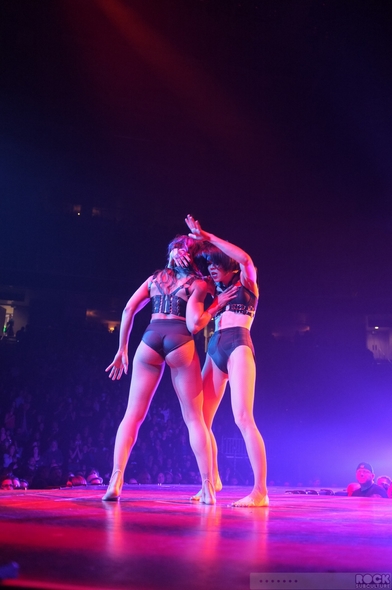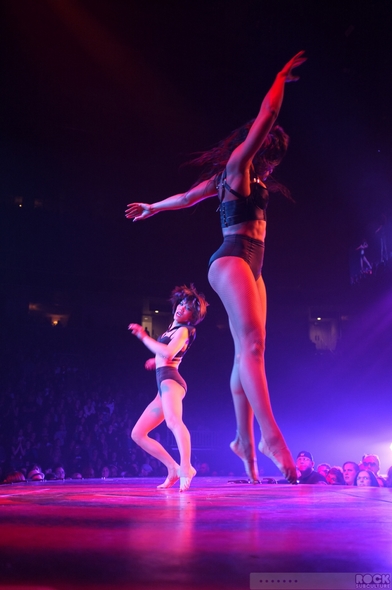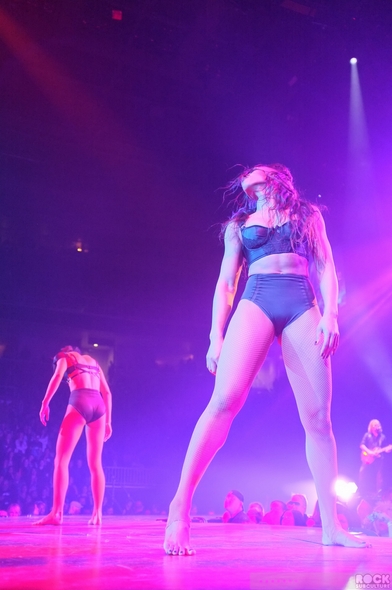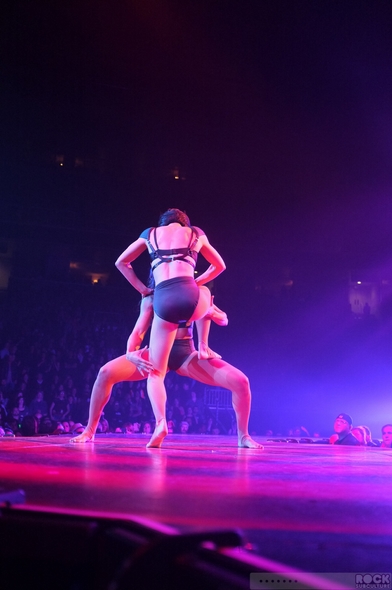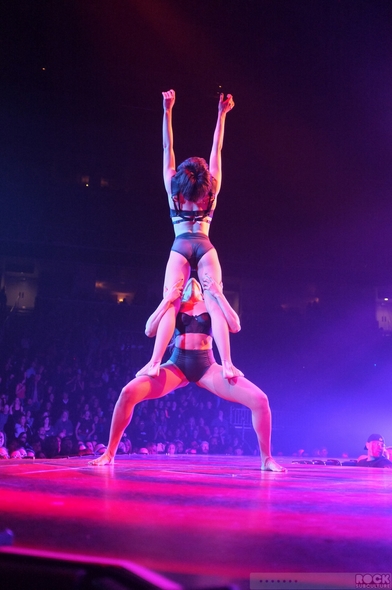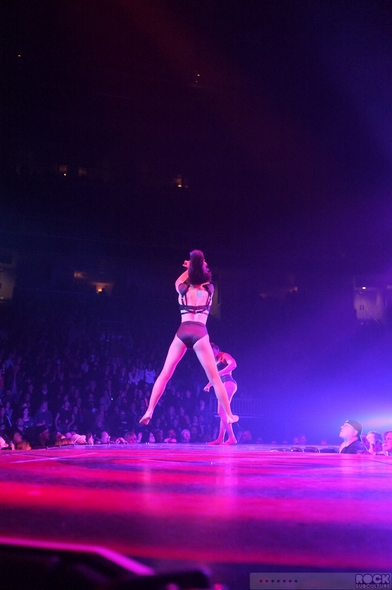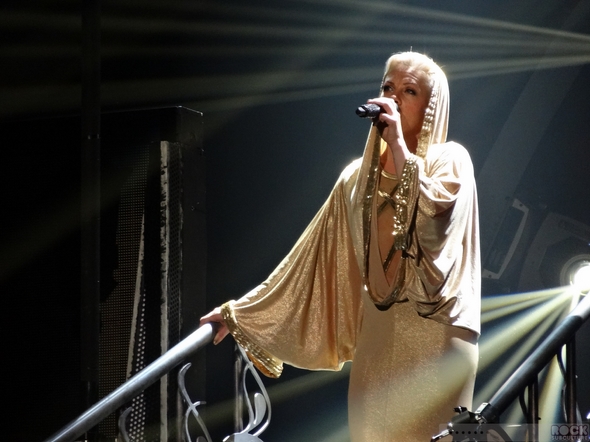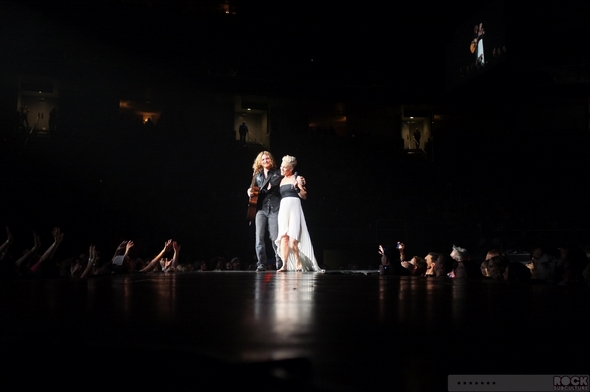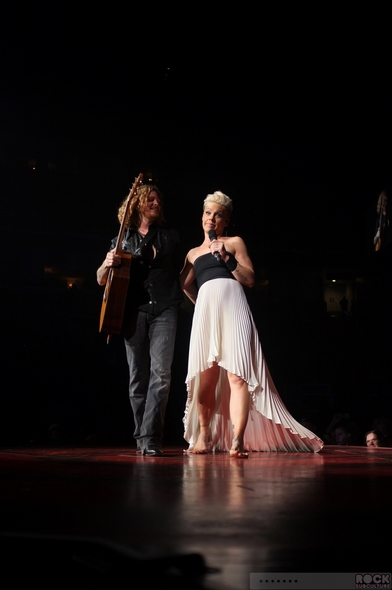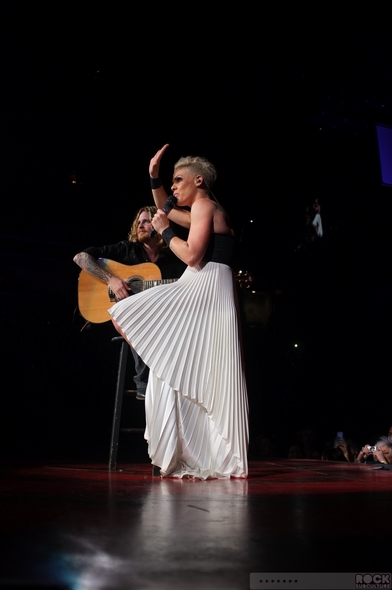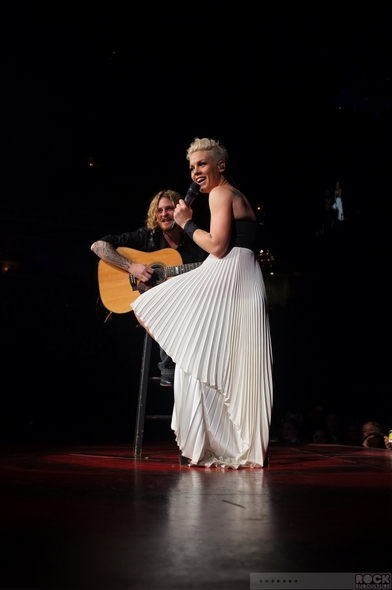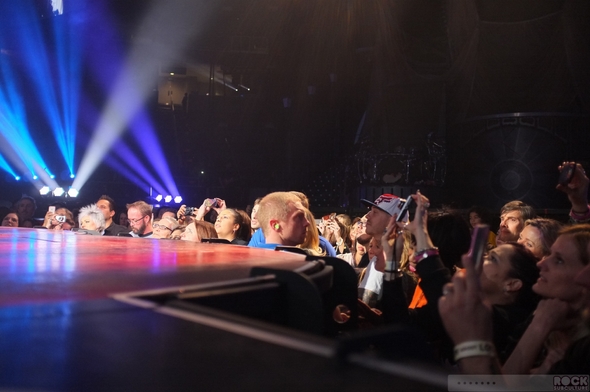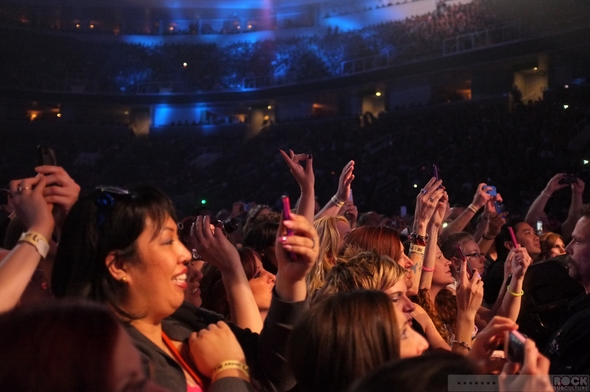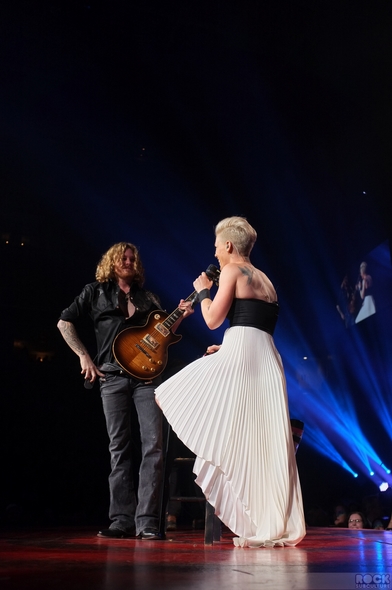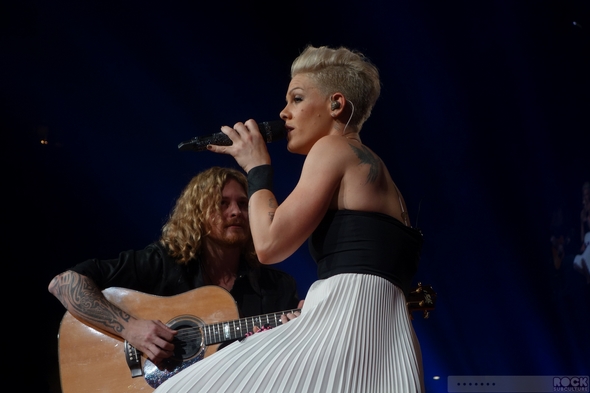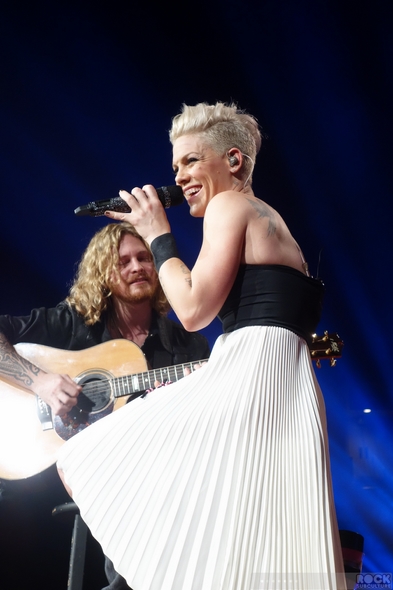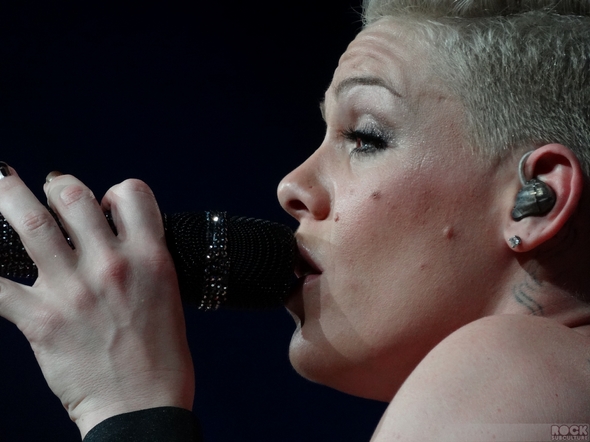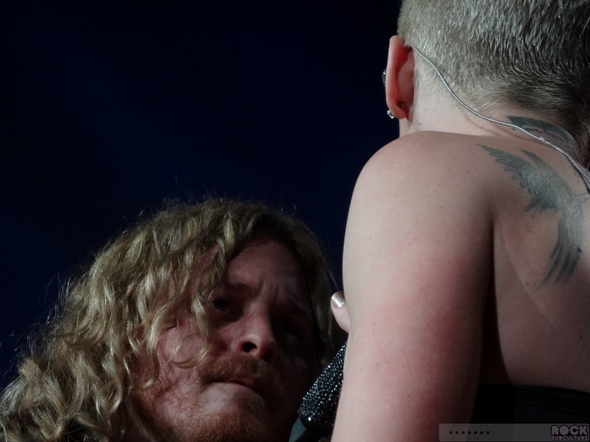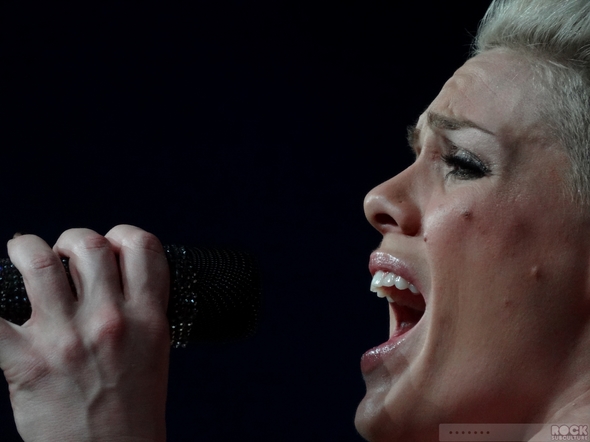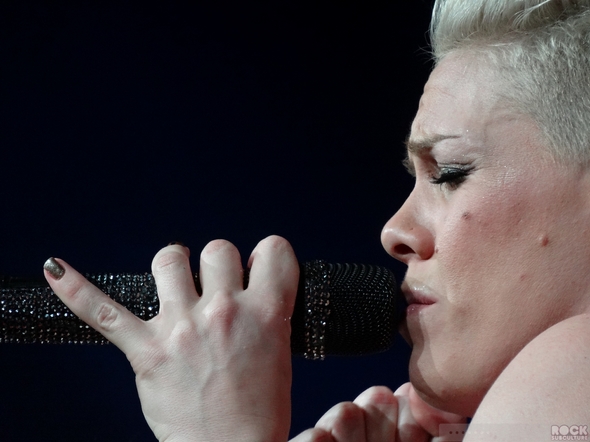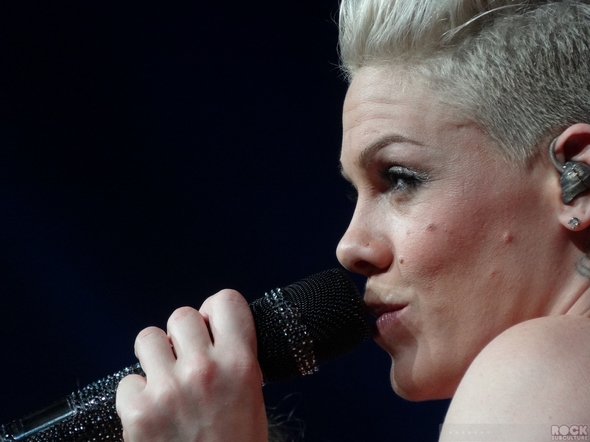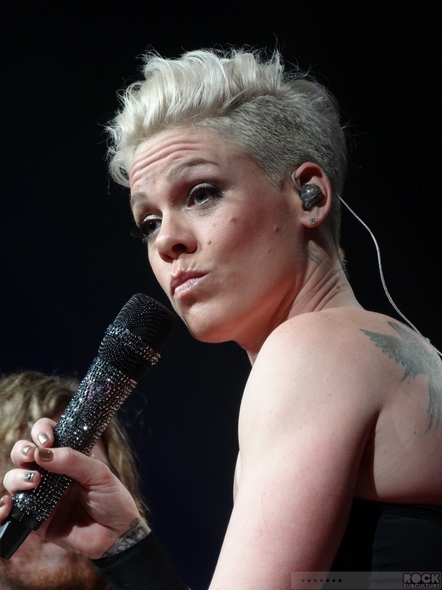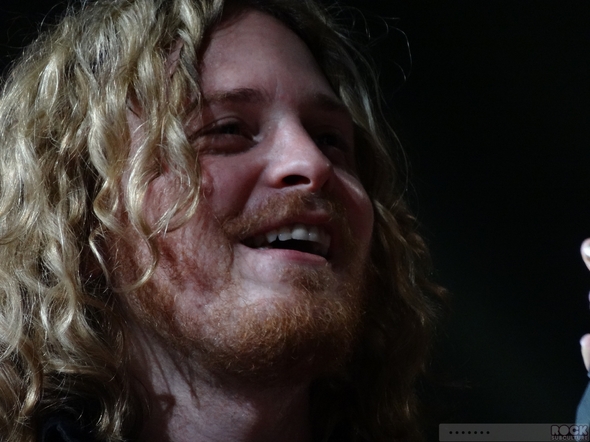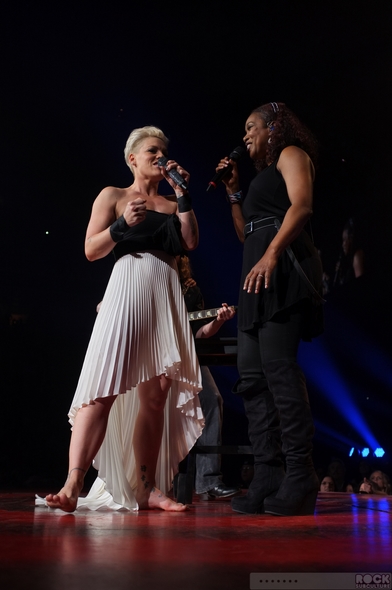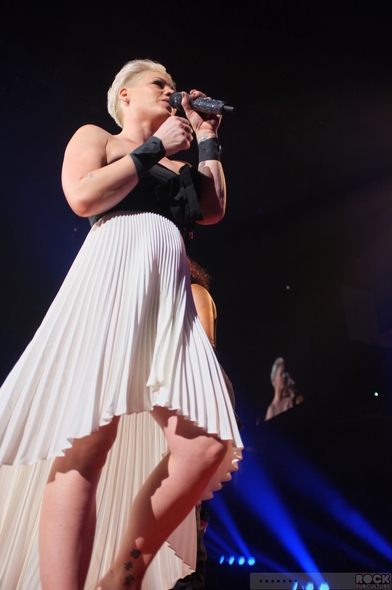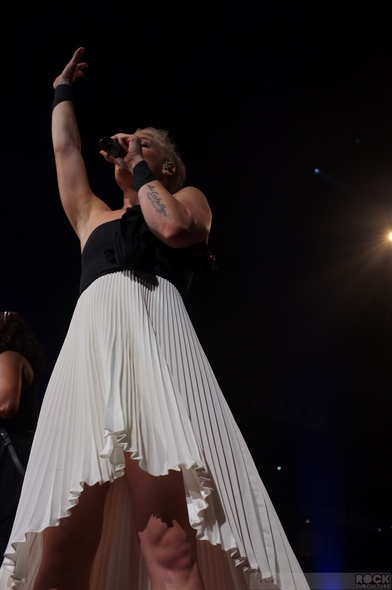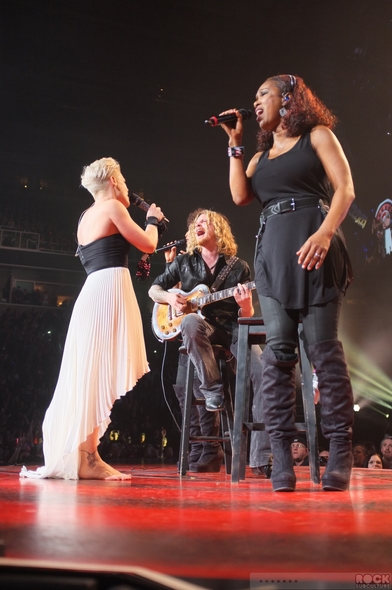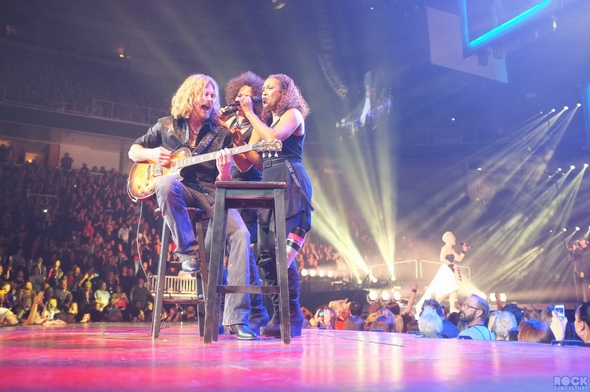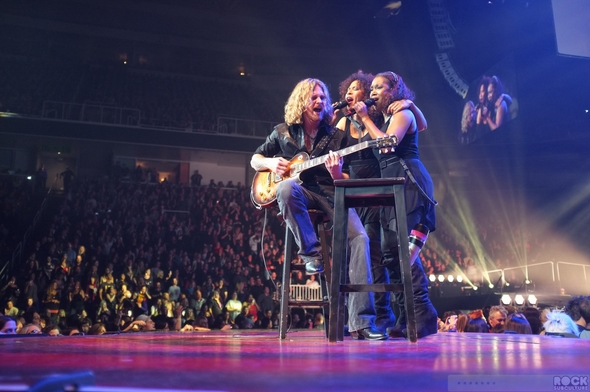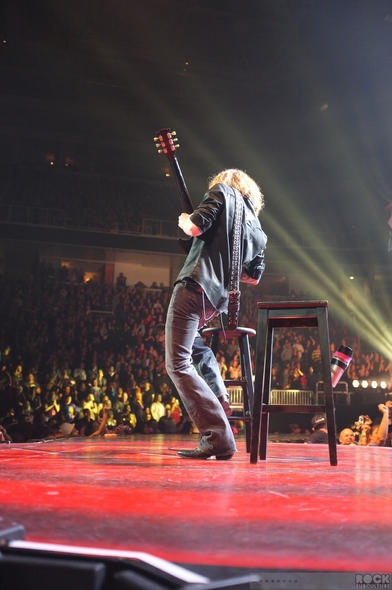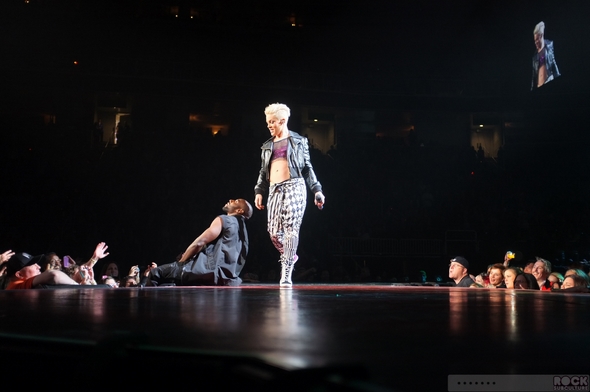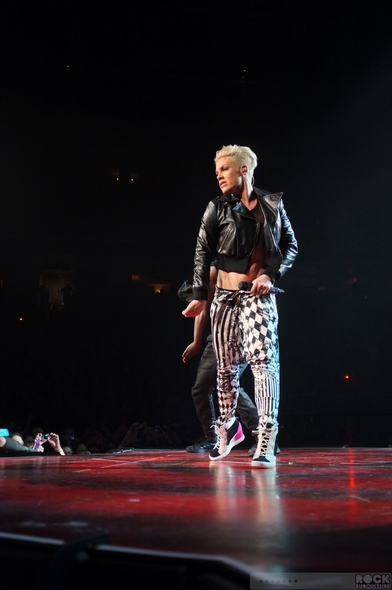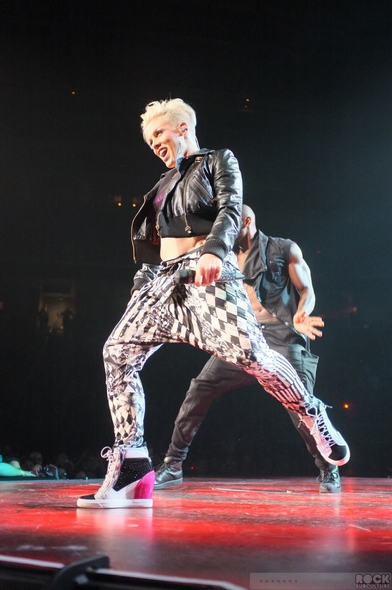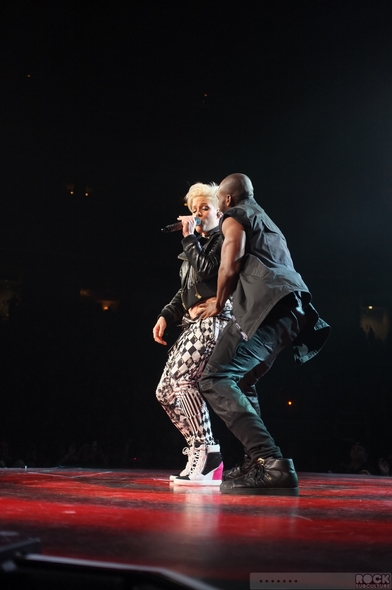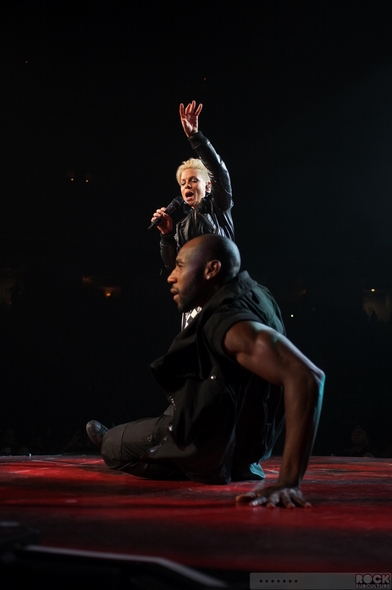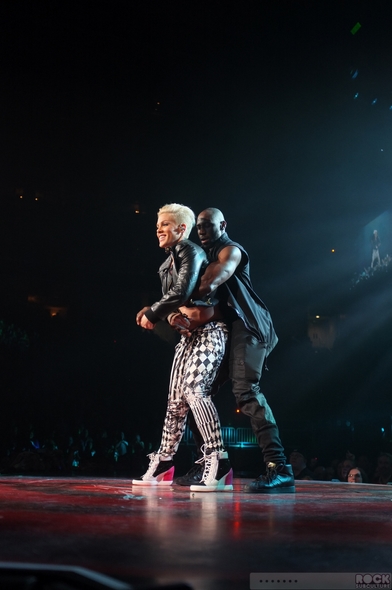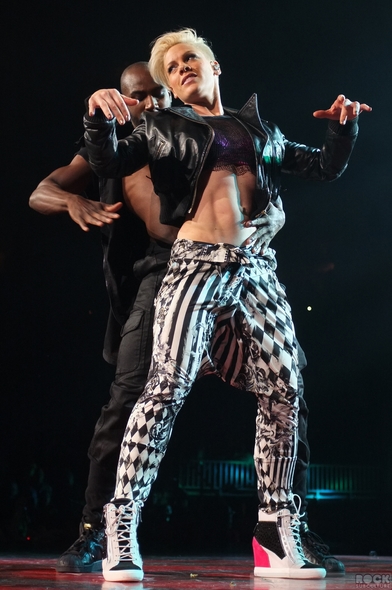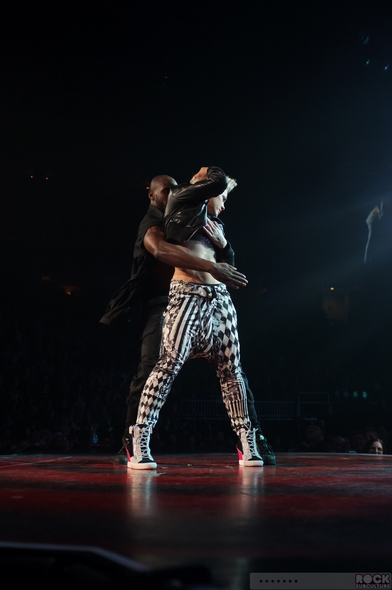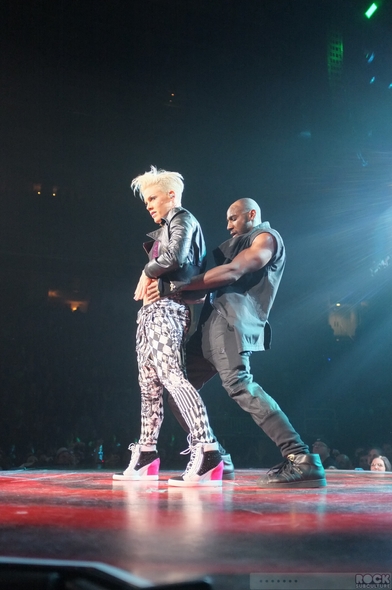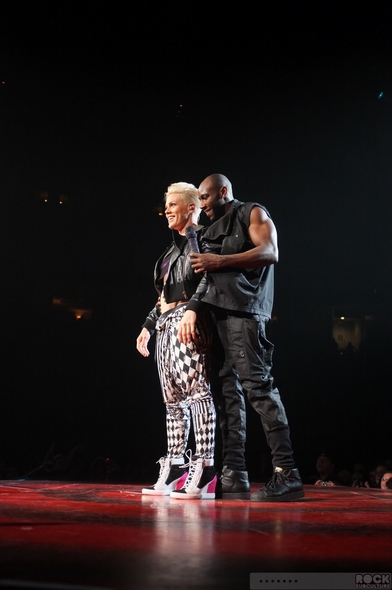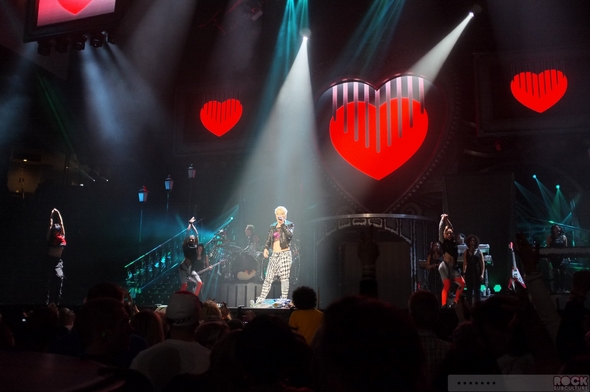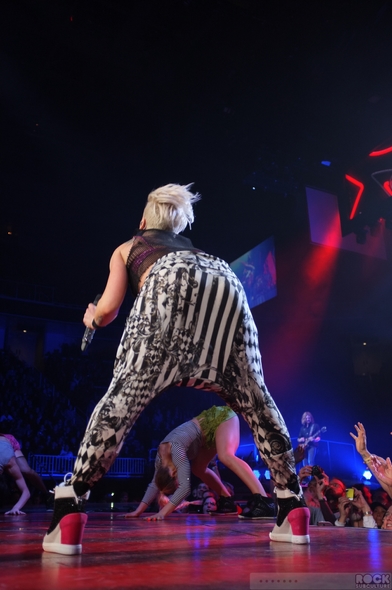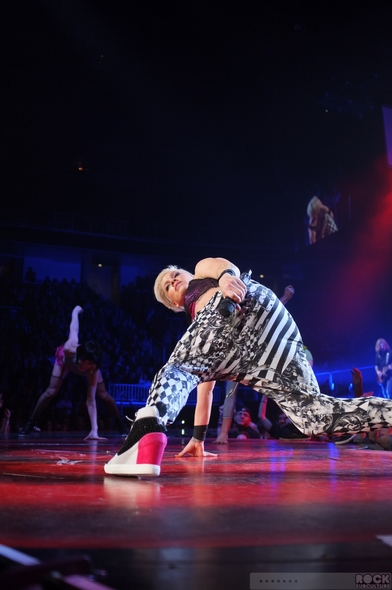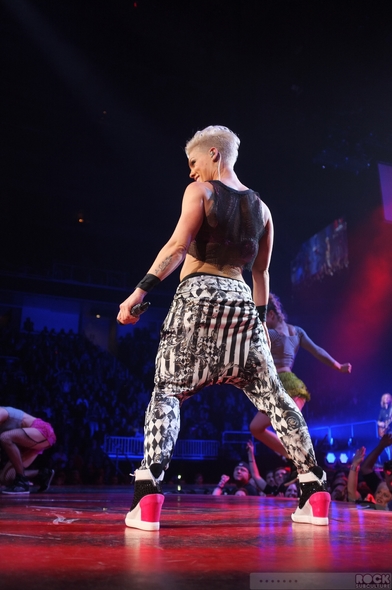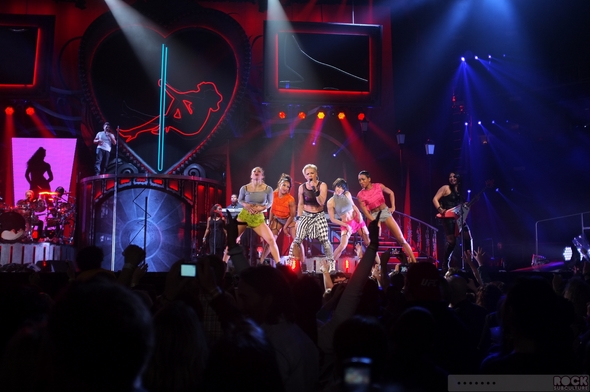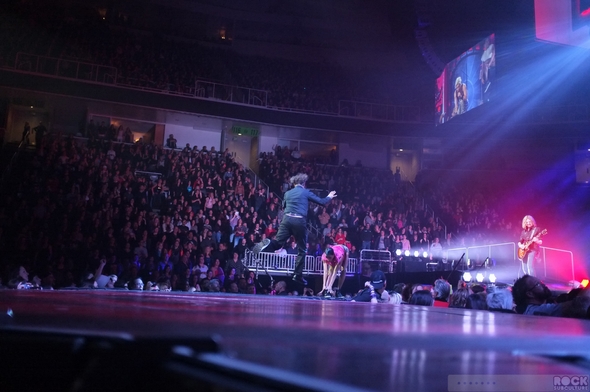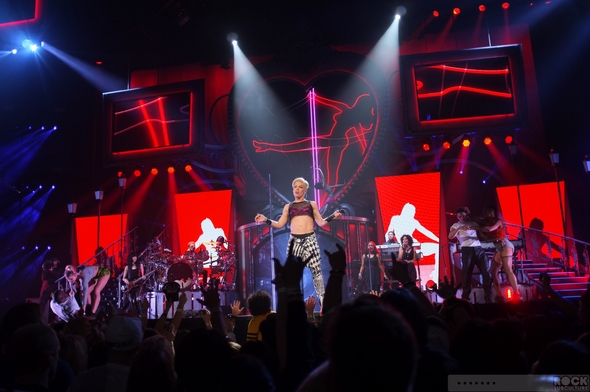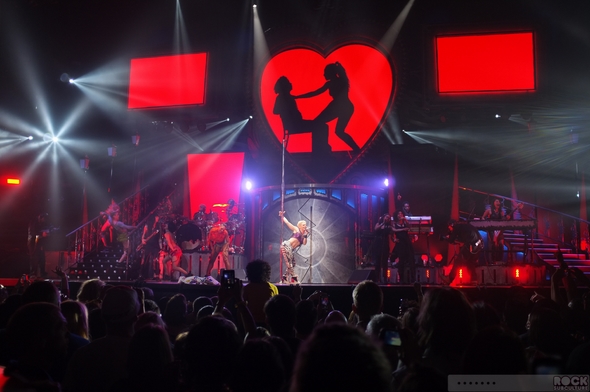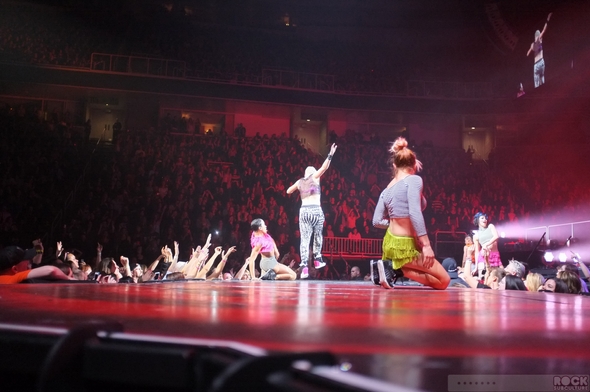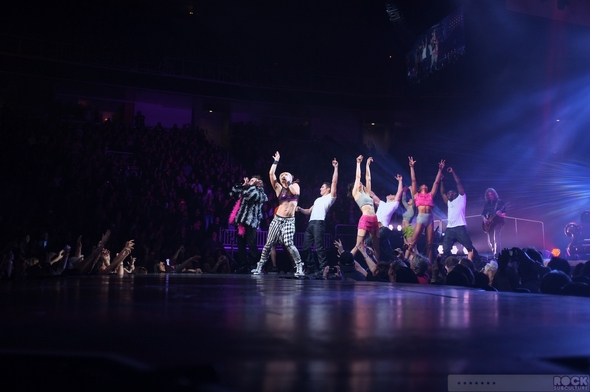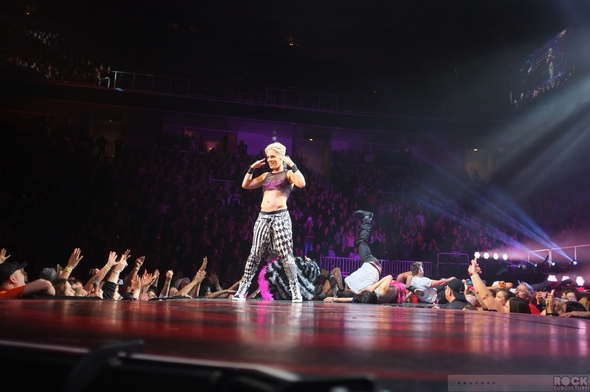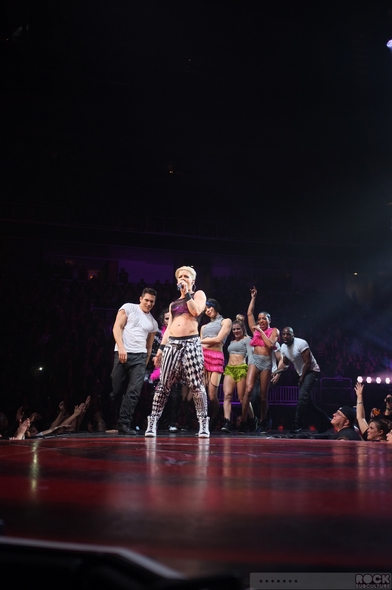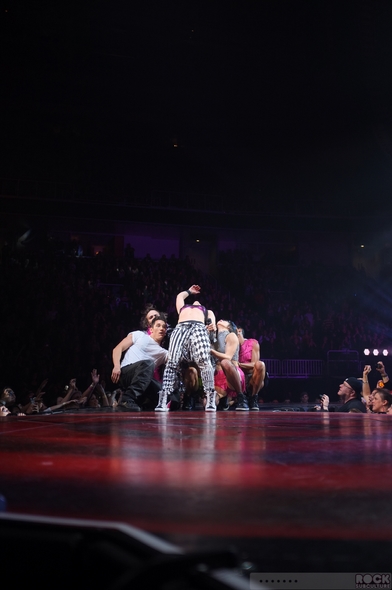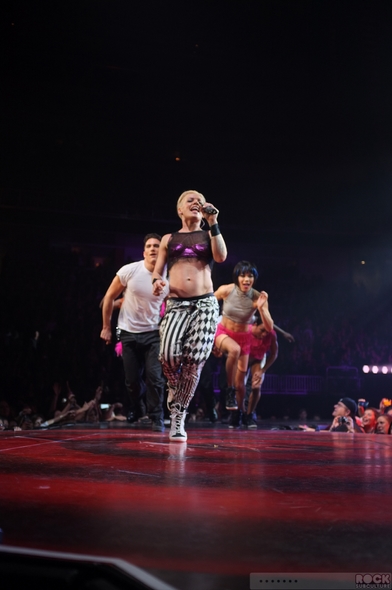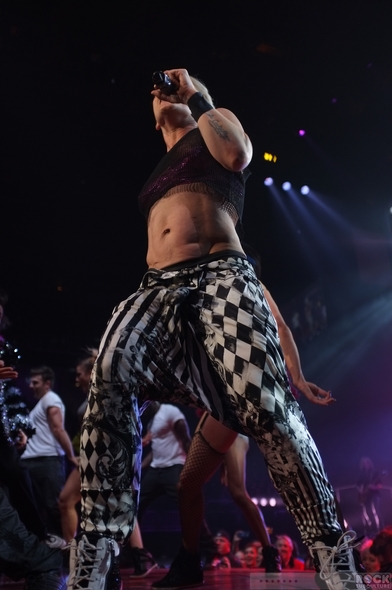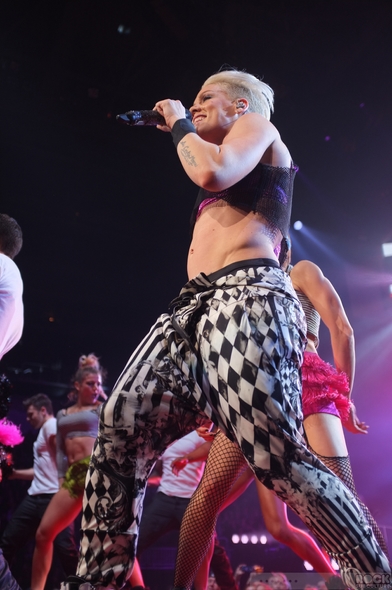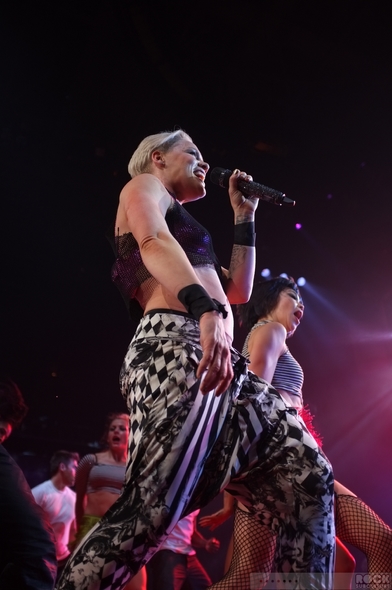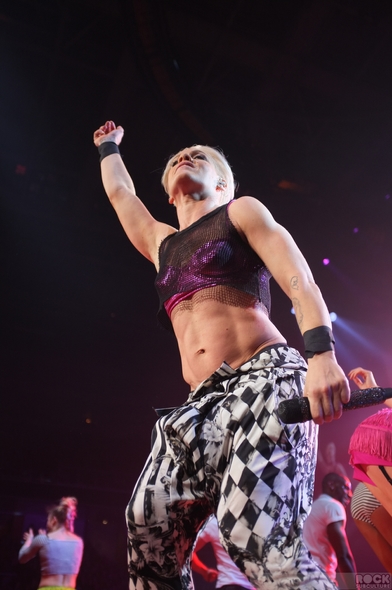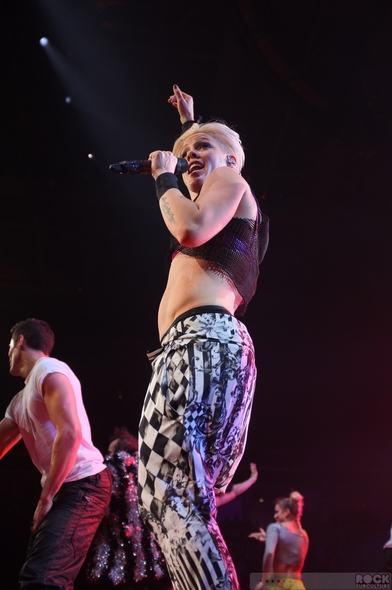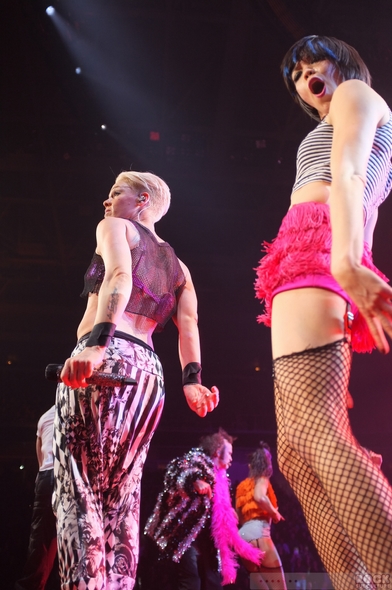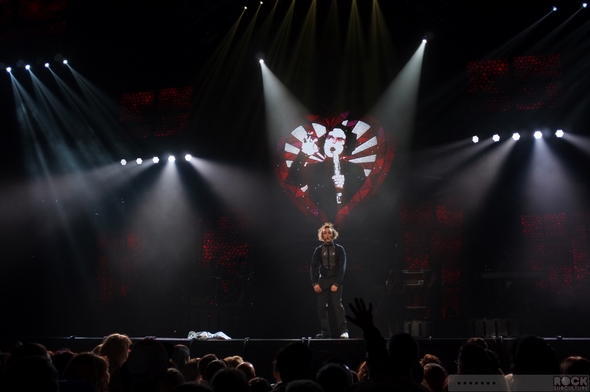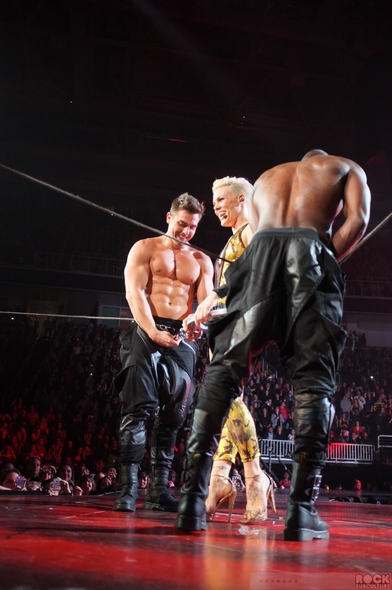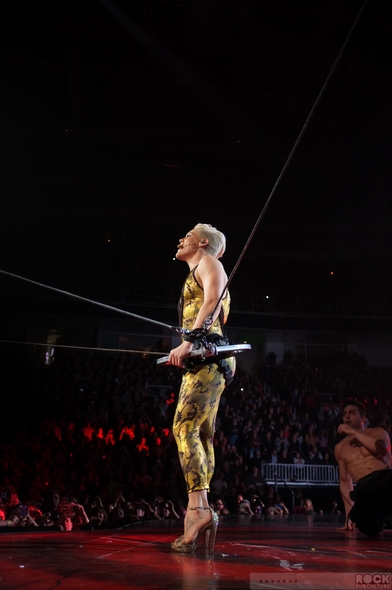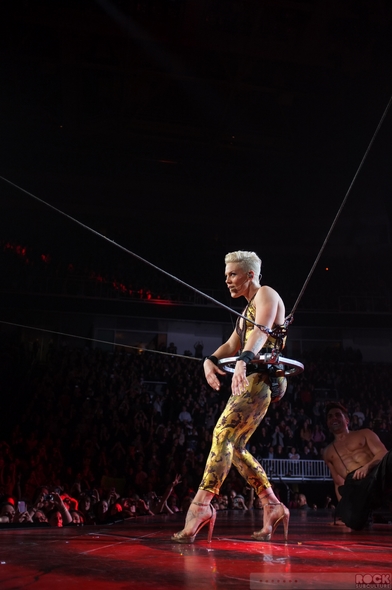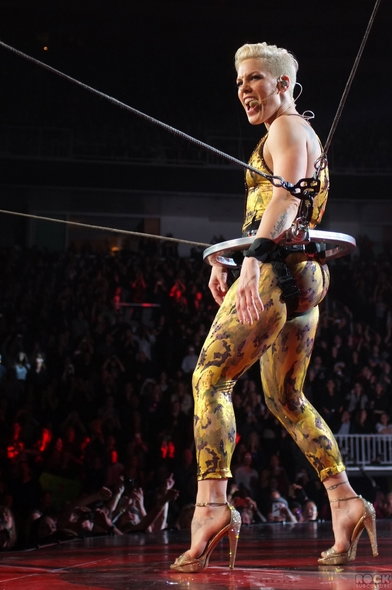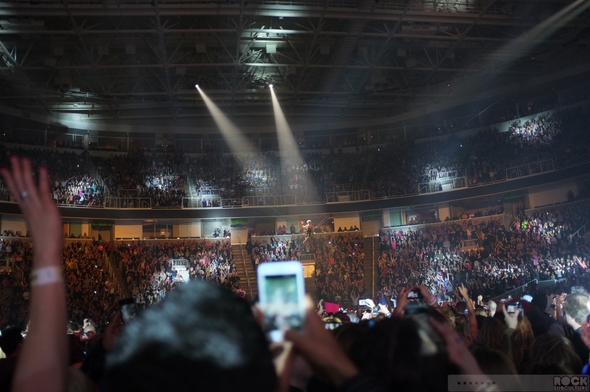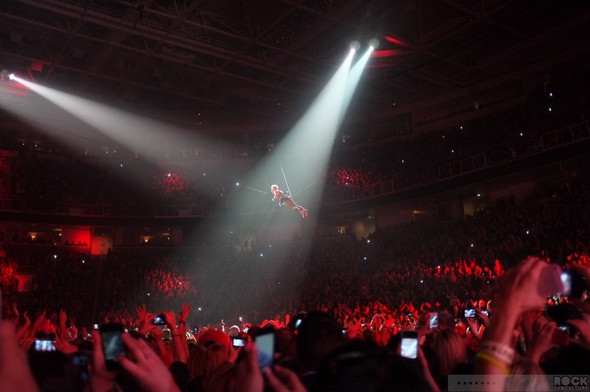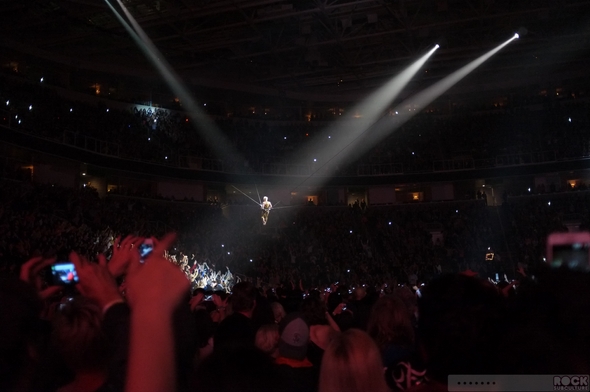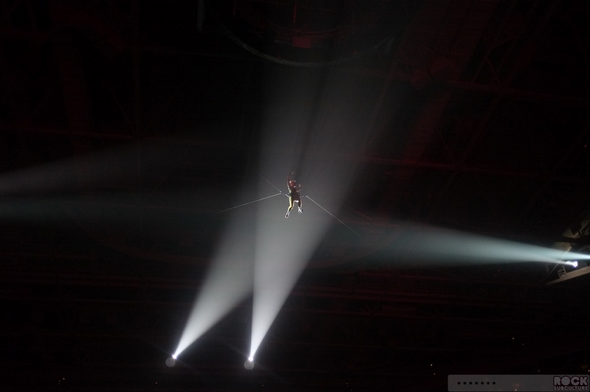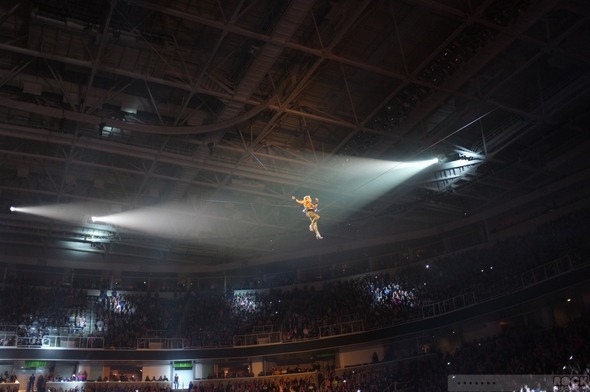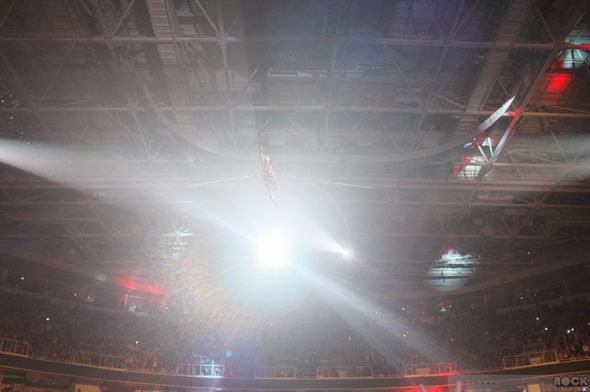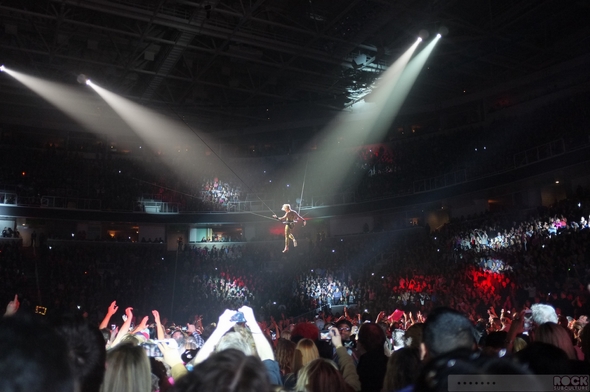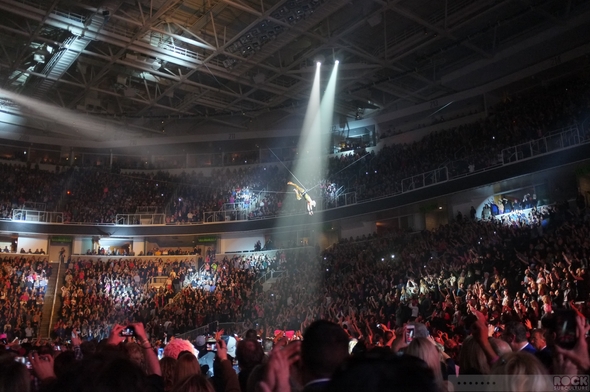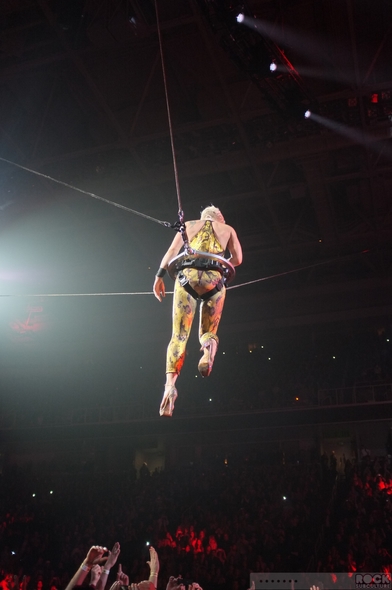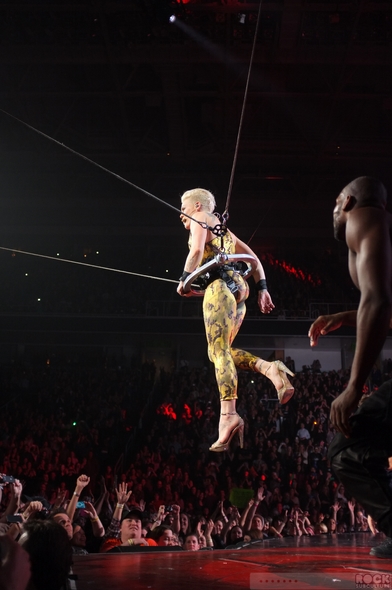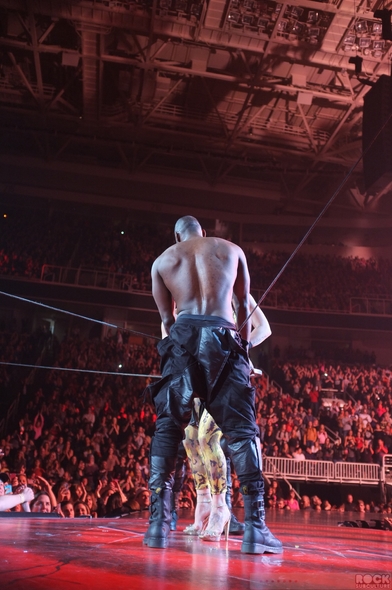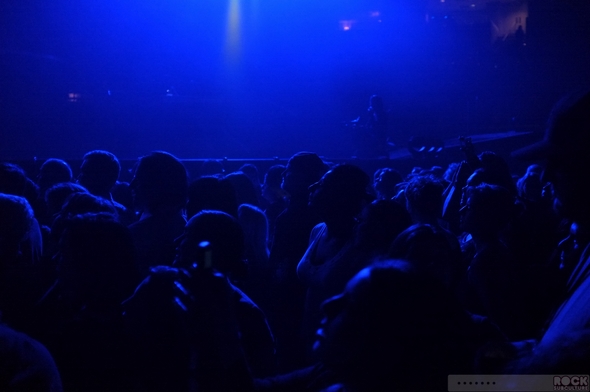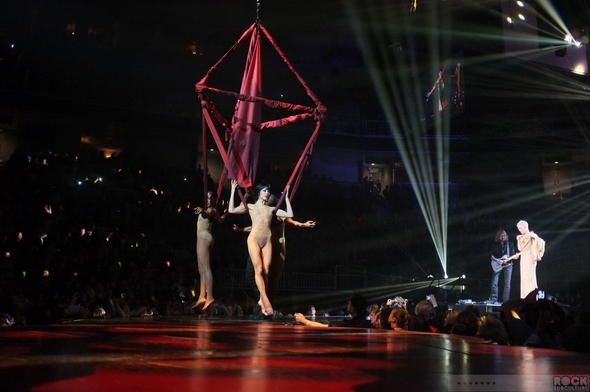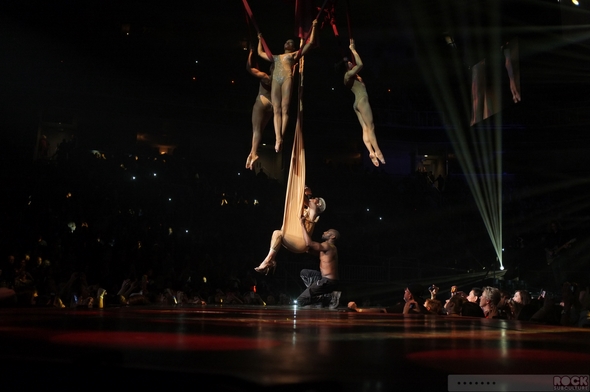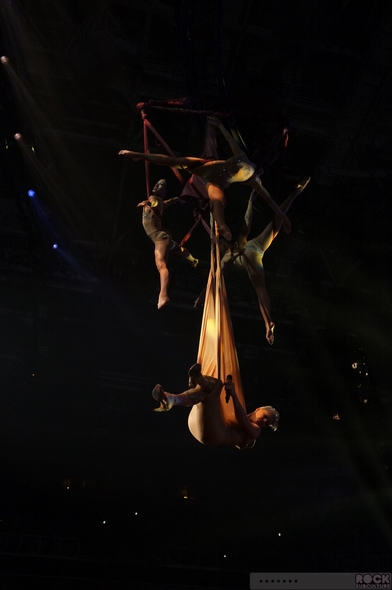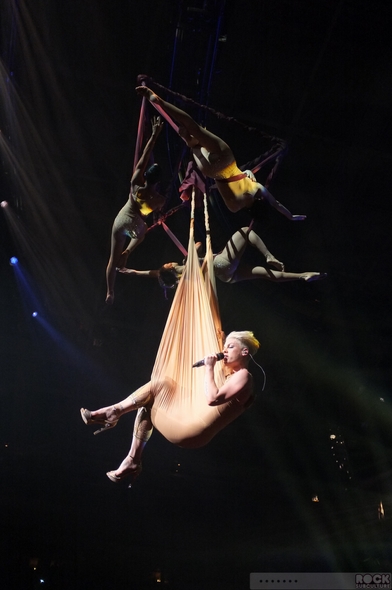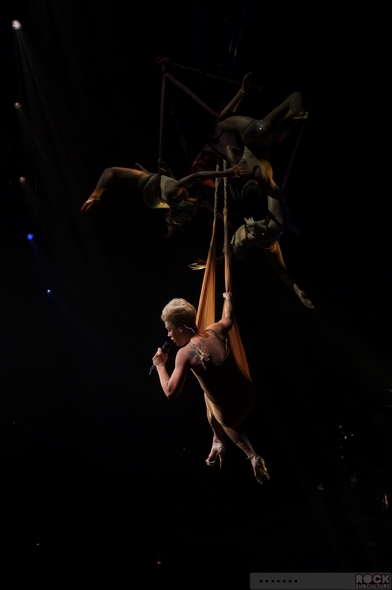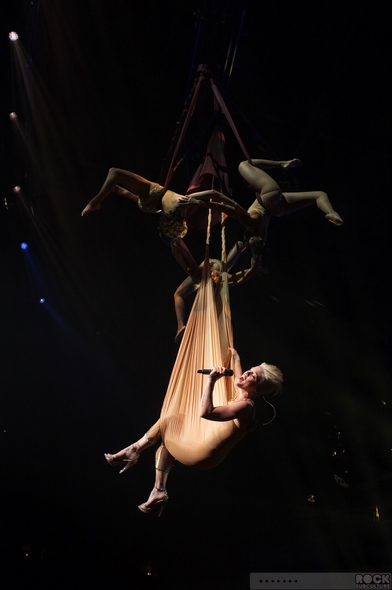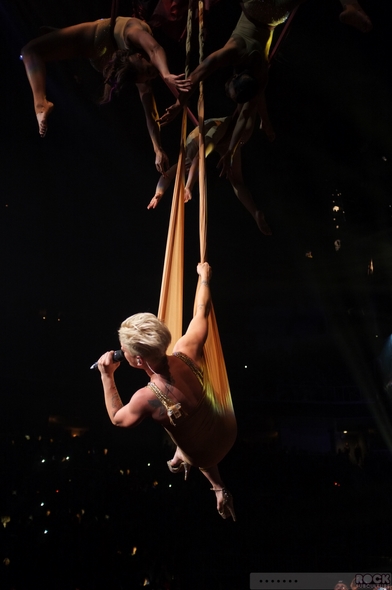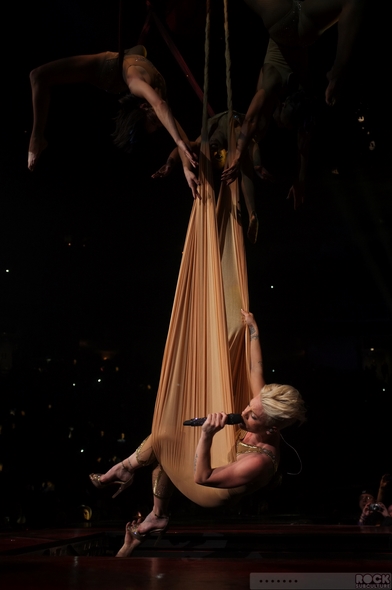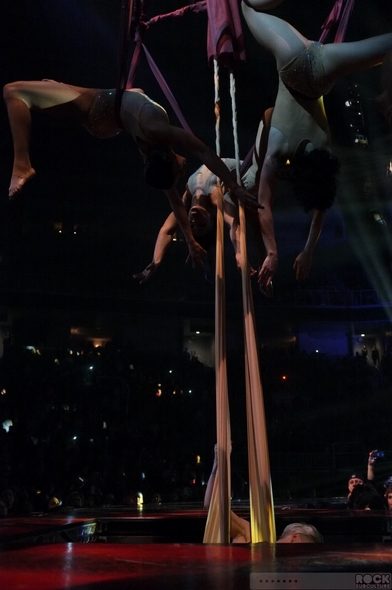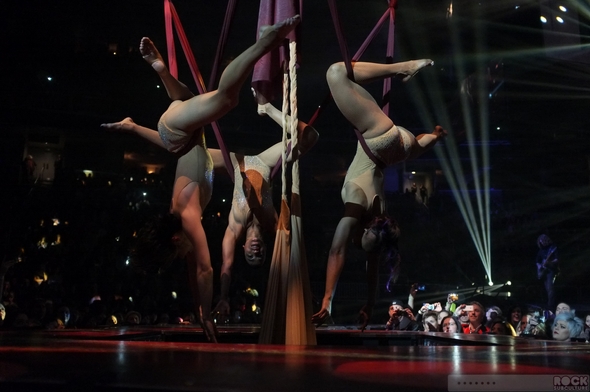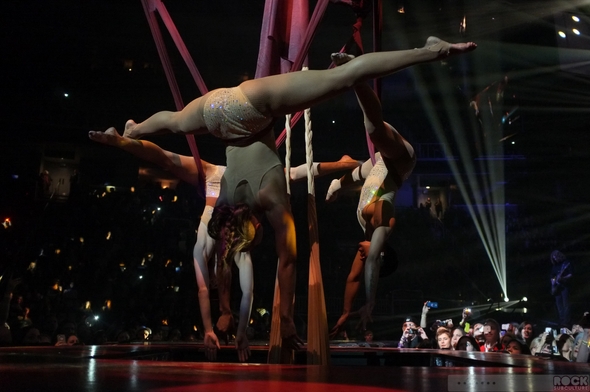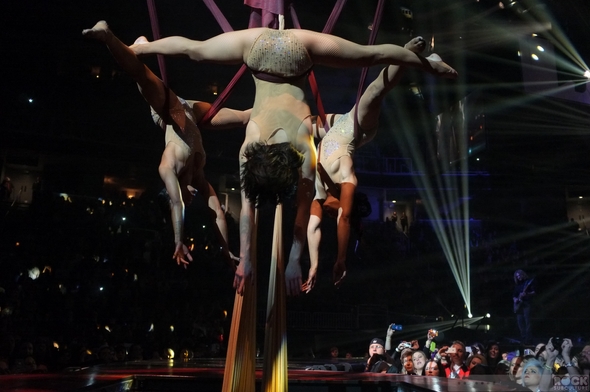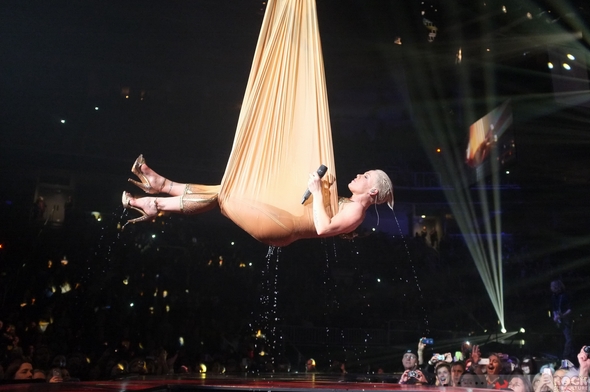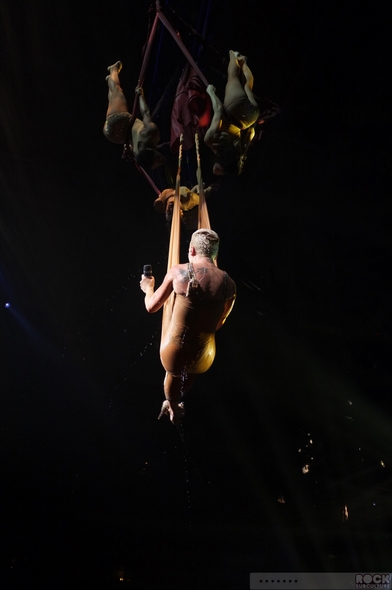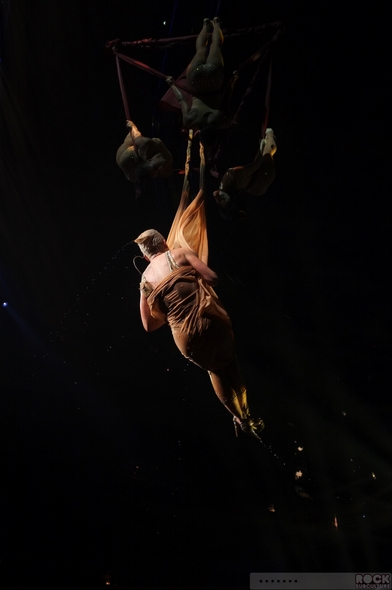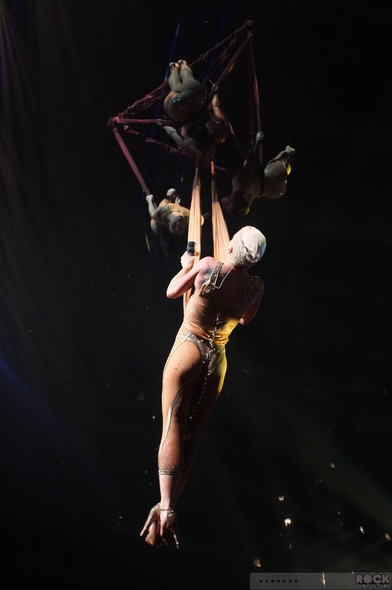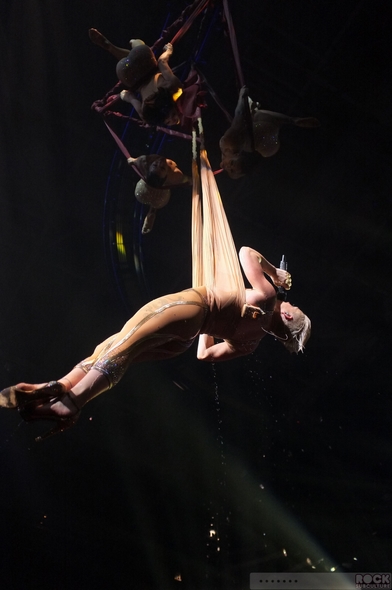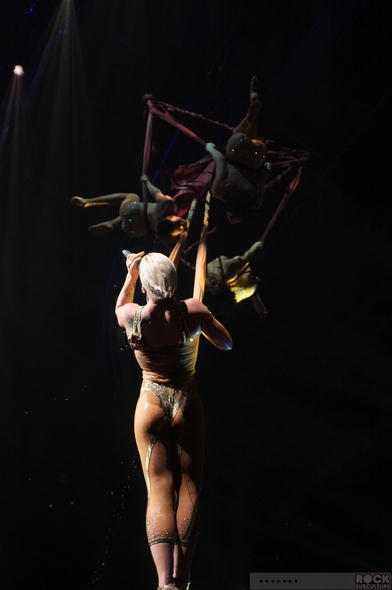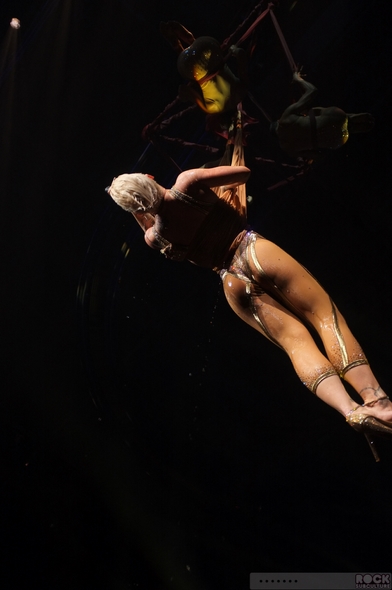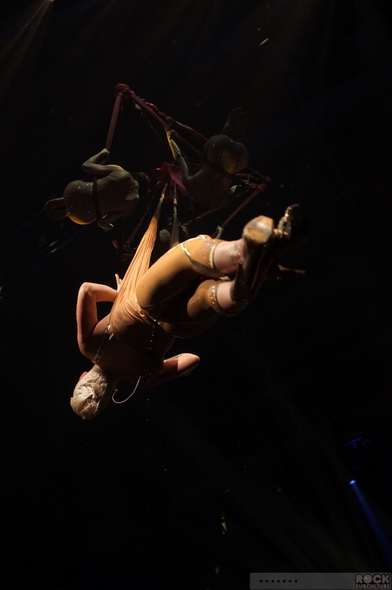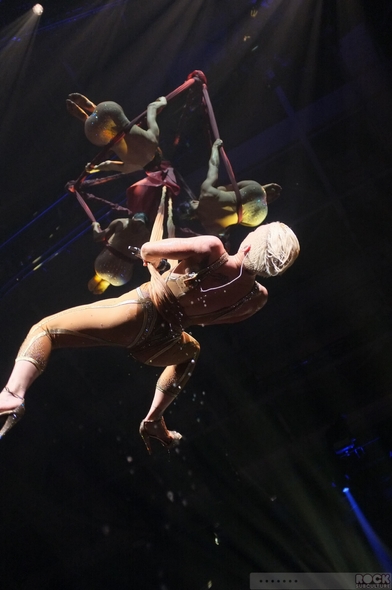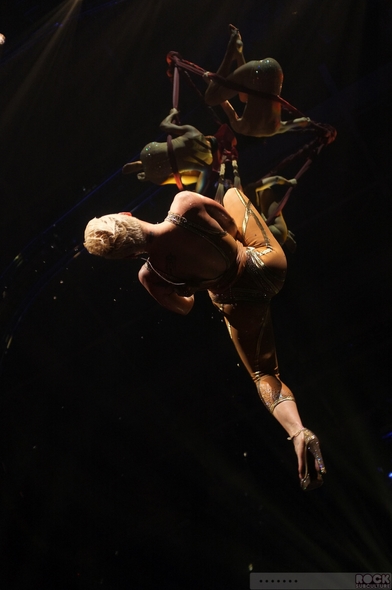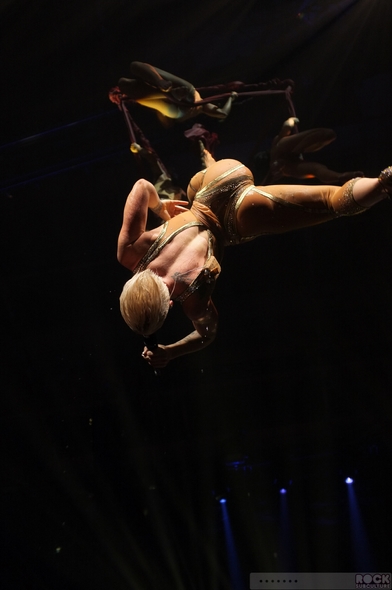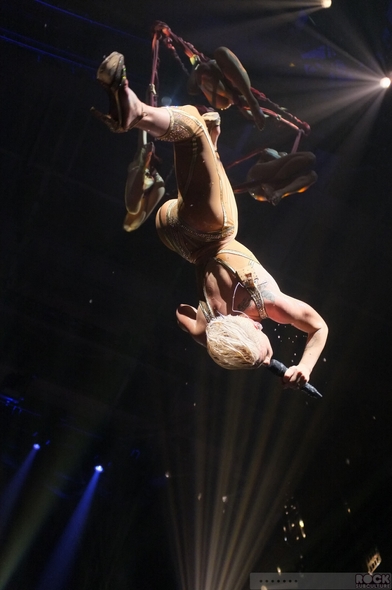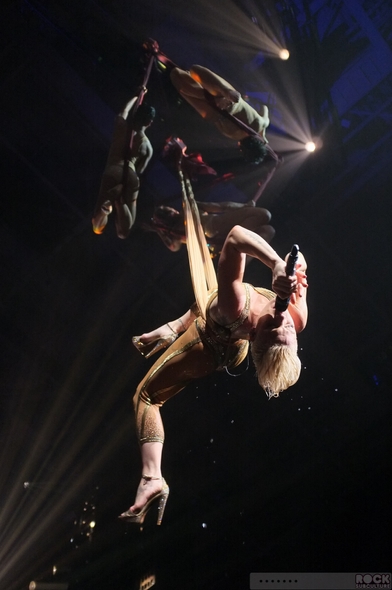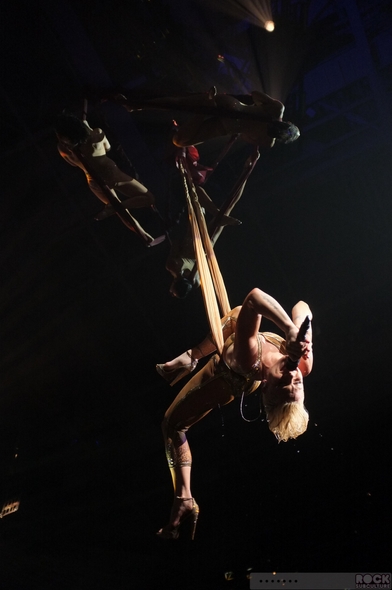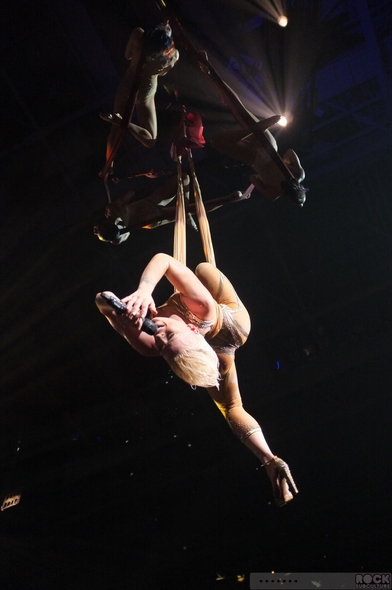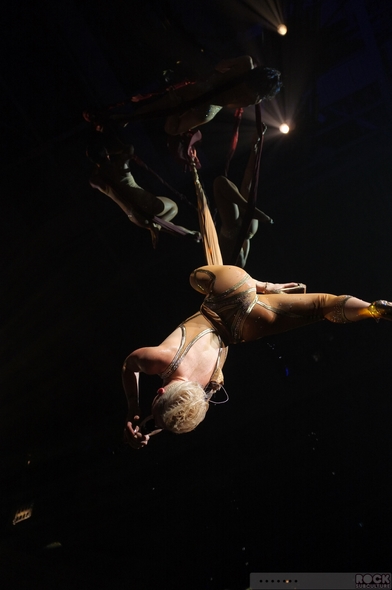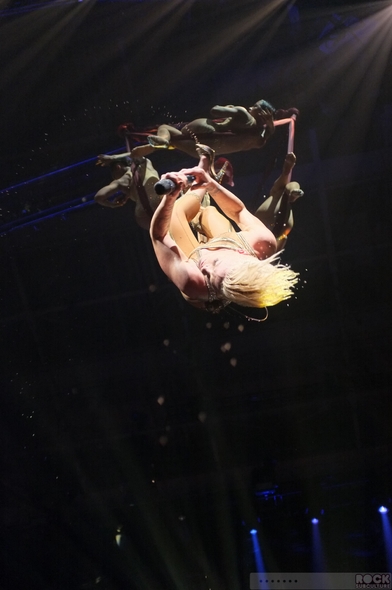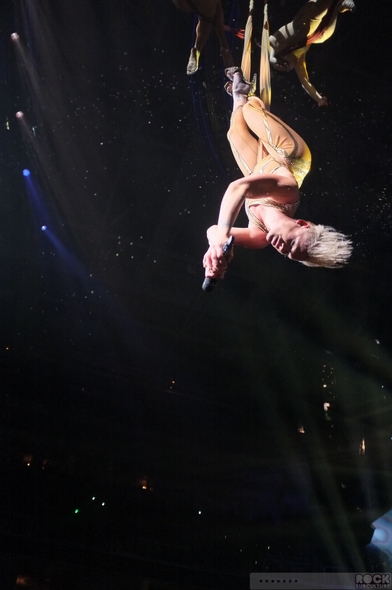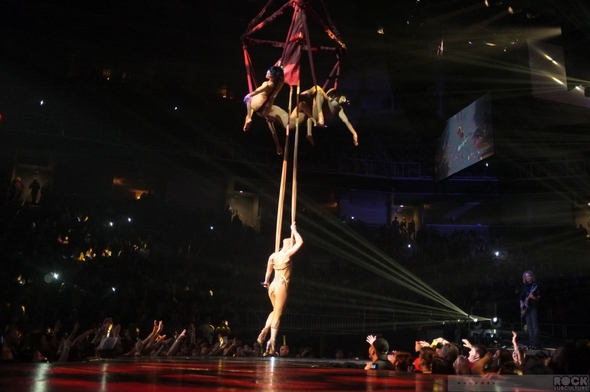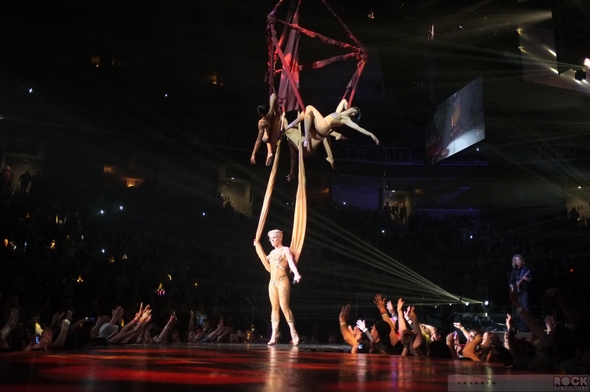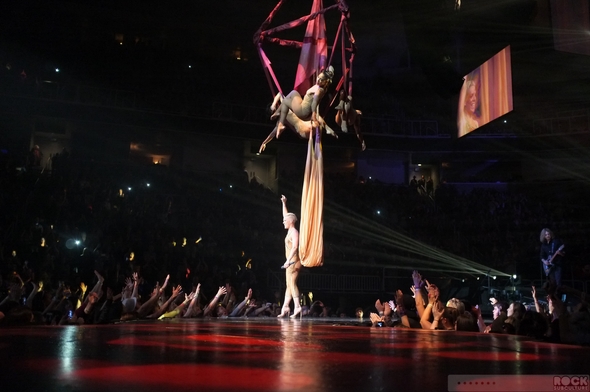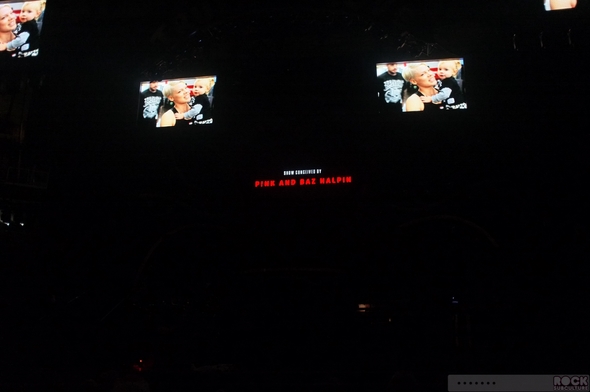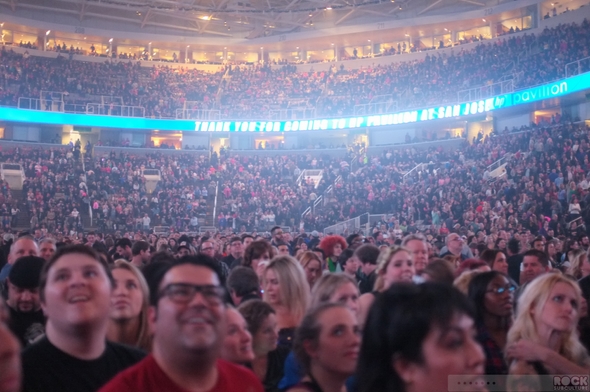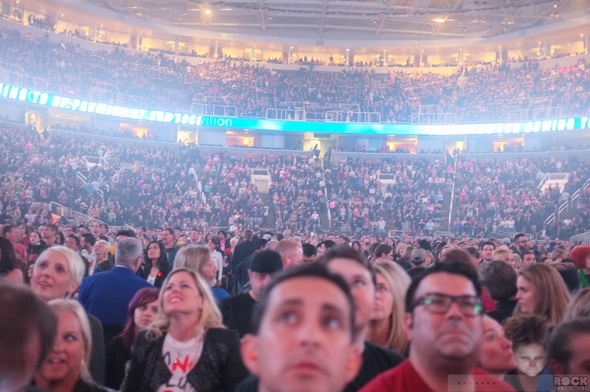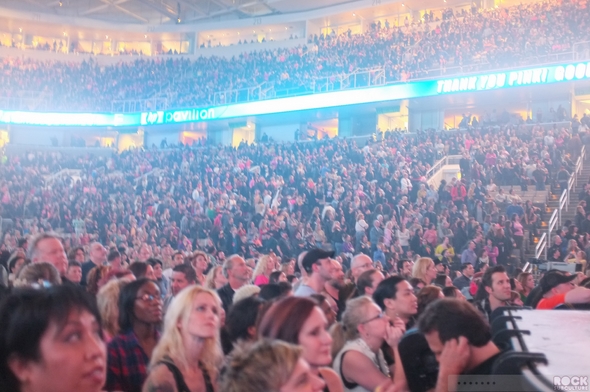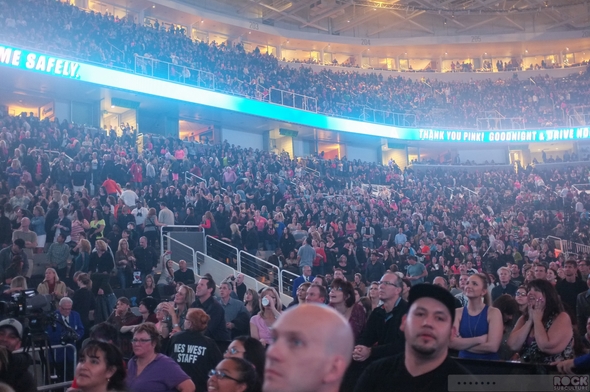 Jason DeBord