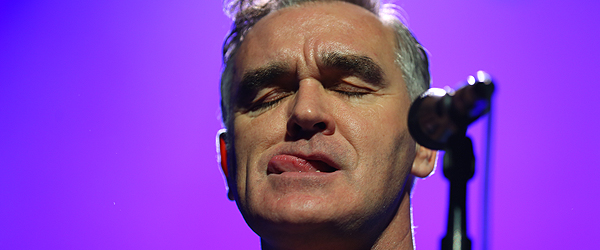 "To give is the reason I live"…  a Frankie Valli lyric and a comment made by Morrissey on stage well into his set at Mondavi Center at U.C. Davis in Davis, California.  Morrissey has long been a fundamental part of my favorite music artists of all-time, and more than all of them, his music has always moved me – those special moments where the words and the sound connects with me, that chill down my spine and adrenaline rush…  as part of the soundtrack of my life, Morrissey and his work add texture, substance, and color unlike any other artist.  And his live appearances have become increasingly rare, so any opportunity I have to experience it "for real", in person, I am there, as the live experience just magnifies it all.  And the show last night at Mondavi Center was a spectacular celebration among a special group of fans.
Who: Morrissey
Supporting: Kristeen Young
Venue: Robert and Margit Mondavi Center for the Performing Arts
Presented By: Another Planet Entertainment
Where: Davis, California
When: March 4, 2013
Seating: Orchestra Center, Row A, Seat 105 (front center orchestra section, first row, two seats to left of center mic ; also photo pass first three songs)
Morrissey has the most loyal of fans and followers, and while he's not selling out giant sports stadiums, I don't think that has anything to do with his gifts and his art, but more to do with his greatness…  that maybe he's just much too sophisticated for this time.
There's that old saying – every hundred years, all new people – and while that might be a morbid way of looking at things, maybe some future generation will have a better appreciation for Morrissey's music than today's audience?
Or perhaps the words plus the music is too much for the masses to process…  maybe he would today be regarded as some genius poet-philosopher if his works were merely committed to paper, sans the musical accompaniment?
In any event, I feel fortunate that I "get" Morrissey and connect with his music; what I consider the "Elder Statesman" version of Morrissey was in top form last night.
This was one of a series of Morrissey concerts that were rescheduled from last year (with more earlier this year canceled and also rescheduled).  As shared in a recent article in my Tour Announcements section (see "Morrissey Back On Track in San Diego, Adds More Dates To U.S. Tour"), Morrissey has endured some health-related challenges in the past month or so that has affected his touring schedule.  Everything picked back up in Southern California in the past week, and given the quality of the show and spirit of the band's frontman as on display last night… hopefully going forward other fans in more cities will have a chance to see him soon.
From all the concerts I attended and reviewed last year, I ranked the three Morrissey shows I went to (in Maui, Oahu, and Stockton) as the best, collectively, in my 2012 Year in Review article.  I will also be covering the shows next month in Las Vegas (4/20) and San Francisco (4/30).
Before getting into his show in more depth, I'll share some thoughts about supporting artist, Kristeen Young.
Kristeen Young
Kristeen Young, self proclaimed "piano basher and caterwauler", has served in a supporting role for Morrissey for some time, and I've also previously shared some thoughts and photos from her sets on the three Morrissey concerts I attended in 2012.
Kristeen is in an interesting position as an opening act, as a good portion of the audience at any Morrissey show are fans who go to multiple dates, and have therefore seen her a lot.  I think in a lot of ways she makes that work for her.  Her music doesn't sound anything like Morrissey's, but they are both similar more in the vein of being avant garde.  And with repeated exposure, she and her music become more accessible.
Kristeen's stage presence is definitely theatrical and more along the lines of performance art, and her passionate and non-traditional keyboards and vocals really set a unique mood.
She has been quite prolific, putting out a number of albums and EPs (though note that these show up under her name in a few different variations on iTunes).
I've enjoyed her shows more and more, and definitely prefer what she brings to these events more than I would some "me too" band adopting Morrissey's style or a random and traditional "alternative" band.
Kristeen Young's music is both interesting and challenging, and she is fun to watch perform, almost to the point of being mesmerizing.  She has a lot of style and class, and I'm intrigued to see where her career takes her.
I had published photos of Kristeen Young as part of this article, but have been asked that they be removed as I did not realize she has a separate arrangement for approvals of her opening set, and subsequent approval process.  My apologies, and the photos have been removed.
Morrissey
The Band:
Morrissey (vocals)
Boz Boorer (guitar)
Jesse Tobias (guitar)
Solomon Walker (bass guitar)
Anthony Burulcich (drums)
Gustavo Manzur (keyboards)
Again, since I provided some background and thoughts on Morrissey and his history in my reviews last year, I will not be redundant and republish here, but jump right to the latest concert in Davis, California.
One thing that I've learned with Morrissey is that every show is different, and has a different vibe and energy, and this show was no different (and just as unpredictable as the others).
Mondavi Center is one of my favorite venues – beautiful, nice layout, and awesome sound – so I was really happen to see this as one of the chosen locations for this tour (which, as mentioned already, was originally slated for last November and rescheduled).
A lot of my regular concert going friends were coming out to this one, and I saw a few of the regulars that follow Morrissey, and even found an old school friend after the show.
I had purchased a front row seat in center orchestra long ago, and also had a photo pass to shoot the show with my pro cameras, so was lucky enough to be right up front.  Though it was a seated venue, people were already lined up standing against the low stage before Kristeen Young had come out.  Security was letting anyone with an orchestra ticket in the first half dozen rows or so stand up in front of the stage, in-between the front row and the low stage, which allowed for people to line up about 3-4 people deep, going across the fairly wide stage, left to right.
Of course, anyone who has been to a Morrissey concert knows what it means where there is a low stage…  a conclusion with fans jumping on stage to hug their idol, and let's just say this show didn't disappoint (more on that later).
Unlike a lot of artists (particularly the ones that play massive tours in large venues), Morrissey is always changing up his set list – song order as well as song choice – so that adds an element of excitement too, since you never quite know what is coming next.
Below is my best recollection of the set list (if anyone has any corrections, please let me know):
Alma Matters
Irish Blood, English Heart
Everyday Is Like Sunday
Ouiji Board, Ouiji Board
November Spawned A Monster
That Joke Isn't Funny Anymore
I'm Throwing My Arms Around Paris
You Have Killed Me
Action Is My Middle Name
Speedway/Well I Wonder
Still Ill
People Are The Same Everywhere
To Give (The Reason I Live) – Frankie Valli Cover
You're The One For Me Fatty
Meat Is Murder
Please, Please, Please Let Me Get What I Want
Let Me Kiss You
How Soon Is Now?
Encore:
The Boy With The Thorn In His Side
By way of comparison, Morrissey didn't seem quite as chatty as other recent shows I've been to, but seemed to be in great spirits.  Also, I think he was more of a tease when it came to reaching down and shaking hands with fans.  Many of the songs played I'd not heard live before, so I really enjoyed the set.
When the band came on stage last night, it was sans any matching outfits (like in Hawaii) and no political statement was apparent (like with the "ASSAD IS SHIT" shirts in Stockton), though Morrissey was wearing a "FISHING HURTS" sticker on his shirt, and PETA had a display with members handing out literature in the lobby.
Actually, Morrissey is one of those rare celebrities who says something when it matters; and even goes so far as to take a stand when others would not (like with the recent refusal to go on Jimmy Kimmel Live! on the same date as cast from reality series Duck Dynasty).  It was interesting to see how this played out in the mainstream media, as some expressed admiration for his stand on principles, regardless of their degree to which they did or did not agree with his position.  Almost as though in media today, someone taking a stand on principle about anything was quite the anomaly, which I think speaks just as much about our society at large as it does Morrissey.
A lot of celebrities adopt a cause or charity the way someone might take up a new hobby.  Morrissey talks about things he believes in, not because it is cool or trendy.  And its obvious to those who pay attention to the words in his music that he thinks and feels deeply and profoundly.
But Morrissey has been quite consistent and true to his beliefs as articulated in the very beginning, and the stage presentation of The Smiths-era song, "Meat Is Murder", is always quite traumatic for many in the audience, as images of brutality in the pursuit of meat for food is projected in shades of red on the screen behind the band.
But not all was dark and serious and upsetting…  During one of his in-between song asides, Morrissey talked a bit about retirement (a topic in which last year he intimated that next year may be his last) imagining himself in the French Alps, reading Dickens.  Funny enough, I am leaving for the Swiss Alps in a few days to cover Caprices Festival, so I will have a unique opportunity to have some kind of idea of what sort of life appeals to Morrissey in that regard.
As was my experience in Stockton last year, Morrissey has continued to give members of his audience an opportunity to speak to him directly via his microphone, and a few in attendance did this… (including Douglas, an awesome fan who I also met last year).
As a prelude to the encore, "The Boy With The Thorn In His Side", Morrissey said, "the time is now" and there was quite a frenzy of fans jumping onto the stage in an attempt to connect with Moz, with vary results (some people successful, some being denied, and variations thereof).  One of my friends, Nick, managed to get on stage and by the time he was dropped back down into the pit, his shirt was in tatters.
It was truly an awesome show, and I know I'll never forget it.
Among the cool merchandise available for sale was an autographed canvas print, that is really nice quality, so I could not resist: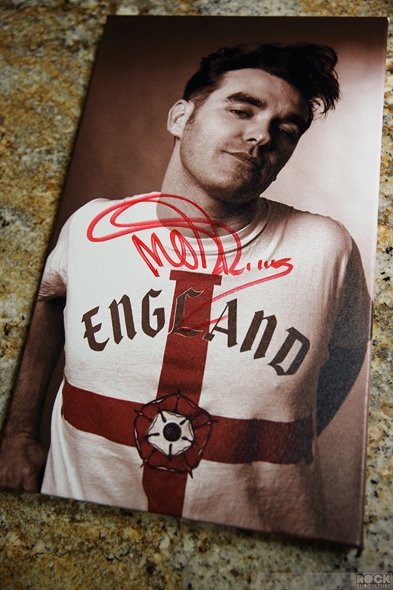 A friend of mine, Dina, was in the pit area as well, and took this photo of me, taking photos of Morrissey: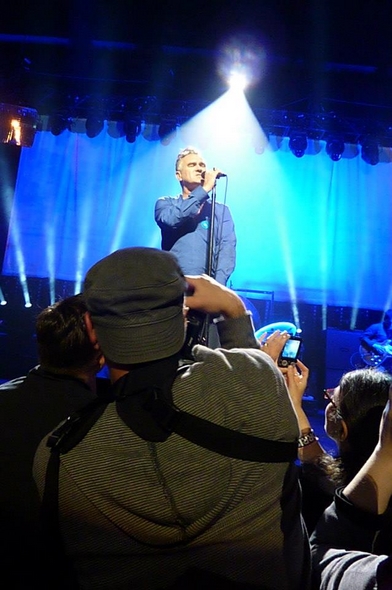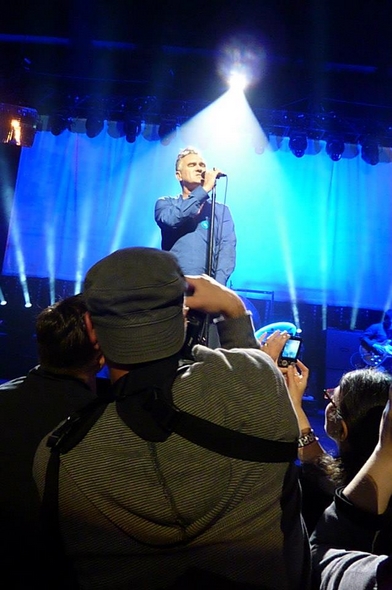 Below are some of the photos I took of during Morrissey's set, as well as some shots in and around the venue (click on any image for a higher resolution version of each photo):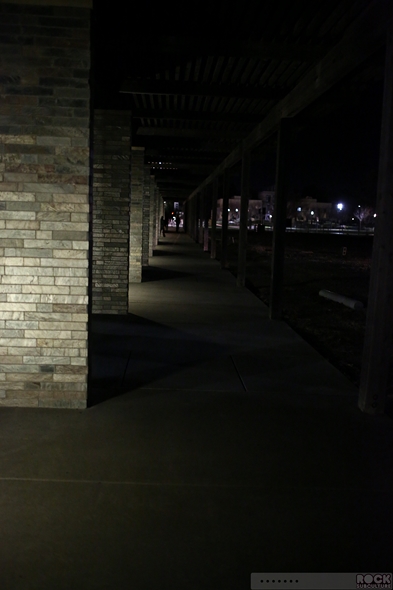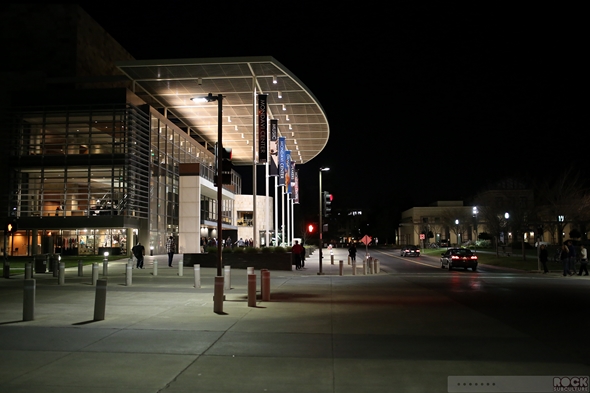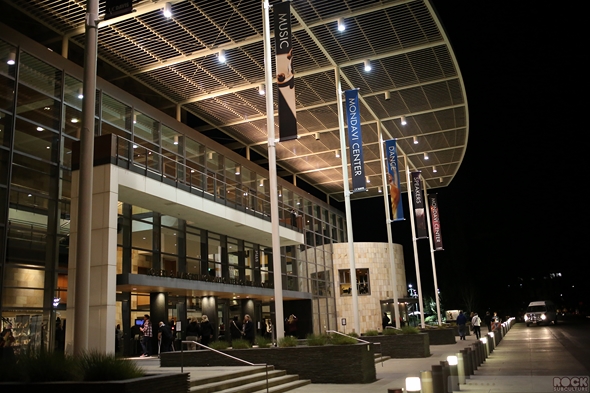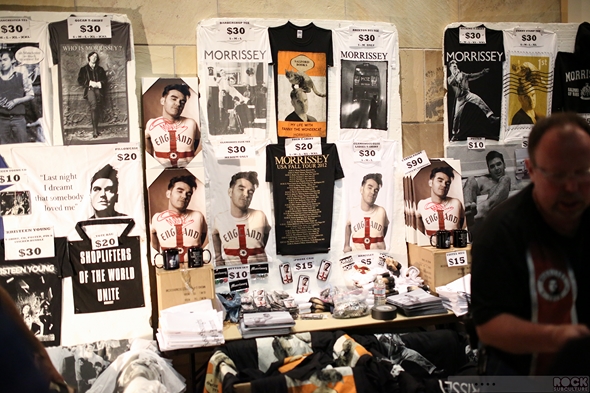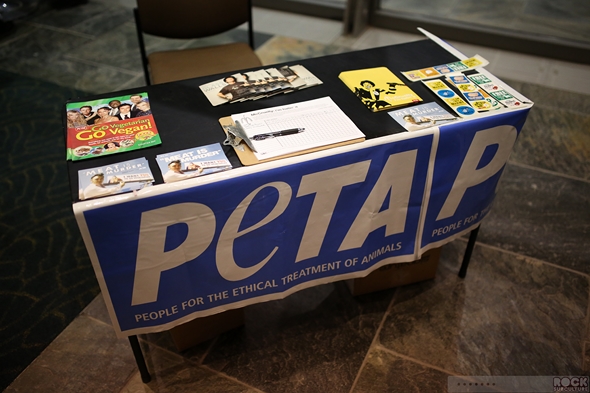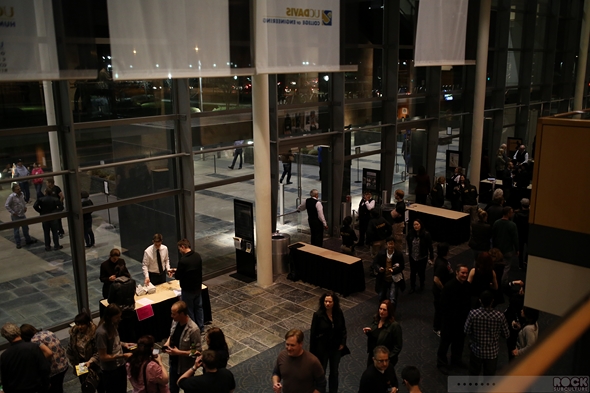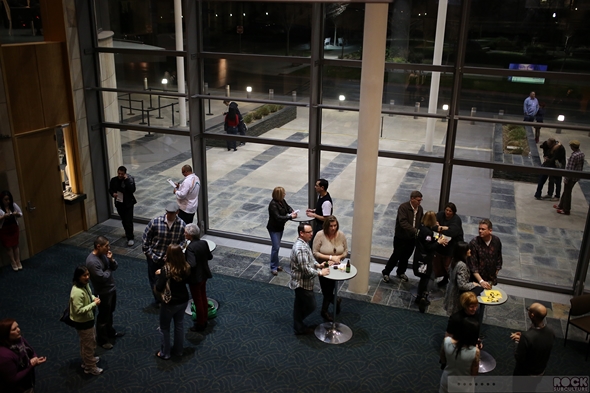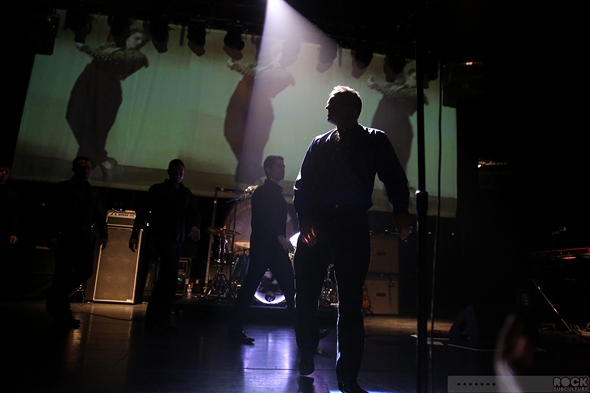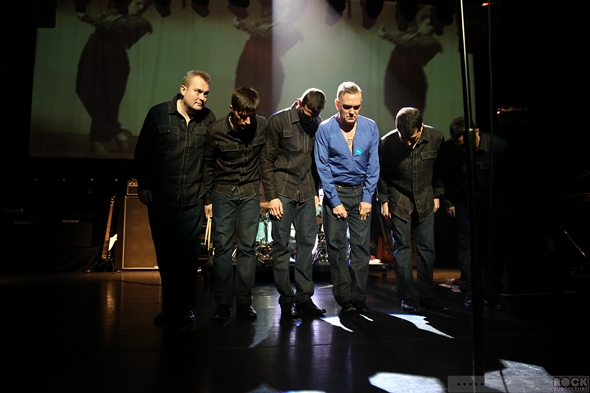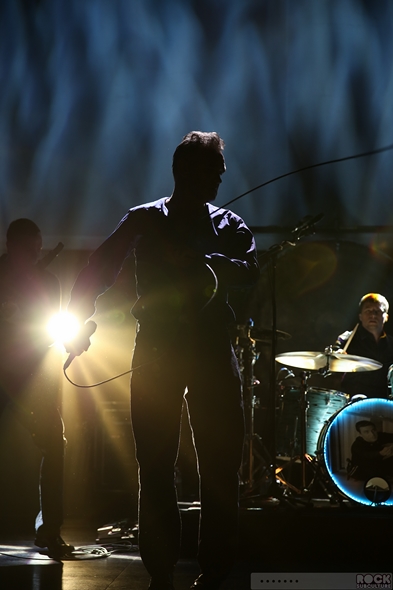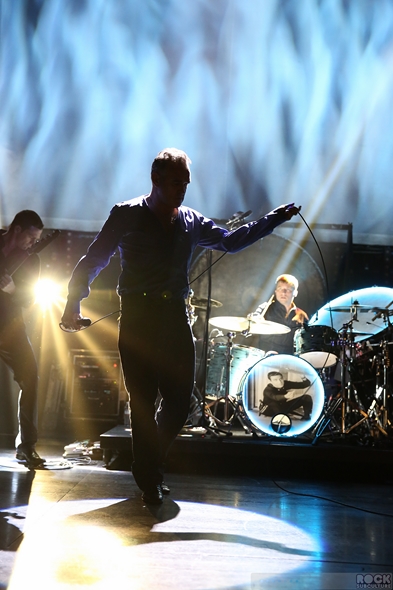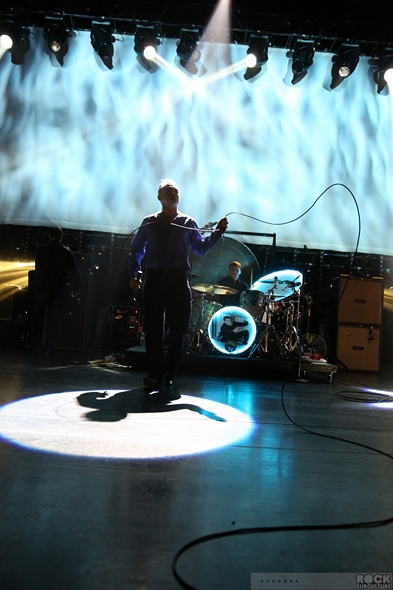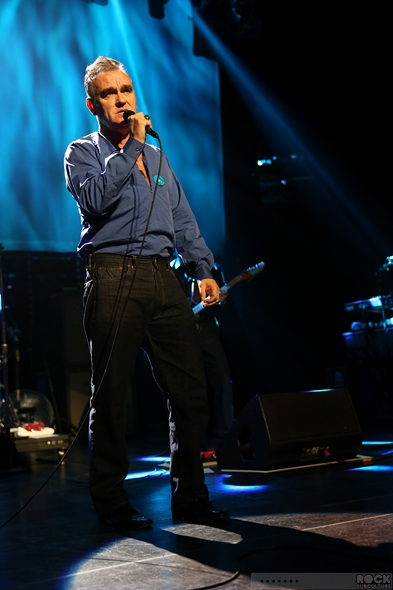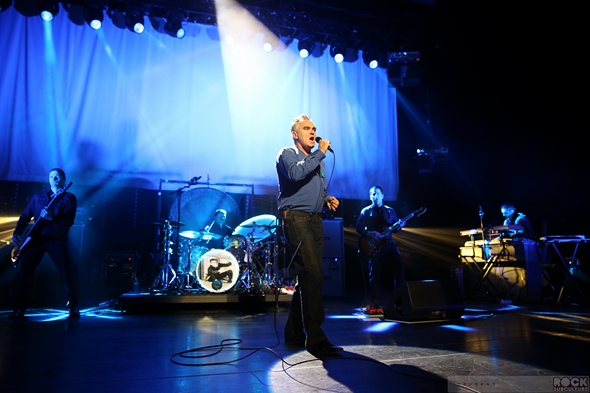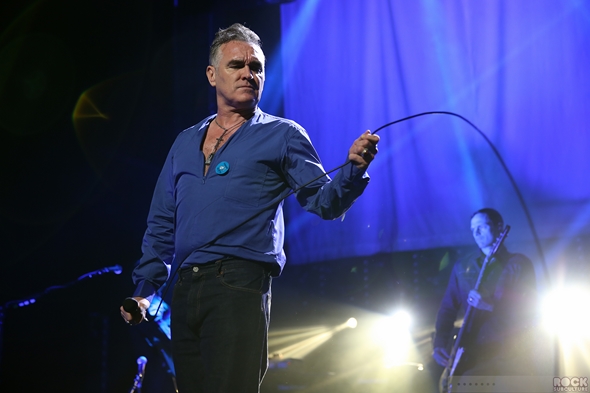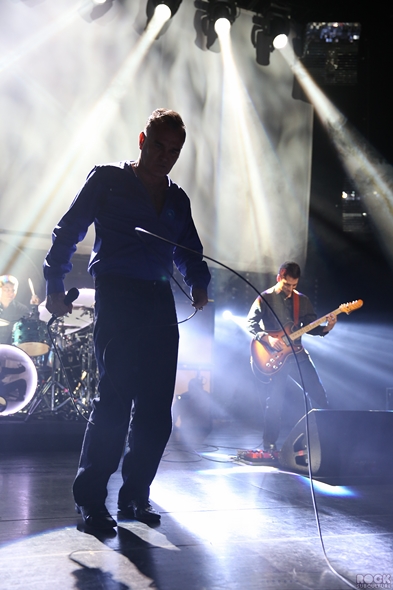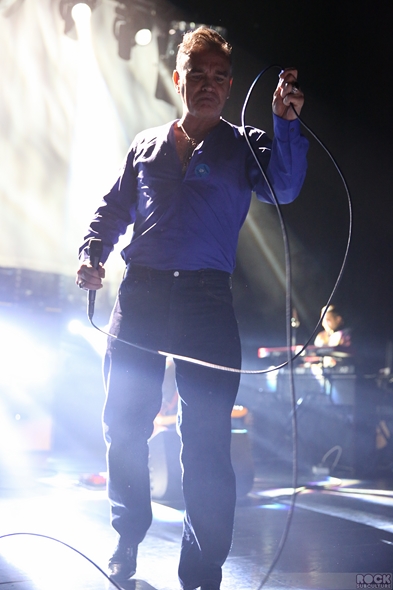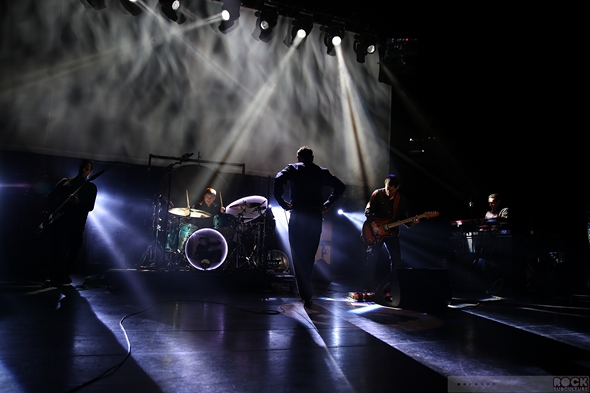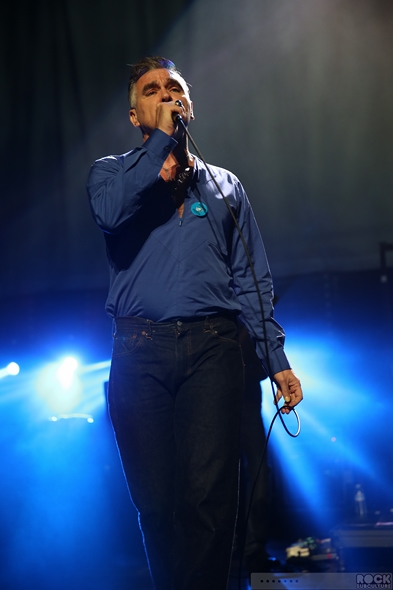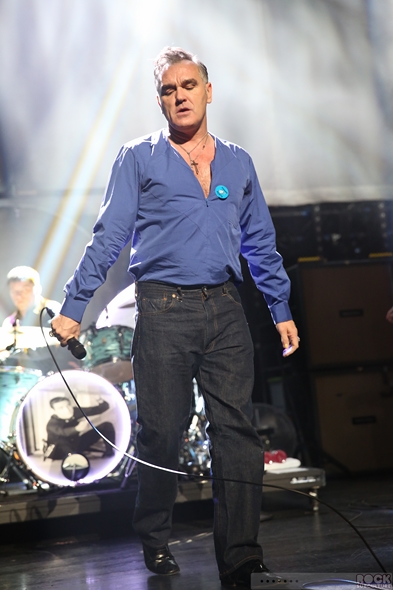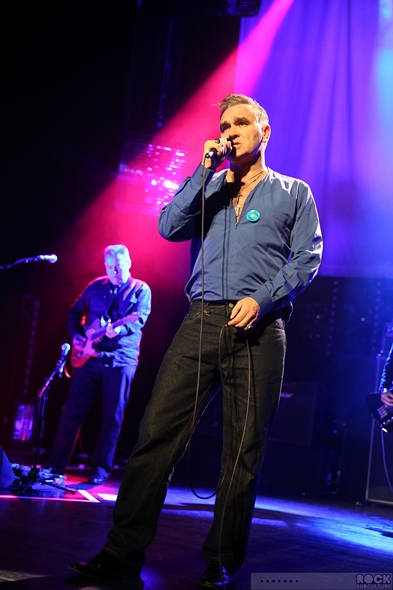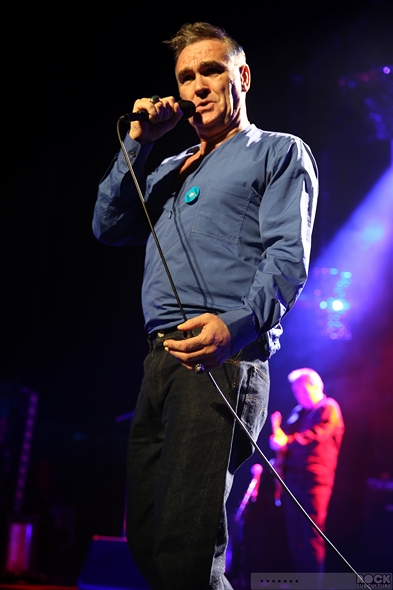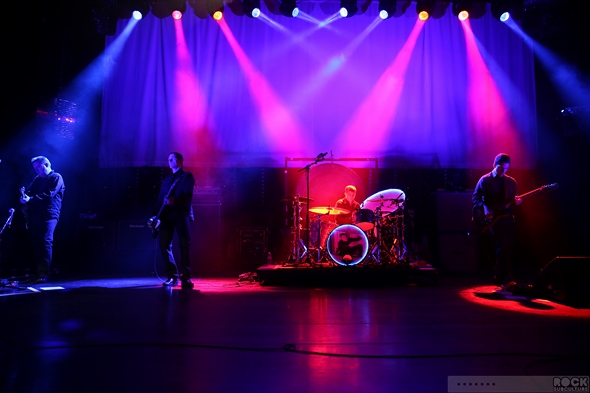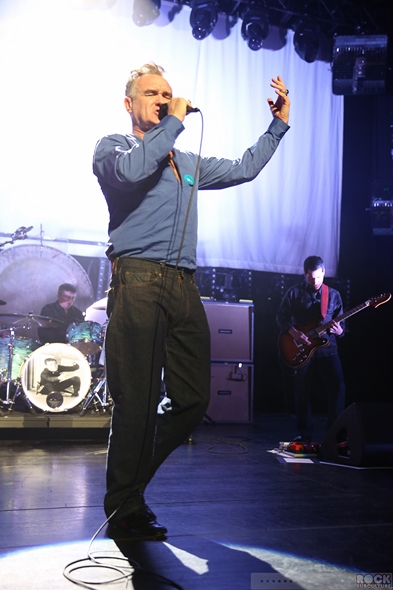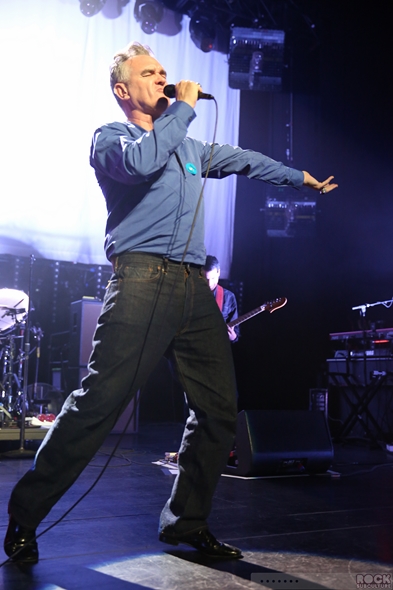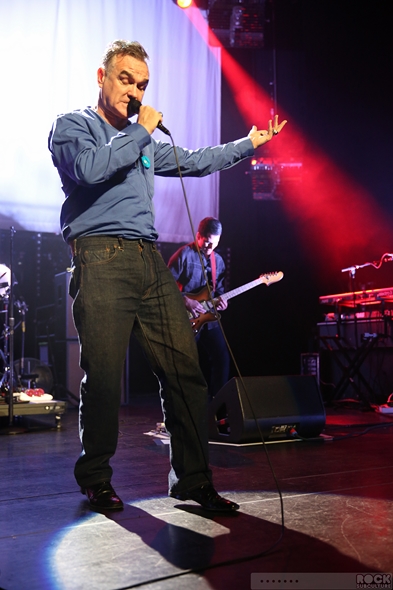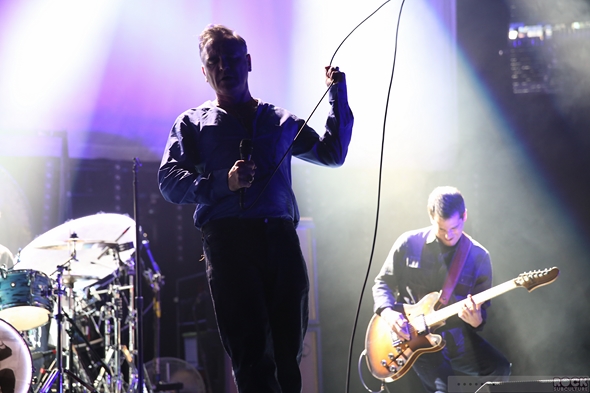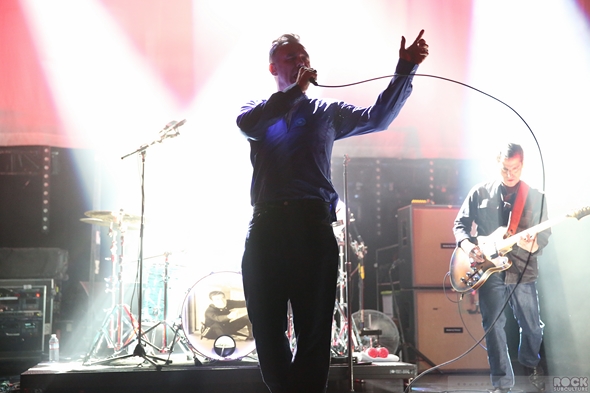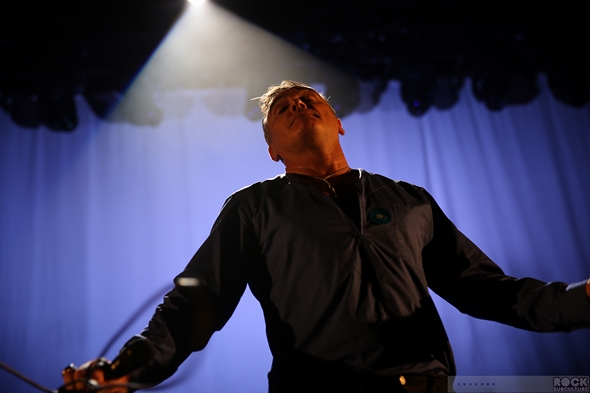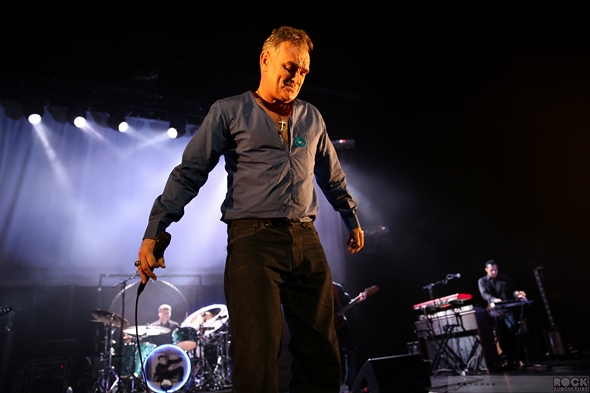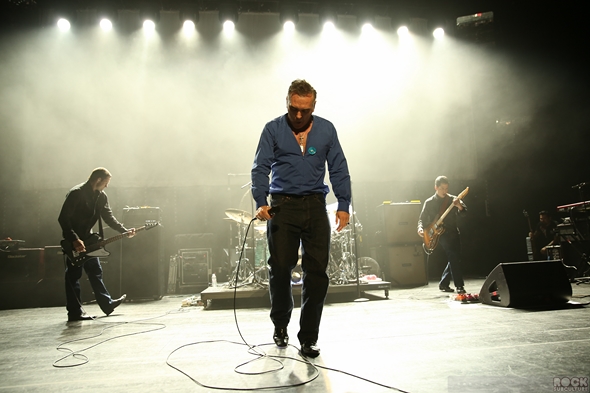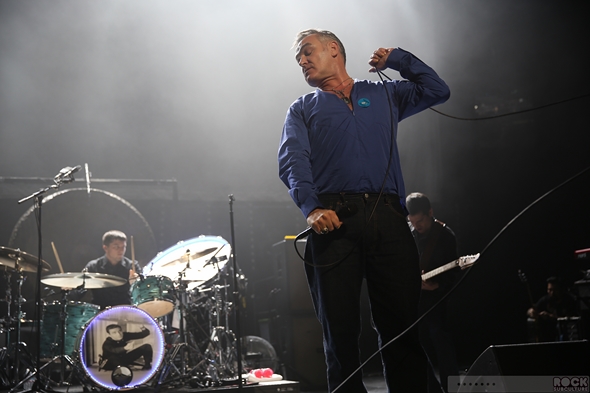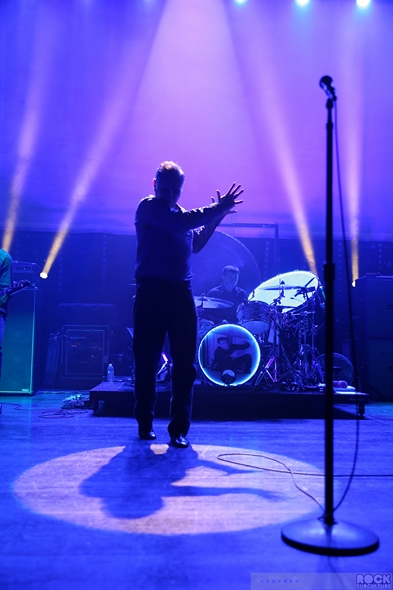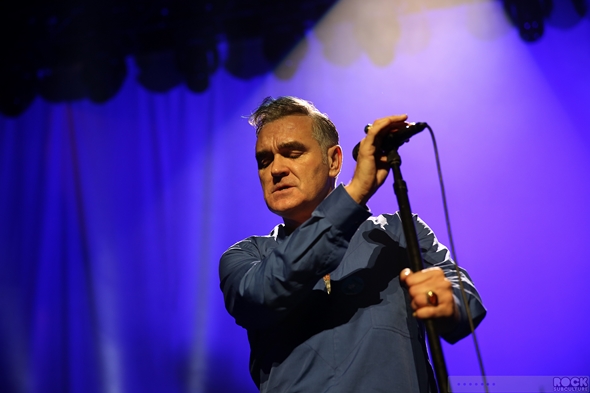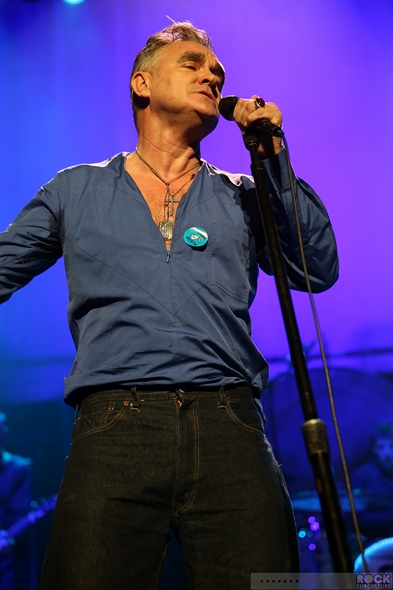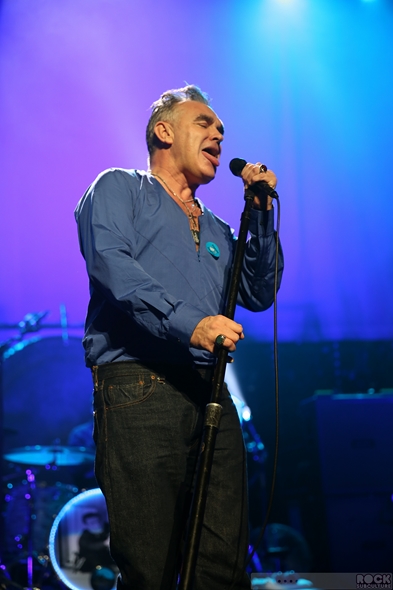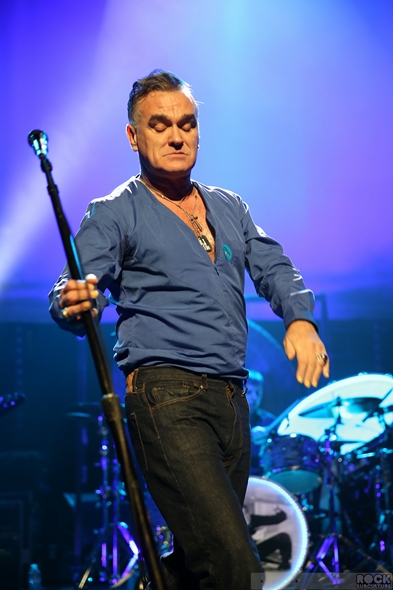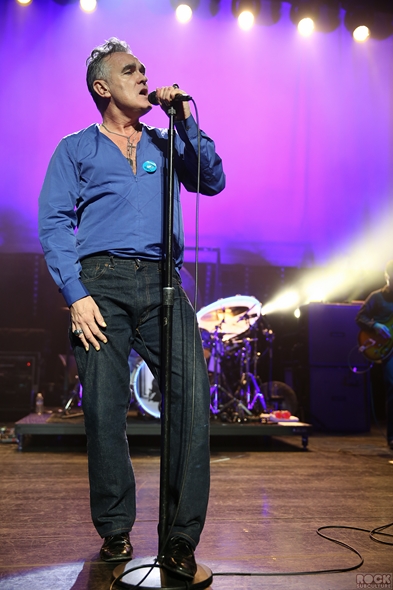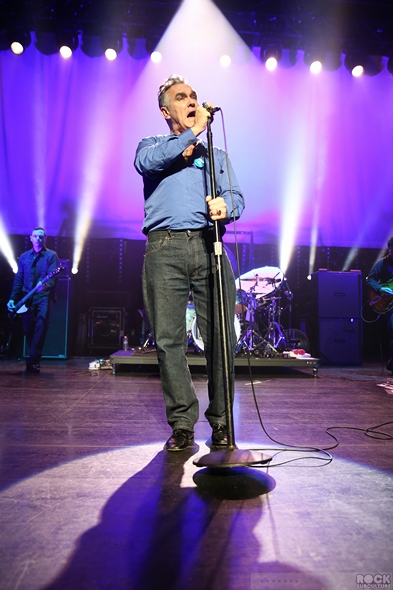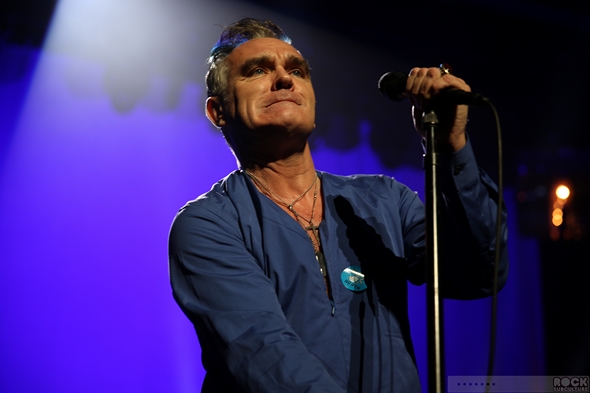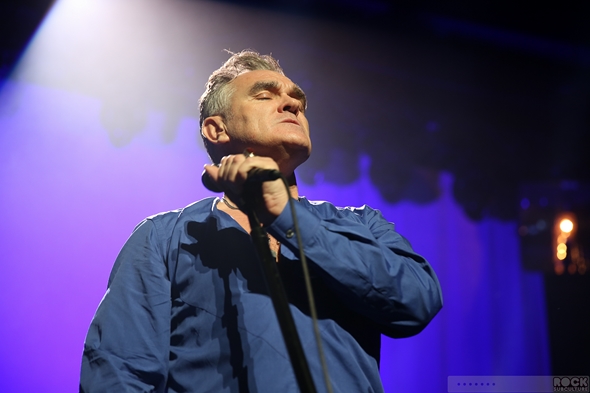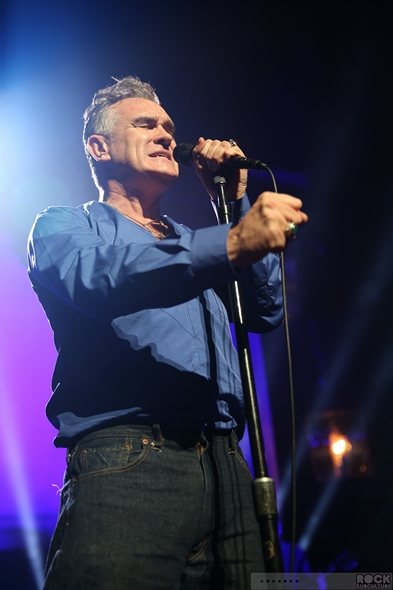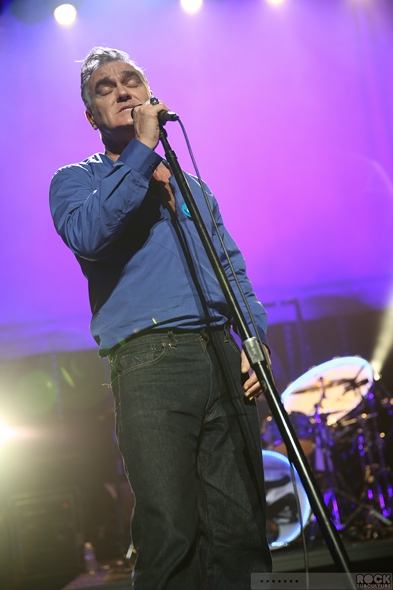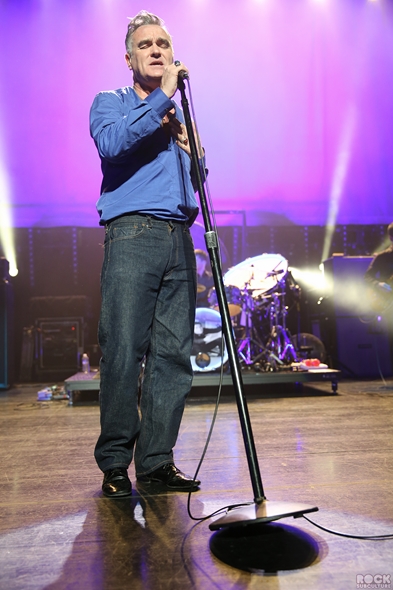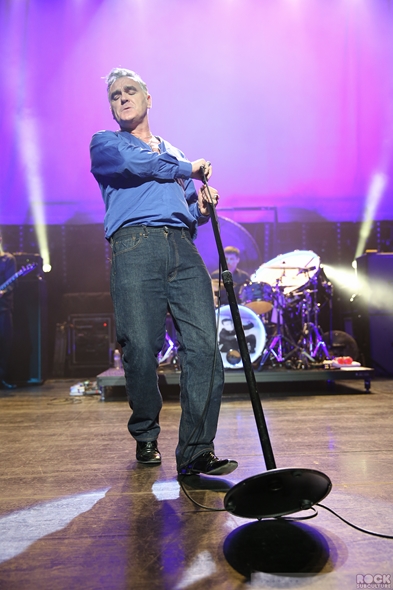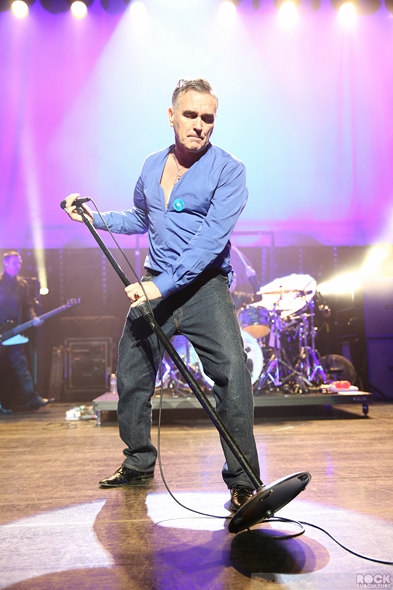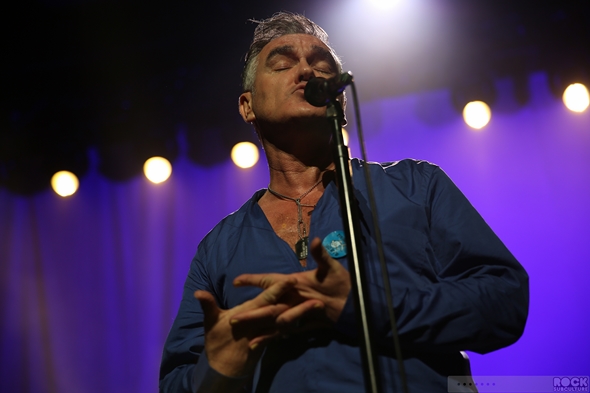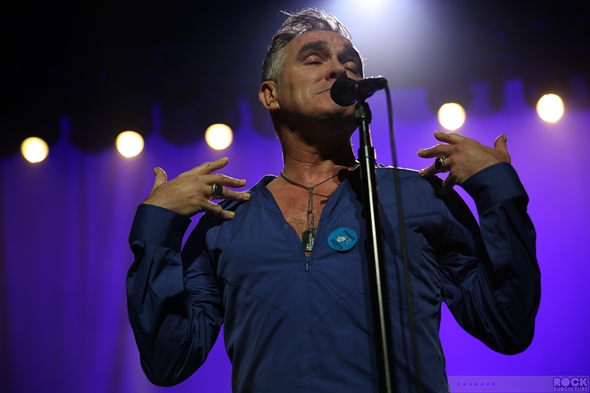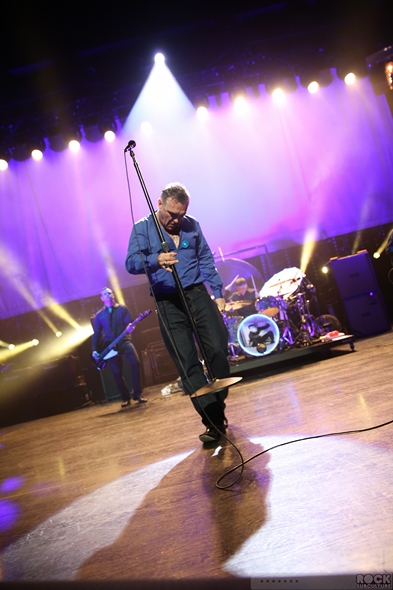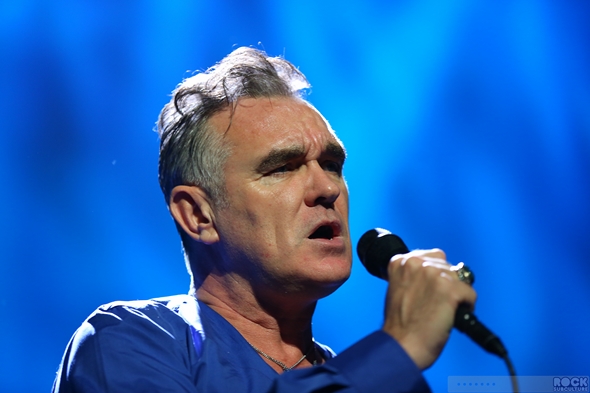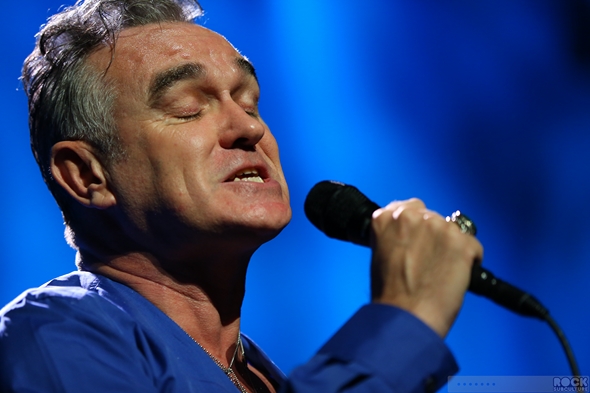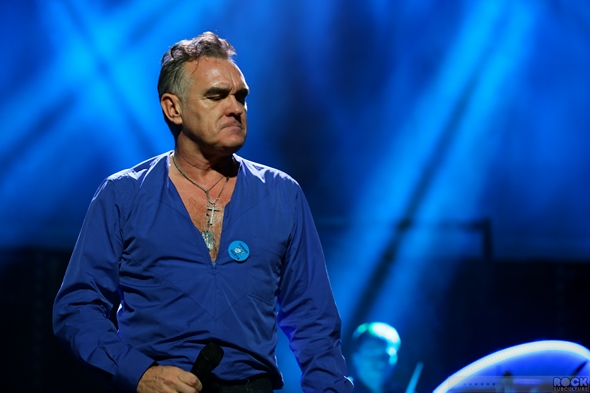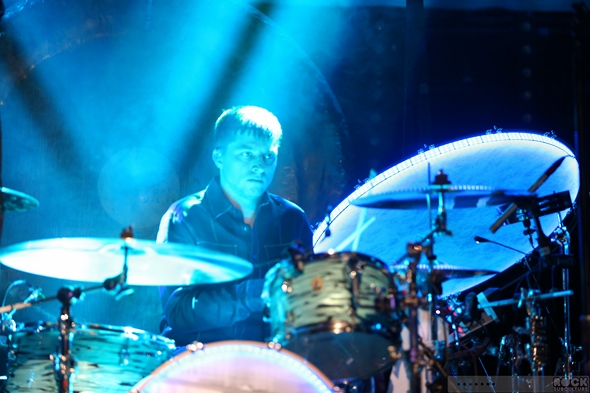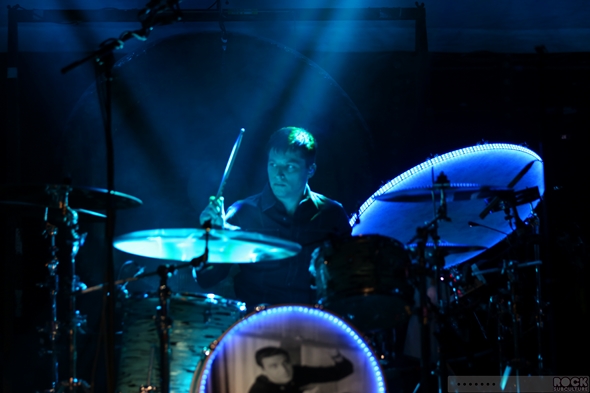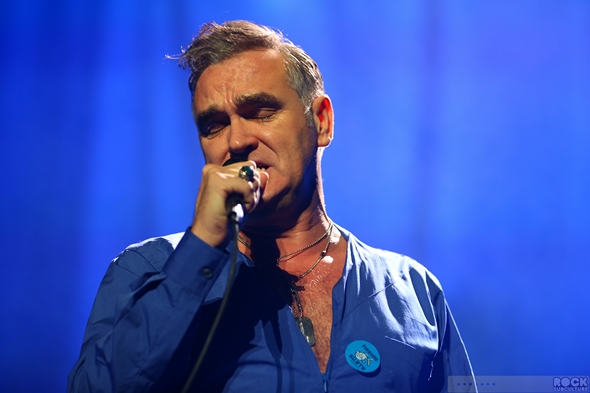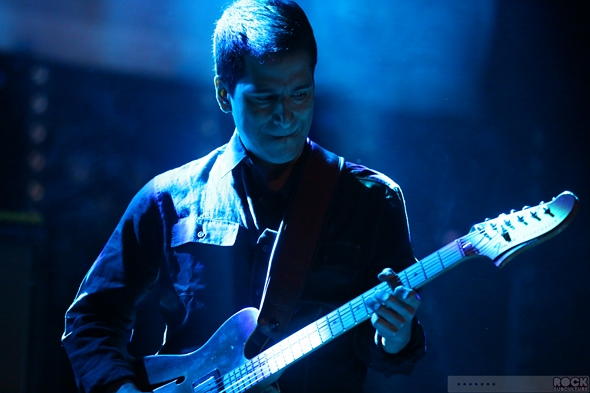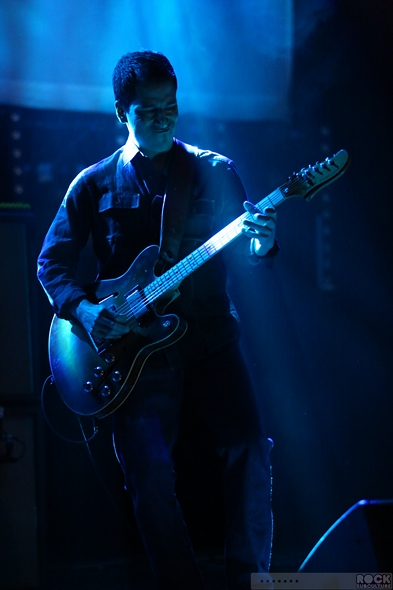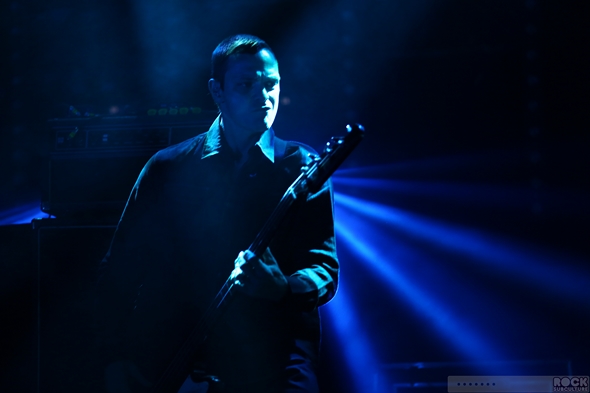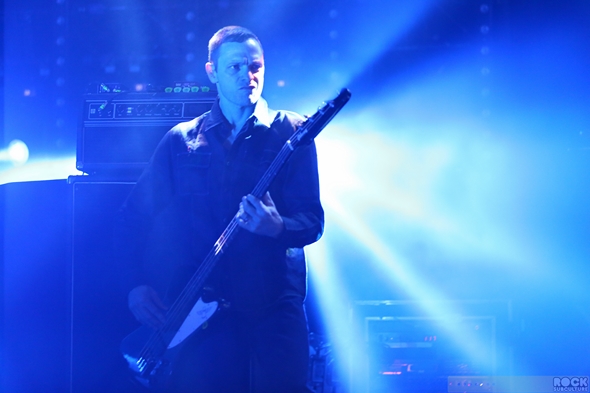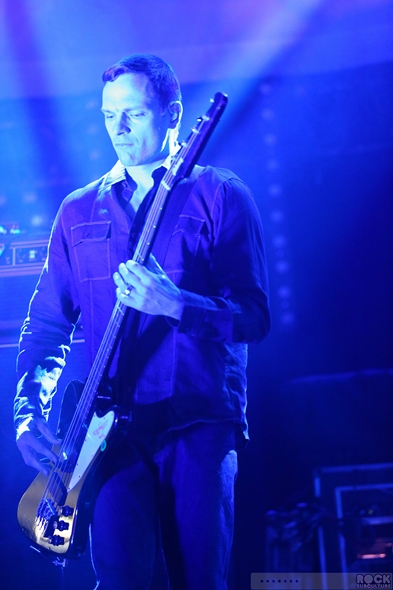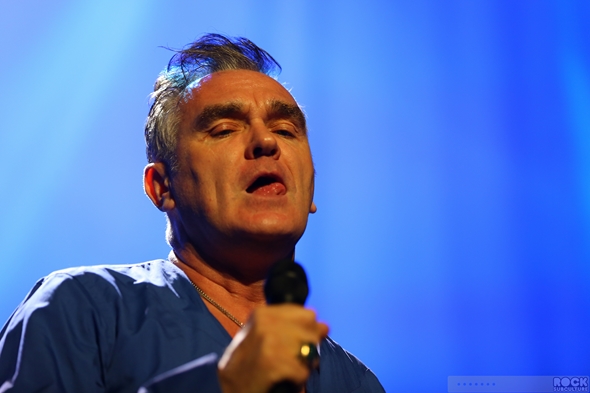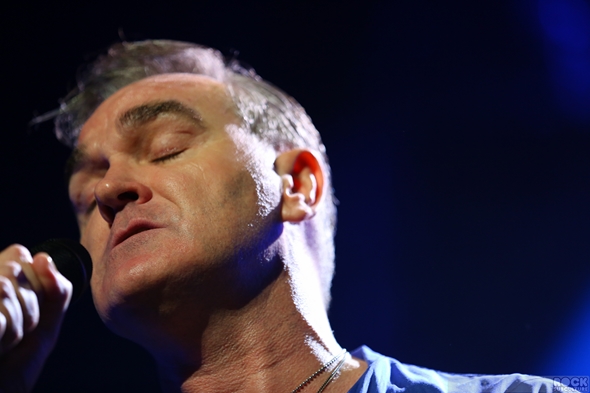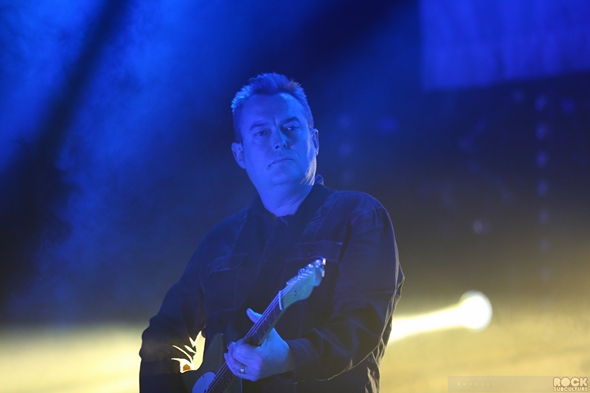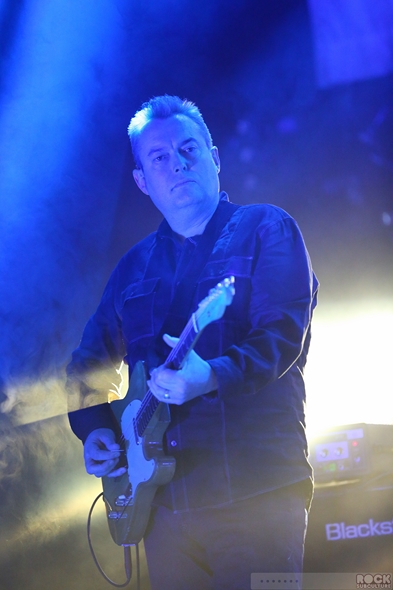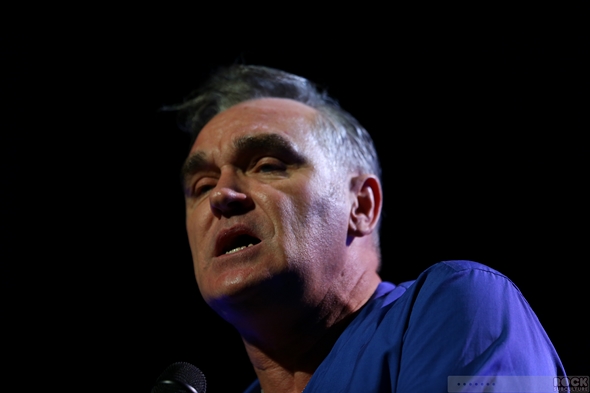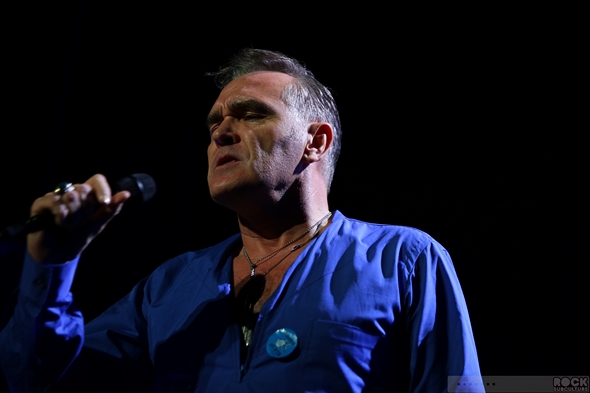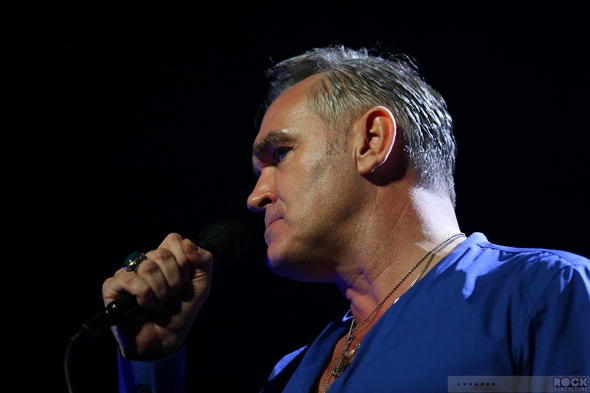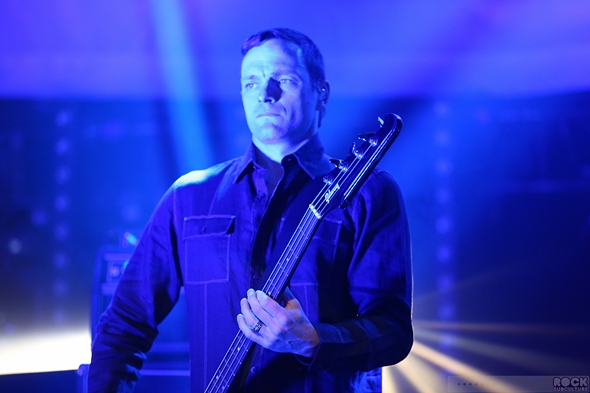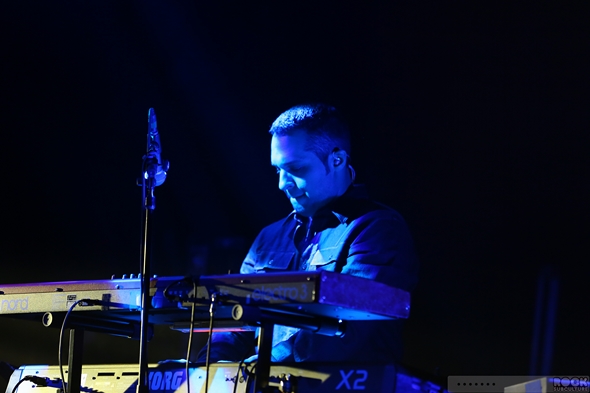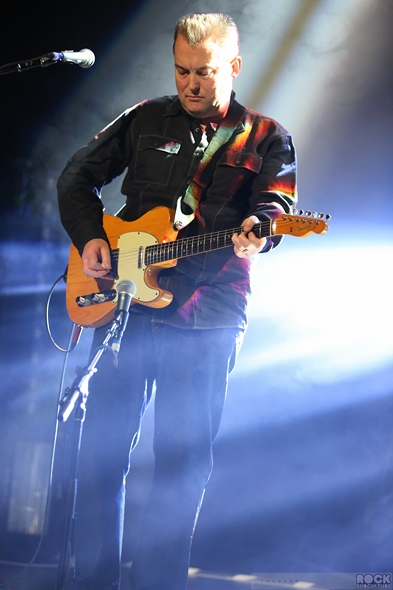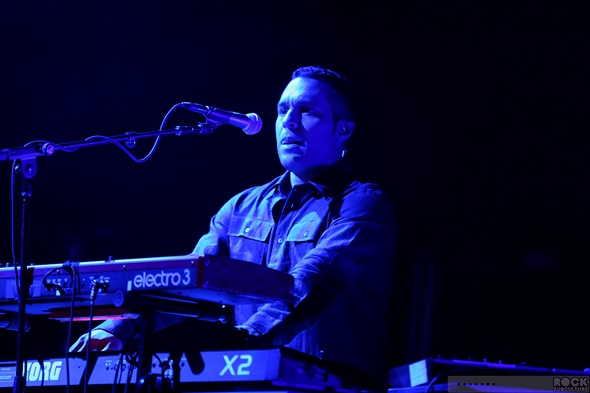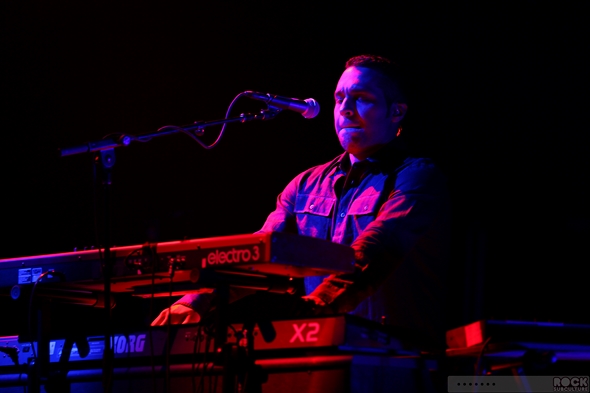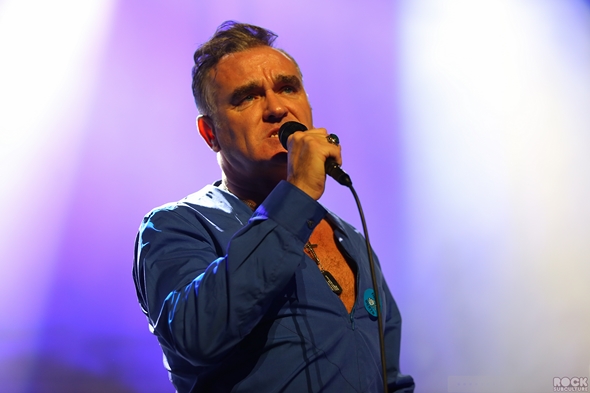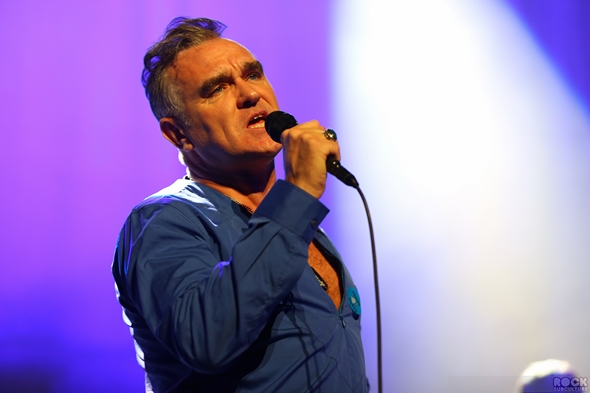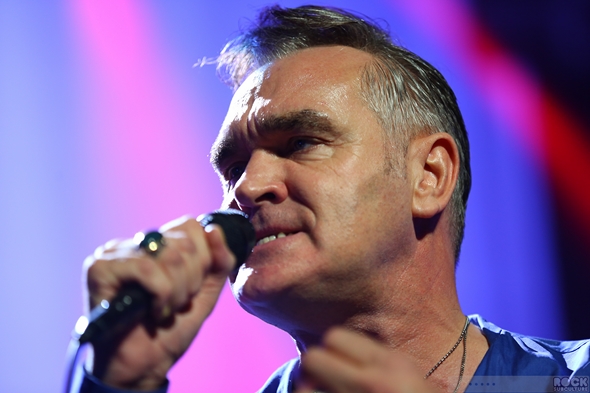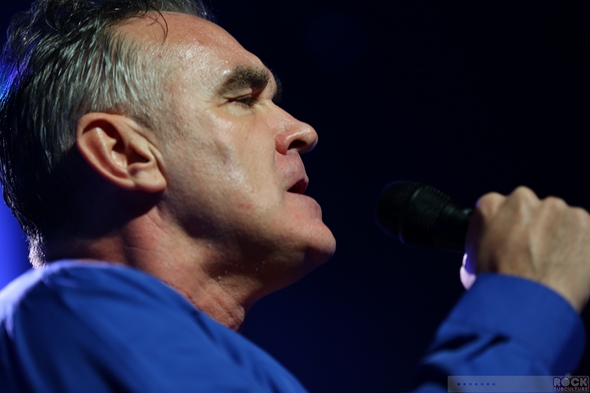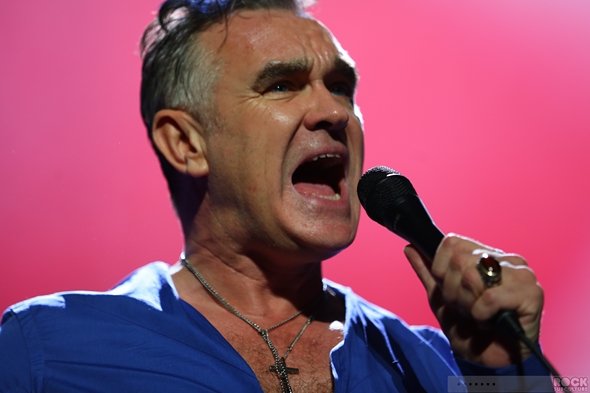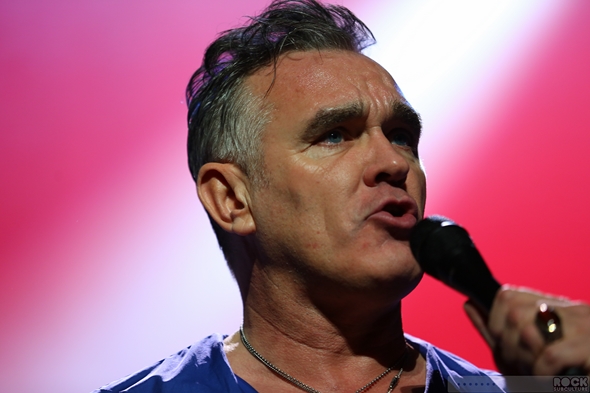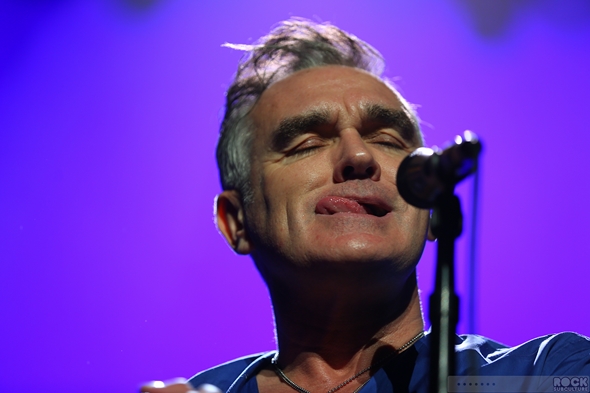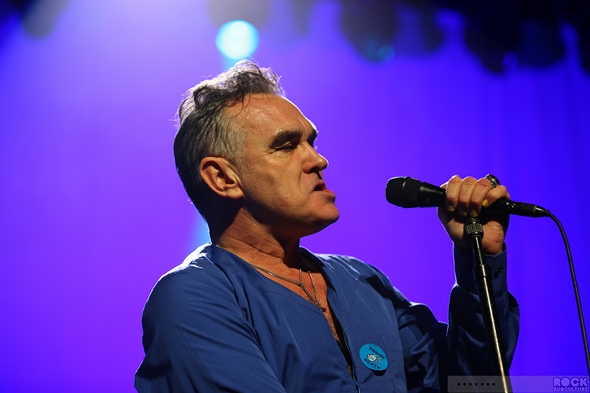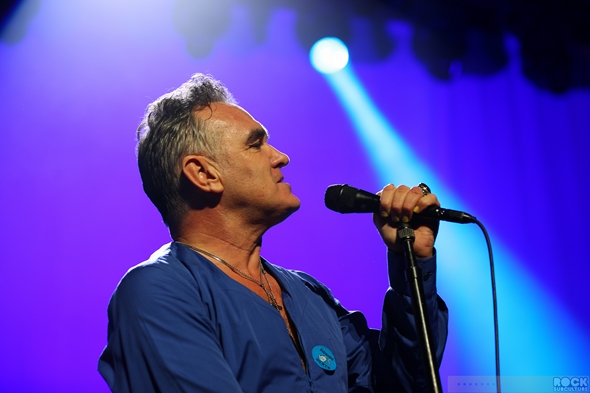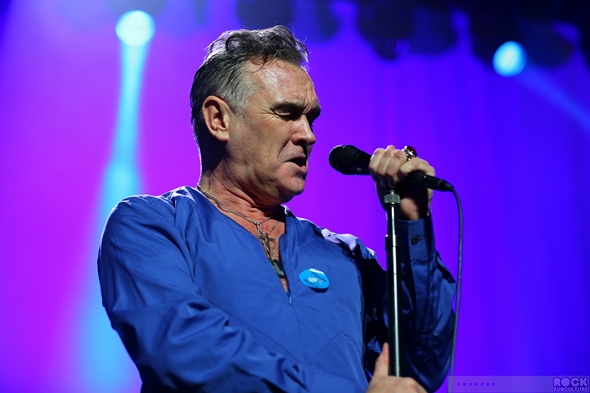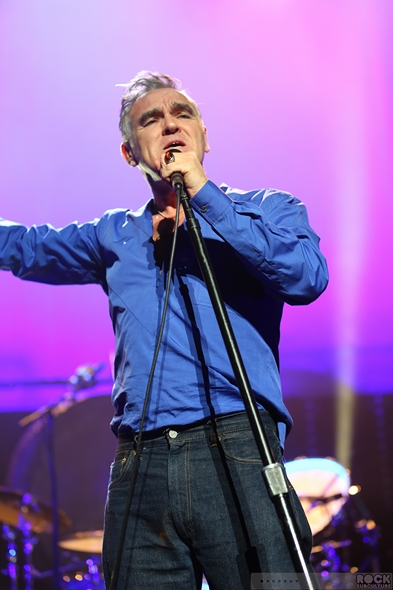 Below are a handful of additional shots taken later in the show with my pocket (non pro) camera: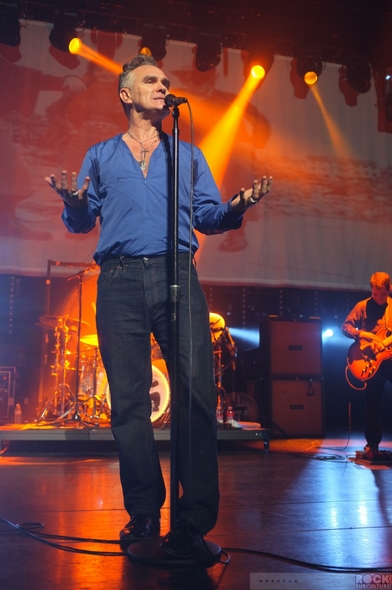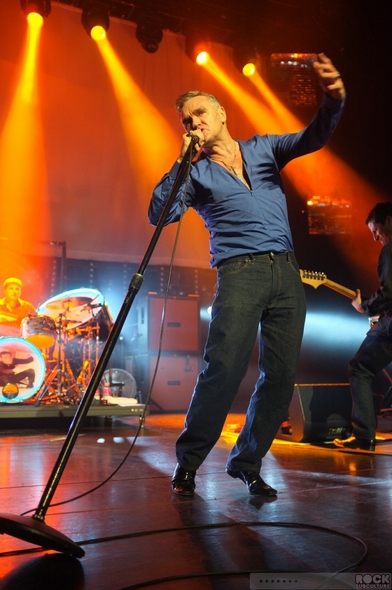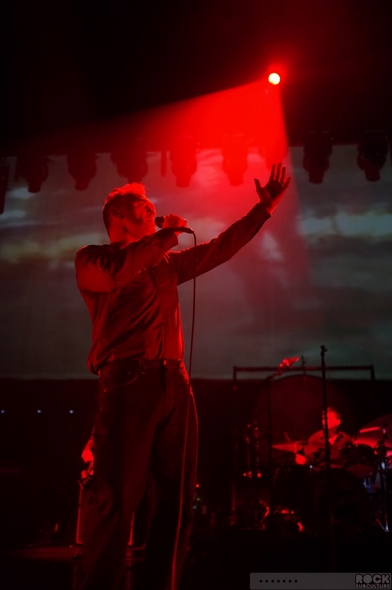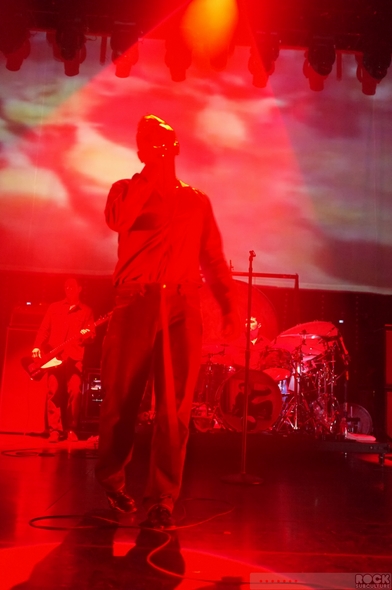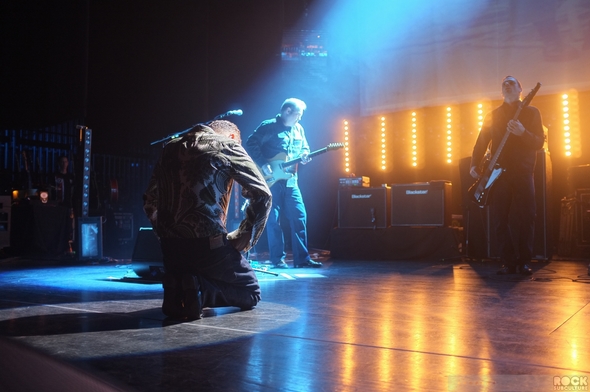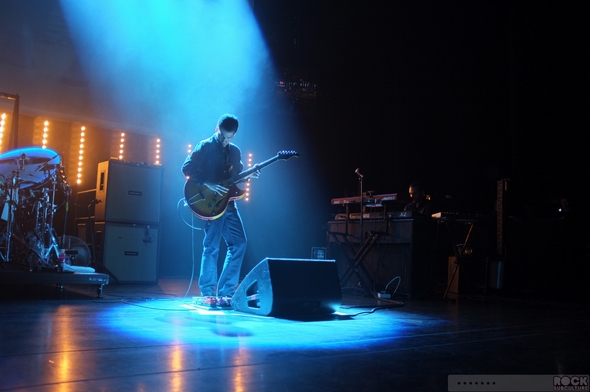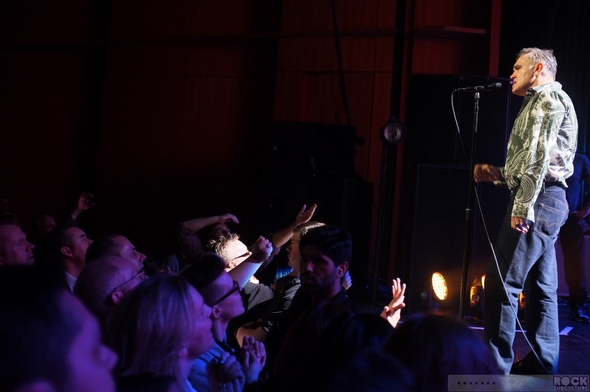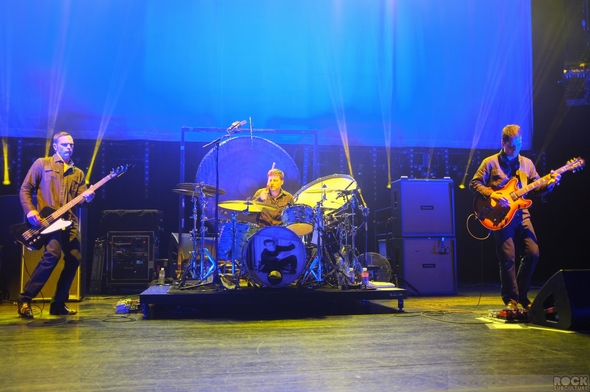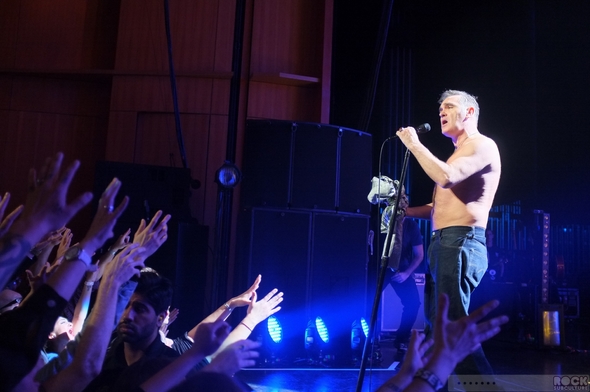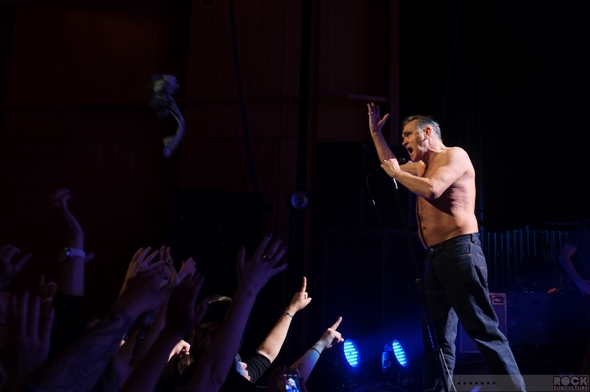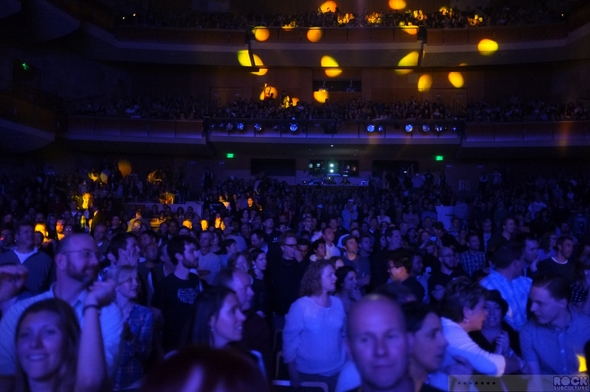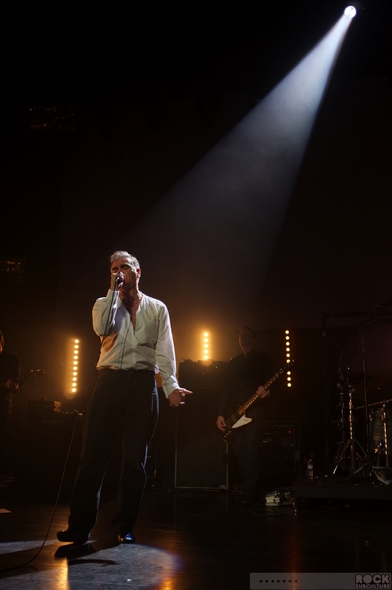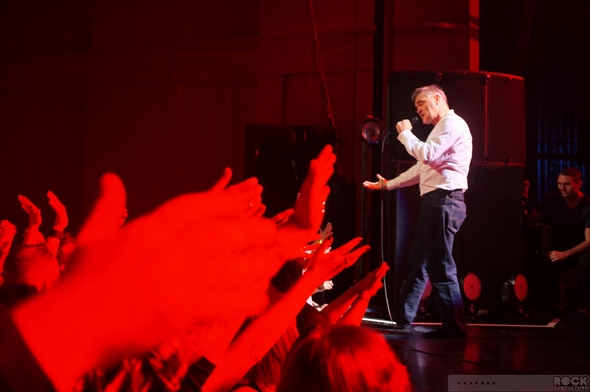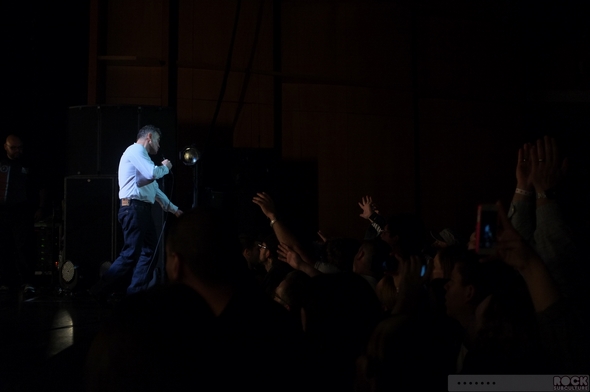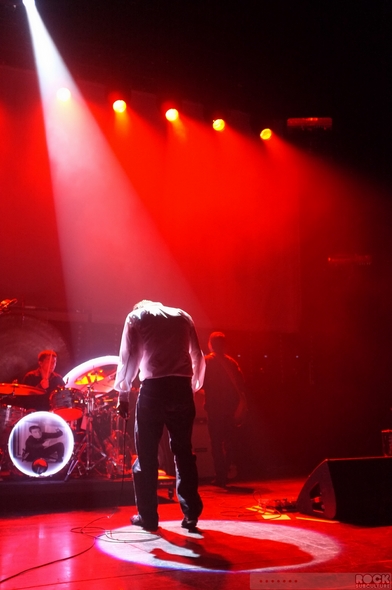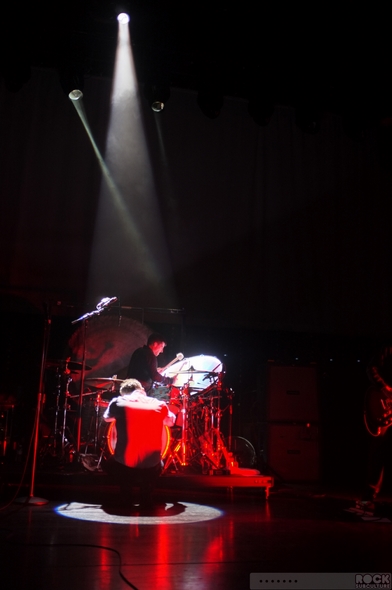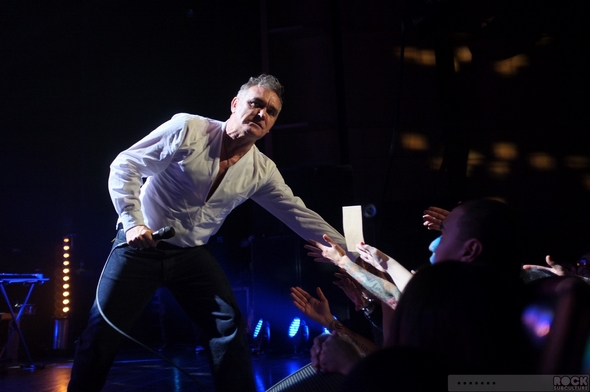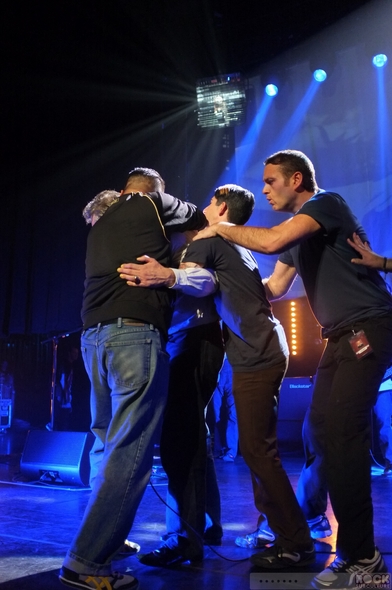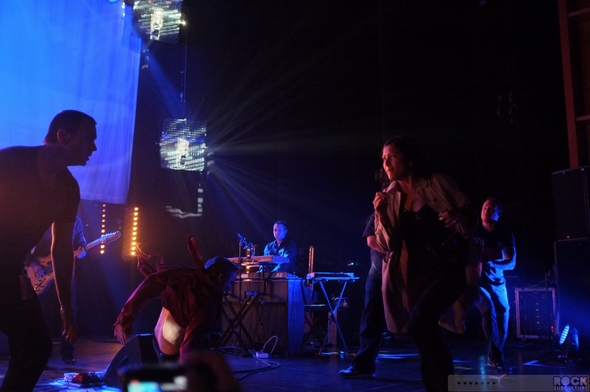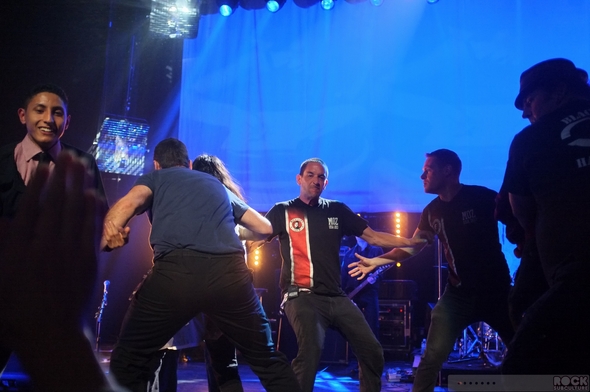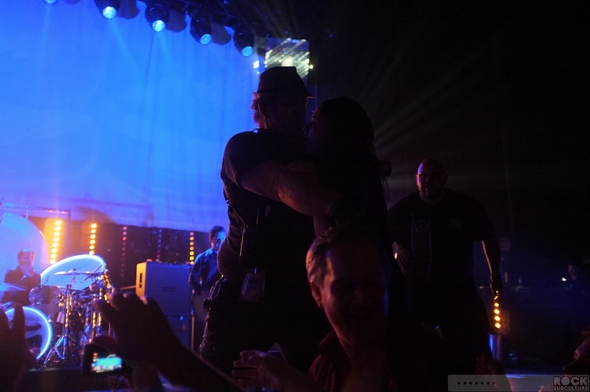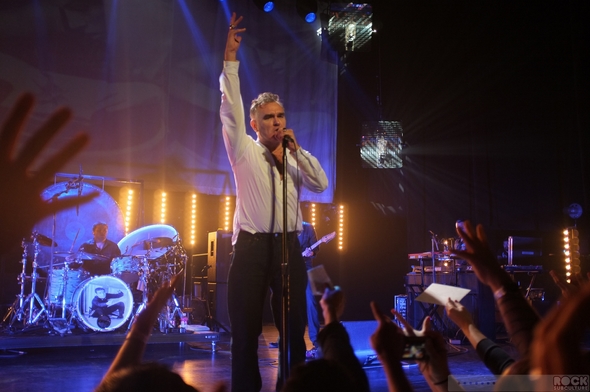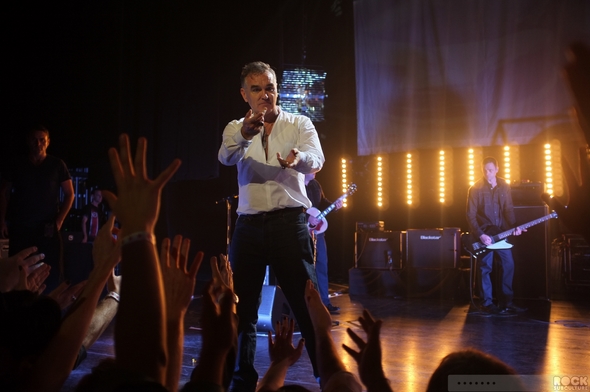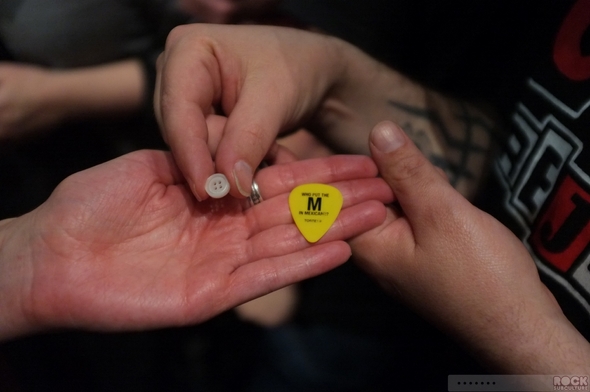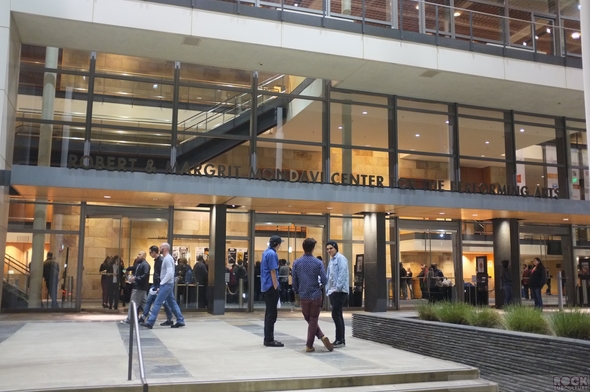 Jason DeBord