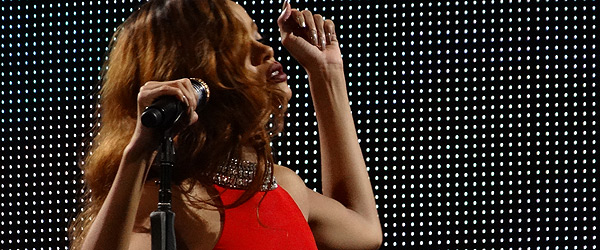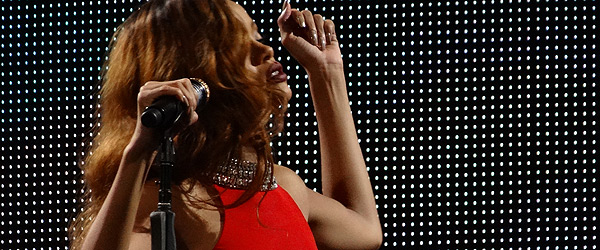 Rihanna is an artist that is one of the hardest working in music today (on and off stage), and her only real problem with her show at HP Pavilion in San Jose last night was that she has so many hit songs – even at just 25 years old – she could not fit them all into a sprawling, nearly two-hour non-stop concert event.  A prolific artist, Talk That Talk came out in 2011, just as she was wrapping up her Loud Tour (named after the studio album before that), she's since release 2012's Unapologetic, and tickets for this tour actually went on sale late last year as well.  The show in the massive HP Pavilion was sold out and filled to its 14,500 capacity, and it was one of the best giant arena audiences I've seen.  Rihanna did not disappoint, as the place was bouncing and euphoric before she ever took the stage, and things only cranked up from there.  She put on her usual top class show fueled with energy and heartfelt emotion and gratitude, as I experienced at the O2 show in London in late 2011 as her last tour came to a close.  This is definitely one of the must-see tours of the year, with both figurative and literal pyrotechnics.

Who: Rihanna
Supporting: A$AP Rocky
Venue: HP Pavilion at San Jose
Where: San Jose, California
Promoter: Live Nation
When: April 6, 2013
Seating: Floor Section 2, Row 13, Seat 1

I had purchased one of the "VIP Tour Packages" via VIP Nation last year, and my seat was supposed to be 13th row, middle section, but the actual configuration at this venue did not resemble the seating chart listed on Ticketmaster in any fashion, as there was a staggered section placed in front of the three strips of floor seating.  Now that I've seen the full show, I think that the seating chart was changed up to make space and factor in security for Rihanna to come off the stage and down to the floor to interact with the fans a bit.
In any event, the show did get off to a late start by a good 30 minutes, so it was a late night, but I don't think anyone seemed to mind, as all were focused on the show and having a great time.
One of the funniest things I've seen in a while revolved around the well-intended security staffer charged with keeping the aisle in-between floor Section 2 and Section 1 clear of people…  a few fans had fun using it as a runway for a dance off, and he seemed a bit unsure of how to move them off, since they were so harmless, kind, and otherwise well-behaved.  As he was moving one back to their seat, unbeknownst to him, another would be grinding behind him.  It was all quite funny, and truly, once the show started, everyone was really respectful of staying where they were supposed to be.  So kudos to both staff and fans for keeping it fun and also keeping things in control.
A$AP Rocky
As a general rule, I make every attempt to keep my concert reviews fairly positive, or don't say too much at all.  However, A$AP Rocky was just so bad, in my opinion, I can't merely skip over the performance.
Now, rap isn't one of the genres I'm most into, but there are quite a number of rap artists that I admire and who's work I love, spanning the past three decades.  So while it takes more talent and originality to win me over as a fan, many, many artists have done so, and even the first or one of the first concerts I ever attended in middle school was Run DMC, Beastie Boys, and Ice-T, so I enjoy rap music tremendously.
I was unfamiliar with A$AP Rocky prior to walking into the venue, other than a friend suggesting he would be a good opener.
My first impression as he came out an began performing was that he is another one of those derivative artists that simply borrows from those who came before him…  the same cliched stylings, mannerisms, delivery, themes…  there was nothing original.  He borrowed the dollar sign in a name thing from Ke$ha and others, he holds his mic like Jay-Z, he literally has a throne on the stage (maybe taking the name of the 'Watch The Throne" tour with Jay-Z and Kanye West a bit too literally), he's obsessed with the usual rap artists topics (weed culture, "pussy", anti-law enforcement, etc.).  The throne was unintentionally comical, an abject display of severe insecurity via set decoration, though looking like something that you might find in the children's section at Ikea.
His delivery was so poor, I could not understand anything that he was saying, other than those songs where he repeated (shouted, really) the same two or three words over and over again.  He actually has a "song" called "Pussy Money Weed", and as far as I could tell, those were the only words in the song.
And just to kind of paint a picture of the atmosphere of the show…  Rihanna is an inspiration to young women and literally girls – whether or not she chooses to be, this is a reality.  So the venue was filled with adolescent girls, many of whom would be too young to attend a show such as this, so had parents in tow.  So in my humble opinion, the selection of A$AP Rocky as supporting act was a poor choice.  I am not a parent, but if I was, I would have been unhappy exposing a child to this artist, not because he was terrible, but the shouting of profanities, the "n" word, and the misogynistic themes that came across through the music and images was really just not appropriate, all things considered.
I'm a huge proponent of freedom of speech and expression, but if this kind of artist is going to take the stage, there should be an age minimum requirement for the concert (16+ or 18+).
The opening set took an even uglier turn as it wrapped up, as A$AP Rocky began asking for volunteers in the audience…  without explaining why.  Except that they needed to be women.  At least 18.  Or 21.  He couldn't seem to make up his mind.  He did no I.D. checks, but brought two women on stage to give him a lap dance as he sat in his ridiculous throne.  Seriously, what an idiot.  I guess it is one of his fantasies to have a captive audience of 14,000 people watch him get off by demeaning random young women on stage.
A$AP Rocky has no talent or class (or respect for women or Rihanna's fans and audience) and in my opinion has no place on this tour.  Maybe he should have been replaced with another artist after pleading guilty to attempted grand larceny a few months ago.
I miss the awesome Calvin Harris, who opened for the last Rihanna concert.
Below are a few photos of A$AP Rocky performing on stage: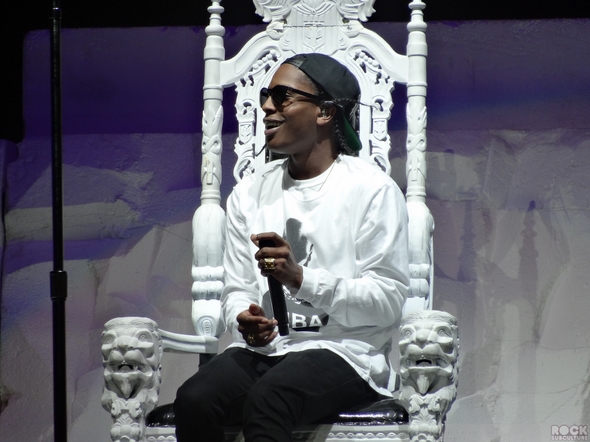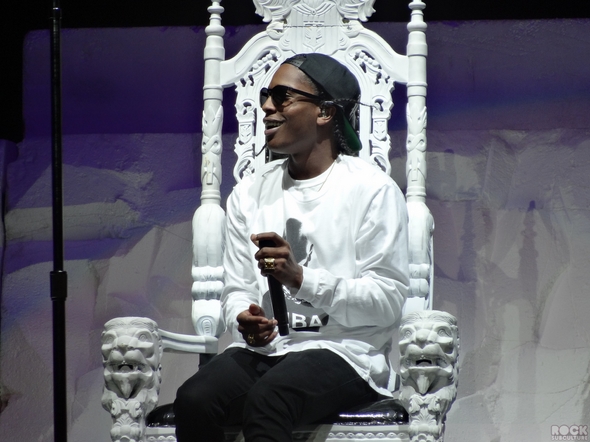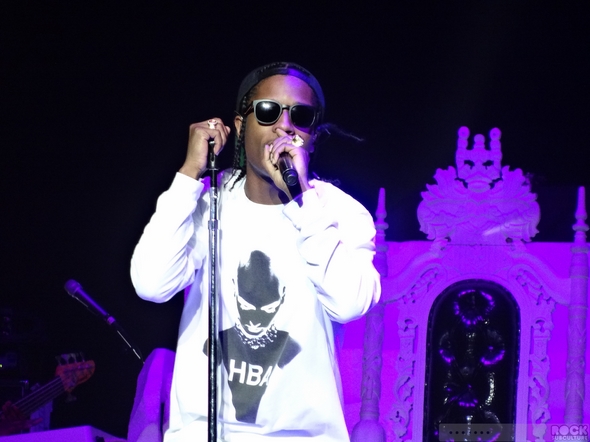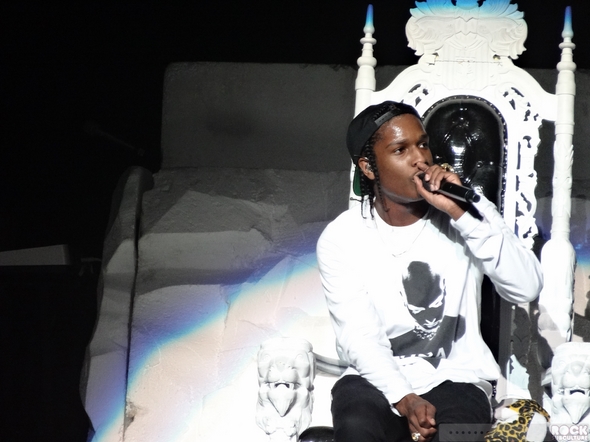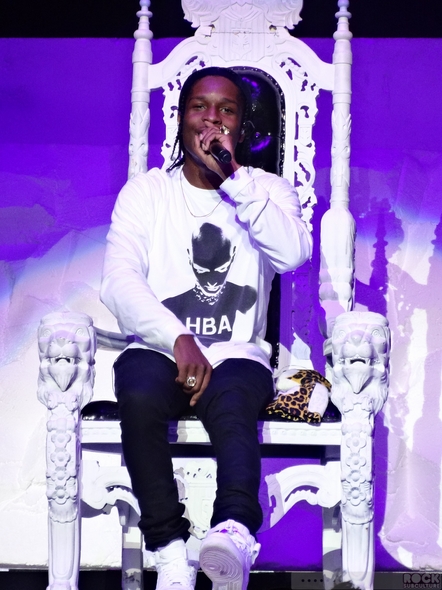 Rihanna
As mentioned, my first experience seeing Rihanna live was in December 2011 (see "Rihanna at the O2 Arena | London, England | 12/20/2011 (Concert Review)"), as she was wrapping up her Loud Tour, which was also filmed and is now available on DVD and Blu-Ray as "Rihanna: Loud Tour Live at the O2" which I recommend highly.  That was an incredible show – one I was sure could never be topped – and I knew I would see her again once she announced the next tour.  I was also lucky enough to meet Rihanna backstage after that show, which was a great experience.
Since, she has released Unapologetic, which is another top album for the Barbadian pop singer.  There are some truly amazing new songs on this album, which I will get to a little later.
Comparing the two tours, I would have to say this one did not match the unbelievable "show" of the last…  but this is not a criticism, as I think the last show had so much movement and dancing I couldn't figure out how Rihanna could keep up, sing, and catch a breath.  I think with this tour, she has some more still and silent moments to really dig into the vocals of the songs, and that she did.
While she is young, she has incredible endurance and energy, and still manages to hit all her notes and sound truly angelic with her unique voice, tones, and delivery.  In my opinion, no vocalist in pop music today can really begin to match her ability to create stellar vocals in a live show.
The production overall was very slick (in a good way) and impressive, with many monitors moving about (behind and above) the stage for atmosphere was well as projecting real-time and close-up video of Rihanna performing for those further back in the massive sports arena.
In addition to the videos and dancing, there were also pyrotechnics, which were impressive, and at least from my distance to the stage, you could literally feel the heat as plumes of flame burst from the stage up into the air.
As per usual, Rihanna had many talented dancers joining her on stage, as well her awesome guitarist Nuno Bettencourt and other musicians.
But this tour, more than any before, feels like it is all about the music.  And Rihanna has so much to offer here.
Below is as far as I can remember the set list from the show in San Jose at HP Pavilion last night (which I would imagine does not change, or change much, show to show, due to the massive production behind it all)…
Setlist:
Mother Mary

[Unapologetic]

Phresh Out the Runway (contains snippets from "Jump")

[Unapologetic]

Birthday Cake

[Talk That Talk]

Talk That Talk

[Talk That Talk]

Pour It Up

[Unapologetic]

Cockiness (Love It)

[Talk That Talk]

Numb

[Unapologetic]
Short Intermission #1
You da One

[Talk That Talk]

Man Down

[Loud]

No Love Allowed

[Unapologetic]

Rude Boy

[Rated R]

What's My Name?

[Loud]
Short Intermission #2
Red Lipstick

[Talk That Talk]

Jump

[Unapologetic]

Umbrella

[Good Girl Gone Bad]

All of the Lights [Kanye West Cover]
Rockstar 101

[Rated R]

What Now

[Unapologetic]
Short Intermission #3
Loveeeeeee Song

[Unapologetic]

Love the Way You Lie (Part II) 

[Loud]

/ Take a Bow

[Good Girl Gone Bad]

/ Cold Case Love

[Rated R]

Hate That I Love You

[Good Girl Gone Bad]

We Found Love

[Talk That Talk]

S&M 

[Loud]

/ Only Girl (In The World) 

[Loud]

/ Don't Stop the Music

[Good Girl Gone Bad]

Where Have You Been

[Talk That Talk]
Encore
Stay

[Unapologetic]

Diamonds

[Unapologetic]
Since Talk That Talk was released toward the end of the Loud Tour, songs from that album did not get play, other than the Calvin Harris collaboration, "We Found Love".   As such, with this tour, the set list was front loaded with songs from the last two studio albums, so there are 10 songs from Unapologetic and 7 from Talk That Talk…  and honestly, 17 songs is usually a full show for most artists, and with Rihanna, that left the back catalog of hits untouched.
One way that they managed to squeeze in many of the hits was in doing mixed numbers wherein hits were played in part and transitioned into other hits…  so, for instance, "S&M", "Only Girl (In The World)", and "Don't Stop The Music" were all covered in short time.
Even with these efforts, and at least touching on about 30 songs, some big hits were still left out…  "Shut Up And Drive", "California King Bed", "Cheers (Drink To That)", etc.
Overall though, it is hard to complain, and I found the song selection, order, and pacing all worked beautifully.  I also applaud Rihanna for opening and closing with the new material, and using it to frame the whole show, rather than playing it safe and falling back on the tried and true hits.  An artist showing confidence in her work and the future.
Amid the hits, the highlight for me was off the latest album – "Stay" – which I think might be her best song to date.  Love it.
Overall, it was a fantastic show.  I would say that Rihanna's "Diamond's World Tour" and P!nk's "Truth About Love Tour" are the two pop singer shows to check out this year, as far as the big stadium tours go.
Below are some photos of Rihanna performing on stage: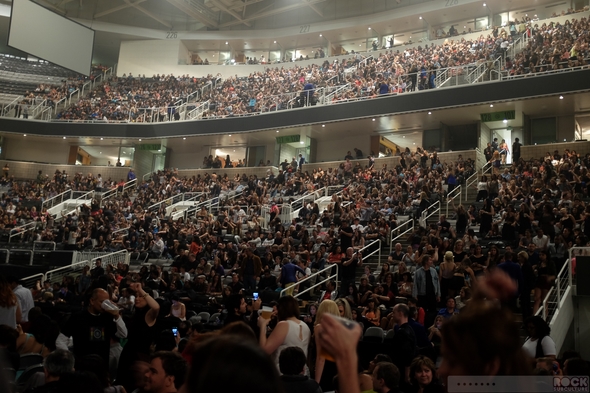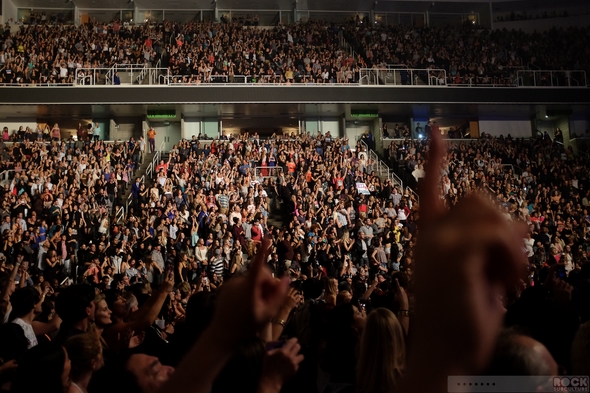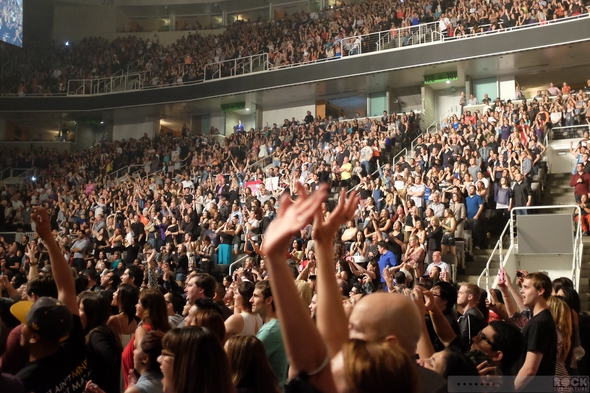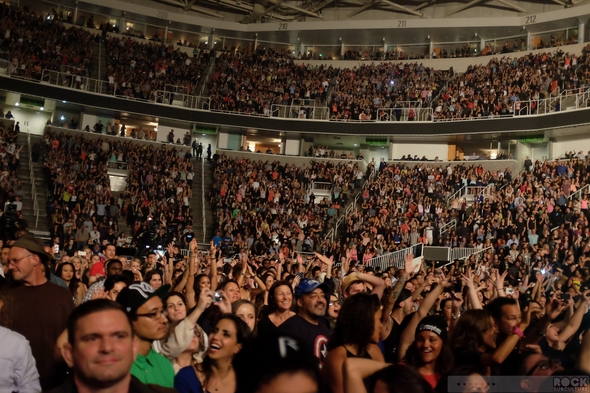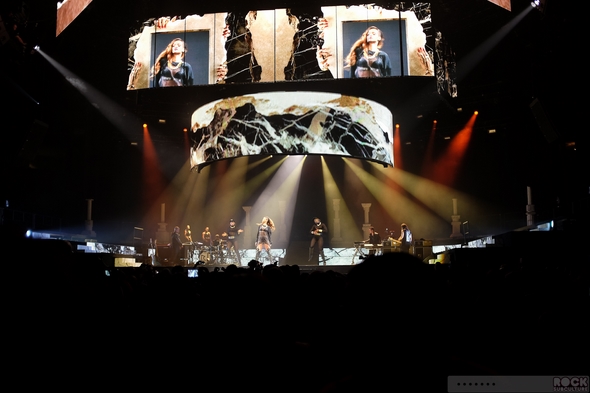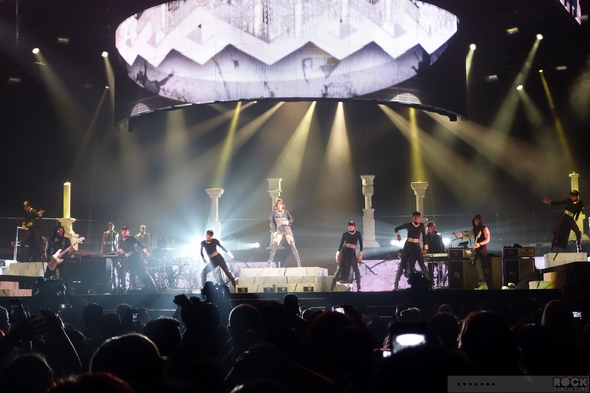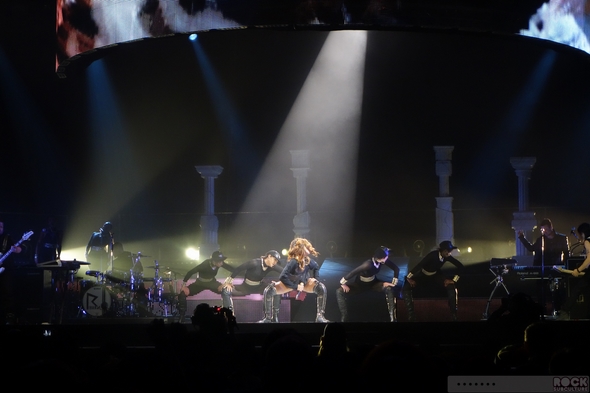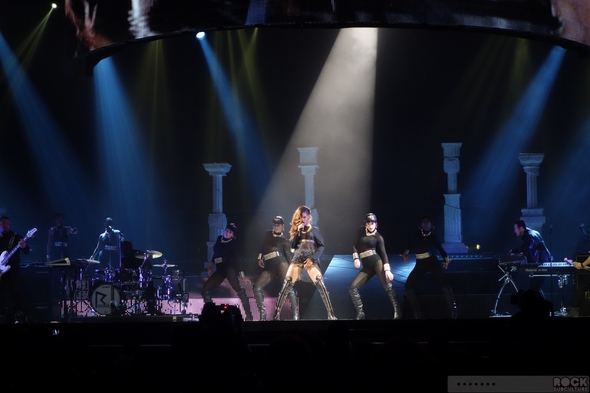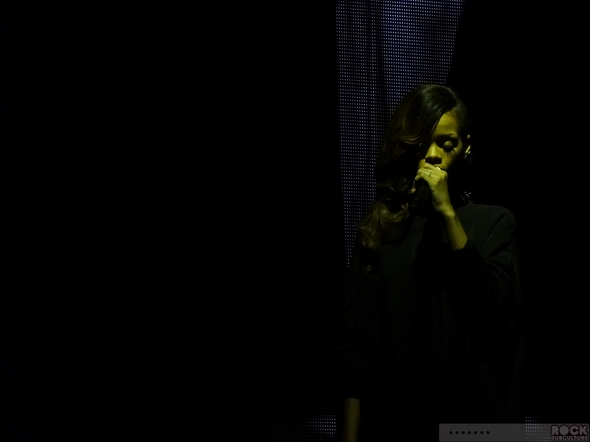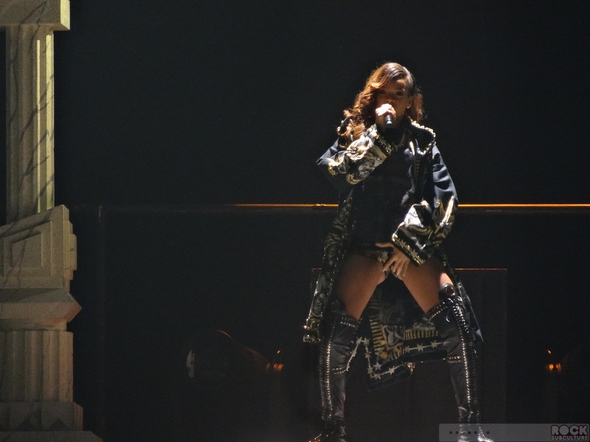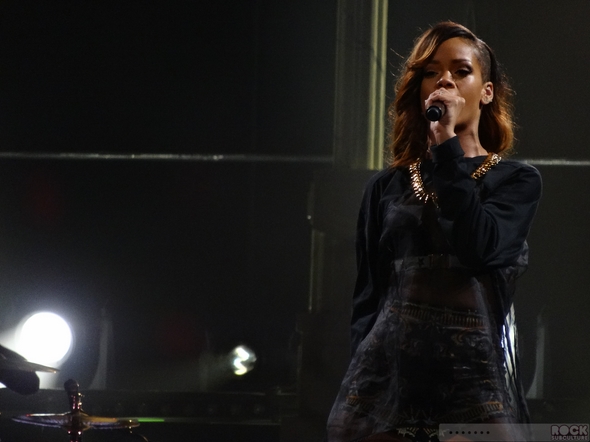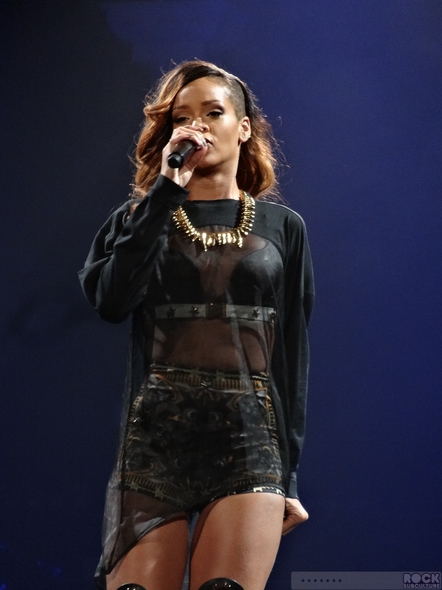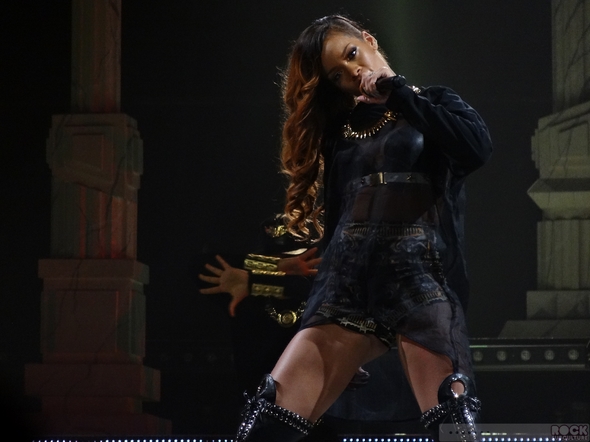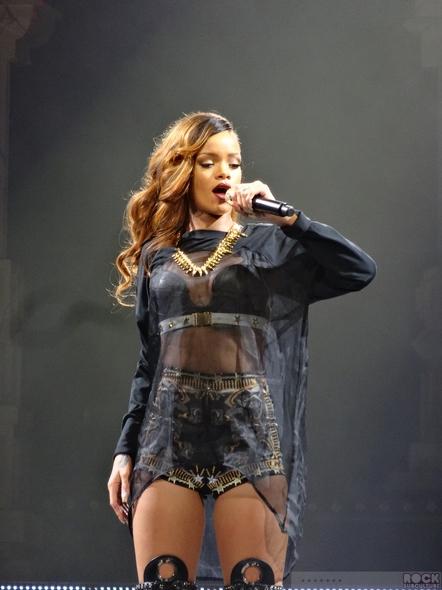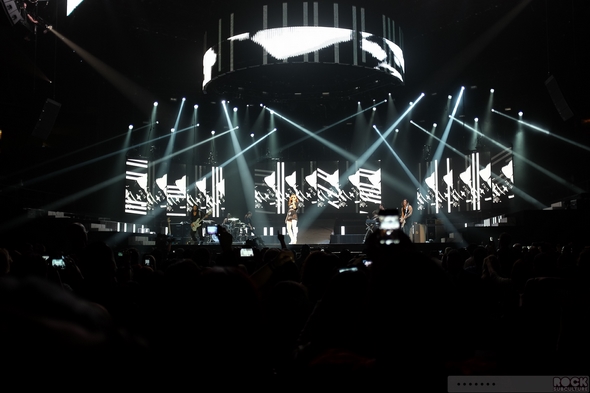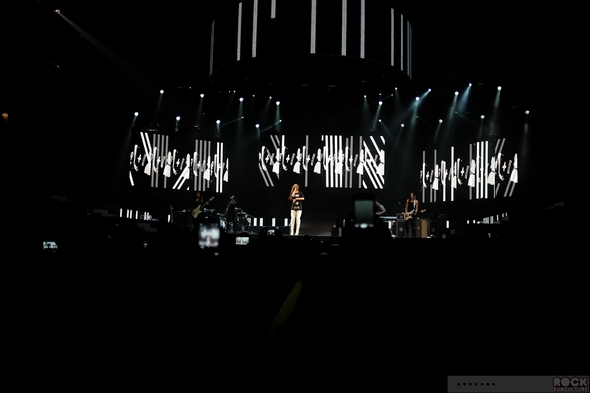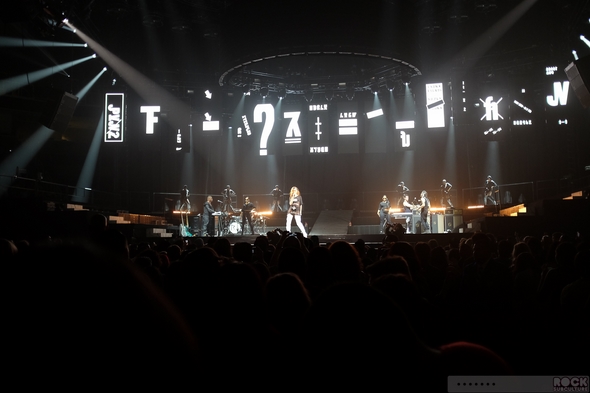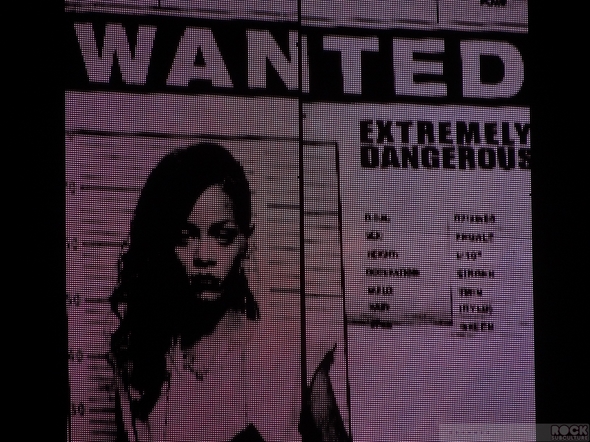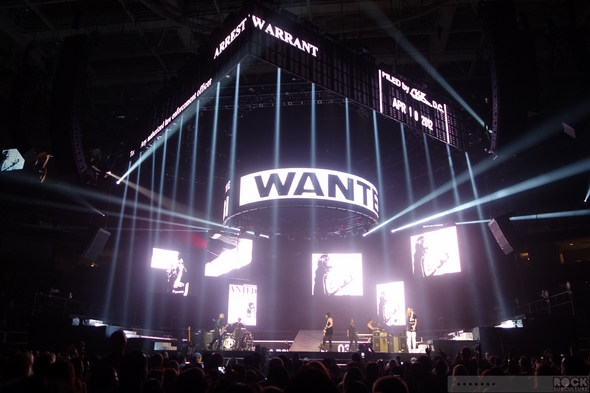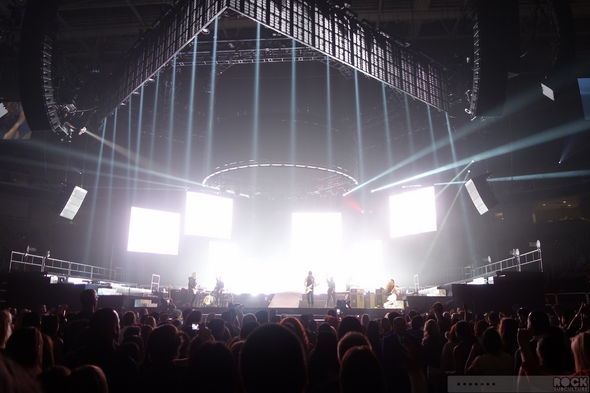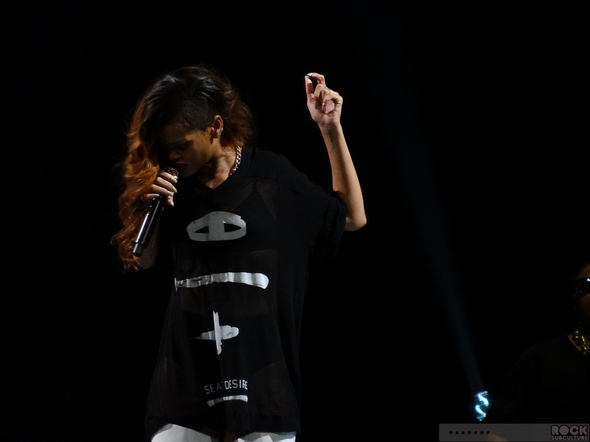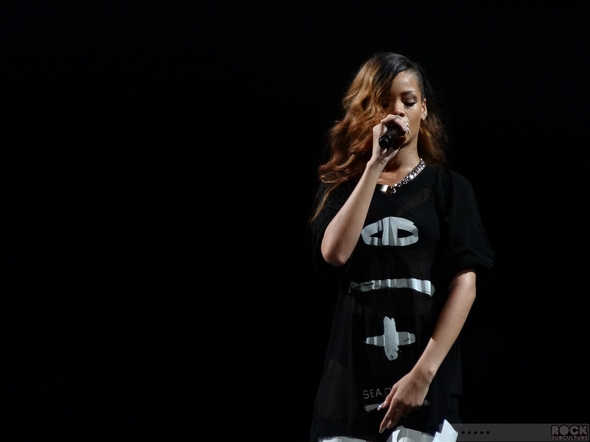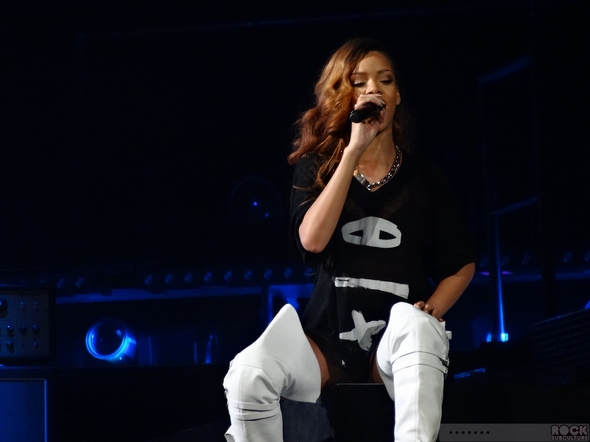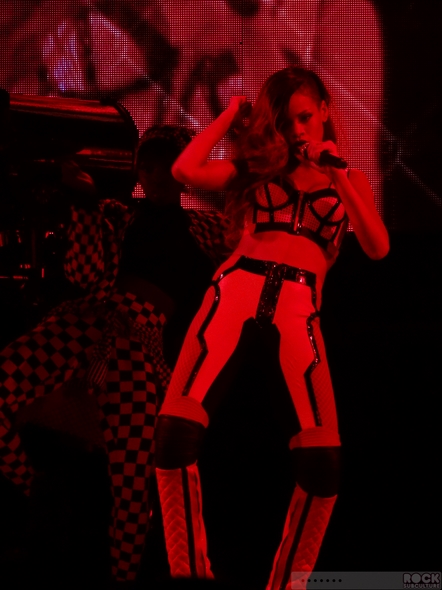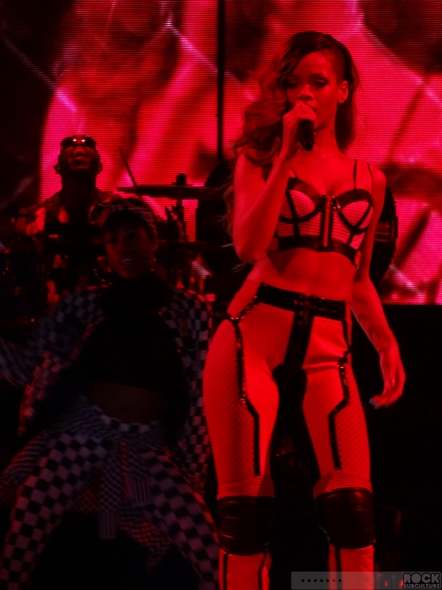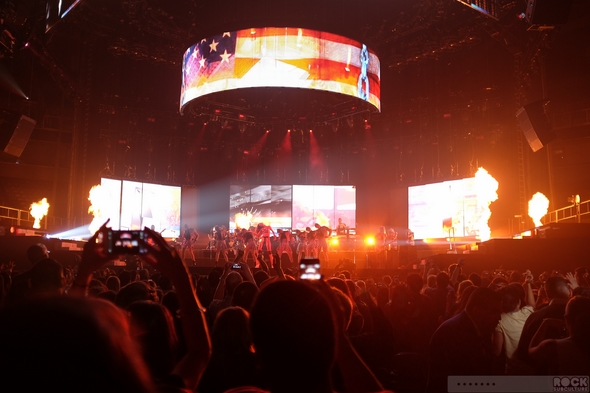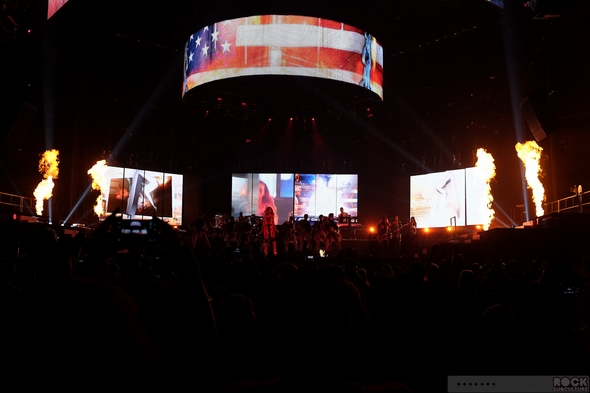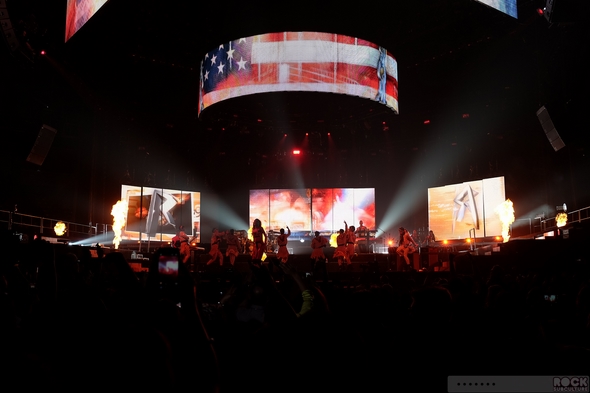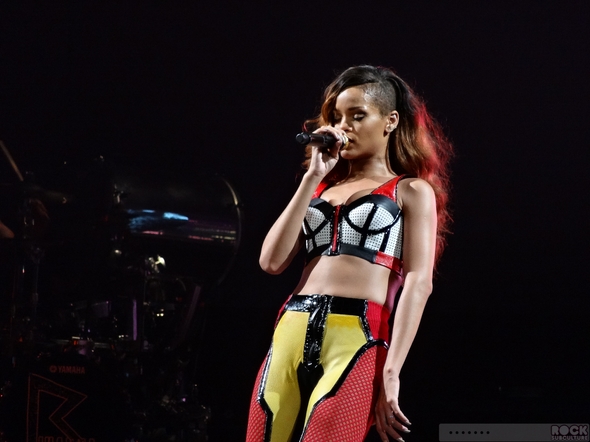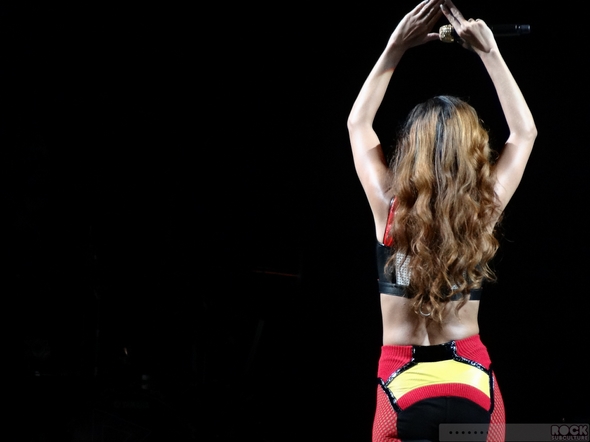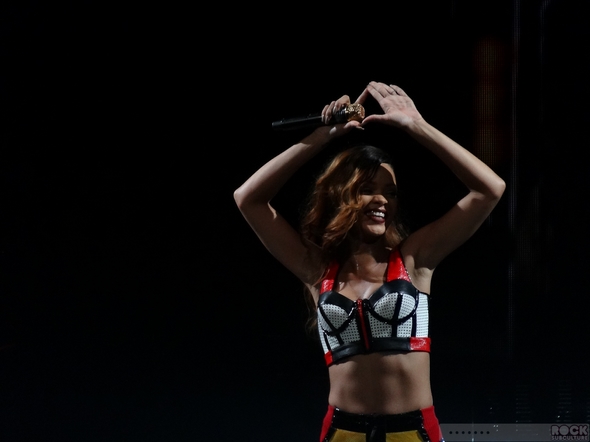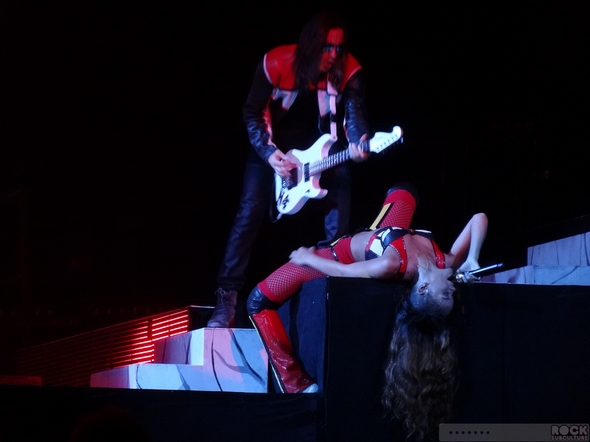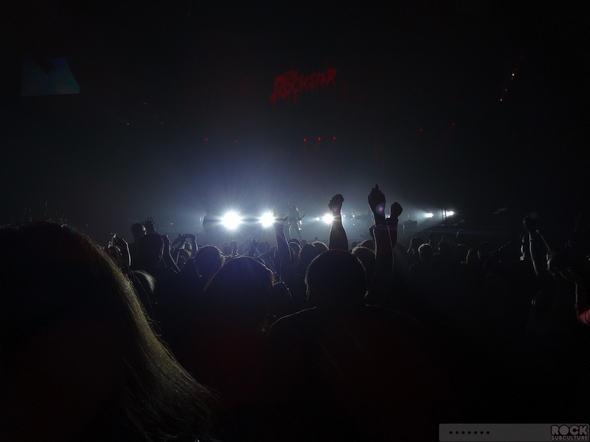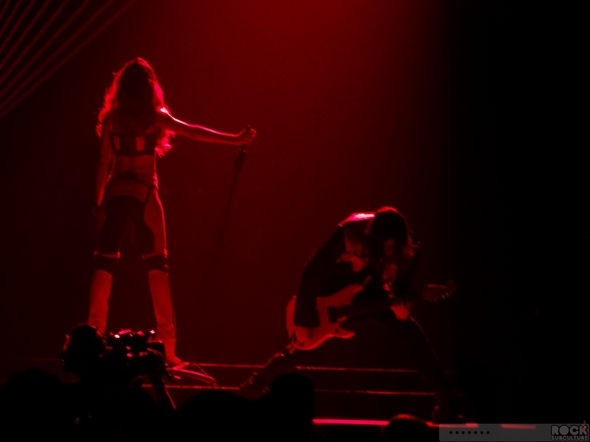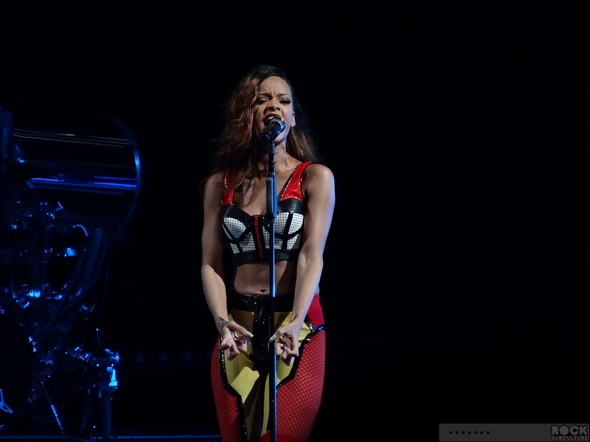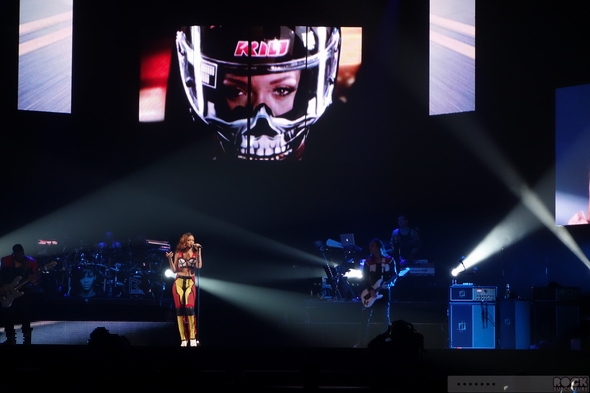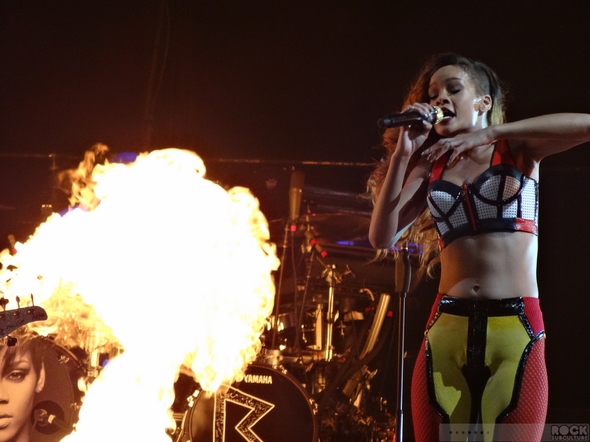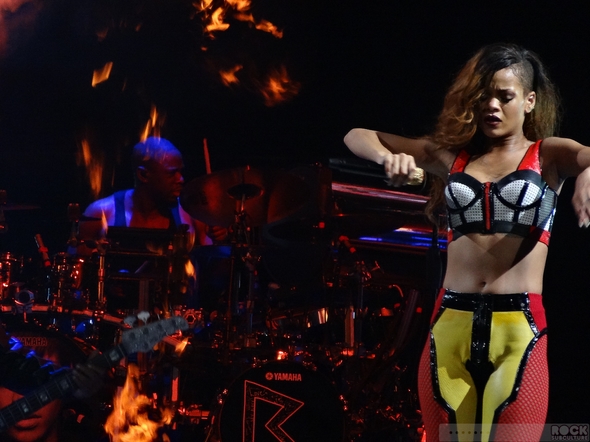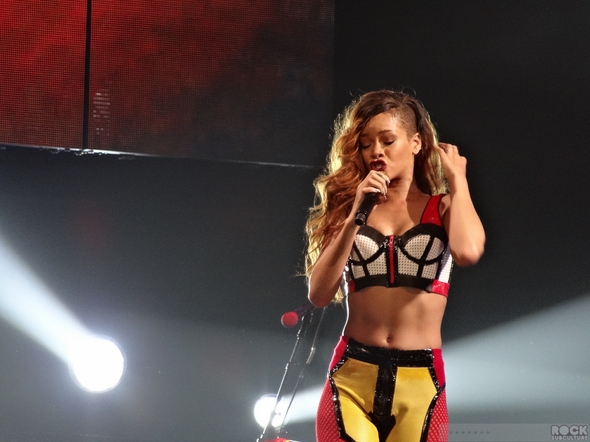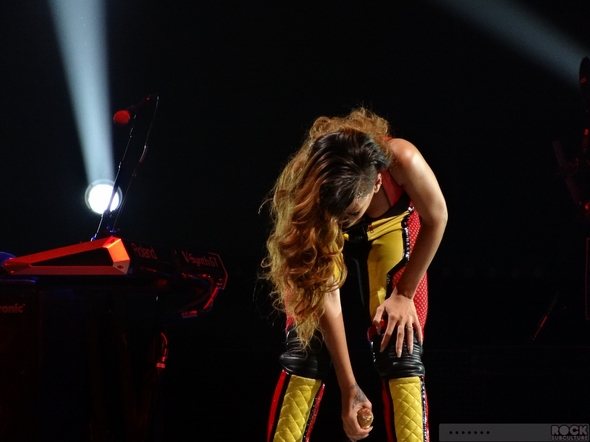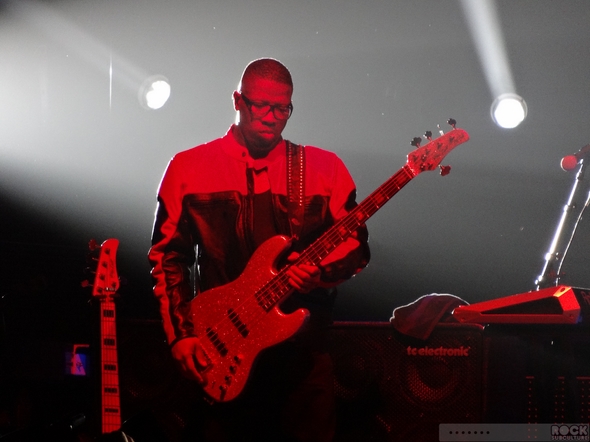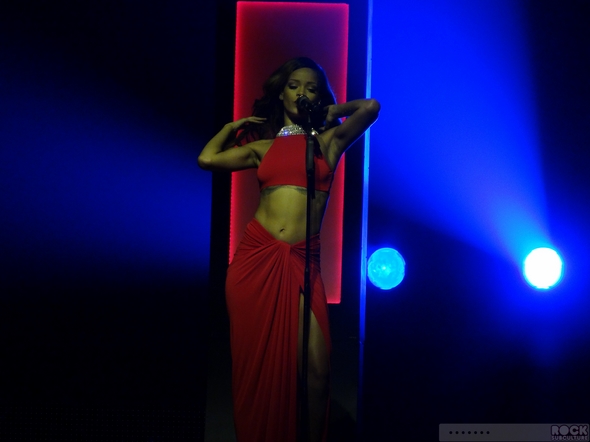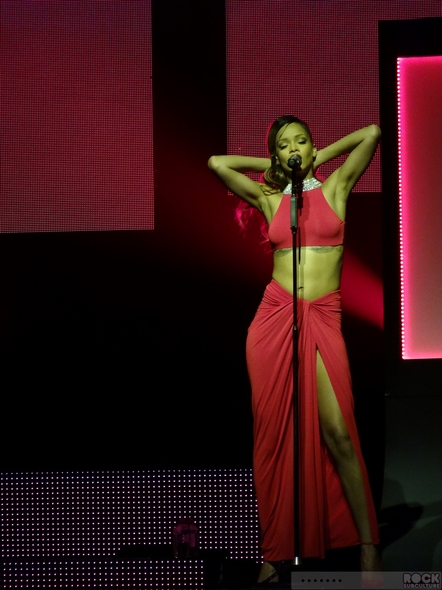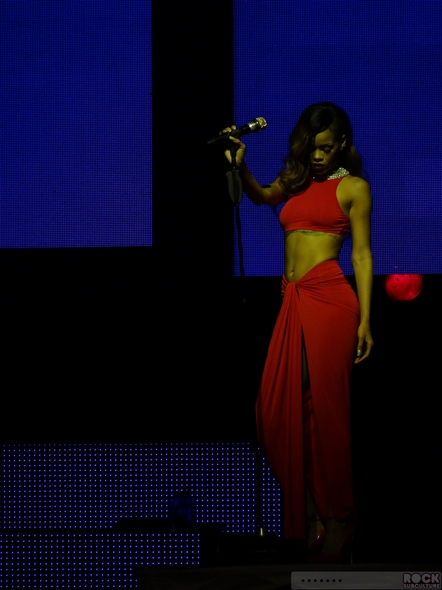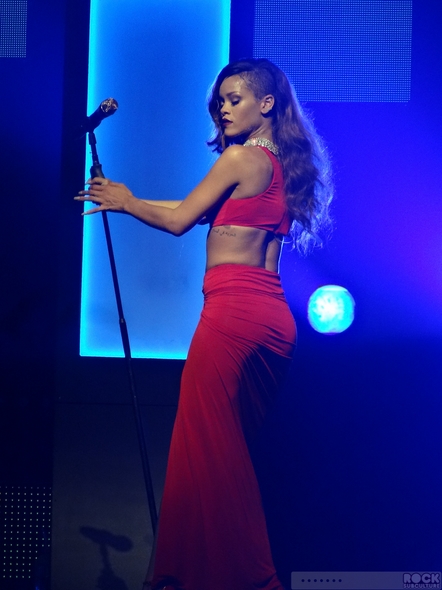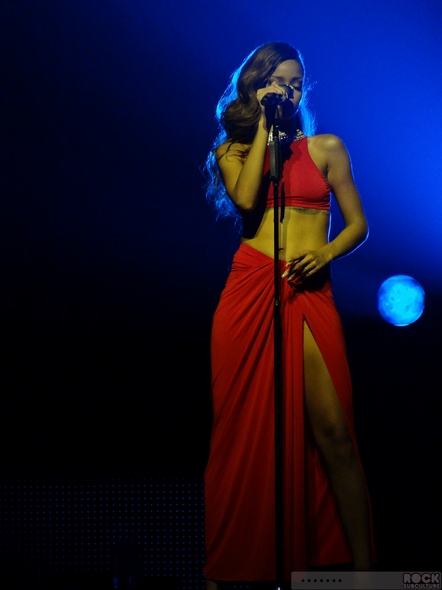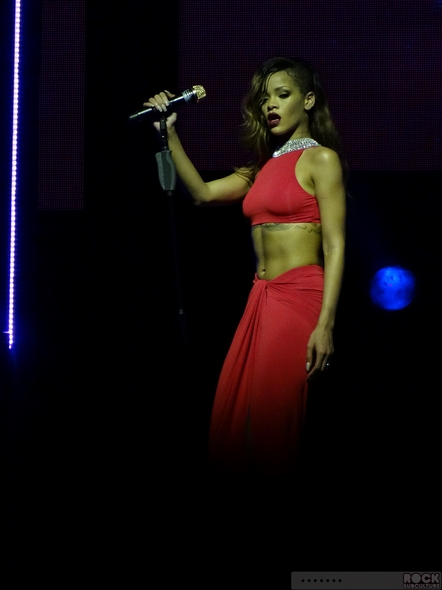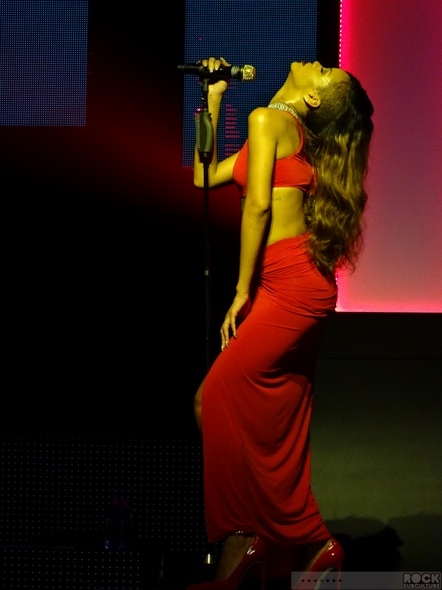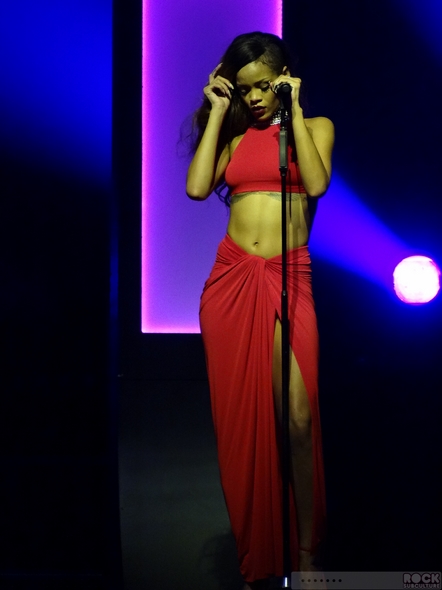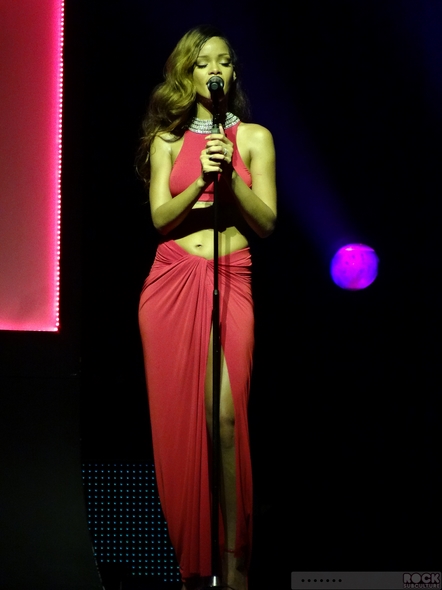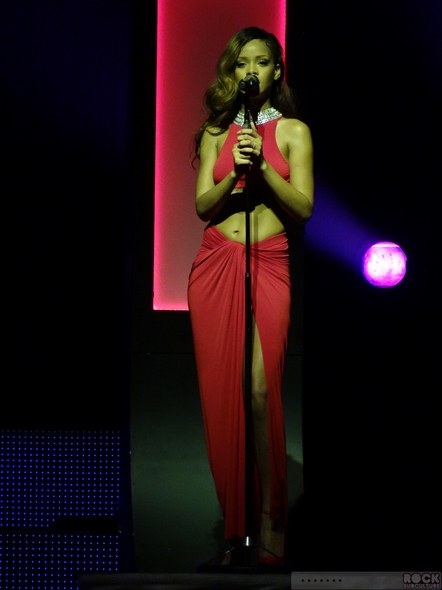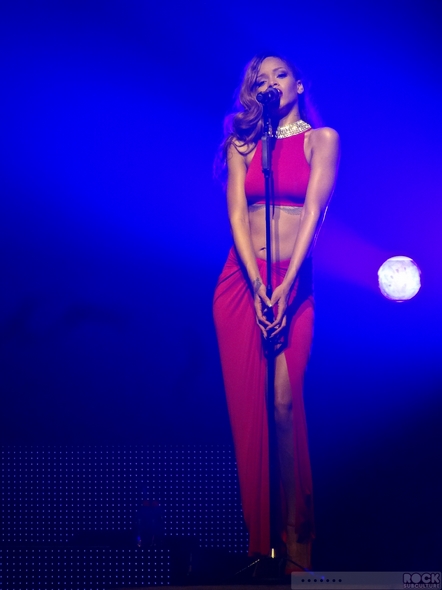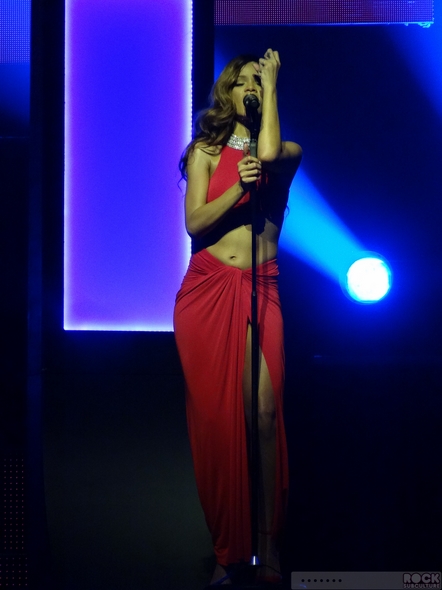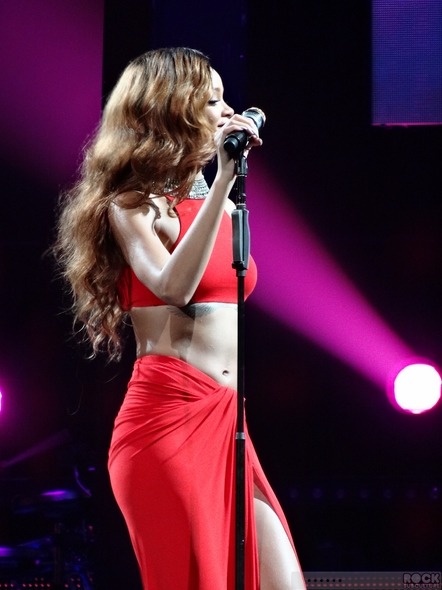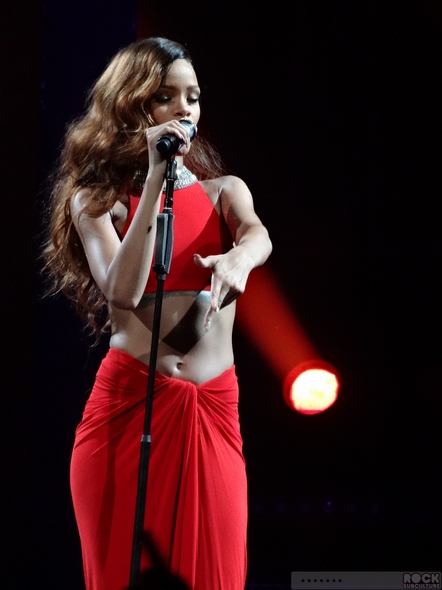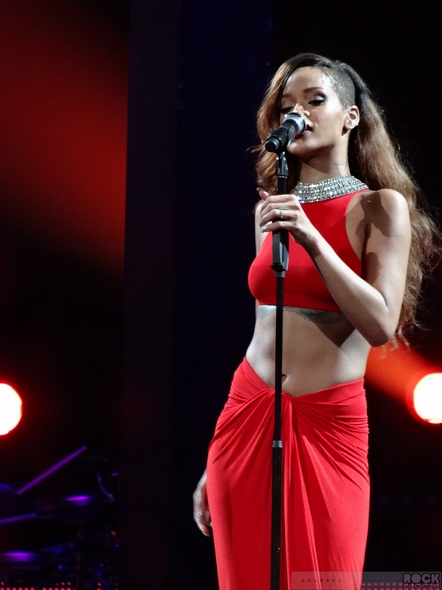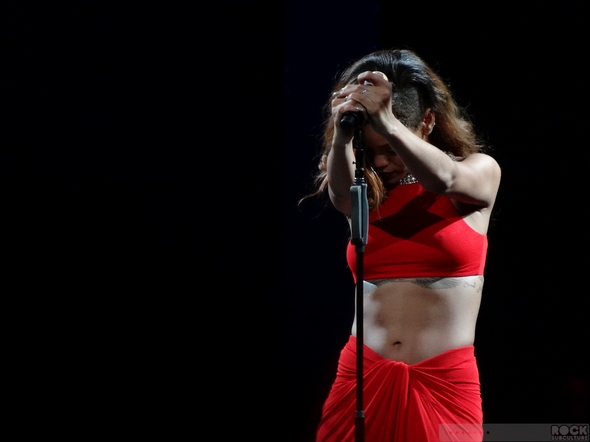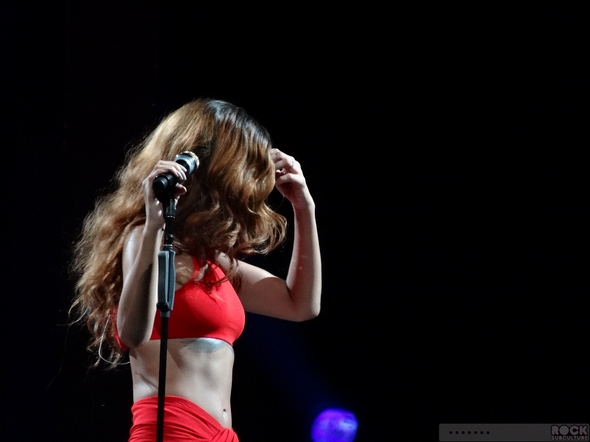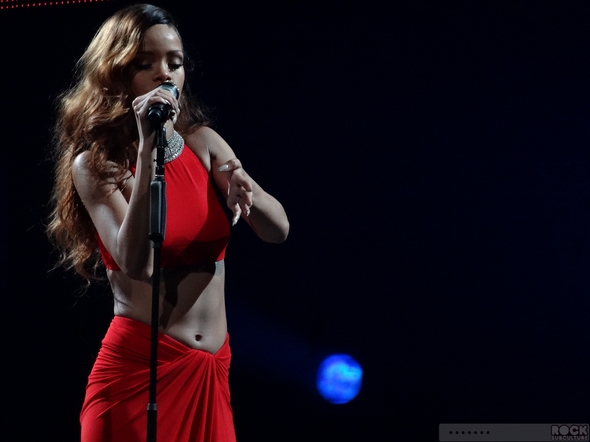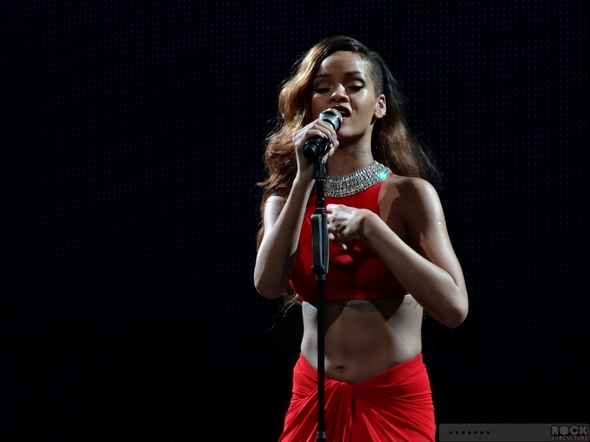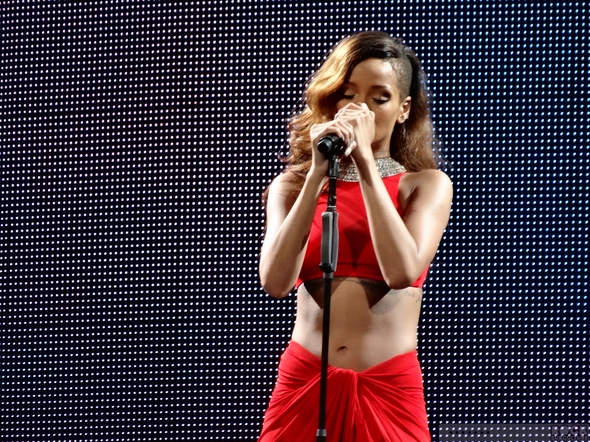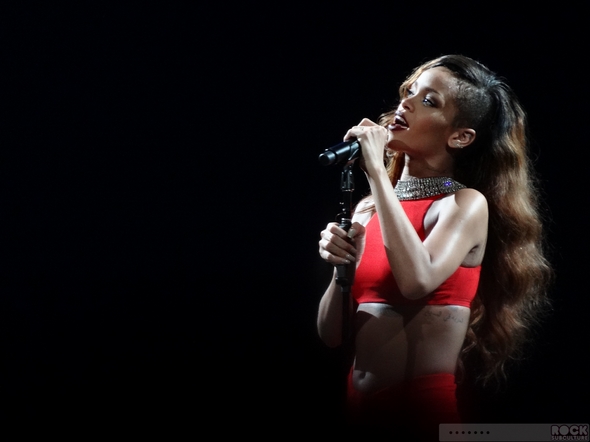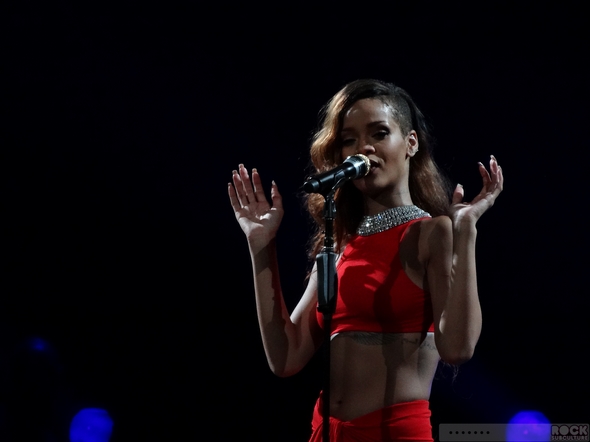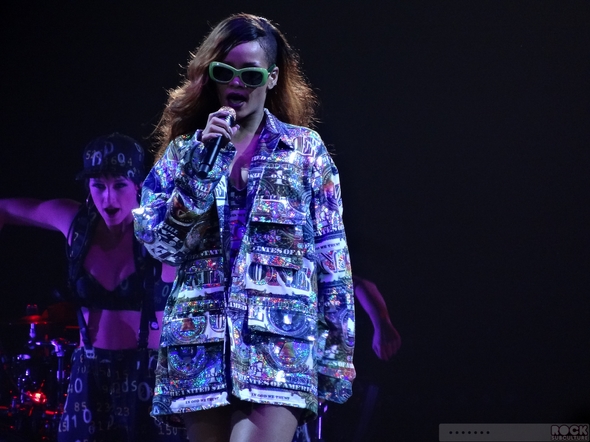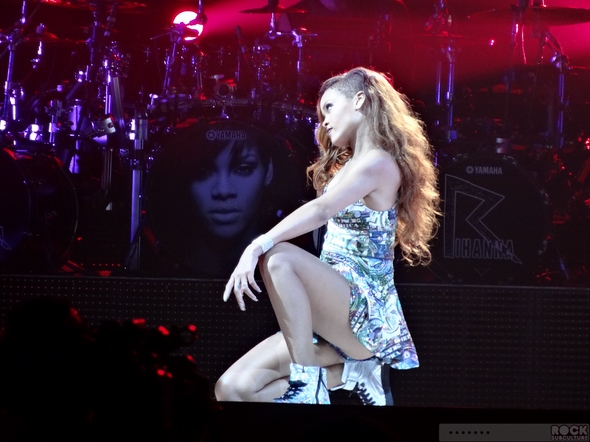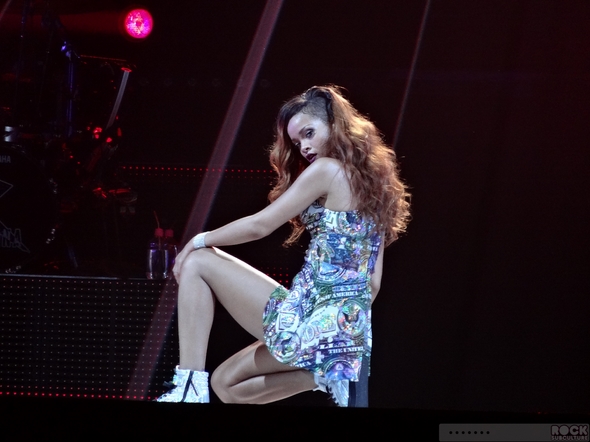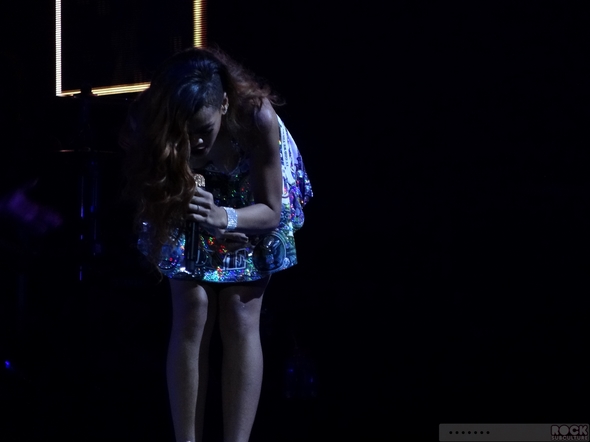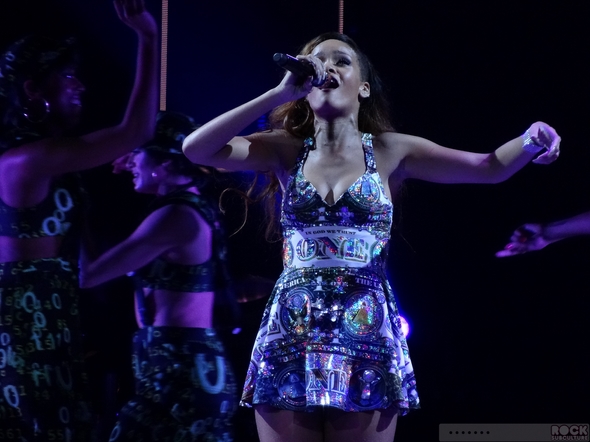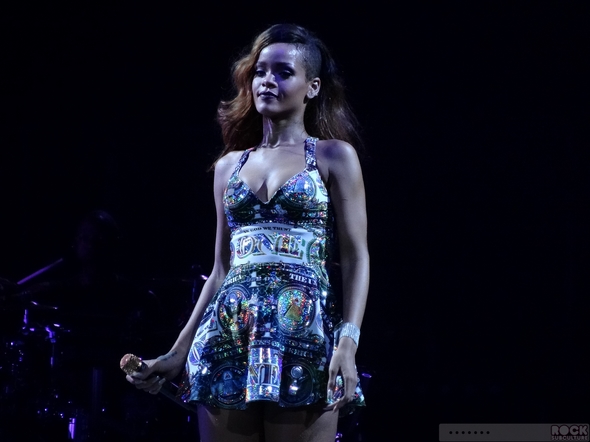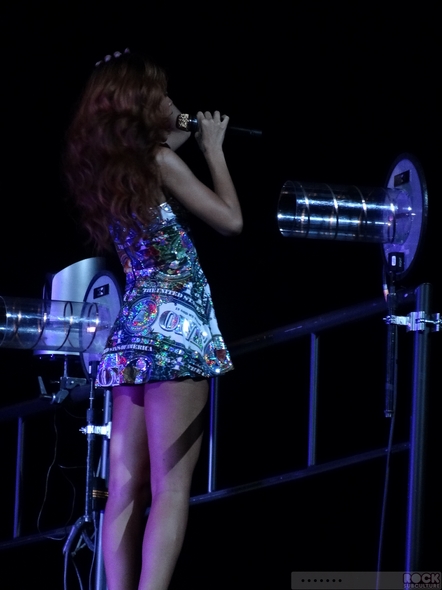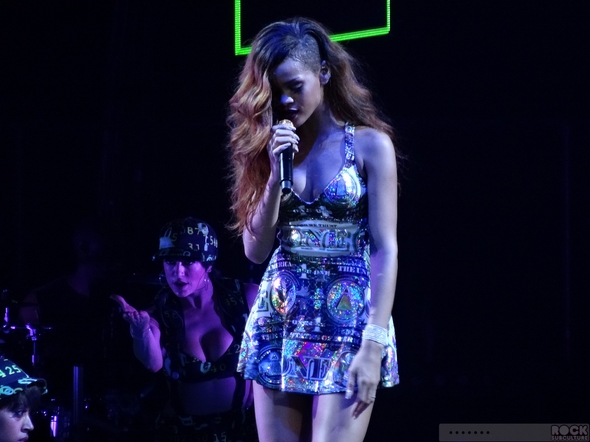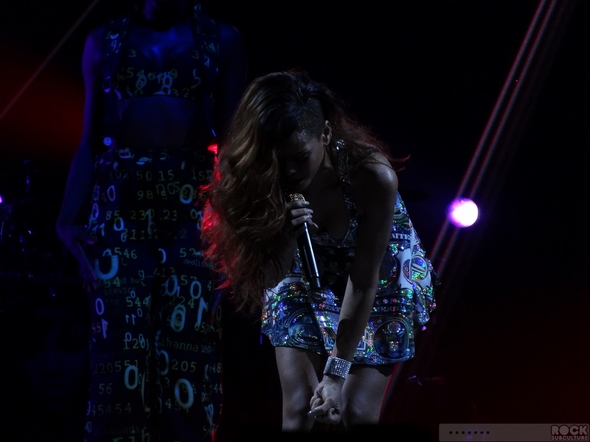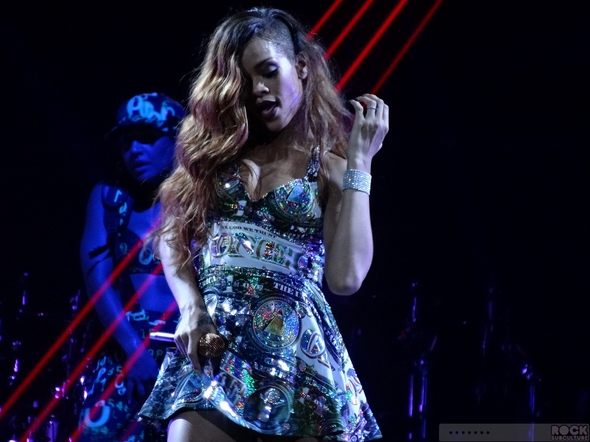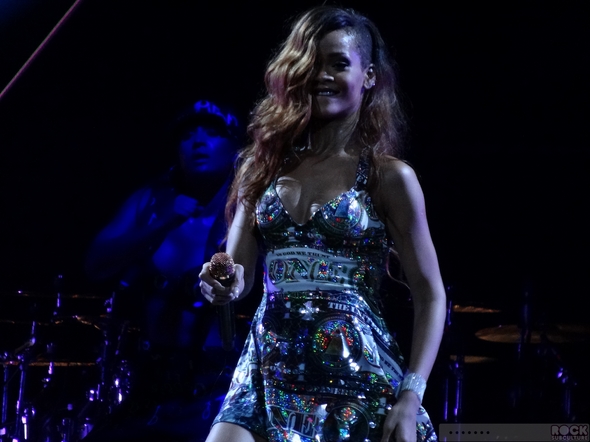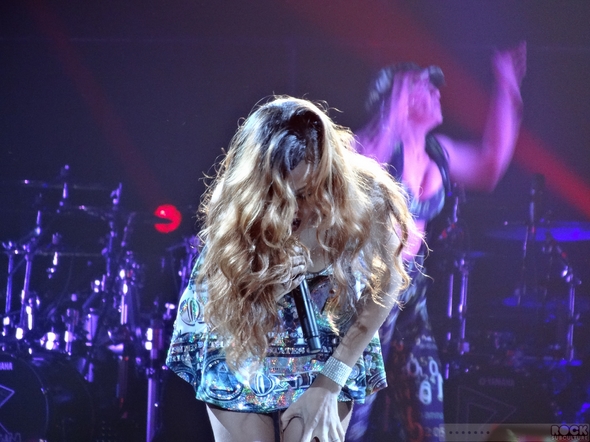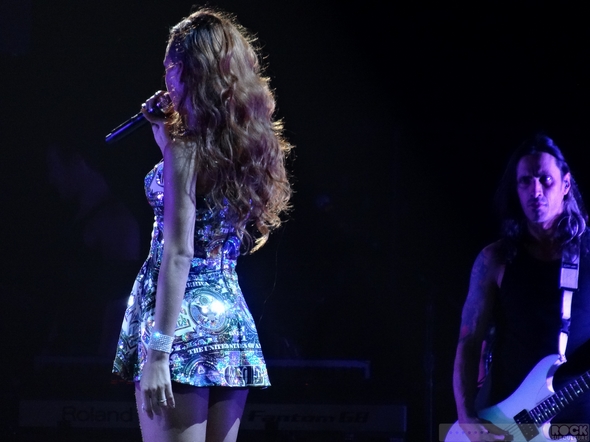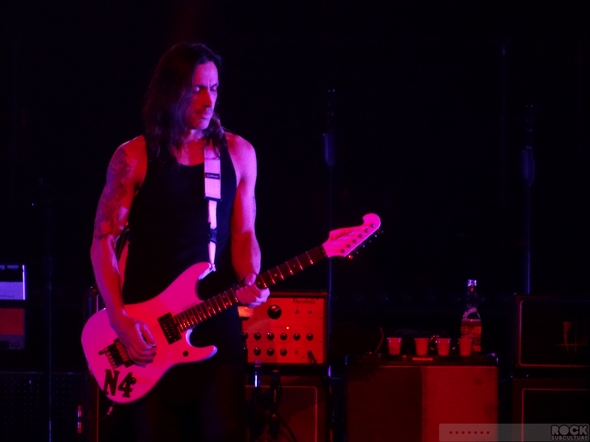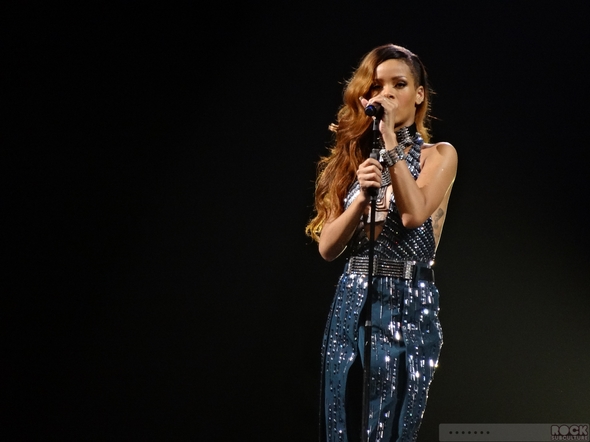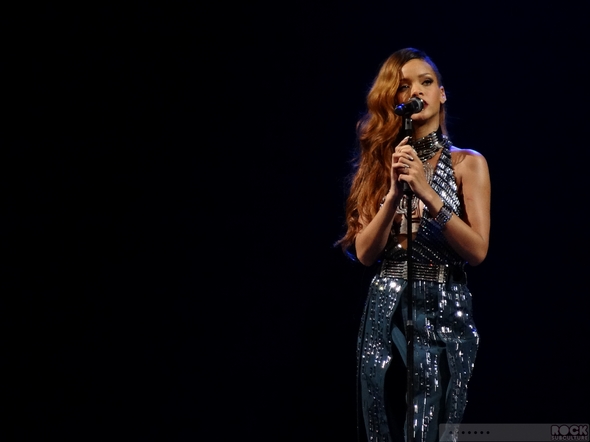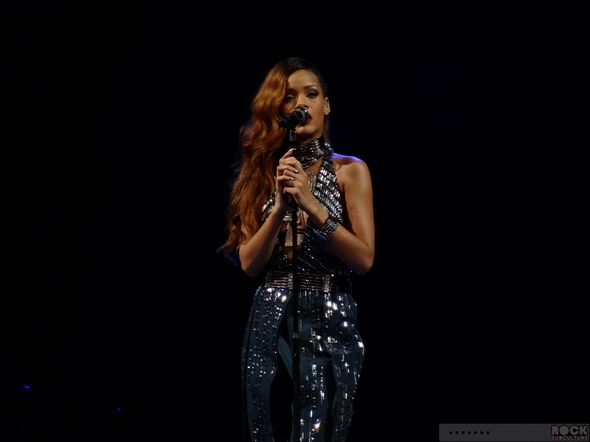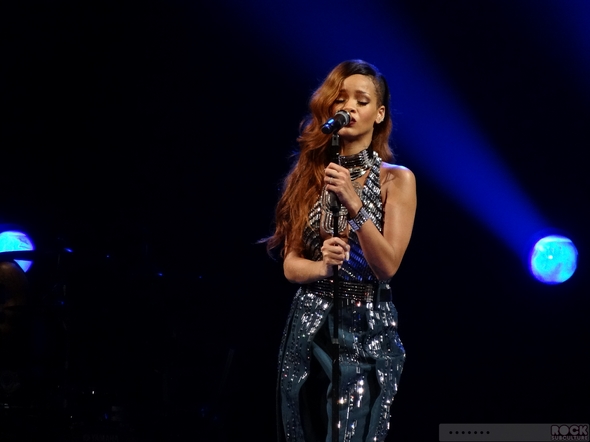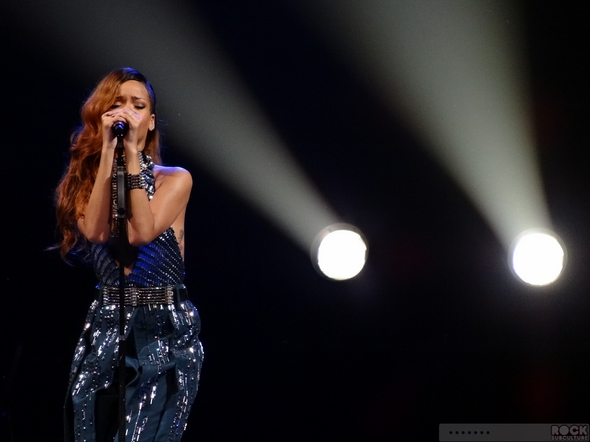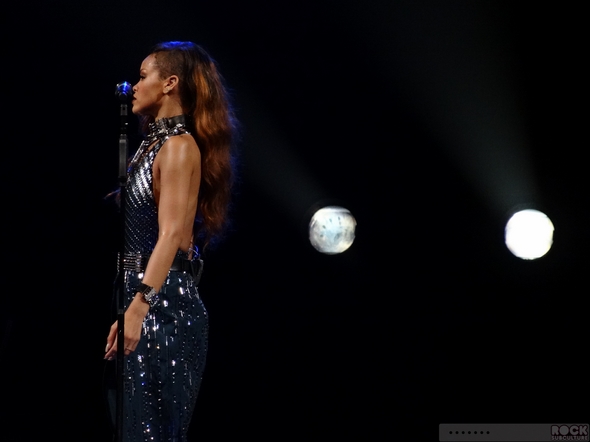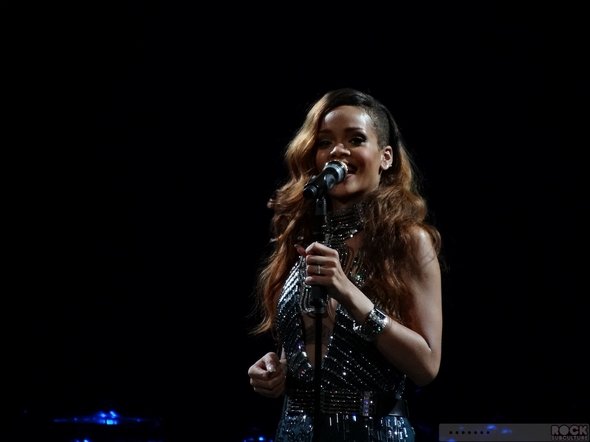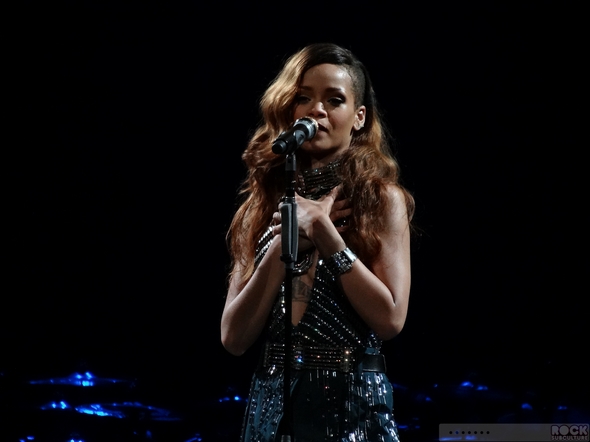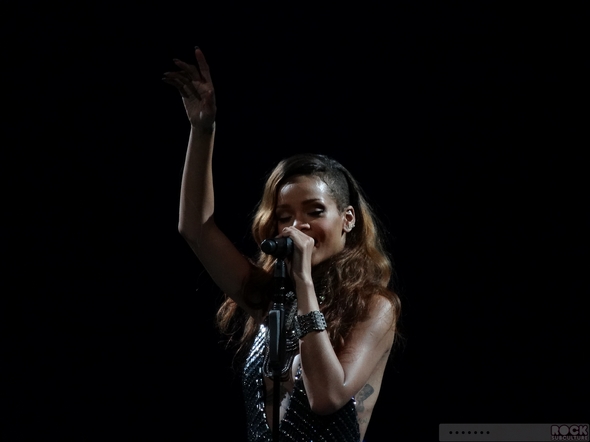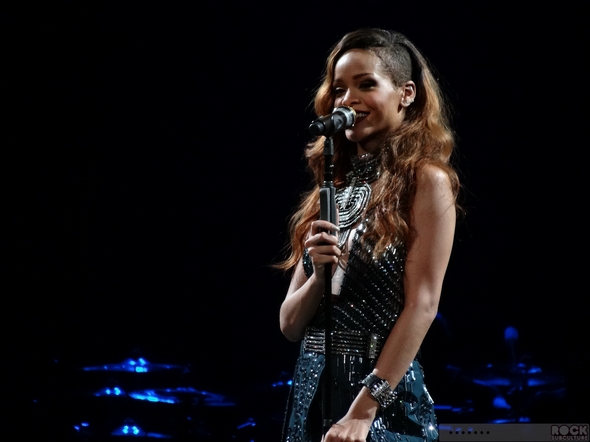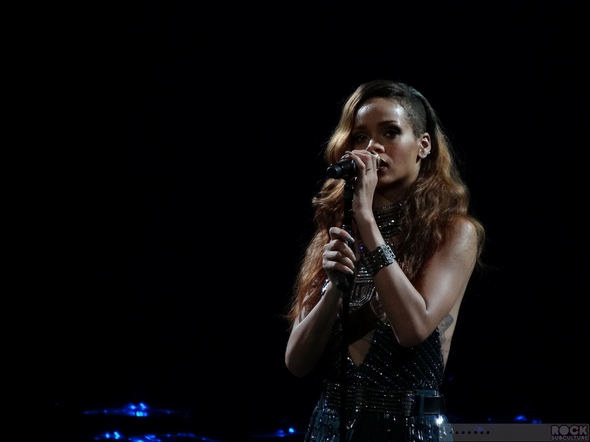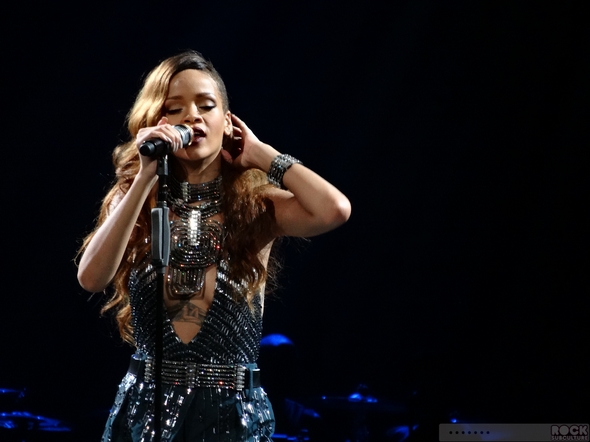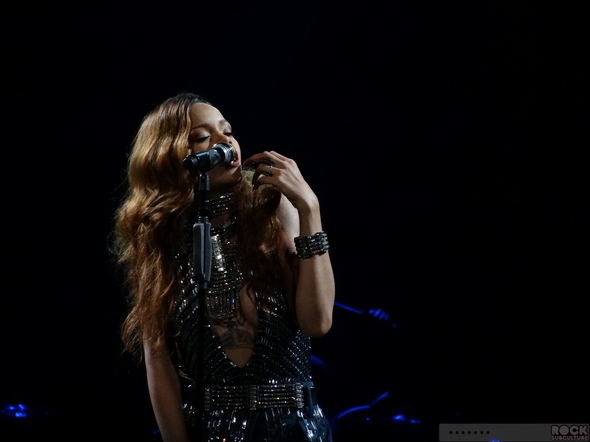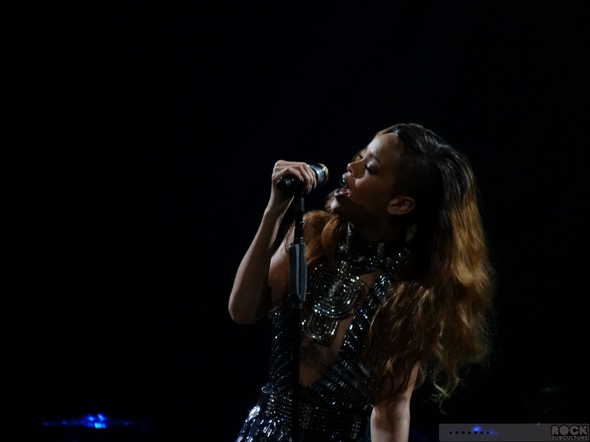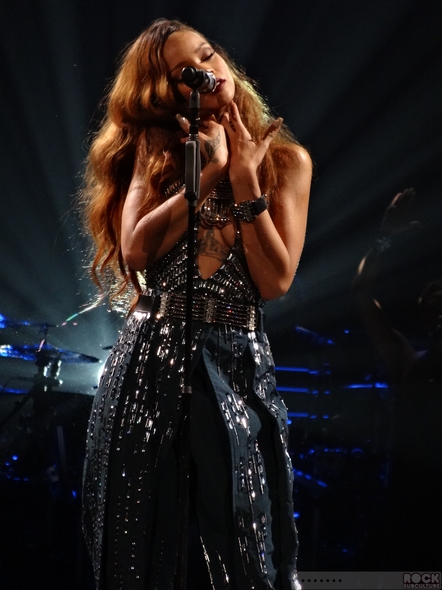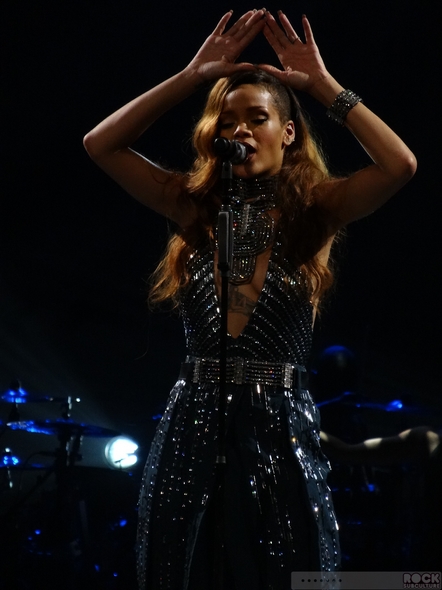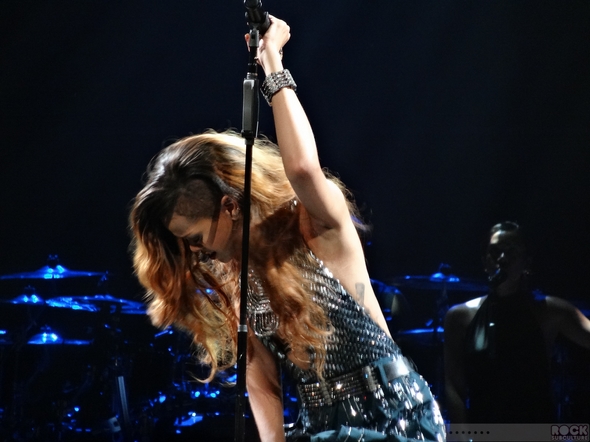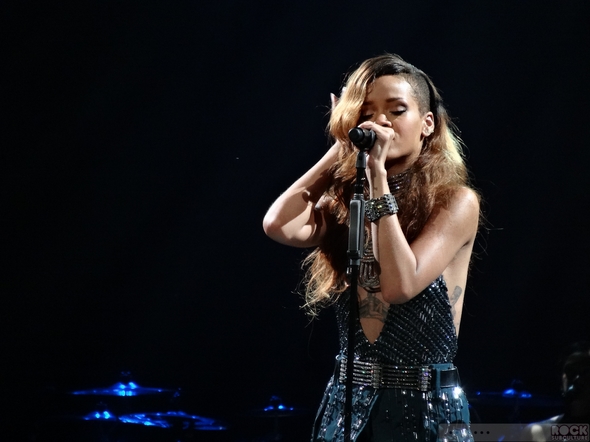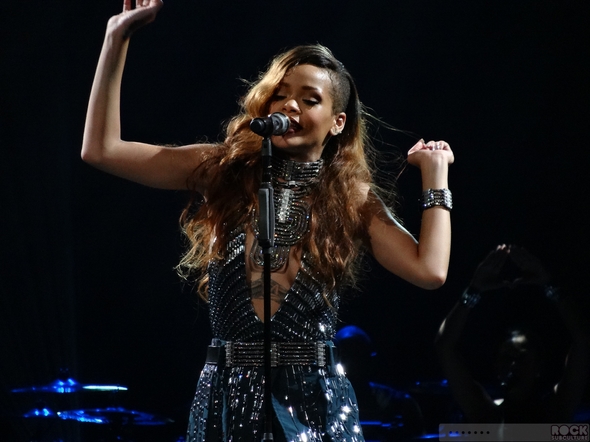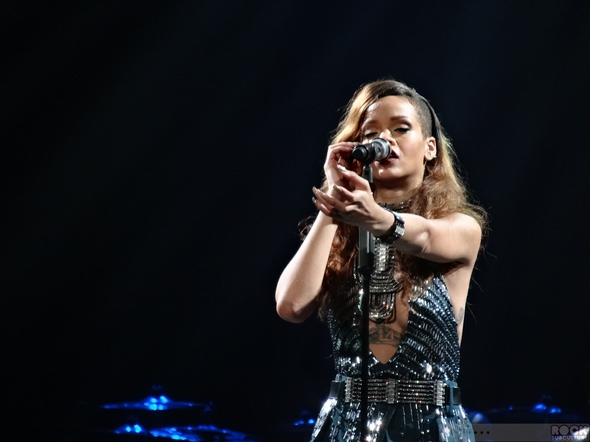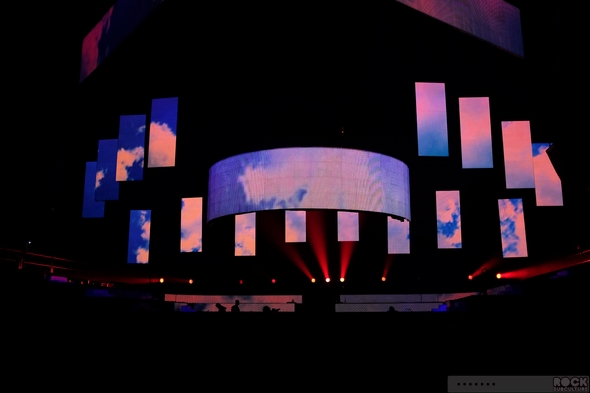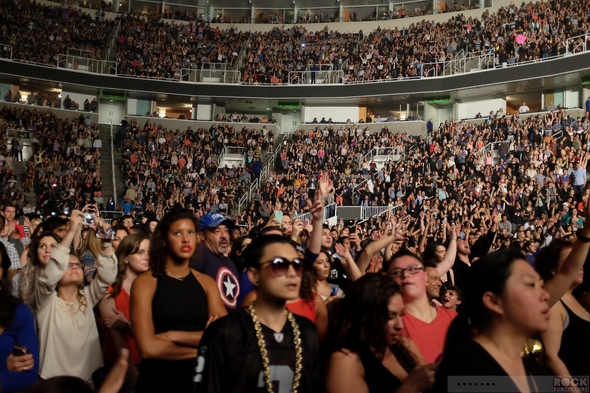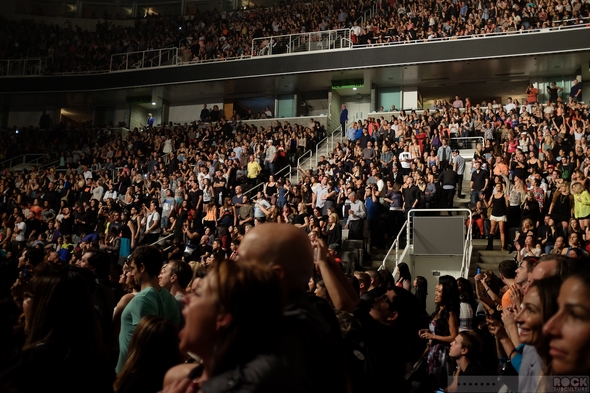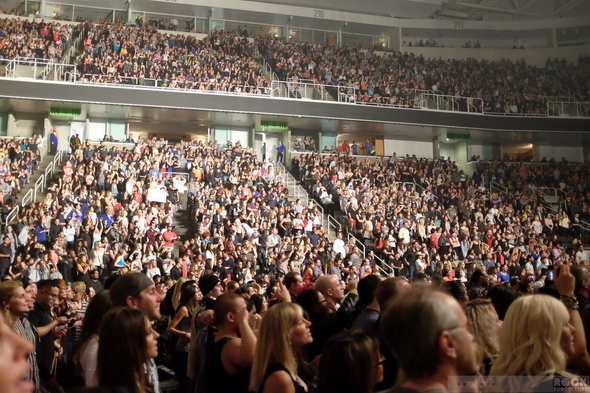 Jason DeBord