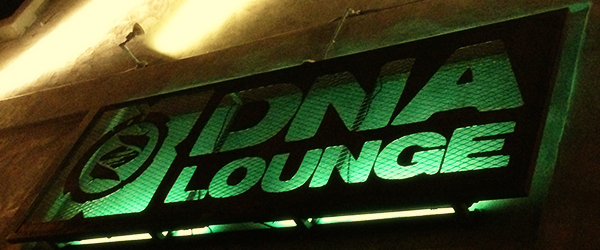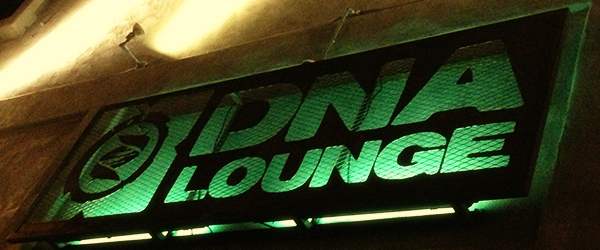 I've been to a lot of concerts in my life, and for a variety of reasons had never been to a Prince show before last night (as much as I rate him among my favorite artists).  I can say, hands down, he is truly the most brilliant performer I've ever seen.  It is all so effortless and mind-blowing that I can't really put it all into words (or pictures – no photos were permitted, even from cell phones).  Prince and his new all-girl band 3RDEYEGIRL literally sucked all of the oxygen out of the 800 capacity DNA Lounge in San Francisco for his second and final show on Day 1 of his two-day engagement.  The only negative was the idea that it was all at some point going to end, but thankfully, I am going to get a second chance for this once in a lifetime experience tonight for the early show on Day 2 at the same fantastic venue, that almost felt as if it was designed to host these very special shows.  Not only one of the best concerts of the year, one of the best concerts I've ever been to…  ever.

Who: Prince with 3RDEYEGIRL
Venue: DNA Lounge
Where: San Francisco, California
When: April 23, 2013 (DAY 1 "LATE SHOW")
Seating: General Admission Standing (to right of stage, about 20 feet away)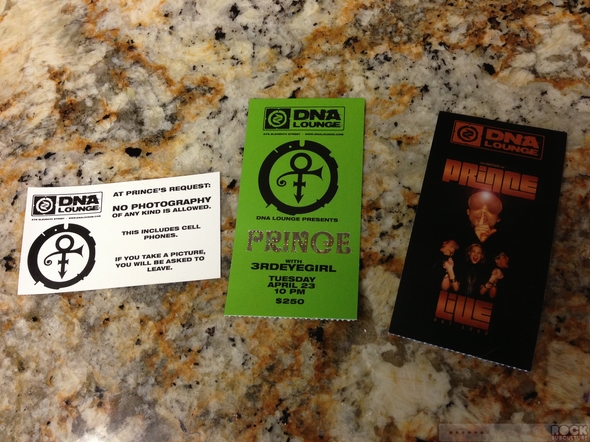 This is my second of two articles about concerts from yesterday… I actually had the privilege of hitting two amazing events in one night – Sixto Díaz Rodríguez (of Searching for Sugar Man fame) at The Warfield and then Prince at the DNA Lounge, within walking distance of each other (well, I guess it depends on who is walking, but I made the trek both ways and have many tales to tell from trolling San Francisco at nearly 3am, but that is for another time).

Be sure to read my review of the DAY 2 – EARLY SHOW at DNA Lounge on April 24th for more thoughts about this special concert engagement of the Live Out Loud Tour in San Francisco by clicking the image below: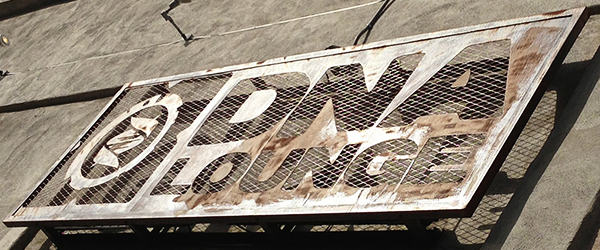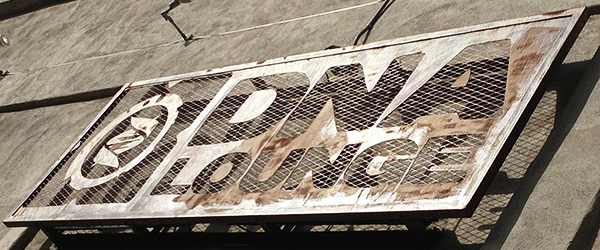 DAY 1 "LATE SHOW" on April 23rd
As mentioned, no photography was allowed, so no photo pass for me for this show, or even pocket camera pics, as any photography within the venue (before, during, or after the show) was strictly prohibited.
Since I was coming directly from the other show, I was not able to line up early at all for the Prince concert.  By the time I arrived, there was a huge line, and a friend of mine who arrived early was already inside.
Because the tickets were so scarce (and pricey at $275 a piece), there was still an attempt to prevent scalping, so the process involved picking up at the venue at will call, and then lining up to get inside the tiny venue.
I've loved Prince since the start of the 80s, and some of his songs during that period are among my favorites.  But I've never had an opportunity to see him live, and as a result, he's for some time been at the top of my must-see list.  I've gone through periods in my life where I just couldn't fit in concerts, so somehow things never lined up for me getting to a Prince show.
Obviously, going into this show I had huge hopes about what it could be, but also was wondering if they could possibly be fulfilled, at least based on one review by the Vancouver Sun last week about his shows up north.
I'd never been to the DNA Lounge before, but I made my way up the stairs and wasn't quite sure what the venue would look like.
Almost on cue, just as I stepped into the "C"-shaped balcony area outlining the open floor and low stage below, I could hear the band come on with a blazing version of "Let's Go Crazy".  I couldn't believe it, as silly as that sounds, and the place lit up in terms of excitement and literally, with bright lights breaking through floating smoke.
Fans were lined all around the railing on this upper level, just 3-4 people deep, as that's all that space would allow.  At six feet tall, I got on my tippy toes to peer over the crowd, and couldn't believe my eyes.  Prince.  Right there.  And so close – even closer and larger than I imagined.  He looks amazing.  The man honestly looks as though he has not aged since Purple Rain.  And he was right there, smiling, shredding his guitar.  And he did both all night.
If Rock and Roll were a religion, this would be like meeting God or something… it was unreal.
The floor looked packed, but I just had to figure out how to get down there and get even closer…
I made my way down the stairs, and it really wasn't that bad at all, considering I'd walked it at set time.  I found a spot to the right of the stage, with a clear and unobstructed view of Prince at the front of the tiny stage, where he spent most of the night.
As a photographer, I'm always very conscious of lighting (and how good and bad it is, for photography as well as simply enjoying a show), and the lighting for this concert was sublime.  Prince was part angelic, part more than three dimensional.  And this was just the first sign of how much work obviously went into the technical aspect of this show to create something truly amazing.
Prince has consistently had an innate sense of killer fashion, and last night was no different, with a really cool black outfit that was what you might expect from him.  Prince has always been one of those rare artists that hits on all cylinders – talent, looks, and style.  But I'd never experienced all of this live, and it felt as though I was watching one of the biggest music legends I will ever see in my lifetime.  He is bigger than life.
With that, he truly capitalizes on it, by the way in which he engages the audience unlike any artist I've ever seen.  Yes, the stage was low – he was "right there" – but what is he focused on?  Not his guitar so much, which he shreds effortlessly…  no, Prince is focused on his audience.  At times collectively, but more frequently, each person there in front of him – one by one.  His eyes seek out yours, and each smile, nod, pointing of the finger…  he's sharing in his greatness on stage with everyone there for the show.  The guy is fucking amazing.
And the expressions on his face…  he is living his music.  As much brilliance comes out of his guitar, it's almost like the guitar isn't up to the task of keeping up with him, and this energy is just coming from his face, like there is all of this music within him and as much as we hear it and see it, it is an endless reservoir of brilliance that can't burst out of him adequately enough.
But there was no ego about it at all.  The guy lives to perform, and it is more like this gift to his fans than it is anything about him at all.  I think he is one of those artists who is driven to share, and he seemed as excited to us to do it all in this special venue.
More, he was very supporting of his new band, 3RDEYEGIRL.  At one point he joked, "people are always asking what's Prince's best band – it's the next one".  And they were amazing, and seemed to be as thrilled to be on stage as we were watching them (though my view of the drummer was obstructed).
3RDEYEGIRL
Donna Grantis (guitar)
Ida Nielsen (bass)
Hannah Ford (drums)
Prince was very happy to be sharing the stage and giving each of them many moments to shine and be the highlight.
Watching him at work also gave me an appreciation for what a precision artist he is…  constantly being conscious of the show from our perspective, and discreetly giving cues to his technicians to adjust levels and sounds, and at one point I even saw him turn a knob on Ida's bass guitar – while she was playing – to fine tune adjust her instrument.  The man's mind must be processing a million different things all at once, yet he looks like he is the host of the most fantastic of intimate parties.
He also encouraged interaction with the audience, saying early on, "we don't mind if you lip sync a little bit… everyone else does it".
While he opened with "Let's Go Crazy" and early on played "I Could Never Take The Place Of Your Man", it was more about newer music.  Some of it I had never heard before, but honestly it was all excellent, and makes me excited to see what he comes up with as a release to follow his latest studio recording, "Screwdriver", which he of course played last night.  In the past week, he announced that the title of his upcoming album is Plectrum Electrum.
You can get a sample of the new worth with this short film here:
Getting back to the concert, running over two hours, one of the highlights was the "sampler" encore, in which Prince sang from his synthesizer/keyboard with hits of varying shortened lengths, though he rocked the bass guitar for Alphabet Street.  It was phenomenal.
Below is the set list courtesy of Rico and Dr Funkenberry…
Setlist:
Let's Go Crazy
Endorphinemachine
Screwdriver
She's Always In My Hair
Liathach (Cover)
I Could Never Take The Place Of Your Man
Guitar
Plectrum Electrum
FIXURLIFEUP
I Like It There
When We're Dancing Close & Slow
Bambi
2Y2D
Cause & Effect
Crimson & Clover (Cover)
Let's Go (Cover)
Plectrum Electrum Reprise
Sampler Setlist:
When Doves Cry w/Vocals
Nasty Girl snippet
Sign O' The Times w/vox
Alphabet St. vox (no live band version)
Hot Thing w/vox
A Love Bizzare w/vox
Darling Nikki snippet
Housequake
Pop Life snippet
Mr. Goodnight snippet
Screams Of Passion snippet
I Would Die 4 U w/Vox
As note, no photography was allowed, so honoring Prince's wishes, I have no photos from this event to share with my readers.
Jason DeBord