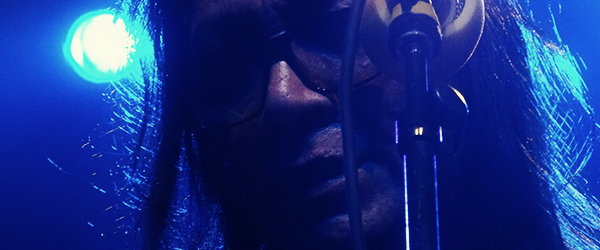 "I'm not gettin' old. I'm gettin' dead." Sixto Díaz Rodríguez, at age 70, standing before an enthusiastic, sold out crowd at The Warfield in San Francisco last night. He took time away from his set of late 60s folk protest rock and some surprising covers to engage the audience, often with humor (and some of it lighthearted and self deprecating) and incredible charm. I don't know about the rest of the crowd, but if I could have one wish granted at the show, it would probably be to go up and give him a hug. He seems to be quite a sweet character, and beaming with happiness, which was not quite what I expected having his work on rotation for the 2.5 hour drive into the city. With boots, leather pants, black shirt and coat, and his trademark hat and glasses, he stood before us like some kind of elder statesman rock star… long lost and forgotten, that he was there at all playing on stage was as much unlikely as it seemed to be a part of his destiny. Truly an incredible opportunity to experience his music live and in person, I can't imagine anyone in the room went away anything less that ecstatic with the show.

Who: Sixto Díaz Rodríguez
Who or Supporting: Giant Giant Sand
Venue: The Warfield
Where: San Francisco, California
Promoter: Goldenvoice
When: April 23, 2013
Seating: General Admission Standing (front row center)
There was quite a crowd lined up outside The Warfield even more than an hour before doors, and a lot of excitement in the air about the evening before us.
For me, it was an even more, well, for lack of a better word, unbelievable night, in that I had two concerts planned… completely unrelated at two different venues in San Francisco. First up was Rodríguez… kind of a legend as well as would be legend (as showcased in the Academy Award-winning film, Searching for Sugar Man)… this show ran from 7:00 doors until 10:30. About a mile and a half away, I then caught the "late" Prince show at the DNA Lounge, with the music icon taking the stage there at 11:30 and running until after 2:00 AM… so it was quite a surreal night, and I couldn't help but to draw some contrasts and comparisons to the two artists.
Giant Giant Sand
Giant Giant Sand I'd never heard of prior to looking up at the marquee before last night's show. Doing some research after the show, while it appears to have a large and rotating number of participating artists, it is the brainchild of singer-songwriter Howe Gelb, who was on stage last night with an acoustic guitar, and one fellow musician, Thøger T. Lund, on some kind of highly customized string instrument.
Howe played with the audience in good humor and with a bit of a philosophical bent, even theorizing about their lack of set list and with an impromptu style that well-suited his alternative rock/country music.
The songs were great, as was the relatively stripped down performance. I really enjoyed their set, and more, enjoyed reading a bit more about Howe and his adventures in music. He had certainly been prolific, with dozens of studio albums going back to 1985 and as recent as 2012's Tucson by Giant Sand.
Below are some photos of Giant Giant Sand performing on stage (click any photo for higher resolution images):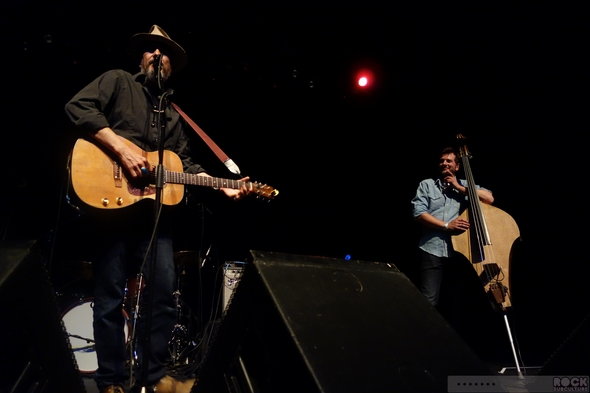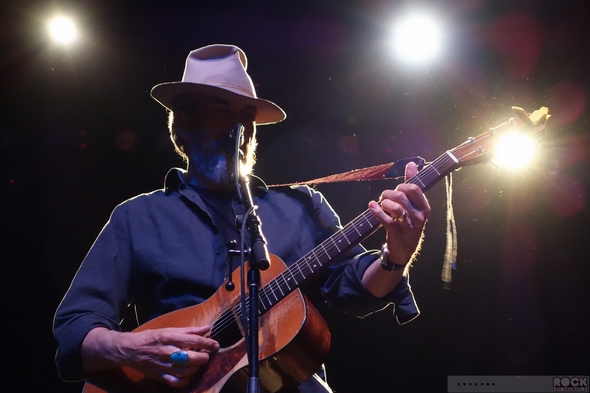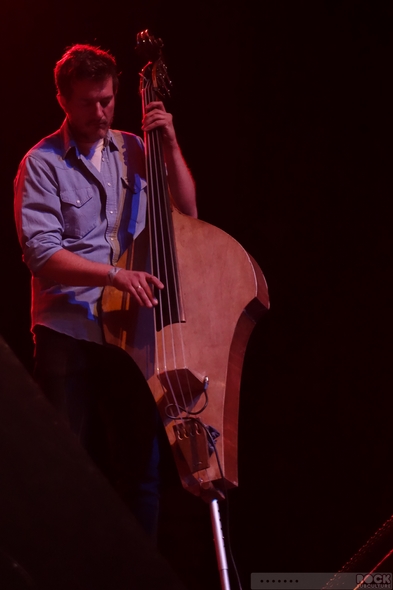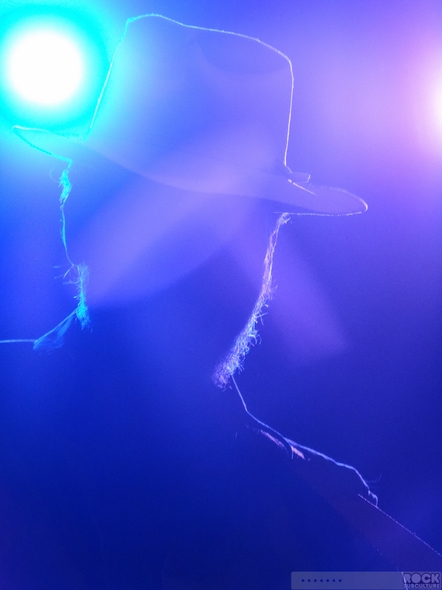 Sixto Díaz Rodríguez
I'd never personally heard of Mexican-American folk artist Sixto Díaz Rodríguez until I saw the 60 Minutes segment on him in October of last year. This is how they described their segment on him, and is a good summary for those unfamiliar with the artist:
He was more popular than Elvis, but humble 70s singer-songwriter Rodriguez didn't know about his fame in South Africa for 40 years. [T]he… story of how Rodriguez went from obscurity to stardom, decades after he cut his first album.

Like so many musicians before him, the singer songwriter named Rodriguez came from nowhere. He was born poor in Detroit, spent his life poor in Detroit. In the late 60s, he cut a couple of records. They got great reviews but went nowhere. What he didn't know, what no one in America knew, was that half way around the world in South Africa, he was more popular than Elvis or the Beatles. He'd never been there. No one there knew anything about him. Even when word spread that he had died, his records continued to sell.

Then, four years ago, a young Swedish filmmaker heard about Rodriguez — decided to shoot a documentary about him. The film, now captivating audiences across the country, is being talked about as a possible candidate for an Academy Award. It's released by Sony Pictures Classics and called "Searching for Sugar Man."

The film shows Rodriguez's old neighborhood in downtown Detroit and the smoky bar where, back in the late 60s, he was discovered by Dennis Coffey, a legendary Motown producer.
That documentary since went on to win Best Documentary at the 85th Academy Awards, and the same prize from the British Academy Film Awards, the Directors Guild of America, Writers Guild of America, Producers Guild of America, Amaerican Cinema Editors, Critics' Choice Awards, and more.
The soundtrack album, featuring a compilation of songs from his original two studio albums, has given his music new life, as people around the world have rediscovered this artist with music so representative and reflective of the times in which it was crafted.
As an aside, Rolling Stone has in the past month published a pretty fascinating article about the artist which is also worth checking out:
It is fascinating that he has no computer, television, or phone and has lived in the same modest house for the past 40 years, almost as though he has been frozen in time as much as he has been in obscurity as a music artist in the United States for the same period of time.
Most fascinating to me is that he is working on songs for a new, third album. One of my biggest questions is how he views the world today. Much of his original work is a form of protest folk music, and obviously the world has changed dramatically since the late 60s/early 70s. But given his withdrawal from the television news cycle and the Internet… well, I guess that makes me even more curious.
At last night's show at The Warfield, he was helped onto the stage, guided by a woman to his microphone. Once there, he appeared to be quite strong and stood at the mic for a set of about an hour and fifteen minutes, so I was curious about that, but the aforementioned Rolling Stone article offered an explanation… his eyesight is failing due to glaucoma, so he needs assistant getting from place to place.
Though once on stage, he appeared larger than life, and comfortable in his rock star attire.
Backlit most of the show, with his trademark fedora and glasses, his face was in the shadows (and behind the microphone) most of the time, which made me more curious about getting a few clear glimpses of his face. Mostly, I was curious about what he was looking at while performing (though the information about glaucoma provides some insights, I was unaware at the time). Toward the end of the show, after removing his hat for some of the songs, I could then see that, while playing and singing, his eyes were generally closed, which seemed to suit his personality, as he feels as though he draws on inspiration and feelings within when delivering his songs.
One thing that left no mystery is that he appears to be a very happy man, smiling and singing with an uplifting vibe.
Like I had mentioned, driving out to the show, I immersed myself in his music, and while none of it as every really "down" in attitude (though he sings about societal ills), live on stage it all came across as much more upbeat, almost counter to some of the messages found in the lyrics.
After learning about Rodríguez and beginning to listen to his music for the first time, it was kind of an odd experience for me, as it so completely fit the music of that era that I do know, since it was completely unfamiliar and new to me, it felt almost like one of those fictional period movies in which a band is invented for the purposes of the film (like the fictitious Stillwater in Almost Famous or The Wonders from That Thing You Do!).
But in the case of Rodríguez, Searching for Sugar Man was not a work of fiction, and he really did record those albums back in the day.
I was fortunate last night to have been standing front row and center mic next to a young woman with a completely different experience with Rodríguez… because she was born in and raised in Australia, so she actually did grow up in a household very familiar with the folk singer.
Though South Africa is where he had continuous mainstream appeal and success, he was actually quite popular in Australia prior to that, and the Rolling Stone article linked to above provides some interesting anecdotes about his concerts thee circa 1979.
One of the surprises for me at the concert last night were the cover songs (of which I expected none). When he broke into a more folk rendition of "I Only Have Eyes For You", it was quite a surprise. It's just a happy, sappy song, and not what I expected from the (at least once) counter culture protest singer.
Another surprise was how funny he was, though mostly one liners and some back and forth with the audience, he did tell one joke (the audio of which I captured on my iPhone in order to transcribe herein):
So Mickey Mouse and Minne Mouse are at the marriage counselor's office, and the marriage counselor says, 'but Mickey, being stupid are not grounds for divorce', and Mickey says, 'I didn't say she was being stupid, I said she was fucking Goofy'.
The backing band – apparently one of several staged around the world to support his ongoing tour of venues small and large – did an excellent job of making the songs sound a little more contemporary than the studio recordings, while also playing just enough, to allow Rodríguez to be the focal point of the show, and give space to let his solid vocals fill the room.
Given my vantage point (mere feet away and directly in front of him), I was quite impressed with Rodríguez's guitar playing, which appeared to still be quite natural to him. He played on the same instrument the entire night, and didn't seem to miss any beat along the way.
Below is a photo of what I believe was the sole set list on stage, though if memory serves, it was amended a bit along the way (for example, "I Only Have Eyes For You") does not appear on the list, though it was played.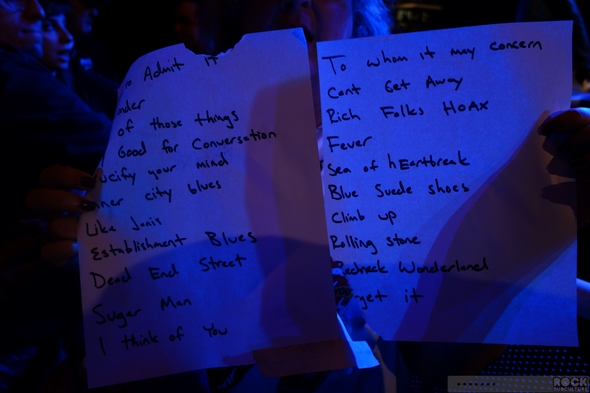 The audience really ate up everything he had to throw at them, whether it was the music or even taking off his jacket to better reveal his solid frame.
Rodríguez is one of those public figures that people have an impulse to root for… just as people often want to (unfairly) tear down those who have huge success, there is that other reflex to cheer on an underdog, and I the film has obviously captured the imagination of the masses, and this tour creates a rare opportunity to do so in person.
For me personally, this was a must-see show, and I would highly recommend going out to see the accidental legend should he have a stop in a city near you.
Below are some photos from the Rodríguez concert at the Warfield in San Francisco last night (click any photo for higher resolution images):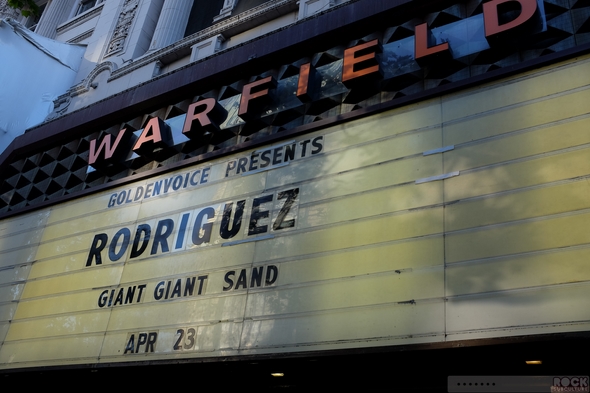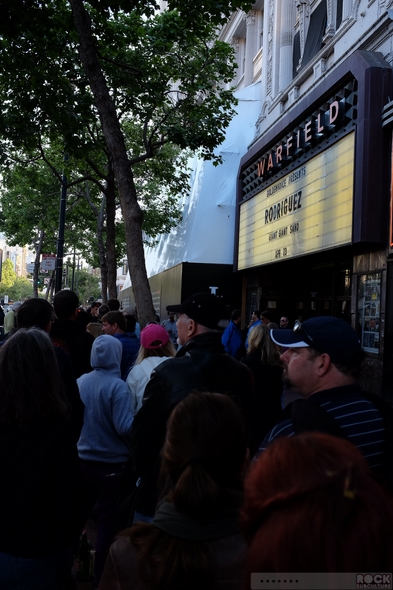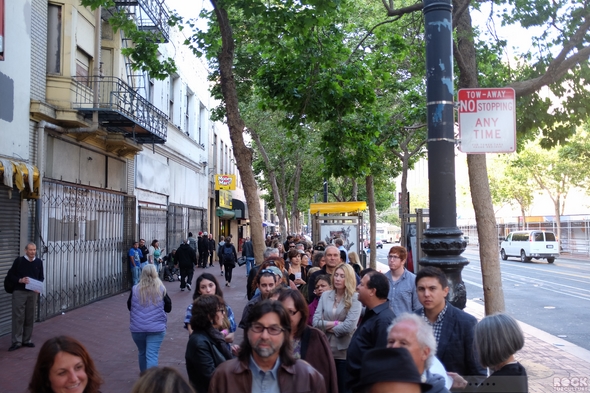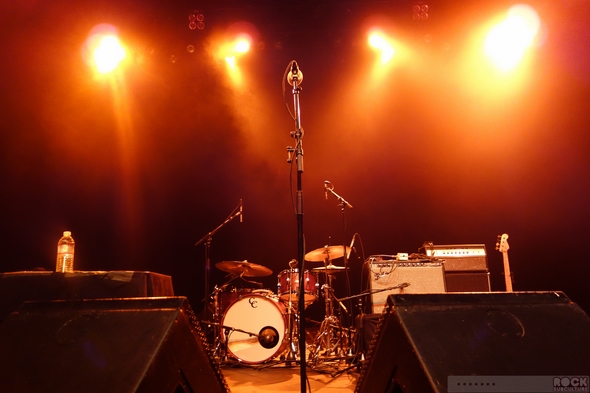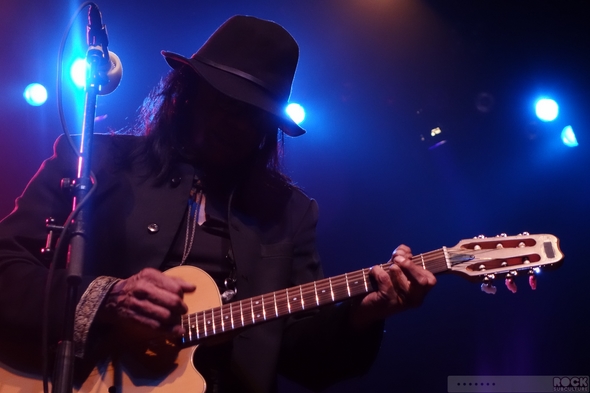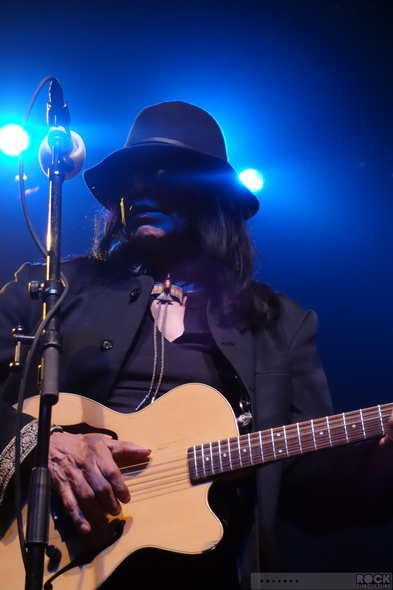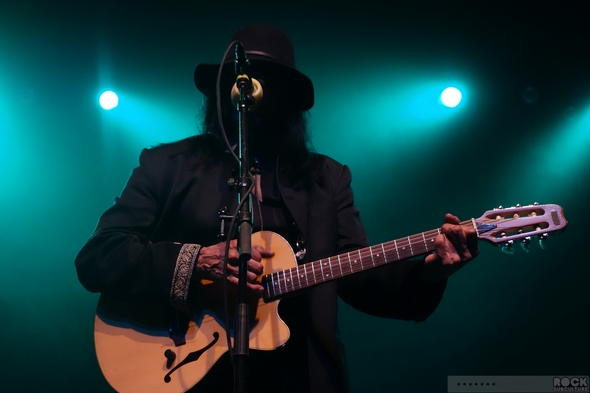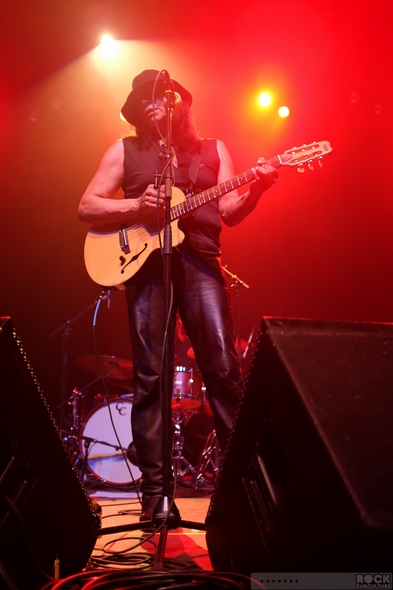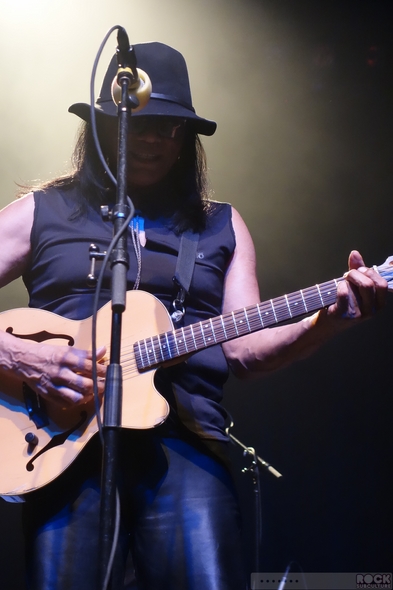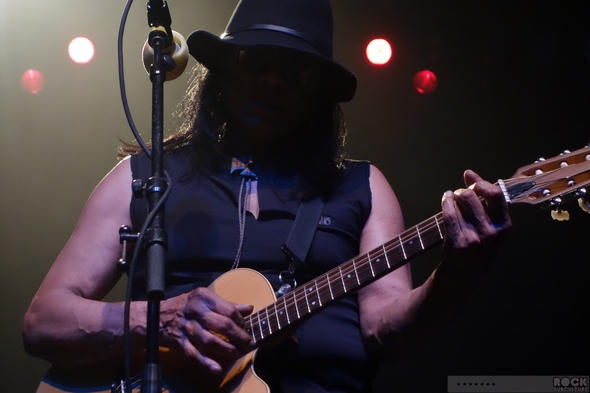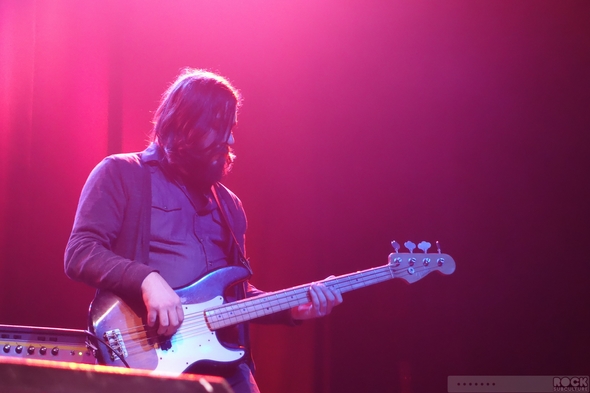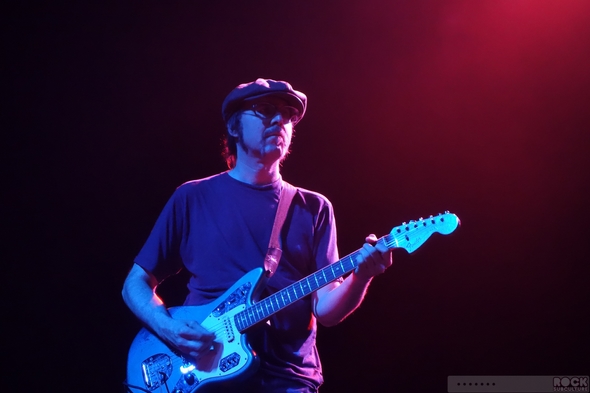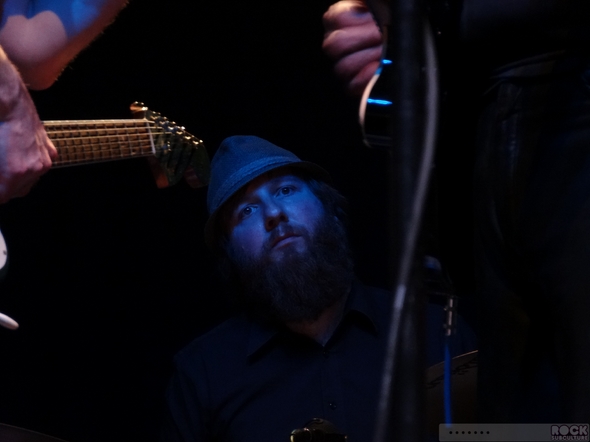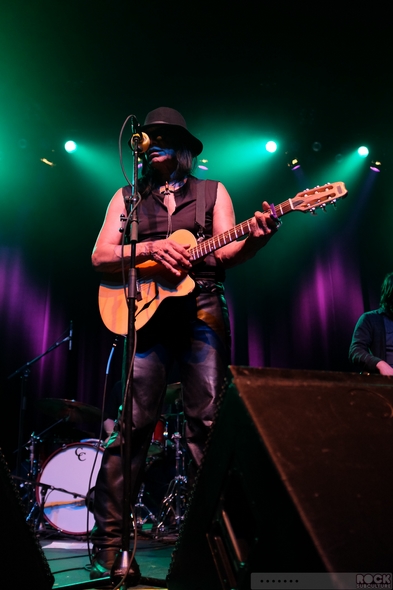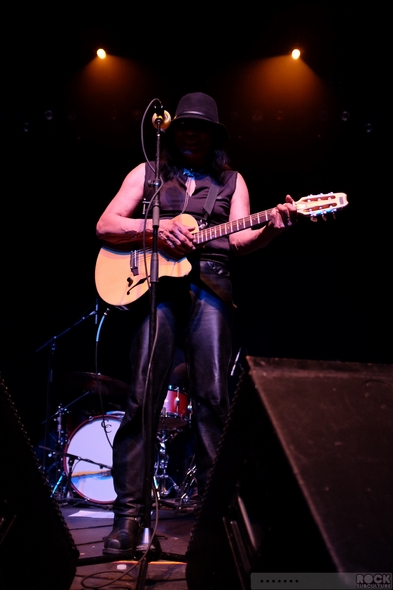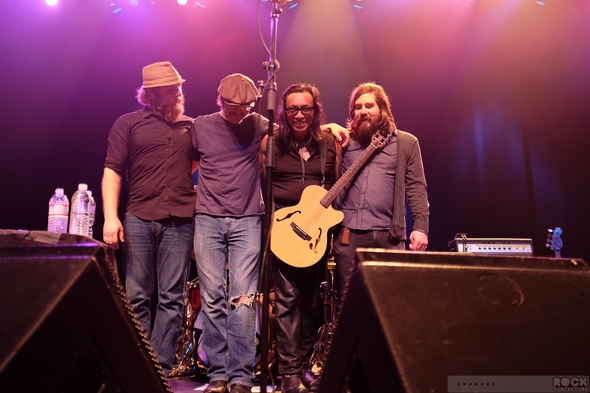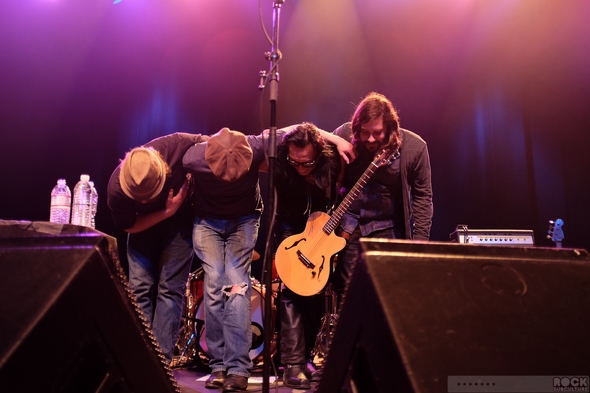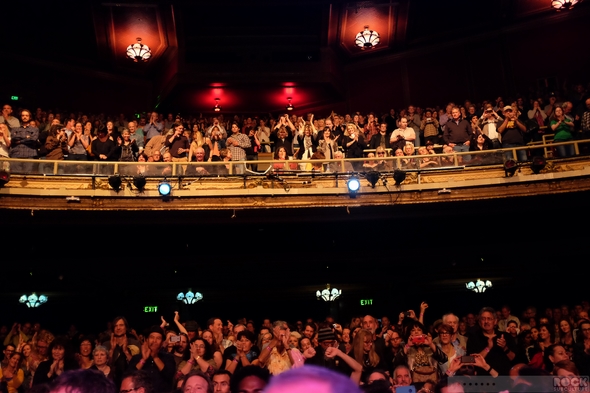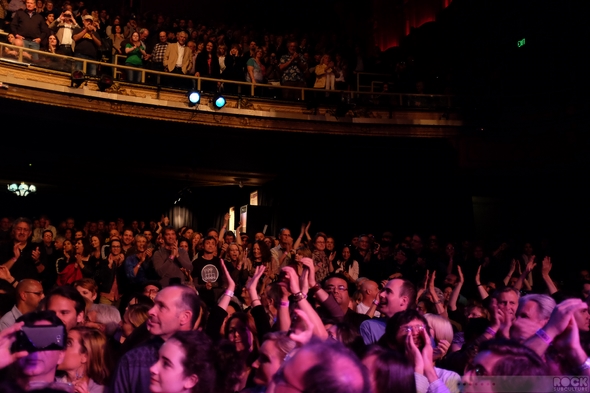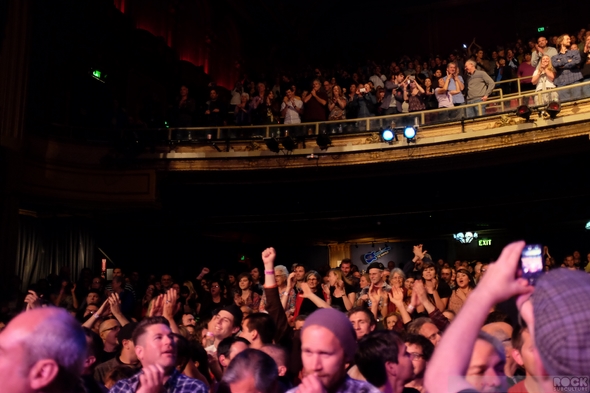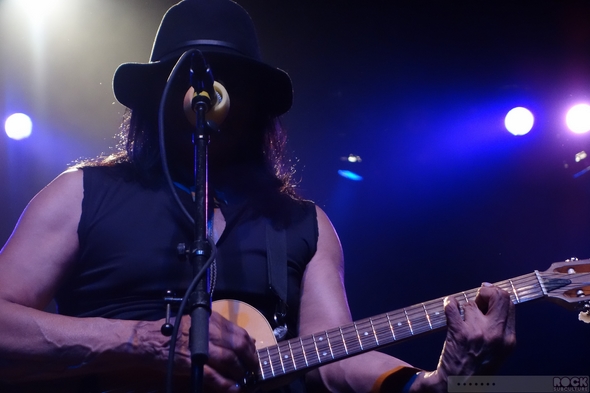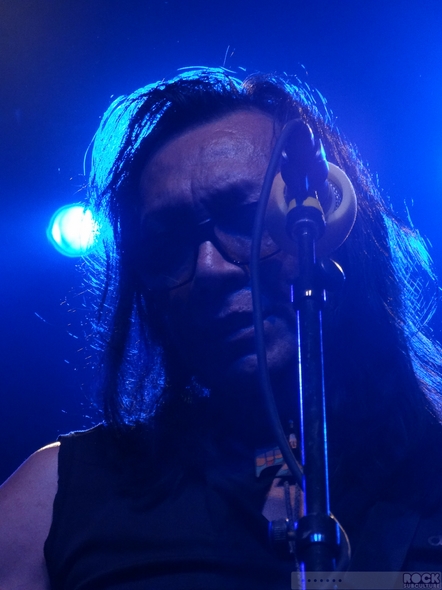 Jason DeBord