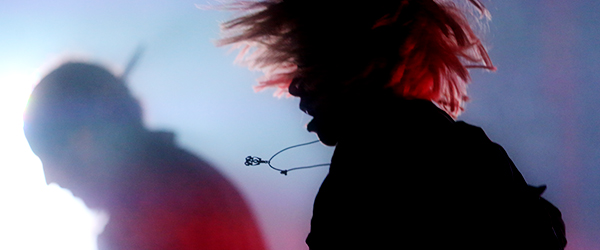 Just when you think you know what to expect from a Crystal Castles concert, a naked man casually walks on stage to tend to his drum kit (not a euphemism), part of the second of two supporting bands.  But of course the real show starts with the main set… and with Crystal Castles, it's as much about the experience surrounding the music as it is the music itself.  While Alice Glass and Ethan Kath don't really have anything to say in-between songs during their thumping (with many thumps courtesy of touring drummer Christopher Chartrand) high energy shows, they certainly know how to entertain and excite once they take the stage.  With their unconventional sound, seizure-inducing lighting effects, and interactivity (by way of Alice diving into the audience), a Crystal Castles show overloads the senses…  so much unfamiliar and unexpected for your eyes, ears, and brain to process.  Whatever your take on their brand of experimental electronic/synthpop/synthpunk music, you certainly can't consider their live shows to be boring or uneventful.  A band born to perform live, for sure.   Their studio recordings are fantastic (and their third studio album, (III) is excellent), but you really need to see them live to understand their music, and get the full Crystal Castles experience.

Who: Crystal Castles
Supporting: Doldrums
Supporting: Buried Child
Venue: Fox Theater
Promoter: Another Planet Entertainment
Where: Oakland, California
When: April 27, 2013
Seating: General Admission (also photo pass first three songs shooting from the stage)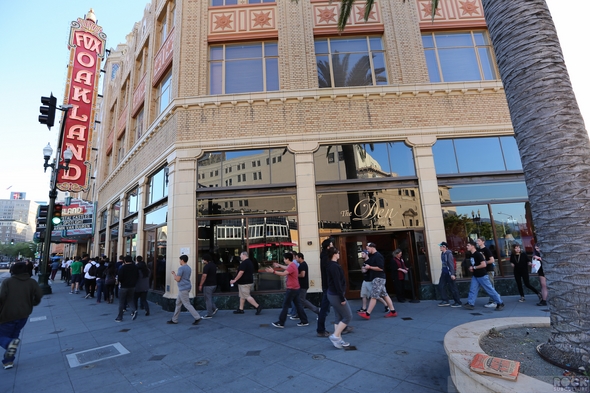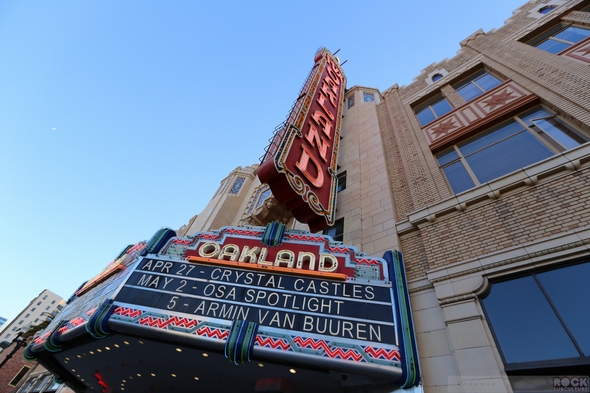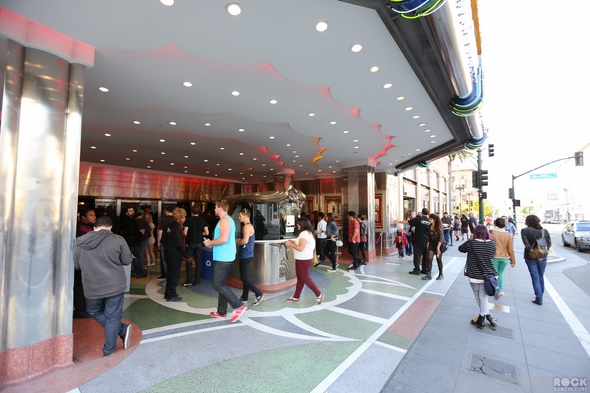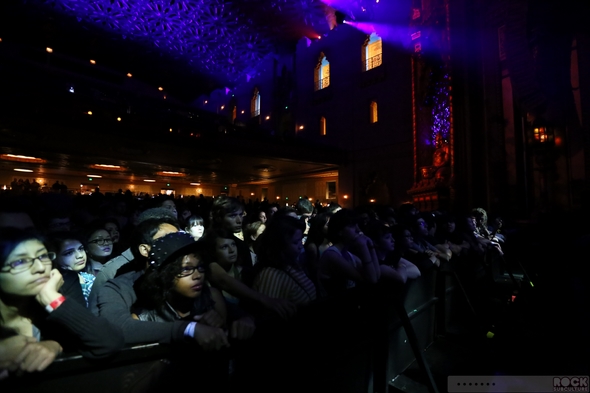 I first saw Crystal Castles live in October of last year, at the ShowBox SoDo in Seattle.  As was the case with that show, there was two supporting artists on the bill at the Fox Theater in Oakland, California last night, though different openers this time around.  The new album they are supporting with this world tour can be previewed via streaming player on their official site at www.CrystalCastles.com.
Buried Child
Buried Child is a DJ who also has worked with Crystal Castles.  On stage, it's all about the music, as he hardly looked up during his set, which was quite excellent.  You can check out some of his work on SoundCloud.  Given his style of music, I think he was an excellent choice to kick things off for Crystal Castles last night.
Below are some photos of Buried Child performing on stage (click any photo for higher resolution images):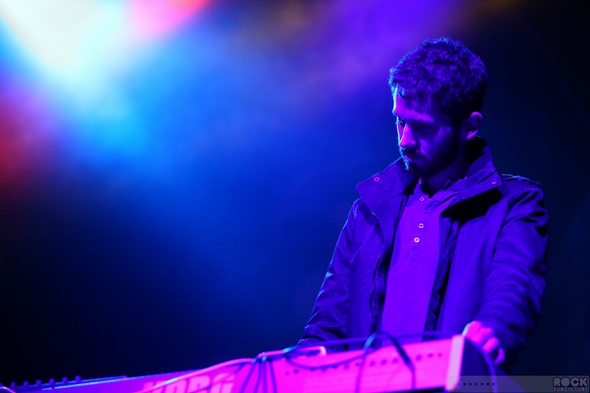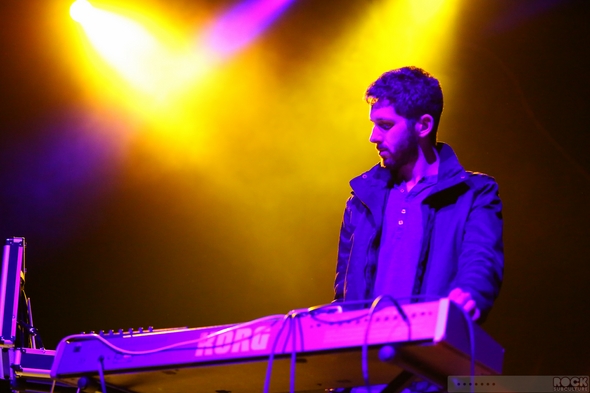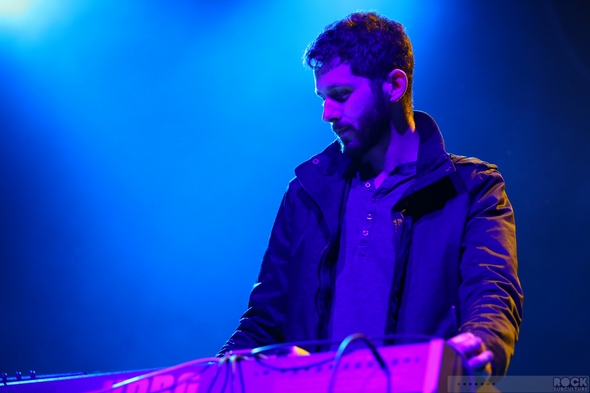 Doldrums
So apart from the obvious, noted in the opening (i.e. naked drummer), I think the best word to otherwise describe the three-piece band would be unconventional.  Though their instruments are somewhat of a mystery, they do manage to generate some interesting music with what they bring out on stage.  Kudos for doing something different, and making music that is unique.
Somewhat of a mystery (to me at least), it appears that 23-year old Airick Woodhead is at the heart of this endeavor.  Check out his interview with Pitchfork for more insights into this young artist and his work.
On their official Facebook page, they've recently linked to a Vimeo video from a recent show so you can check out their live set, with the popular video service also playing host to a music video for their latest, "Lost In Everyone".  Their latest album, Lesser Evil, can be purchased from Arbutus Records and on iTunes.
Below are some photos of Doldrums performing on stage: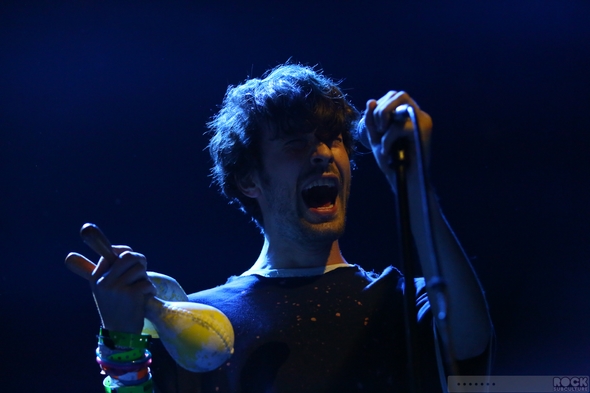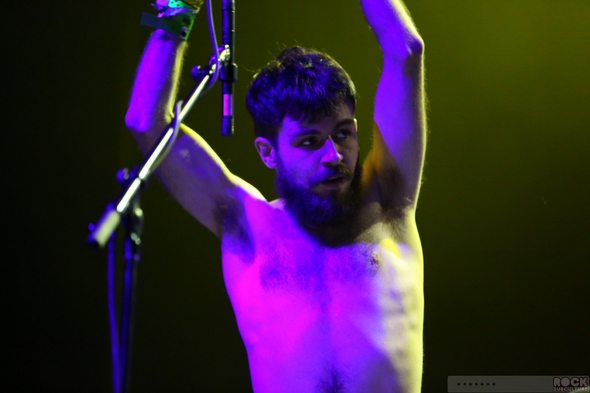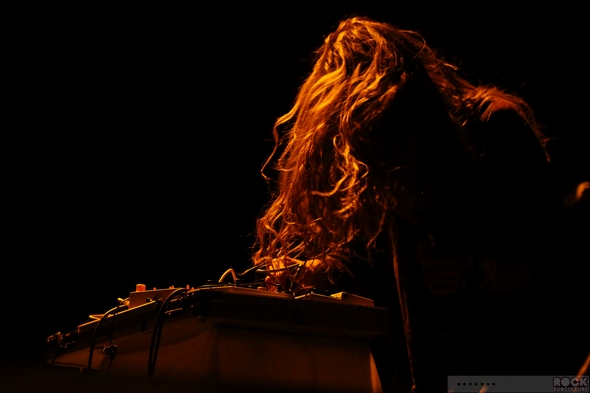 Crystal Castles
Producer Ethan Kath discovered Alice Glass at the age of 15, when she was singing with punk band Fetus Fatale. The collaboration began with her writing and recording some lyrics over some tracks he had been working on – the engineer had recorded her sound check without her knowledge, and Kath found it and dubbed it "Alice Practice" and put it on the Internet under the name Crystal Castles. This garnered much interest, and lead to a record deal.
They released their first fill album, Crystal Castles, in 2006, and their second album, (II), in 2010. Their latest album, (III), came out late last year.
Their music includes the distinct sounds and samples from vintage era videogames. They've quite brilliantly infused some of these sounds into their music and in some ways it serves as a sort of aural shorthand for a certain generation… those who've grown up in gaming culture have distinct associations with these sounds and style of sounds; for some, they may even be hardwired into their unconsciousness. Crystal Castles deftly uses these sounds to create an interesting and distorted fantasy world featuring an electronic and gothic pop landscape.
The crowd at the show at the Fox Theater in Oakland – while skewing young – was not as youthful, overall, as the one I encountered in Seattle at the Showbox SoDo last year.
While the SoDo might have suited the band better in style (the SoDo is a re-imagined warehouse space that is decidedly post-modern), I felt that the Fox gave them a much better platform from which to build their show, with the much larger stage and multi-stories of open space above the stage.  While the SoDo was kind of claustrophobic (which in some ways works to the advantage of the show), I found that everything worked better at the Fox.
Crystal Castles and their staging is somewhat minimalist – an image from their new album, (III), draped as backdrop at the rear of the stage, Christopher Chartrand's drum kit centered toward the back, Ethan Kath's synthesizer and gear stage right (to the left for the audience looking at the stage), and a microphone stand for Alice Glass front center.  Stage left (to the right from the crowd perspective) is what I like to think of as Alice's take-off ramp (into the crowd), marked off with gaffer tape.
As was the case with the SoDo show, I had the opportunity of shooting the first three songs from on stage, stage left (to the left of the aforementioned floorspace marked off for access into the audience).   While wonderful for photography, it also was a great opportunity for better insights into the concert and how the group perform on stage.
The show did start a bit late (though I did not check my watch, it felt like things were running maybe 20 minutes past schedule, with an 11:30 curfew for the venue).
The trio strolled out onto the stage, took to their positions, and opened with "Plague", drowned in black darkness and quick bursts of red.  They have their own custom lighting set up which is quite impressive.  My photos further below are quite deceiving, as they capture fractions of a second each from an unrelenting, flashing, blinding light show.  Like mentioned in my opening, just the lighting effects are quite a lot to process, and contributed to the mystery of the artists on stage, as your eyes try to find them – take them in – and they stand right in front of us, just are hidden by both pitch darkness as well as light.
Unlike your typical pop band, Alice's vocals are mixed in with all the rest, rather than being prominent or a focal point.  Much in the same way as the different color light flashes and the complete darkness make up the overall lighting, her vocals are one element of what makes up their sound.
With Christopher in tow on tour, I find that the "natural" drums incorporated into their live set really adds a lot to their music – gives it more of visceral feel.  Adding to that is Alice and her fearless rock star persona on stage, which is against type for any kind of electronic/synth-oriented band.
Two songs in, she took her first dive into the crowd, but I have a sense that something wasn't quite working with the crowd last night, as it was short-lived, and there was a quick aside/discussion about it before she returned to her mic stand.  Overall, she did much longer stints into the crowd in Seattle – and much deeper back – when compared with the show in Oakland last night.  Not sure what the reason was – might be that the crowd did not offer sufficient support for her to really get around.  Regardless, if I hadn't seen them before to compare, my reaction would have been the same as it was in Seattle last year, which was mostly astonishment.
At the heart of the music is Ethan, and while he is pretty much fixed in place during the show, it's obvious that the majority of what we hear is coming from him, and he is unrelenting in pushing the show forward, non-stop, and building to the end of it all.
Once I was done shooting photography, I went up into the balcony area and found an empty seat, and it was quite mesmerizing watching the show from the elevated vantage point.  Again, this was where I would definitely prefer the Fox Theater for this particular show, as it gave much more room for the lighting effects, and watching the crowd converge on Alice at the times where she stepped out into it was amazing to watch.  Although I have to admit it did bring up thoughts of scenes from The Walking Dead.
Ultimately, it was an amazing concert put on by Crystal Castles, who do their own thing both in the studio and on the road, and I know I wouldn't want it any other way.
Below are some photos from the Crystal Castles concert at the Fox Theater in Oakland on April 27th, 2013 (click any image to bring up higher resolution versions of the same photo):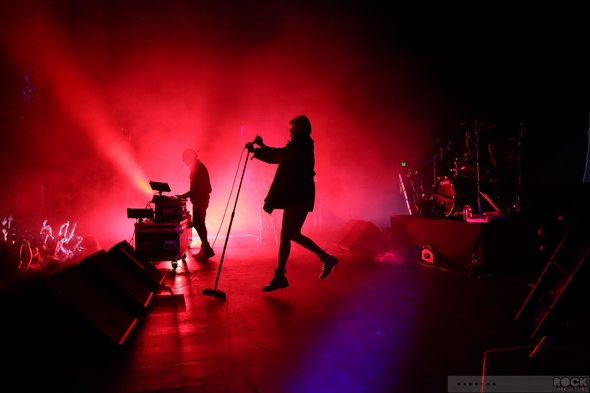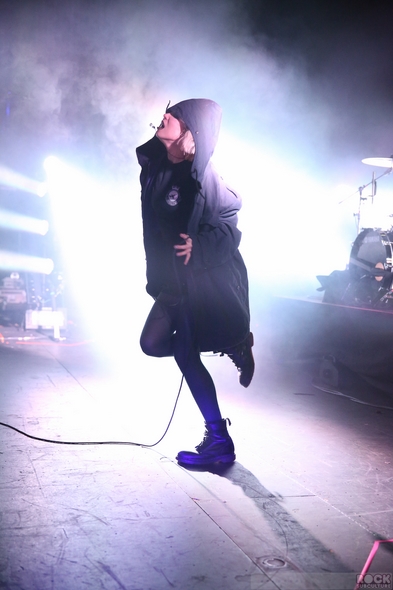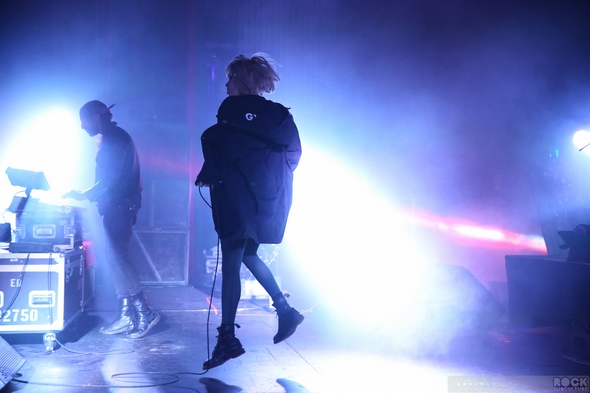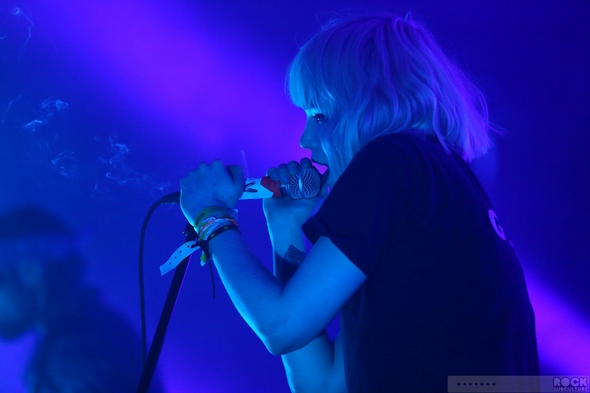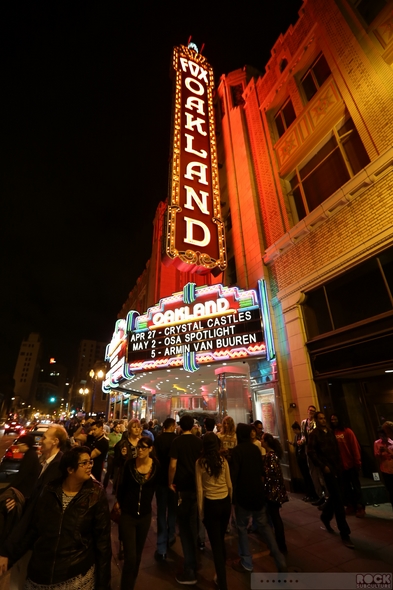 Jason DeBord