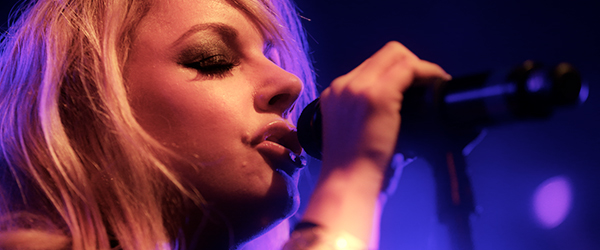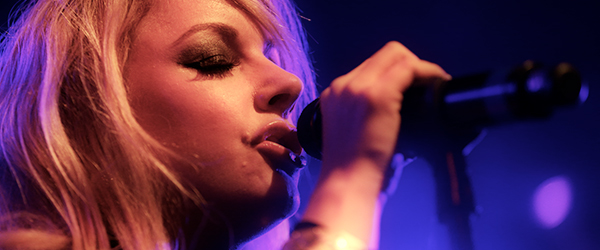 "Are you up for a rave?  Do you have raves in San Francisco on a Tuesday?"  Victoria Christina Hesketh, AKA Little Boots, leading into "Broken Record", the thumping lead single from her highly acclaimed second studio album Nocturnes, which was released in May.  A natural performer, Little Boots certainly brought a special mix of charisma and energy to the stage to power her amazing music, building on Amanda Warner of MDNR's blazing opening set within the intimate setting of The Independent.  Definitely a great night of contemporary electronic synthpop as Little Boots kicks off her world tour running through the end of the year.

Who: Little Boots
Supporting: MNDR
Venue: The Independent
Where: San Francisco, California
Promoter: Another Planet Entertainment
When: September 24, 2013
Seating: General Admission Standing (general admission standing; also photo pass first three songs)
Since there is no photo pit at The Independent, I always show up way before doors just to ensure I can get a good position for photography without having to wade through a crowd of people who put in their time.  There was one young man who arrived a good half hour before me that was a big fan of both artists, so it was awesome to see him have a great time at this show, as Amanda from MNDR at one point extended her mic to him to fill in on vocals (he seemed to know every word of every song for both artists) and at the end of the Little Boots set, Victoria reached down and took his hat and wore it at the end of her encore. 
For me, that kind of encapsulates the power of these shows at smaller venues (The Independent maxes out at about 800 patrons); you can really immerse yourself into the music of these artists and truly (and literally) connect with them at these shows.

Little Boots has so much talent, it is definitely a great opportunity to see her at shows such as this while you still can.
MNDR
Members
Amanda Warner and Peter Wade are MNDR, an American electronic music duo from New York City, though Amanda performs live as a solo act.
MNDR have released an EP, a number of singles, and one studio album, Feed Me Diamonds, released last year, which is a great album with a unique sound.  I saw MNDR once previously, supporting The Ting Tings early last year.
Amanda is one of those music artists that just beams with joy and enthusiasm, even before she gets into her set.
She spends the majority of her show singing and dancing and connecting with the audiences, particularly on the front end, though takes time to also chat with the audience between songs (with humor and charm) as well as going back to her equipment to riff with samples and the like.
For me the highlight of her portion of the show was her performance of a new song – not only was it a great song, but she seemed to have some significant emotions in singing it, which was really touching.  Music that means something to the artist.
I did get a chance to meet Amanda after the show…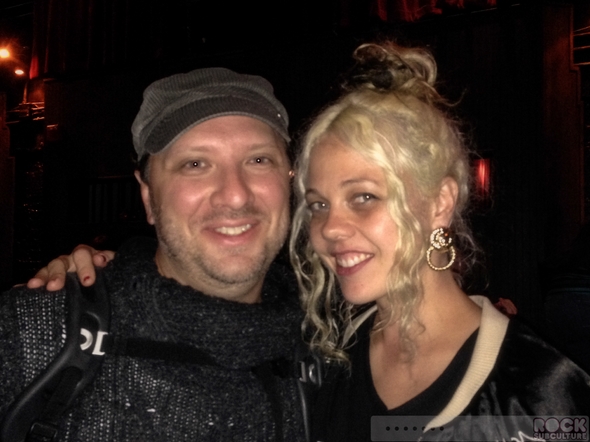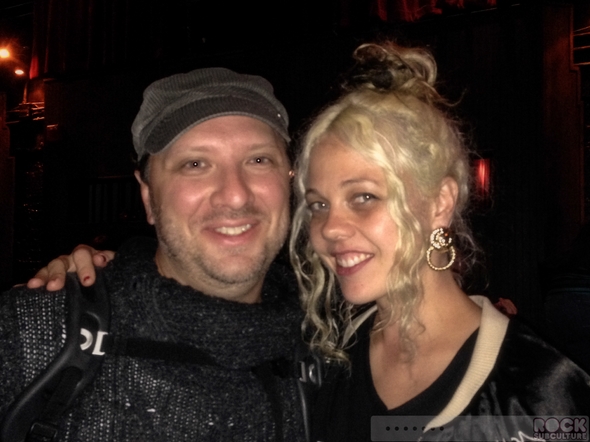 Below are some photos of MNDR performing on stage: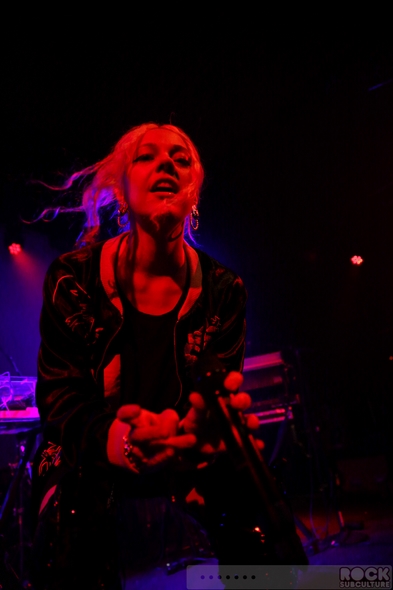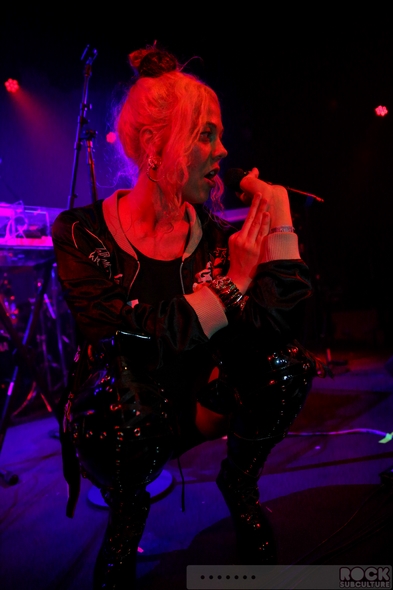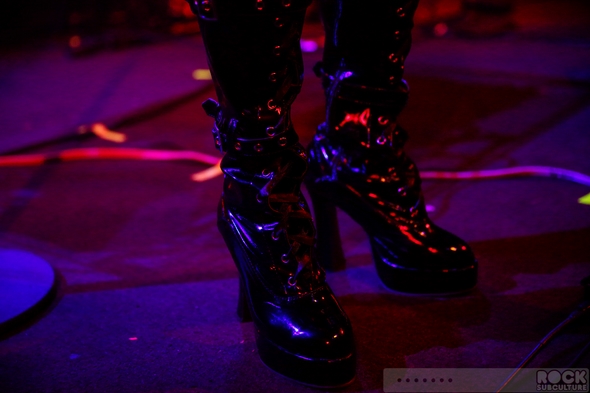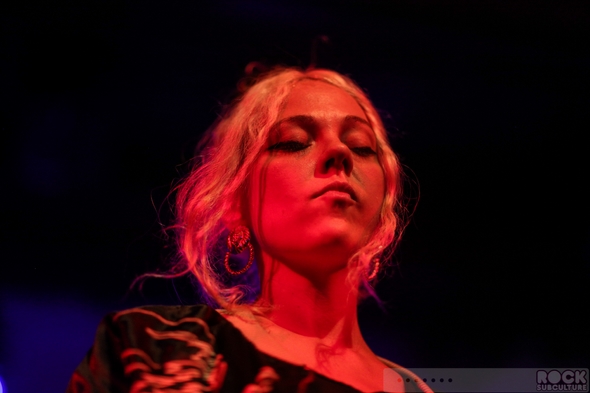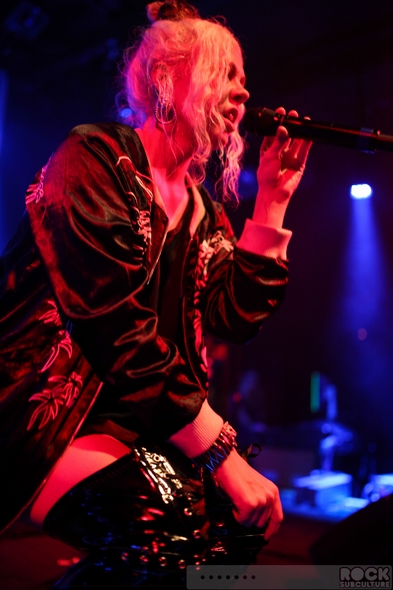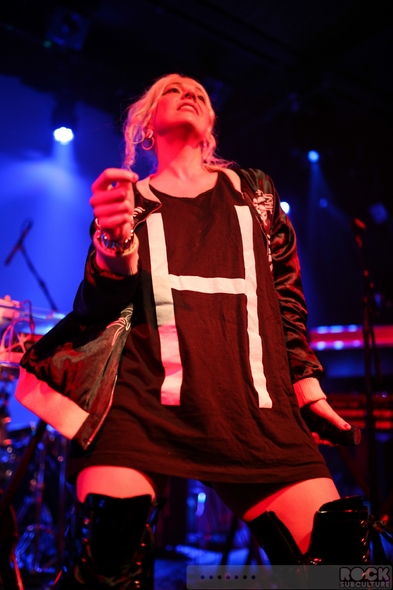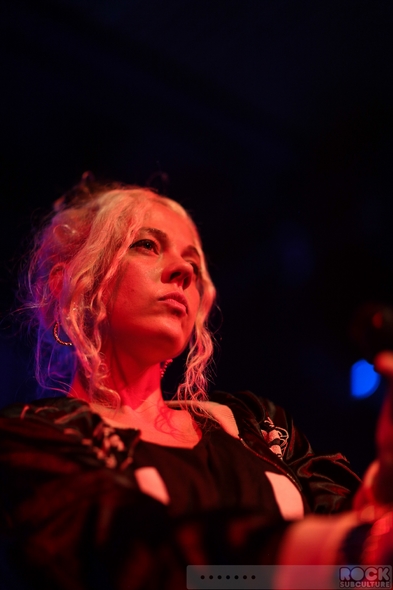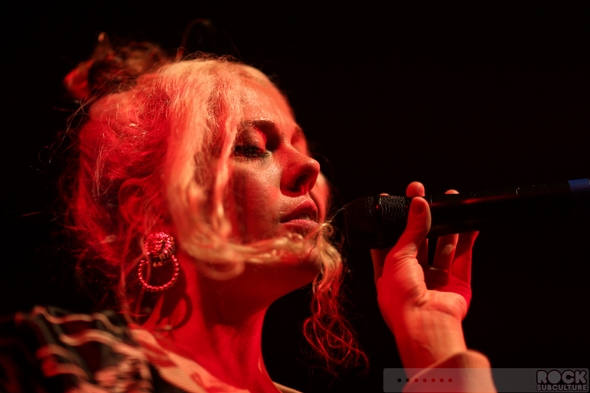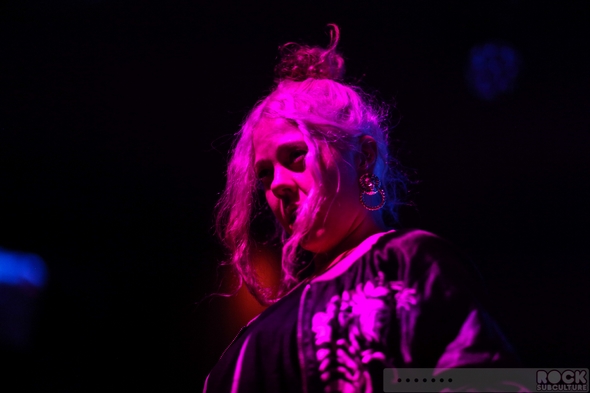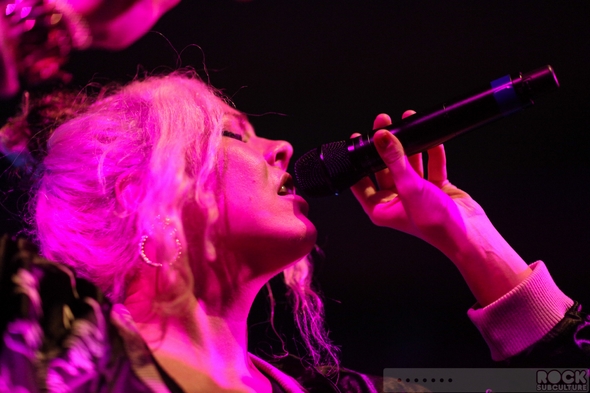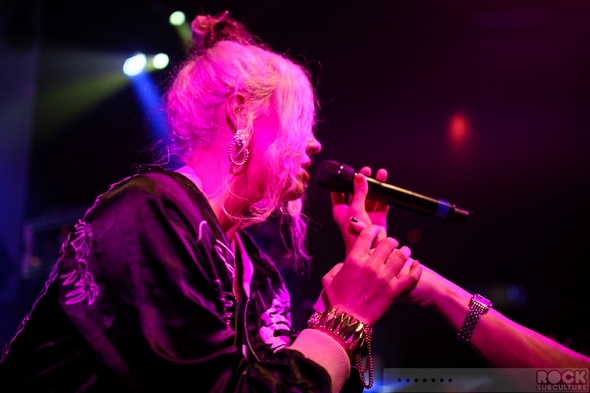 Little Boots
Members
Victoria Christina Hesketh (vocals, keyboards/synthesizer, tambourine)
Ben Cheteood (drums)
Chris Kemsley (keyboards)
Lauren Verge (keyboards, guitar)
Little Boots is Victoria Christina Hesketh. On stage, the singer-songwriter and DJ sings and plays keyboards/synthesizer and other instruments like a tambourine.
As one of several new artists that are young women who cite 80s influences, her sound is a mix capturing that sort of vibe but sounding and feeling contemporary, drawing from the best of electronic and pop music from the past three decades.
Her debut album, Hands, was released in 2009, while her second album, Nocturnes, was released in May of this year.
I don't quite remember how I discovered Little Boots, but purchased Hands and it was one of those rare albums that was so stellar, I couldn't get through it.  When I first play a new album, if I really, really like a song on first listen, I'll tend to repeat it over and over and not progress into the rest of it.
With Hands, I found the opener "New In Town" to be infectiously catchy.  It kind of immediately reminded me a bit of Elastica, but more polished and electronic and pop and maybe more refined – but it had that vibe for me.
What blew me away about Hands is the quality of the whole thing – one of those rare artists who really, truly has that insight and magic touch and ability to craft really hooky pop songs.  "Earthquake" was maybe even more catchy than "New In Town".  And unlike a lot of great pop songs, it goes through several changes and all of the elements are equally hooky.
Most artists would be lucky to have two such songs on an album, but with Hands it really is quite literally one after another.  Third on the album, "Stuck On Repeat", is maybe the biggest hit of all.  A fantastic piece of music, that really harkens back to the sound and feelings evoked with the best of New Wave in the early 80s.  Great sounds, structure, lines, vocals – it hits on all cylinders.
I could go on and on about Hands, but the funny thing is it took me at least a week of heavy play to make it through the whole work…  "Click" and "Remedy" were additional obstacles at making my way through the whole thing, as they are as strong as the songs that preceded it.  "Click" for me is like a modern day, late-70s era Blondie song made current, with a slight disco sound caught in a synthpop storm.  "Remedy" is maybe the more jumping of the first half of the album.
Obviously, I'm a big fan of her debut…  so was eager to hear the Nocturnes follow-up.  Another amazing album.  I was curious to see which songs from the new album would make it into the set last night, and thankfully quite a few did.
The opener of the concert was "Motorway", which shows a different side of Little Boots and some versatility in her music.  A much slower song than a lot of what came before, I think it serves as a showcase for her vocals and ability to carry a song that has more subtlety.  A great way to start the evening, and it also served as a foundation to build on as the set took off.
The second song into the concert was the second song on Nocturnes, "Confusion", which also illustrates the expanding range of the kind of music that Little Boots can make, and how it naturally suits her musical gifts and abilities.
A little further into her set, she debuted "Beat Beat", which is a song that also has a bit of a disco era vibe and sound to it, and is also a bit more maybe anthemic.  If Hands is the party album, Nocturnes is what you'd play I think in a more mellow after party, and these songs really suited the intimate setting within The Independent.
Performing these songs on stage, Victoria really had an ease and way about gliding around the stage and singing some amazing vocals, and thankfully the sound was really dialed in perfectly for their set.
One of the highlights of the show was "Broken Record" off of the new album, which as a piece of infectious pop music is as good as any other song she's done.  One of those perfect songs that just works on every level.
Also played on the back end of her set was the new song, "Every Night I Say A Prayer", which is another song that breaks some new ground for her, rather than recreating past successes.  For me this is the song that most reflects her English origins, as it has a distinctly British pop sound, particularly the style of the piano and the overall structure.
While she opened the main set with the first song off Nocturnes, she closed it out with the last song on the new album, Satellite, which is a fantastic song that has the pop appeal and energy of the best songs off of Hands, but I think reveals an evolution and maturity in her sound.
With Hands, I think the debut really kicked in the doors of the music world with a stellar album that was made of impossibly catchy songs, most of which could have blown up even bigger than they did.  I think Nocturnes shows an evolution in her sound and art where she has eclipsed her influences and really come into her own truly unique sound and style of music that defies easy categorization and comparisons.
After finishing out the main set, Victoria came back on stage with a white dress that employed some impressive lighting effects as she played through one song off each album – "Remedy" and "Shake".  I only shot the first three songs of her set and stowed away my pro gear, but got some photos of her electrifying dress with a pocket camera, which can be found at the bottom of my article.
Really a fantastic show, and amazingly talented artist.  She is so young I imagine a lot of great things in her future in the music world.  One to follow.
Below is the set list from the Little Boots concert at The Independent last night…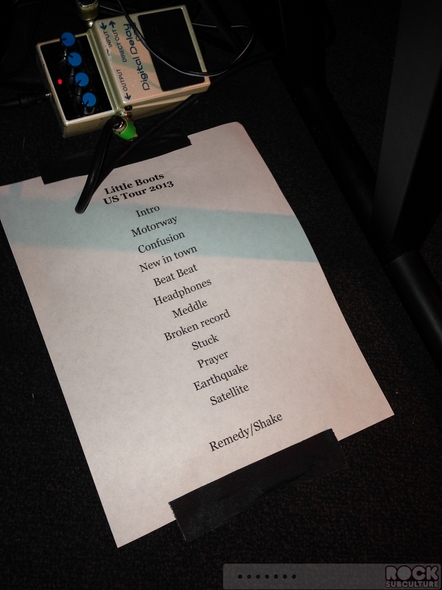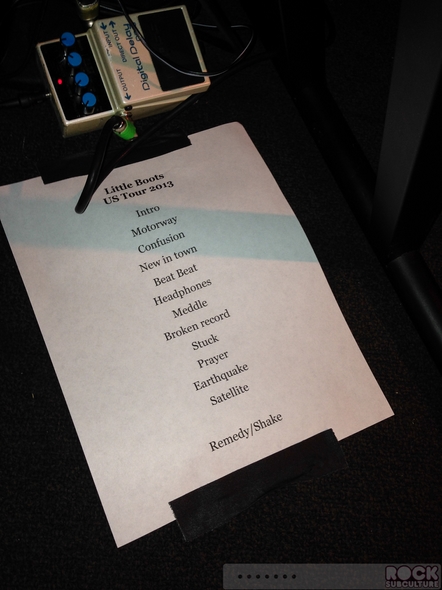 Setlist:
Intro
Motorway
Confusion
New in Town
Beat Beat
Headphones
Meddle
Broken Record
Stuck on Repeat
Every Night I Say A Prayer
Earthquake
Satellite
Encore:
Below are some photos of Little Boots performing on stage: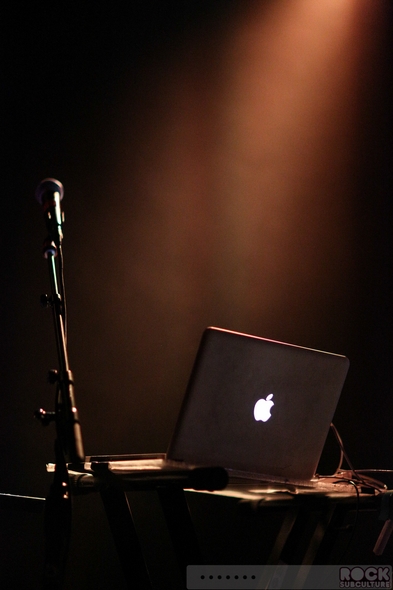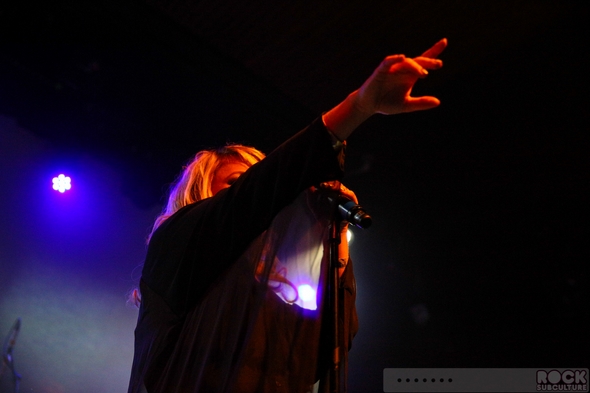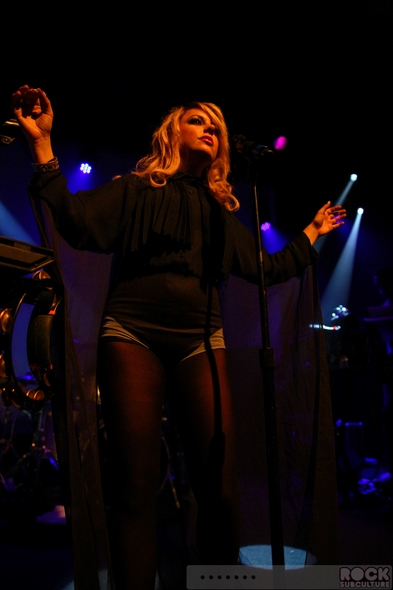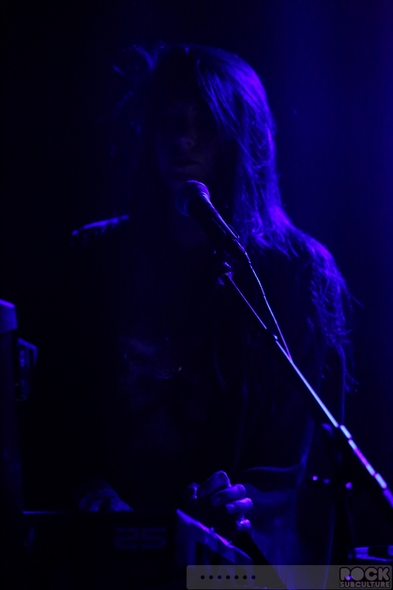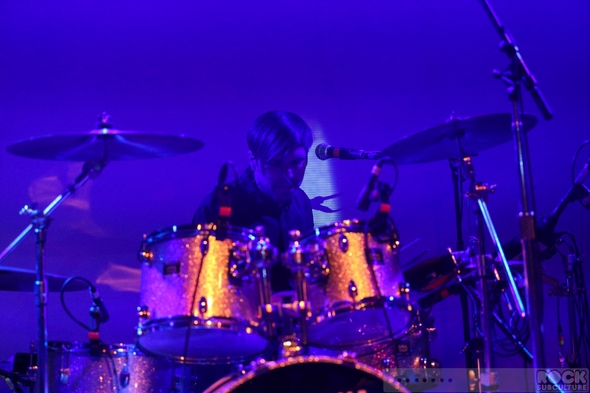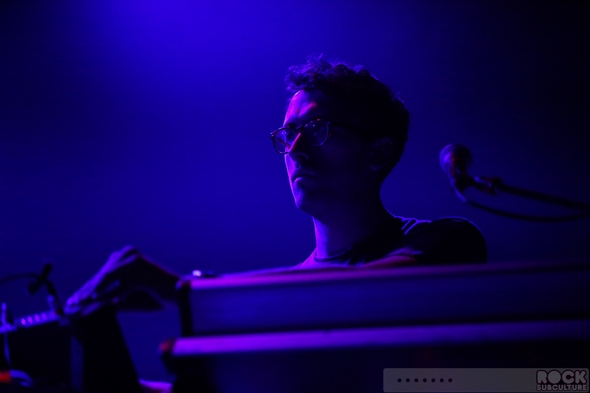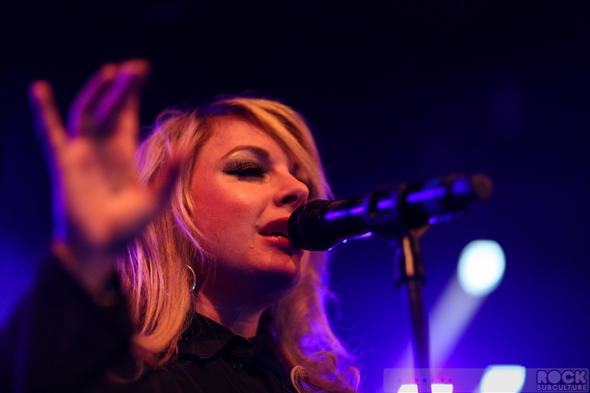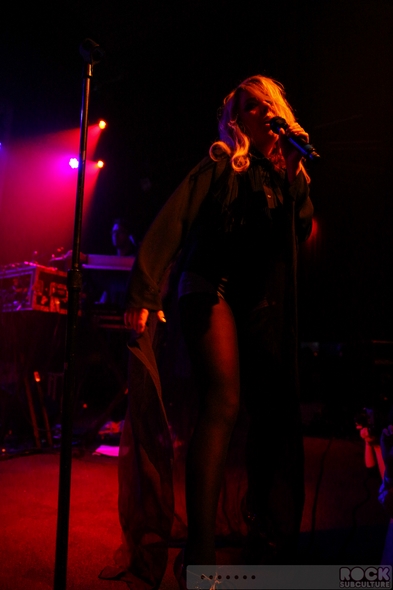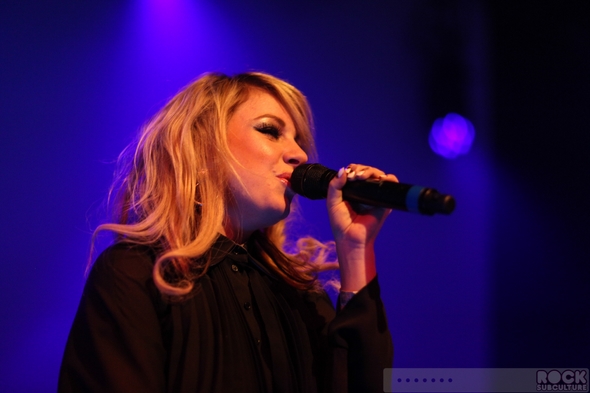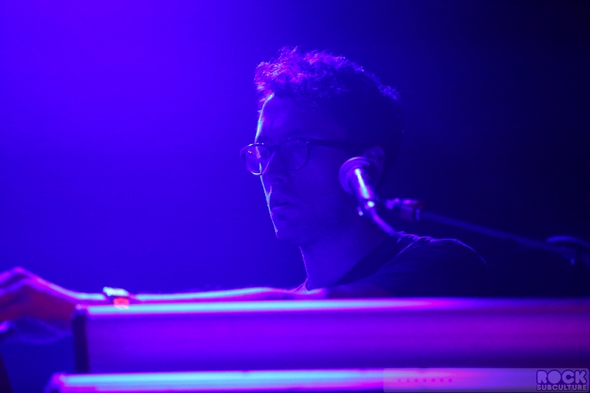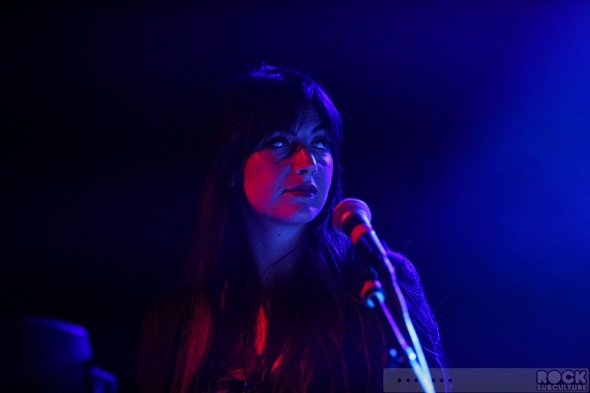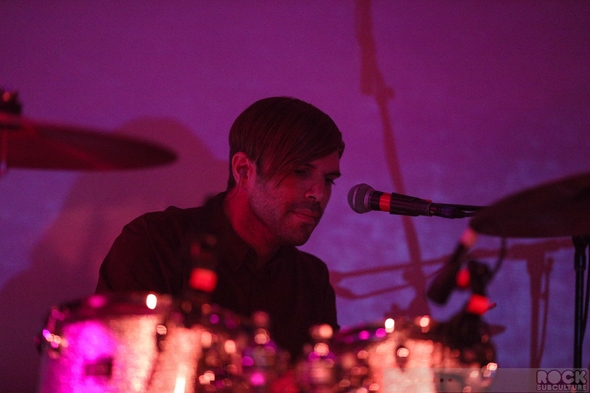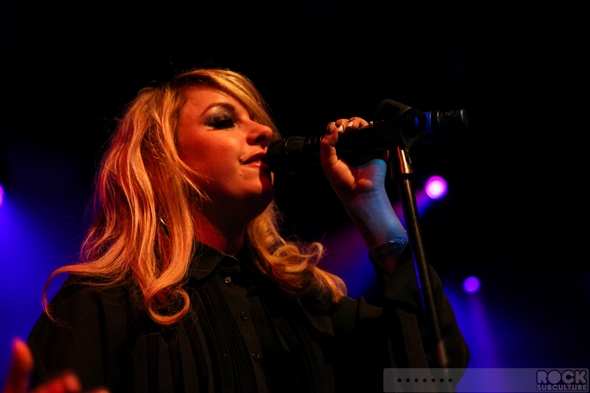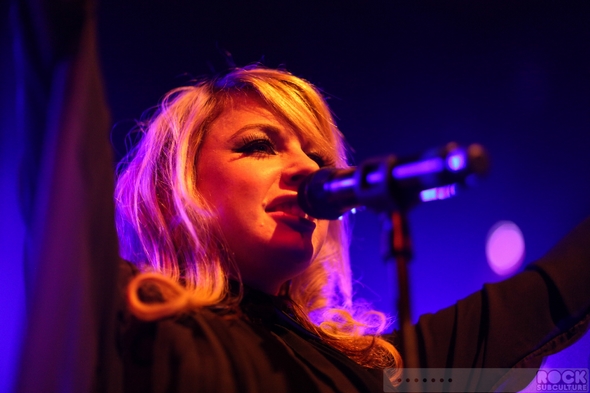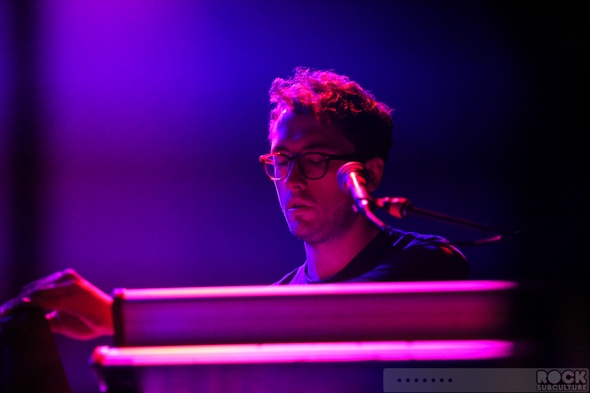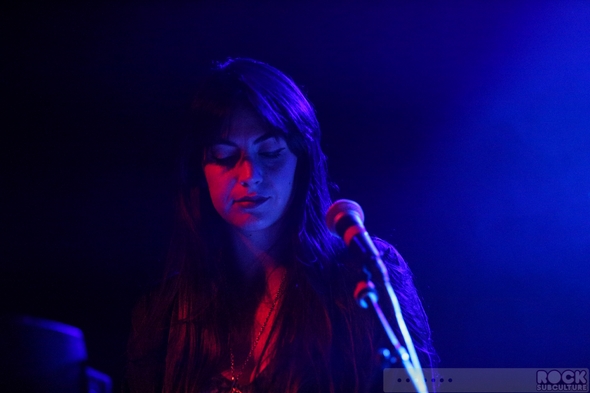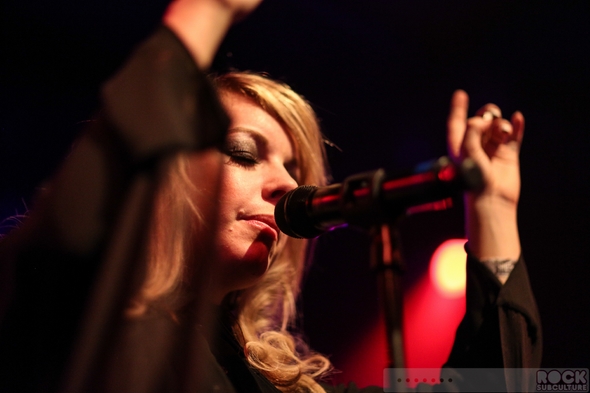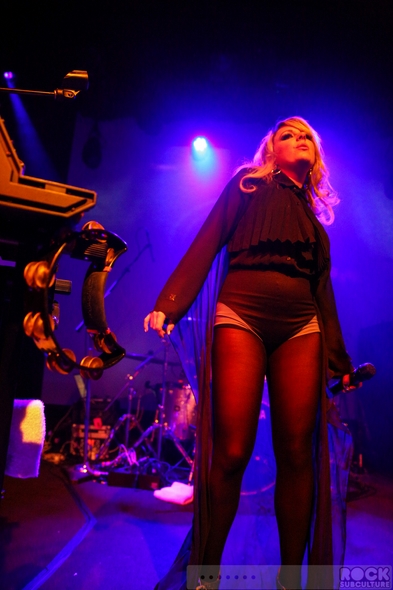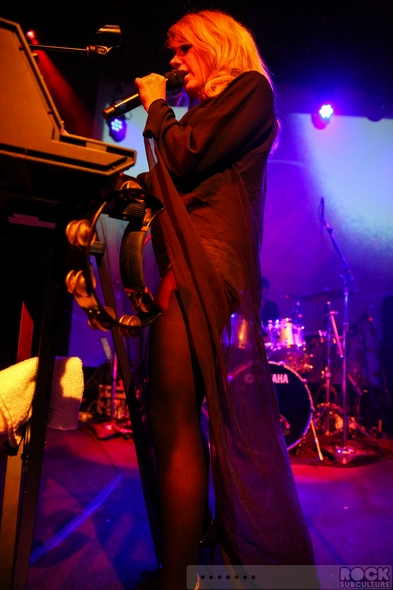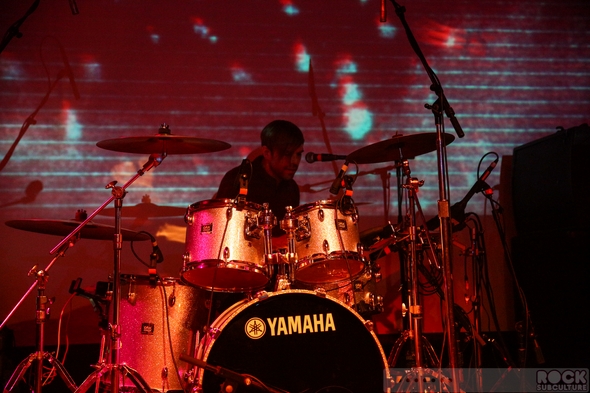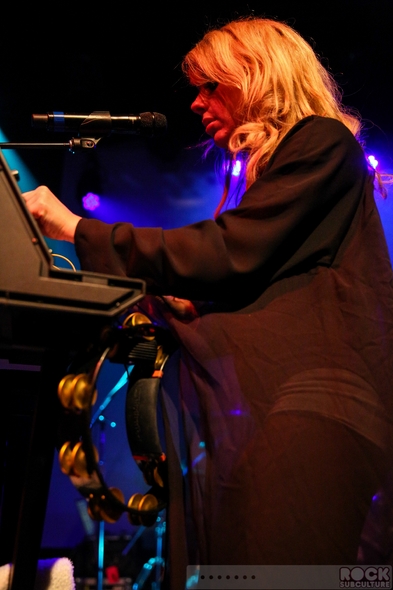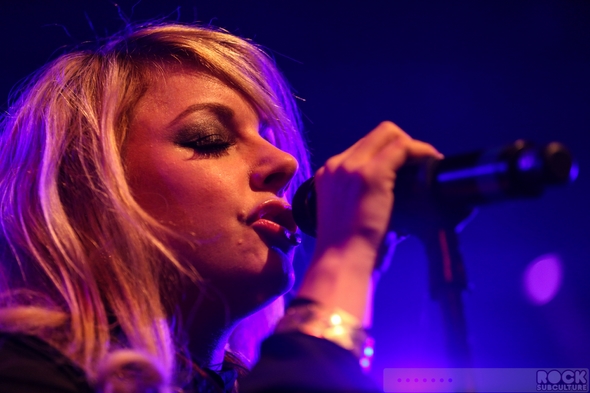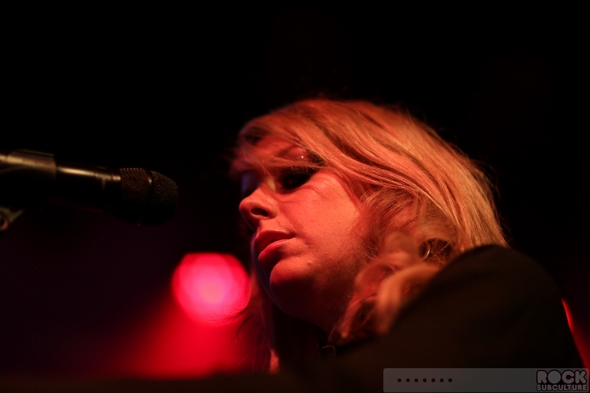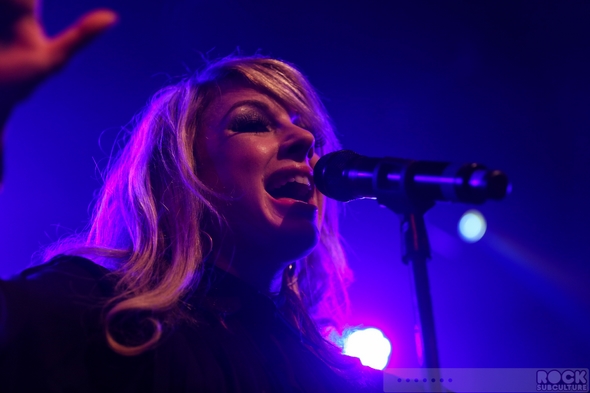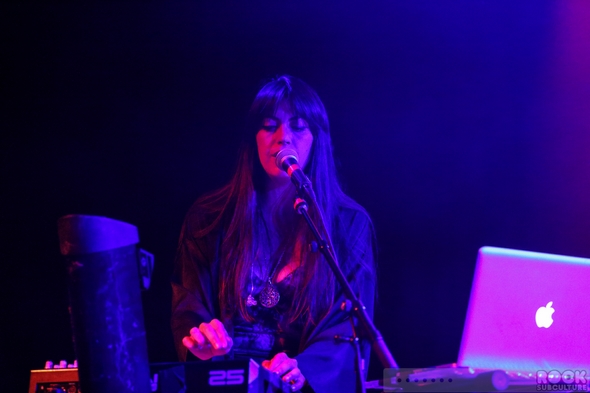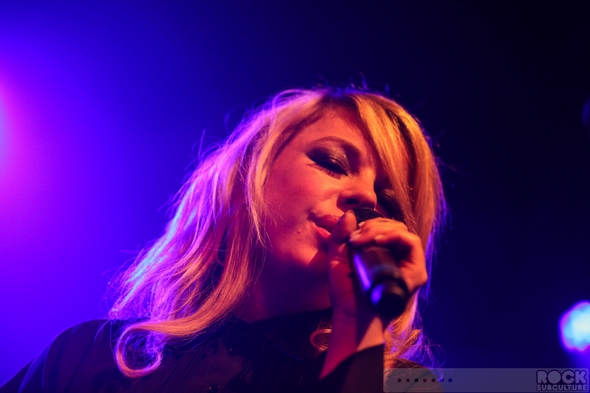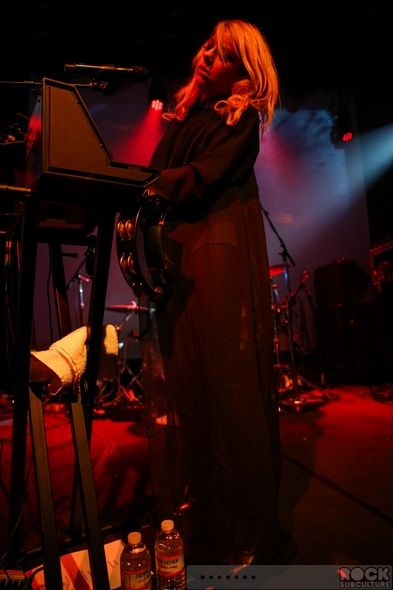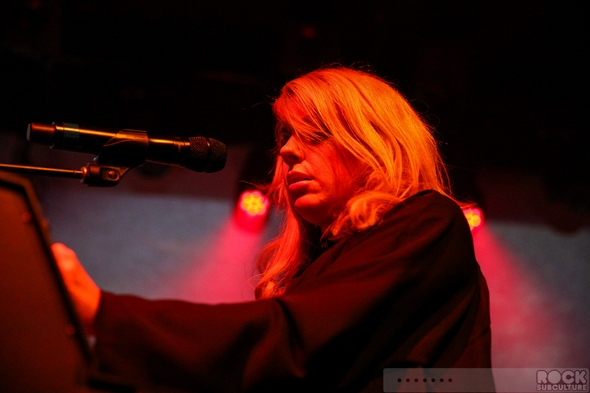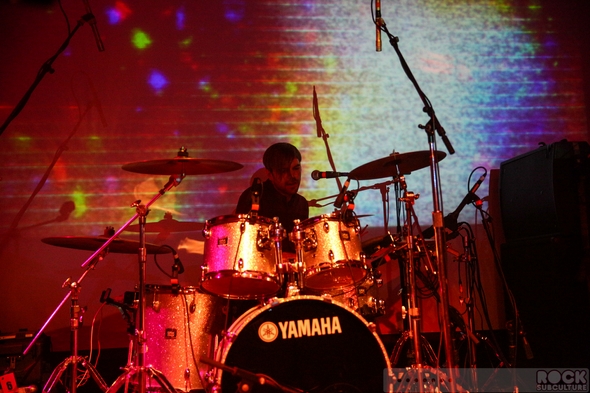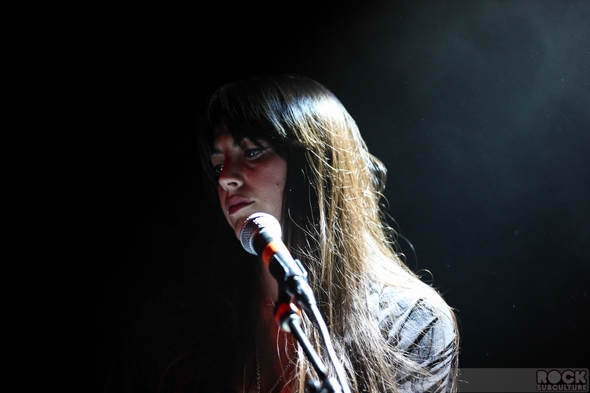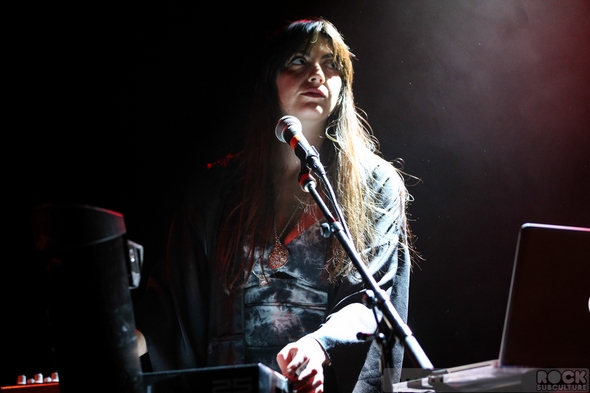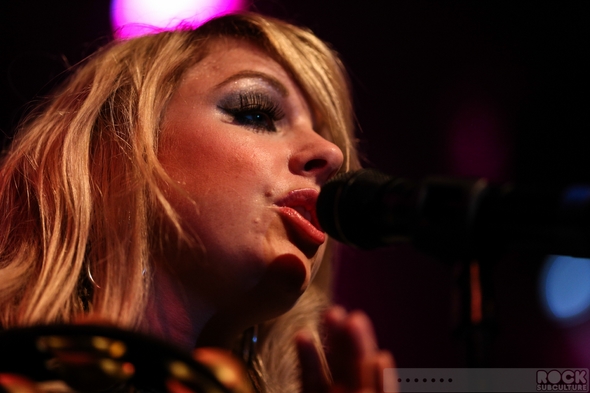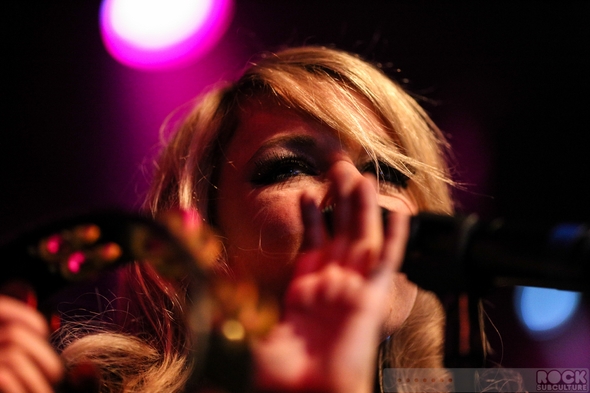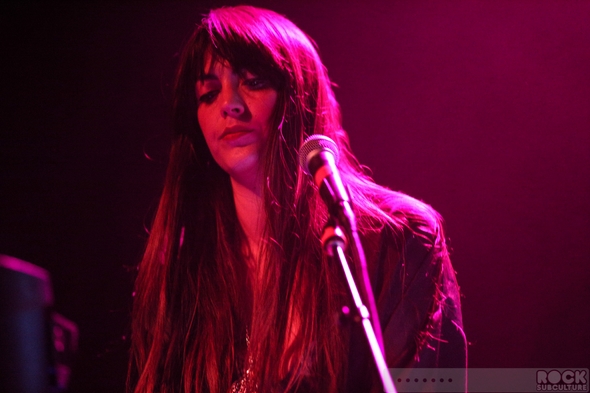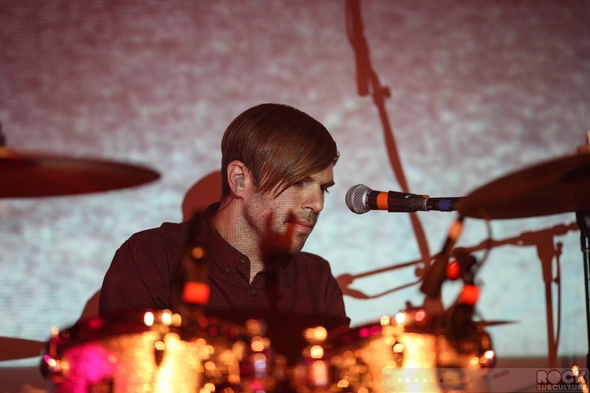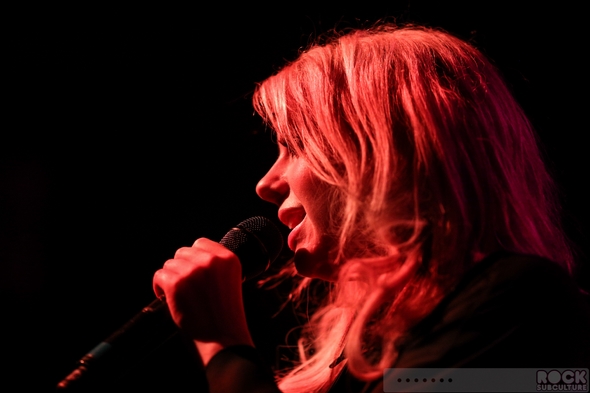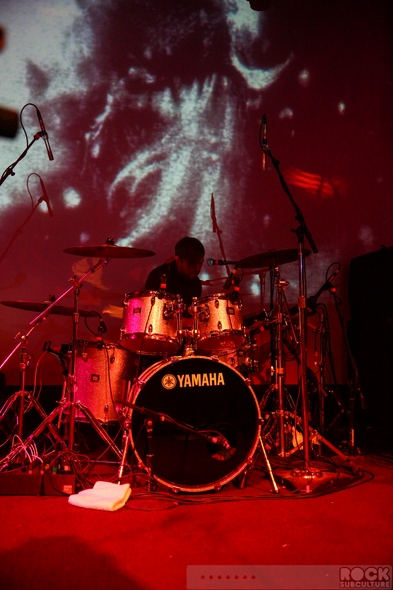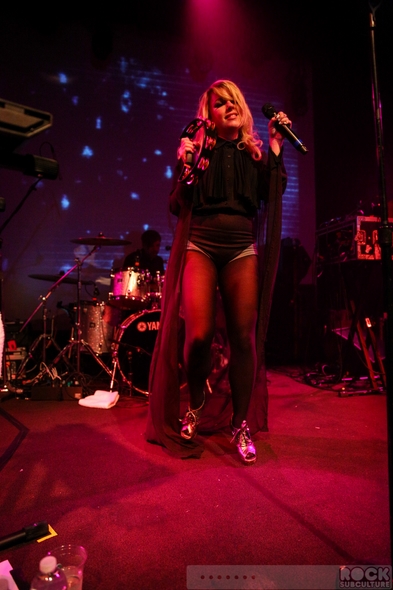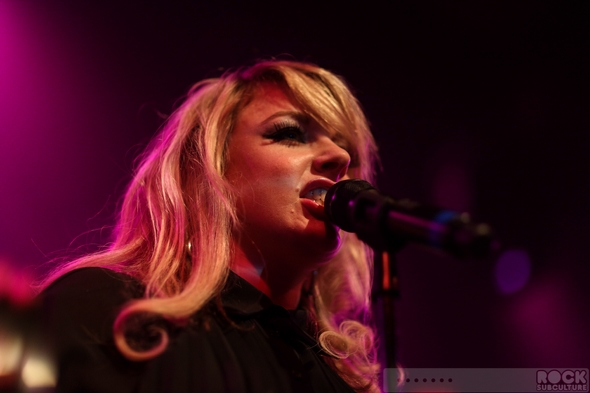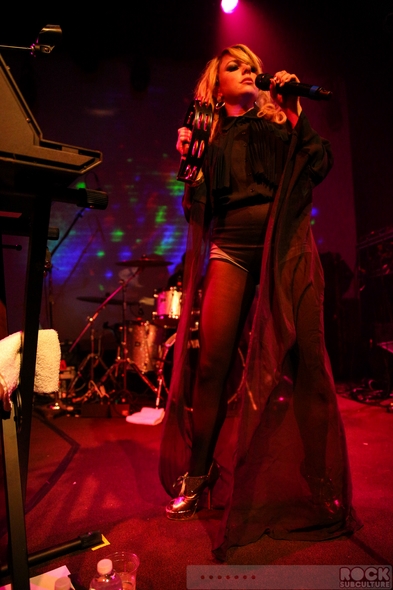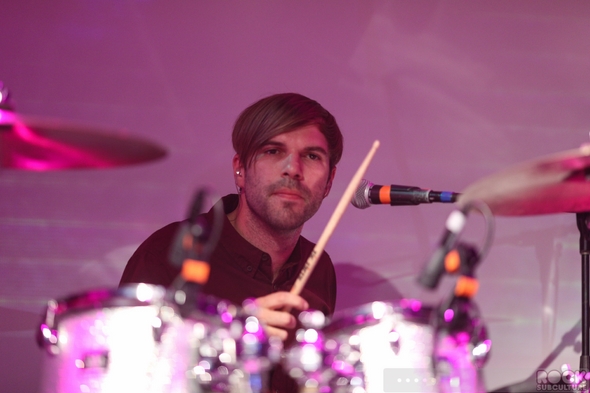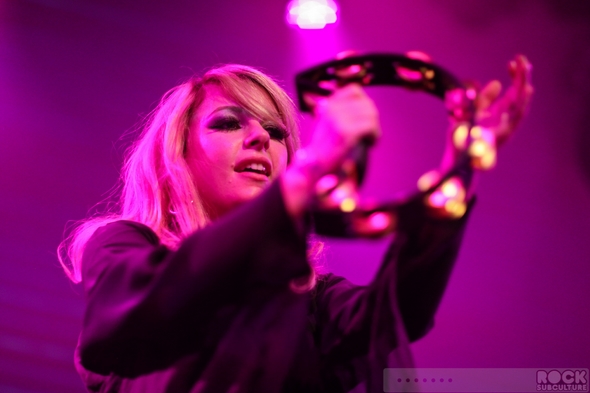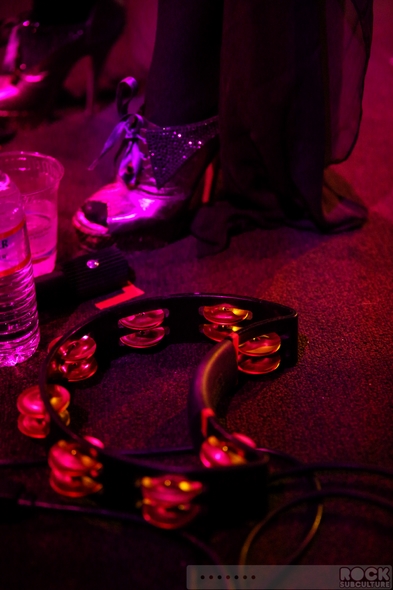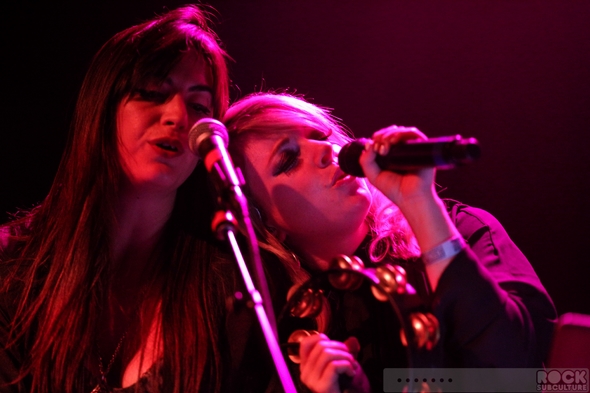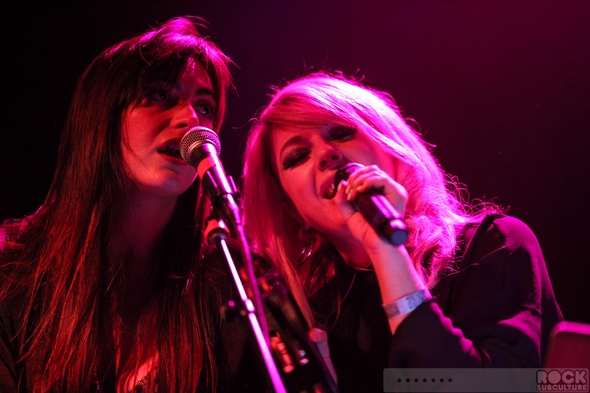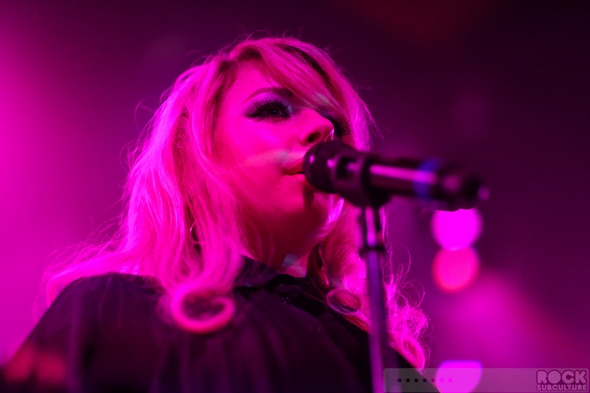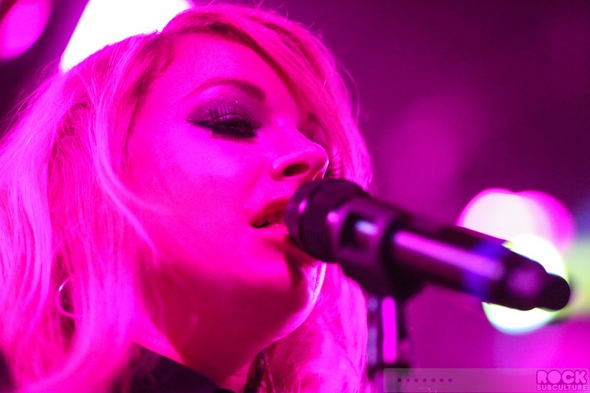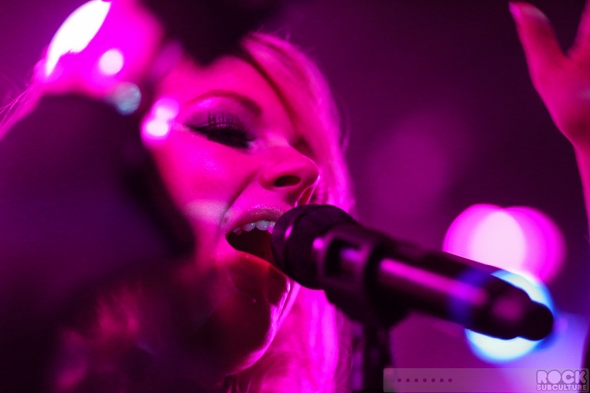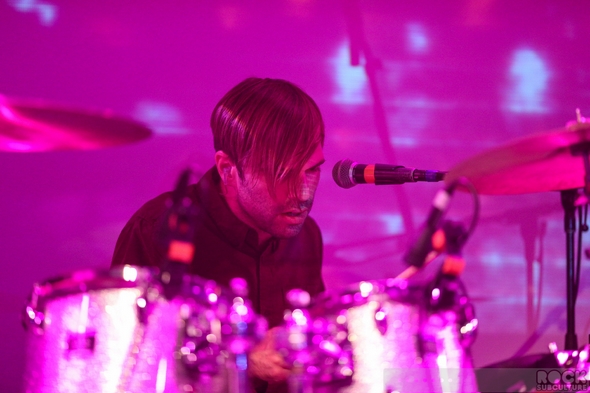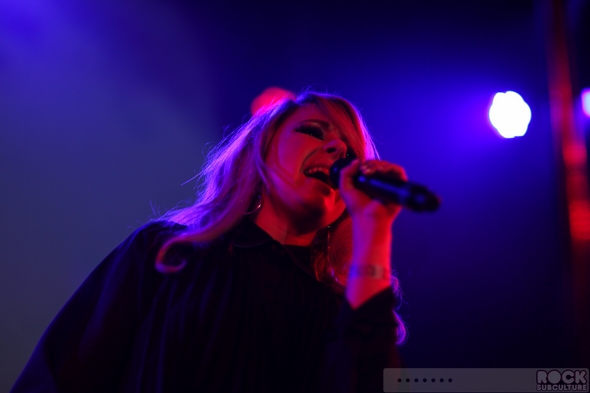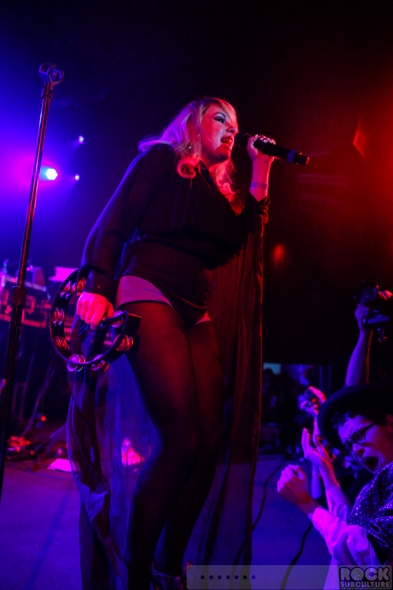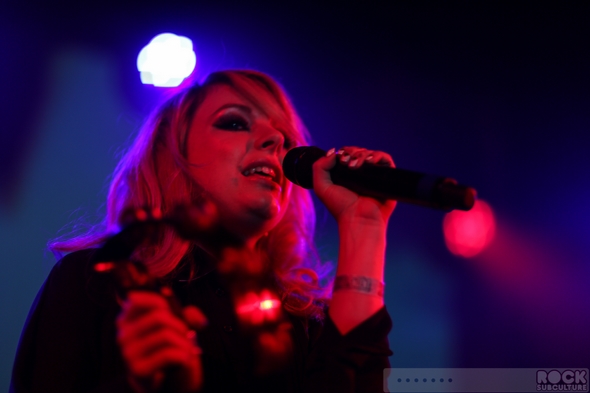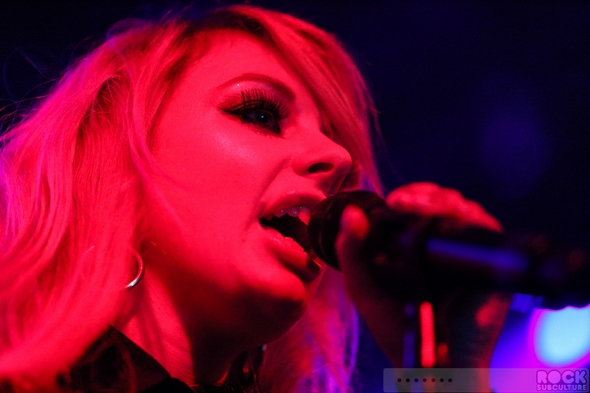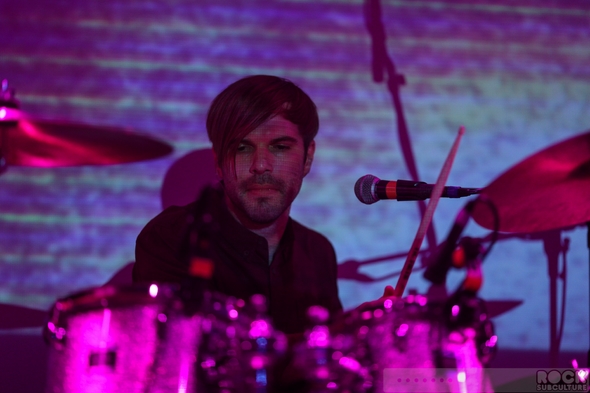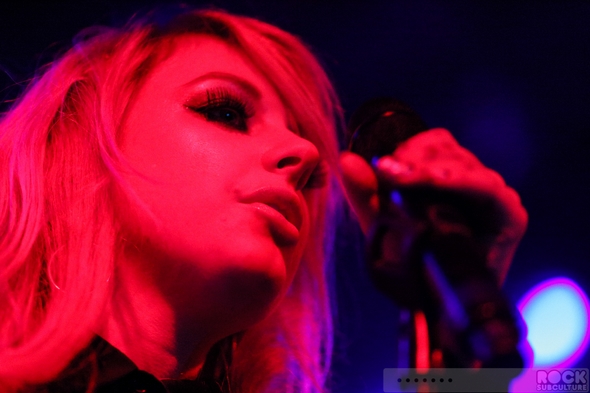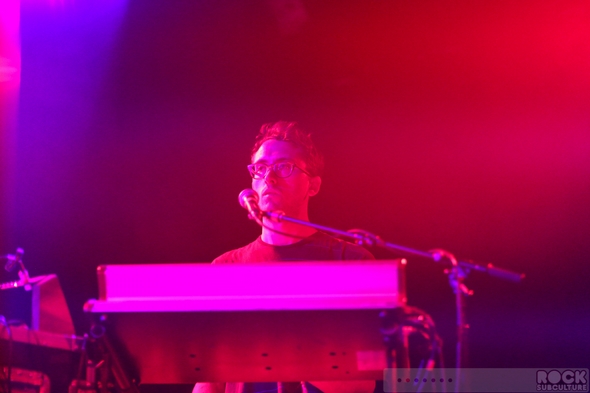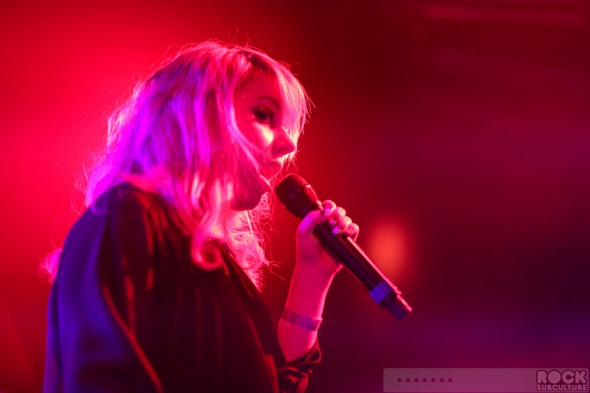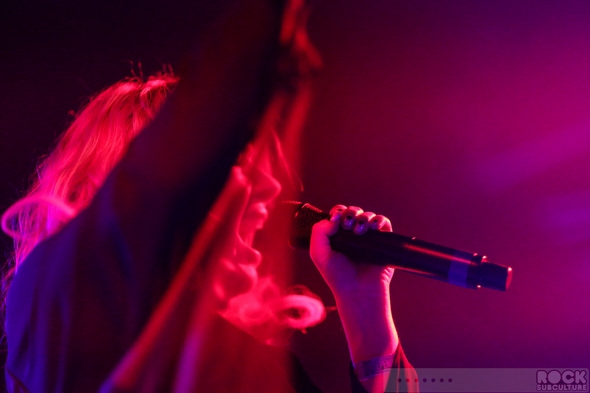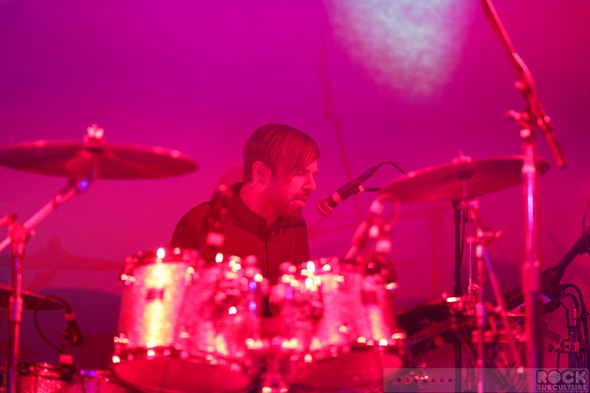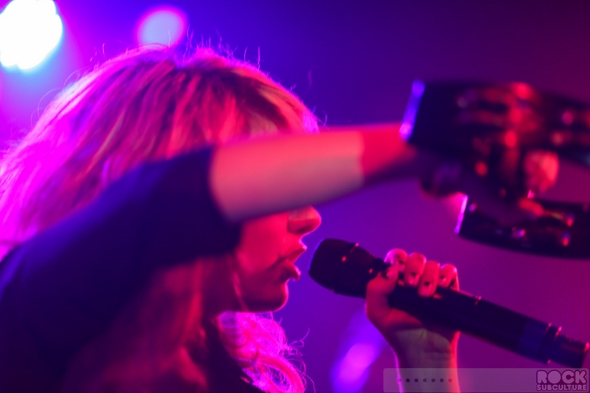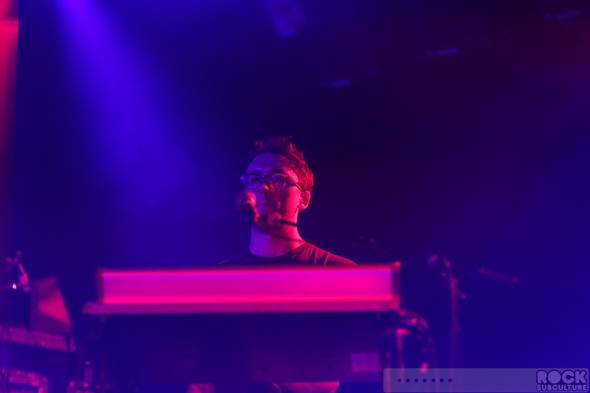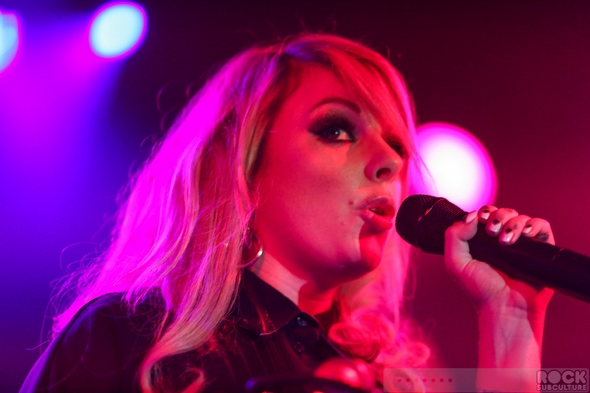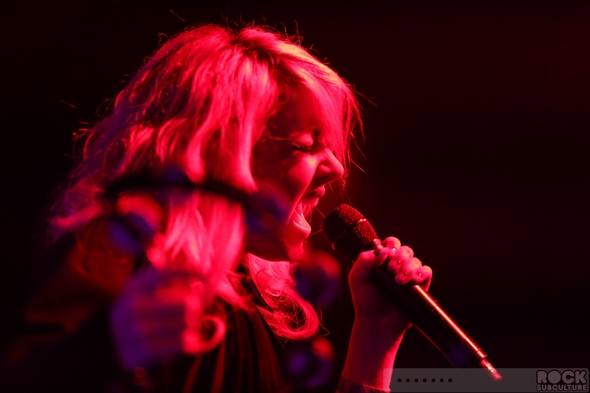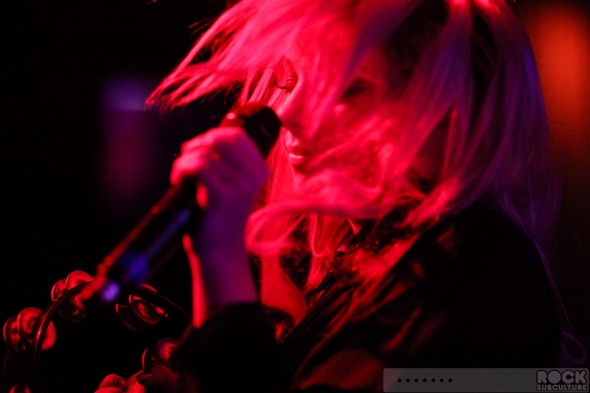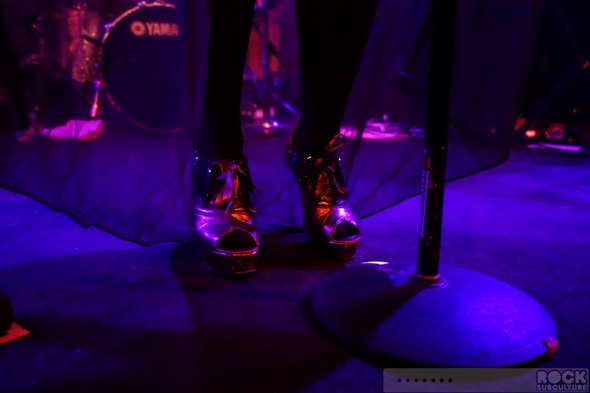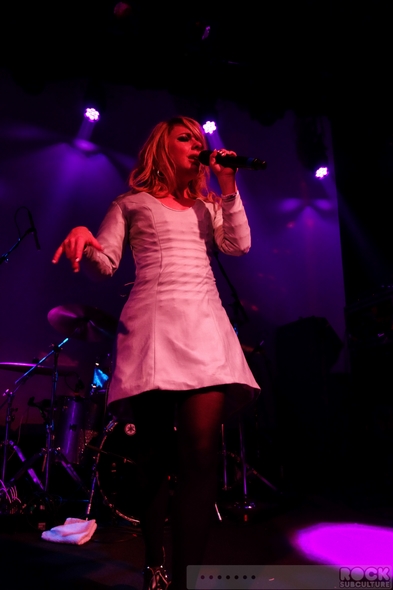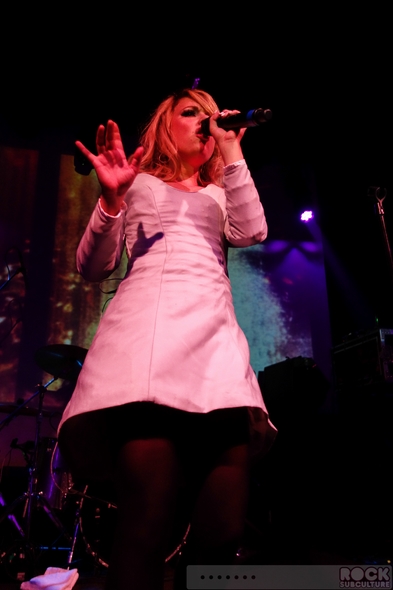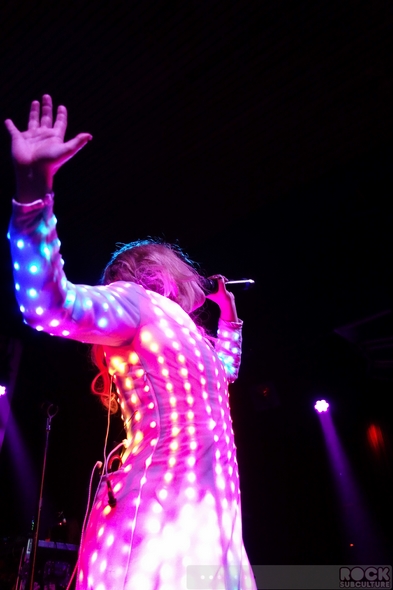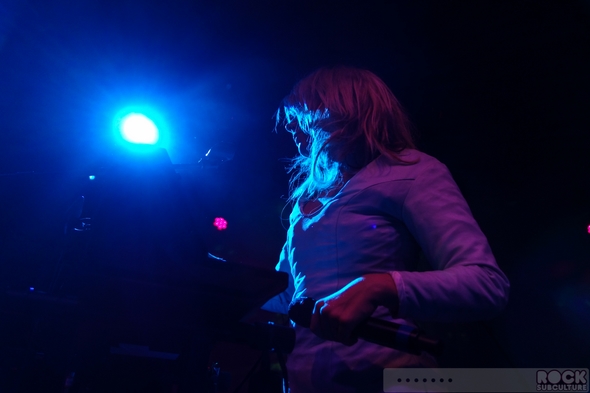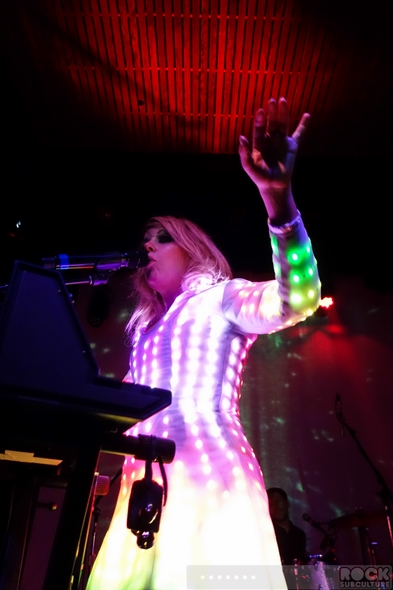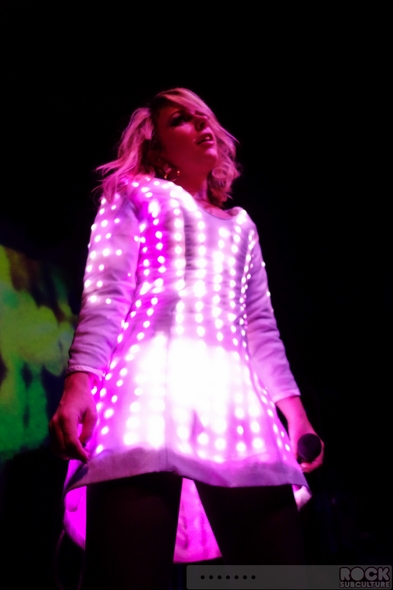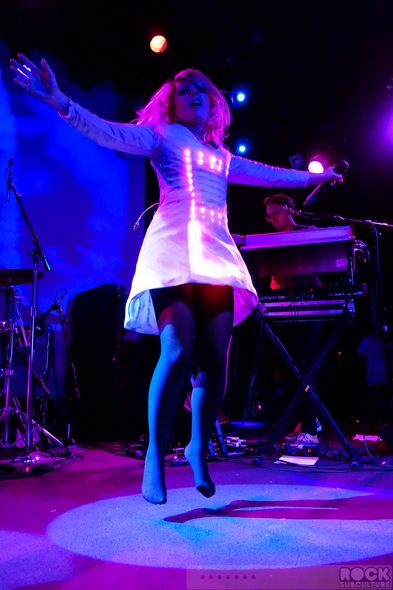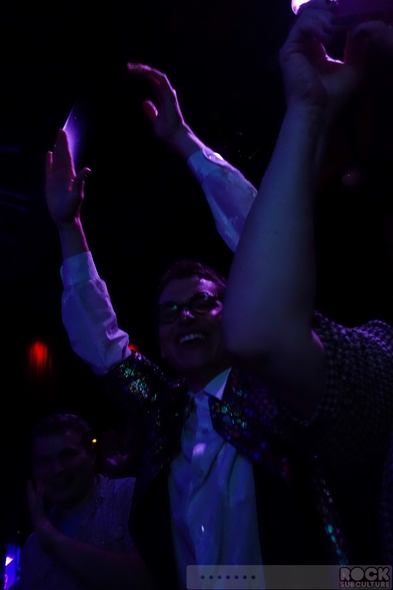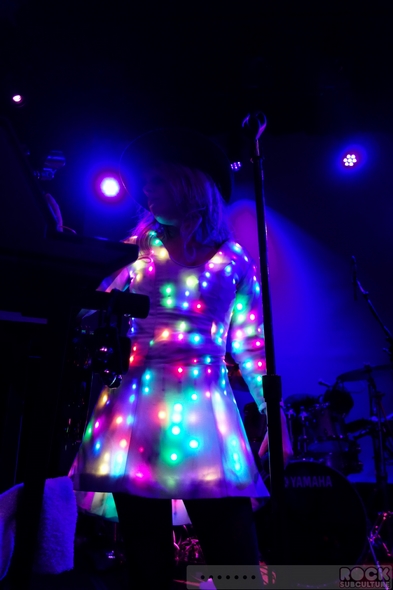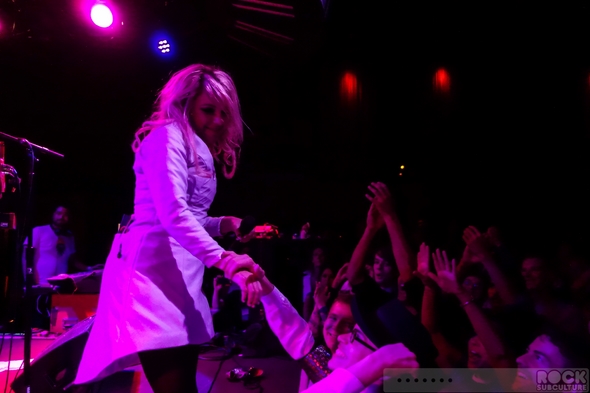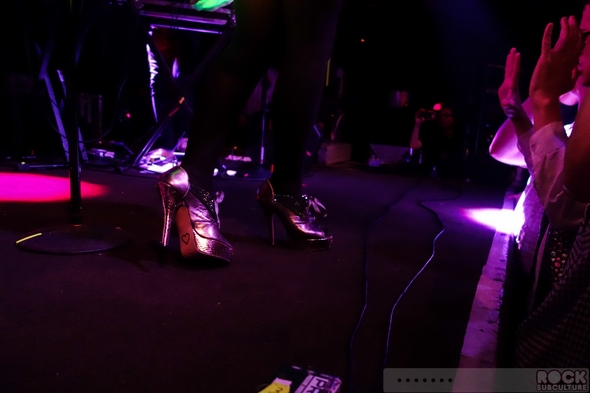 Jason DeBord