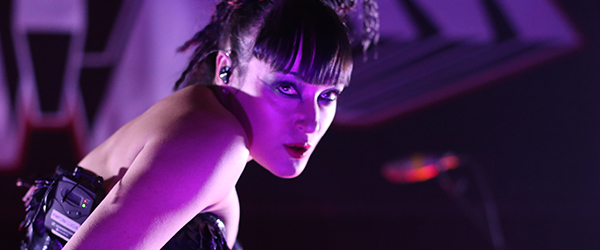 Sascha Konietzko's brain child, KMFDM (Kein Mehrheit Für Die Mitleid, loosely "no pity for the majority"), played its second concert in the past year at The Independent in San Francisco to a crowd of its devotees last night.  One of the leading artists that helped to build the Industrial music scene in the 80s (though Sasha prefers "Ultra-Heavy Beat"), they are certainly one of the last from that era who continue to carry the torch for that genre of music.  They have been quite prolific in the past three decades, with regular and continued touring and 18 studio albums, as well as being uncompromising in staying true to that particular format of music.   Sascha has been the one constant with the German group, with a rotating roster of band members, though the current formation was hitting on all cylinders last night.  They put on an excellent concert and I can't imagine that any who found their way into the show went away disappointed.  While never remotely a mainstream act, the fans that they have converted over the years are truly dedicated, with a much more substantive relationship with this band than is the norm.  These concerts feel as though they serve as an escape as well as celebration among those who "get" the counter culture sound and viewpoint that KMFDM imagines and then delivers with its relentless beat.

Who: KMFDM
Supporting: CHANT
Venue: The Independent
Where: San Francisco, California
Promoter: Another Planet Entertainment
When: November 14, 2013
Seating: General Admission Standing (with photo pass)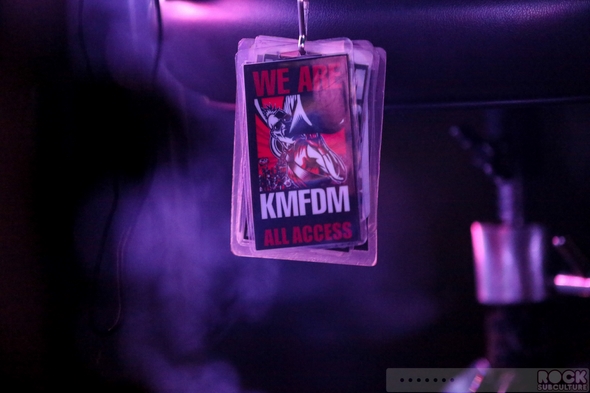 This was another great show put on at The Independent, which is a small and intimate general admission venue in San Francisco.  The club holds a capacity of around 500, and though not sold out, it felt pretty full by the time KMFDM took to the stage.

Though I was shooting the show, there is no security pit in front of the stage at this venue, so I like to arrive early to grab a spot up front without having to push through the crowd later and make people move, so I arrived almost two hours before doors (I was already in San Francisco for other business yesterday anyway).  There was one fan that had already formed the line, and she arrived around 3:00.  She was a big fan, and had seen them over a dozen times.
CHANT (CHANT Project)
Members
Bradley Bills (vocals, drums)
Kristopher Robin (keyboards, drums)
CHANT calls itself "a tribal-industrial drum project" and "tribal apocalyptic rock" and front man and singer/drummer Bradley Bills looks the part, with a stage outfit that looks like something out of Road Warrior.
CHANT was formed in Austin, Texas in 2004, though it definitely has that 80s Industrial "feel" for me.  What really sets it apart from the past, however, is the amazing live drums by Bradley – the guy is simply amazing.  His vast custom drum kit, which includes a garbage can as well as traditional pieces (though some modified) is impressive, and took up most of the front stage.  More impressive is what he does with it, with complex drumming that goes through a lot of changes with each song.
Kristopher, who joined Bradley on this live tour, also adds a lot to the show with his keyboards as well as additional drumming.
In my mind, CHANT was the perfect choice for a supporting artist for KMFDM – they got things going and their music is well-suited to the audience that turned out for the headliner.
He has put out two studio albums, That Which Divides and Strong Words for Strong People, and definitely has an overall artistic approach to what he does, having spent a little time looking at the official website.  His music video for "NEED" got him banned from YouTube, though you can check it out on Vimeo.
To me the studio recordings sound much different from the live show – the studio work being much more produced with vocals that are clear and much more harmonized, whereas the drums dominate the sound from the stage, and the vocals have more of that traditional Industrial chant delivery.
In any event, I really enjoyed the set and they did a great job setting the mood for the show last night.
Below are some photos of CHANT performing on stage (click any image for higher resolution versions of each photo):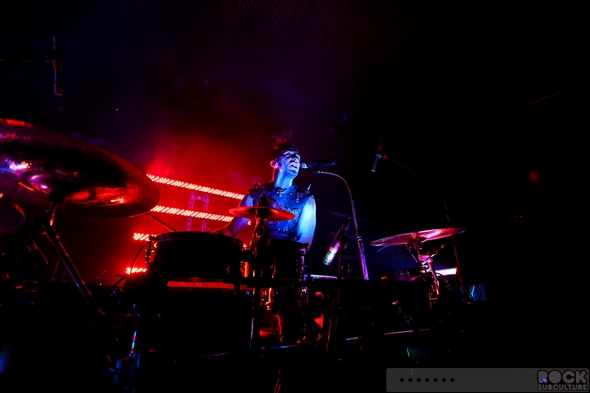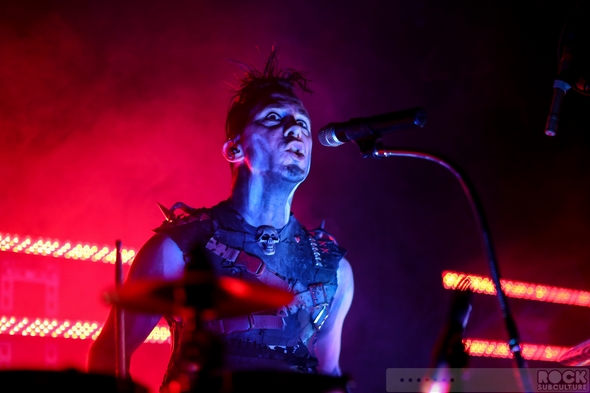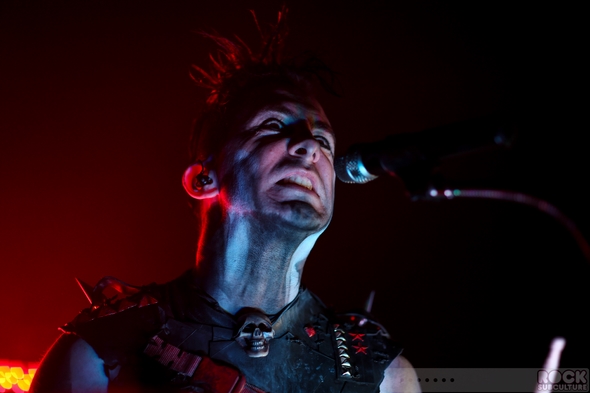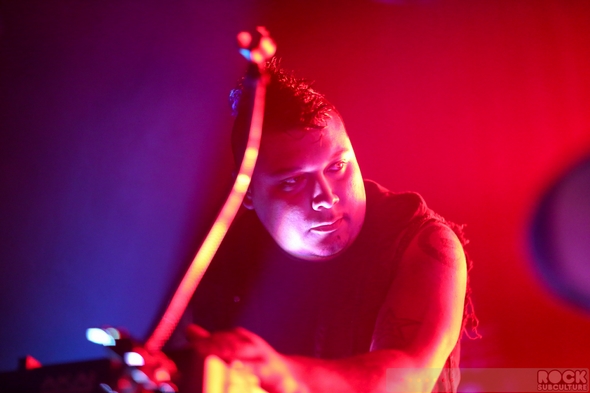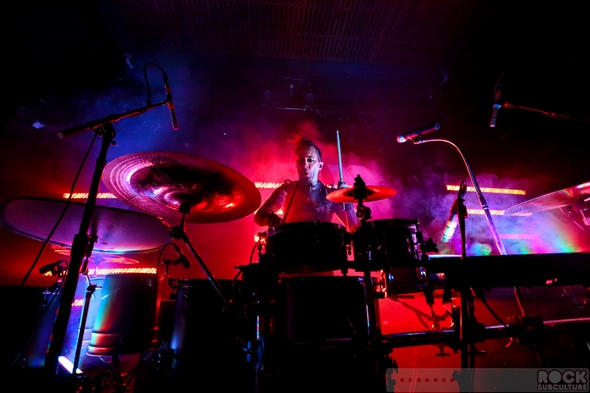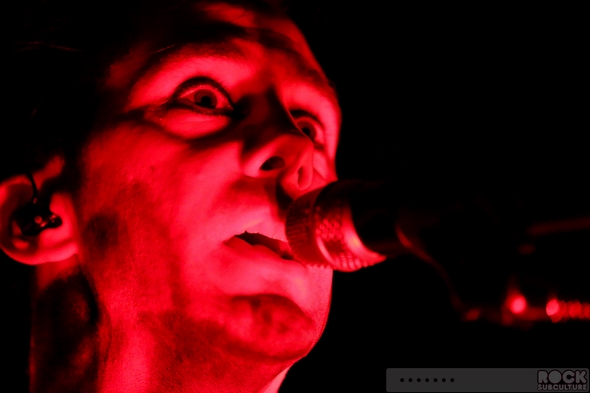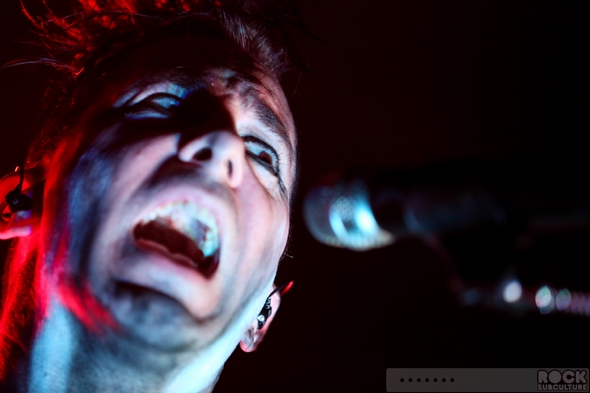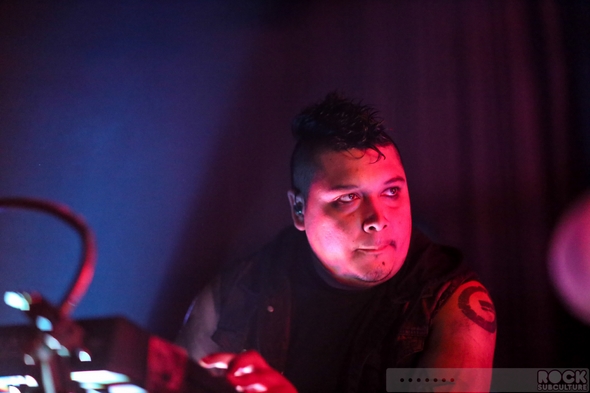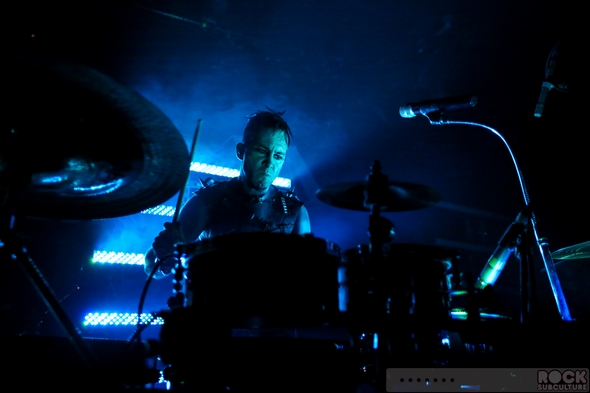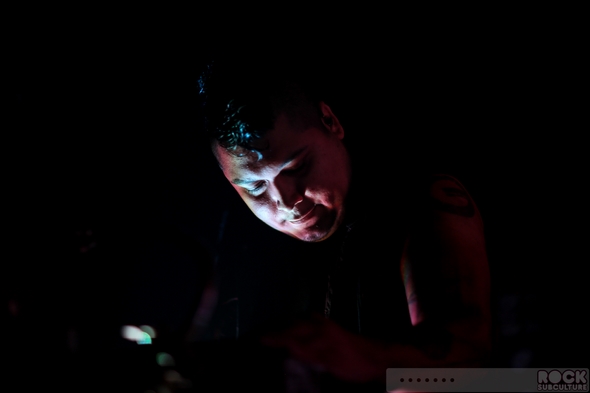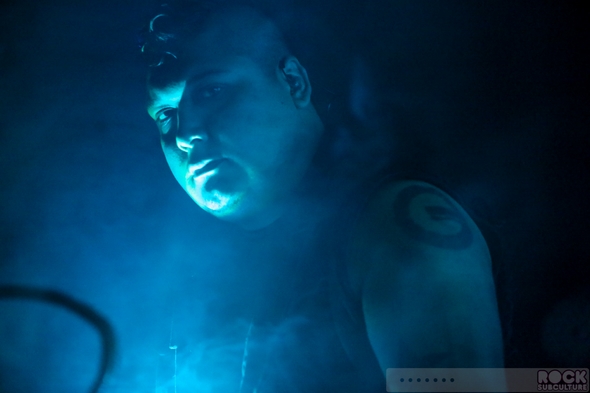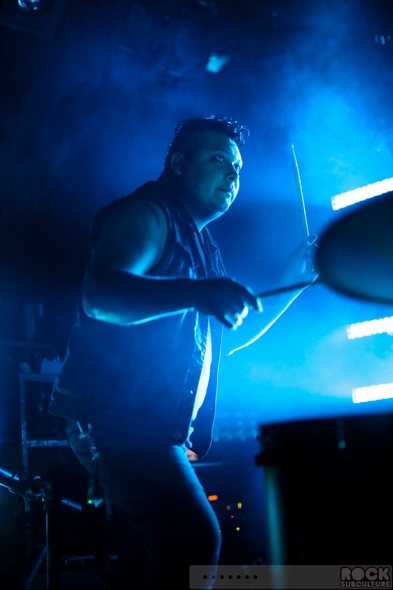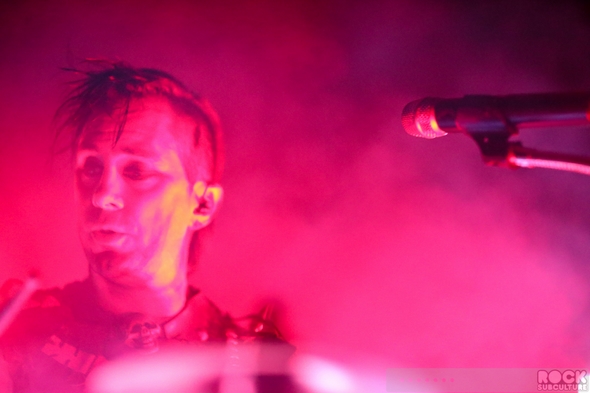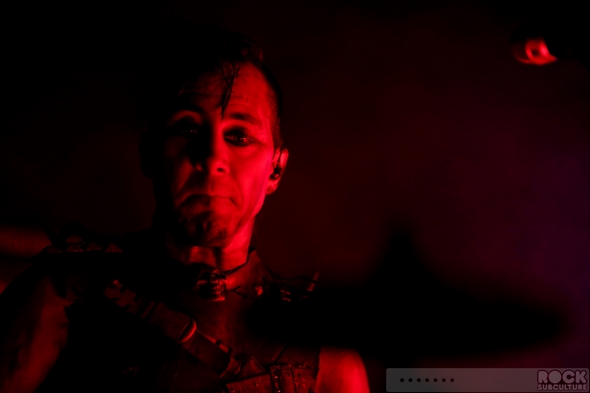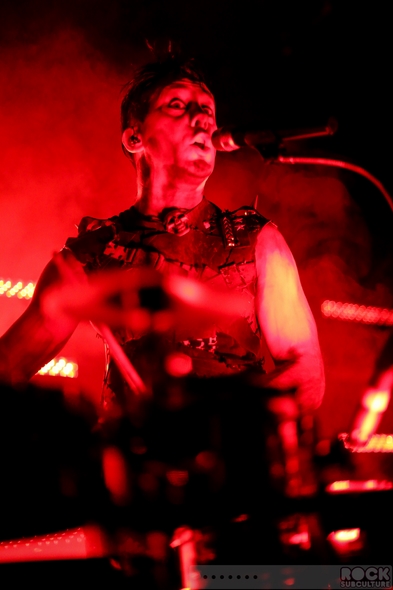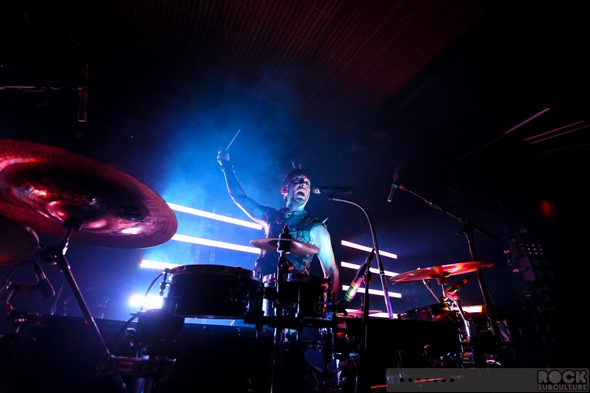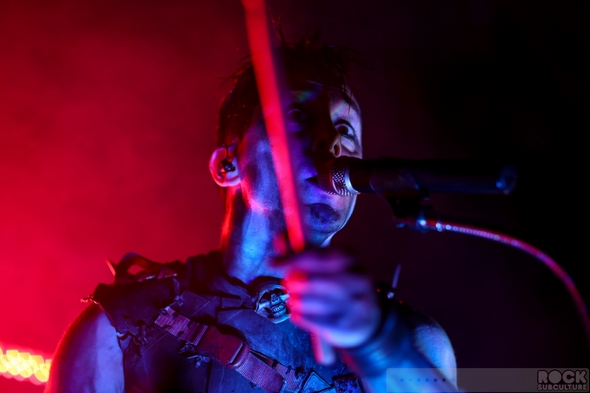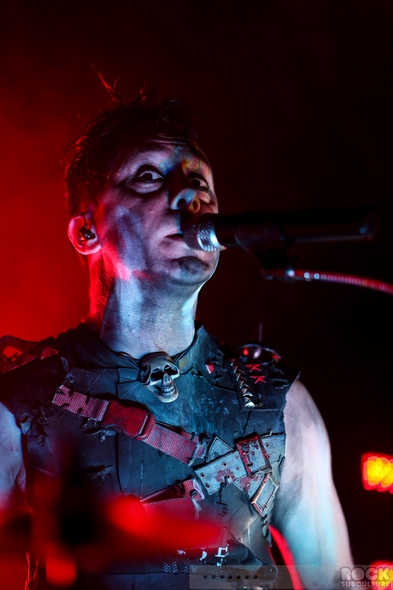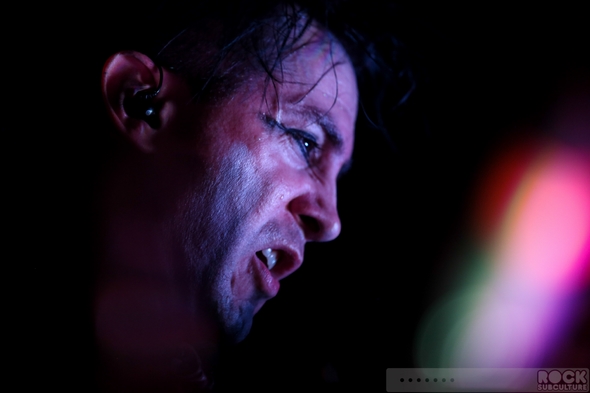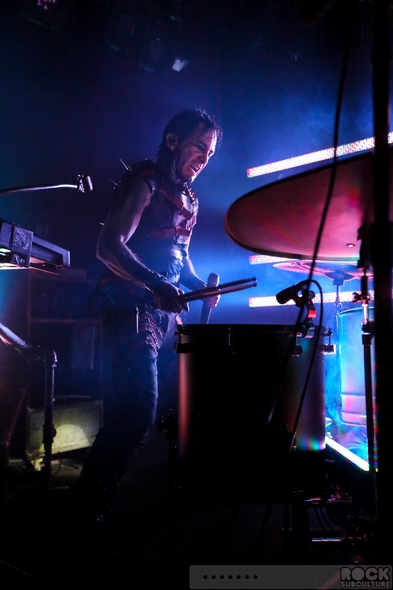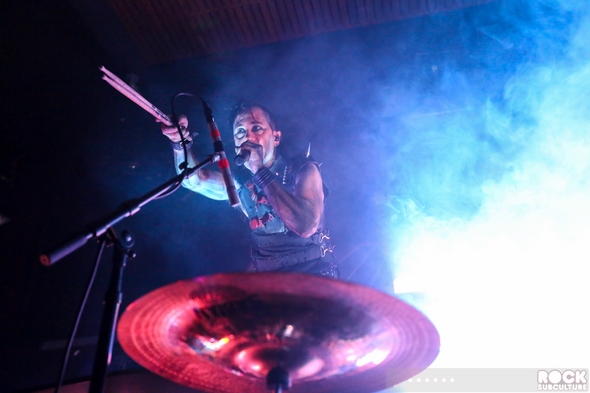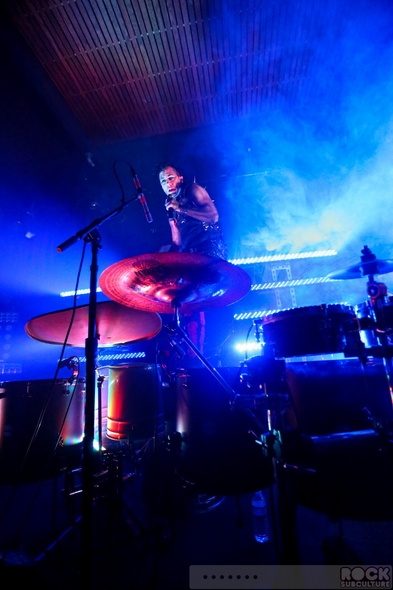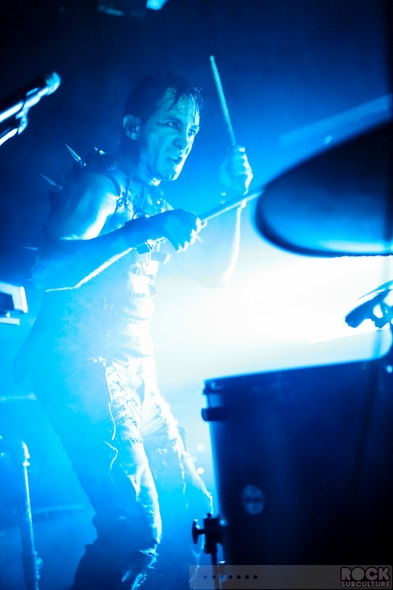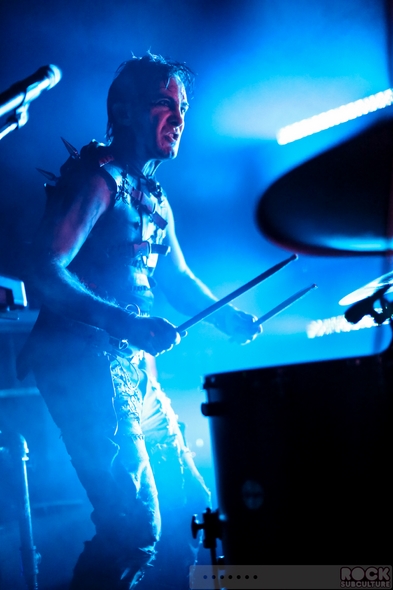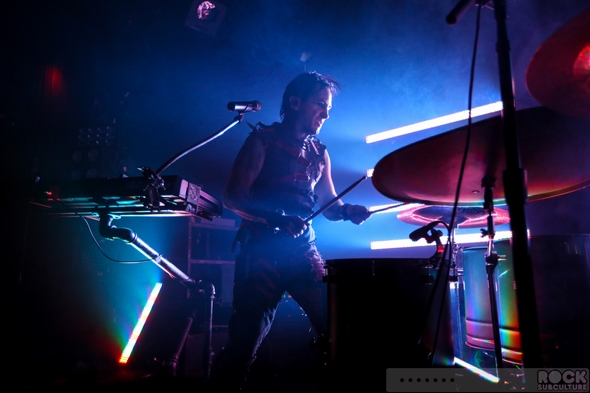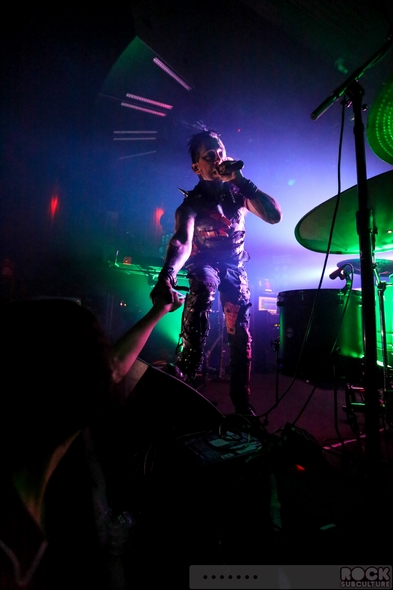 KMFDM
Members
Sascha Konietzko (vocals, keyboards, synthesizer)
Lucia Cifarelli (vocals, keyboards)
Jules Hodgson (guitar, bass)
Andy Selway (drums)
Steve White (guitar)
Though KMFDM were formed in 1984, I remember listening to them in high school (which for me began in 1987), so looking back, it is pretty impressive that a German band with such a non-mainstream sound broke through to the U.S. in such a short amount of time, particularly an Industrial band (though it was originally conceived as performance art).
I don't quite recall, but I think I learned of them via their relationship with Wax Trax! as I was a fan of Front 242, Ministry, and My Life with the Thrill Kill Kult, who were on the same label.
One of the things I really respect about KMFDM is their inventiveness and experimentation, while still maintaining that distinct identity.
A consistent framework for them, outside of the music, is the artwork.  Aidan "Brute!" Hughes has long been creating beautiful artwork for their album covers and other visual collateral, which seems to perfectly suit the music.
Other bands that were involved in this movement seem to have either gone in other musical directions or just stopped making and performing music altogether.  If not for KMFDM, I think that distinct brand of Industrial music (which I closely associate with the mid to late 80s) would be just a memory.
I feel that while other artists and genres have borrowed from Industrial, it's never quite been palatable to the mainstream.  If you ask the average person to listen to an Industrial song, many will find it unappealing as it frequently lacks that "pop" element and catchy lyrics.  I was having a discussion with friends today and I characterized it as having been, back in the day, as a sort of "fuck you" to the music industry at the time, as it ran counter to the sound of most everything else at the time.  Much like Punk, it had a short shelf life in mainstream pop culture, and served more as a curiosity that the average person couldn't wrap their head around or come to terms with in any way.
KMFDM does have some elements that I think probably broadens its a appeal more than some of it's peers – there is a bit of a dance undertone to some of it, as well as some repeating guitar riffs.  In my view, Industrial at its most pure is material like Nitzer Ebb's Belief, which is all about electronic beats, chanting, and simple and vague lyrics limited in subject matter and scope.
Live, KMFDM has interesting staging, with Andy dead center on drums in the rear, Sascha and Lucia each positioned up front to either side of him, and then Jules and Steve further to the edges on opposite sides of the stage on guitars.
As with CHANT, drums really drive the music of KMFDM, and I think having a live drummer (rather than pre-recorded beats with a lot of other electronic-oriented bands) gives the music a different feel that works really well in a concert setting.
Sascha is pretty understated in his role on stage, spending most of his time at his podium, whereas Lucia steps away for certain songs and brings a lot of energy, character, and sex appeal to the show.
As far as the music goes, I'm honestly not familiar enough with their catalog to get into the nuances of that aspect of the show, as I've always been a casual fan of their work.  As such, the entire show to the ear of someone in my position comes across as more of an hour and a half long megamix of hits and new material from their latest, Kunst.
They certainly know how to put on an exciting concert – great live rendition of their music, excellent lighting, and great energy with the crowd.
They are definitely worth checking out at least once, if you've never seen them, as it is a unique concert-going experience.
Today in that earlier discussion with friends, I described Industrial music concerts as having a somewhat narrow appeal, turning out pissed off people and people into performance art, and she said she fit both, so maybe there is something to it.  At the heart of it, it is sort of protest music, done in the spirit of punk but maybe more artfully and creatively?
Below is a photo of Lucia's setlist from the stage…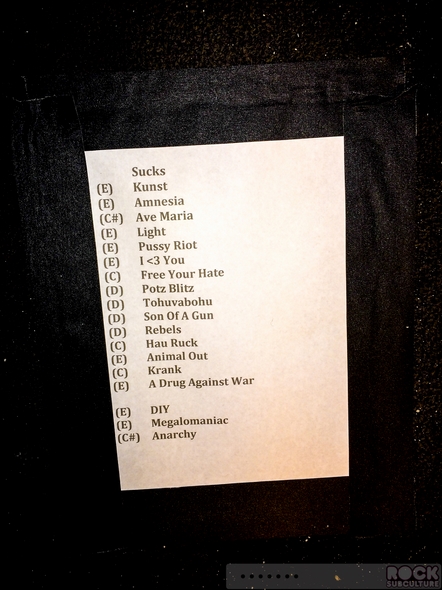 Set List:
Sucks Intro
Kunst
Amnesia
Ave Maria
Light
Pussy Riot
I ♥ You
Free Your Hate
Potz Blitz!
Tohuvabohu
Son of a Gun
Rebels in Kontrol
Hau Ruck
Krank
A Drug Against War
Encore:
D.I.Y.
Megalomaniac
Anarchy (with Bradley from CHANT)
Below are some photos of KMFDM performing on stage (click any image for higher resolution versions of each photo):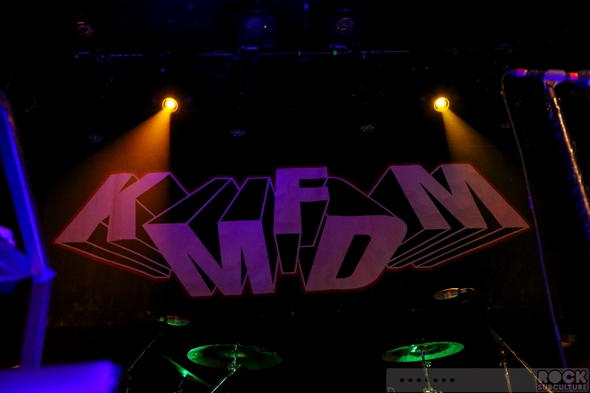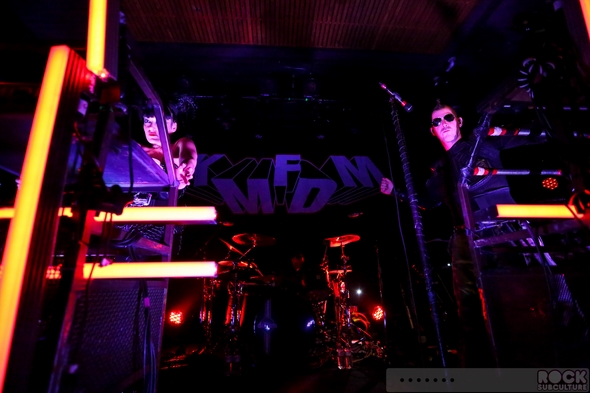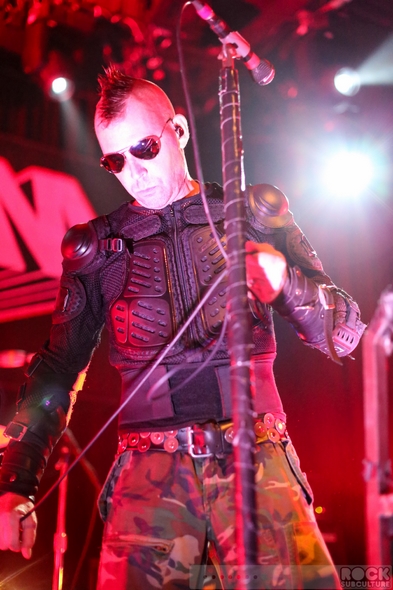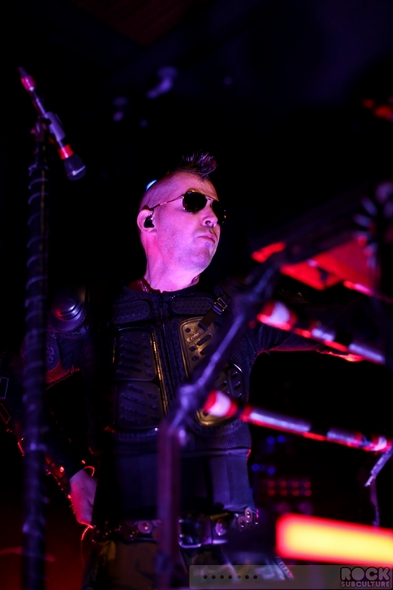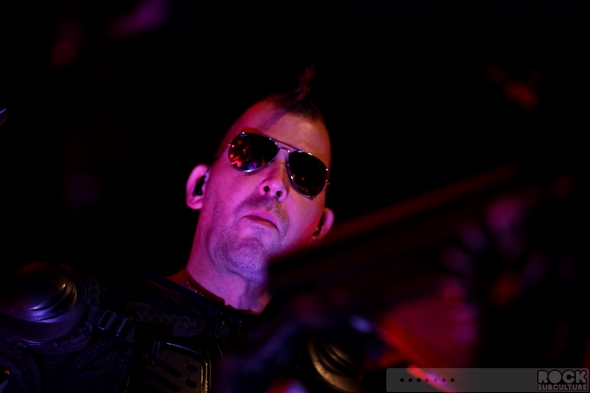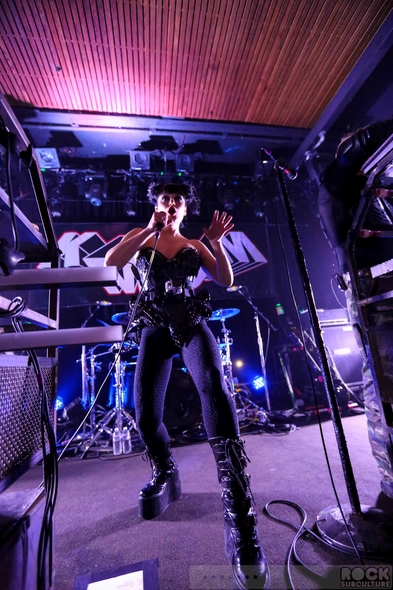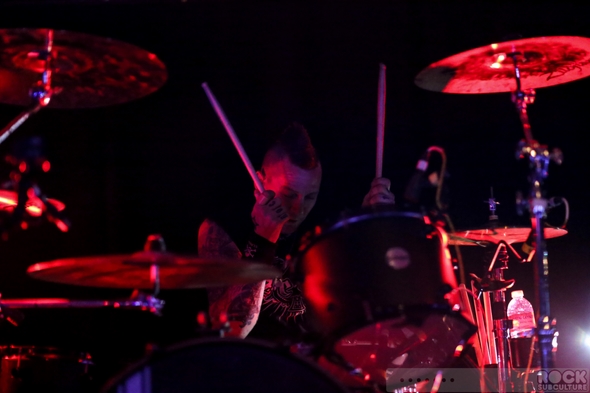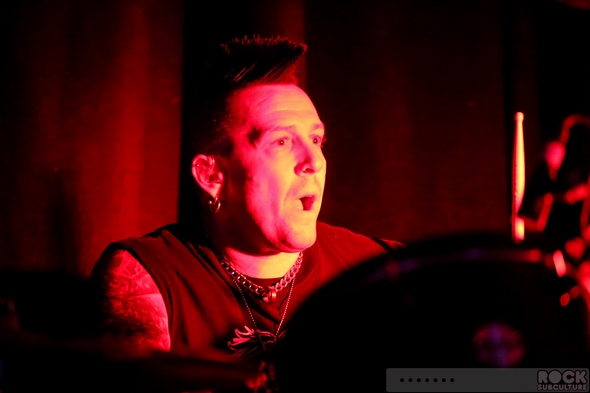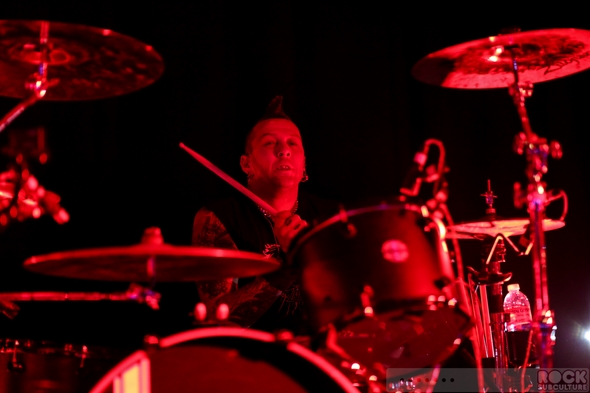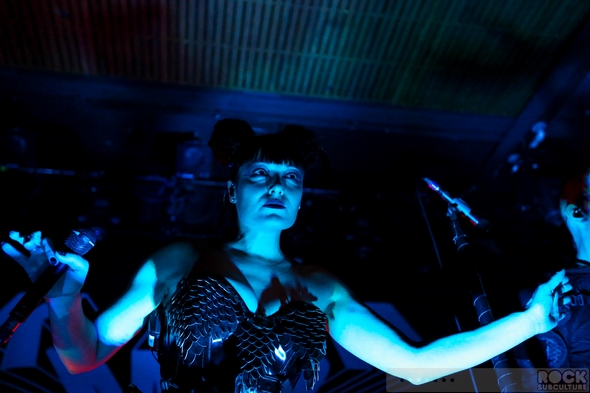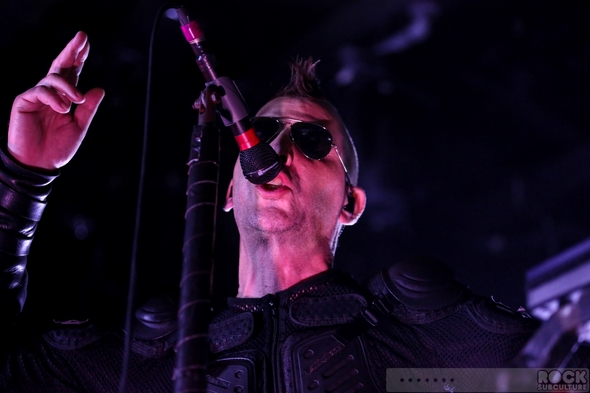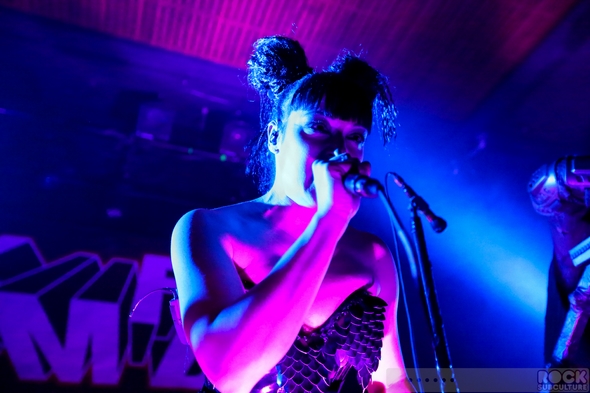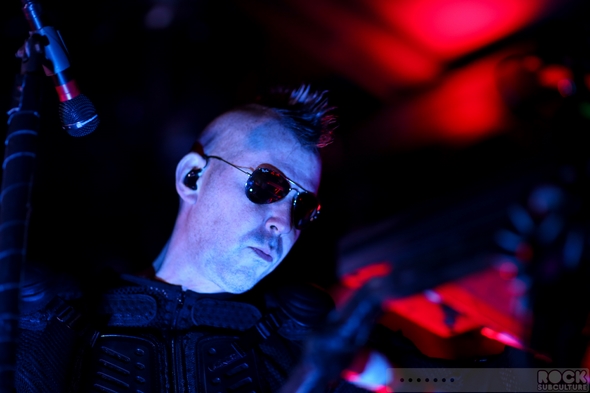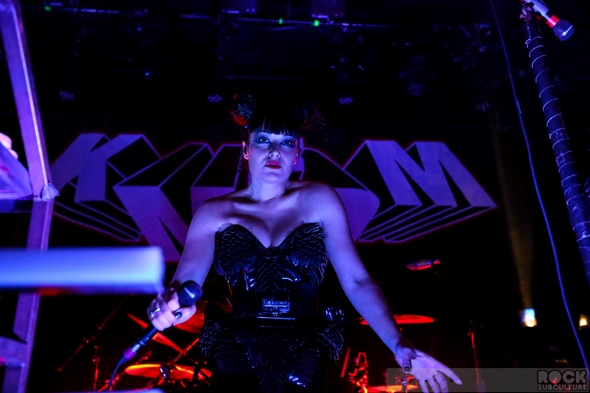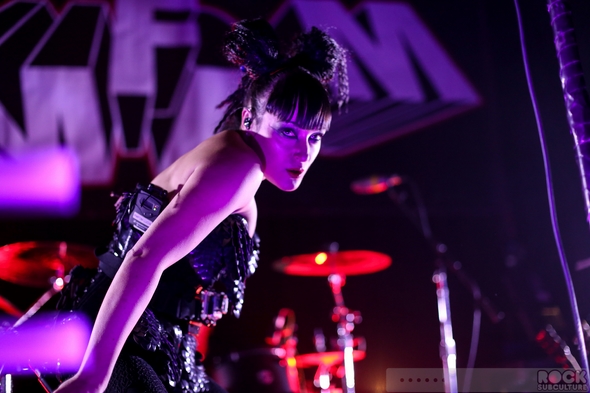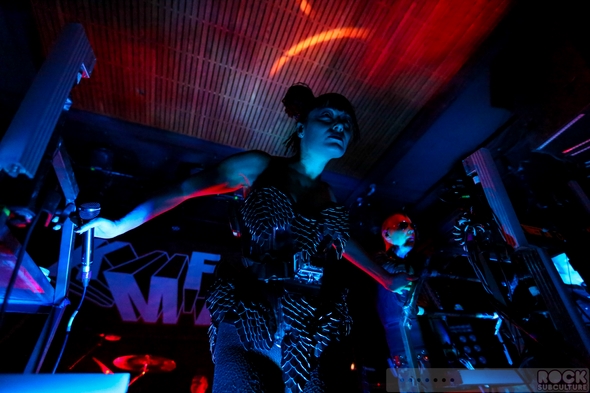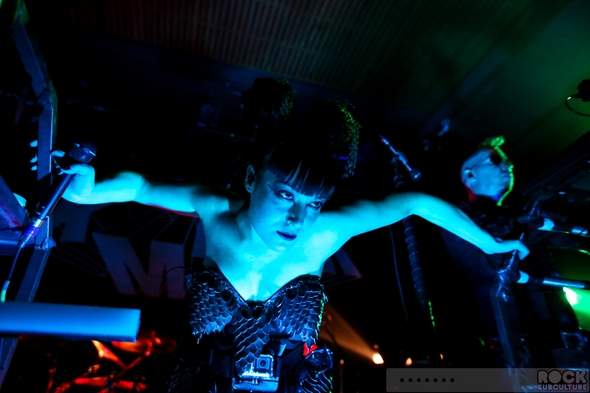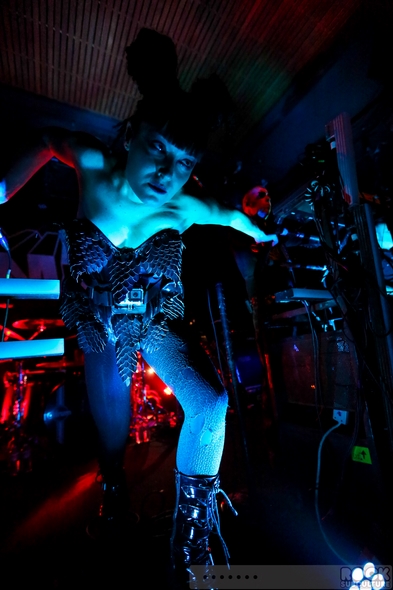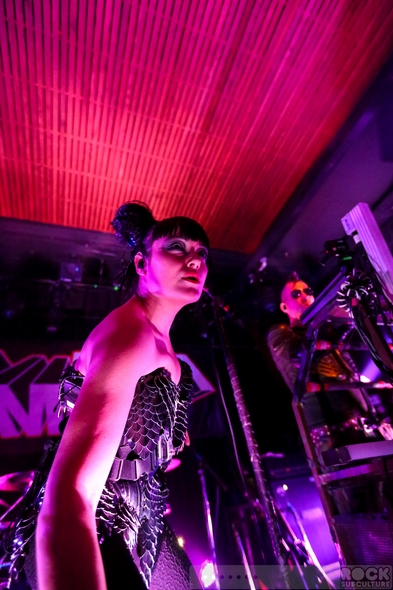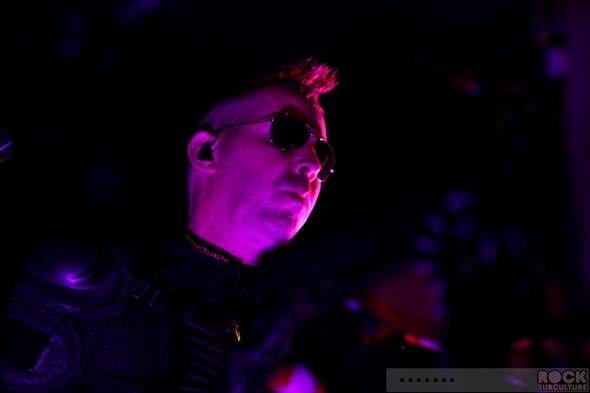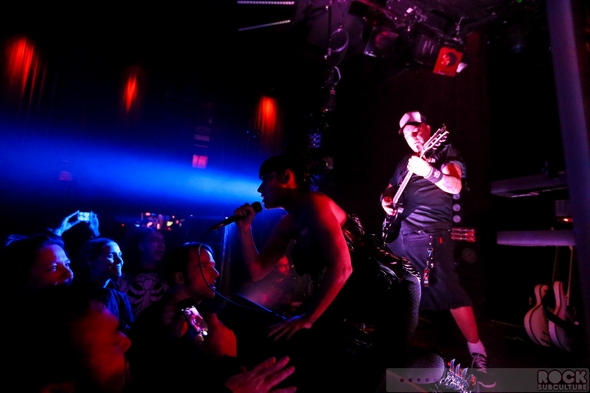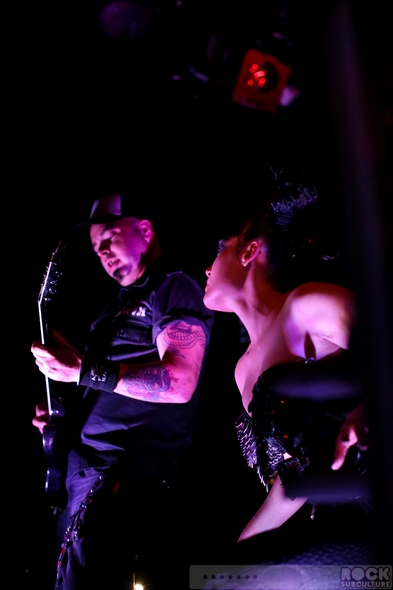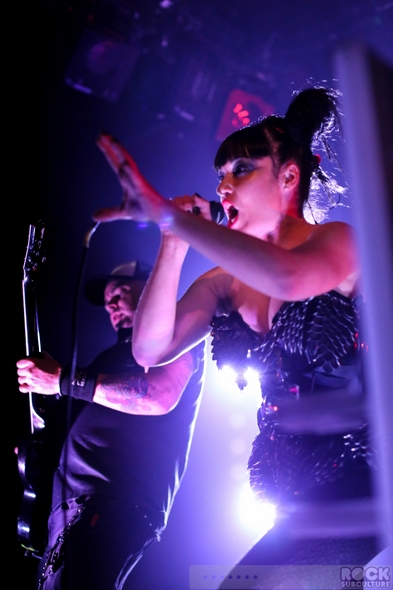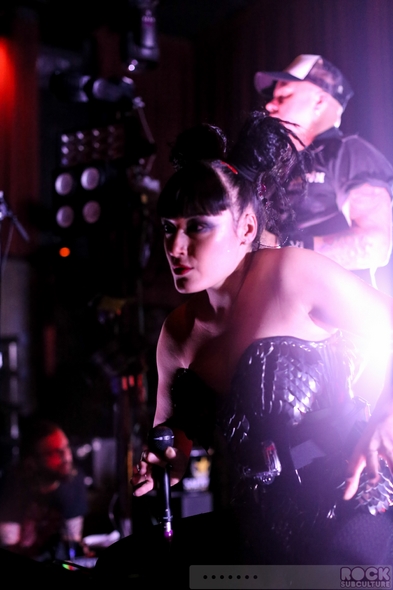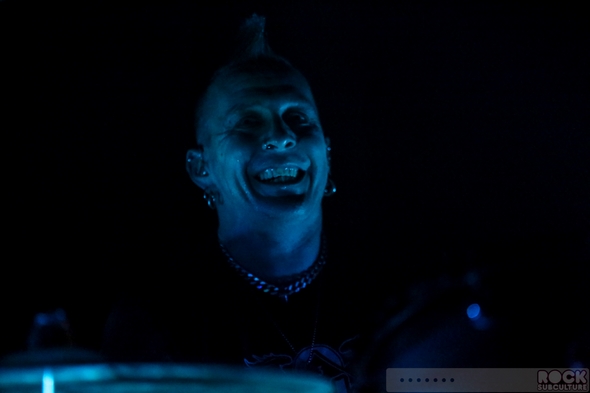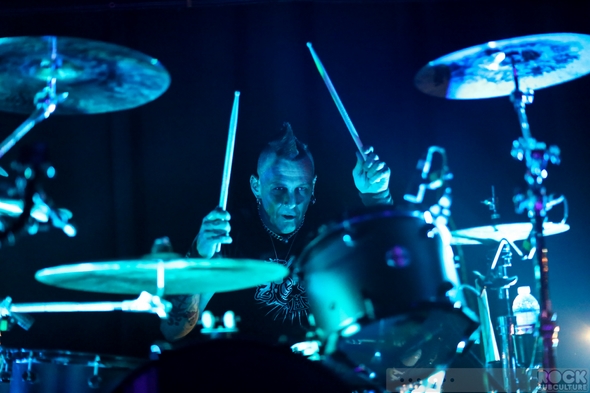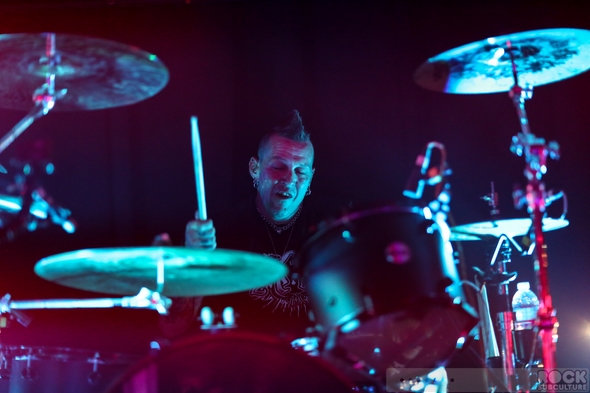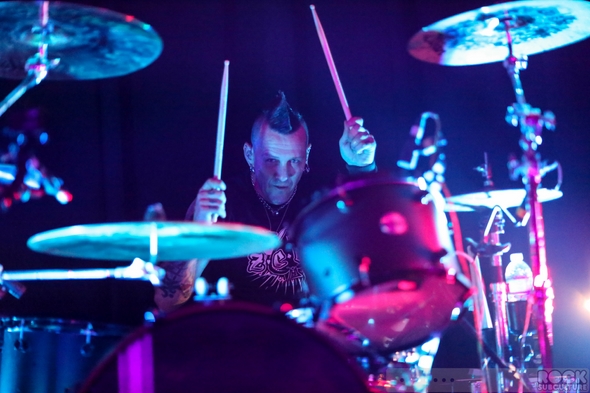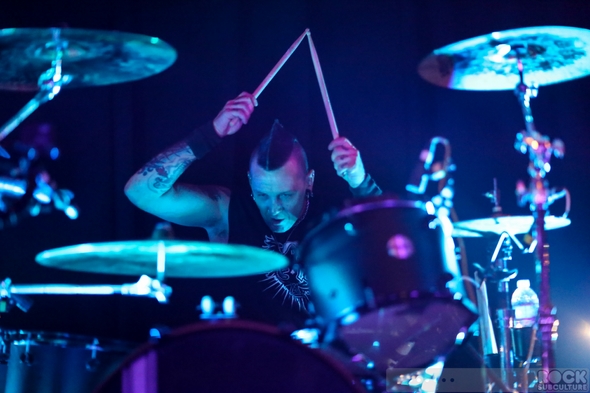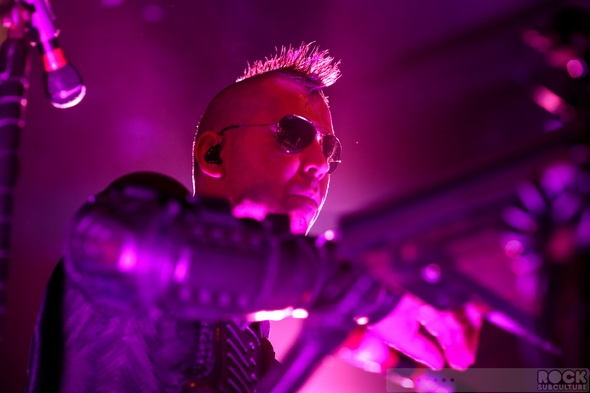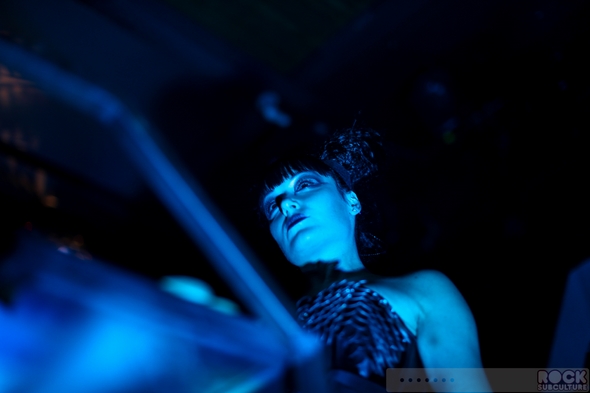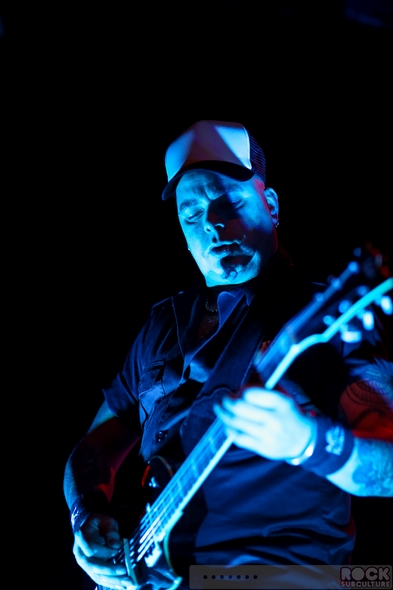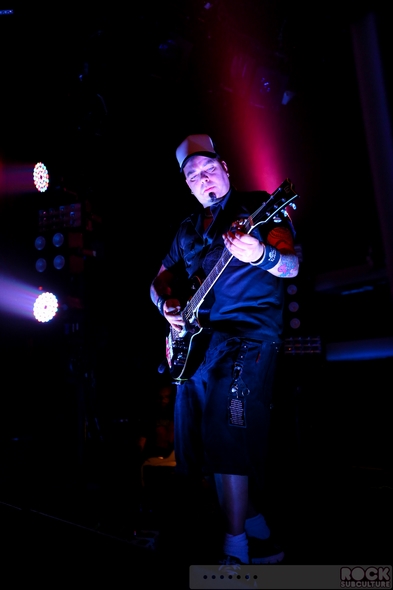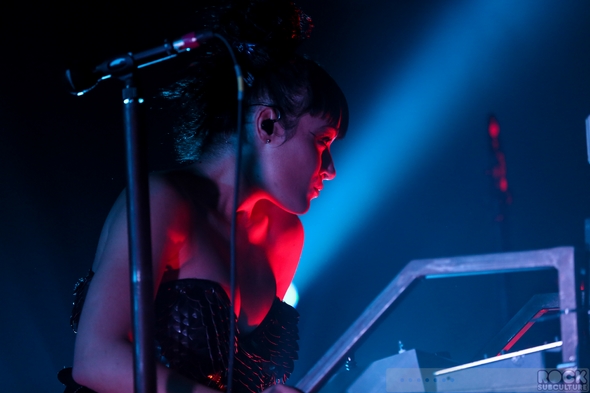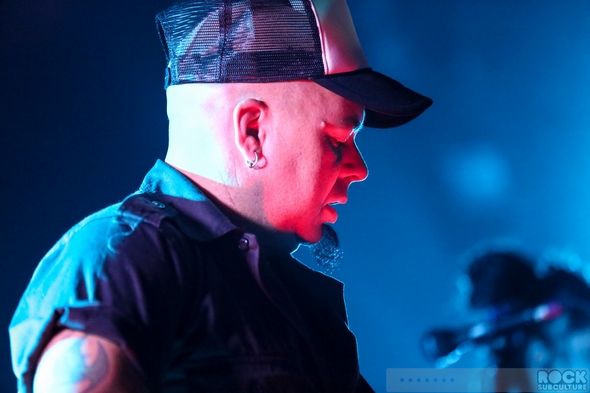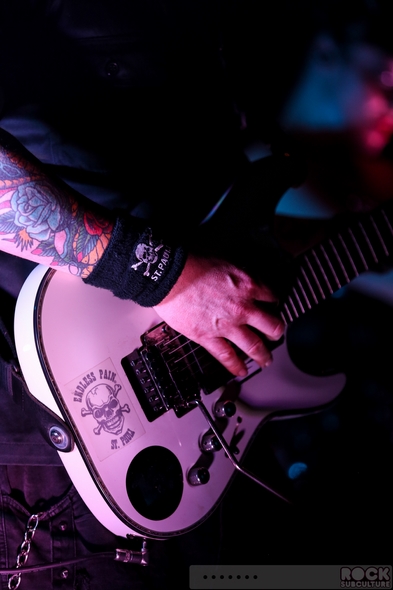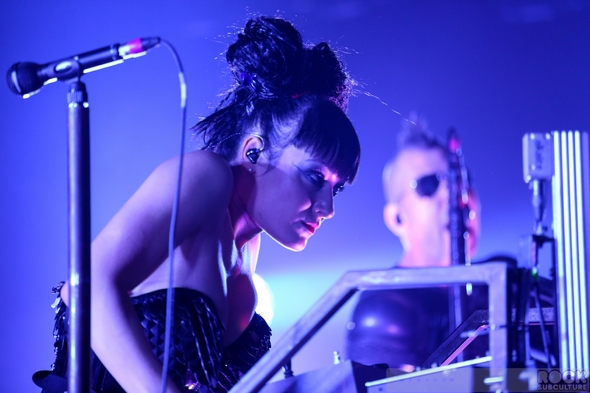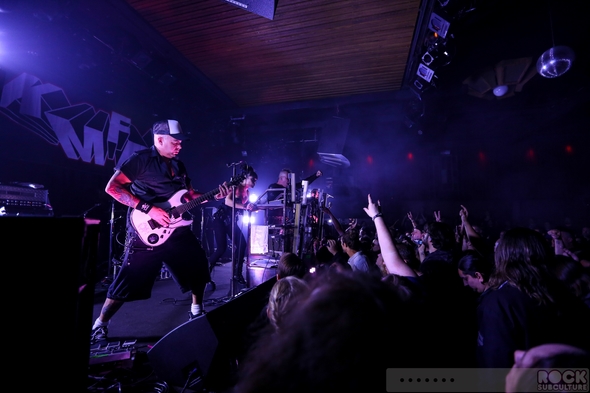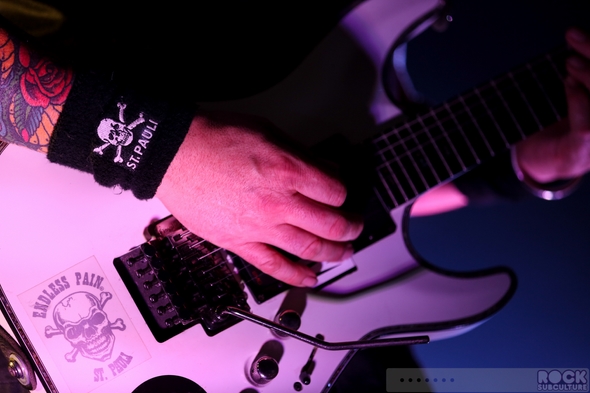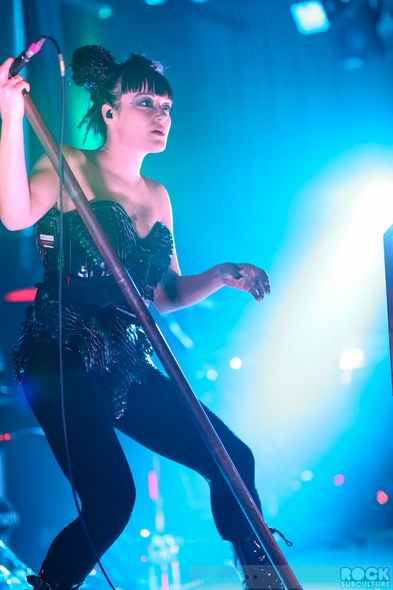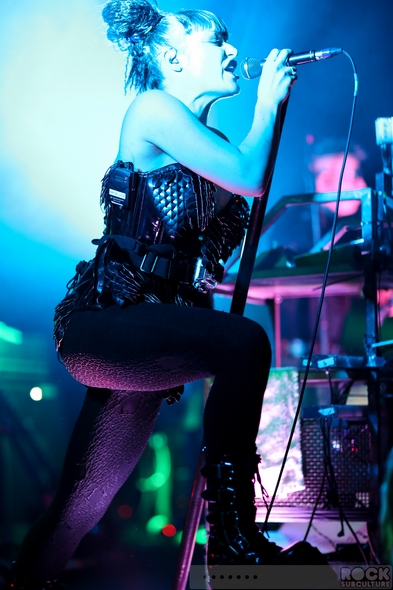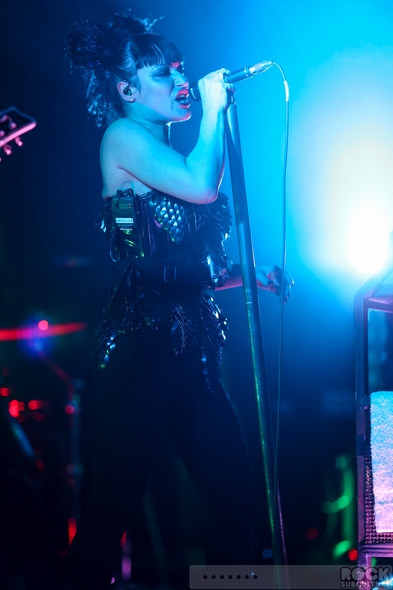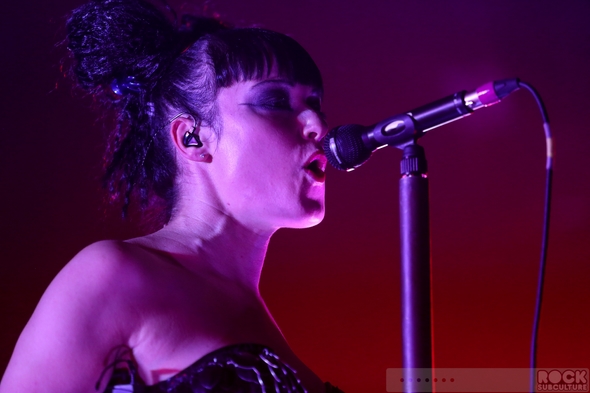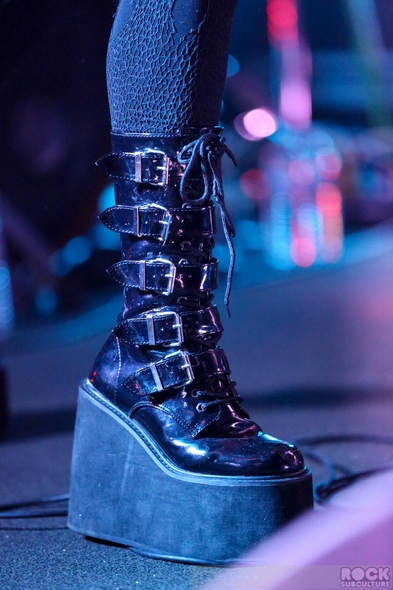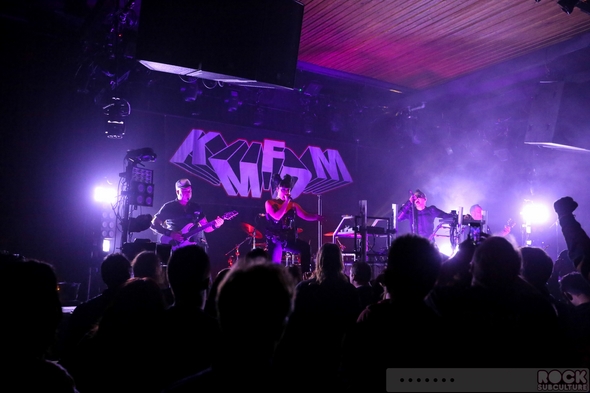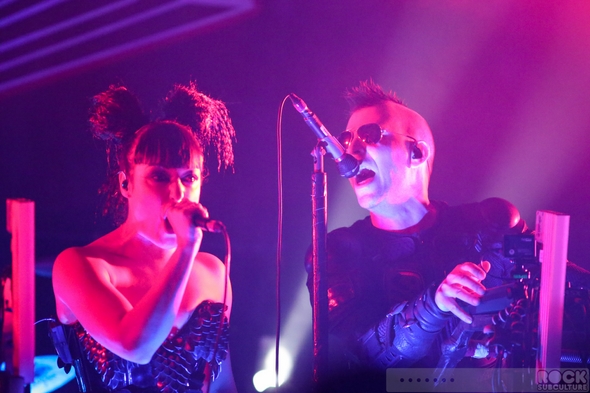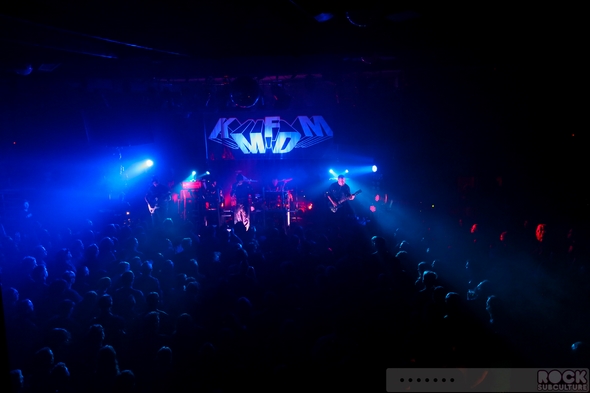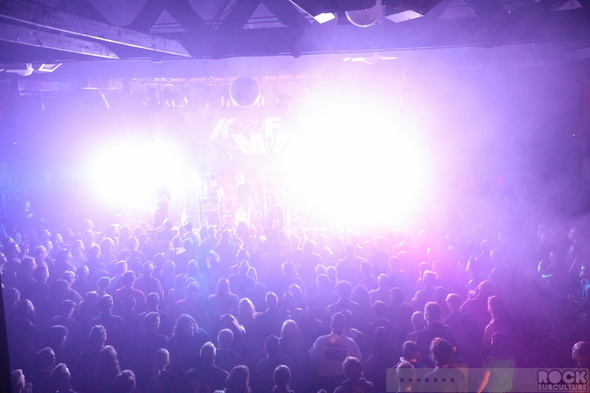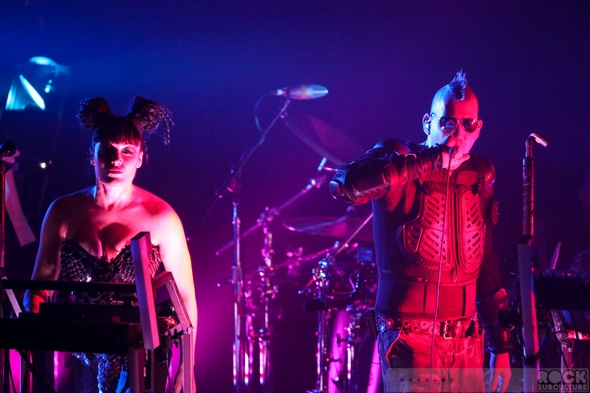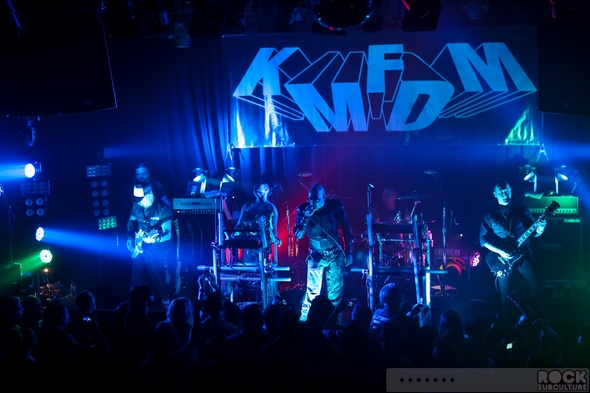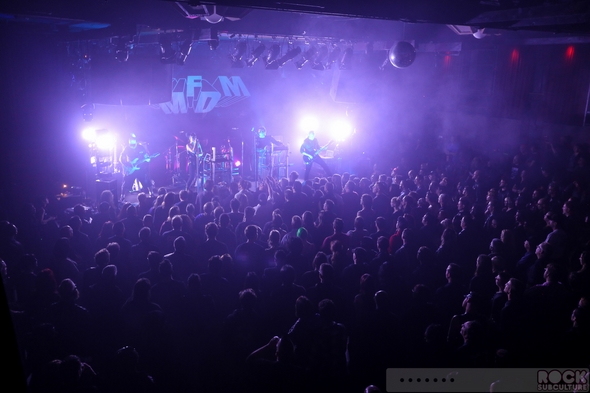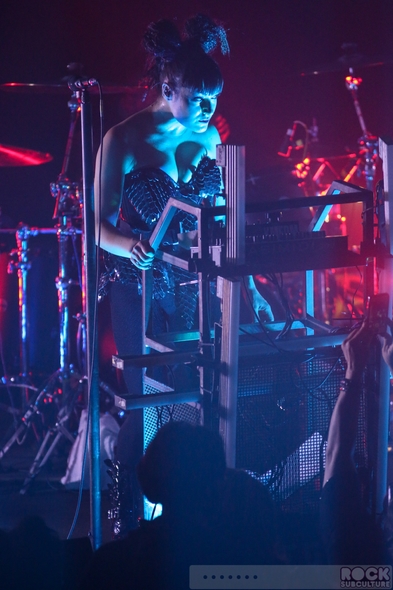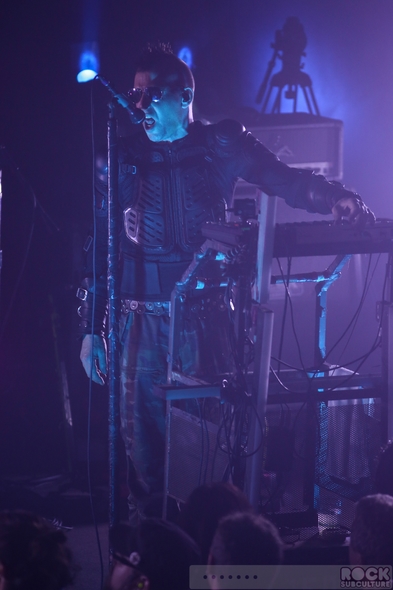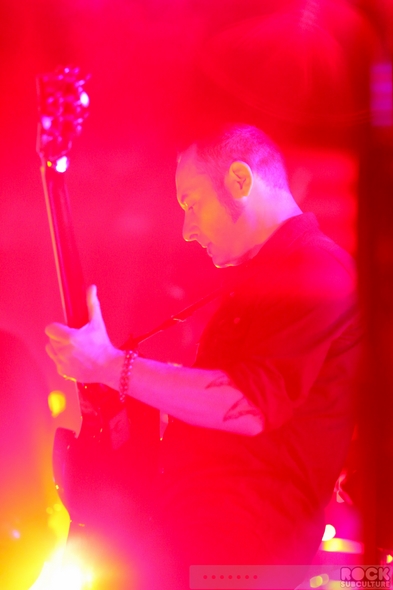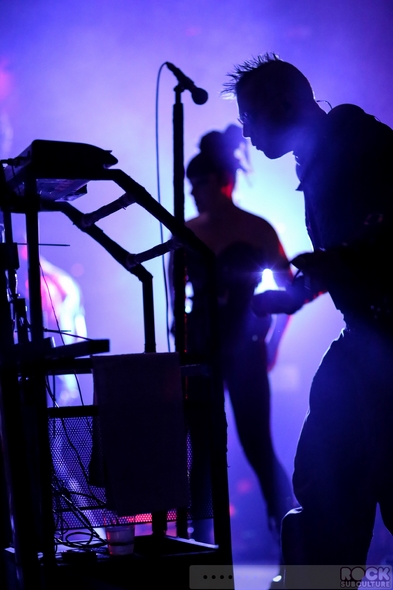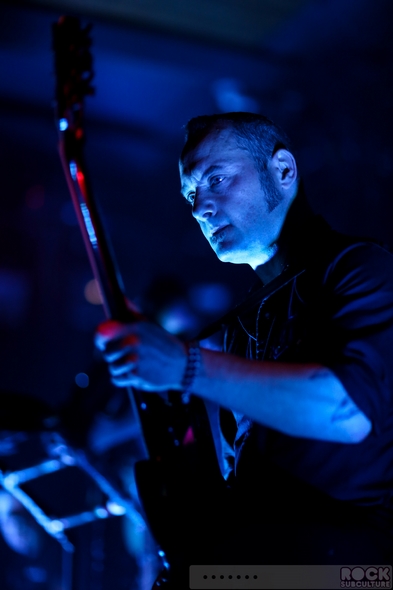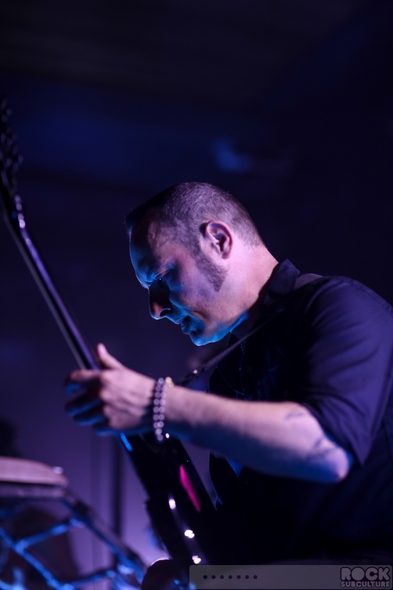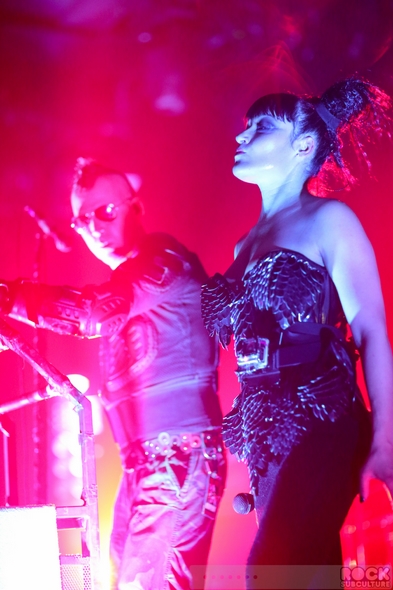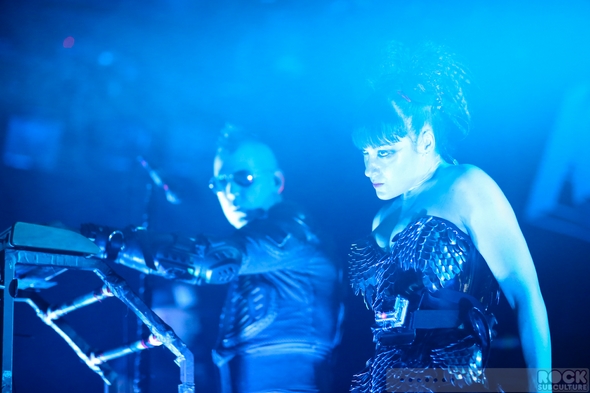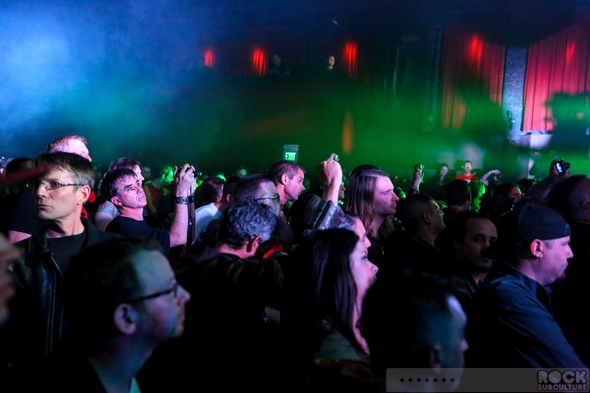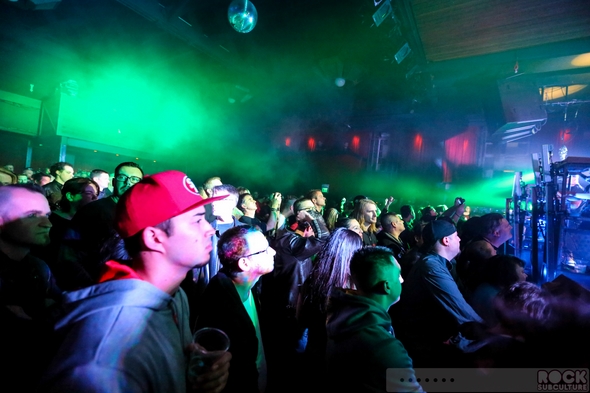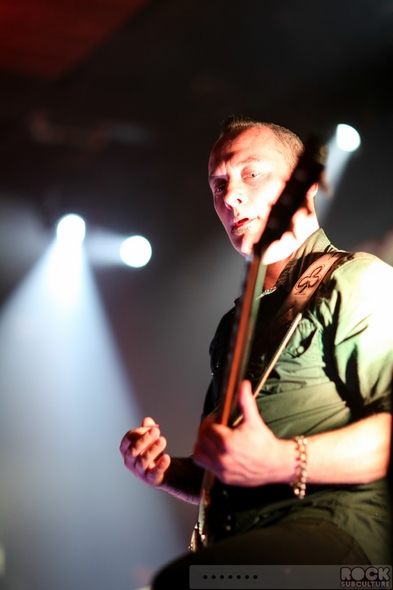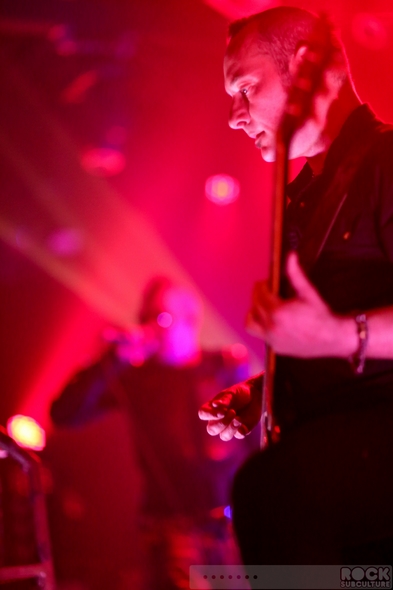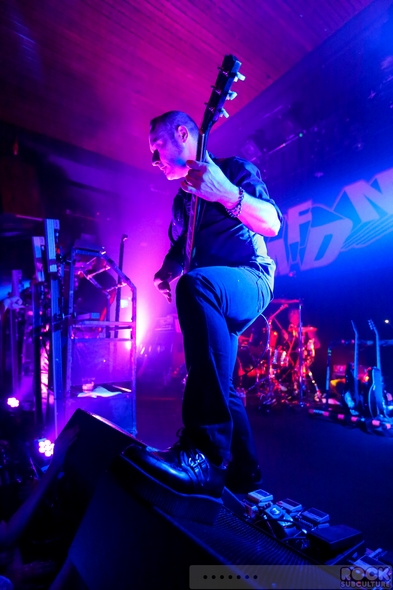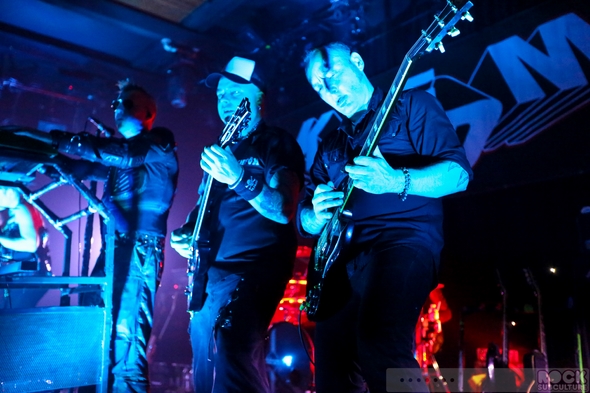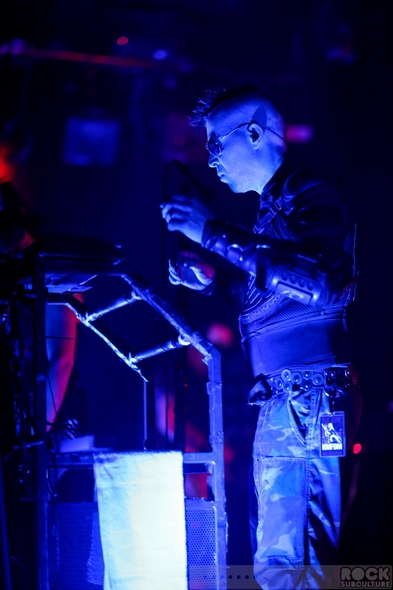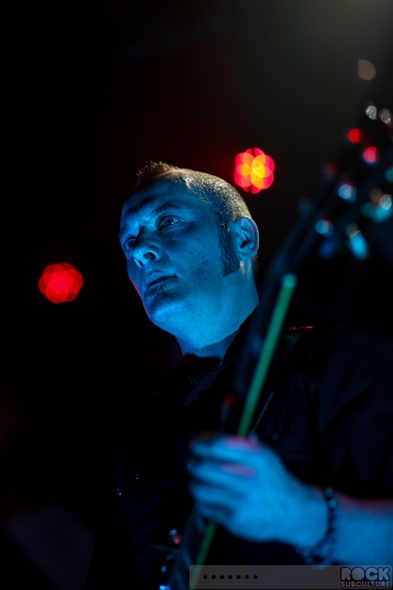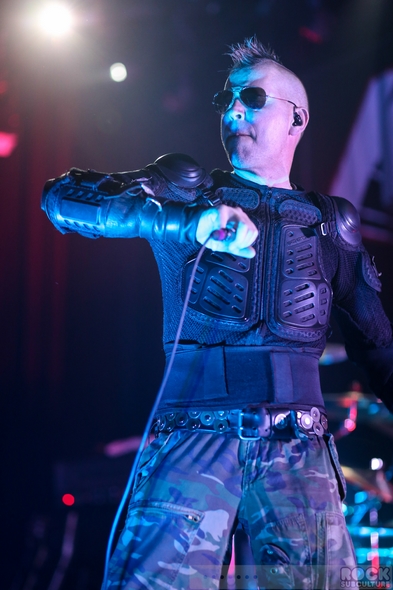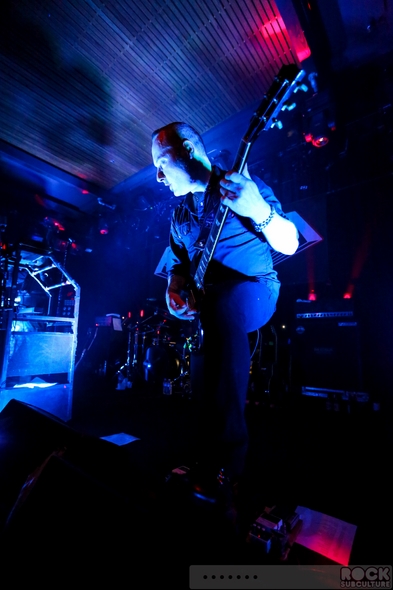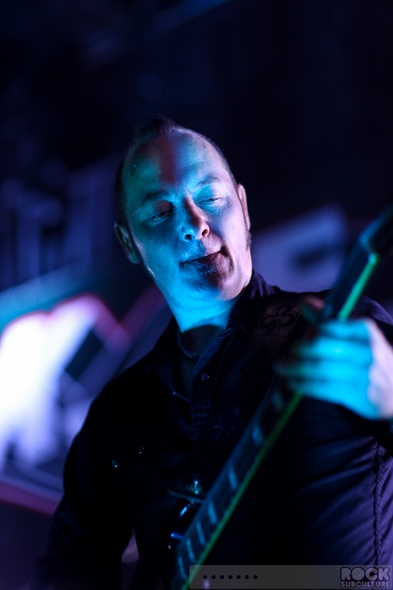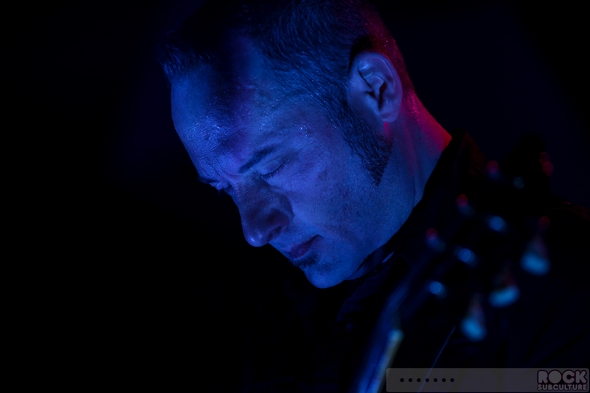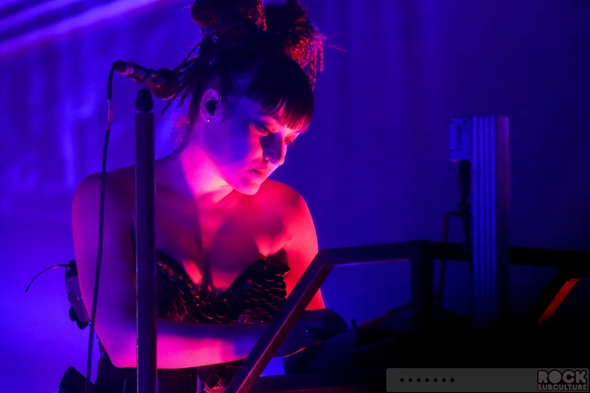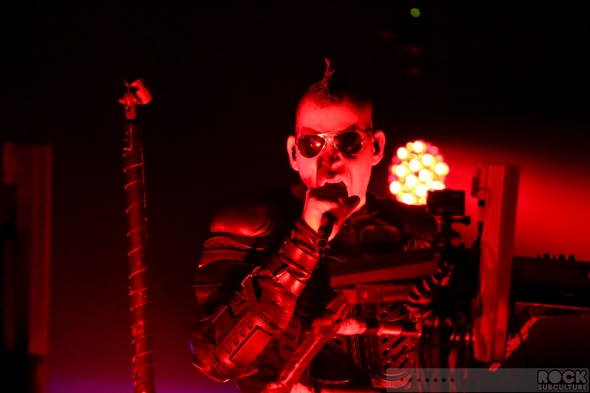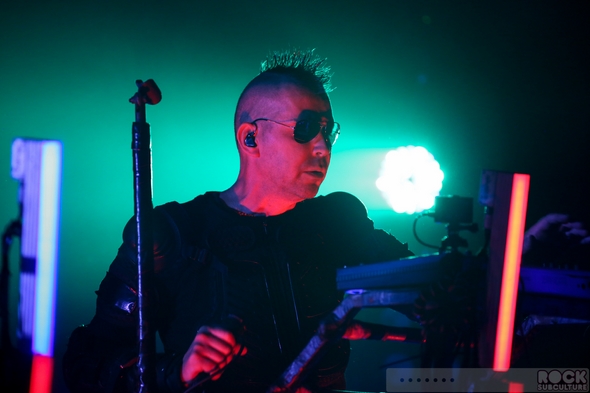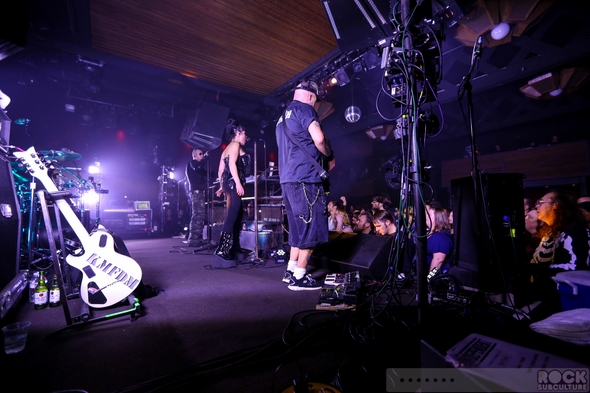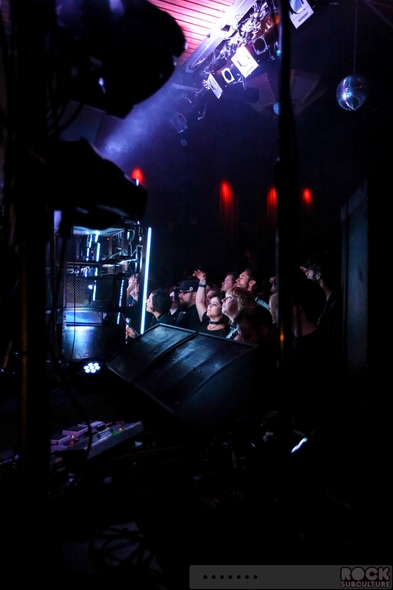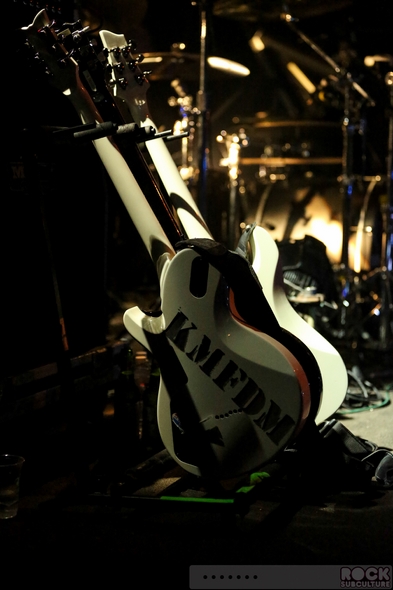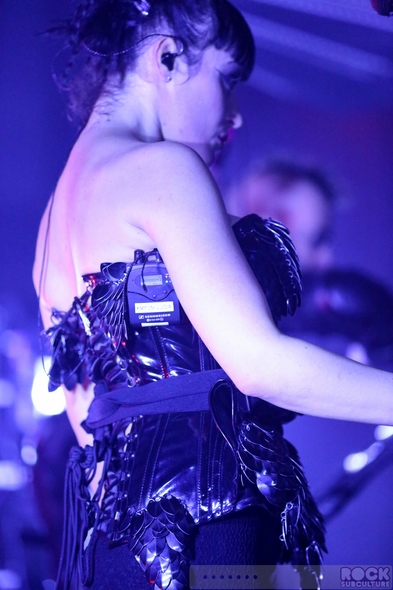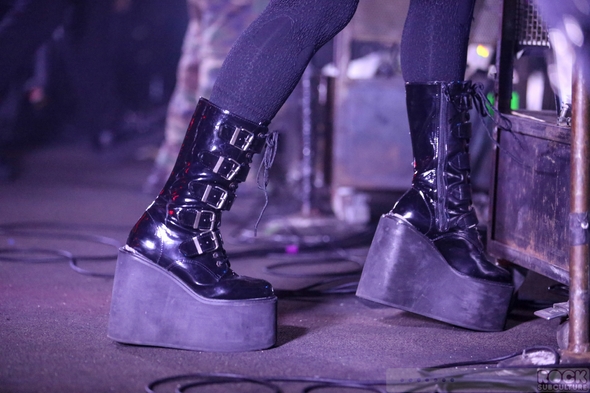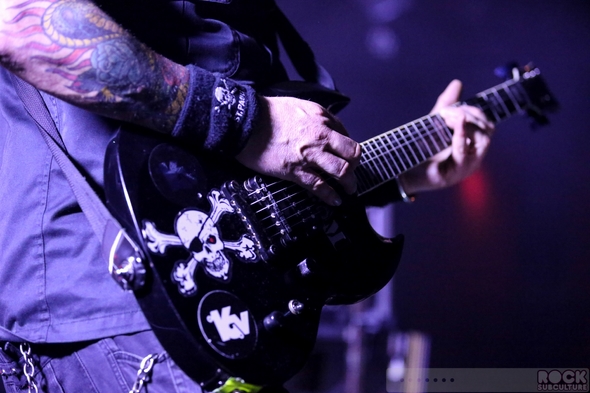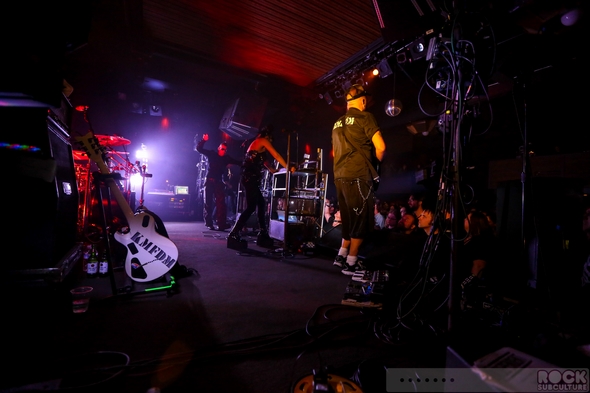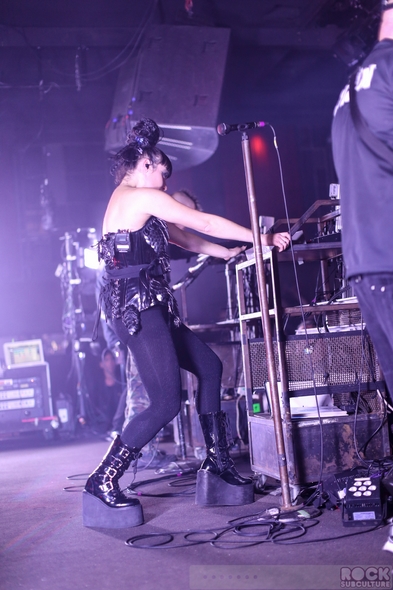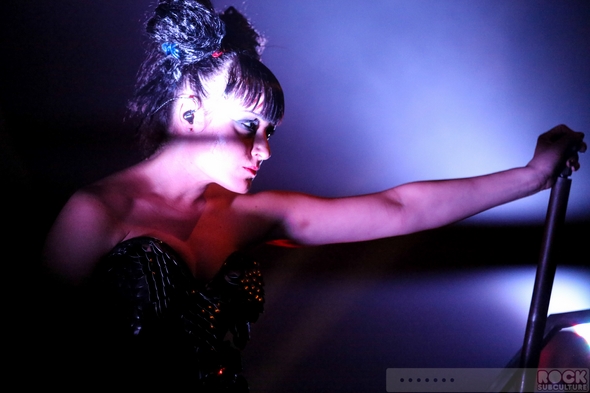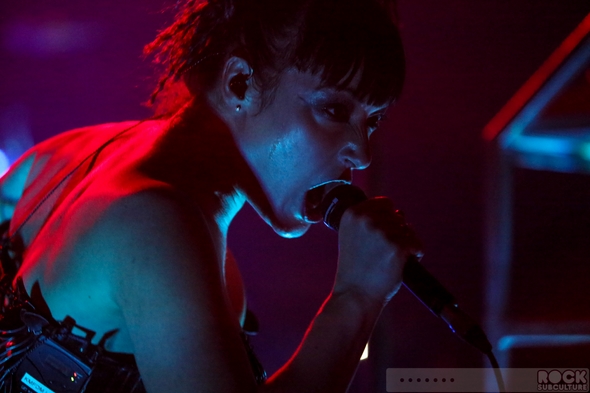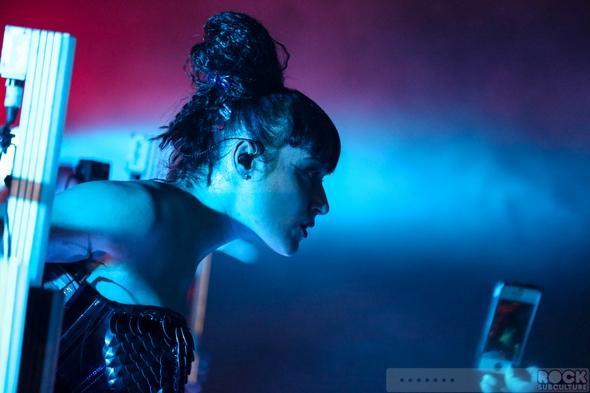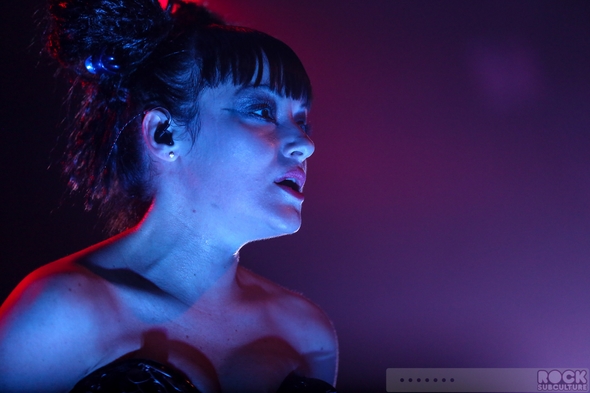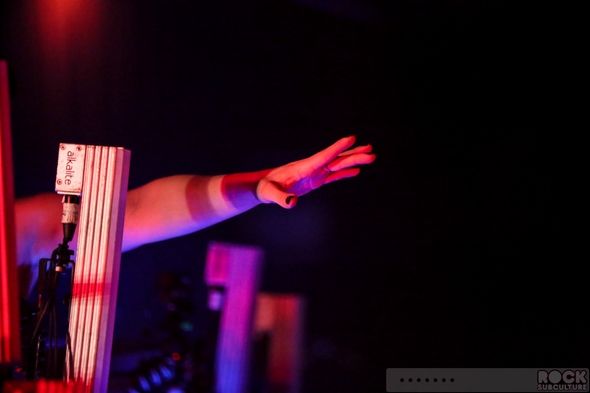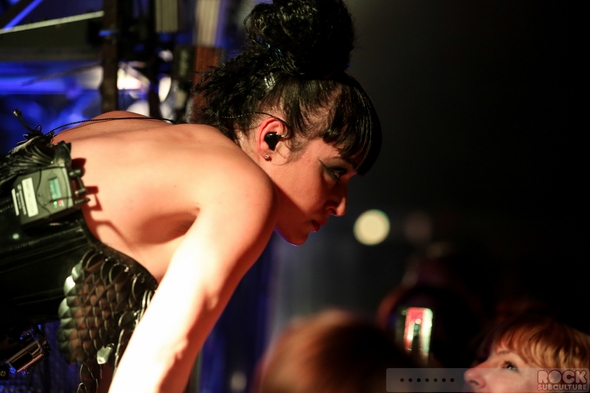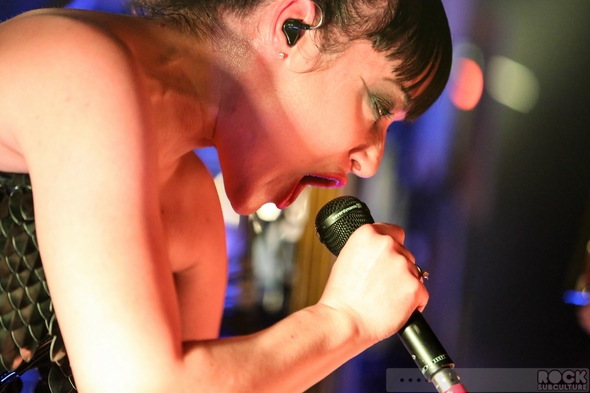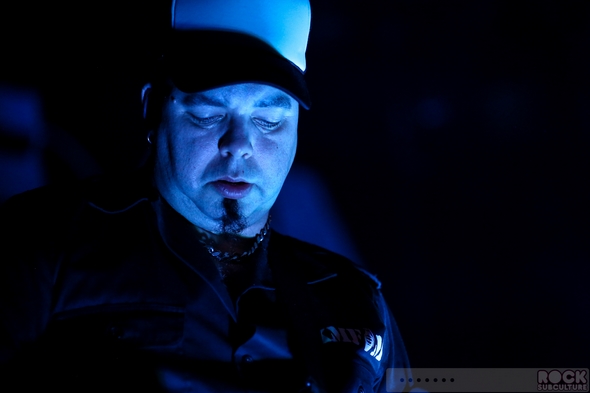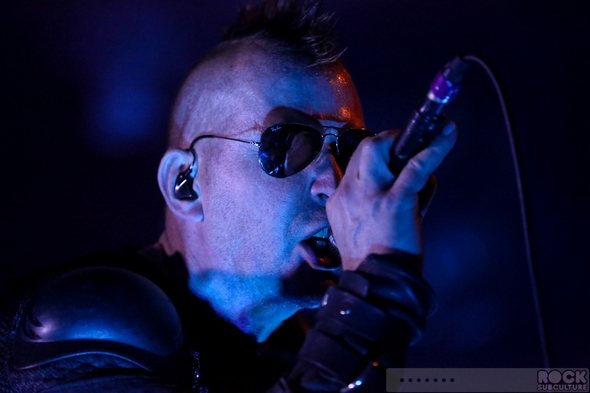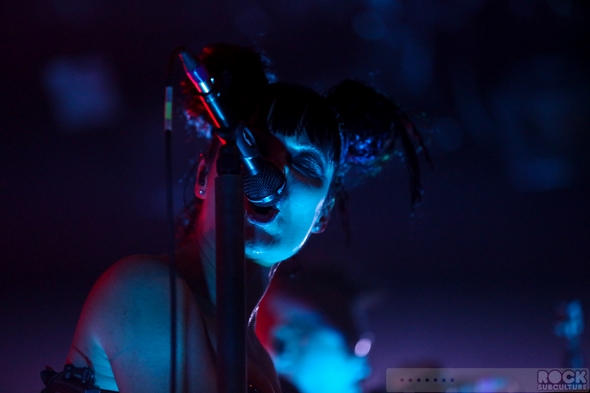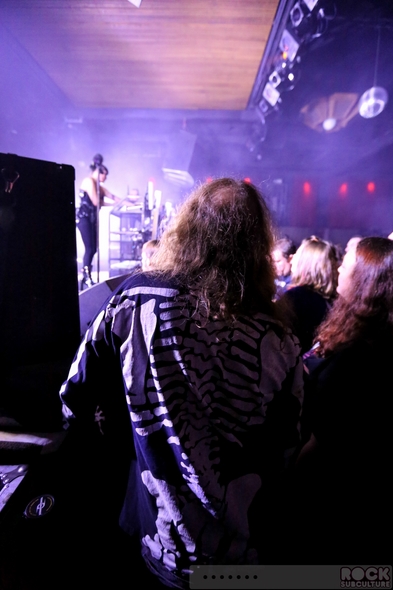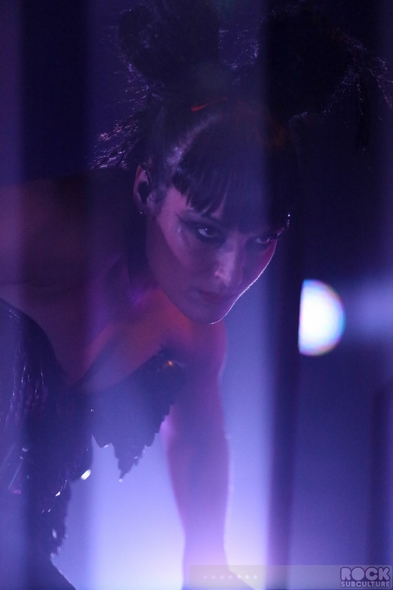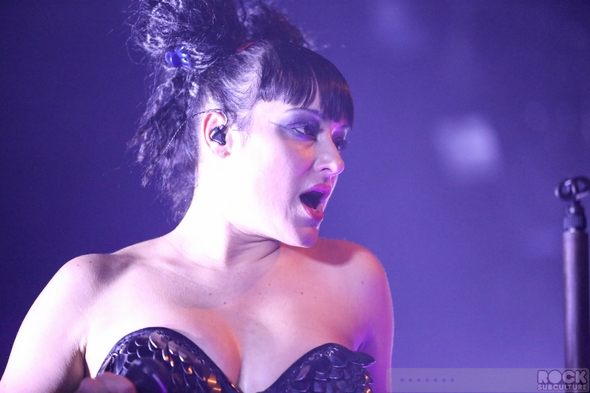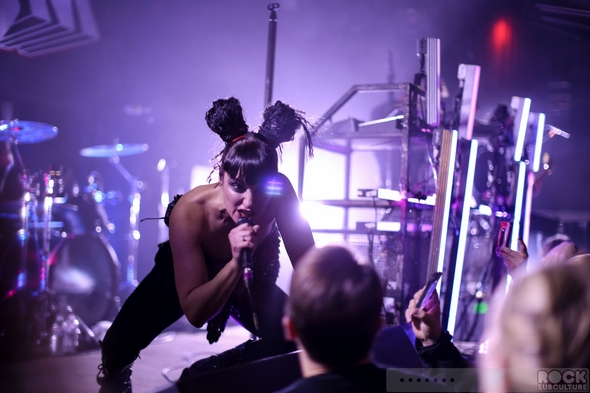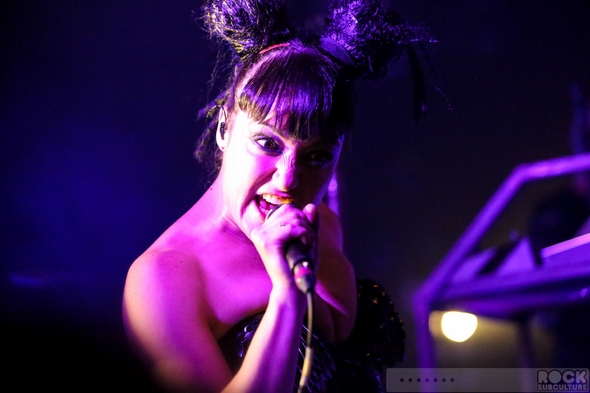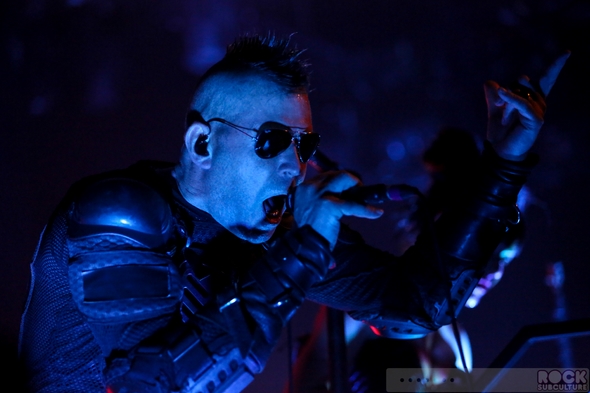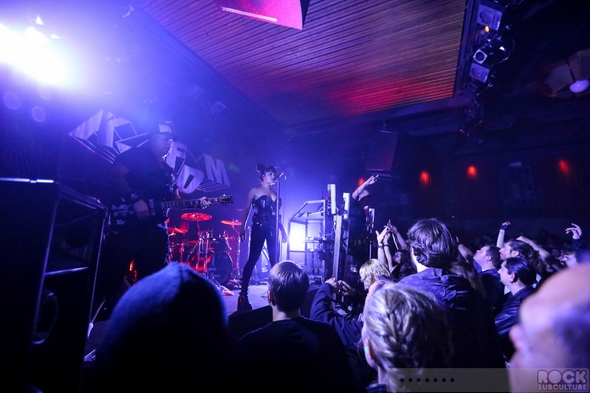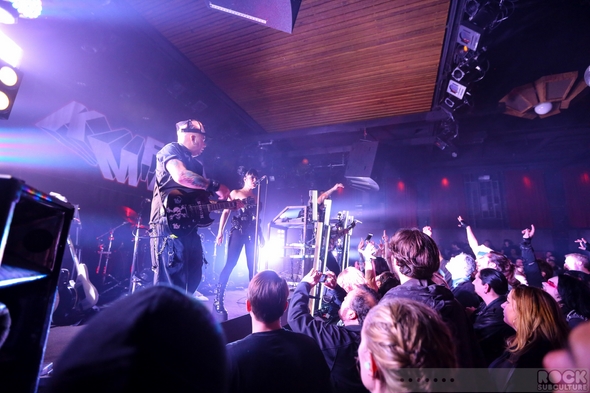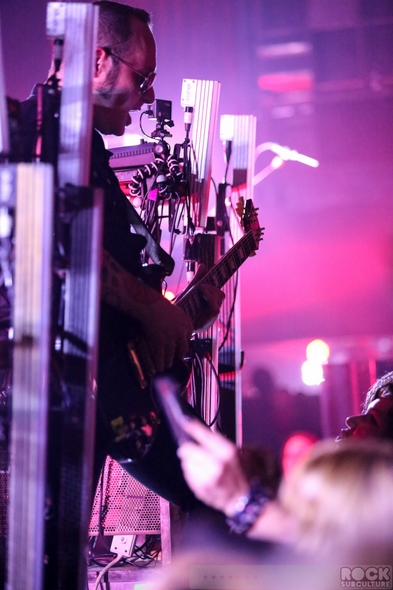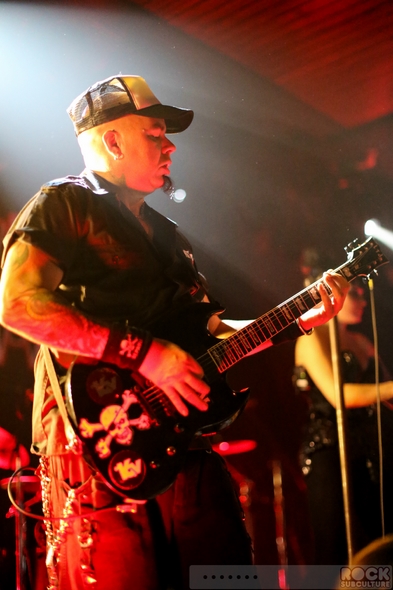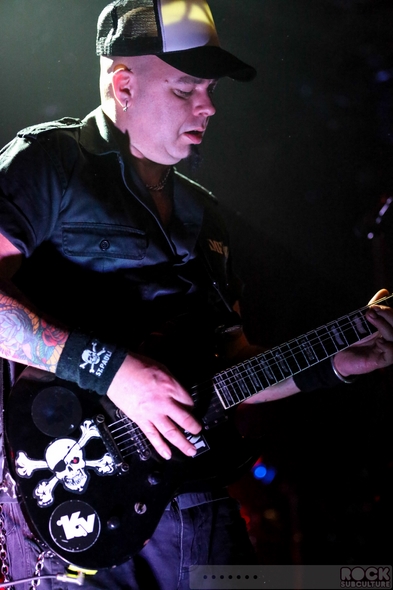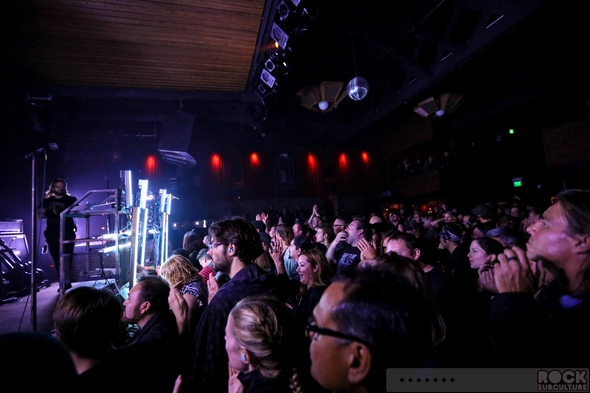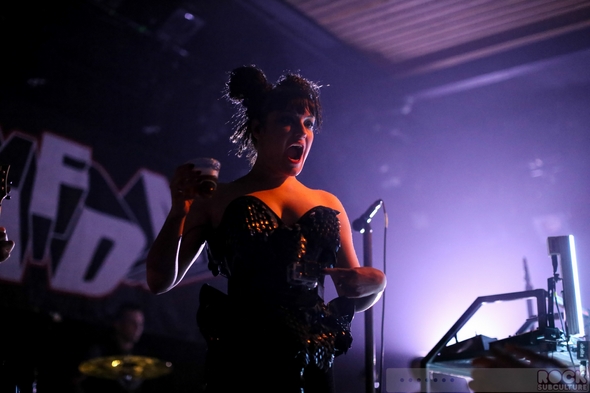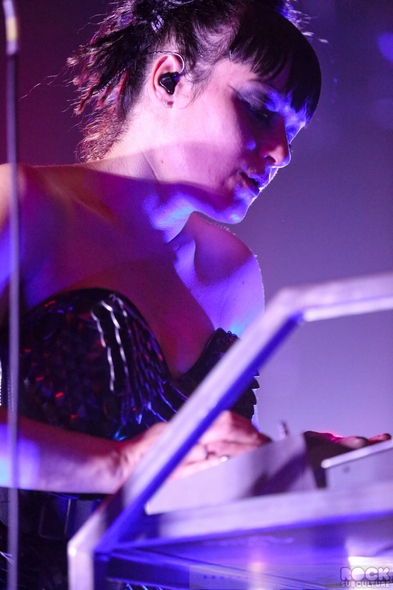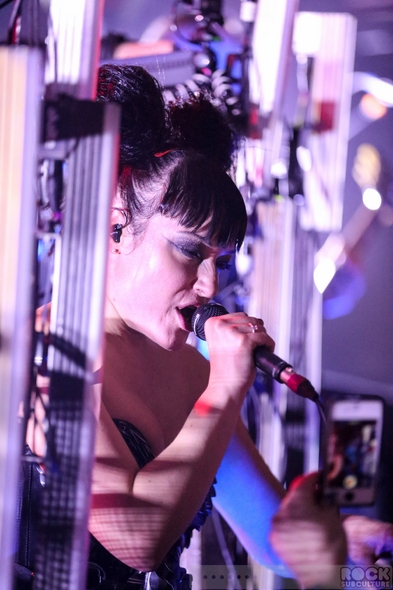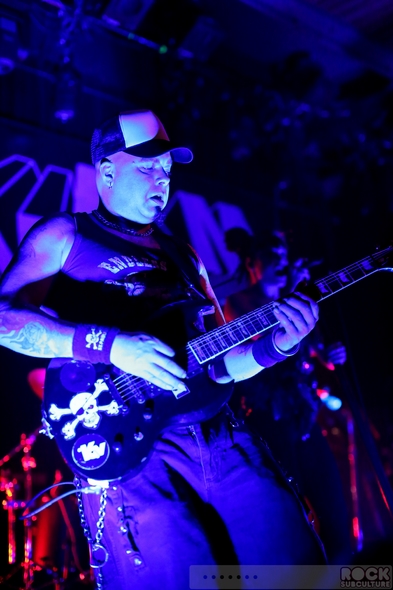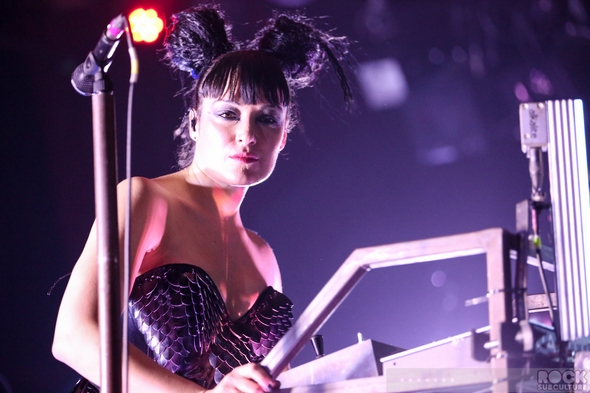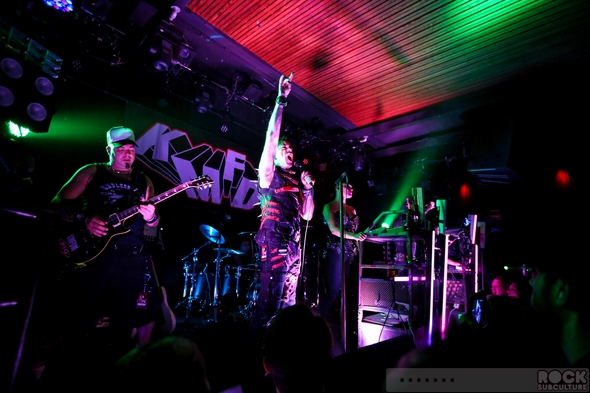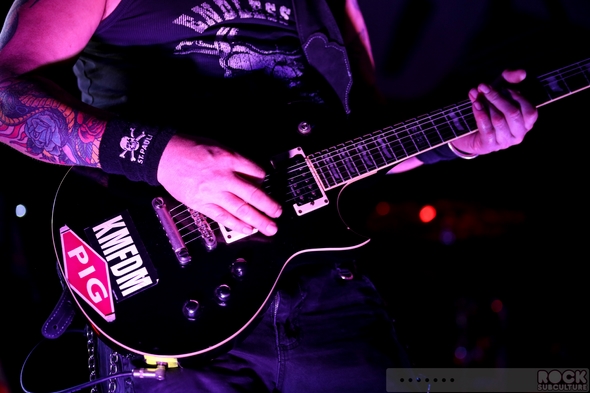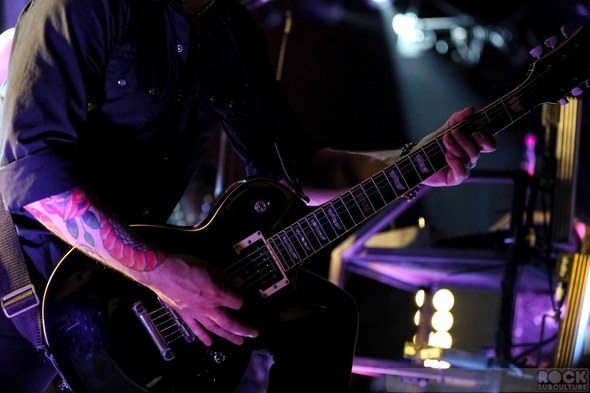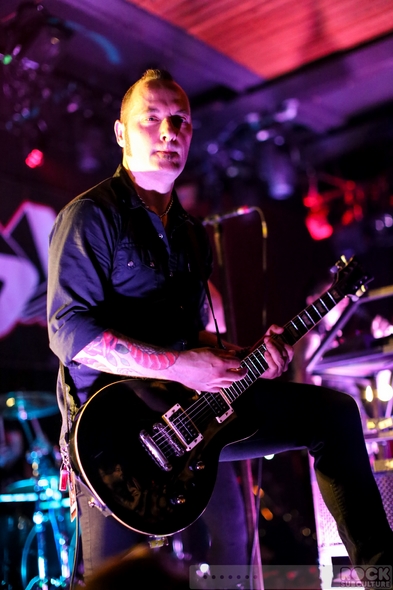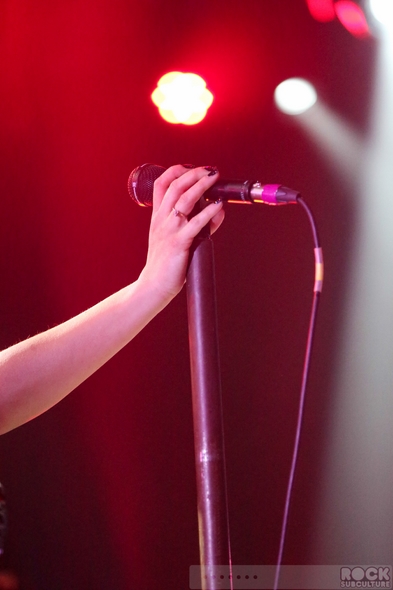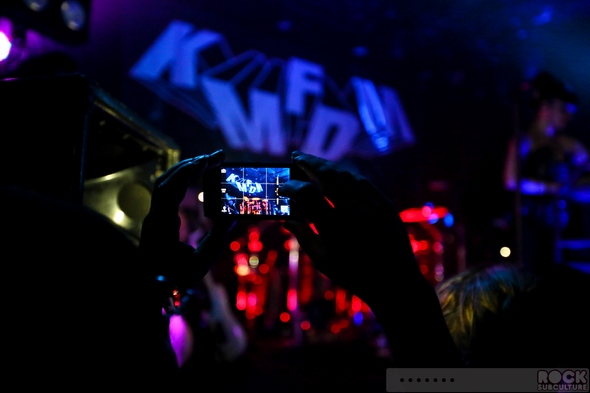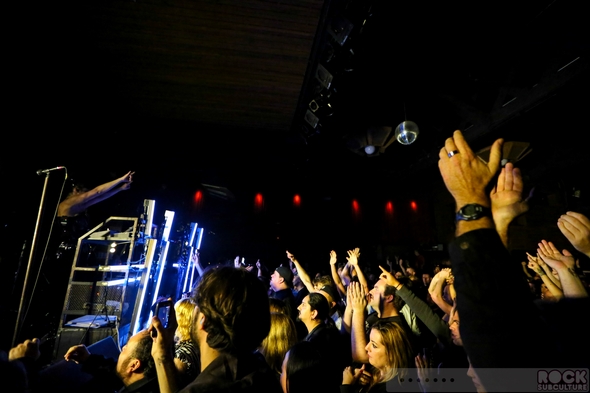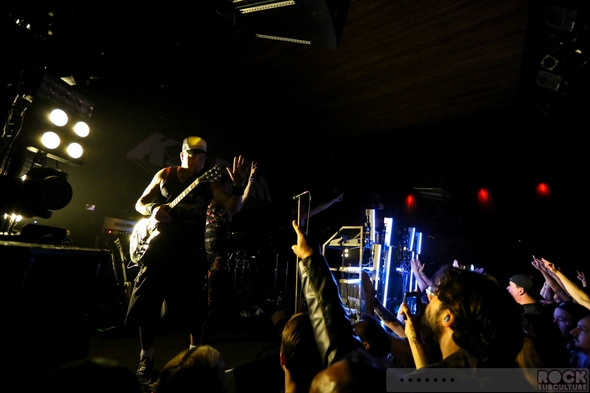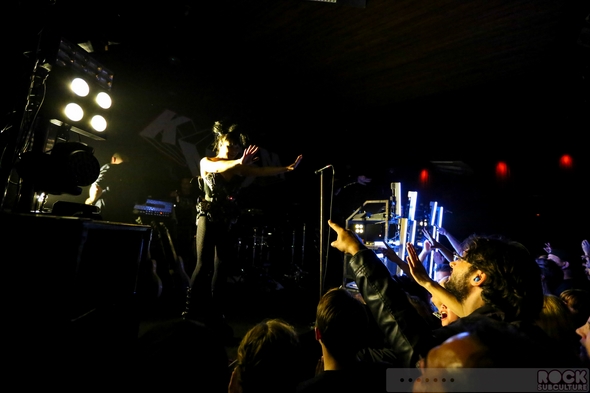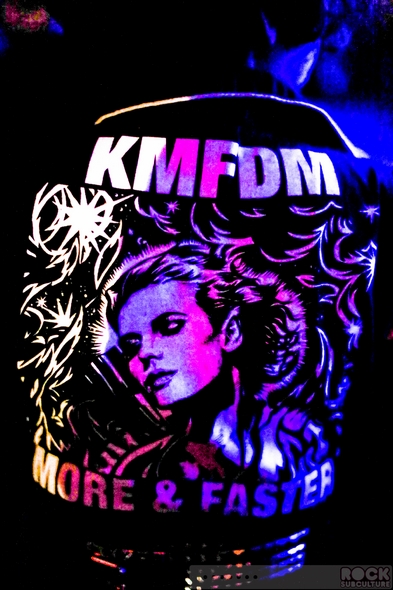 Jason DeBord