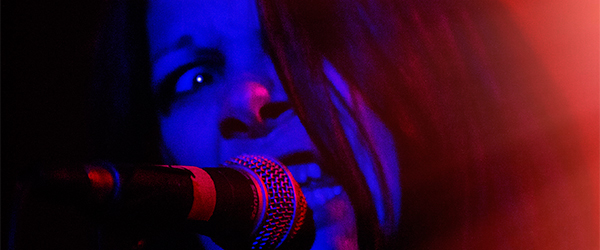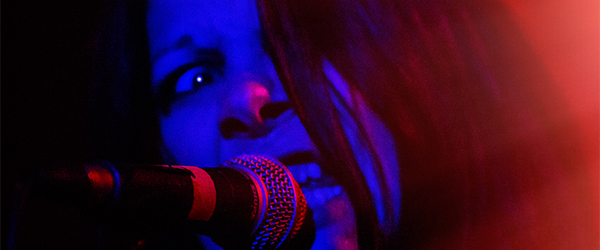 "I wanted to be a writer.  I didn't just want to shake my hair around and scream…"  Johnette Napolitano, in one of many self-reflective moments in her honest and raw solo show at The Griffin in San Diego on Friday night.  The singer and bass player for Concrete Blonde has always projected raw emotion and artistry in all she does, but this was certainly a step even further into having a glimpse into her world, which was bathed in gentle red and blue lights on the small stage in the intimate venue.  For me, she has always been one of my favorite vocalists in rock and roll (and based on this show, it is only getting better with age), but there is so much more to her as an artist beyond that one remarkable gift.  She talks about ghosts a bit, and it makes me wonder if she can see and feel things that the rest of us mere mortals cannot, and that is one of those things that gives her work more depth and dimension, and of course more emotion.  Regardless, the show was an amazing experience for fans of her and her work, whether it is on vinyl or paper, she is that writer she always dreamed of becoming, in multiple disciplines.  Brilliant artist and amazing showcase of her work in San Diego for those lucky enough to attend.

Who: Johnette Napolitano
Supporting: Jesse LaMonaca
Venue: The Griffin
Where: San Diego, California
Promoter: Casbah Presents
When: January 17, 2014
Seating: General Admission (with photo pass)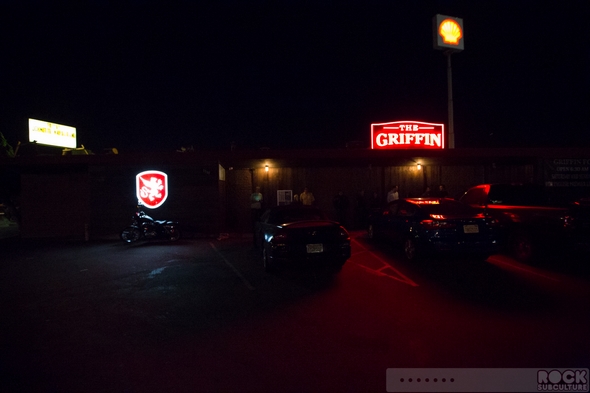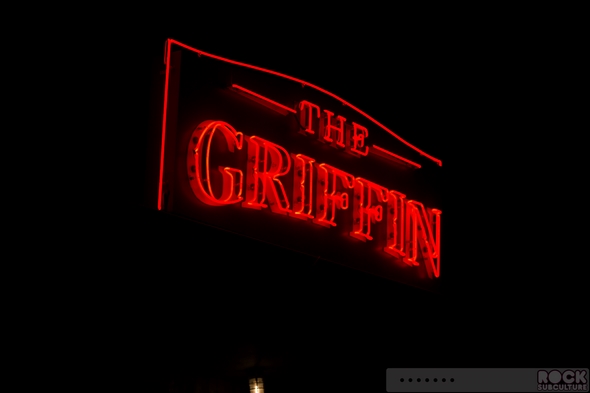 This was my first show at The Griffin in San Diego, which was done in conjunction with The Casbah (where I had seen X the night before).

Really cool little club, with a standard long, rectangular layout with a bar as well as some tables and booths.
I knew that it was just an open floor with low stage and no security pit for photography, so I showed up at 6:30 for the 8:30 doors show just to make sure I could get a good spot for my shots without having to ask anyone to move.
There is one element of the show I did want to bring up here, but not as a distraction in my thoughts about Johnette's set itself…
Obviously, this was set as an intimate, all-acoustic show and as such, I think most concert goers have some expectations about how to conduct themselves accordingly, to make the show as great as it can be both for the artist and the other fans.
The stage lighting was really quite dark and red – which is pretty much the opposite of optimal for photography, especially camera phones and non-pro (small sensor) cameras.
In spite of that (or maybe because of it), a handful of fans in the audience were firing off phones/cameras with very bright flashes – not one or two, but a lot, as the barrage of flashing was messing up the photos I was trying to take with my pro cameras (and I have never used a flash at a concert, and for this show set my cameras to silent shutter mode, knowing it was going to be a quiet show at times).
So in the middle of Johnette's fifth song, she stopped to say, "no more flashes, please", and lost her place in the song momentarily.
I kind of view an audience at a concert as a "collective" in many ways, as I'm sure the artist sees us as "the audience", so I was kind of mortified to be on the side of the stage causing grief for the artist that is their doing her art.  So I felt pretty awful about the situation, and even though I had arranged through Johnette's publicist to shoot the show (and traveled from Northern California to San Diego to shoot it), even I didn't feel comfortable taking any more photos (with no flash or sound) even if there was a 1% chance of distracting her from what she was doing.
Unbelievably, a handful in the audience kept taking photos anyway…  after that first song where she asked, in talking right after, she had to ask a second time.  Then a little while later, she started telling a story, and another person took yet another photo with a bright flash, and she asked again, for the third time, and even said that she would have the person removed if she had to ask again.
Later in the show, while reading one of the stories from her book, which was a story building to a climax, yet another fan in the front row fired off another photo and flash, interrupting her for the fourth time, again pulling her from her performance to ask to stop.
All the while, another woman in the front row along the side part of the stage continually texted on her phone, just out of Johnette's sight…
I guess this is why bands like Yeah Yeah Yeahs and Savages put up signs about cell phones outside of their shows.
I just wonder where respect, manners, and self awareness is these days with some people?  These artists aren't some kind of inanimate object that is the subject of whatever social media platform that you can't cut your umbilical cord from for two hours.  If you live your life through the eyes of Facebook, or your cell phone, maybe going to concerts and annoying artists from close proximity to the stage isn't the best place to do it.
It's especially annoying to me, hence my rant here, because it should be a real honor for fans to have an opportunity to experience the works of favorite music artists in person and live on stage in front of them, and if you can't pull together the most basic elements of conduct in doing so, I just really don't know what to say.
I think more and more in this Internet/social media centric world we live in, some people have lost all sense of empathy and The Golden Rule is some kind of foreign mystery or something.  It used to be that people that lacked empathy became serial killers and dictators – now I guess they just float through everyday life, viewing it through their phones, thinking everything is there to amuse them and serve as fodder for their narcissistic social media accounts.
Anyway, I doubt any such people would bother to read this, let alone comprehend it, but maybe I feel a little better putting it out there, anyway…
How about some self awareness and empathy, people?
Jesse LaMonaca
On Stage…
Jesse LaMonaca (vocals, guitar)
Araby Harrison (harmonies)
Opening for Johnette was Jesse LaMonaca and Araby Harrison from Jesse LaMonaca and the Dime Novels.
Both came dressed quite formal for a concert, which made for a classy presentation.  Funny enough, a bit into their set, Jesse remarked about this and his sweating…
I did exchange a few messages with Jesse leading up to the show (really nice guy!), but didn't have time to preview his music, so didn't really know what to expect.
I love hearing new music, and I get enthused seeing people enjoying themselves perform, so have a fairly open mind to different styles of music and what not…
I was extremely impressed with Jesse – amazing voice, and he's one of those performers that is just feeling it – a real, authentic performance, song after song.
Real powerful stuff – songs that are actually about things, played with power.  The music was all quite awesome as well.  The kind of songs that instantly hook you in, on first listen.
He definitely pulls from some of the stronger music genres, like blues, soul, and rock, and mixes it all into a style his own.
Jesse LaMonaca and The Dime Novels have two albums out – Until The Stars Came Out (2010) and The Lament of Tumbleweed Hawk (2012).
Setlist: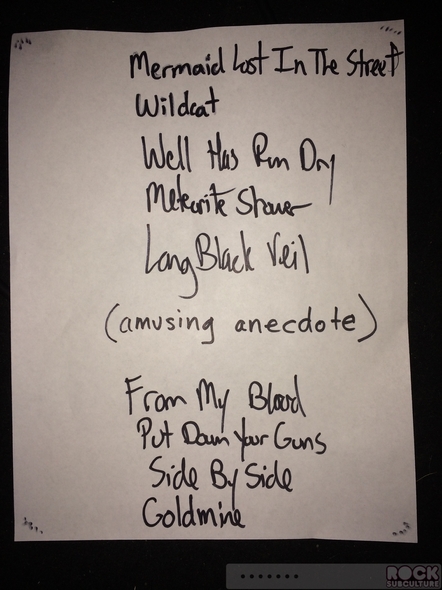 Below are some photos of Jesse LaMonaca and Araby Harrison performing on stage: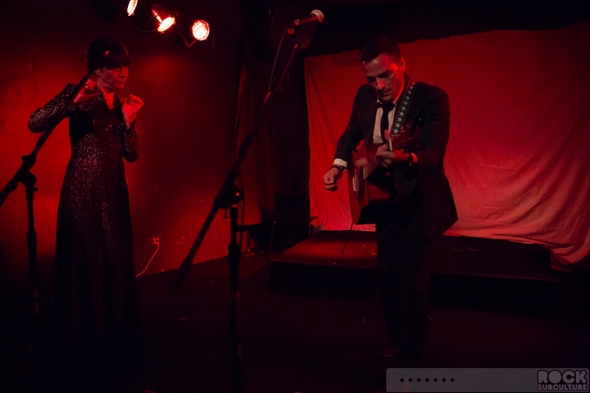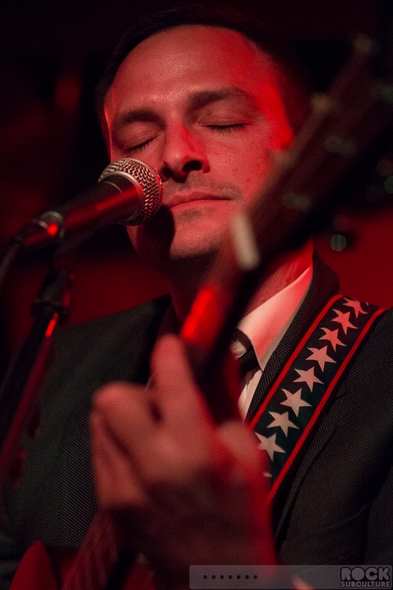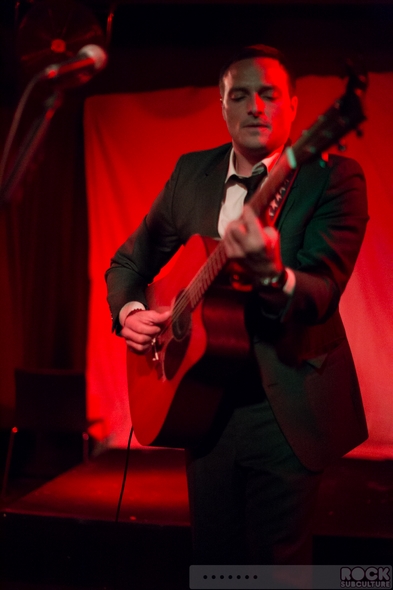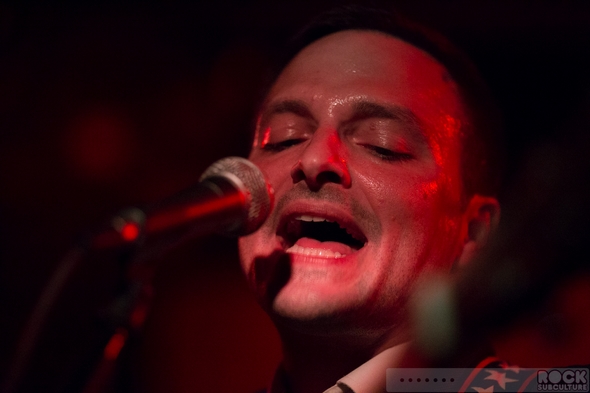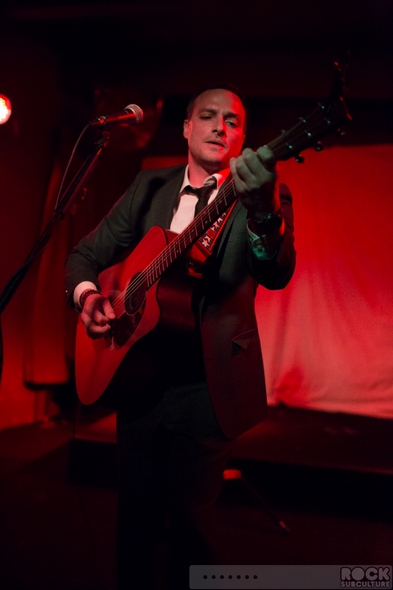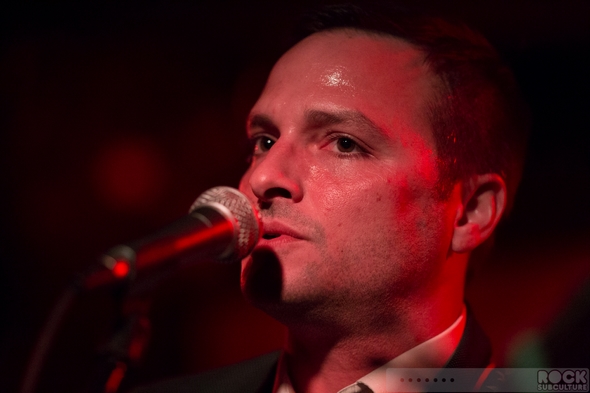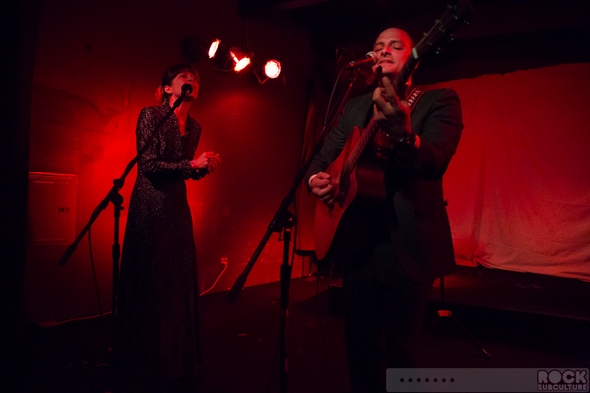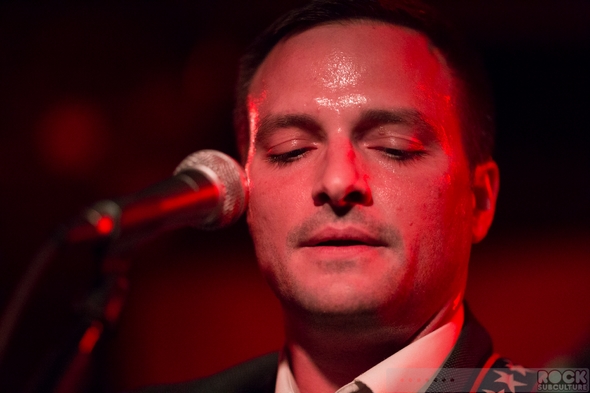 Johnette Napolitano
Concrete Blonde is one of those bands where I can absolutely place when I first learned of them…
In the middle of 1987, I made the transition from middle school to high school and I was a huge fan of the Fox television series, 21 Jump Street.
They actually played a lot of great music on that series, and I made a habit of paying attention to the credits and writing down the name of the bands as they scrolled them, to seek out at the record store later.
The ninth episode of the first season, "Blindsided", aired in May of 1987 and featured four Concrete Blonde songs – "Dance Along the Edge", "Cold Part of Town", "Over Your Shoulder", and "True".
So I ended up buying Concrete Blonde's eponymous debut album, which was released a year earlier in 1986.
"God is a Bullet", was featured in the Season 4 in the episode with the same name.  That track came off of their second album, Free, which came out in 1989.
Bloodletting came out in 1990, and featured maybe their biggest mainstream success with the song, "Joey".
As I enter high school in 1987 and exited in 1991, these three albums absolutely were a core grouping of the soundtrack of my formative years.
I did not start going to concerts until 1987, and though I am a pack rat, I have yet to locate a certain shoebox filled with ticket stubs and other memorabilia, but I did find one of my older Concrete Blonde tickets and accompanying flier from their 1990 show at the Crest Theatre in Sacramento: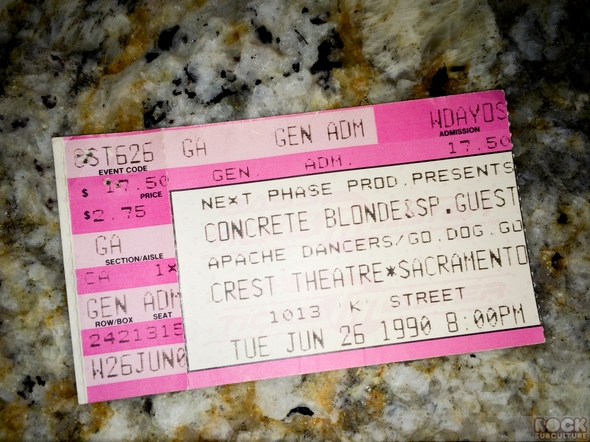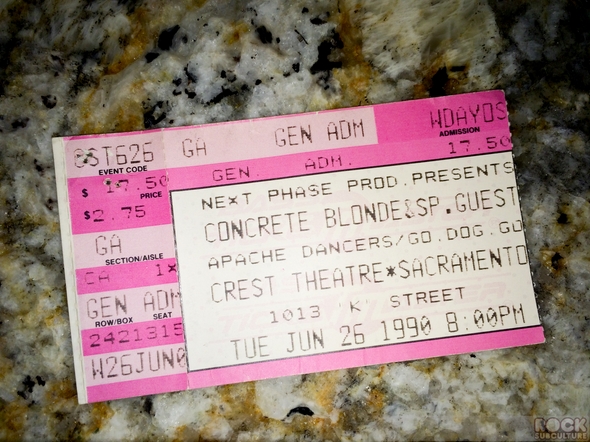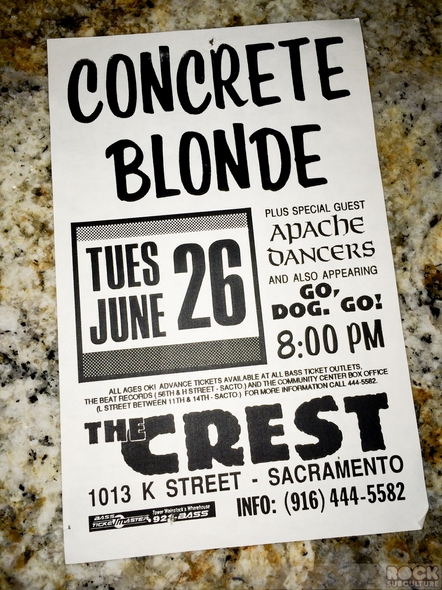 Their last two albums from their first formation were 1992's Walking in London and 1993's Mexican Moon, both of which featured stellar music.  The title track from the former is one of my favorites of theirs, and gets a lot of play on my iPod whenever I visit my favorite city.
I did see the band live a few times in the early 90s, but not since, so when I found out about Johnette Napolitano's solo dates this month, I knew I had to see at least one of them, and have always loved San Diego…
I've obviously been a huge fan of the band and their work since I was a teenager, and even trying to look at things with a bit of perspective, I think it is a shame that they did not truly get the critical and popular success that was deserved.
I've actually pondered it quite a bit, and I think the subjective conclusion that I've come to is that they were ahead of their time, but only by a few years.
In pop culture, timing is often one of the keys to success.  I've always had some kind of loose association between Concrete Blonde and Nirvana, not because they sound anything alike, but I feel like the first three Concrete Blonde albums and the three Nirvana studio albums have some real similarities, and both bands evolved, album to album, in similar ways.
I have always wondered what "might have been" if maybe both bands were on the same label, and had similar PR pushes, and maybe toured together, if things might have unfolded quite differently.
Concrete Blonde debuted in 1986, and Bleach in 1989, and both featured their respective bands at their most raw in sound and approach.
Concrete Blonde's second album, Free, hit in 1989, and I think had a slight bit of a pop hook in more of the songs, just as Nirvana's Nevermind did in 1991.
The third studio efforts for each – Concrete Blonde's Bloodletting in 1990 and Nirvana's In Utero in 1993 both felt much more thematic and confident, more complex, more evolved in sound and style.
Of course, Nirvana was arguably the most successful and influential band of the 90s, but in my mind, Concrete Blonde was right there with them with the quality and originality found in their music… only with each album they were a few years ahead of the game.  Yet Nirvana's were crowned as the pioneers in taking the music industry in a totally different direction from the clean synth and pop sounds that gave the 80s its lasting identity.
Regardless of the measurements found in popular entertainment, Concrete Blonde will always have their place among my favorite music artists, so I was really excited to see how this solo show of Johnette's would turn out.
Following Jesse LaMonaca's awesome opening set, a curtain was drawn across the front of the small stage as it was reset for Johnette.
One note about my review from this point forward…  I did not expect a traditional set list on the stage, since it was going to be Johnette doing her own thing solo, so I set the memo recorder on my phone to record and stuck it in my back pocket, in hopes of being able to piece together the set list for his review from recording (which is not great quality, and will not be shared, but served as a valuable resource to reconstruct some of the show as well as accurately quote Johnette from some of her comments).
The way this venue is set up, the artist enters from a door near the stage, so Johnette walked onto it with some things in tow and made herself comfortable on a seat, with some handwritten notes serving loosely as a setlist, as well as a copy of her book, Rough Trade, and a bottle of wine and some bottles of water.
Her first order of business was fine tuning the sound.  She wanted to make sure those of us up front had good quality, and when she first tested, it sounded great to me, but after some adjustments (and a funny aside and apology on behalf of her right breast for altering the sound on her guitar), things sounded phenomenal.
I don't know who did the sound for this show, but the man is a genius.  The sound for both sets was absolutely stellar, and it was one of those rare, rare shows for me where I got to enjoy every decibel of sound sans ear plugs, and it was nothing short of magnificent.  I cannot begin to overstate how amazingly perfect the sound was for this show, so kudos to the sound engineer.  Fucking brilliant.
Johnette opened by talking about San Diego, and when she lived there as an 18 year old Navy wife.
She's a very charming woman; very engaging, authentic, honest, and raw.  You get the sense that she has seen and experienced a lot in her life, and it all feeds into her art.
The first song that she performed, "Dear Jane Letter", she prefaced by saying "I promised a long time about I would open with this song…"  She further explained that the words are "actually the words written by American soldiers".
Johnette is the singer and bass player for Concrete Blonde, but she is a phenomenal acoustic guitar player. Being up front for the show, I had an opportunity to watch her play from very close up, and I was amazing at a lot of the things she would do – a lot of sort of rhythmic "business" for lack of a better word, and truly some amazing playing with a lot of range and complexity.
Her playing (bare-handed, with no picks) actually reminded me a bit of watching Lindsay Buckingham playing.
After finishing "Dear Jane Letter", she commented that she's 56 years old and "that story has never changed – kind of scary, huh?"
At 56 years old, she looks amazing and comes across as a youthful old soul, if that makes any sense.
She then went into a song about Billie Holiday, but I was not familiar with it, and don't know the title of the song.  It was a nice, quiet song that sounded quite personal.
Next was a quiet and short song – another I was unfamiliar with – "All About Eve".
She then went right into "I Don't Need A Hero" from Concrete Blonde's Bloodletting, which sounded very much like the studio recording, since that has a more acoustic sound to it as it was originally released.
At that point in the show, about 15 minutes in, she said she was going to read from her book, and told a funny story about needing a flashlight so they went to the gas station next door and they had a box full of Shell logo-emblazoned pen lights that they were happy to provide for free, so that was her "Tip of the Night" for the fans.
You can learn more about Johnette's book, Rough Mix, on the official Concrete Blonde website, and it is also available at Amazon and Barnes and Noble.
She then read from Rough Mix with the story that led into the song "Joey", which she transitioned into.
After playing that classic, she went right into a great rendition of the old classic, "Ghost Riders in the Sky".
She then talking about splitting notes (as she did in that song), and how she learned how to do that from Linda Ronstadt, and how she first saw her play in San Diego in the 70s, and was inspired by her boy scout shorts, hat, and tie, and went out and bought the outfit and wore it for about a year.
Then, just leading into "Take Me Home" from Group Therapy, she said "oh shit, it's a drinking song", and suggested taking a drink on every "take me home"…
At this point, about a half hour (and half way) into the show, she played a newer Concrete Blonde song, "Rosalie" (which is available as a digital download at CDBABY).
She then referred back to her Rough Mix and gave us a "palette cleanser", then the ghost story, and how she came about writing "Ghost of a Texas Ladies Man".  "I like ghosts, and they like me".  This was very entertaining.
Next up was "Mexican Moon" from their album of the same name.
She then started playing "Sun" from Free, and double checked, asking the crowd if she already played it, since she was skipping around the set list…
I absolutely love this song, so this was certainly a highlight of the show for me, as well as the one that followed – "Carry Me Away" from the same album.  For "Carry Me Away", she said "I haven't played this for a while, but it occurred to me you might like it".  Amazing, brilliant version of this song.  "Like" would be a vast understatement.
So after back-to-back performances of two of my all-time favorite Concrete Blonde songs, Johnette thanked us for "a lovely evening".
Continuing a theme of pithy dark humor, she said:
Come on.  Who's more surprised that I'm still alive besides me?  The people who haven't paid me royalties in 20 years?  No!  It's okay though.  I'm not bitter.  Living is the best revenge.  That's what I'm sayin', right?
She then talked about how she always wanted to be a writer, since she was a kid….
She then talked about her "duet" that she wrote for a friend of her's that does Sinatra songs in Hollywood.  She went into a funny aside about how she is an Italian American and that "Sinatra was pretty much Jesus in my house" and "the Rat Pack was pretty much the disciples", killing the crowd with "we had a picture of the last supper, but it was Dean and Sammy…"  Seemingly having imagined all that on the fly, she laughed at the image she conjured up and said, "I love that – I'm going to paint that when I get home…"
She then went into an a capella version of this unnamed song which was full of character, and somewhat out of character from what you might expect from the front woman for Concrete Blonde, but then again, she is nothing if not full of surprises.
She chatted a bit more, and then did a touching rendition of "Smile" (from Charlie Chaplin's Modern Times).
She left the stage to thunderous applause, and exited out of the venue via that side door.  I got the sense that was it, as she took everything off stage with her… but the crowd kept cheering.
After a bit, she did come back and did a standing, guitarless, abbreviated version of "Tomorrow, Wendy".  And that was it, and in a flash she was gone.
She did come back later to sign copies of her book, post show.
All in all, it was amazing, and a real "experience", as the format provided an amazing glimpse into Johnette the person, the writer – the artist.
Below is the set list as best as I could reconstruct post show…
Set List
Talking: Soundcheck, Right Breast Apology, San Diego History
Song: "Dear Jane Letter"
Song: Untitled/Unknown (Song About Billie Holiday)
Song: "All About Eve"
Song: "I Don't Need A Hero"
Talking: Tip of the Night – Free Flashlights
Rough Mix Excerpt: Story About "Joey"
Song: "Joey"
Song: Ghost Riders in the Sky
Talking: Splitting Notes Linda Ronstadt Style; Boy Scout Outfit
Song: "Take Me Home"
Song: "Rosalie"
Rough Mix Excerpt: "I Face Forward, I Don't Look Back…"
Rough Mix Excerpt: Story About "Ghost of a Texas Ladies Man"
Song: "Mexican Moon"
Song: "Sun"
Song: "Carry Me Away"
Talking:  A Lovely Evening and Living Is The Best Revenge
Talking: Sinatra Duet
Song: Untitled/Unknown (Sinatra Duet, A Capella)
Song: "Smile"
Encore Song: "Tomorrow, Wendy"
Below are some photos of Johnette Napolitano performing on stage: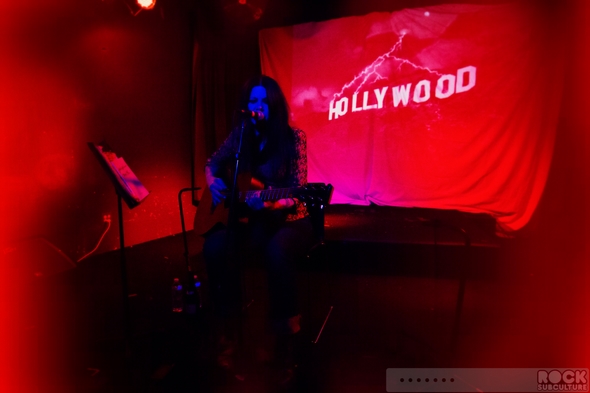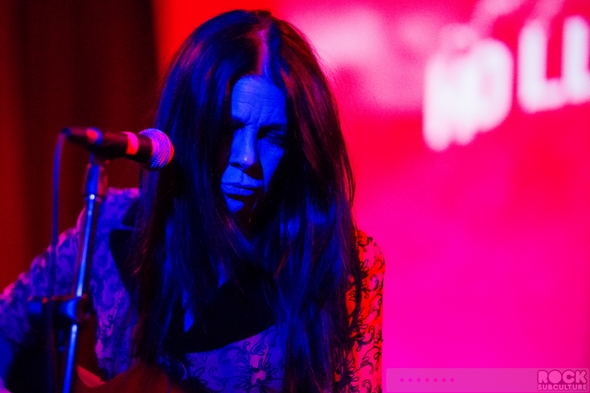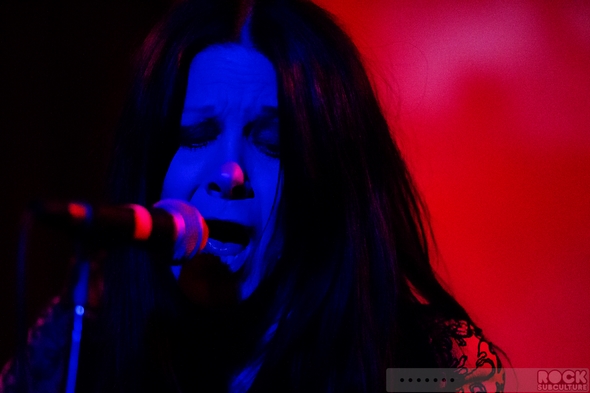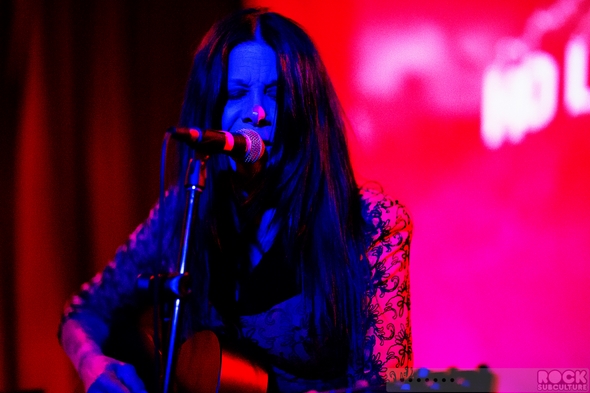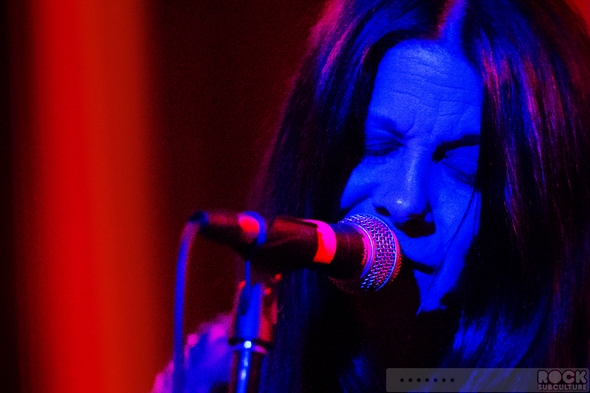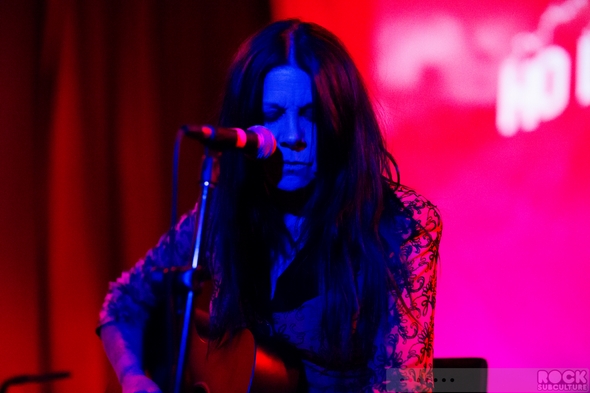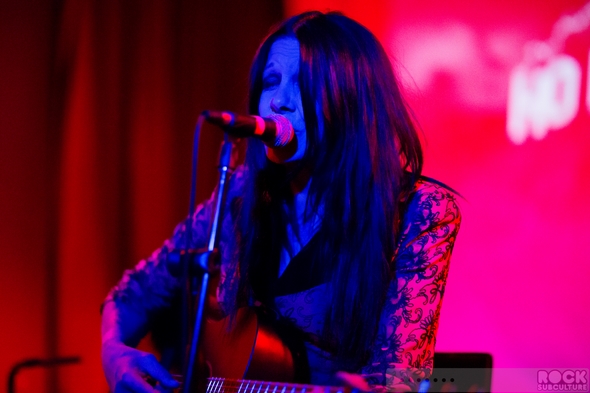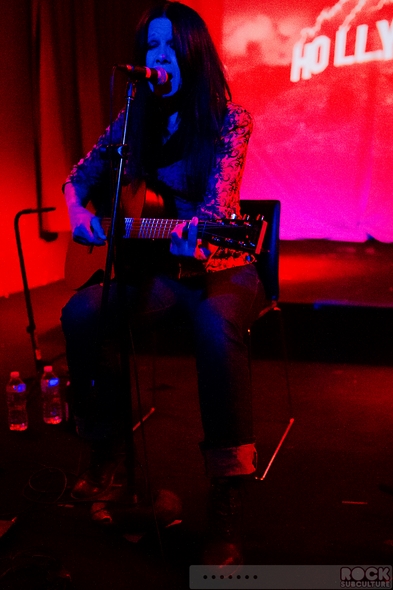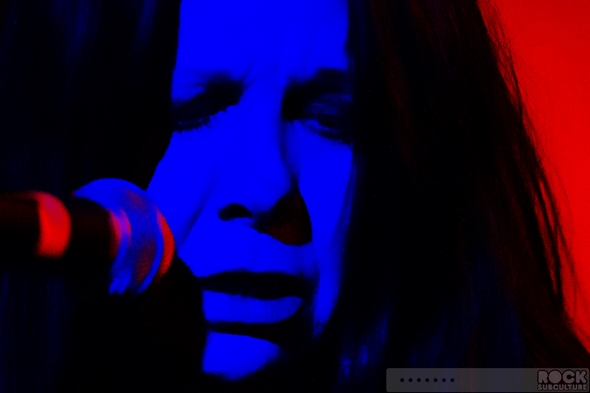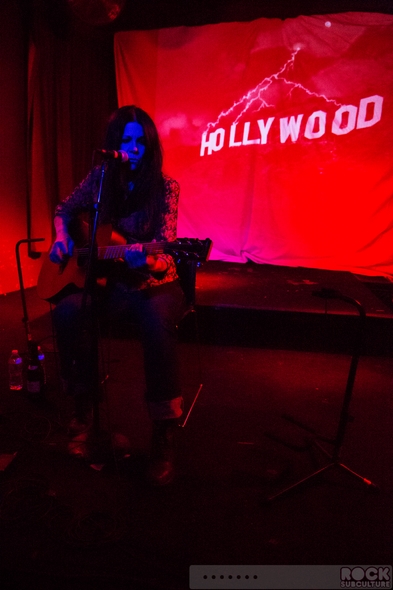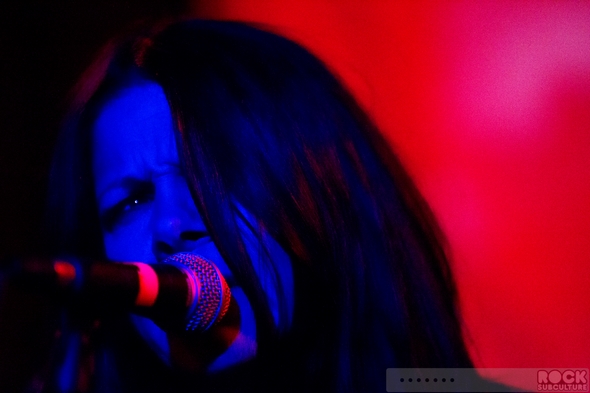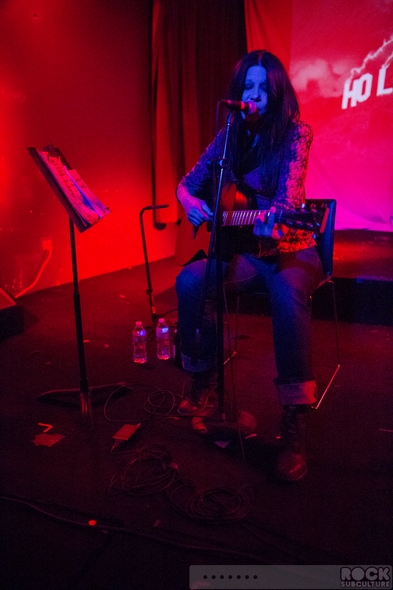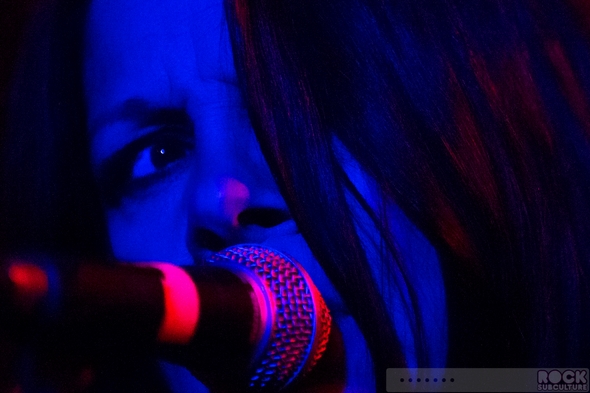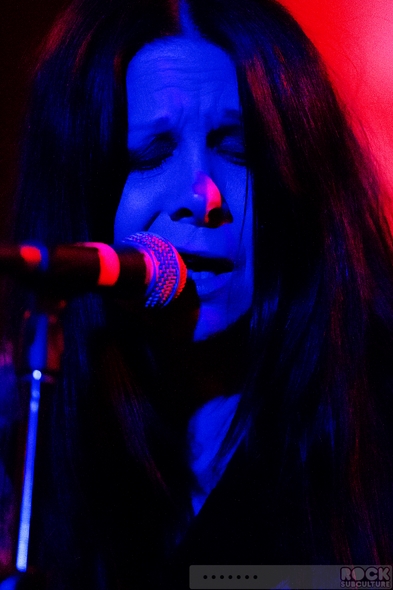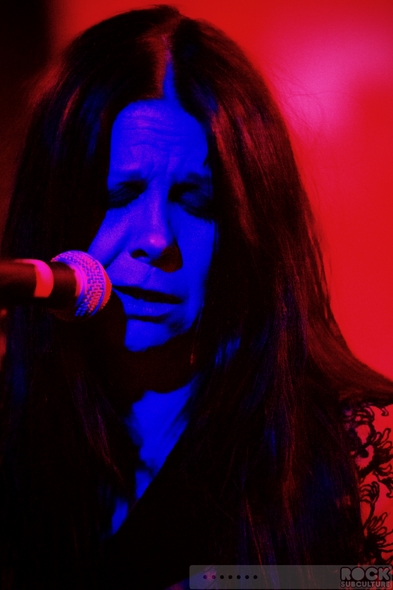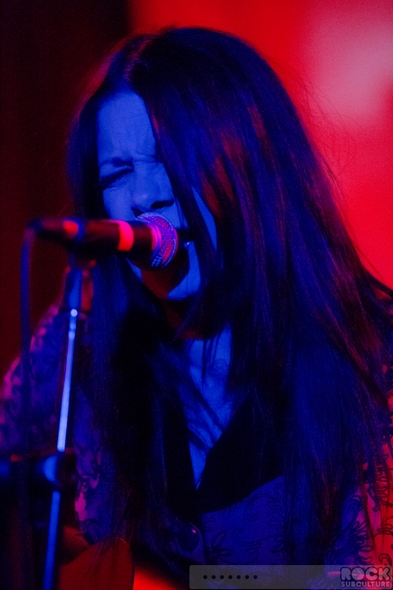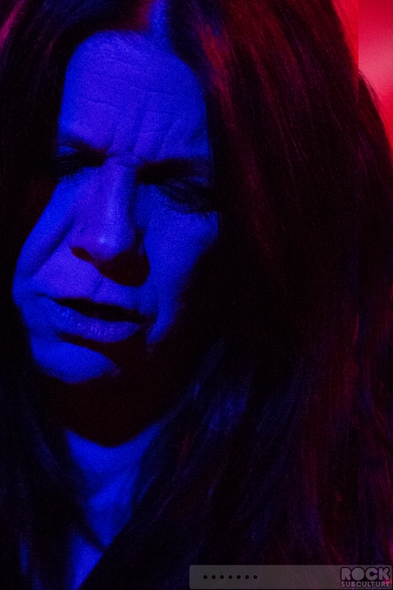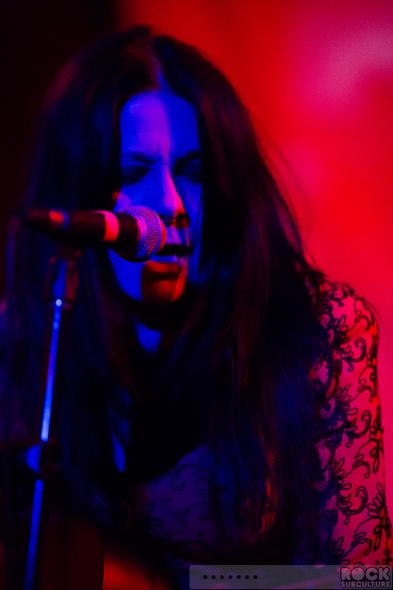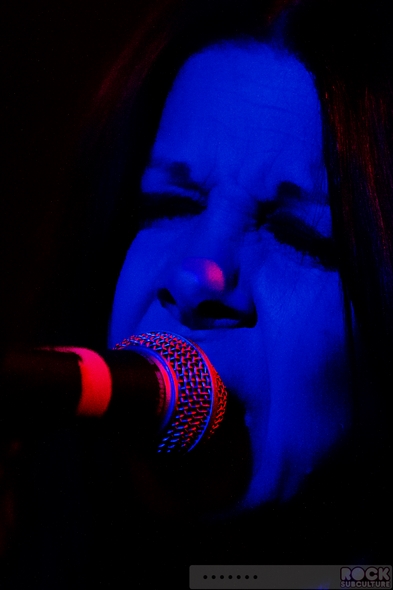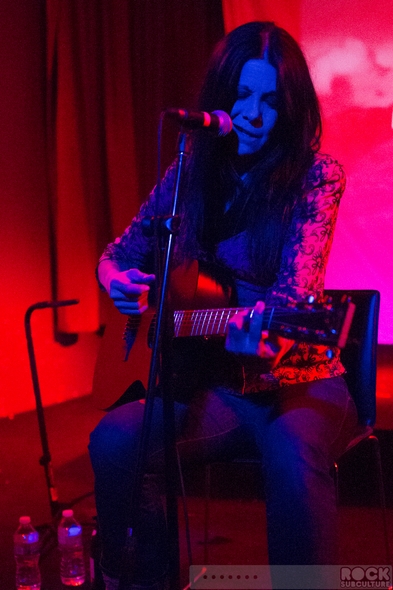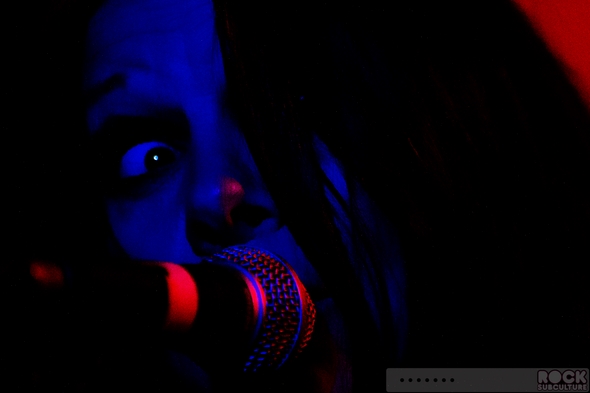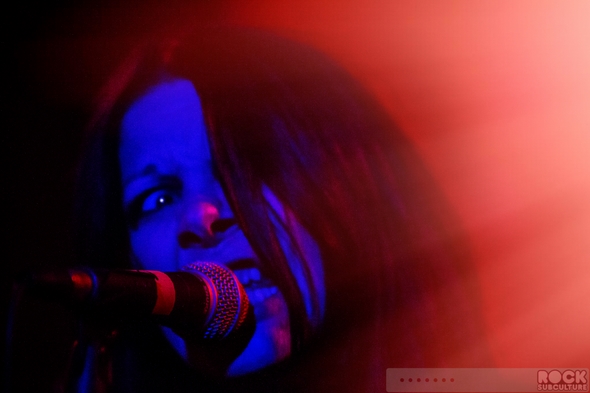 Jason DeBord