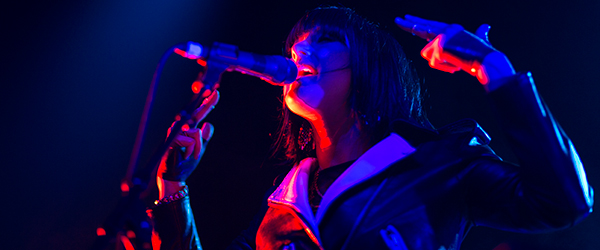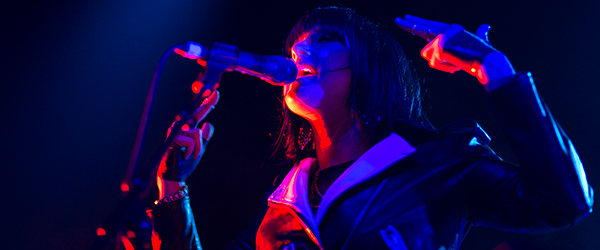 "We love you so much…  you're so beautiful!  We've been playing San Francisco for years and years and years, and every time we come back here, you're so fucking great and it's so fucking fun…"  Sarah Barthel, standing beside long time collaborator Josh Carter, both of whom seemed moved at times by the enthusiastic crowd that sold out the Fox Theater in Oakland for Phantogram's debut show touring their latest album, Voices, which hit the streets earlier this week.  Joined on stage by Chris Carhart on drums and Nick Shelestak on keyboards, the band put on an amazing show with a fantastic ability to recreate their unique studio sound live on stage, which was itself bathed in a pulsating light show that suited their songs well.  This is definitely one of the must see tours of the year – really brilliant performance of their incredibly unique music and fantastic new album.

Who: Phantogram
Supporting: White Sea
Venue: Fox Theater
Where: Oakland, California
Promoter: Another Planet Entertainment
When: February 20, 2014
Seating: General Admission (also photo pass first three songs)
Last night's show, put on by Another Planet Entertainment, was at the Fox Theater in Oakland, which is one of the best concert venues for shows of this size.  There was a line of fans turning the corner leading up to door time.  I asked the fans in the front what time they lined up, and they said around 3:00.

Things didn't really fill in until close to show time at 8:00, but it was pretty packed at that point.  Seemed like a great crowd that was really into the show.
Phantogram was cool enough to sign autographs after the show, which I'm sure was a hit for those who participated.
All in all a fantastic evening, and given that it was the first date of the tour, still lots of time for fans to catch up with them in their own city.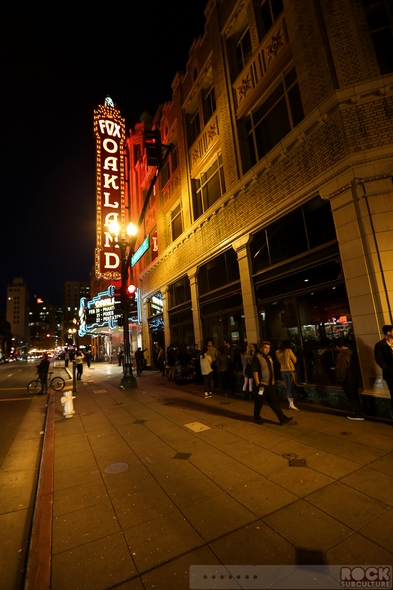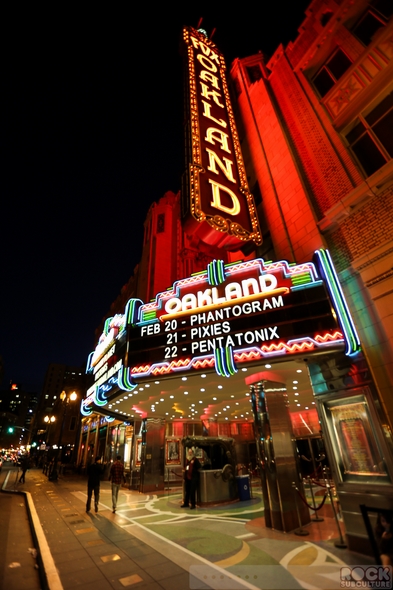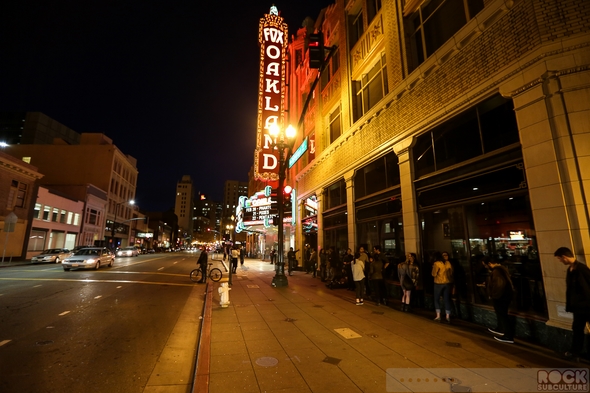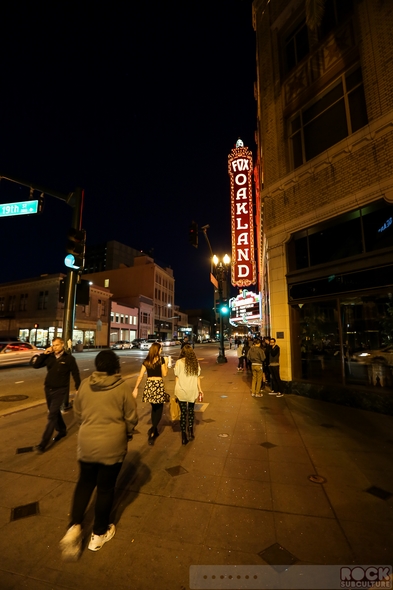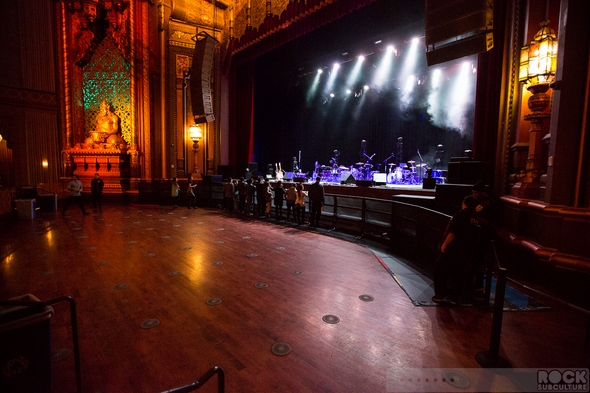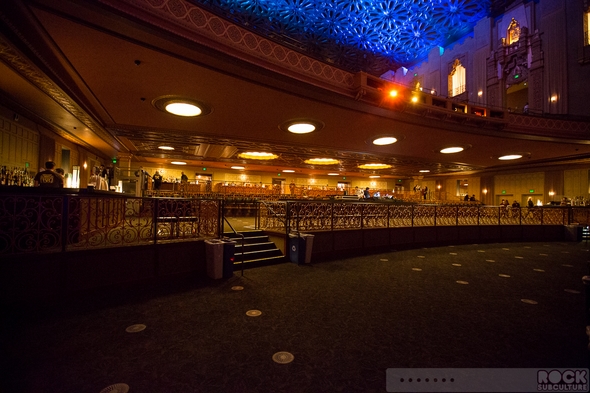 White Sea
Members:
Morgan Kibby (vocals, keyboards)
Daniel DeBlanke (guitar)
Lia Simone (drums)
White Sea is Morgan Kibby's solo project.  She is well known for her part in M83, and she takes a familiar spot on stage with White Sea, providing vocals and keyboards stage right.
Her debut album is due in the Spring, and you can check out the latest single, "They Don't Know", over on YouTube (which you can also download for free from SoundCloud).
I thought they provided a great compliment to the Phantogram show, as the style of music is different yet very compatible.
As expected, Morgan's voice is fantastic, and the accompanying music on the soaring side to create a perfect foundation for her vocal delivery and emotion.  Guitarist Daniel DeBlanke and drummer Lia Simone added great textures to the songs.
I'm really looking forward to the full album, as everything sounded amazing live last night.
Below are some photos of White Sea performing on stage: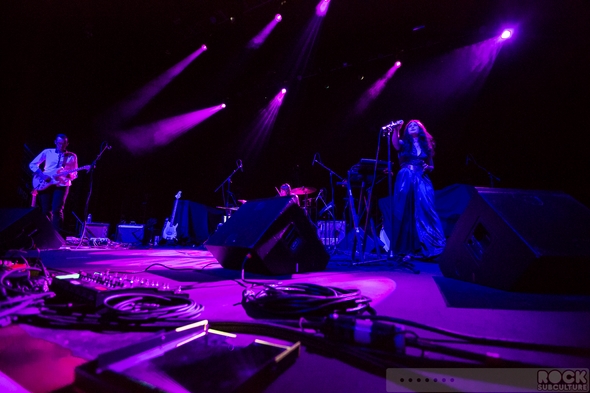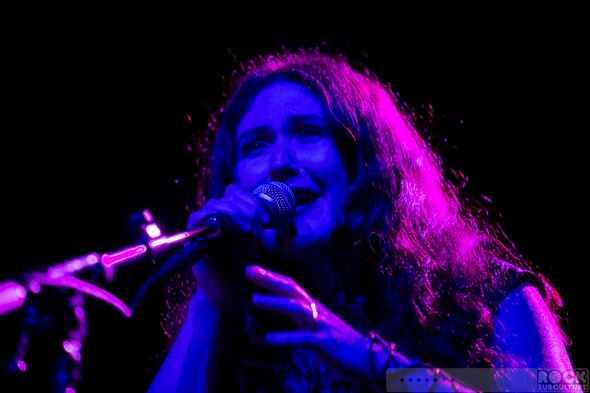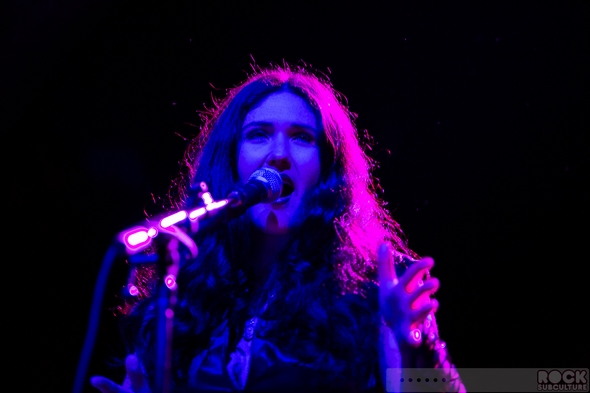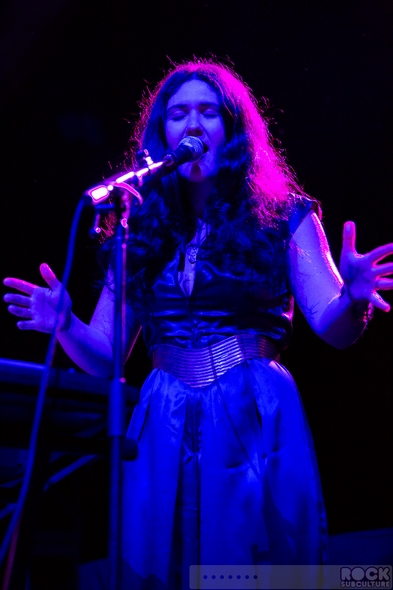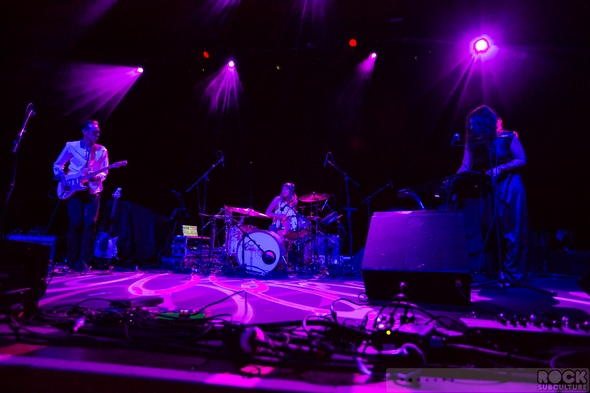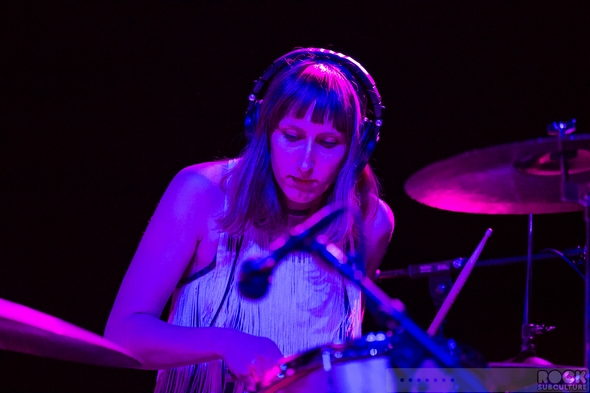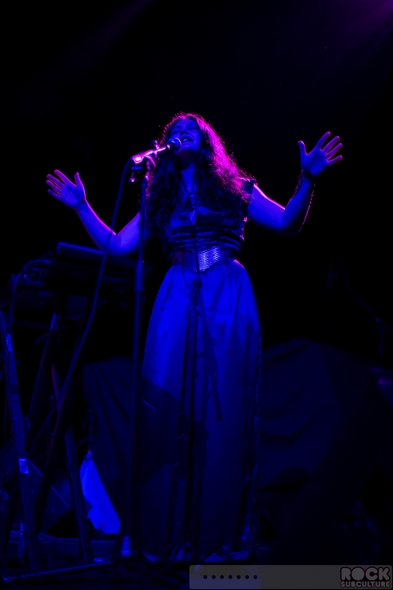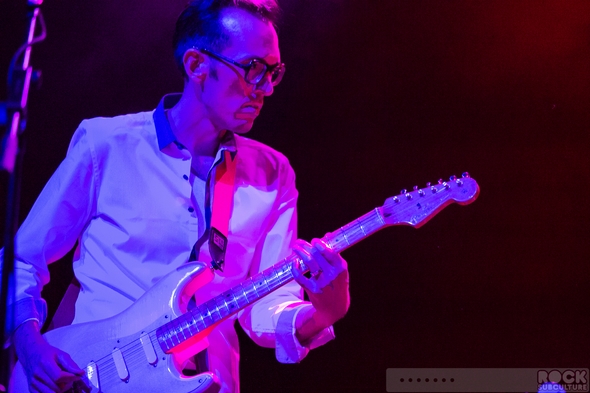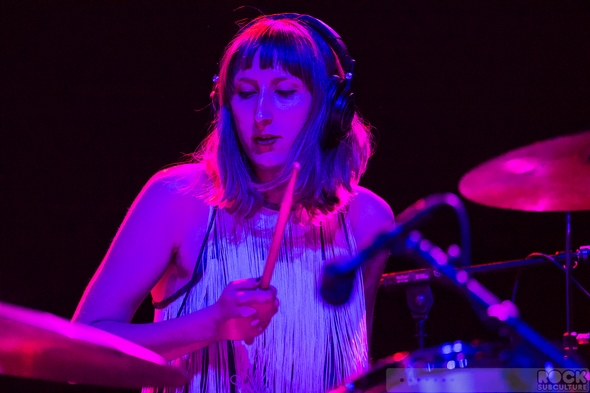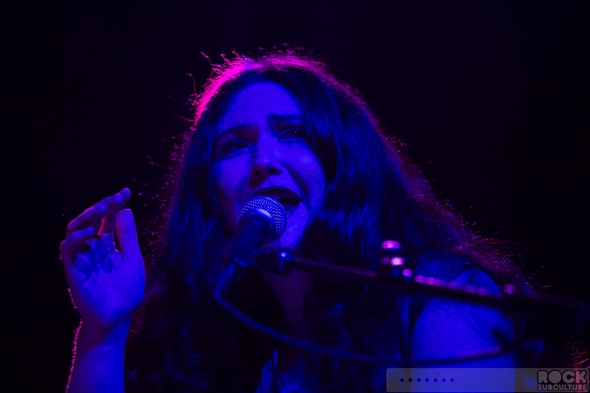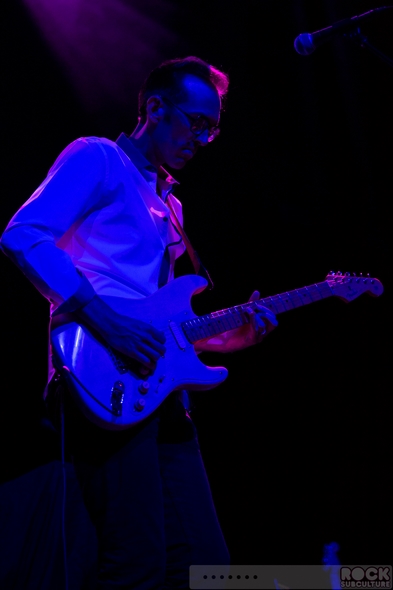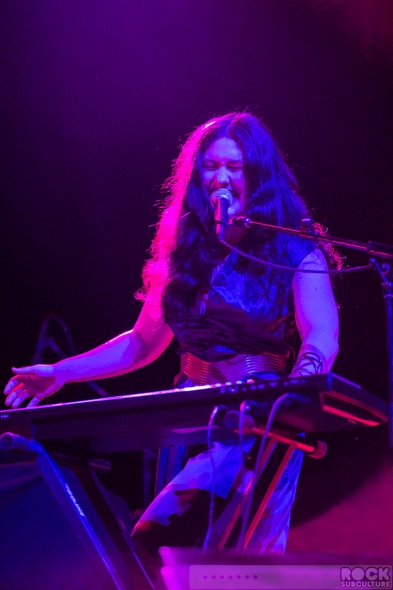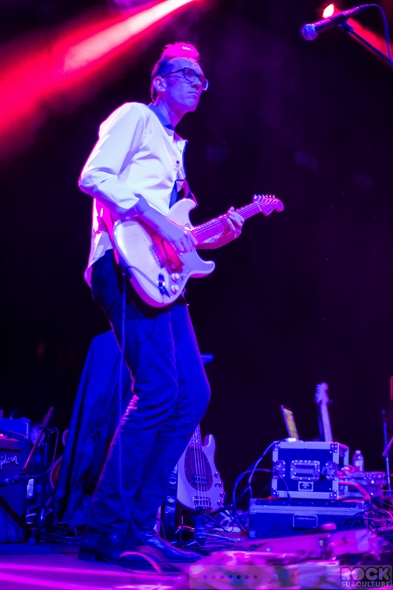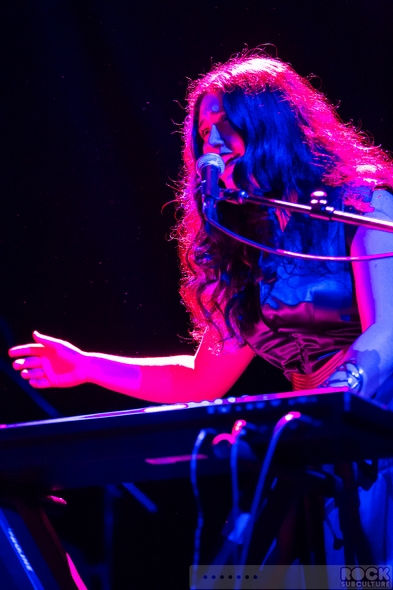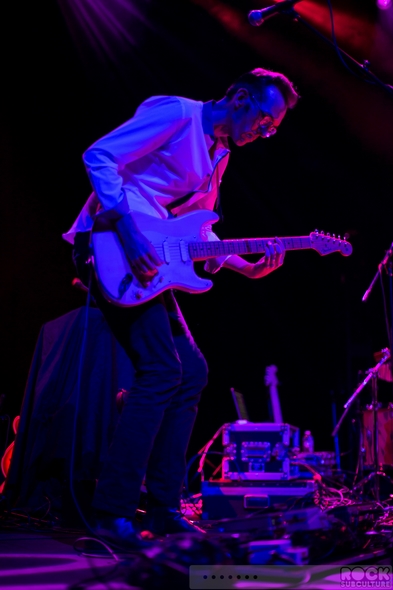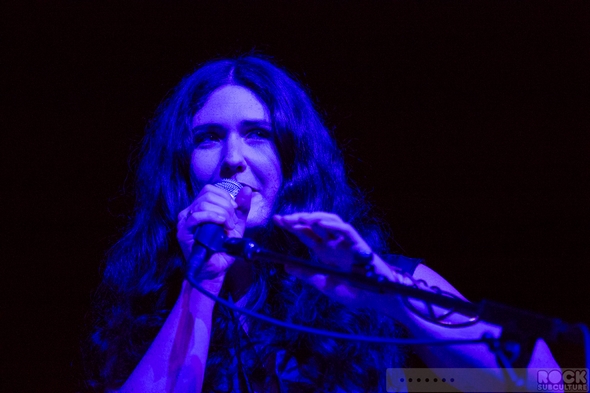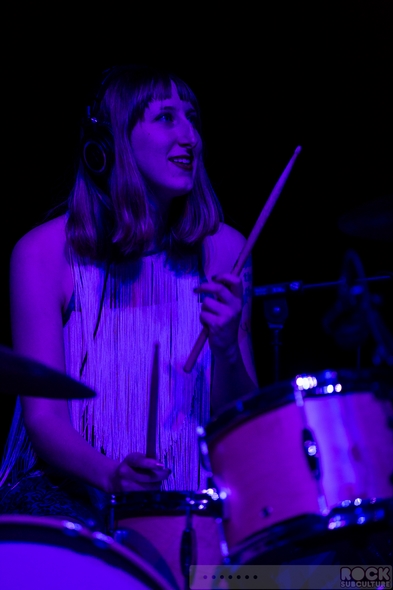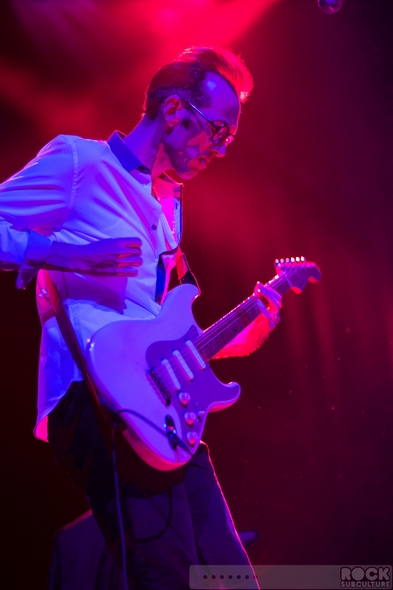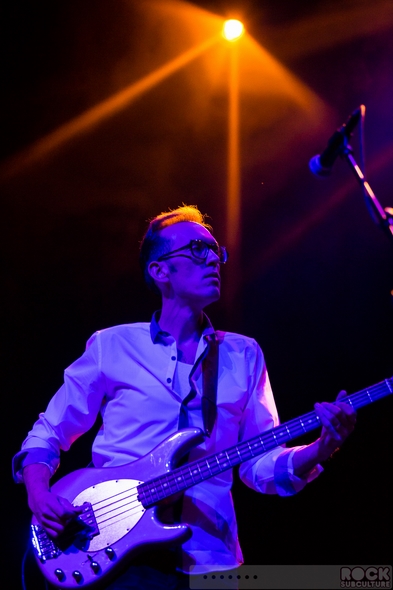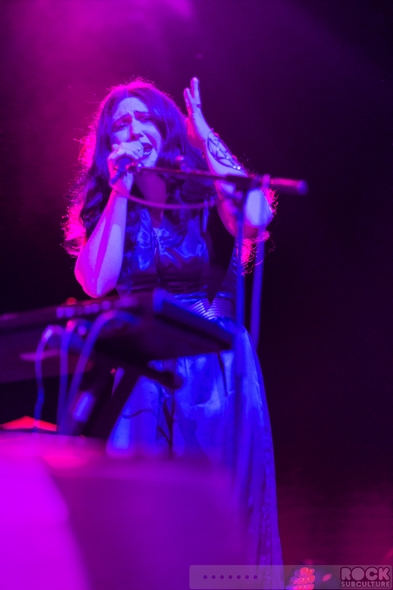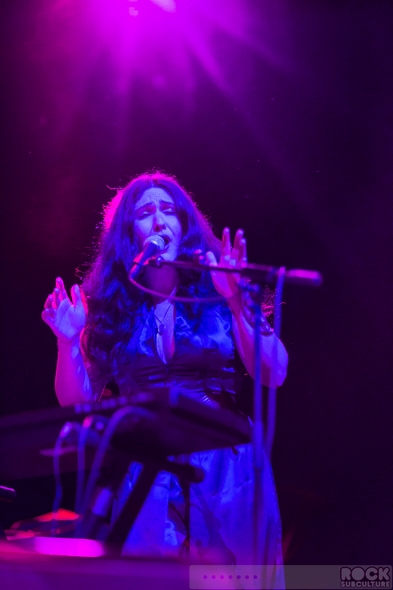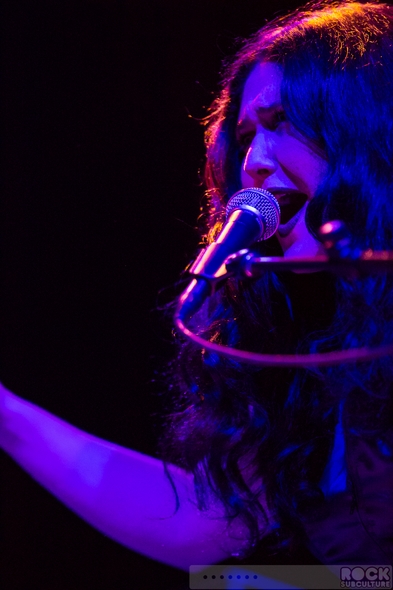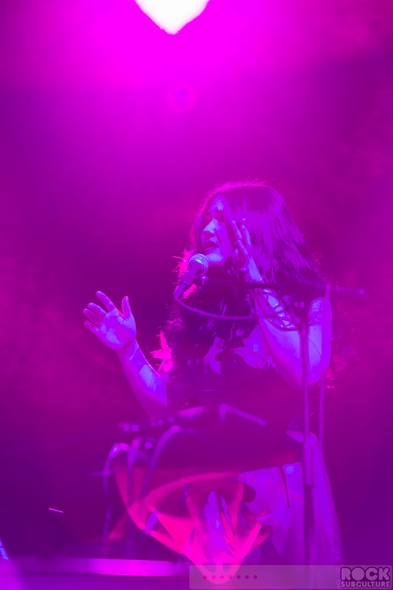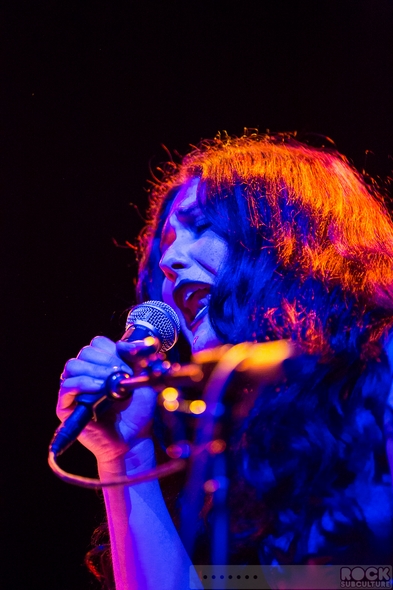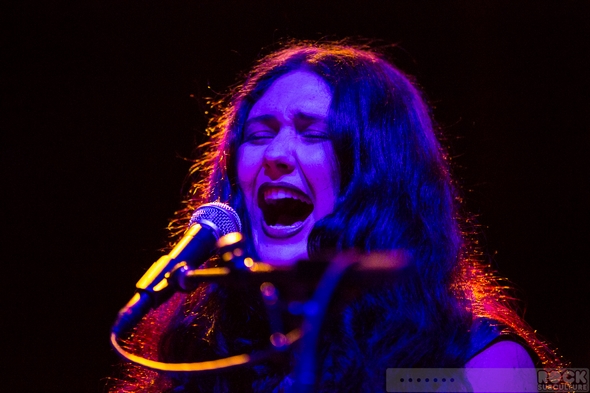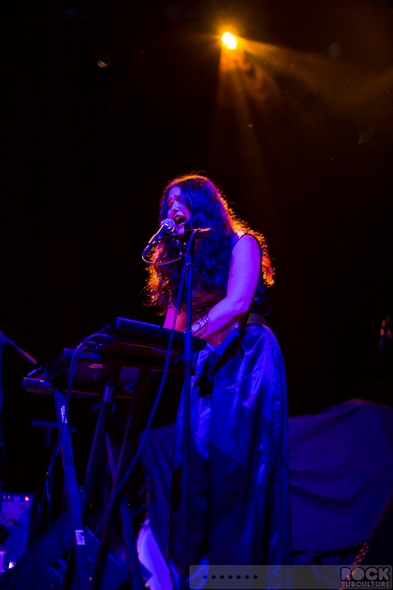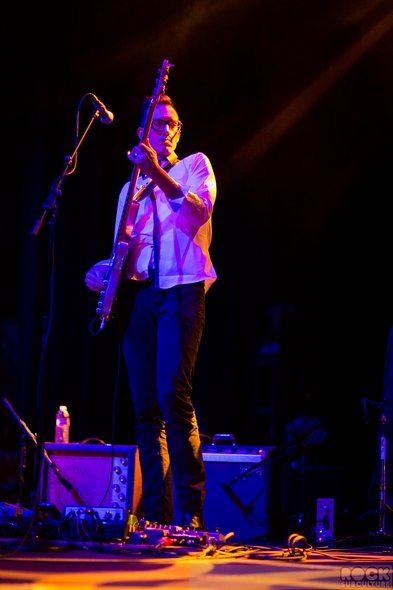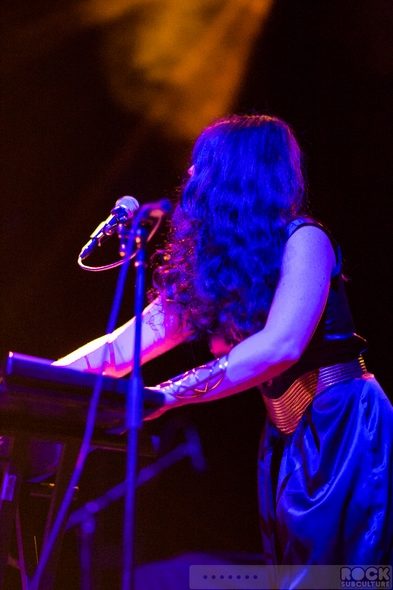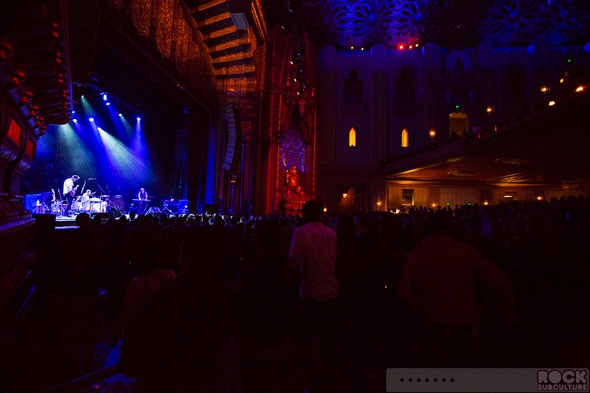 Phantogram
Members
Sarah Barthel (vocals, keyboards)
Josh Carter (vocals, guitar)
Chris Carhart (drums)
Nick Shelestak (keyboards)
After shooting Phantogram, I ended up finding an empty seat up in the front row of the balcony above, and as I was watching the band – mesmerized, really – a certain lyric came to mind…  "Give me real; don't give me fake".  And that's really how Phantogram struck me at my core, watching them live, they are a very authentic band (even though that's nothing to do with the meaning behind Coldplay's "Politik", sometimes a line from a song sticks with you and takes on it's own meaning).  This is a real band with a very unique style and sound all their own.
They don't sound like any other band to me, and one of the things I love about them is how they so perfectly reproduce that sound on stage.  I read an interview somewhere along the way in which they said that they only record songs that they know that they can do live, which seems to be counter to contemporary trends overall.  I really respect that, and it works for them beautifully.
Josh Carter is really quite a musician to watch on stage, which surprised me a bit.  Not content to stand in front of his pic with his guitar all night, he sort of takes some opportunities to prowl around the stage a bit, connecting with his other band members.
Sarah Barthel is a joy to watch.  As a singer, she truly rocks that keyboard better than anyone, right up there with Emily Haines, with a certain controlled sex appeal and style that sets her apart from other artists.  I was watching their excellent live performance of "Black Out Days" in studio with 89.3 The Current on YouTube this week, and I think if you watch it you'll get what I mean…  the small but powerful gestures…  the rhythmic shoulder pumps, the quick look to the left, on beat, about two minutes in…  she's so tuned into their songs, it's pretty captivating.
"Black Out Days", which debuted last year, was one of my favorite songs of 2013, and it now appears on their second studio album, Voices, which came out this week.  What an album.  I absolutely love it, and is my favorite album of 2014 thus far.
There was a cute moment at the end of the show where Sarah's mic wouldn't stay in place while she was playing her keyboards and singing, and Josh came over and tried to fix it; failing that, he held it in place for her until she could take a break from performing to make the necessary adjustments herself.
Below is a photo of the setlist from last night's show at Fox Theater in Oakland…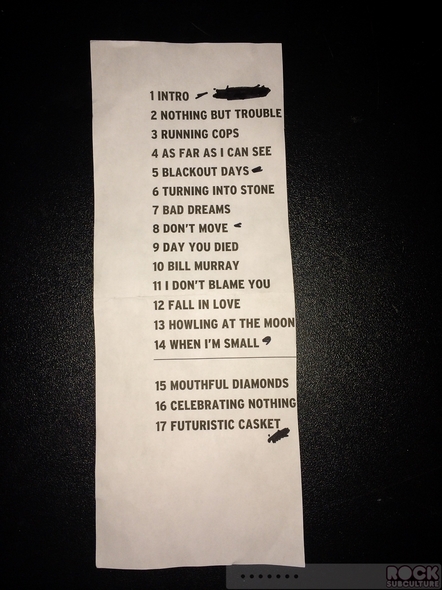 Below is the setlist from last night…
Set List:
Intro
Nothing But Trouble
Running From The Cops
As Far As I Can See
Black Out Days
Turning Into Stone
Bad Dreams
Don't Move
The Day You Died
Bill Murray
I Don't Blame You
Fall In Love
Howling At The Moon
When I'm Small
Encore:
Mouthful Of Diamonds
Celebrating Nothing
Futuristic Casket
Below are some photos of Phantogram performing on stage (click any image for higher resolution versions of each photo):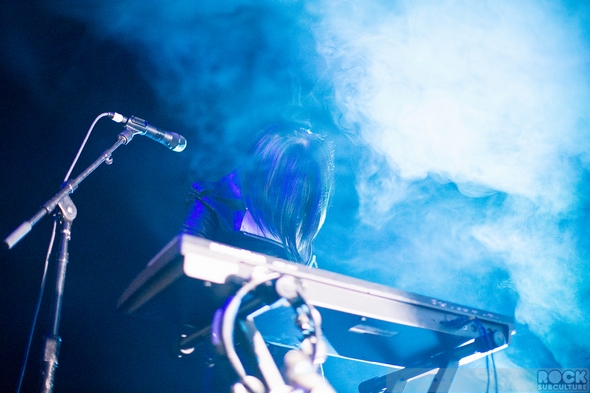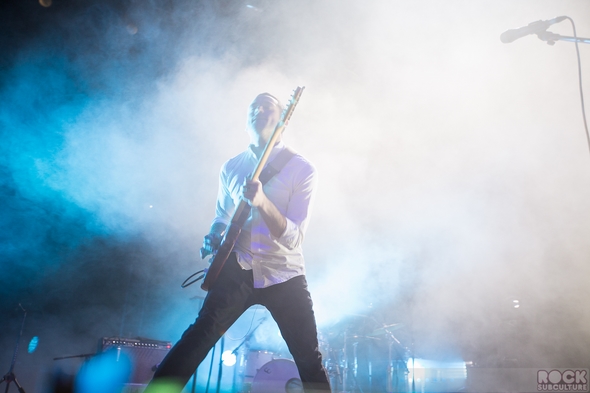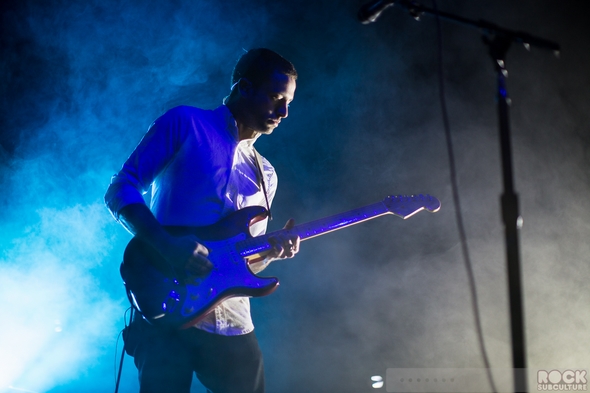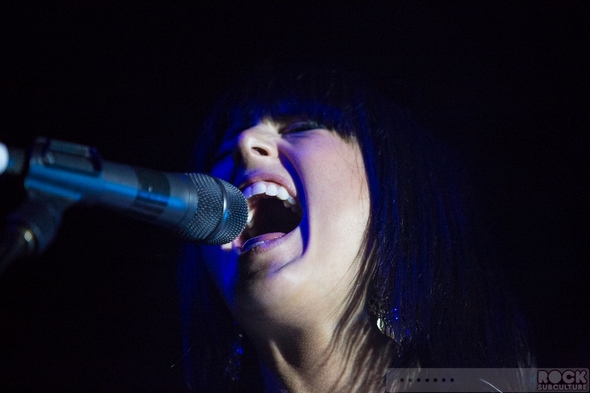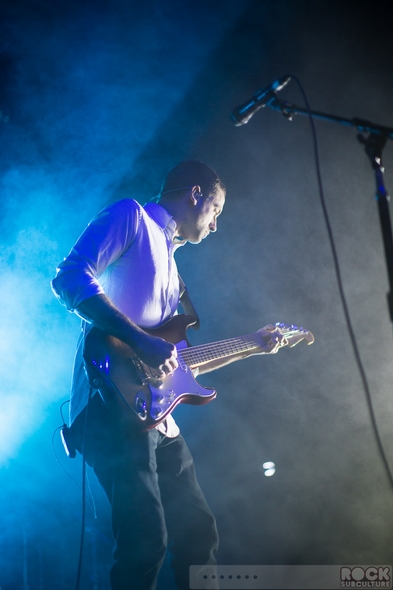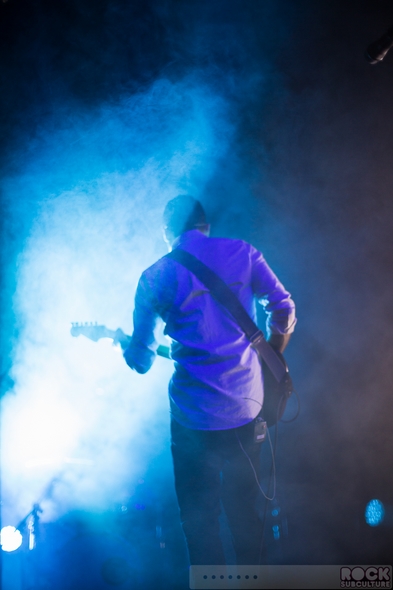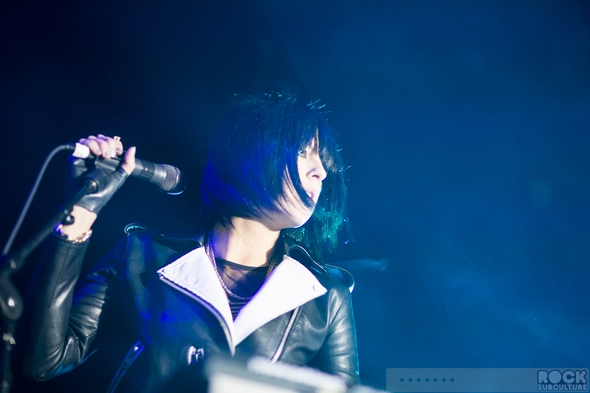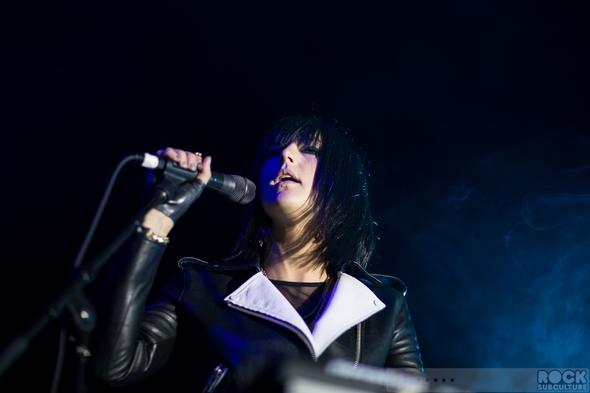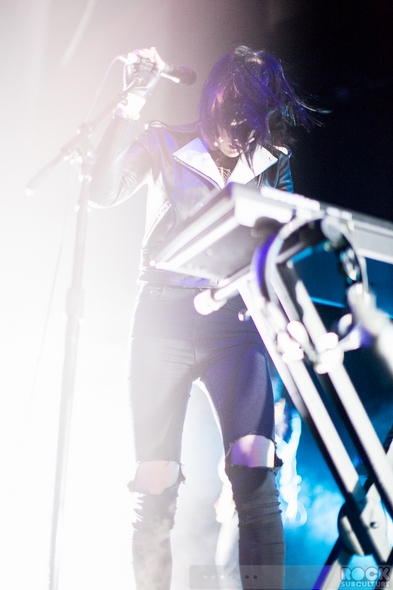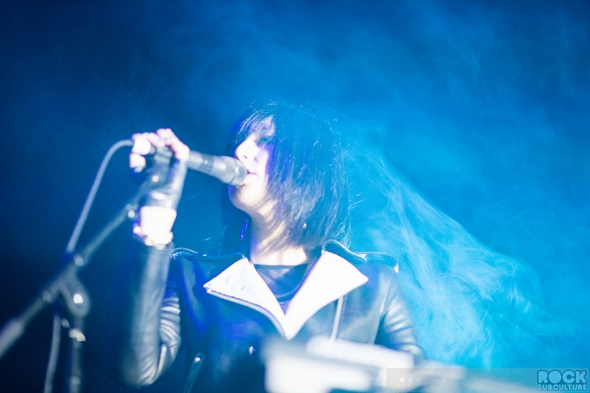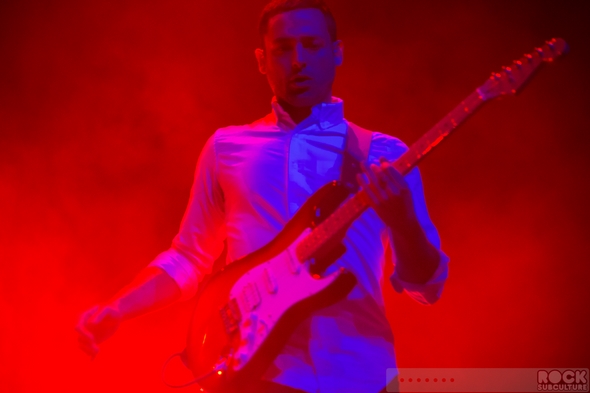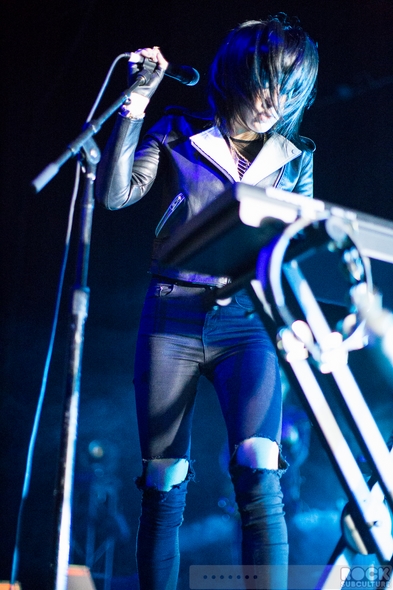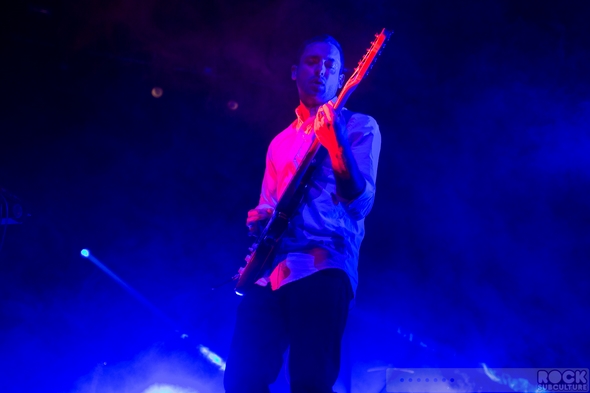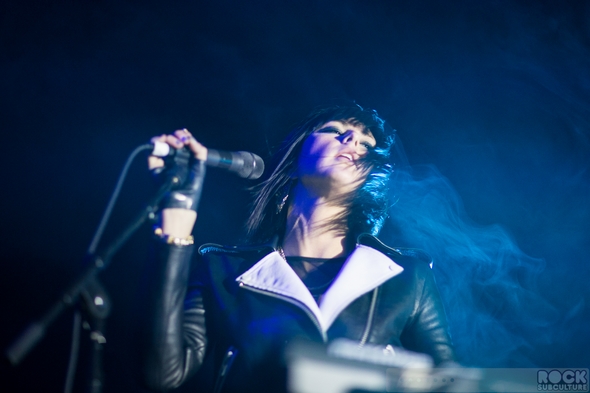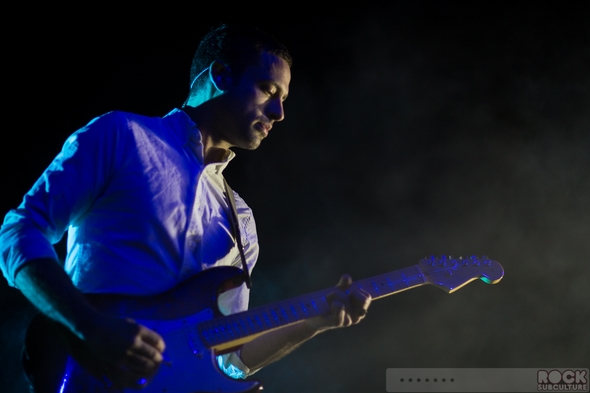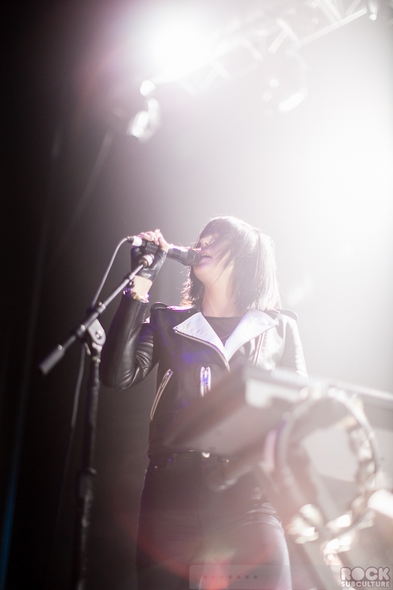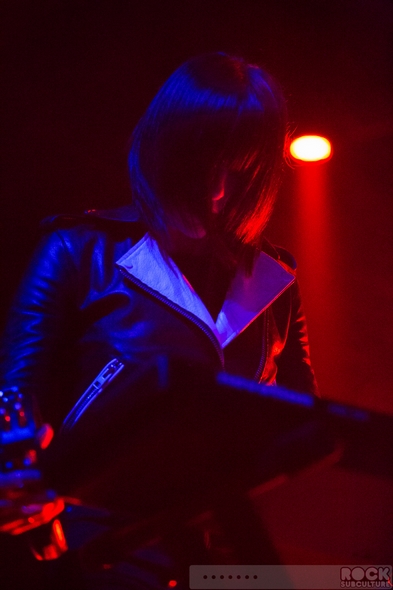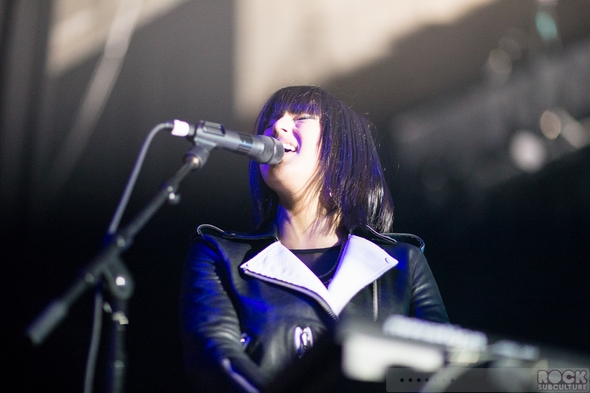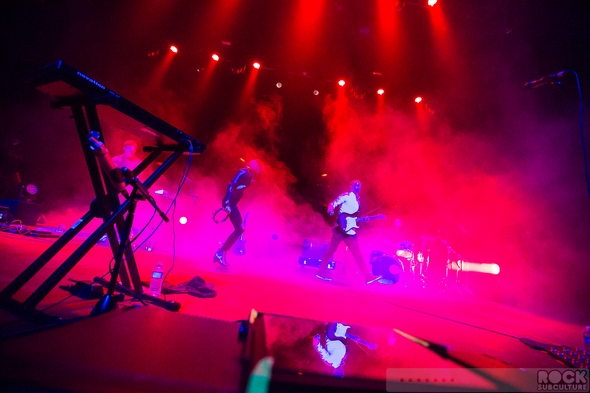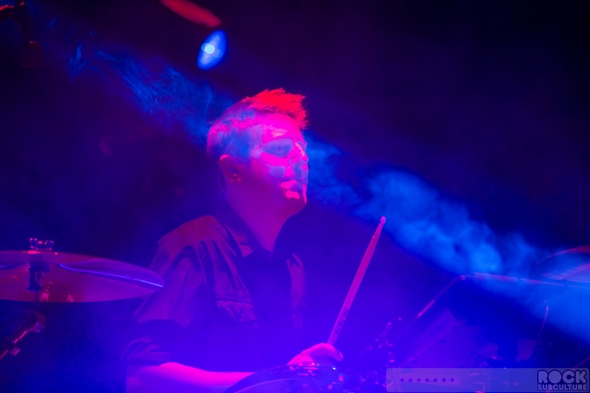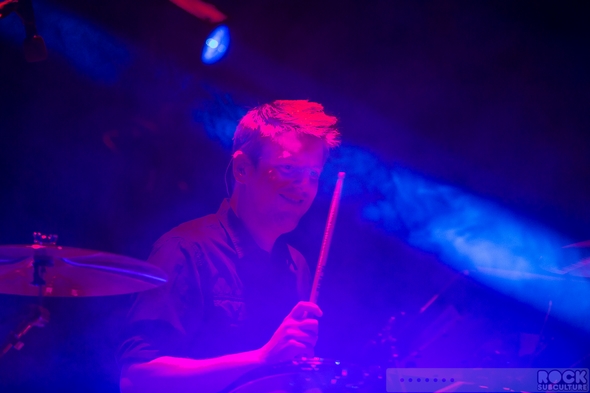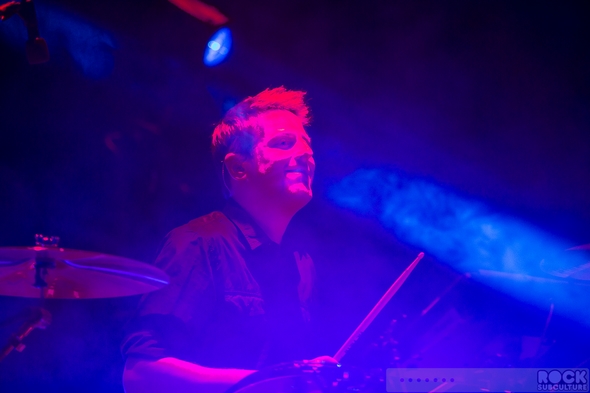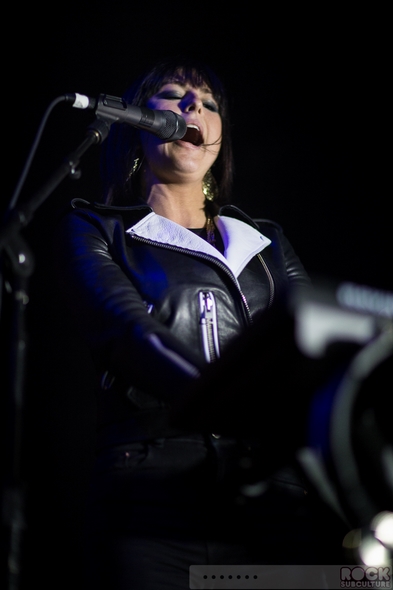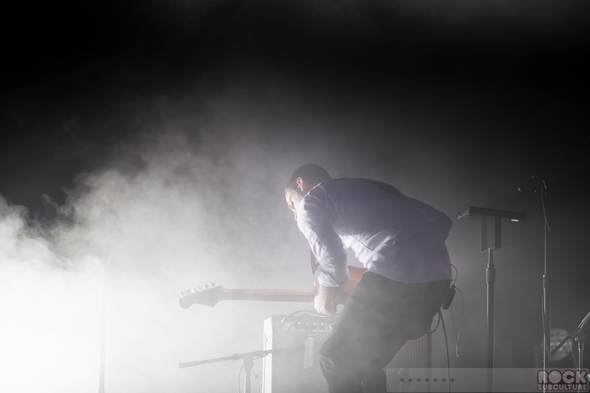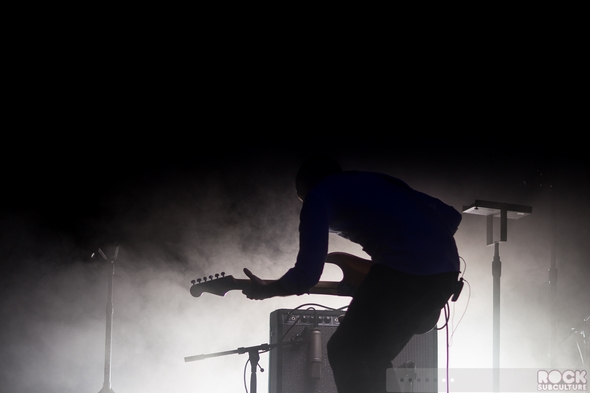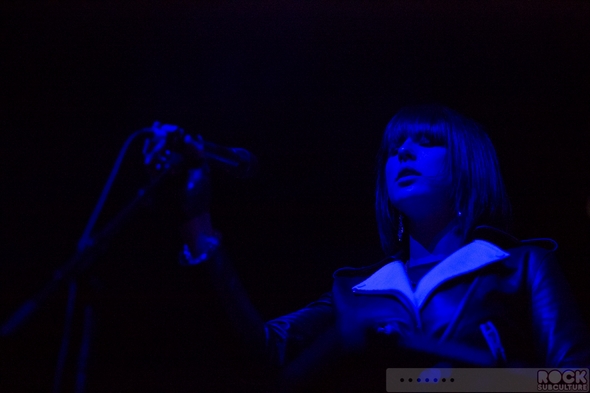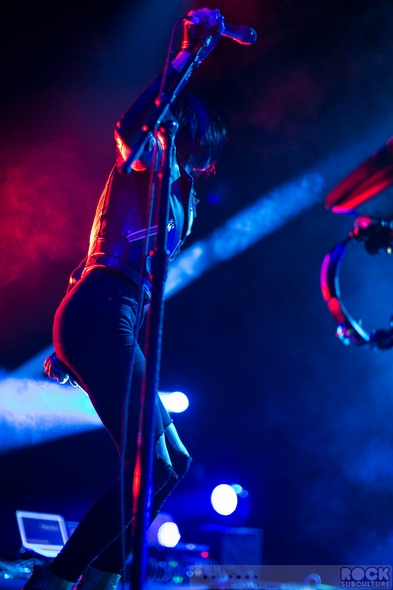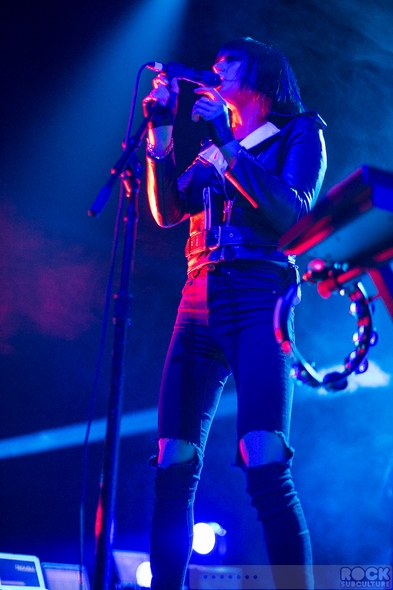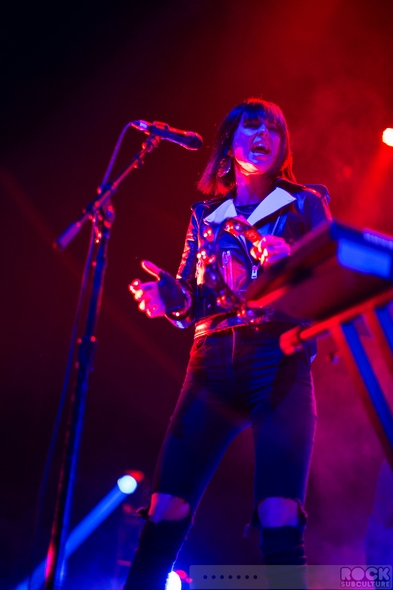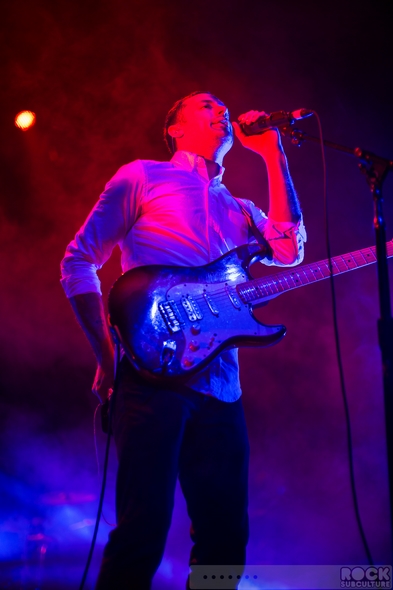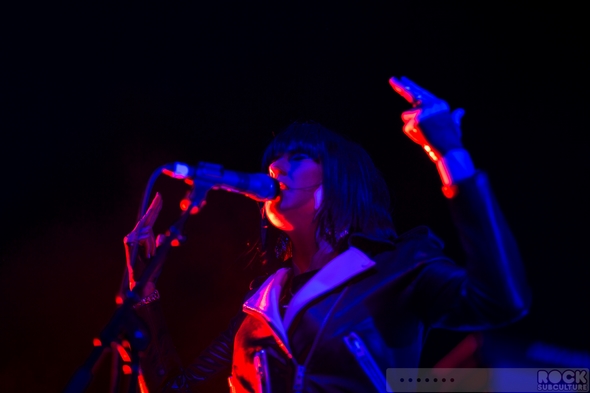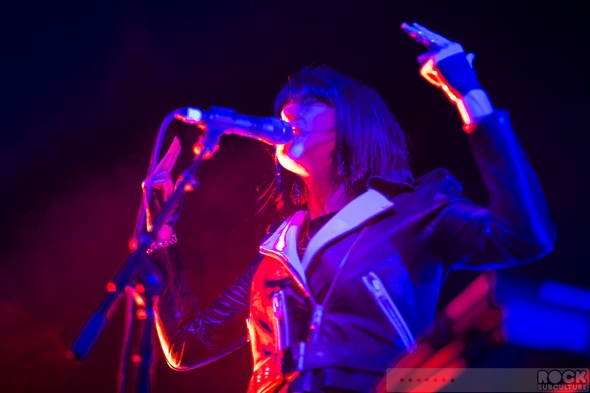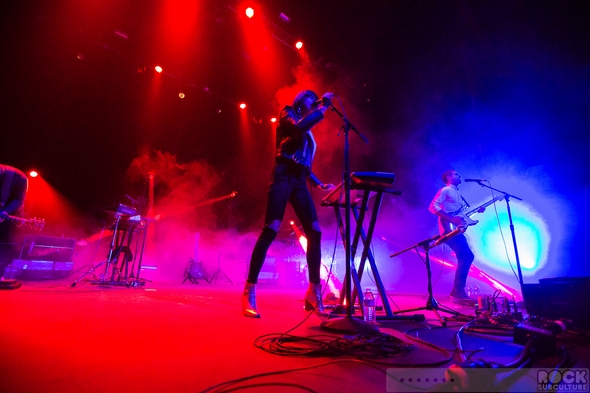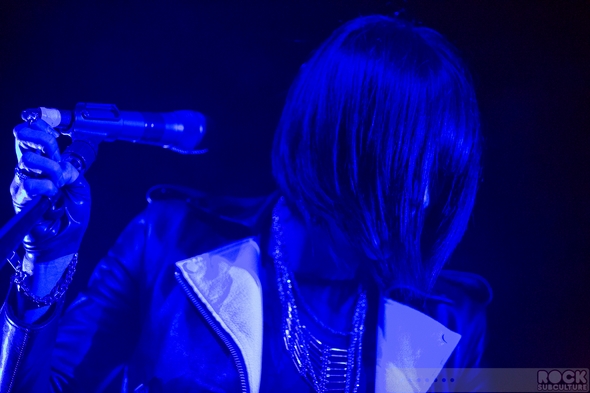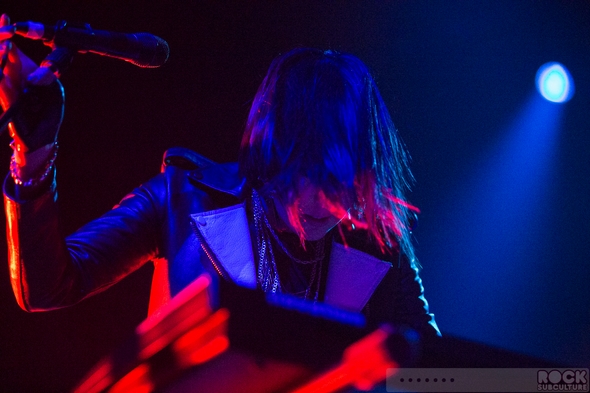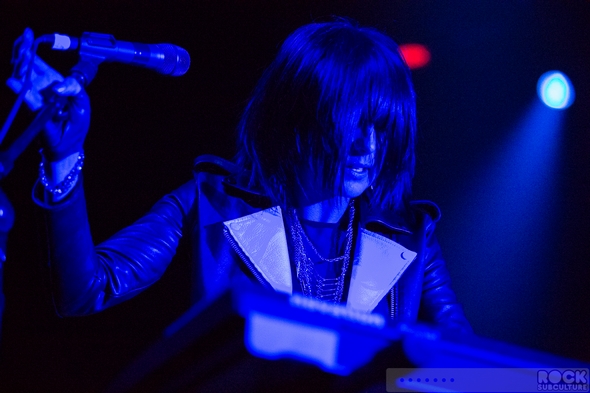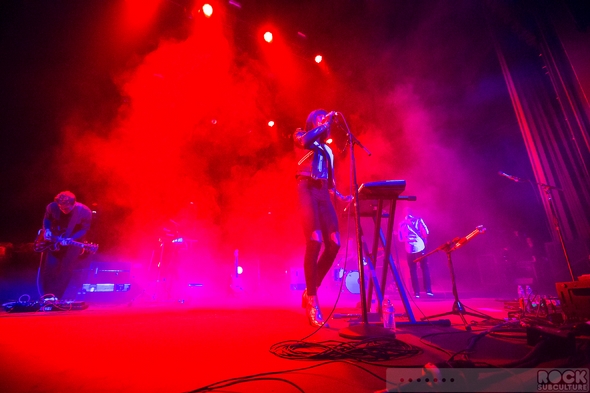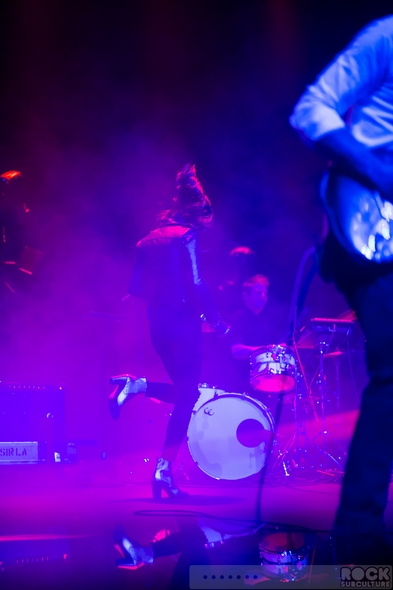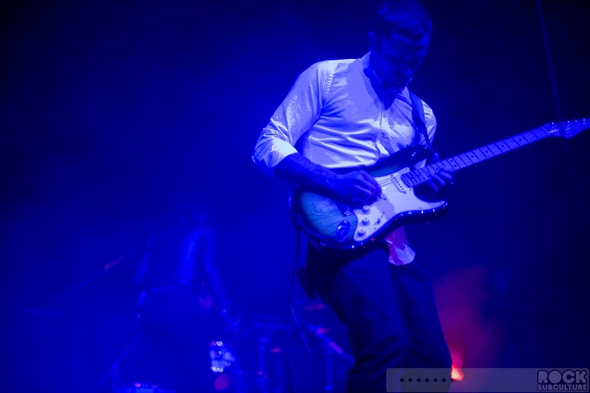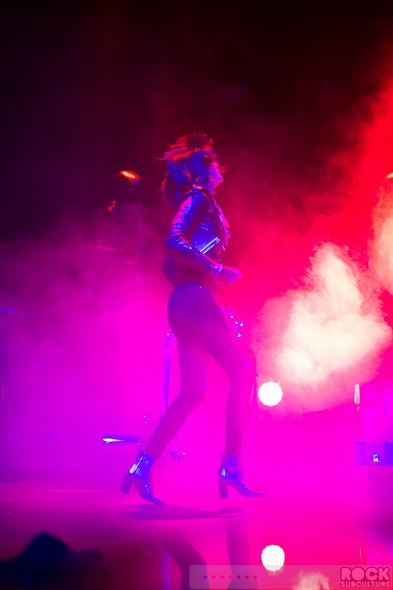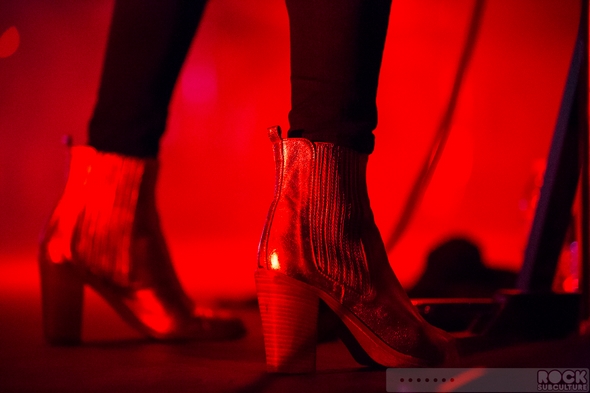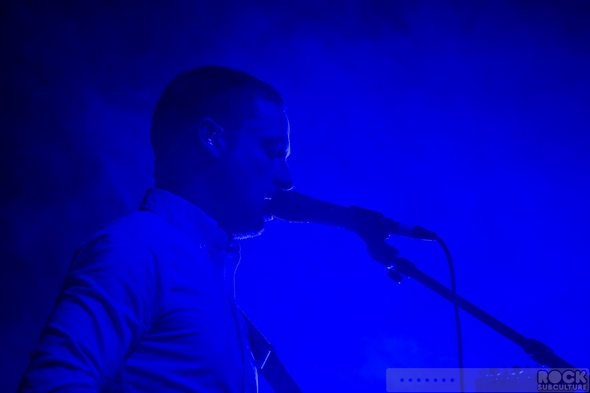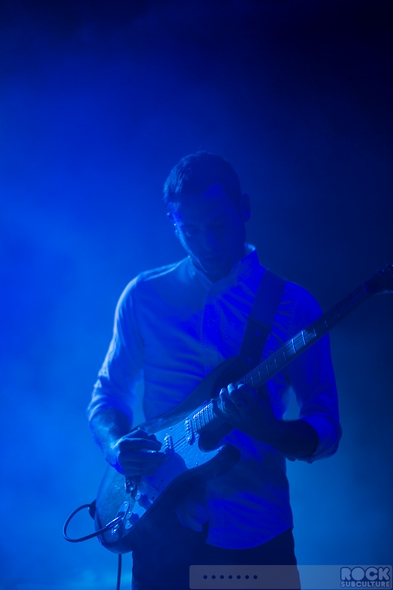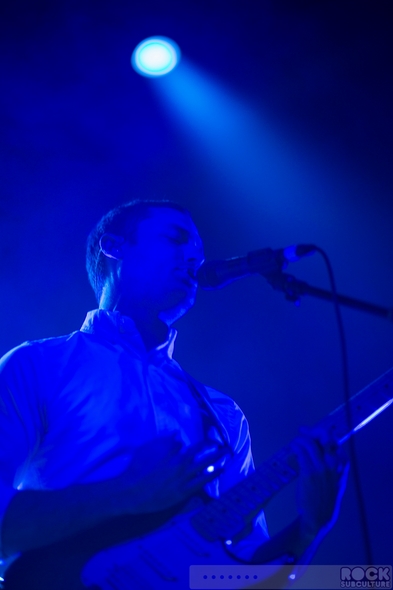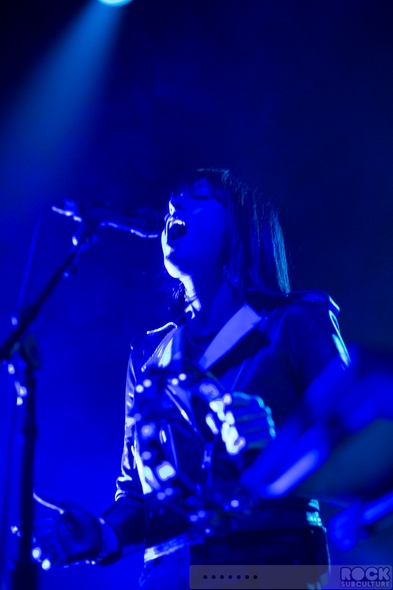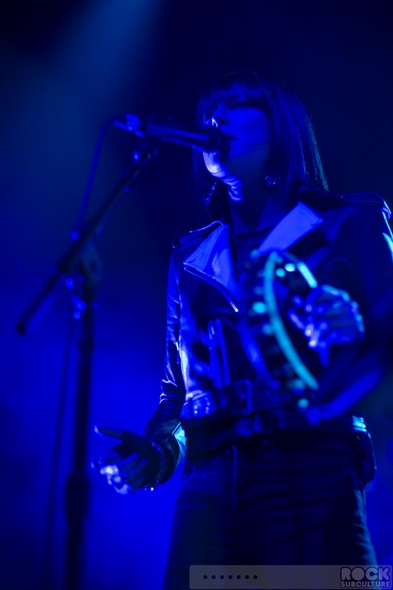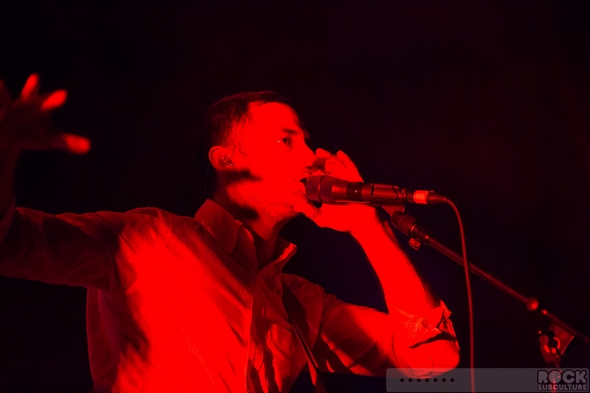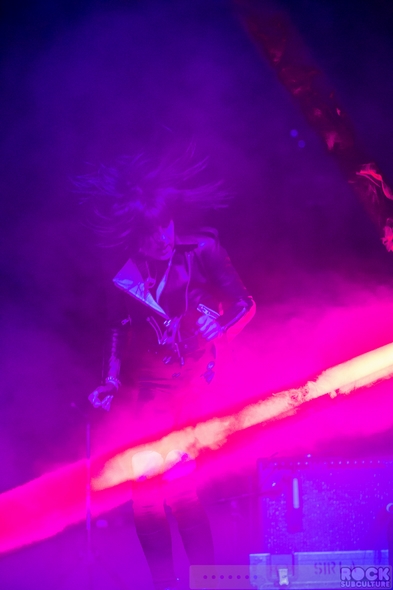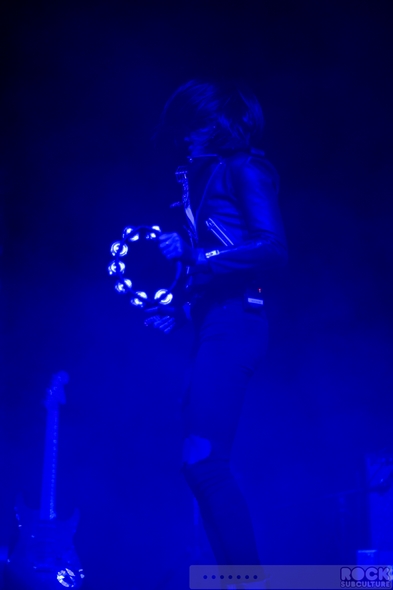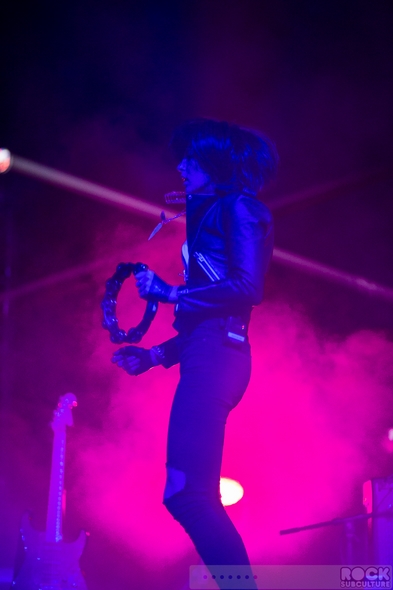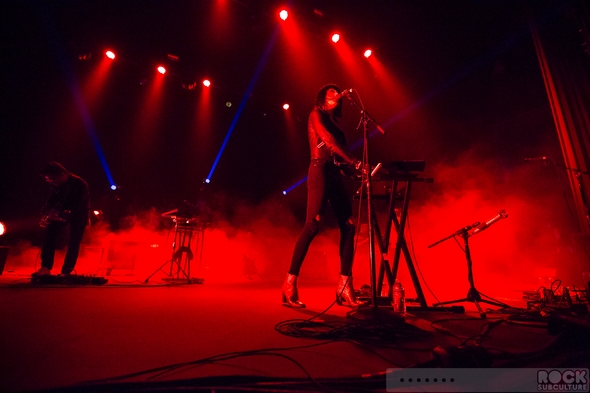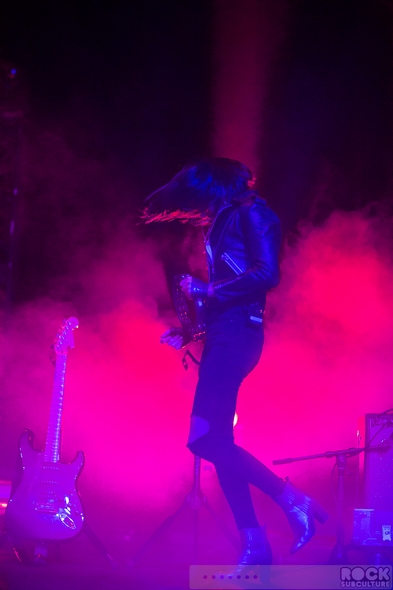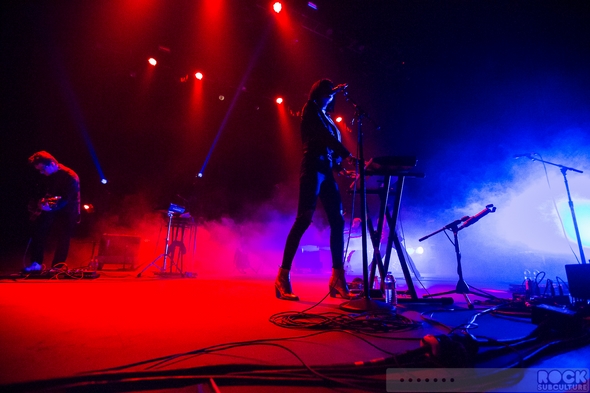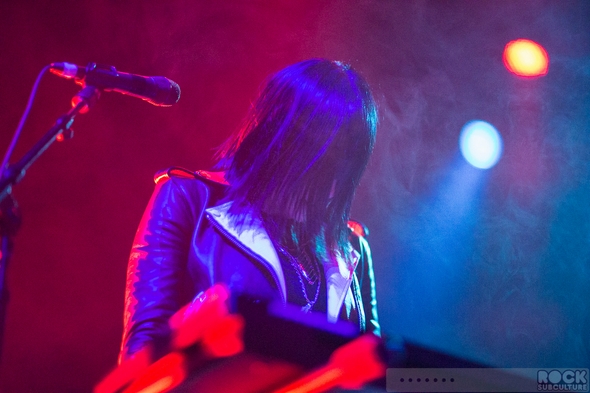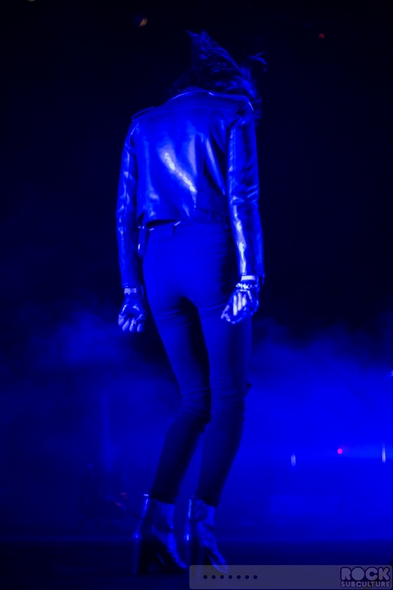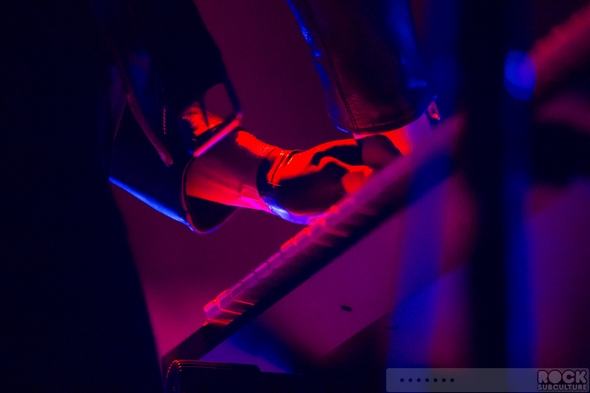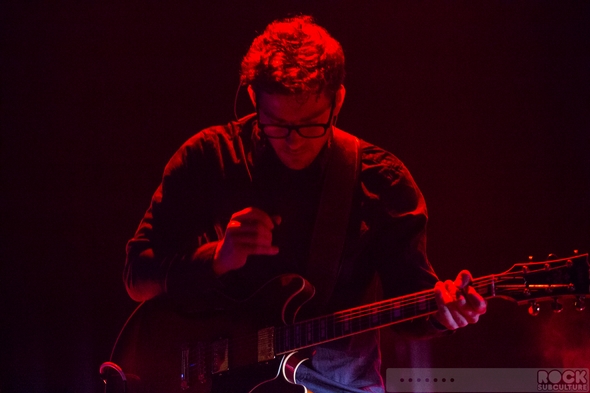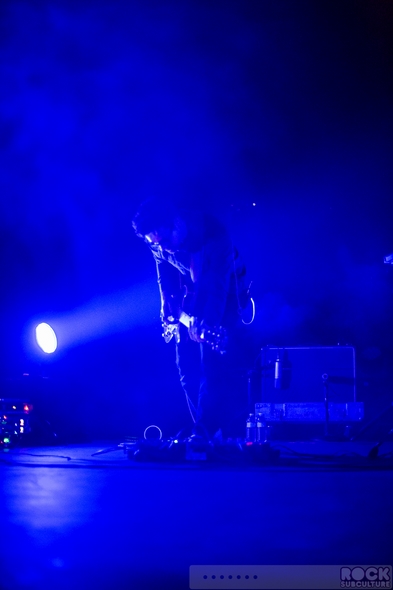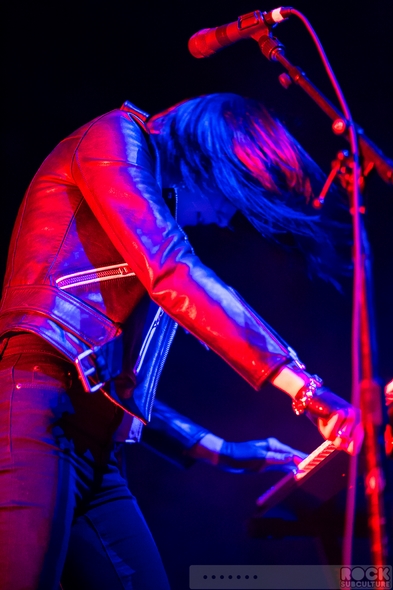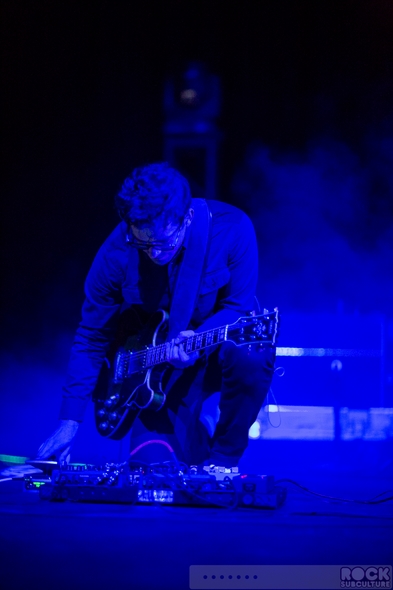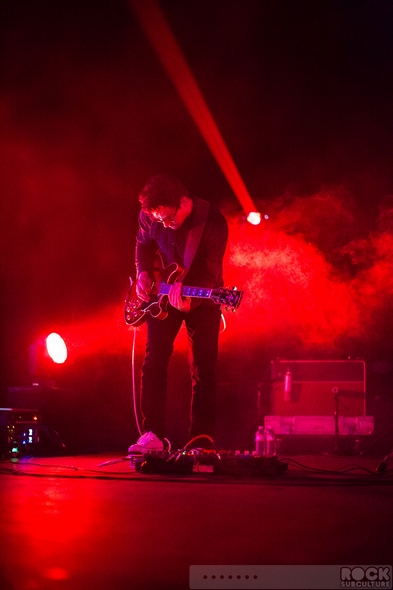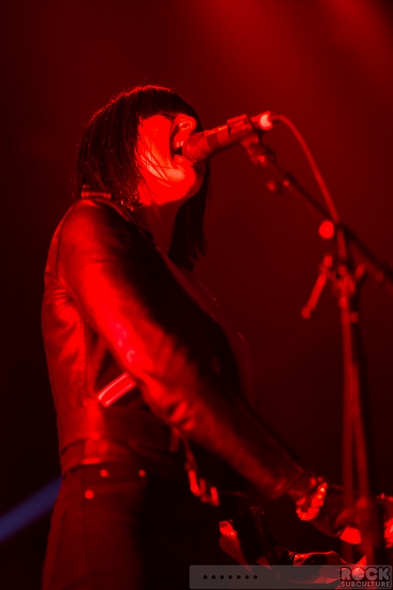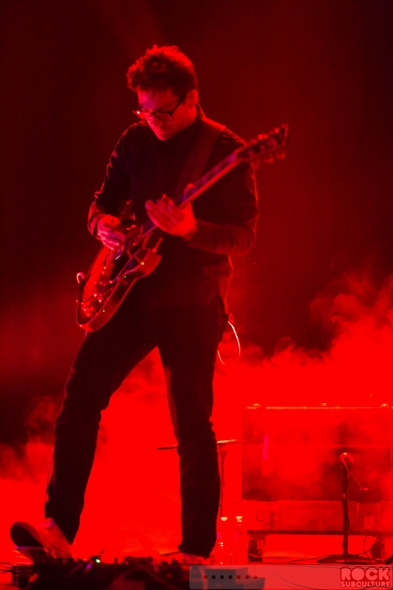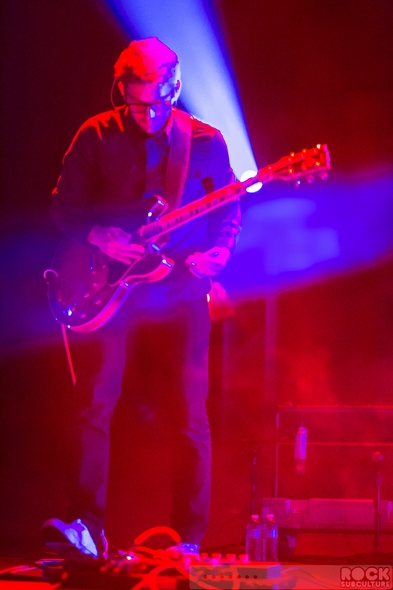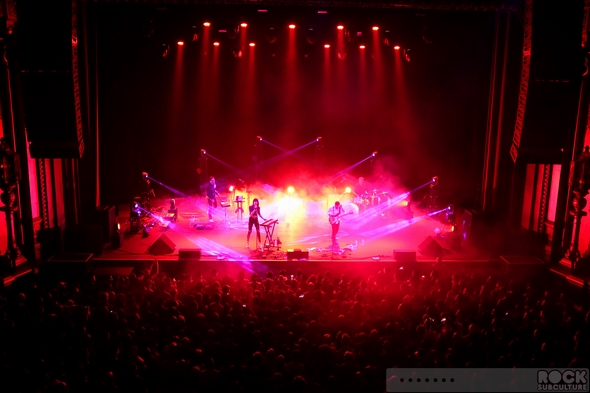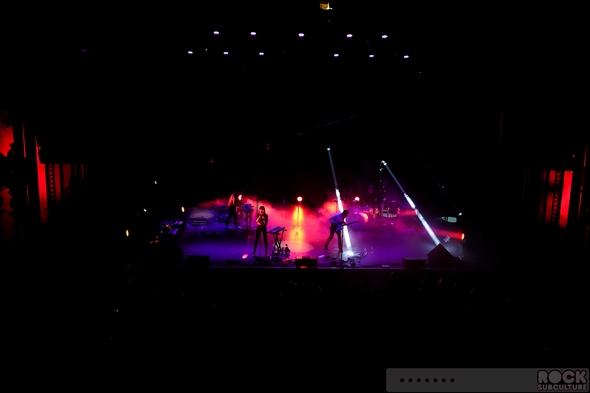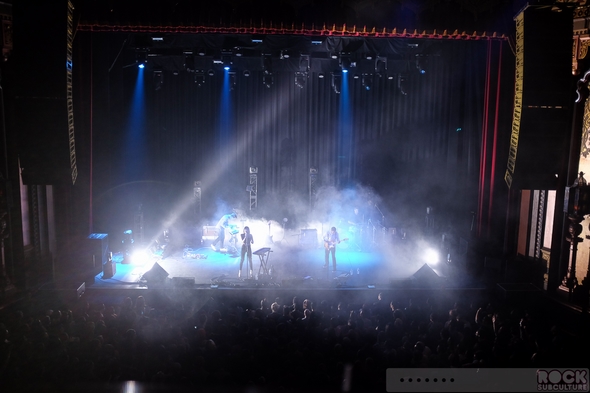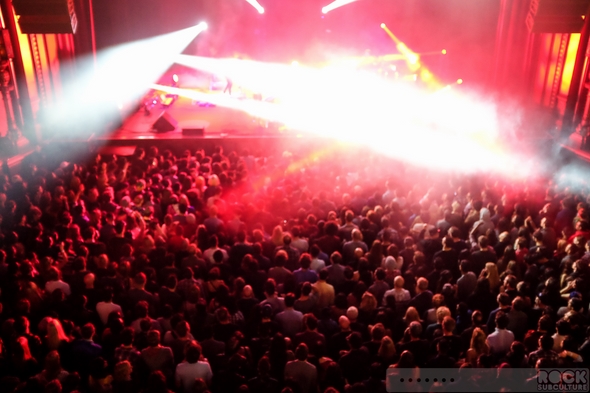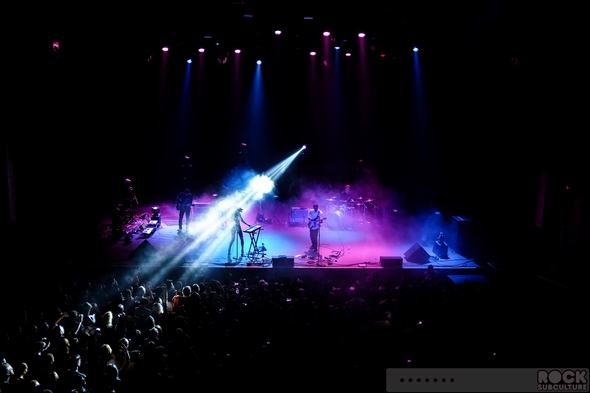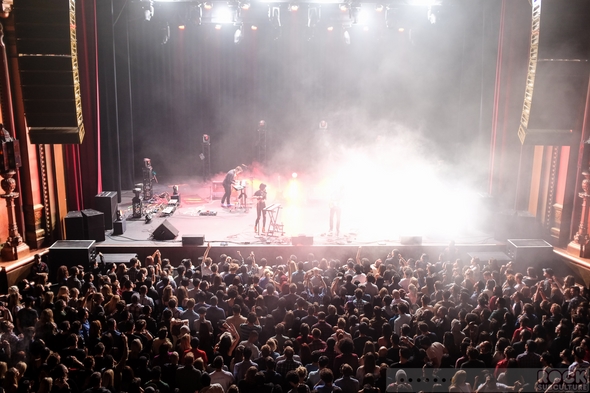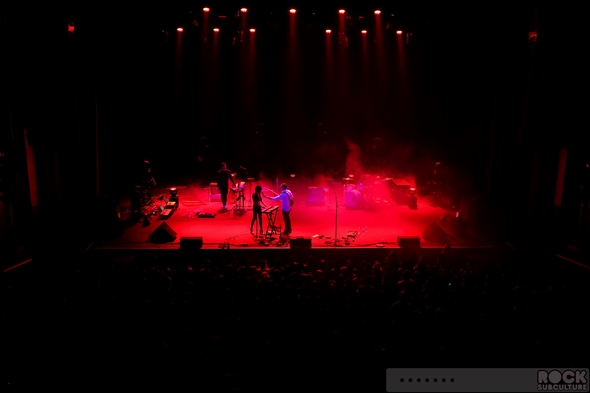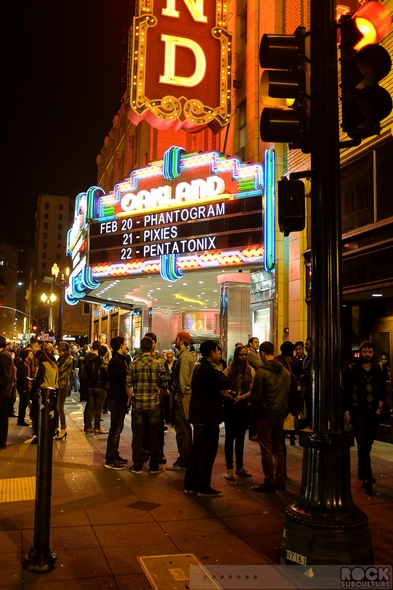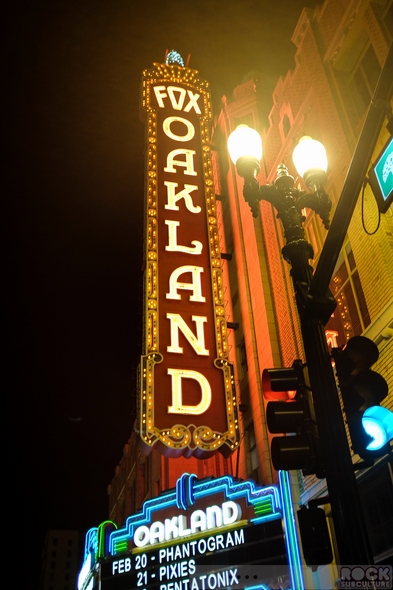 Jason DeBord