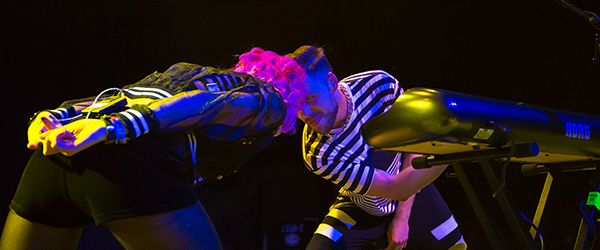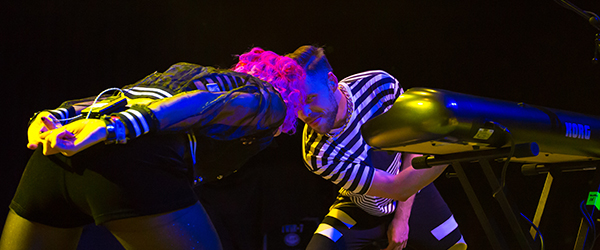 "You're one of the first cities that really, really supported us." Lizzy Plapinger, the "MS" half of MS MR showering the crowd at the sold out Fillmore in San Francisco Monday night with some sincere gratitude.  I'd seen the break out duo twice at The Independent last year, and as their success continues, they have stepped up from supporting at the Independent, to headlining multiple shows there, to now headlining multiple shows at the historic Fillmore, where they opened for Marina and The Diamonds a few years ago.  As has been my experience seeing the band evolve, the "MR" half, Max Hershenow, seemed as thrilled as ever to step away from his keyboard a few times to dance and provide some backing vocals on Lizzy's mic. I personally ranked their incredible debut studio album, Secondhand Rapture, as my favorite release of 2013, so they certainly won me over as a fan.  While they always sounded amazing live, they seem to grow in confidence with each new tour, while maintaining that humility and earnestness which is somewhat rare in the contemporary music scene.  This was their best show year, and while it clocked in at just under an hour, to me that was just perfect, and I applaud that they keep the studio length of the songs rather than trying to stretch them out to fill out more time as some young bands succumb to when touring with just one album under their belt.

Who: MS MR
Supporting: Jagwar Ma
Venue: The Fillmore
Where: San Francisco, California
Promoter: Live Nation
When: April 14, 2014
Seating: General Admission (front row slightly right of center mic; also photo pass first three songs for each artist)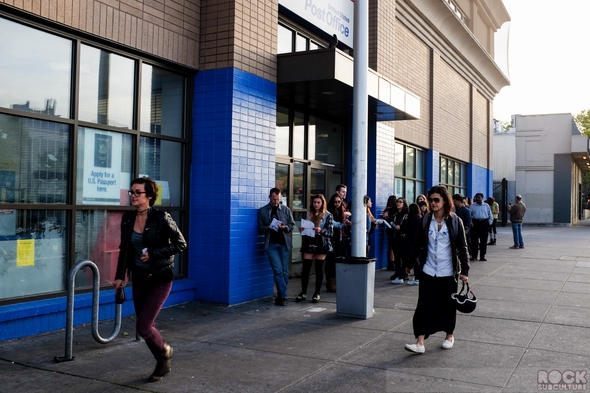 I arrived at The Fillmore about 30 minutes prior to doors, and there was a longer line that usual with about 50 fans waiting to get in around the time came to go into the venue.
The two young fans in front said that they lined up at about 11 am, and after I started talking with them, I realized that they were the same fans who were at the front of the line for Night 2 of GROUPLOVE's "Seesaw Tour" last year.
They were representative of a very, very young crowd overall.  This show was sold out, and a second was added for Tuesday night as well.  These two shows in San Francisco are bookended by Coachella last weekend and the weekend coming up, and are two of many fill-in dates that Spinning Platters calls "Fauxchella".
Below is the special free "sold out" poster from The Fillmore: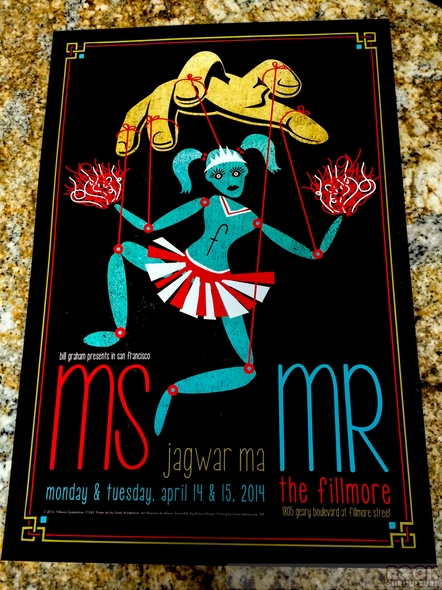 Jagwar Ma

Members:
Gabriel Winterfield – lead vocals, guitar
Jono Ma – guitar, synths, drum machines, samplers, producer
Jack Freeman (live) – bass, backing vocals
Jagwar Ma hails from Australia, and is another band in California for Coachella.  Dubbed a psychedelic dance act, they have a sound that is somewhat stripped down compared with traditional rock acts, as the bass had much more of an emphasis over the guitar, but most of the action is center stage, with Jono on synths, samplers, and drum machines.
Part sprawling DJ set, part alternative rock show, it is an interesting fusion of sound and energy that works brilliantly.  I had heard of them, but never actually heard their music, and I enjoyed their set immensely.
Their first studio album, Howlin', came out last year.  You can check out the official video for one of their songs, "The Throw", over on their official YouTube channel (LINK).
They played only about 30 minutes, but it was more like an extended megamix, as one song bled into the next.  They certainly got the audience primed for the main event that followed.
Below are some photos of Jagwar Ma performing on stage at The Fillmore last night (click any image for higher resolution versions of each photo):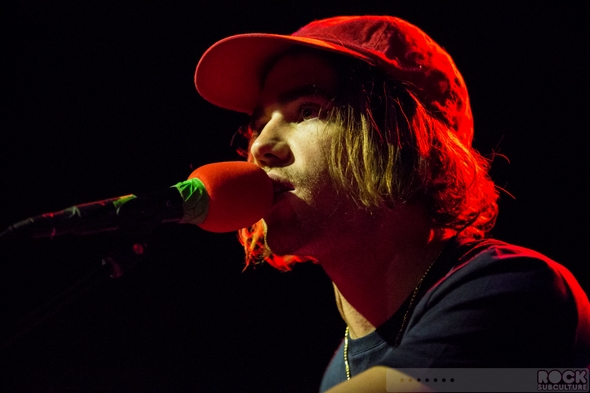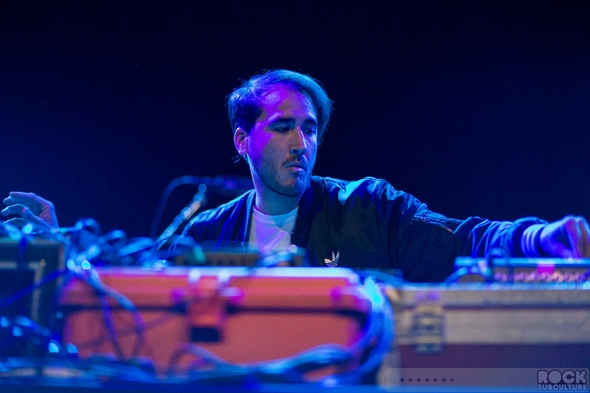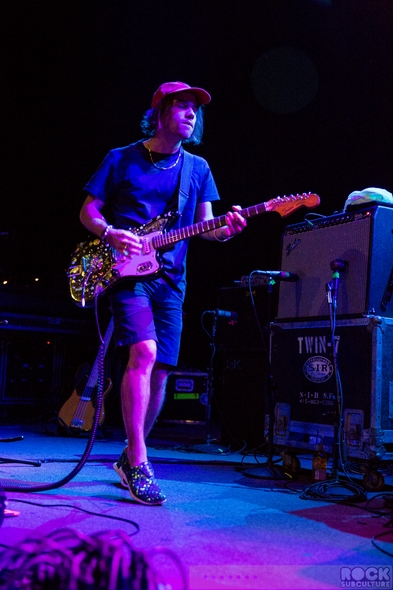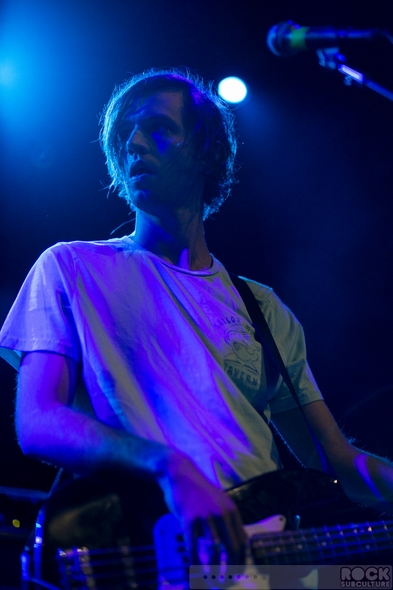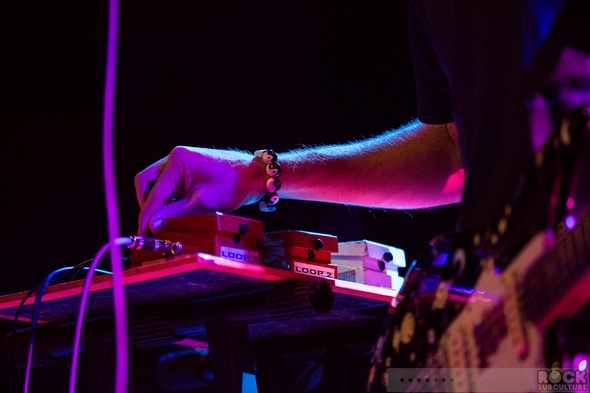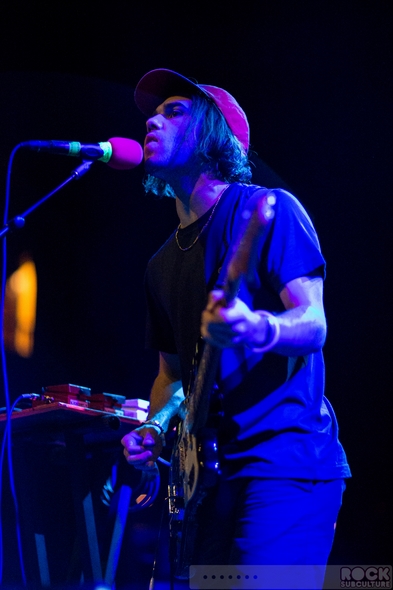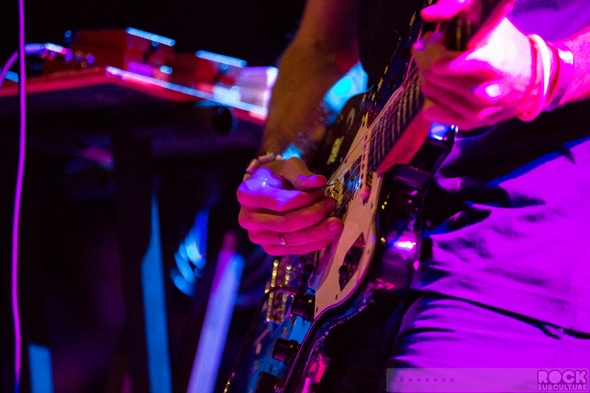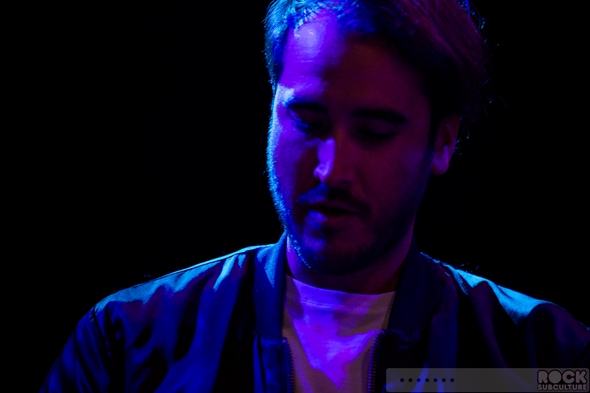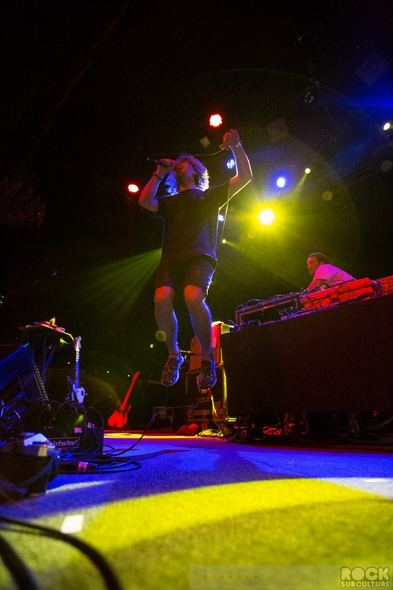 MS MR
Members
Lizzy Plapinger (MS)
Max Hershenow (MR)
Curtis Nystrom (lapsteel, autoharp, bass, and synths)
Zach Nicita (drums)
As I've seen the band perform a few times in the past year, some of my thoughts in this article have been borrowed from my reviews from June and October of last year.
I often tell people that I don't listen to the radio, or any of the various online streaming music services… so if I don't buy something, I never hear it. In my world, its as if it doesn't exist until I find it or someone tells me about it. And at the beginning of 2013, I'd never heard of MS MR. I found them in Switzerland.
When I was covering Caprices Festival for nine nights in the Swiss Alps back in March, I spent a lot of time in the press office working on reviews and photos late into the night (usually 4 or 5 am). We had a shared laptop and projection screen in these offices, and some of the other journalists took on the role of DJ in playing music to keep us all entertained (and awake!), and one of the photographers with 20 Minuten played two songs over and over… Snakadaktal's "Dance Bear" and MS MR's "Hurricane". I'd never heard either, but became hooked, and purchased MS MR's Candy Bar Creep Show EP and fell in love with the band and their work. I eagerly awaited the full album, but couldn't imagine it all being as amazing as the four song EP preview (spoiler – it was).
Just days after returning from Switzerland, MS MR's PR company coincidentally sent me an e-mail about their first studio album, Secondhand Rapture, and tour dates! Unfortunately, the California date conflicted with other plans and I booked myself out of California at that time. I was disappointed, as I hoped to see them live, but it was not in the cards this time…
Fast forward, and another opportunity popped up – a show with CSS and IO Echo at the Independent. I'm a believer that sometimes things happen for a reason, and I can't imagine a better first show for MS MR, and was glad to have had an opportunity to see CSS and IO Echo as well – but make no mistake… I was there absolutely to see MS MR first and foremost.
As soon as I heard their music, I became an instant fan of MS MR – I just love their music. And Lizzy has such a unique voice – and delivery – that sounds like no one else. For me it was interesting to see and hear her on stage (twice now), as she sounds exactly like her studio recordings, which is what you would expect, but it's always something to have that performance right before you, and see her singing and glimmer in her eye.
Writing catchy, hooking, original and unique songs is kind of like an archeologist finding proof that Yeti exists or something, and most bands that find success in the industry typically do it built on one, maybe two hit songs that capture the imagination. Then every once in a while there is one of those bands that manage to craft an entire album of songs other artists would die for just to pick off one. MS MR is one of those artists, that somehow fashion together such a work of art with their first attempt. Brilliant album.  I ended up choosing Secondhand Rapture as my favorite album of all of 2013…  a year which included new work by some of my favorite artists.  I also put 7 of their songs in my Top 100 list for 2013… more than any other artist, which is another huge surprise for me, given that I didn't even know that they existed the year prior.
Growing up in the 80s, hearing Secondhand Rapture for the first time brought back those feelings of hearing Yazoo's/Yaz's Upstairs at Eric's… the heavy electronics and an amazing voice that just owns the lyrics, and a perfect union of a musical partnership that just sounds like it was meant to be.
One of my fantasy concert line-ups I've dreamed up would be a triple header with Yazoo, Metric, and MS MR (three favorite male/female electronic-oriented duos).
On stage, they seem like really natural performers that have their music hardwired into their brains, putting out a set that at once seems effortless and sounds spot on to the studio recordings. More, they are having tremendous fun, with a celebratory and jubilant performance.
With each show, they have certainly gotten better and better, but really it's more about their own confidence and comfort on stage (overcoming some elements of that darned humility) that had changed the most, growing into their stature.
Below is a photo of Lizzy's the set list from the show:
Setlist:
Bones
No Trace
Salty Sweet
Fantasy
Do I Wanna Know? (Arctic Monkeys cover)
Head Is Not My Home
This Isn't Control
Dark Doo Wop
Think Of You
BTSK
Ash Tree Lane
Hurricane
So they basically did the entire album of songs from Secondhand Rapture, save for "Twenty Seven" (not sure why – this has grown to be one of my favorites!), plus the cover of Arctic Monkeys' "Do I Wanna Know?"…
As mentioned in the opening, they did a relatively short set of just under one hour, but I really feel that is the way to go with newer artists with smaller catalogs…  I criticized Imagine Dragons in my review of their stadium show this year for doing the opposite – stretching songs out way beyond the studio recordings to fill time, as that approach really took the energy out of the music in an otherwise stellar show.  Sometimes less is more.
MS MR are definitely one of the most exciting new artists to come on the scene in recent years, so I'm happy to see them continue on their upward trajectory with their success and exposure, and eagerly anticipate that inevitable second album…
Below are some photos of MS MR performing on stage (click any image for higher resolution versions of each photo):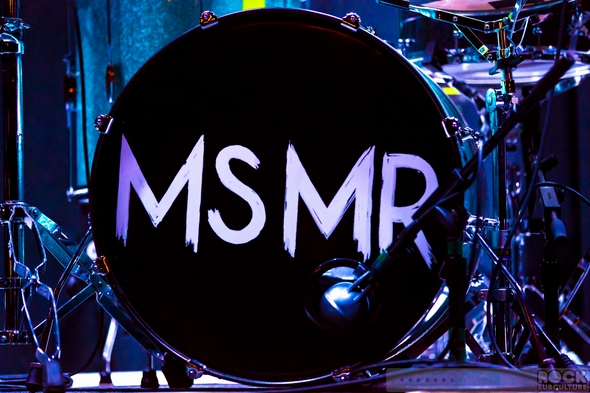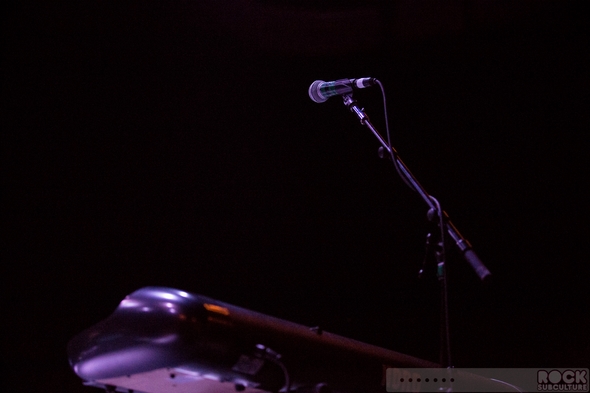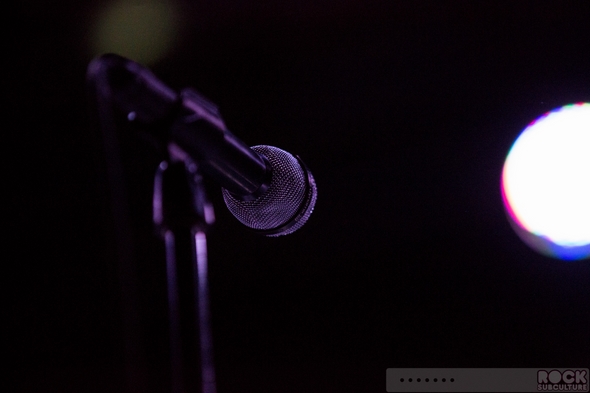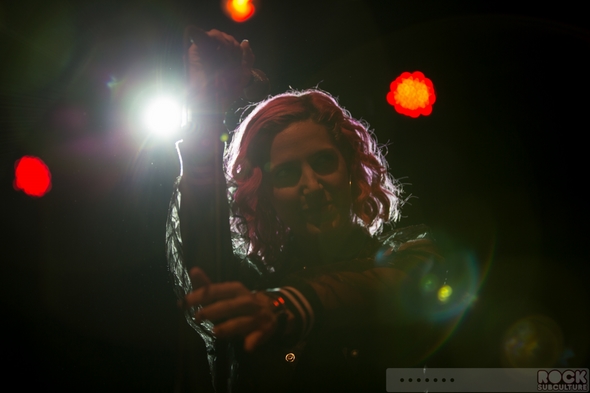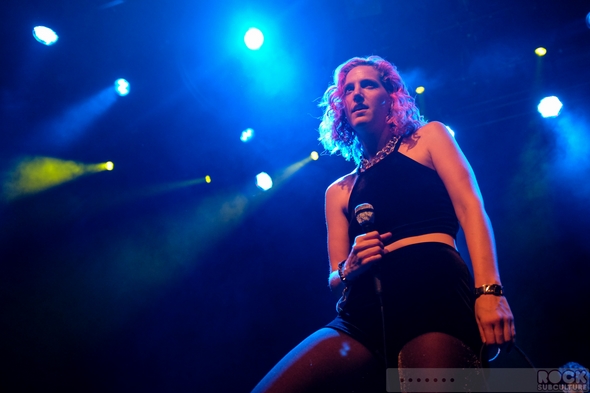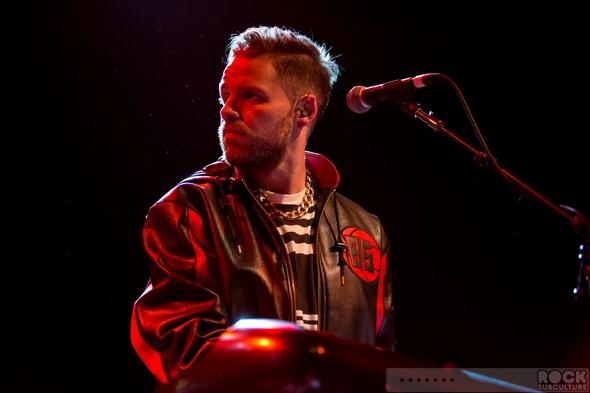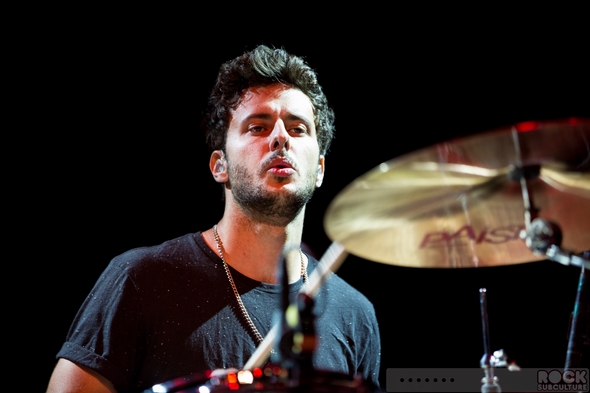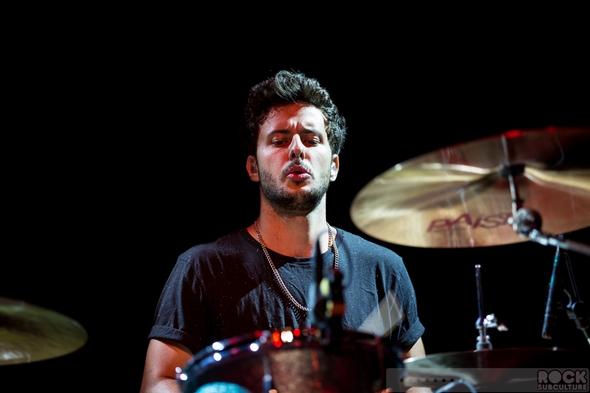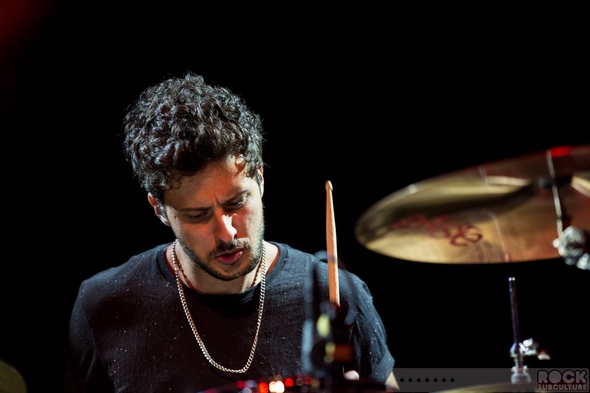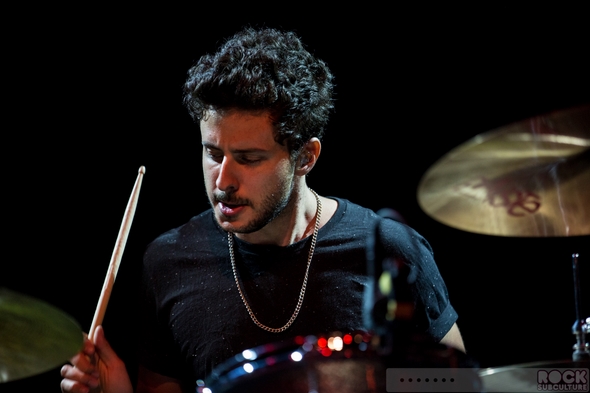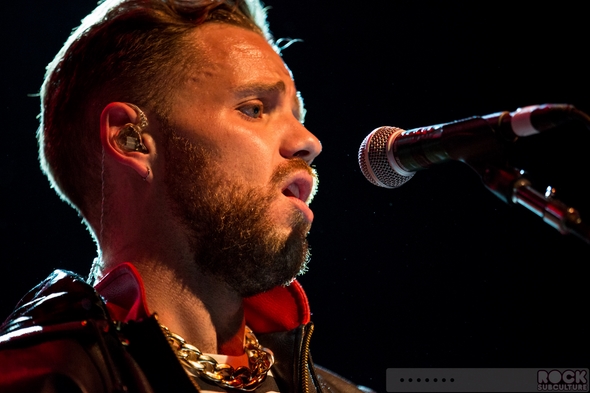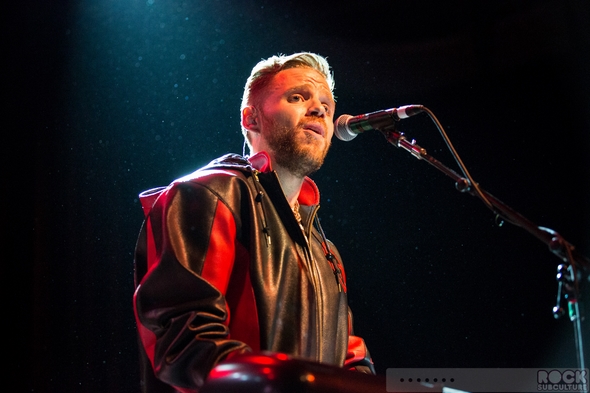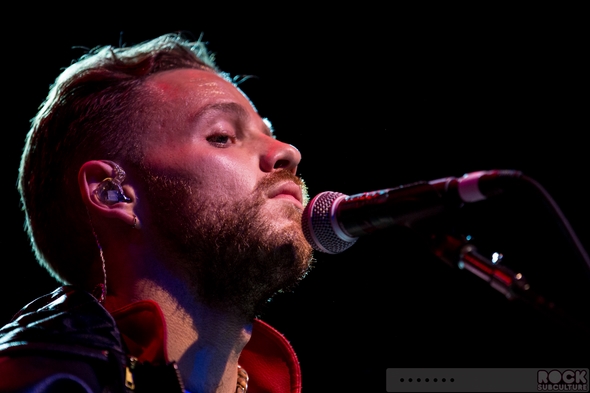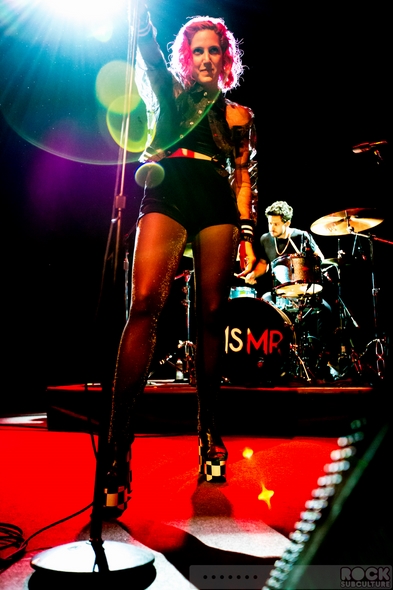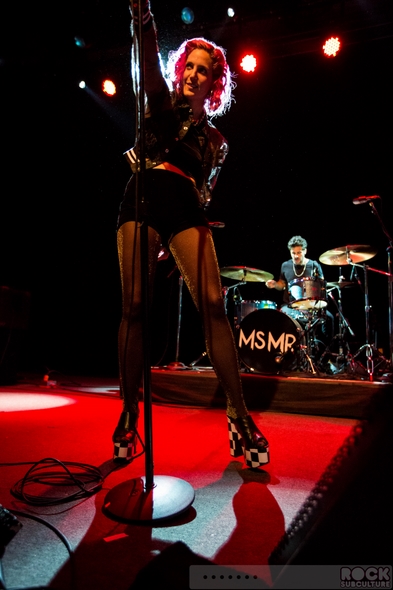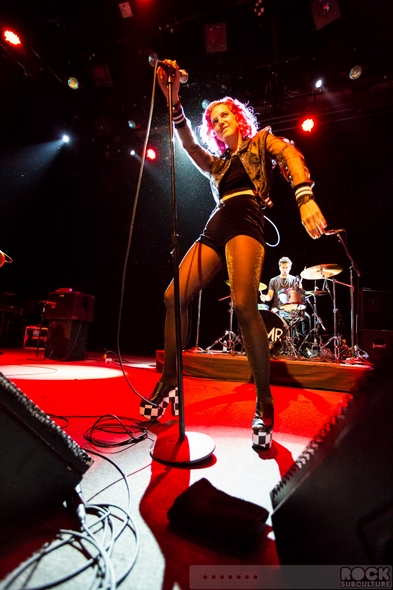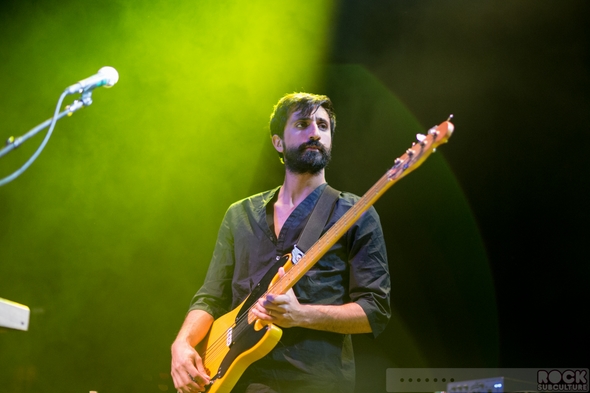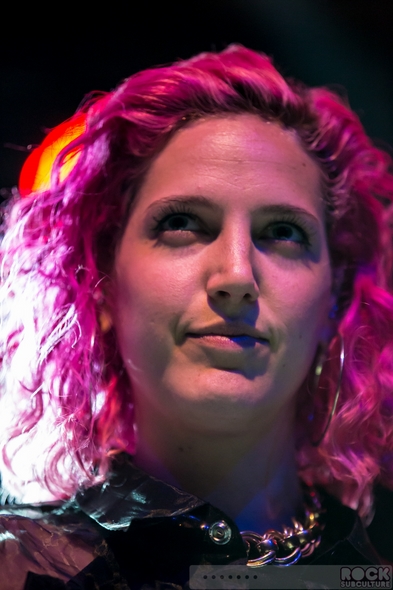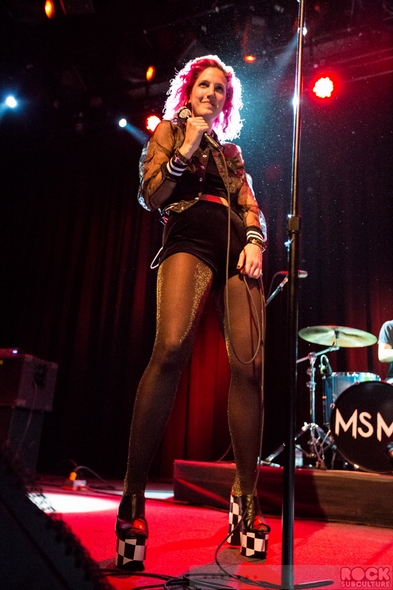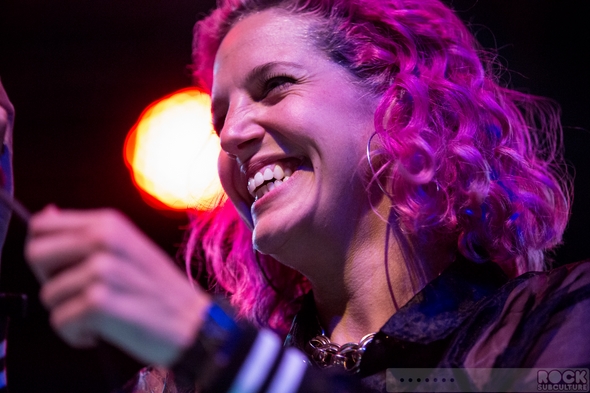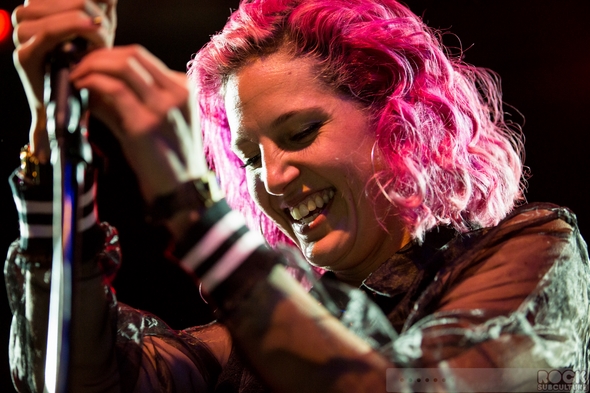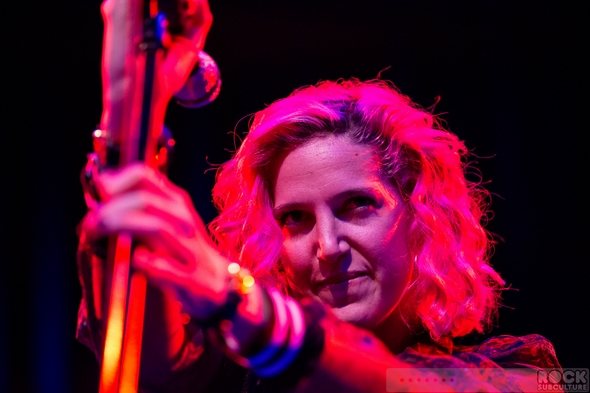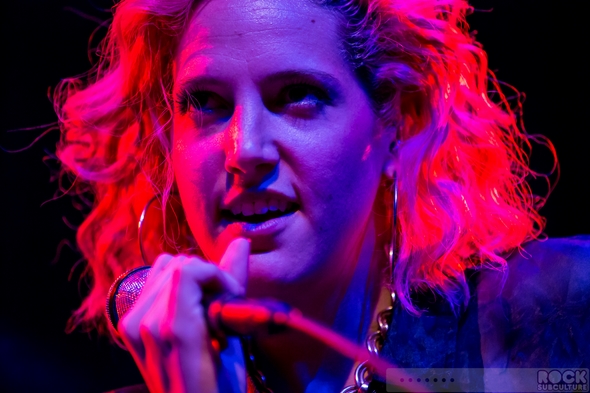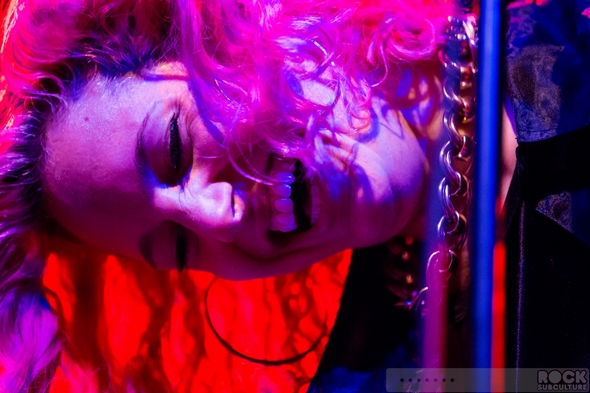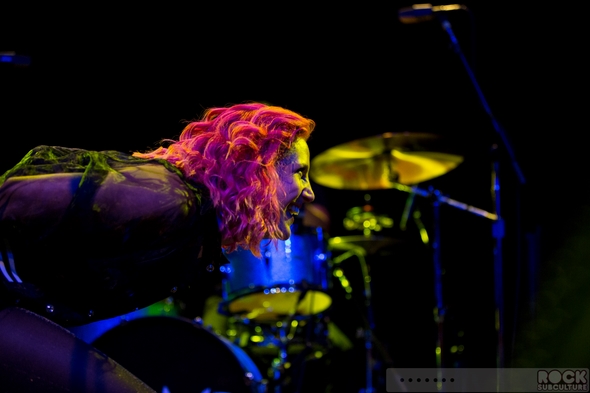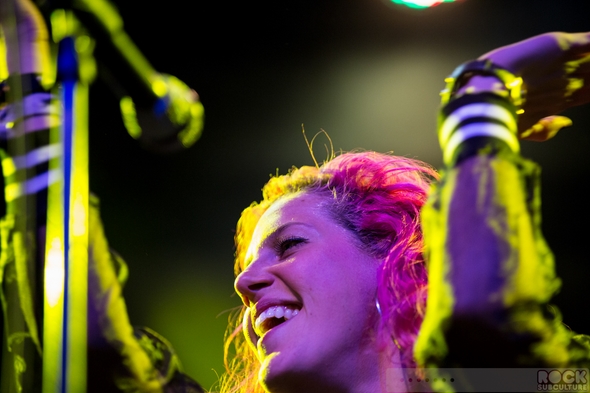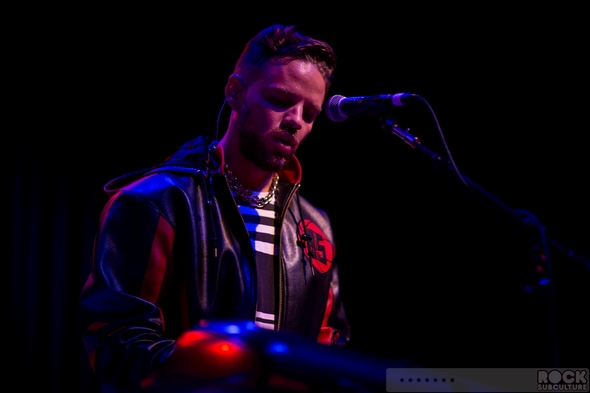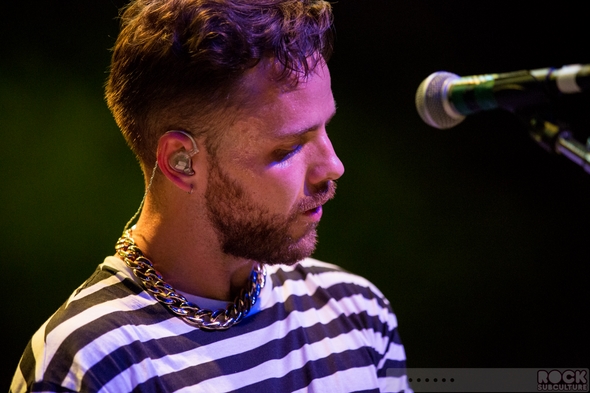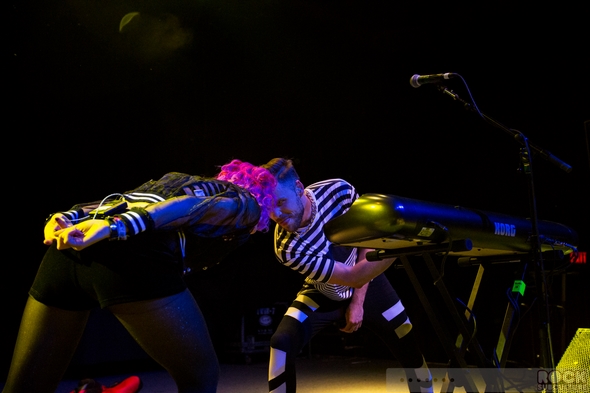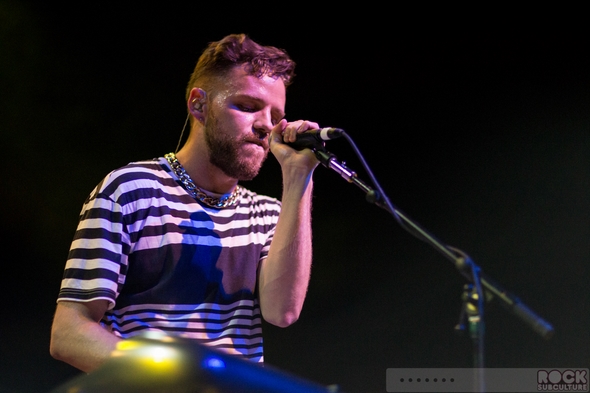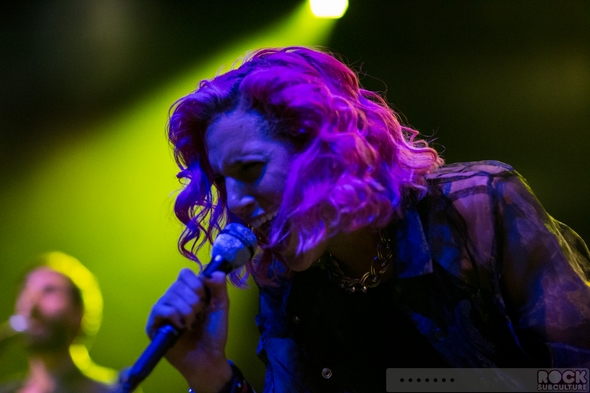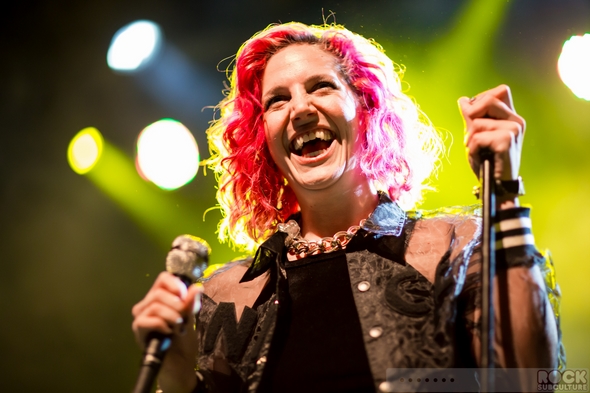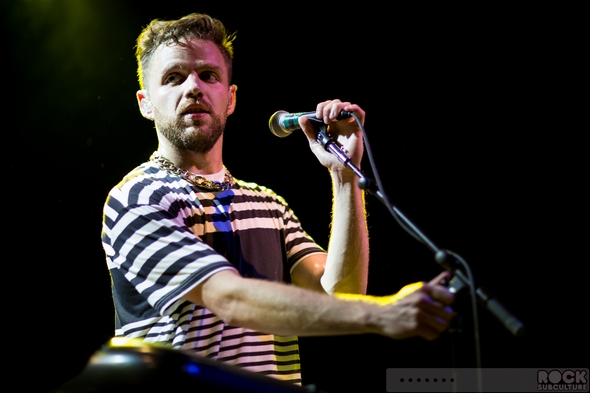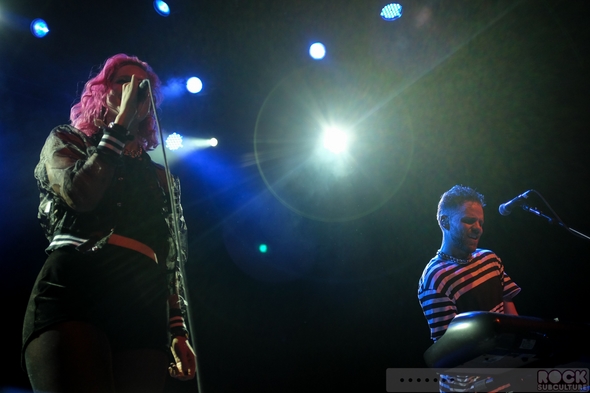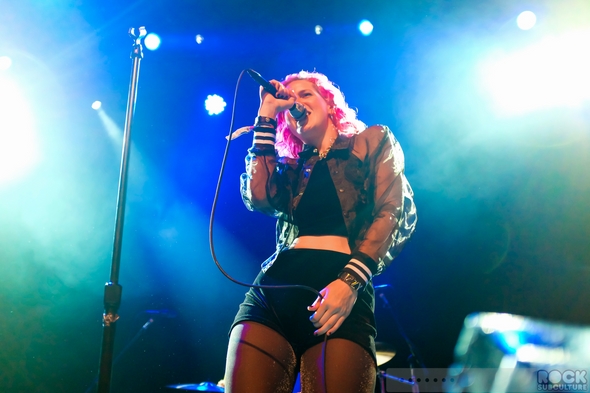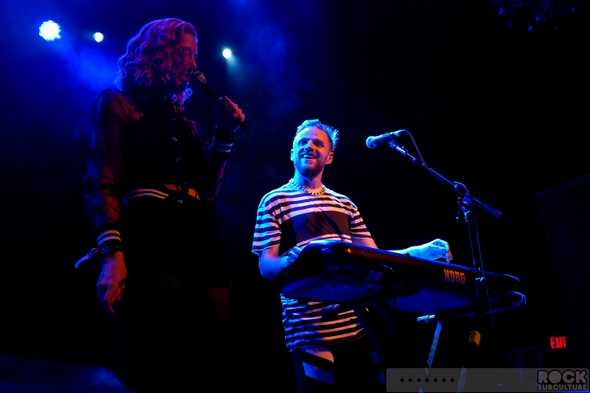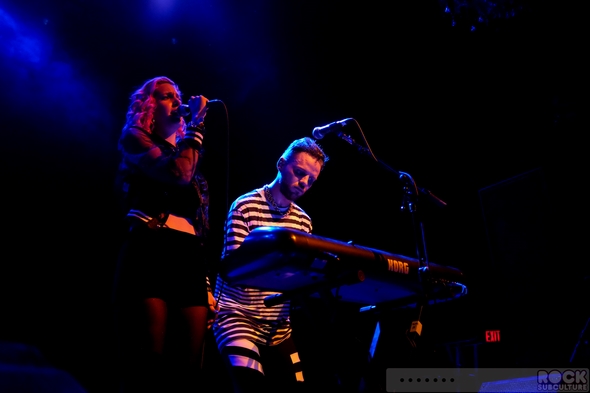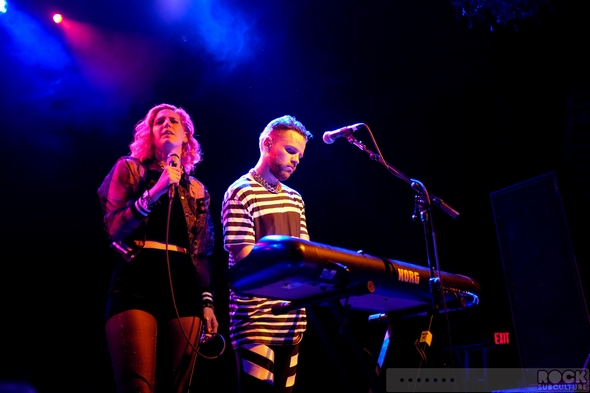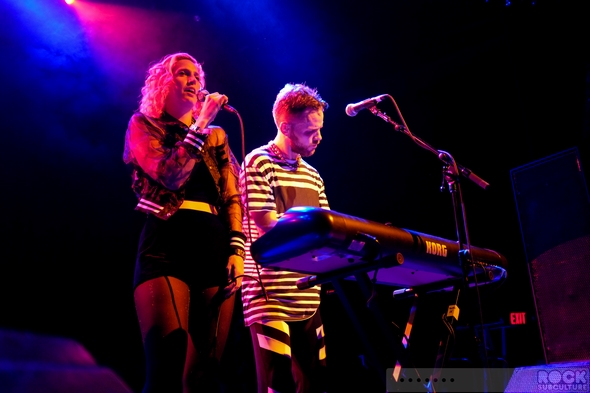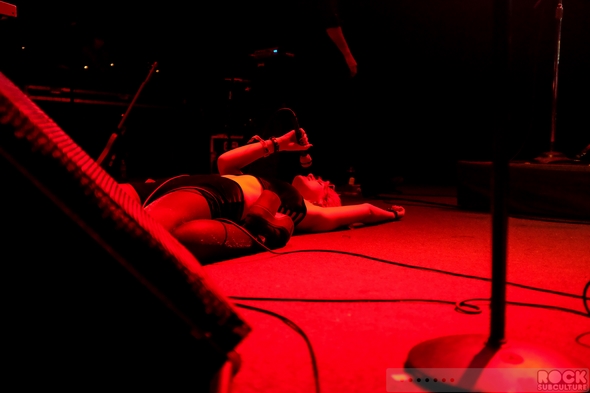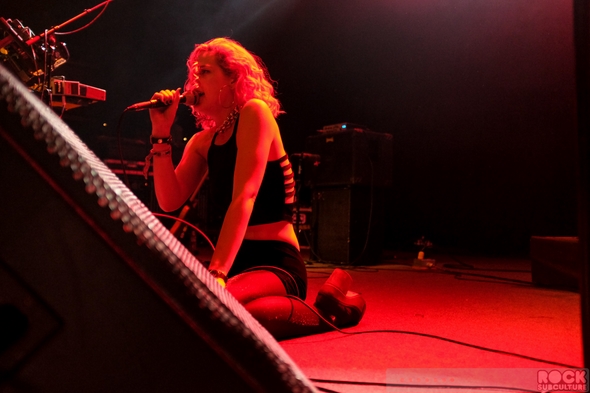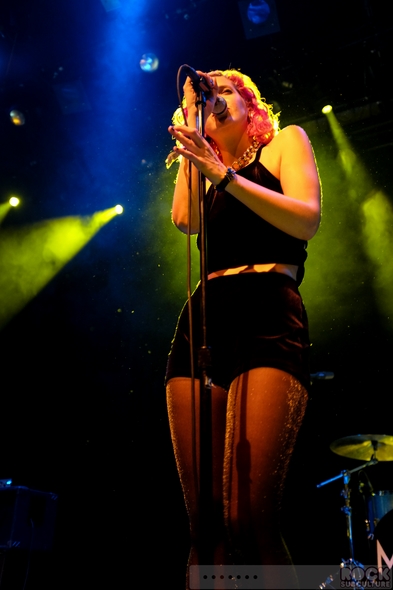 Jason DeBord