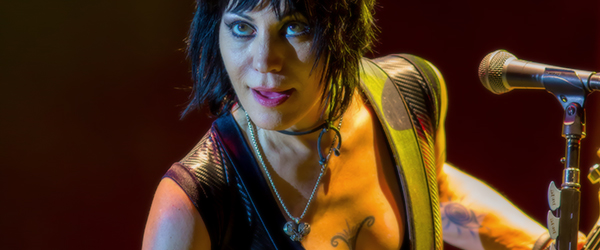 "When it hits the fan, people usually show up for each other…" Joan Jett of Joan Jett and the Blackhearts, talking about surviving tragedy, and how real life experiences inspired their latest album, Unvarnished.  It was really quite inspiring to hear the punk icon with roots in music – in her teens – going back to the 70s, today crafting music that is informed by a fascinating and full life.  Yet regardless of her growth as an individual and as an artist, she still has that counter culture swagger and joy with a guitar strapped around her and a mic stand before her…  she can still rock it unlike any other, and she certainly made that clear at their appearance at the California State Fair at Cal Expo last night.  Whatever it is that she's had since her formative years, that motor still drives her today.  A real rock and roll legend.

Who: Joan Jett and the Blackhearts
Venue: The Golden1 Stage at Cal Expo
Where: Sacramento, California
Promoter: California State Fair
When: July 18, 2014
Seating: Section C, Row A, Seat 15 (front row, center section; also photo pass from seat only)
This show was part of the concert series for the California State Fair this year (running July 11-27), which is being held at Cal Expo in Sacramento as has been tradition.

Cal Expo used to be a real fixture in rock concerts when I was growing up – pre-Arco Arena (now Sleep Train Arena), it hosted the bigger shows that came through the capital city in California.  My own first concert I attended back in 1987 (Run-D.M.C. with Beastie Boys and Ice-T) was at the (at the time) larger outdoor concert area at Arco Arena.
Last night's Joan Jett and the Blackhearts concert was "an evening with…" style event with no opener or supporting artists.  It began fairly promptly around 8:00 and ran somewhere around an hour and fifteen minutes or so, including one encore.
The Golden1 Stage itself is fairly large and raised over water, with sections of reserved seating in front and some general admission seating behind that.
Joan Jett and the Blackhearts
Members
Joan Jett (vocals, guitar)
Thommy Price (drums)
Acey Slade (bass guitar)
Dougie Needles (lead guitar)
Kenny Laguna (keyboards, backing vocals)
Joan Jett is, of course, a rock and roll legend, going back to her teenage years.  A great synopsis of her beginnings with rock and roll is the 2010 Floria Sigismondi film, The Runaways, which chronicles the ups and downs of her first all-girl rock band in the 70s.  Jett was also an executive producer on the film which featured Kristen Stewart playing the younger version of herself.
The Runaways was comprised of Joan Jett, Cherie Currie, Lita Ford, Sandy West, and Jackie Fox, and after huge success, the band imploded and Joan Jett ultimately restarted with her solo career in 1979.
In a change from her groundbreaking all-girl origins, she sought out "three good men" to form the Blackhearts.
As a kid, I always had a loose association between Joan Jett and Billy Idol… both were pioneers (for their respective genders) in the leather wearing punk icon with kind of a pop twist, and both came from being one part of a former band to record under their own names with their own new bands.  Funny enough, and unbeknownst to me at the time, they actually have a bit of history together.
Joan Jett and her new band had a string of hits that helped to define the sound and energy of the 80s, including "I Love Rock 'n' Roll", "Bad Reputation", "I Hate Myself for Loving Your", and "Crimson and Clover" (a cover of a Tommy James and the Shondells song from 1968).
Joan Jett was not just a pioneer in music, but in fashion and lifestyle as well, with her distinctive, sleek, punk look.
In addition to recording her own music, Jett had produced for others, including artists on her own Blackheart Records, which she founded with Kenny Laguna.
Most recently, Jett released a double CD Greatest Hits (which also featured four new tracks) a few years ago, and an album with all-new material – Unvarnished – late last year.
With their appearance at Cal Expo last night, there was certainly a lot of buzz and excitement about Joan Jett.  In addition to a charity appearance at The Plum Café on K Street in Downtown Sacramento earlier in the day, there was a pre-show meet and greet that attracted a large crowd on the bridge overlooking that area – people thrilled just to catch a glimpse of the music icon.
Once 8:00 rolled around, the seated area under the concert canopy was packed and sold out, but since it was an open air show, there were a lot of people finding whatever space that they could to enjoy the show.
Jett and the band casually came onto the stage with background music still pumping, and Joan Jett looks remarkable to this day – very fit and youthful.
Thommy Price on drums is a very accomplished musician, playing with many great artists in addition to being a current member of the Blackhearts (including the already mentioned Billy Idol).  Funny enough, he played drums for Scandal, and I'm actually seeing Patty Smyth play at Thunder Valley tonight.  He definitely showed his chops with the Joan Jett concert last night, as drums are vital in her music, and he laid down that foundation for all of those fantastic songs.
Acey Slade on bass guitar is singer and guitarist of his own band, Acey Slade & the Dark Party, in addition to his role with the Blackhearts.  With the punk-style of music, bass obviously plays a more significant role than in most rock and roll songs, and I was really impressed with his seemingly effortless basslines throughout the show.
Dougie Needles, on lead guitar, certainly looks the part, but also appears to be very young (though I think he appears much younger than he actually is)… in addition to shredding his guitar, he had the most "rock star moves" of the group, I think, and was really fun to watch (and it just so happened that my seat was more of less directly in front of him.
Kenny Laguna of course has a long history in the music business (he even played on the original (non-Billy Idol!) version of "Mony Mony" with Tommy James and the Shondells, and he has a long history and association with Joan Jett going back to 1979 after The Runaways broke up.  He co-produced a lot of Joan Jett's early solo material (including Bad Reputation and I Love Rock 'n' Roll.  He, like Joan Jett, was an executive producer on The Runaways film.
So quite an impressive line-up at the concert last night, but of course Joan Jett was at the center of the action.  She still has "it"… that mostly undefinable thing…  I see a lot of artists perform in concert, but it is rare that the principal in a group or solo artist has that innate gift of star power that makes  you feel like you are watching an artists that was meant to be here to create and share a message or idea or something that really connects with you.  Joan Jett is definitely one of those artists.
They kicked things off with "Bad Reputation", which is the one song that, for me, sounds most different from the original studio version.  Not better or worse… just a bit different.  I can't quite put my finger on it, but have always loved the song (especially the pacing of it) though after Judd Apatow's Freaks and Geeks television series, in which it served as the title song, I forever have someone of a different association with it.  Music really helped define that show – one of my all-time favorites – and it is interesting that it became the theme song (and this was back when people generally did not know who Judd Apatow was).  Anyway, it is certainly an attention getter to open the show, and set the tone for the rest of the night.  This was a rock and roll concert.
"Cherry Bomb" – the big Runaways hit – was next, and really side-by-side, the songs do have a bit more in common than I realized until I heard them live, back to back.
While the classic Joan Jett and the Blackhearts songs were played, it was also an opportunity for the band to play from their latest, Unvarnished.  In fact, while the hit songs generally included no prefacing remarks, Jett took time to give some intro (of varying detail) to most of the new songs.
She spent the most time talking as her into to "Make It Back", wherein she talked about surviving Hurricane Sandy.  "Until you go through an experience like that, it's hard to fathom it…"
Like "Bad Reputation", the entire show went by in a flash, but it truly was a case of quality over quantity, and I know I came away satisfied with the amazing show that was put on by the band.
Below is a photo of one of the set lists from the stage: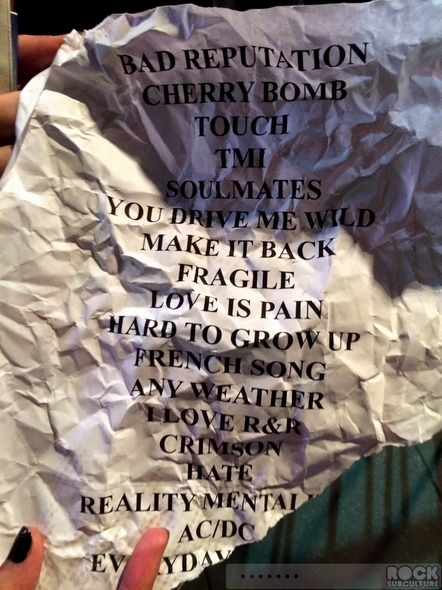 Below is the set list from the Joan Jett and the Blackhearts concert at Cal Expo last night…
Setlist:
Bad Reputation
Cherry Bomb (The Runaways cover)
Do You Wanna Touch Me (Oh Yeah) (Gary Glitter cover)
TMI
Soulmates to Strangers
You Drive Me Wild (The Runaways cover)
Make It Back
Fragile
Love is Pain
Hard to Grow Up
Any Weather
I Love Rock 'n' Roll (The Arrows cover)
Crimson & Clover (Tommy James & the Shondells cover)
I Hate Myself for Loving You
Encore:
Reality Mentality
AC/DC
Everyday People (Sly & The Family Stone cover)
Below are some photos of Joan Jett and the Blackhearts performing on stage (apologies to Acey Slade and Kenny Laguna for the lack of photos – no clear point of view from my fixed shooting position); click any image for higher resolution version of any photo: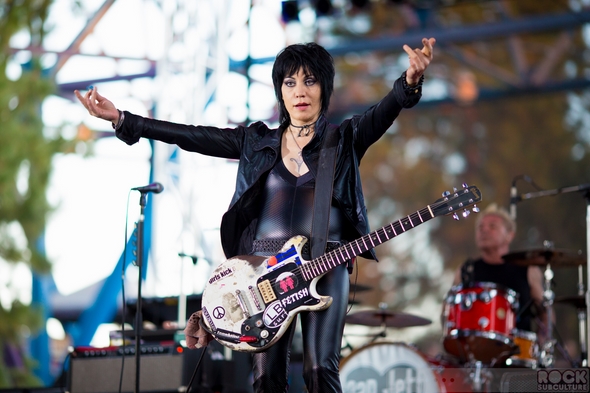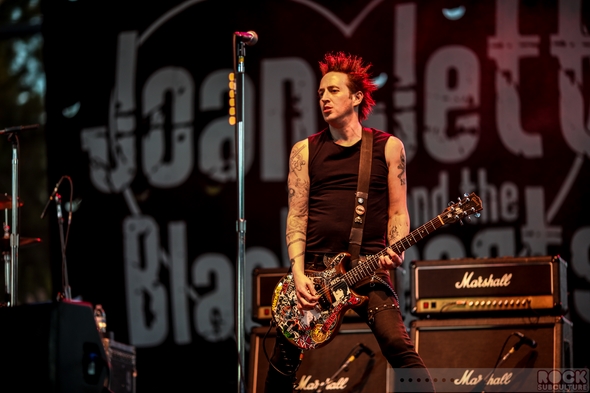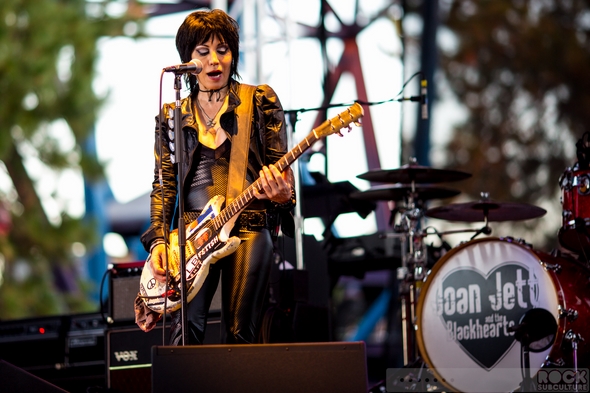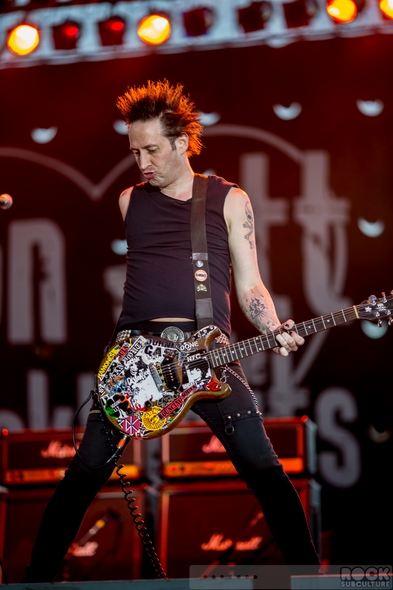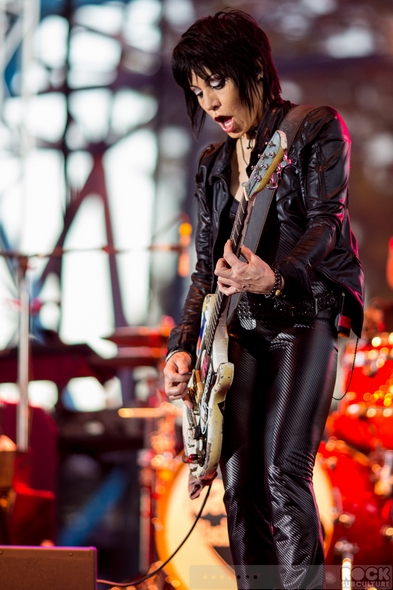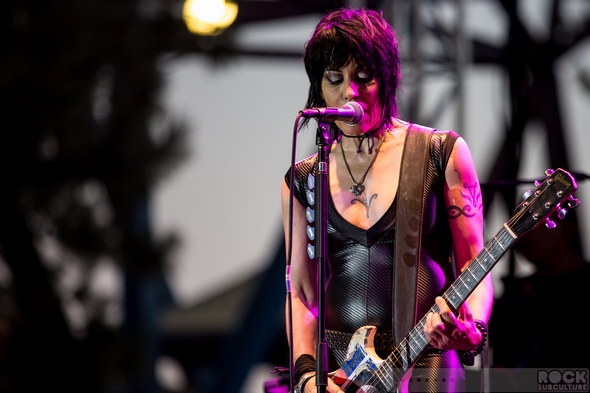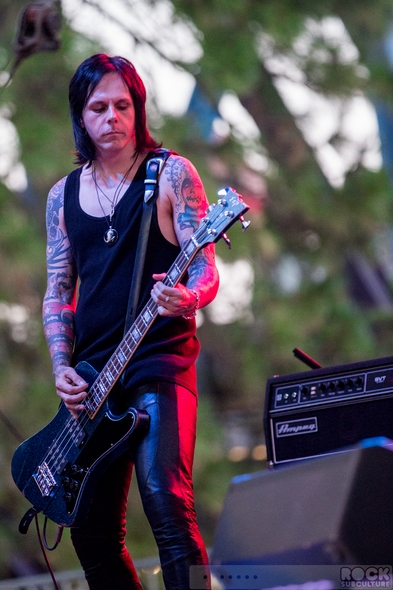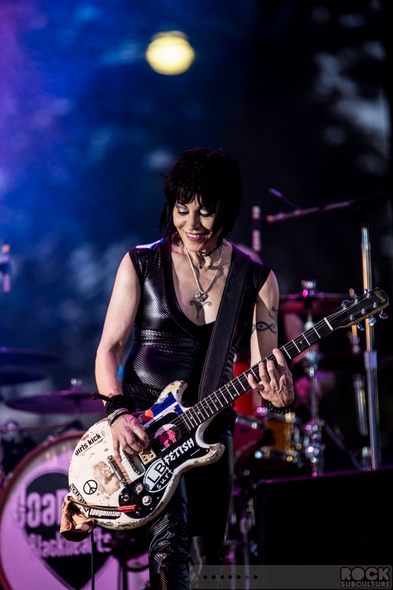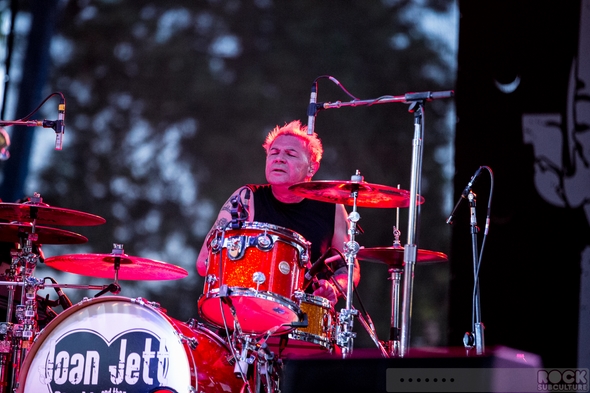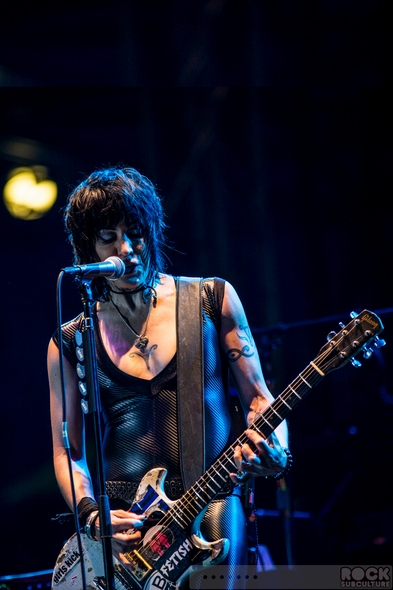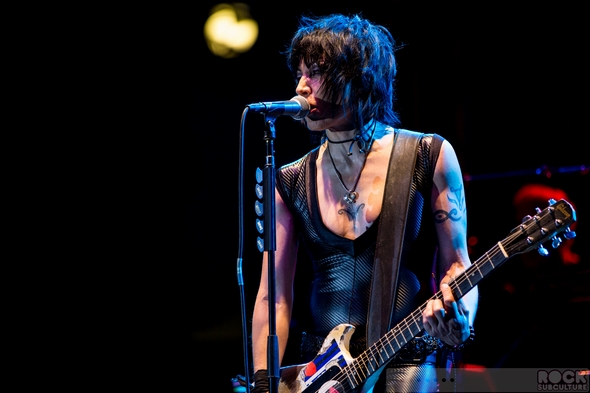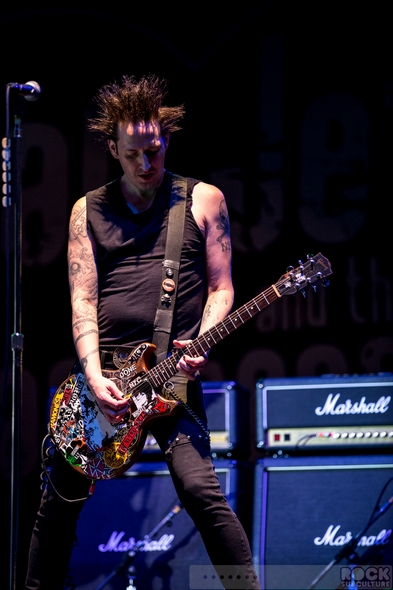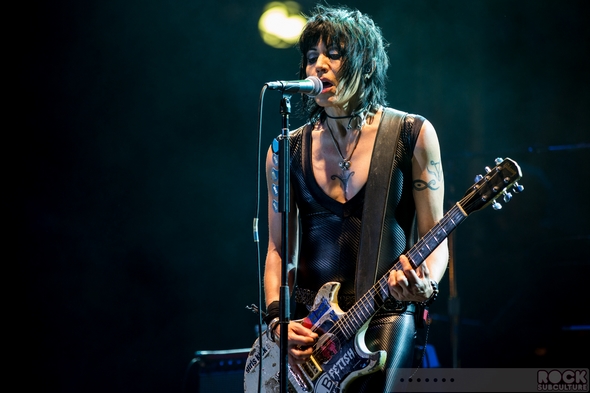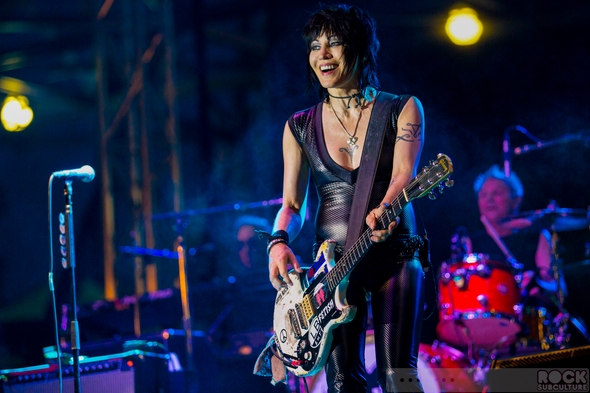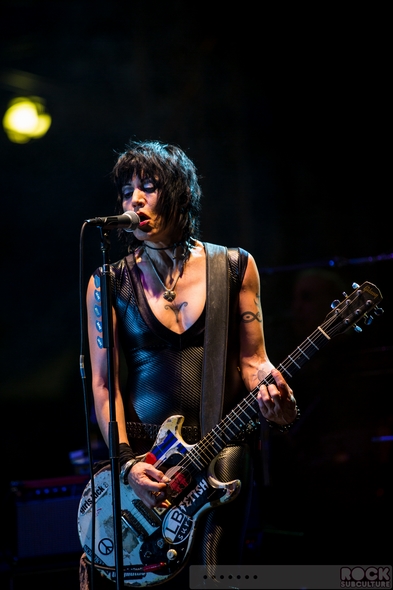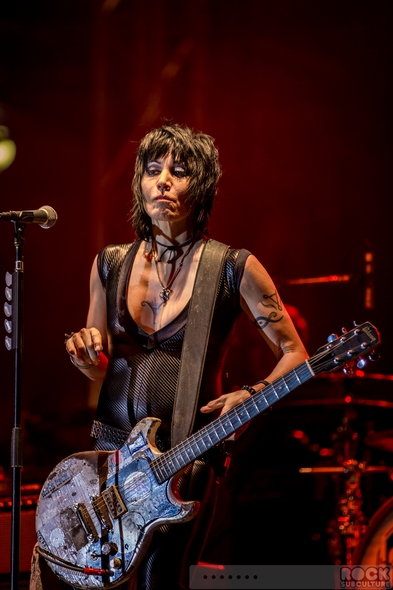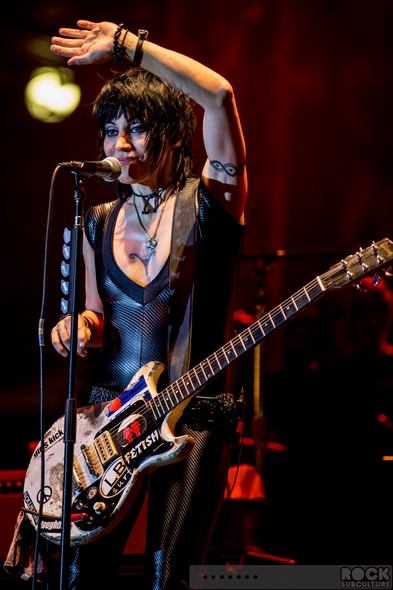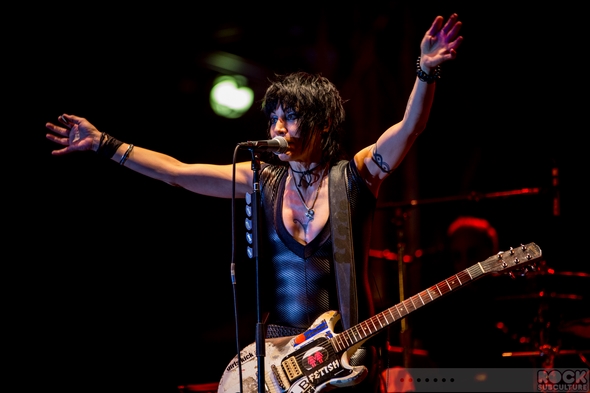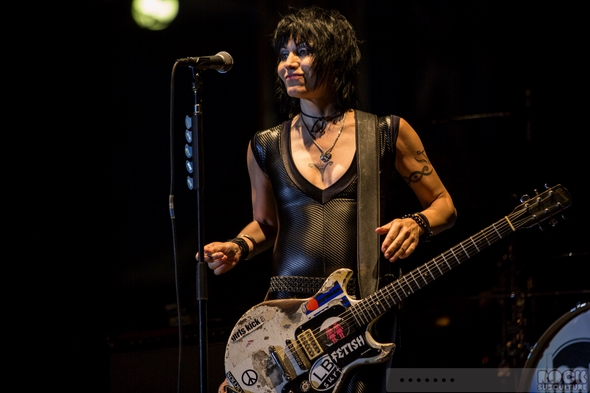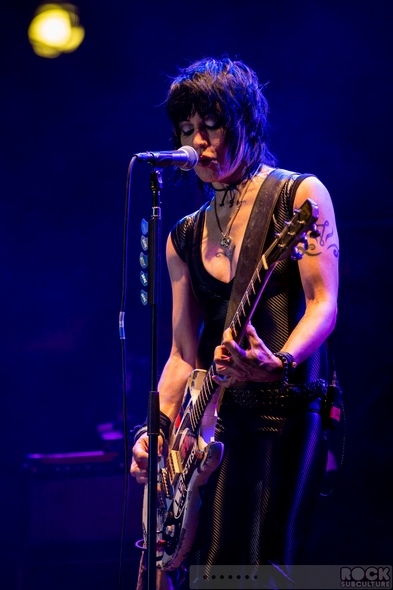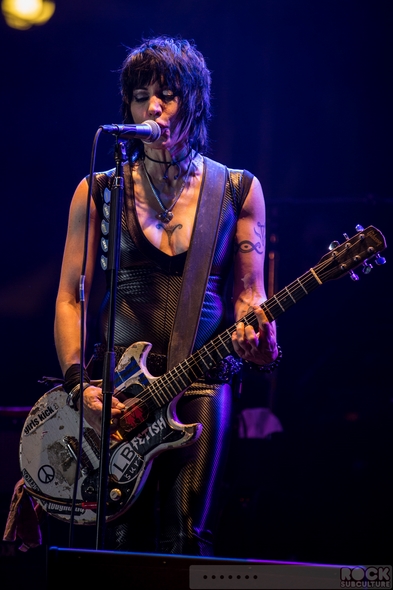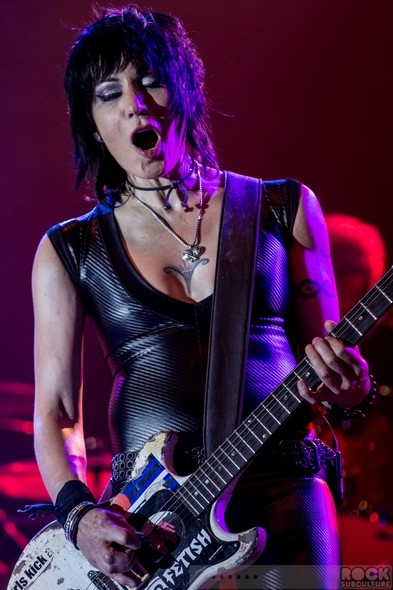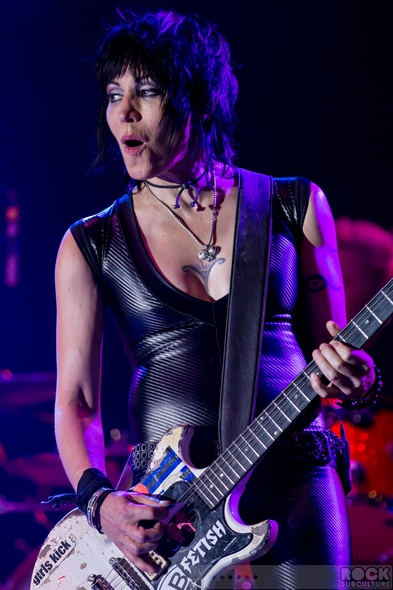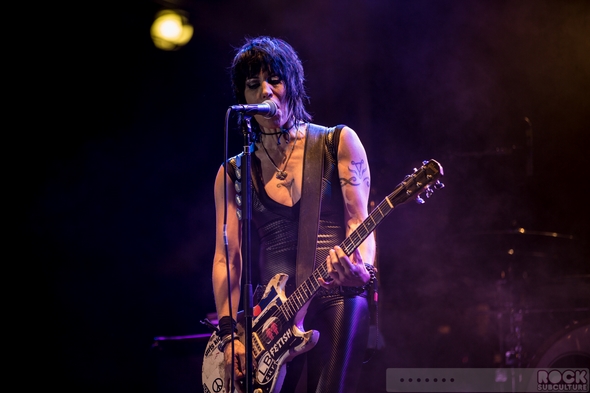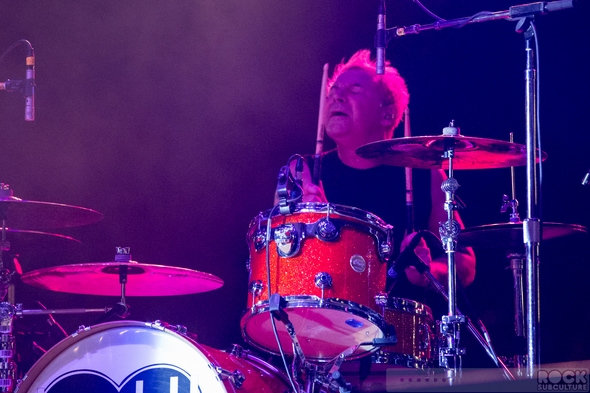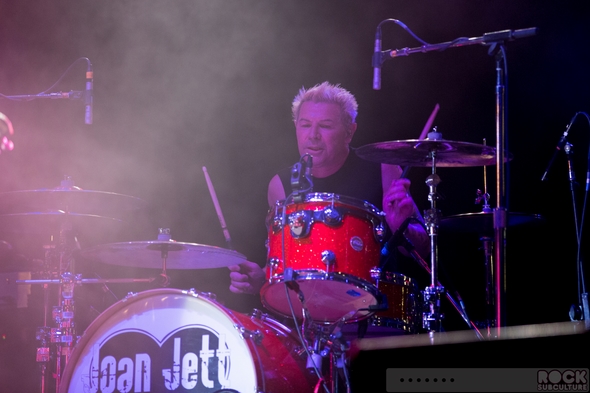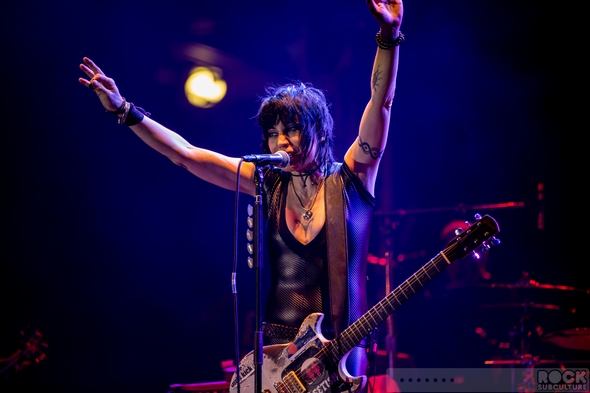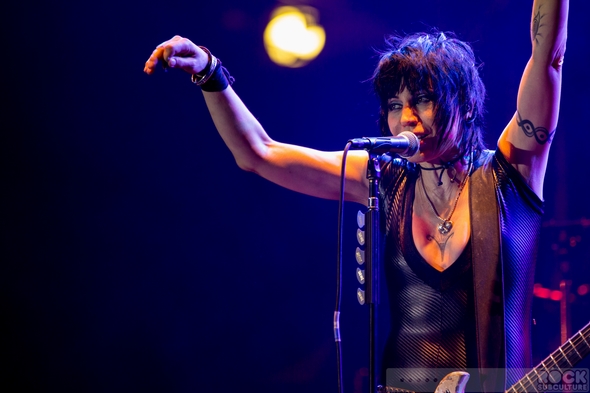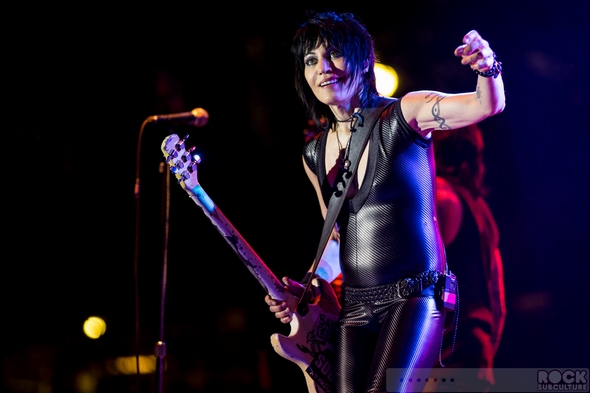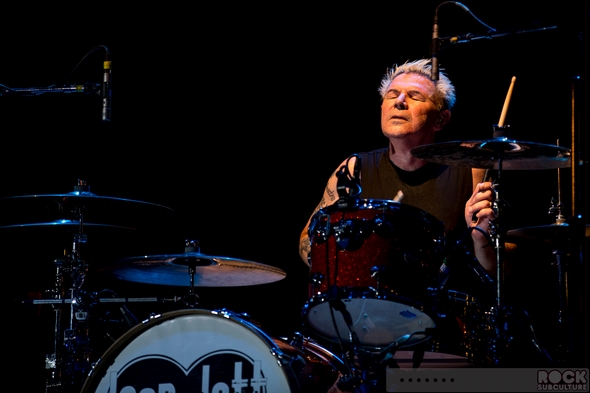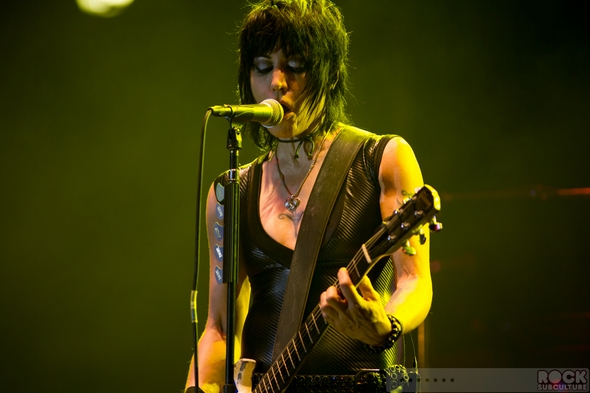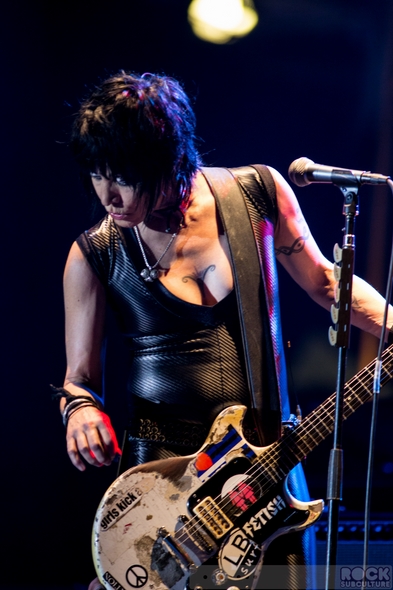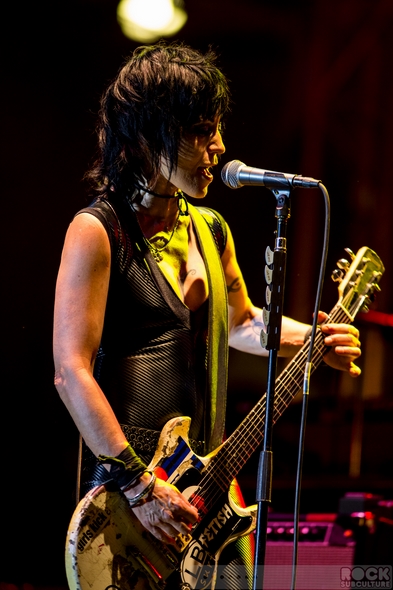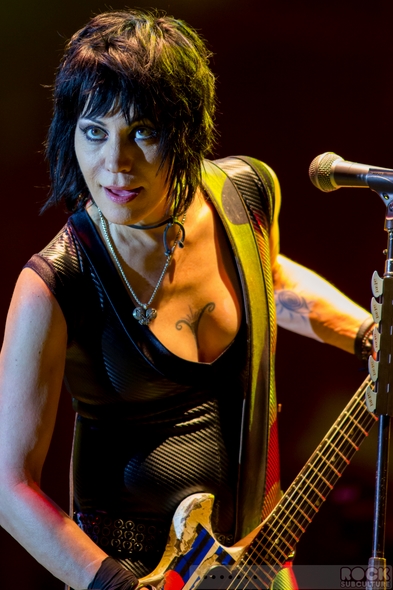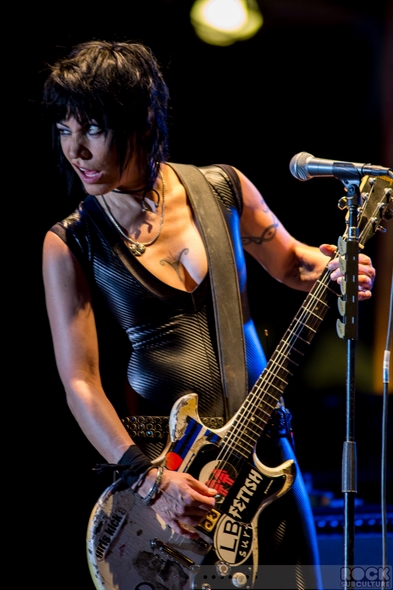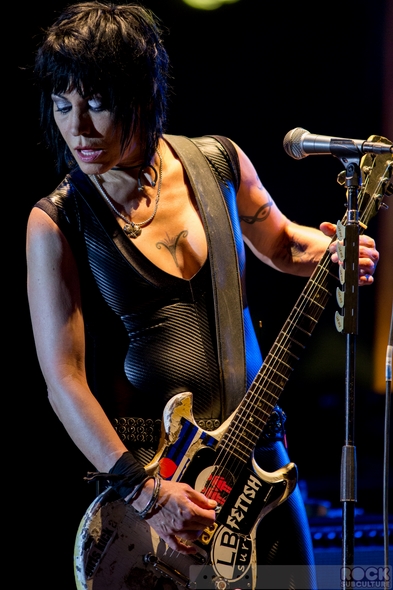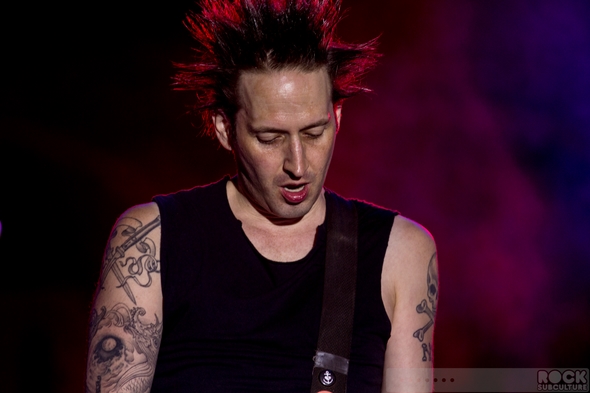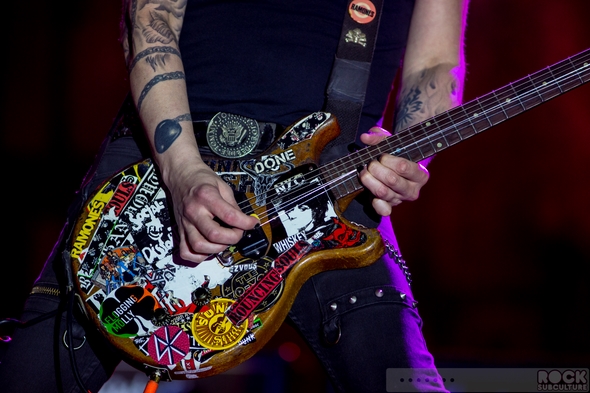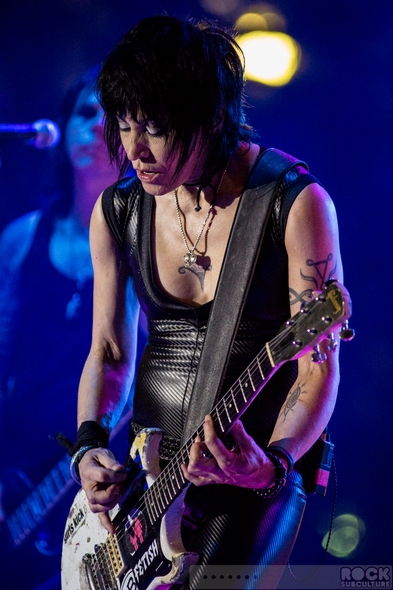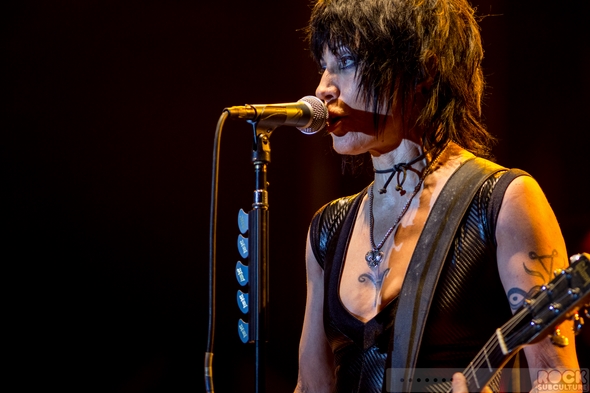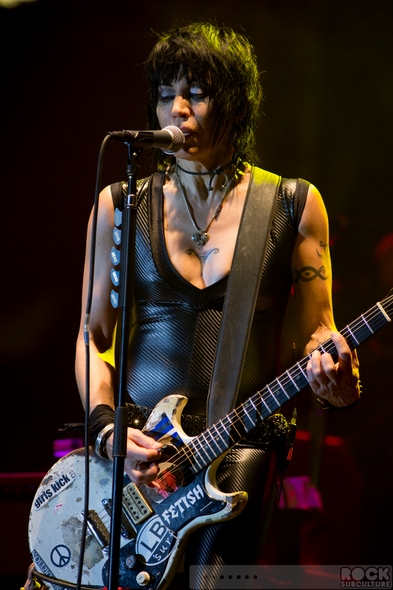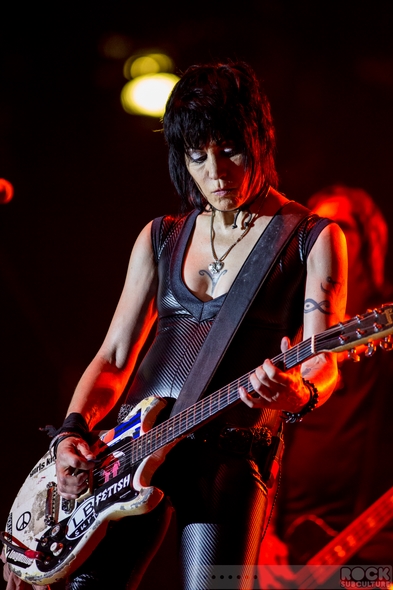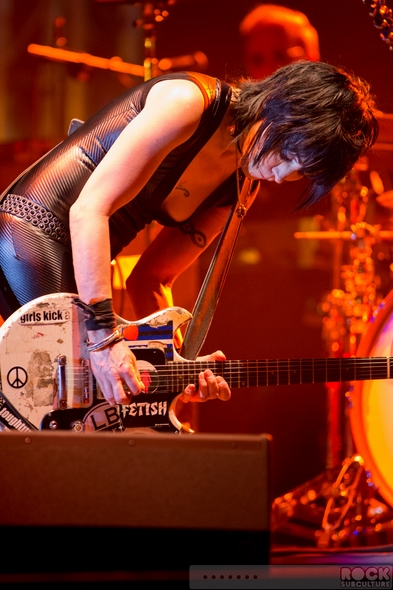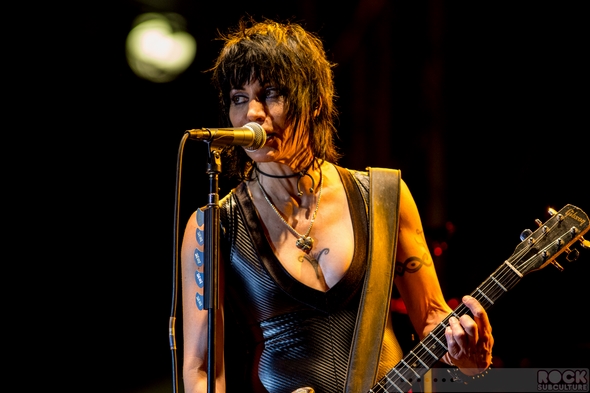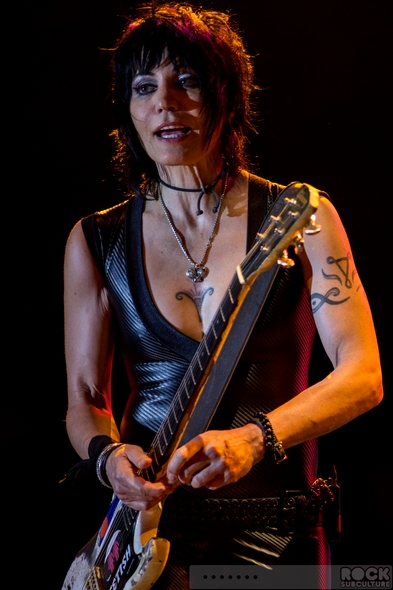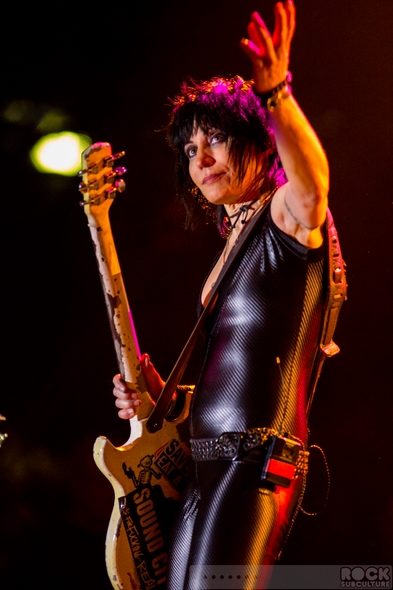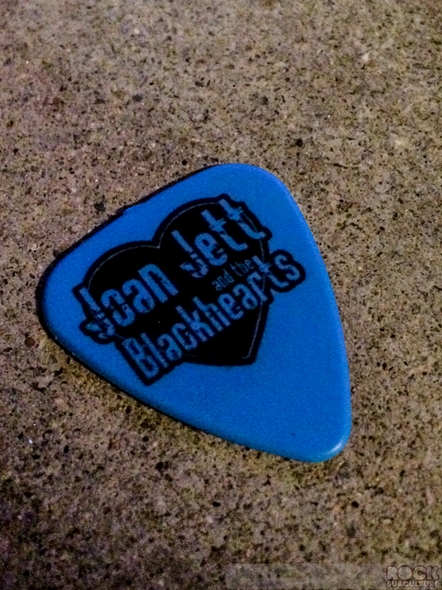 Jason DeBord