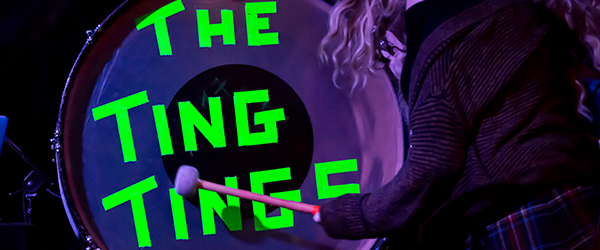 "San!!! Fran!!! Cisco!!!"  A city turned into a three-word chant by Jules De Martino, he and the other half of The Ting Tings duo Katie White aren't the type to chit chat too much in-between songs at their live shows, but they certainly know how to get a place jumping.  And that's just what they did at the sold out show at Popscene at Rickshaw Stop on Friday night.  The Ting Tings haven't passed through on a tour since supporting their sophomore album, Songs from Nowheresville, in 2012 (see my review of that show at The Fillmore), and this latest gig was even more of a special occasion since they aren't hitting but a handful of cities on this front end of touring in 2015 (and the dates in play are predominantly in California).  Their newly released third studio album, Super Critical, just came out late last year via their successful PledgeMusic campaign.  Co-produced by original Duran Duran guitarist Andy Taylor, the album pivots them into a different direction, though with their trademark infectious and experimental sound and energy.  The show Friday night was amazing, and illustrated how the band puts a lot of thought and attention into creating a live show that refashions their music a bit with each outing, keeping it all fresh and exciting for the crowds they turn out.  I loved every second of it, and while it was a full set, they left me wanting more, but I'll get that at their follow-up show in Sacramento…  one of those rare bands who inspire me to follow them around a bit.

Who: The Ting Tings
Supporting: Kaneholler
Supporting: DJ Aaron Axelsen
Venue: Rickshaw Stop
Where: San Francisco, California
Promoter: Popscene
When: January 23, 2015
Seating: General Admission (front row center; also photo pass)
Ever since seeing my first live show by The Ting Tings in 2012, I've become a huge fan of them and their work.  I rated that 2012 show as one of my top ten favorite shows of that year, and named Sounds from Nowheresville as my very favorite (#1) album of the year and "Hit Me Down Sonny" as my favorite song of the year (also #1) in my 2012 Year in Review feature.

It has been pretty quiet on The Ting Tings front until they launched their PledgeMusic campaign last year, so I was thrilled to see that come about, and the release of "Wrong Club", their first single off of Super Critical.  Lucky for me (living in Northern California) that two of the handful of dates on this new tour were within driving range.
The first show I attended for this latest tour was the one at Popscene at Rickshaw Stop.  Aaron Axelsen's selection of artists to perform at Popscene are always inspired and often fantastic (I've discovered some great new artists at these shows), so it was no surprise to see his involvement in bringing The Ting Ting's back to San Francisco.  Aaron also provided the framing music as DJ for the evening, getting things jumping even before doors opened and kept it going after the two concert sets were done.  I'm out of range of the Live 105 airwaves (where Aaron serves as their Music Director/APD/DJ), so its nice to catch as many of the Popscene shows as I can to hear some new music (and sort it out via Shazam, though he spins things into his own blend of gold throughout the night).
The show was sold out, testament to both the draw of The Ting Tings and the power of Popscene in San Francisco.  As is tradition, it was a late night, with doors not opening until 9PM and the live sets starting more than an hour afterwards.  But it was all certainly worth the wait.
Kaneholler
Members
I'm a big advocate of encouraging people to turn out early at concerts to check out the supporting artist, and Kaneholler is a prime example.
I was unfamiliar with them going into the show, but I was lucky enough to catch their pre-concert soundcheck, and knew that they were going to blow the roof off the place.  Amazing duo.  A group is lucky to have either fantastic sound or beautiful vocals, and Kaneholler has both.
Chelsea has a very unique voice that suits their sound and style perfectly, and she was always right on point and everything coming out of her in the live show was studio quality.
Jon is a great match with her, as they bring such distinct masculine and feminine energy to the stage and play off of each other very well.
Their music is unique and super catchy – I'd not heard any of it prior to the show and loved each performance of each song.  I will totally go out to see them again when the opportunity comes up.  Highly recommended.
I spoke with them a little before the show, and they are currently based out of Venice, CA.
During the show, they said that their next EP is due out soon, so keep an eye out for them and follow them on their official Facebook page for the latest news and updates…  I can't recommend enough picking up their current EPs, which are available on iTunes – Vol. 1 – EP and Vol. 2 – EP.
Their set was really electric and song to song it was all really catchy and captivating.  Definitely in the running for my favorite supporting artist in 2015 – they have set the bar high this early into the year.
Below are some photos of Kaneholler performing on stage – click any image to open an interactive lightbox with higher resolution versions of the images:
The Ting Tings
Members
Jules De Martino (drums, guitar, keyboards, vocals)
Katie White (vocals, guitar, bass drum, keyboards, cowbell)
Boix (touring member DJ on MIDI controllers and decks)
As I mentioned in my 2012 review, my first exposure to The Ting Tings was watching them perform live at Glastonbury in 2009 in a broadcast on Palladia, performing their hits "Shut Up And Let Me Go' and 'That's Not My Name', and I had three thoughts -1) I love them, 2) I need to collect all their music, and 3), I need to see them live.
The duo are a two piece band from England, and the aforementioned initial hits came off their debut album, We Started Nothing. The follow-up, 2012's Sounds from Nowheresville, remains among my favorite albums of the 21st Century, which was a completely unexpected surprise for me (being just a casual fan of them prior to its release).  To me, the album is – song by song, front to back – a masterpiece.  Once I heard it, I went back to the first album and fell in love with it as well.
The original critical reception to that second album was mixed, with reviewers either loving it or not being too impressed by it, which to me in some rare cases indicates that it is a work ahead of its time, and people need time to catch up to the innovation and sound, much in the same way as the Beastie Boys' second album, Paul's Boutique, which is now considered by many to be one of the best albums (of any genre) of all time.  And, for me, The Ting Tings are one of a handful of artists creating music that was what it was like for me hearing early Beastie Boys back in the day – just completely different and original and exciting.  Not following a formula but being innovative and breaking out of rigid music genres and rules.
Sounds from Nowheresville was one of those rare albums that you just completely connect with from the start…  you listen to the first song and hit the "back" button to hear it again, and it takes quite some time to make it through the entire album, because it is just that magnificent.  And all of the songs feel as though they were born from different ideas; though there is a definite consistency throughout the work, there is no redundancy – each song is great as a stand alone, and no two sound alike.  If you check out my 2012 Year in Review article, I do a detailed, song-by-song rundown of all of the tracks…
With their new album, Super Critical, the band cast out in a totally different direction, with the help of co-producer Andy Taylor.  I'd read somewhere in the past that the duo seek to reinvent themselves with each album, and would even give their band a new name each time if such a thing were practical…  The new work has more of a poppy/dance/club/disco sort of vibe that fits their catchy riffs and musical instincts quite brilliantly.
That first track, "Wrong Club", is a great representation of the sound of the album as a whole, filled with layered, catchy hooks and riffs.  There is more of a consistency throughout the album for Super Critical, compared with Sounds from Nowheresville, which was more of a compendium of wide-ranging experimentation.  I love both approaches, but they are very different works.  But a Ting Tings song is a Ting Tings song at heart (and there is no mistaking it), so in a live show, it all works brilliantly mixing things together from their different works and eras.
As has always been the case, their sound really crosses over many genres and styles of music, from indie/alternative to punk to dance/electronic to disco and funk, with a mosaic of bits of pieces from a number of disparate influences. The other great thing is that no one else sounds like them, nor do they really sound like anyone else.  And they have been far ahead of the male-female pop duo that is increasingly popular today in newer acts.
I do absolutely love Super Critical.  I am a huge fan of both funk and disco, and Super Critical is deeply infused with both, while still sounding unmistakably like The Ting Tings.
Super Critical still features loads of experimentation, but is more equal parts of a cohesive whole than Sounds from Nowheresville.  It is also quite efficient, clocking in at just over half an hour (which actually encourages full, front to back listens).
Katie White's vocals seem to get better and better with each new album, and Jules De Martino continues to be one of the more innovated artists in music today.
I think the two have really come into their own in knowing how to craft amazing songs, and hopefully they will continue to push the envelope (and do so with greater frequency) while making songs that are catchy and infectious.  I rated their latest album and lead single in my Top Ten lists from 2014.
Getting to the concert, this show was different from the ones in 2012, as they now have a third performer on stage between them – Boix (who recently did a remix of "Wrong Club").  I felt he added even more energy to the show and filled out the music, giving Jules and Katie the ability to focus more on their core onstage work.  It also brought the more club-like direction of the new album out onto to the stage, and made for a really strong show.
If you've never seen them live, Katie takes a position stage left and Jules has his drum kit set up stage right.
Katie changes things up between mic on stand, roaming with mic, and playing a variety of guitars (or not), and is constantly showing the mic stand who is boss, tossing it around the stage.
Jules is behind his kit most of the time, though he does periodically play guitar, or record some guitar riffs to loop while he drums, as well as join in on some vocals.
Below is a photo of the set list from the show at Popscene on Friday night: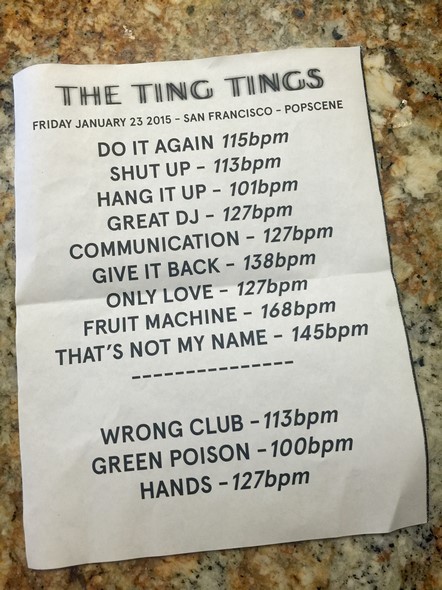 Below is the set list…
Setlist:
Do It Again (Super Critical)

Shut Up and Let Me Go (We Started Nothing)
Hang It Up (Sounds from Nowheresville)
Great DJ (We Started Nothing)
Communication (Super Critical)
Give It Back (Sounds from Nowheresville)
Only Love (Super Critical)
Fruit Machine (We Started Nothing)
That's Not My Name (We Started Nothing)
Encore:
Wrong Club (Super Critical)
Green Poison (We Started Nothing)
Hands (Sounds from Nowheresville)
I was super curious to see what they were going to play on this tour, given the new album and knowing the band themselves aren't as big of a fan of Sounds from Nowheresville as I am (to say the least!).  So in my synopsis of the set list above, I noted from which album each of the songs originated.
Of the twelve songs, five (nearly half) are from their first album, We Started Nothing, with only three from Sounds from Nowheresville and four from their latest, Super Critical.
Of course I was bummed that there wasn't more from Sounds from Nowheresville (especially "Hit Me Down Sonny", maybe my favorite of all of their songs), but I was not surprised.  I think the set list makes a lot of sense and it all flowed really well, song to song, and each seemed to be redesigned for live play.
The band is just so fun to watch, and they are a great live band.  They sound great, they connect with the audience, and they obviously are having as much fun as everyone in the audience.  In my opinion, they are one of the best artists to see live today, so I can't recommend enough turning out for one of their rare live shows if you ever have an opportunity.
"Wrong Club" sounded amazing live, and is definitely one of their best songs in the catalog.  I was lucky enough to hear it twice (once also in sound check) and it was fantastic each time.
Probably the most unique song of the night was the encore closer, the greatly reworked "Hands".  With pulsing/blinding strobe lights and a pumping beat, they played around with it for a while (with Jules off drums and beside Biox), I think it illustrated both their ingenuity as well as the versatility of their songs, which they have been known to rework in new and interesting ways.
I will soon be publishing a feature on the Sacramento show at Harlow's that happened the very next night, with additional photos from that concert.
Below are some photos of The Ting Tings performing on stage – click any image to open an interactive lightbox with higher resolution versions of the images: