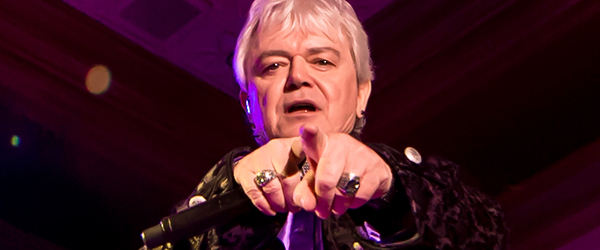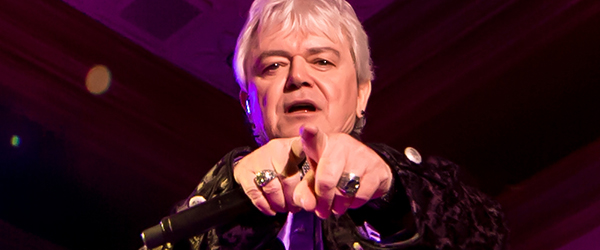 "Tonight, we are here for you… and you for us.  Are you ready?  Let's go." Graham Russell, taking a pause on the front end of the sold out show at Thunder Valley Resort Casino on Friday night, looking back on 2014 and then at the very moment and forward.  He and his songwriting partner Russell Hitchcock, strike me as very thoughtful and contemplative.  I'd just caught one of their shows in South Lake Tahoe in September, and couldn't pass up the chance to see them do their thing (and a special thing it is) again, since they were playing even closer to home for me.  The duo that comprise Air Supply this year are celebrating 40 years together of making amazing music together and taking it out on the road to play before crowds of all ages (Graham also exclaimed, "there will be a 50, too!").  Which is no surprise, as their music is ageless.  And, like that last show I saw, close out their encore with the extremely contemporary "Desert Sea Sky", which seems to catch many by surprise (in a good way).  But I've found from going on these live journeys with them twice now, that they are full of surprises, and know how to put on a live show that can go from fast to slow, rocking to ballad, in the blink of an eye.  And they seem to love it as much as their fans.

Who: Air Supply
Venue: Thunder Valley Casino Resort – Outdoor Amphitheater
Where: Lincoln, California
When: January 30, 2015
Seating: (photo pass)
This was "an evening with…" style of show, so there was no supporting band, and Air Supply came on just a bit after 8:00 and played for about an hour and a half.
Hosted by Thunder Valley Casino Resort at their indoor Plano Hall venue, there was a sold out crowd of just under 1,000 fans, and, as I understand it, they've played here the past four years and are fans of the venue themselves.
Out front, in addition to the merch table was a nice display for a charitable cause that they are now supporting World Vision.  They mentioned this a few times during the show (in an authentic and earnest way) and even offered backstage passes to meet with them to those who signed up for the cause.  Pretty awesome.
As I just reviewed their show at Montbleu not too many months ago, some of my review will be borrowed and updated from that, though there were some significant differences from the two shows as well – distinct and unique experiences.
Air Supply
Members
Graham Russell (vocals, guitar)
Russell Hitchcock (vocals)
Aaron Mclain (lead guitar)
Jonni Lightfoot (bass)
Amir Efrat (keyboards)
Aviv Cohen (drums)
England-born, Australia soft rock duo Air Supply have a number of concert dates all over the United States coming up and going through the end of 2014. Singer-songwriter/guitarist Graham Russell and lead vocalist Russell Hitchcock have been together as a band for 39 years and created a number of pop hits.
They met in 1975 in Sydney while rehearsing for Jesus Christ Superstar. They begin playing night clubs together as a duo after their play performances, and eventually made a two song demo which got them a record deal.
Their first single was made in one day, and it went to #1 on the charts. In their first year, they toured with Rod Stewart in Australia and North America.
Their big break in the United States came from Clive Davis in 1980, who signed them to Arista Records in 1980 after hearing, "Lost in Love", which was a tremendous sales success, as was the follow-up, "All Out of Love". They sold tens of millions of copies of records in that first year, and made a permanent imprint on pop culture throughout the 80s.
Air Supply has had continuous success since, with their last album, Mumbo Jumbo, having debuted in 2010.
It's really quite fascinating that these two guys met up by chance in Australia, and created this fantastic music, adopted by the masses worldwide, starting back in the early 80s. They didn't have the cutting edge resources and talented producers and songwriters that artists have today… they used their own gifts and grit to do it alone, and found success that has never been duplicated in the same genre and on the same scale.
They opened the night with "Even the Nights Are Better", one of their more known hits, and the audience was immediately sucked into the performance.
The layout in the Plano Hall was all seated, but as the set wore on, people were inspired to stand up, dance, and… by the end of the show the entire crowd shifted up and out of their seats and forward and around the stage, with Russel Hitchcock reaching down to fist bump, shake hands, and even sign a few autographs as he performed.
One thing that really stood out for me is how unique Russell Hitchcock's voice is – it is so immediately identifiable, and after all these years, if you close your eyes, it is as if no time has passed. He sounds amazing, and he still has the range.
Another thing about him is how he moves – glides really – across the stage. There was a tremendous amount of artistry going on with his feet throughout the show. It was mesmerizing, really.
Russell is also very emotional. I could see him getting a little chocked up at times during the performance, feeding off what the audience was giving him. I would have to say that there were some very dedicated fans throughout, and that probably made for a stronger show.  This was true of both shows I've recently attended.
For "The One That You Love", both Russell and Graham came off the stage and performed the entire song while roaming up and down the aisles of the venue.  It was after that that the show became more of a true GA standing show!
Much larger in stature (he's a big guy – I'm six feet tall and you can see him tower over me in the meet and greet photo), Graham was physically more grounded, and while Russell is often scanning the audience to connect with fans, Graham did some of that too, but also gave some serious attention to his guitars. During one song, when there was a break in his playing, I saw him doing some business with his guitar pick, sort of rhythmically, that was kind of fascinating to watch.
Both men were very warm with the crowd and engaging, and making the fans contribute to the show by keeping a beat with clapping, singing the chorus of some songs, prompting people to stand (and most were standing throughout the end of the show).
Their band was very impressive and enthusiastic with their work, and everyone played so well together.
With a lot of keys and synths in many of the songs, Amir Efrat, kept busy throughout, and had a very natural style.
Aviv Cohen set a solid foundation on drums with Jonni Lightfoot on bass backing everyone up.
Aaron Mclain was a true stand out of the night, and was one of the best guitarists I've seen in some time. One of those rare musicians that do stuff that your mind can't quite keep up with, all the while making it look so effortless.  I wouldn't be surprised to see him mature into a superstar in his own right some day.
Russell and Graham seem to have real love for their band, and I think it shows in the performances all around.  Not only did they introduce the band during the show, but the entire crew.  Definitely a real family.
As was the case in the last show I attended, there was one break in the show  in which Graham slows things down to a more contemplative pace, and he recited a poem he wrote called, "Softly". He went on to confess, "I love words and I love poems… if you don't like it, it's too late" to the laughter of the fully engaged audience.  Definitely an interesting man, who has more than one outlet for his creativity, and it's awesome that he is still making new works of art, in a variety of forms.
The big treat for those in attendance at this Thunder Valley show was Graham's duet with Amir on keys and he on guitar, to perform a song he hadn't done live in 40 years (when Russell Hitchcock returned to the stage afterwards, he said it was the first song they'd played live together).
Graham said he wrote the song in 1972, while in his early 20s (as an aside, he said he'd written over 500 songs by the time he was 22, but "it doesn't matter how many songs you wrote; it's do people get to hear them, listen to them").
Graham explained, about this special song, "It's very interesting, the first verse… it's almost like I'm putting the idea out into the universe for someone to come and join me, and create something.  And I think that person was Russell Hitchcock."
Pretty amazing.  Here is that first verse of that song, "Just Between The Lines":
I'll always need a friend
One I can defend
All I've got to give
Is do you want to live
With me every day till I pass away
Not only was it a touching poem of a song, it sounded absolutely amazing live.
They opened their two song encore with a surprise – their new dance/electronic song. Not only can they do the love ballads, and the rocking songs… they can do something completely contemporary, fast and electronic. These guys are full of surprises. The song was upbeat and smoldering. I think catchy music just runs through the veins of these two, and really there is no type of music that they couldn't tackle if it caught their interest.
Below is a photo of the set list: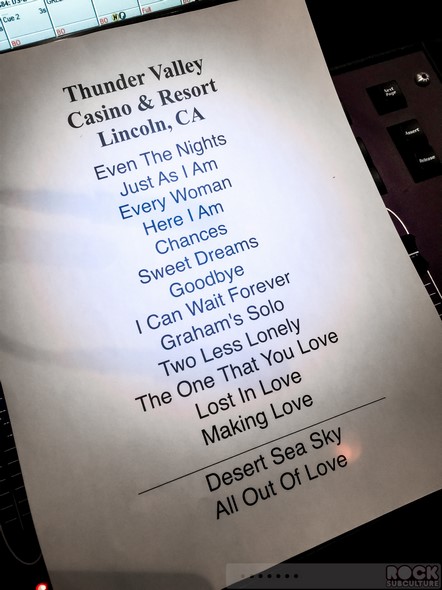 Below is the set list…
Setlist:
Even the Nights Are Better
Just As I Am
Every Woman in the World
Here I Am (Just When I Thought I Was Over You)
Chances
Sweet Dreams
Goodbye
I Can Wait Forever
"Softly" (Poem recited by Graham)
Just Between The Lines
Two Less Lonely People in the World
The One That You Love
Lost in Love
Making Love Out of Nothing at All
Encore:
Desert Sea Sky
All Out of Love
Definitely an amazing band of gifted me.  I can't recommend highly enough going to check out one of their live shows if you are able to get to one.
Below are some photos of Air Supply performing on stage (click any image to launch the virtual lightbox for higher resolution versions of each photo):
Jason DeBord