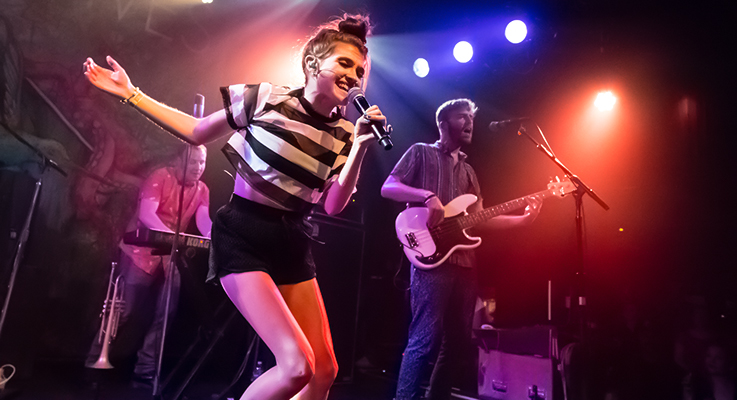 "Holy shit!  San!  Fran!  Cisco!  Oh my God.  Well, I may be really fucking tired…  I danced my ass off!  I have sit down so I don't have a heart attack!  … just in case you missed what we were trying to say…  San Francisco, you are fucking amazing!"  MisterWives' Mandy Lee, after coming back on stage for their encore, taking a seat behind the drum kit.  That encore opened with a "fucking amazing" cover of "Uptown Funk".  This is the moment where they really showed off how each member of the group is an exceptional musician, as they went through an extended jam session that really showcased their music talents and ability to intuitively wander about a song and squeeze every last bit of sonic confection out of it.  I first saw the New York pop band performing as part of the KNPB television series, Cargo Live at Whitney Peak Hotel in Reno, and came away feeling that it was a band destined for a very bright future.  That feeling was cemented Thursday night, as they have matured even more as a live act.  Their debut album, Our Own House, has since been released, and fueled them through an hour and a half show.  The theme of the night, for them, seemed to be an earnest love for The City by the Bay, with Mandy becoming choked up at the love being showered onto the band throughout the concert.  They are definitely a young act with much larger stages waiting for them in the not too distant future, as long as they keep on doing what they are doing.

Who: MisterWives
Who or Supporting: Bows
Venue: The Independent
Where: San Francisco, California
Promoter: Another Planet Entertainment
When: June 4, 2015
Seating: General Admission (also photo pass)
This was a make-up show, and was sold out previously as well.  The place was packed, and their was a growing buzz in the room, especially after the concert concluded.  One of my friends, Nick, compared MisterWives to "a young No Doubt", which I feel is an apt comparison, as well as Imagine Dragons, in that we saw them perform at The Independent (a 500 capacity night club) as well two and a half years ago, right before they blew up and started selling out sports arenas with five figure capacities.
MisterWives will also be playing Live 105's BFD 2015 festival at Shoreline Amphitheatre tomorrow…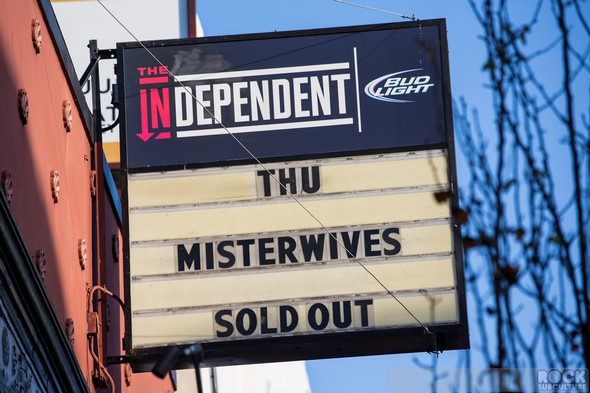 Bows
Self described on their official Facebook page as "Living Room Pop", it wasn't until the end of their set that they mentioned that it was their first live concert performance.  Ever.  I was taken aback, because, I thought, it that was true, I would think it would be obvious.  The Berkeley group, with Kaila McIntyre-Bader on vocals and keyboards, put on a great set.  I noticed that the audience was likely filled with fans of MisterWives who weren't familiar with them, yet was clapping and bouncing along to the sounds.
Billed as a duo of Kaila McIntyre-Bader & Luke Bace, "along with Collaborators and Friends", the stage will full with three backing vocalists, another keyboardist, and a drummer.
Their music was catchy, but definitely marked a contract to the louder and infinitely upbeat stylings of MisterWives; while Mandy bounces relentlessly across the stage, Bows were static, each standing and sitting behind their respective instruments – hidden from view even depending on where one stood – giving a vibe of a somewhat introverted group.  This all laid a foundation for MisterWives' entrance onto the same stage shortly after as being that much more of a bolt of energy.I did really enjoy the show put on by Bows, and I think the contrasting styles made for an interesting night of entertainment.
Below are some photos of Bows performing on stage (click any image to open a virtual lightroom with higher resolution photos):
MisterWives
Members
Amanda "Mandy" Lee Duffy (vocals)
William Hehir (bass)
Etienne Bowler (drums)
Marc Campbell (guitar)
Jesse Blum (keys, trumpet, accordion)
Mike "Murph" Murphy (saxophone)
This show was originally scheduled for March of this year, so it ended up being the last show on the tour with this make up date, which seemed to have a lot of meaning for the band as they chatted between songs, reflecting on their accomplishments.
Speaking of reflecting, MisterWives released their first six song EP, Reflections, early last year, with their debut Our Own House following just a year later, so they have come very far, very quickly.  In spite of the speed at which things have pulled together for them, as the heart of it all is quality work.  Both their EP and album are fantastic, and serve as showcases for a unique style of pop-infused bliss.  Their live act is just as exceptional.
At the heart of MisterWives is the amazing Mandy.  Equal parts brilliant vocal ability and boundless joy, she has a very unique gift with a lot of range but a bit of a reverb/fluttery quality that gives their music a unique signature.  She has incredible control and is so good that really paying attention to what she is capable of is stunning.
More, she has a great ability to sing words and lines very quickly, which is consistent with her movement on stage.  I learned with doing photography at their show last year that Mandy is perhaps the most difficult subject I've attempted to focus on with fast prime lenses, short of actual hummingbirds in the wild.  She rarely stands still, even when she is literally standing at a mic (which is maybe 1% of the time).
But MisterWives isn't simply "The Mandy Show", as each member of the band on stage is exceptional and together create layers of sound around her that lifts them up collectively to build something grand.  The horns in particular add to their unique style (in the same way as the aforementioned No Doubt, though two totally different styles of music).  And, like Mandy, each of them seem to be having the time of their lives.  I imagine that they would have a blast just jamming with each other on the stage in an empty hall, though they obviously are supercharged when an audience is on hand to jump on their musical roller coaster of a show.
When I reviewed their Reno show last October, they didn't even have a Wikipedia entry yet, so they've come very far, very fast!
Of course, if their music sucked, none of this would matter…  but their music is incredible.  I am a sucker for anything that is infused with really quality pop elements, and MisterWives deliver in spades.  They have some great structure (with changes) and catchy hooks in their songs, as well as some real diversity among the songs that they've released.  The horns also add to the music greatly, even used sparingly.  Some of my favorite bands have gotten far with the same (INXS, Oingo Boingo).
While I don't think I would fall into their typical fan profile at 42 years old, I read that Mandy formed MisterWives in 2012 because she wanted an 80s cover band for her birthday party.  My favorite musical era is the 80s (no surprise for anyone who follows this site), and I think some of the spirit of the 80s is infused into their music – think Culture Club – that unique pop approach and infinite optimism.  Cool stuff.
They are a rare band that has all of the elements pulled together for a really successful career…  not just a few hits and then off the scene, which is so typical in music today.  But an actual career, with stability, consistency, and longevity.  They are the real deal, and I expect them to continue to (quickly) build on their successes.  Definitely a group to watch and follow.
Below is a photo of the setlist for MisterWives for this appearance: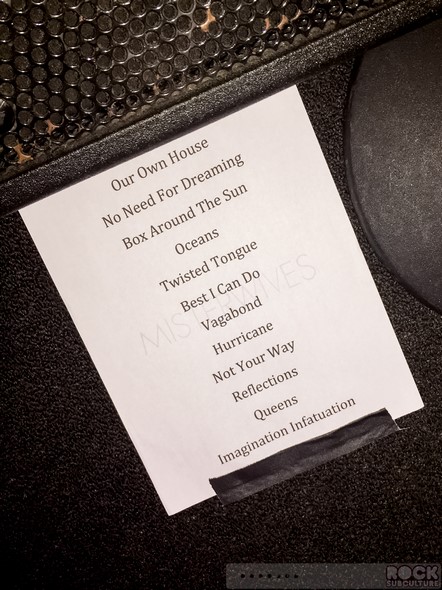 Set List:
Our Own House
Oceans
Coffins
No Need for Dreaming
Vagabond
Best I Can Do
Twisted Tongue
Not Your Way
Hurricane
Reflections
Queens
Encore:
Uptown Funk (Mark Ronson & Bruno Mars cover)
Imagination Infatuation
Below are photos of MisterWives live in concert; click any image to open a virtual lightbox with higher resolution versions of each photo:
Jason DeBord