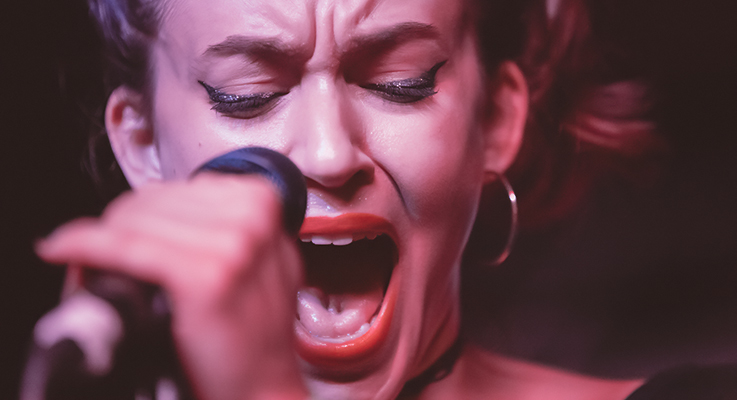 I usually open my concert review articles with a quote from one of the artists on stage that night, though with Meg Myers at The Boardwalk on Thursday night, it would have been words in reference to asking some loudmouthed people in the venue to shut up.  More on that in a moment.  In spite of the ongoing source of annoyance to those who showed up to enjoy the music and the artists who came to perform, Meg and her band put on a stellar performance.  I've been a strong supporter of Meg and her music since I first saw her open for the Pixies in Los Angeles two years ago, and she has continued to build on her works and cultivating fans who understand her and her music.  Her debut album, Sorry, is due next month, and it will be interesting to see how much it fuels her career and where it will take her coming into 2016.  The single, "Sorry", has been a big hit for her.  She is, in my opinion, one of the most creative and interesting (and exciting) artists active today, and her live show is definitely one not to miss.

Who: Meg Myers
Supporting: Wild Party
Venue: The Boardwalk
Where: Orangevale, California
Promoter: Ace of Spades Concerts
When: June 5, 2015
Seating: General Admission (front row center; also photo pass first three songs)
I was born in Sacramento and grew up in the general area (mostly the foothills outside of the city), and it seems like The Boardwalk has been around forever.  Located in Orangevale (which no one outside of Sacramento would likely have ever heard of), the place was recently taken over for concerts by the people who run Ace of Spades (which is a great thing).  Funny enough, I've never before actually seen a show at The Boardwalk.  Maybe one of my biggest concert laments is that I had tickets to see The Killers there before they broke big, but got sick and skipped it.

I always show up to shows an hour or more early if there is a GA floor and no photo pit, so I was there first but the line grew quickly and long – I was very surprised and impressed.  There must have been 50-75 people lined up before doors, so it is awesome that Meg Myers is becoming more of a well-known artist.
The venue holds around 450, and it was pretty full by the time Meg took the stage.
I've been to hundreds of shows all over the world, so I've got a pretty good sense of audiences and matching up crowds to artists, and there was definitely a contingent of attendees at this show that were a mismatch for the artist.  Well, probably a mismatch for most artists.
I got the sense some came out just to get drunk and shout at the stage, which did have a negative impact on the event for everyone else, including the principal performer.  There was also the contingent of people in the audience (also drunk) constantly shouting out "I love you" and singing over Meg's vocals.  I guess some believe that a concert is nothing more than a backyard kegger and karaoke sing-along.
Singing along at a Meg Myers concert would be kind of like singing along at Nirvana's MTV Unplugged show back in the day…  it's about the performer and the intensity and the moment – not being a narcissist and making it about yourself.  For me, people shouting/screaming "I love you" and "you're beautiful" would be kind of like doing the same to Kurt Cobain at a Nirvana concert…  I don't think Meg nor Kurt would need such constant and persistent flowery accolades shouted at them at the expense of everyone else trying to hear and enjoy and get sucked into the performance, and shattering certain moments and movements within the songs.
Then there were the people just loudly talking, I guess feeling the show was not much more than serving as backdrop to their personal conversations.
It got so bad that at a few points during Meg's set, she asked people to shut up, and during the encore had to stop and threaten not finishing the song if people couldn't shut up (which didn't seem to have any impact, and she did seem to unplug her guitar just before finishing "The Morning After").
If that wasn't bad enough, at one point during the set Meg gestured to her bandmates to cut the song "Make A Shadow" right before they were to have played it (per set list); I'm guessing this was a result of the annoying people in the crowd.
So it became a case study in alcoholism, a lack of self awareness, and bad manners.  Some people seem incapable of having a thought without their lips moving and sound coming out.  Way to go, Sacramento.
Of course, there were also super cool people in the audience, and real dedicated fans, who "get it", and that carried the night.
Anyway, I just wanted to extract that element of my review of Meg's set from that portion of my review to set aside the negative aspect which was entirely out of her control.  But there were a lot of obvious Meg Myers fans who were excited for the show, and she did not disappoint.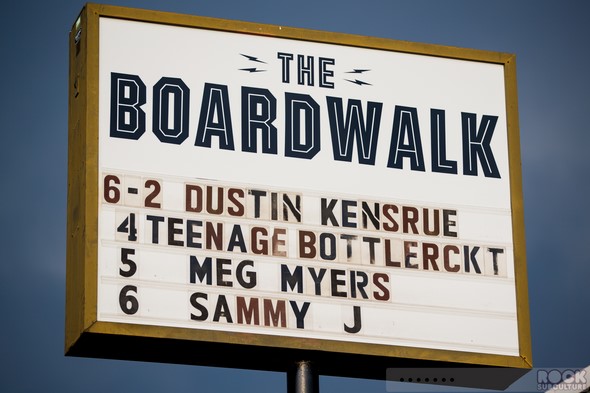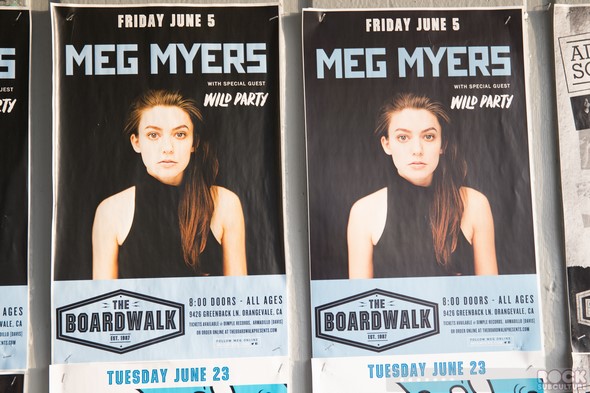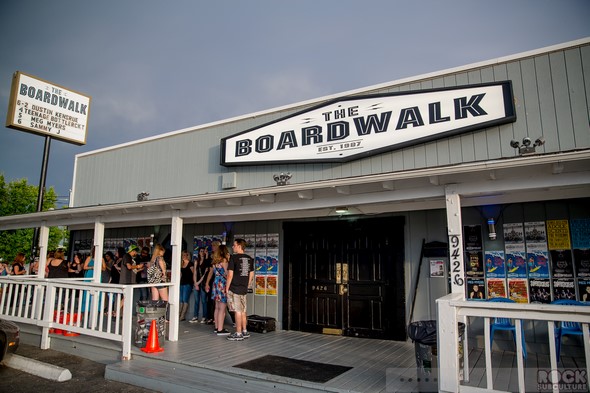 Wild Party
Members
Lincoln Kreifels (vocals)
Lucas Hughes aka Luhu (guitar)
Ethan Kaufmann (drums)
Wild Party are a band from San Antonio, Texas.  A quartet, there were three of them on stage Thursday night in support of Meg Myers (for one song, Meg's guitarist joined them and filled in on bass).  Originally formed as a duo in 2009, the project was put on hiatus for some time.
Today, they have a full album out – Phantom Pop – and you can check out their single, "OutRight", on YouTube: LINK
They put on a really entertaining show and seemed to be a good fit supporting Meg Myers.
Below are some photos of Wild Party performing on stage (click any image to open a virtual lightroom with higher resolution versions of each photo):
Meg Myers
Members
Meg Myers (vocals, bass, guitar)
Lauren Stockner (guitar, bass)
Ken Oak (celloist)
Sam Gallagher (drummer)
I first saw Meg Myers and her band perform at one of the warm up gigs by Pixies in Los Angeles in 2013 (and raved about her in that review), and was blown away by both her music and her live performance.  I actually attended two of those Pixies shows, but only shot one (the support the next night, which I shot, was the also stellar Reignwolf), so I did not get to photograph Meg Myers that first show.
I got a chance to see her live again in 2014, this time performing with Broods in San Francisco.
In my Rock Subculture 2013 Year in Review feature, I named Meg Myers as one of my Top Three Supporting Acts of the year and I chose "Adelaide" as my #1 Best Song of 2013 (along with five other Meg Myers tracks filling out my Top 100 Songs of 2013).
In short, I was an instant fan, and I feel that she is one of the most exciting young talents in music today.  At just 28 years old, the singer-songwriter released her second EP, Make a Shadow, last year.  With her first full album due next month, I'm both excited to hear it as well as looking forward to see where it takes her, and if she breaks out bigger like she deserves.
It has been cool to see her stage performance evolve over the past few years…  there is definitely more intensity but also, I would speculate, she is more comfortable getting into the sort of place and state of mind where she can channel the emotions driving the songs more fully.  In that regard, she reminds me of Kristin Hersch from the Throwing Muses, who in a live setting will often lock onto some invisible force up and over the eye line of the crowd, as though she sees something invisible to us all.  Meg does this too, but whatever she is looking for is maybe a bit more evasive, like she is hunting it down and trying to trap it within her gaze.
Meg Myers is a really interesting artist to me, because she is so both unique and genuine, and while there are bits and elements and styles that remind me of other artists and songs, going back to the 80s, she is completely original and authentic.
And, like the Pixies that she supported a few years ago, her studio sound is accurately recreated on stage (or maybe her live sound is captured is the studio?).  I'm always a little surprised, too, by the sounds coming from Ken Oak's cello, that are very un-cello-like.  New to the stage for me with this show was touring guitarist Lauren Stockner, who also played on bass for one song with opener Wild Party.  Sam Gallagher continues to kill it on drums.
As I've said before, she is one of my favorite artists performing today, and a must see act on the road.  She is deserving of great success.  I feel as though she has some of the same musical sensibilities as Kurt Cobain – you can feel raw emotion (and pain) in her songs but there is a really catchy/hooky pop sound at the heart of it all.
Below is a photo of Meg Myers' set list from her concert at The Boardwalk in Orangevale: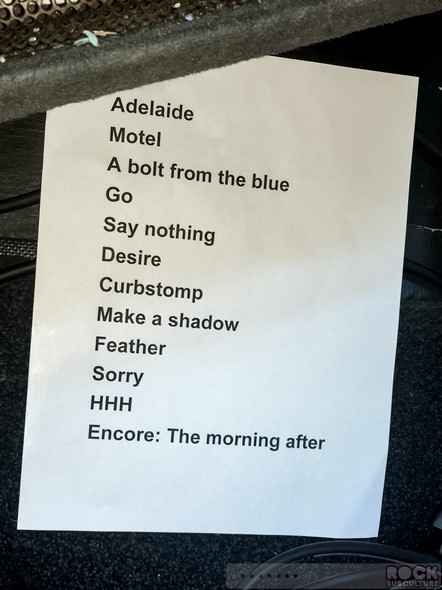 Setlist:
Adelaide
Motel
A Bolt From the Blue
Go
Say Nothing
Desire
Curbstomp
Feather
Sorry
Heart Heart Head
Encore:
Below are some photos of Meg Myers performing on stage (click any image to open a virtual lightroom with higher resolution versions of each photo):
Jason DeBord