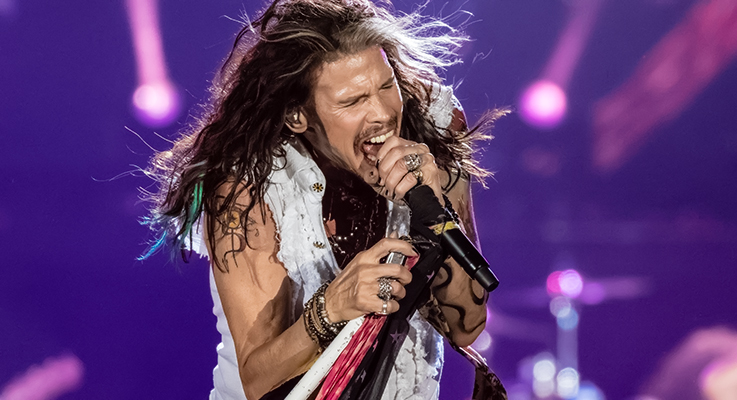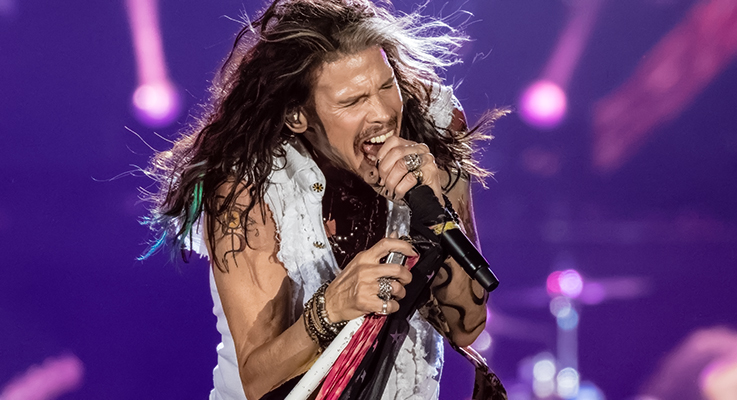 "Remember baby, the lake may be cold, but the light at the end of the tunnel may be you…"  The final words from the immortal Steven Tyler as he turned his back to the crowd and strutted topless down the ramp and into the bright lights glowing from the back of the stage, as "Bad To The Bone" played him out.  Performing at Harvey's Outdoor Arena in South Lake Tahoe as part of their Summer Concert Series two years running, the explosive live show by Aerosmith kept a sold out crowd on their feet for over two hours.  In my own opinion, Aerosmith is not just the best live rock and roll band touring today, but maybe of all time.  They do pretty much everything better than anyone else, and they have so many hits in their arsenal that it just builds and builds and builds all night.  Steven Tyler was born to do what he does, and even at 67 years old, he does it like no one else (and last night appeared to be have more energy than any of the 7,000 people in attendance).  As much as he is the ultimate front man and performer, he is absolutely beaming when "Joe Fucking Perry", "on guitar for 40 fucking years" is beside him, bringing the familiar riffs to life in a way that seems to be equal parts passion and effortlessness.  Their songs feel like they were made to be performed live, and maybe more than any other band today, they know how to put on a show that's brilliant no matter where you are, from up close to far away in the bleachers.  Even if you are not a dedicated Aerosmith fan, I would say above any other band today – if you are a fan of ANY contemporary music – you've got to turn out to their show at least once, just so you have a new benchmark from which to judge all other concerts.  It really doesn't get any better when you consider every critical element that goes into a live concert event.  They've earned the title, "America's Greatest Rock and Roll Band".
Who: Aerosmith
Supporting: Max Volume
Venue: Lake Tahoe Outdoor Arena at Harvey's
Where: Stateline, Nevada (South Lake Tahoe)
Promoter: Another Planet Entertainment
When: July 3, 2015
Seating: Section Floor 5, Row 18, Seats 15 & 16 (second row center in front of end of ramp; also photo pass first three songs)
I love Harvey's Outdoor Arena in South Lake Tahoe (technically Stateline Nevada, but literally a stone's throw to California).  It accommodates thousands, yet feels intimate, and there is not much better of an overall setting than Lake Tahoe.
Aerosmith's "Blue Army Tour" series of concert events began a few weeks ago, covering cities in the United States and British Columbia through August.  Four time Grammy winners, they come armed with a ton of hits, old and new, that get crowds worked up into a frenzy. 
Why "Blue Army Tour"?  Per Joe Perry, "[t]he name Blue Army came from the fact that 'everyone' in our audience from the 70's were wearing blue denim and it looked like a sea of blue, thus The Blue Army".
On this tour, the band is playing their biggest hits, which are also featured in the Aerosmith Rocks Donington 2014 DVD.
I was shooting and reviewing the show, but my financée Shelley had never seen them live, so it doubled for me as a date night too.
I saw them in 2012 as part of their Global Warming Tour (see review), so knew the best place to be for an Aerosmith show was at and around the end of the catwalk that extends far into the floor crowd, so kept checking all of the resale sites for the best tickets that I could find.  Since the seating chart for their custom set-up did not include seat numbers on Ticketmaster, it was kind of a guess.  I finally found a pair of tickets in the center section that were dead center (seats 15 and 16 in a row 32 seats across), so I knew that they would be somewhere directly in front of the end of the catwalk.  We didn't know until we showed up at the venue, but they ended up being dead center, second row, so we were thrilled.  Since I was shooting the first three songs from the soundboard, I didn't experience the entire show from right up close, but the majority of it.  Shelley agreed they put on one of the best show's she's ever seen as well.
Below are a few photos I took with my iPhone from our "date night" seats (including selfies) at the front of the ramp (see professional photos taken from the soundboard at bottom of article):
Max Volume
Max Volume is a local DJ and also has a three piece rock and roll band, who opened for Aerosmith.
Below are some photos of Max Volume and his band performing on stage (click any image to open a virtual lightroom with higher resolution versions of each photo):
Aerosmith
Members:
Steven Tyler (Lead Vocals, Harmonica, Percussion, Piano/Keyboards)
Joe Perry (Lead Guitar, Vocals/Backing Vocals, Keyboards)
Tom Hamilton (Bass, Backing Vocals)
Joey Kramer (Drums, Percussion, Backing Vocals)
Brad Whitford (Rhythm Guitar, Acoustic Guitar)
Bob Johnson (Keyboards, Backing Vocals)
Aerosmith are legends in music and pop culture, so providing a bit of a synopsis… I'm not even sure where to begin. At the most basic, they are a band formed in Boston in 1970, and definitely fit into the genre of rock and roll, though they definitely have their own unique style (in sound and appearance) and do actually have quite a bit of range with their works, from heavy metal to pop-oriented to ballads to R&B.  In fact, Steven Tyler just released a solo country single – "Love Is Your Name" – which is causing a lot of buzz.
They've produced an incredible number of hits over the years, though what really sold me, funny enough, was their unlikely collaboration with Run-D.M.C. with the reimagined "Walk This Way", which not only was revolutionary in sound, but it included a killer video that was in constant circulation on MTV when it was first released. The song not only propelled Run-D.M.C. (and rap along with it) into the mainstream, it also ushered in a resurgent interest in Aerosmith and their work. While it is extremely common these days to see a new single with "(feat…)" in the title, such collaborations were not common in the 80s, and I can't imagine a more appropriate pairing than what occurred here (and funny enough, with Steven Tyler and Joe Perry smashing through a wall in the video – this song and video smashed many barriers in the music industry and pop culture at large).
My other personal note with this band is that, though they have some really incredible music, far and away my favorite song from them is "Dream On". In fact, I'd go so far to say it is definitely in the top ten of my favorite rock and pop songs of all time. Just an amazing, amazing song.
One of the great things about the Aerosmith tours is that they offer a number of incredible VIP "experience"-related packages, and I participated in one of these in the show a few years ago and it was a lot of fun (I even got to ask Joey Kramer a question during his pre-show Q&A).
As mentioned, the end of the catwalk in particular is really at the heart of their live concerts, and their set opened with Steven Tyler and Joe Perry emerging up through the bottom of that platform, amid smoke and effects.  Steven Tyler was decked out in a festive, Fourth of July-inspired ensemble that only he could pull off.
Before I get into the actual performance, I have to emphasize that – more than any other artist I've ever seen – Aerosmith and their live show is built on a foundation of what amounts to the very best crew and technicians in the business.
The sound – dialed in brilliantly.
The lighting – probably the best end to end concert lighting I've ever seen.  And I pay more attention to lighting than anyone, since I'm photographing artists at every show I go to, and so much of it is at the mercy of lighting.  These guys are AMAZING.  Not only is it so, so good from a technical standpoint, but it is in rhythm with the music and stage cues and changes up song to song to song.  And being up close, they make the artists "pop" in such a way that they look almost four dimensional (because I just can't begin to know how to even describe it).   I can't emphasize enough how amazing these technicians are, and how well they work together as a team.  Seriously, THE BEST.
The cameramen.  Aerosmith employs those big jumbotron screens across the back of the scene, like you've seen with other artists… but they do it in a way that is so much better than everyone else.  All around (and on) the stage are cameramen with cameras feeding live video to the team cutting it all together in real time, and they are the best I've seen – incredible angles and close ups and movement…  Even with Steven Tyler and Joe Perry standing less than ten feet away from me, what was being projected on the screens was such crazy eye candy that sometimes I found myself watching the videos instead.  Which is why Aerosmith put on such an amazing show for everyone in the arena… the show is designed to project every once of excitement to everyone.
Really, of all of the hundreds of concerts that I've been to over the past few years, I would single out two artists as being the best for playing massive venues – Aerosmith and P!nk.  Impeccable production values.
Of course, if the artists and/or their music wasn't any good, it wouldn't matter.  But the hits by Aerosmith have become classic staples in music today, known by everyone.  And there is no front man that is anything like Steven Tyler and what he does on stage.  He is magical, and he has such a love for his fans, that there is a real strong connection and interplay going on throughout the show.
If rock and roll was comprised of a pantheon of Greek gods and goddesses, Steven Tyler would be Zeus.
Joe Perry is such a joy to watch at work.  The only other guitarist who has a similar sort of style that seems to be a natural gift – like with these magical sort of simplistic gestures that bring out sound that is so much more complex than how it appears – is Andy Taylor.
Just as the production values make for an experience that overwhelms all of the senses, Tyler also gives incredible fan service by constantly tossing memorabilia into the crowd, from hats to shirts to jewelry.
One crazy thing that happened early on in the show was when Steven Tyler tossed his harmonica into the crowd – it actually chipped a tooth of the woman standing next to my financée!  One of those things where if you tried to do it, it would be impossible, but just a freak accident.  Funny enough, she was entirely unfazed by it and seemed like the biggest Aerosmith fan in the place.  Some people from the band came and checked on her and took her contact info (again, the professionalism of this production is unlike anything I've ever seen), but she kept saying it was not a big deal and not to worry about it (she told me later, 'that's why I have insurance!').  I took a photo with my cell phone, and you can see part of one of her bottom teeth was chipped off completely.
And that was one of the other remarkable things about this show – one of the best crowds ever.  Being the night before the Fourth of July and a Friday night as well, you would expect some craziness, but really everyone was just happy and excited and into the show.  It definitely felt like a "fan" show, with real hardcore fans all around us – so much fun!
With 15 studio albums, they obviously have an endless reservoir of music to pull from, and this show was framed by the biggest hits, including selections that allowed each core member of the band to have special highlights of their talents (I particularly love the drumming-focused sections by Joey Kramer).
Below is the set list from the show at Harvey's Outdoor Arena in South Lake Tahoe on July 3rd, 2015:
Setlist:
Let the Music Do the Talking
Love in an Elevator
Cryin'
Jaded
Last Child
Livin' on the Edge
Toys in the Attic
Drum Solo
Rag Doll
Stop Messin' Around (Fleetwood Mac cover)
Mama Kin
I Don't Want to Miss a Thing
Draw the Line
No More No More
Dude (Looks Like a Lady)
Walk This Way
Encore:
Chopsticks ("The Celebrated Chop Waltz"; partial)
Home Tonight (partial)
Dream On
Sweet Emotion
Perry only said a few words during the night, but seemed to have a special connection with Lake Tahoe, giving this intro to "Stop Messin' Around":
"Tahoe, how you doin'?  Man, this is fuckin' great.  This reminds me of the place me and Steven met, about 40 years ago.  The same kinda thing.  You got the lake, you got all the boats.  Everybody's here havin' a great time.  And I remember we used to play out on the lawn here and there and all that kind of thing.  And it was much smaller, of course.  It's great to see you all here, and we're going to do little blues number for you.  From Boston; we do have a heritage of playing the blues in Boston, and it goes like this…"
One of the most interesting insights that Steven Tyler shared, in preface to "No More No More":
"When we wrote this song, and we put it down in the studio, and we listened to playback… I thought: 'Fuck. We arrived'.  That was it.  For me, that was it. Today, at meet and greet, I heard the song, "Nine Lives".  Changed everything.  No, but seriously, this song – this was the one.  Joe Perry!"
As with the last time I saw them, the highlight for me was "Dream On", wherein a piano rises up from the end of the catwalk (funny enough with a quick riff on "Chopsticks").  It's such an incredibly powerful song, and experiencing it live is really a transcendent experience.
The show was essentially "an evening with" style concert with a bonus opener, as Aerosmith performed non-stop for about two hours.  Walking out, my immediate thought was wondering when I might get to see them to do it all again.  Really, they put on the best show – my highest recommendation.  They can get the most jaded, bored concert goer excited about live music again.  Guaranteed.
Below are some photos of Aerosmith performing on stage (click any image to open a virtual lightroom with higher resolution versions of each photo):
Jason DeBord