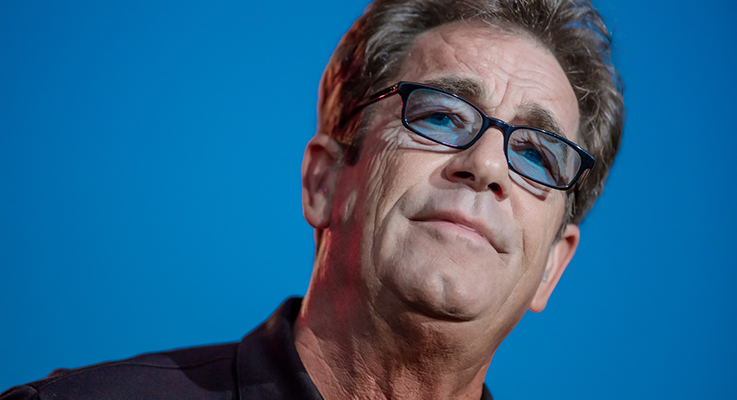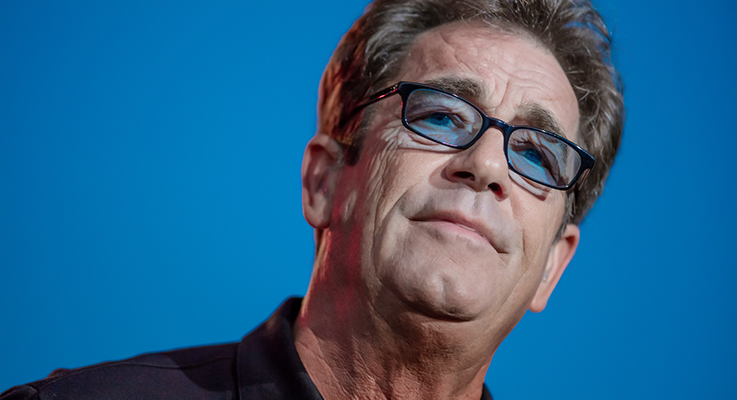 "I love you too, sir!"  Huey Lewis of Huey Lewis and The News literally giving some love to one member of the sold out crow at Thunder Valley's Outdoor Amphitheater on Friday night.  "We first worked together about 40 years ago…"  Huey Lewis, talking about Eddie Money who played the supporting set, giving a sense of how long the two have been making hit music, both with new albums in the works today.   Of course, Huey Lewis and The News came armed with more hits than they had time to play, but they did manage to squeeze in a few new songs as well, introducing one by saying, "a brand new song for you… now feel free to imagine yourself owning this song on a CD sometime next year – it's called, 'Her Love Is Killing Me'".  Having taken their "Sports 30th Anniversary Tour" around the U.S. in 2013, they have always been a band to look both backwards and forwards, and the timelessness style of their music makes it easy for fans to embrace this approach.  Shows by Huey Lewis and The News always seem to have an authentic vibe to them, as Huey reminisces about their roots in the area, even when playing to a long sold out crowd of 5,000+ fans.

Who: Huey Lewis and The News
Supporting: Eddie Money
Venue: Thunder Valley Outdoor Amphitheater at Thunder Valley Casino Resort
Where: Lincoln, California
Promoter: Thunder Valley Casino Resort
When: July 31, 2015
This show was part of the Thunder Valley Outdoor Amphitheater's Summer Concert Series, actually my first show there this season.
The venue itself has changed a bit – the two large bleacher sections on the sides are now gone, replaced with more floor seats.  The solitary large bleacher section remains at the back; they've also added a small VIP bleacher section that is stage right.  The latter offers a close and interesting perspective, but the bands didn't seem to "play to them" at all, so they were mostly matching equivalent of side stage.
The event was long sold out – not even one ticket was listed on StubHub – remarkable!
Eddie Money
Members
Eddie Money (vocals)
Jesse Money (backing vocals)
Benito DiBartoli (guitar)
Dez Money (guitar)
Paul Jones (bass)
Antonio Vidarte (keyboards)
Julian Money (drums)
"It's a family show…" A sentiment shared by singer-songwriter Eddie Money during his supporting set on Friday night.  Finding a lot of success in the 70s and 80s, and having never seen him perform live before, I didn't expect his band to be comprised entirely of musicians in their teens and twenties, but it started making sense as the show went on.
Three of the members of his band were his children (Jesse on backing vocals, Dez on guitar, and Julian on drums), and much of the rest of the band was filled out by members of his son's band, Dez Money and The Faze.
Though playing with Huey Lewis and The News at this date, he is currently in the midst of his own "The Sound Of Money 2015 Tour".
Of course, Eddie Money is best known for a number of Top 40 hits like "Two Tickets to Paradise" and "Take Me Home Tonight".
Most apparent throughout the performance is the man's love of his family, talking about them not only between songs, but sometimes pausing in the middle of one to talk about his wife and children, with a bit of a tongue in cheek sarcasm that reminded me of Rodney Dangerfield.  Two times, he left the stage entirely to give his kids and band opportunities to play their own material.
Money is reportedly working on a musical and new album, and his tour will be going through the end of the year.
Setlist
Baby Hold On
We Should Be Sleeping
Walk on Water
No Control
I Wanna Go Back
Take Me Home Tonight
Think I'm in Love
Two Tickets to Paradise
Encore:
Below are some photos of Eddie Money performing on stage (click any image to open a virtual lightroom with higher resolution versions of each photo):
Huey Lewis and The News
Touring Members
Huey Lewis (lead vocals, harmonica)
Johnny Colla (saxophone, guitar, backing vocals)
Bill Gibson (drums, percussion, backing vocals)
Sean Hopper (keyboards, bass vocals)
James Harrah (lead guitar, backing vocals)
John Pierce (bass)
Marvin McFadden (trumpet, percussion, backing vocals)
Rob Sudduth (teno saxophone, backing vocals)
Johnnie Bamont (baritone saxophones)
As I covered the Huey Lewis and The News quite a bit in the past few years (see reviews from September 2012, July 2013, July 2014, and September 2014), I am borrowing some of my background thoughts on the band from the prior articles.
Huey Lewis and The News are a world famous American band, with origins mostly in the San Francisco Bay Area, though Huey Lewis (born Hugh Anthony Cregg III) was born in New York City. The band had humble beginnings as artists and I also get the sense that they are still quite grounded in life.
The band is best known for the album Sports, and contributions to the soundtrack for the Back to the Future film franchise.
Huey Lewis' own life is quite fascinating, even apart from and prior to the formation of band, having spent time hitchhiking across the country with his harmonic, back to his birth city, as well as having stowed away on an airplane to Europe, exemplifying an adventurous youth. He also studied at Cornell University, and later joined a band called Slippery Elm in the late 60s. Upon returning the the Bay Area, he joined another band called clover, and the stage name "Hughie Louis" was born. After publishing two albums with Clover, produced by "Mutt" Lange, "Huey Harp" played harmonica on Thin Lizzy's Live and Dangerous. Later, he was signed with a new band, Huey Lewis and the American Express, which was later changed to Huey Lewis and The News.
Their first big hit came with their second album, Picture This, with their #7 hit, "Do You Believe in Love".
The third album, the aforementioned Sports, which was released in 1983, became one of the best-selling records of all time. From that point forward, they found much success with hit after hit. In total, they've had 19 top ten singles in their career.
Having grown up in the 80s myself, while I was at the time more narrowly oriented toward New Wave and "modern rock" bands, who could listen to the great music of Huey Lewis and The News and not find it infinitely catchy and infectious. I have always been fascinated by how I have this significant personal association with their music with the 80s, yet their music does not sound like much of anything else released in the 80s. For me, only "Heart and Soul" really sounds like an 80s song – in fact, for me, it sounds kind of like a Men At Work song with an additional Thomas Dolby vibe. Funny enough, until last year, I never realized that "Heart and Soul" was a cover song of a band called Exile from their album of the same name released in 1981. The Huey Lewis and The News version appeared on their Sports in 1983. I think the song has a similar sounding guitar riff, beat, and vocal delivery to some of Men At Work's popular hits from Business As Usual, which was charting in the U.S. around the same time.
As an interesting anecdote, the band apparently found another popular and successful song in the 80s – Ray Parker Jr's "Ghostbusters" – sounded enough like their own hit, "I Want A New Drug", that they filed a lawsuit against him (which was ultimately settled out of court).
In any event, the work from Huey Lewis and The News, to me, on balance, sounds much more like traditional (i.e. timeless) rock and roll, as it did not really succumb to the trends at the time, and also employed a horn section and some more traditional backing vocals and harmonies.
Though in "semi-retirement", the band is still recording new material and still maintain a busy touring schedule, and continue to sell out large venues and attract significant mainstream media coverage.
Below is the setlist from the show at Thunder Valley Outdoor Amphitheater on July 31, 2015:
Set 1:
The Heart of Rock & Roll
If This Is It
I Want A New Drug
Her Love Is Killing Me
The Rhythm Ranch
Jacob's Ladder
Back In Time
Acapella:
Um, Um, Um, Um, Um, Um, Um (Major Lance Acapella Cover)
Little Bitty Pretty One (Bobby Day Acapella Cover)
Set 2:
While We're Young
Heart and Soul (Exile Cover)
But It's Alright (J.J. Jackson Cover)
We're Not Here for a Long Time (We're Here for a Good Time)
Encore:
The Power of Love
Do You Believe in Love (Supercharge Cover)
Workin' for a Livin'
They do tend to change things up, show to show and year to year.
Per tradition, Huey always takes a break during their shows to poll the audience about who has seen the band live before, and for whom it is a first, with surprising results.
They all seemed to be in an especially great and happy mood, and put on a fantastic show.  The crowd was really into it as well.
Below are some photos of Huey Lewis and The News performing on stage (click any image to open a virtual lightroom with higher resolution versions of each photo):
Jason DeBord