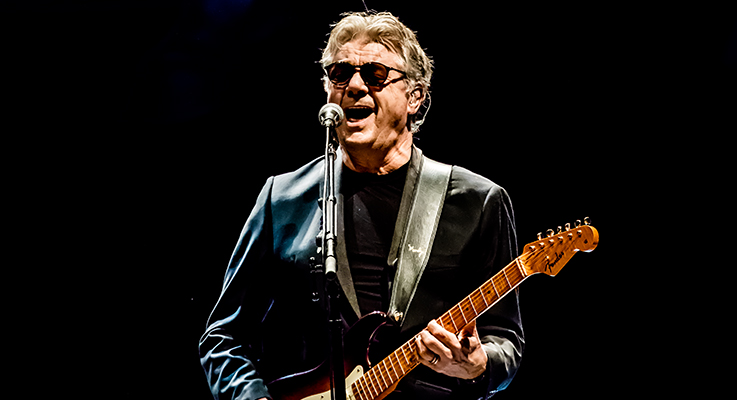 "This and I think the 'Gangster of Love' inspired me to write 'The Joker…'"  Steve Miller of Steve Miller Band giving an introduction to "One Mint Julip".  Throughout his lengthy set of originals and covers, he gave some context and history about the music he has been playing for fans for decades.  Also performing on the massive new stage at Ironstone Amphitheatre in Murphy's on Saturday was Blues legend Buddy Guy.  The pairing made for an interesting show, if only to compare the drastically different styles…  Buddy Guy kicking off the night with a loud shirt and seemingly spontaneously arranged grouping of songs, using the whole stage and ultimately the vast venue itself as a stage as he unplugged and roamed the entire seated section playing to cheering fans.  In contrast, once the day gave in to give thousands of fans in attendance at the beautiful vineyards a glorious sunset, Steve Miller Band came out on stage with a few of his iconic images propped up against black and darkness.  Steve Miller had on his formal attire and sunglasses and was most comfortable at center mic.  Both put on fantastic performances that showcases incredible music from the 50s onward.  Another great event put on for Richter Entertainment Group's summer concert series.

Who: Steve Miller Band
Supporting: Buddy Guy
Venue: Ironstone Amphitheatre at Ironstone Vineyards
Where: Murphy's California
Promoter: Richter Entertainment Group
When: August 1, 2015
Ironstone Amphitheatre at Ironstone Vineyards is a very unique venue, offering a different kind of concert experience than any other I've been to in California.  There is a variety of different options for seating and experiences, with VIP sections up front, which includes fine dining and wine from Ironstone Vineyards, as well as lawn seating going back as far as you can see, accommodating many thousands of fans.
The grounds are stunningly beautiful, and there is even a small pond on site.
It is always fun to see all of the fans lined up, waiting for doors to rush in and grab a spot on the lawn that calls to them.
Buddy Guy
Members
They did hip hop before my time; they played it like this: "my sister went to milk, but she didn't know how… she grabbed a bull, instead of a cow… my mom mumbled, you better come here quick… my sister lifted a bull by the _____"
This was my first time seeing Buddy Guy and his band live, and I could not have been more impressed.  His set was the highlight of the day for me.  Even if he didn't sing and play, I would have been thoroughly entertained by his running commentary – the man is a riot!
At 79 years old, he is a legend in American Blues and Blues Rock, both singing and on guitar.  With regards to the latter, Rolling Stone placed him 30th in their 100 Greatest Guitarists of All Time.
He really pioneers a style all his own, crossing over genres and breaking barriers.  He was and still is ahead of his time.
The night before this concert, he released Born To Play Guitar, which includes "Flesh & Bone", his tribute to B.B. King.
His band was incredible and I could have listened to him all night (and, funny enough, he kept proclaiming that he could play all night – and I believe him!).
Below are some photos of Buddy Guy performing on stage (click any image to open a virtual lightroom with higher resolution versions of each photo):
Steve Miller Band
Members:
"Steve Miller did a great job of putting his music into historical context.  I saw him perform with Journey last year, as he celebrated the 40th anniversary of his band's hit album (and single of the same name), The Joker (which came out in 1973, the same year that I was born).
Steve Miller Band was of course founded by singer/guitarist Steve Miller, which occurred in the mid-60's in San Francisco.  With a number of huge hits spanning not just decades but entire music movements, Steve Miller Band has stood the test of time, and, indeed, become a pillar of what is rock and roll today.  He talked about playing The Fillmore in San Francisco more than any other artist – 120 times!
Live on stage, he had a natural style and ease which made it feel like a jam session among pros; I get the sense that he is maybe most at home in performing at these vast outdoor arenas – they seem to suit him well.
Being a fan of everything 80s, the highlight for me was "Abracadabra", which was played early on (it's probably not one of his favorites, nor is it among the hardcore fans, I would imagine) and I was particularly impressed with Steve Miller's natural guitar effects on the song, and his delivery on vocals that was a slight twist on the familiar studio version.
They played a very lengthy set and it all seemed to suit the atmosphere and mood of the crowd quite well, taking everyone back to a time when rock and roll was something altogether different.
Below is a photo of the set list: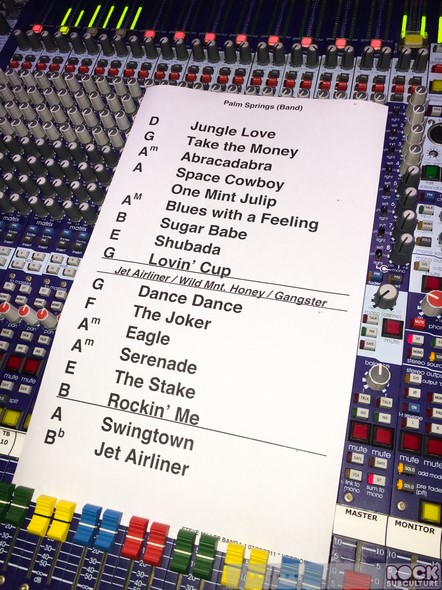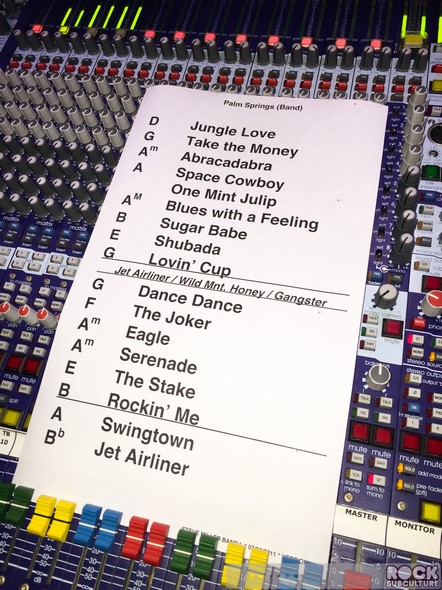 Setlist:
Jungle Love
Take the Money and Run
Abracadabra
Space Cowboy
One Mint Julep (The Clovers cover)
Blues With A Feeling (Little Walter cover)
Sugar Babe
Shu Ba Da Du Ma Ma Ma Ma
The Lovin' Cup
Jet Airliner (acoustic)
Wild Mountain Honey (acoustic)
Gangster of Love (Johnny "Guitar" Watson cover) (acoustic)
Dance, Dance, Dance
The Joker
Space Intro
Fly Like an Eagle
Serenade
The Stake
Rock'n Me
Encore:
Below are some photos of Steve Miller Band (shot from the soundboard, quite a distance from the stage; click any image to open a virtual lightroom with higher resolution versions of each photo):
Jason DeBord