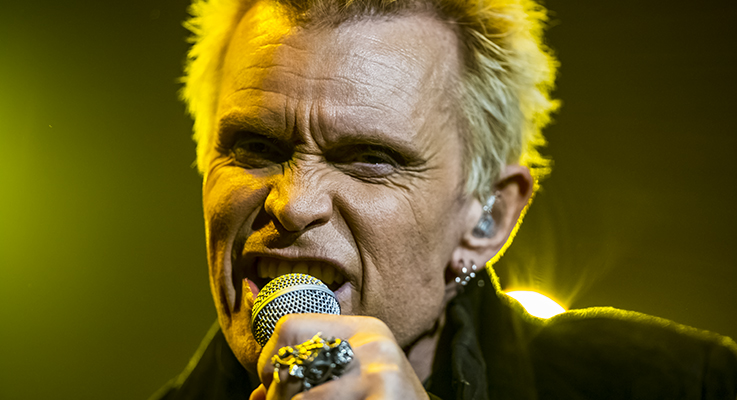 "Two words to introduce this next song!  Two words!  Two words to introduce this next song!  Two words to introduce this next song!"  Billy Idol getting the sold out crowd of nearly 3,000 screaming, fist pumping fans shouting "Rebel Yell" at the opening night of Grand Sierra Resort's new Grand Theatre.  I can't imagine a better way to launch a high end new concert venue than having none other than Billy Idol kicking off a new tour of his own on the vast stage built on the $10 million dollar renovation of the live music space.  Billy Idol has been building on his own career and accomplishments of late, with 2014's awesome new album Kings & Queens of the Underground (the first in nine years) and bestselling Dancing With Myself autobiography.  In the midst of a resurgent mainstream interest in all things Billy Idol, he seems to be as popular as ever.  Alongside his incredible band, they've put together probably their best live show ever with this tour.  It also clocked in as the longest show I've seen, at around two hours.  I've always noted this band as one of my all-time favorite live shows, and I'd have to say that this was the best I'd ever seen them.  I've always complimented Idol on his boundless and limitless energy and he seems to have reached a new high with this show and tour.  He is at once an icon and an enigma, as he continues to evolve his style while retraining his trademark lip curl and tongue in cheek uncensored gestures, looks, and poses.  And one can't neglect to mention Mr. Steve Stevens on lead guitar, who could put the audience in a trance even if he stood alone on the stage – one of the best guitarists performing today, if not the very best.  If you haven't been to a Billy Idol concert lately, you haven't seen him and his band at all, as they are better than they've ever been, and that is saying a lot.

Who: Billy Idol (Kings & Queens of the Underground Tour)
Venue: The Grand Theatre at Grand Sierra Resort
Where: Reno, Nevada
Promoter: Grand Sierra Resort and Casino
When: August 7, 2015
Seating: General Admission Standing Front Row of Pit (VIP Package with Early Entry; also photo pass first three songs)
I'd never been to the previous incarnation of the newly renovated concert space at Grand Sierra Resort and Casino in Reno, so I'm not in a position to compare and contrast.
Apparently, the one acre large stage (yes, just the stage alone is one acre, one of the largest in the world) is generally the same.  It was long ago host to MGM's "Hello Hollywood Hello" production from 1978 to 1987.  The entire venue has been redesigned by John Sergio Fisher & Associates.  With a standing room-only GA floor space in front of the very wide and deep stage, the theater also features a two-tiered entry with theater-style seating going up to the back of the venue, as well as VIP booths with bottle service.  The lobby has also been redesigned, and as I and other journalists were brought in ahead of the patrons, they were still putting final touches in place, just minutes before doors opened for the first time.
Supporting the new music venue is obviously a big priority with Grand Sierra Resort, apparent if you are within view of the front of the hotel, as there is a giant high resolution vertical electronic billboard running the length of the main tower, running promos for upcoming shows the majority of the time (upcoming concerts include Diana Krall, Primus, Ricky Martin, Pat Benatar, Duran Duran, Death Cab for Cutie, Hozier, and others).
The staff and others behind the launch of the venue were all very nice, friendly, and dedicated to making the experience a positive one for all involved, which I really appreciate.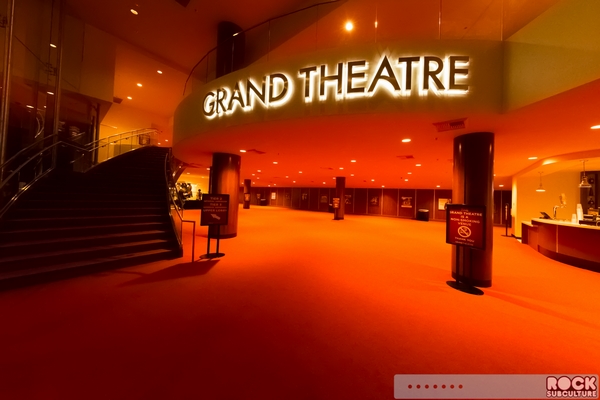 I haven't seen Billy Idol for a few years now, and I was able to get the special VIP tickets (with meet and greet) for my sister and my fiancee, so we were excited about that.  This ticket package included early entry to the GA floor.  With my media credentials, I shot the first three songs from a roped off space in front of the stage, and then took a step to the left to join my fiancee and sister, directly in front of Steve Stevens for the remainder of the show.
There was no opener, and though scheduled for an 8:00 start time, it ultimately ran from about 8:30 to 10:30.
The meet and greet actually occurred after the show concluded, and in addition to some swag, we also had an opportunity to meet Billy Idol and Steve Stevens and have photos taken with them.  Below is a photo of Shelley and I with Billy Idol and Steve Stevens: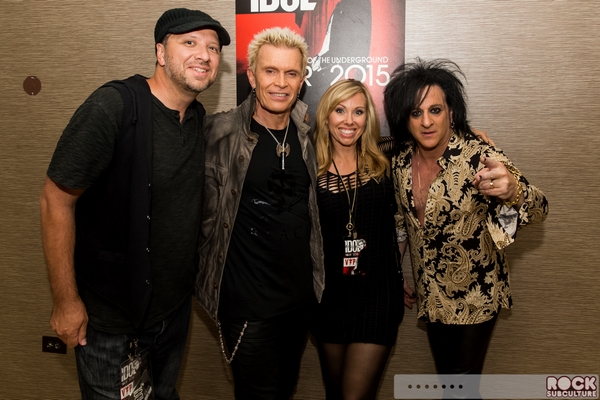 Below is a photo of the swag included with the special VIP tickets: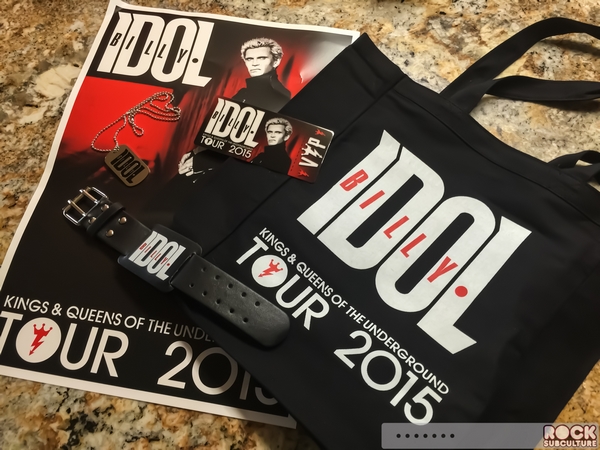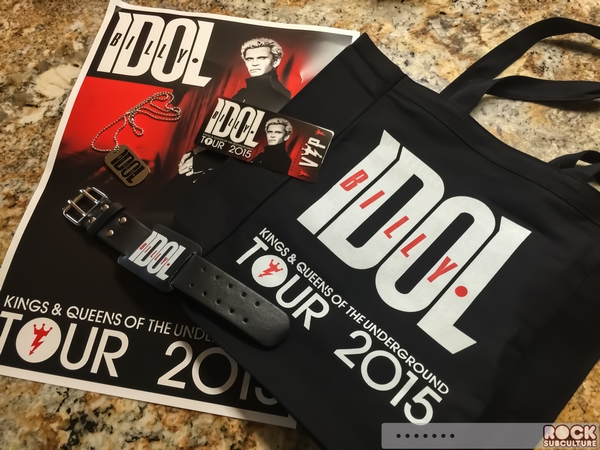 Billy Idol
The Billy Idol Band Featuring Steve Stevens:
Billy Idol (vocals, guitar)
Steve Stevens (guitar)
Billy Morrison (rhythm guitar, backing vocals)
Stephen McGrath (bass guitar, backing vocals)
Erik Eldenius (drums)
Paul Trudeux (keyboards, backing vocals)
As explained in past articles, Billy Idol is one of my all-time favorite artists… a true and real Rock Star.  I have been a fan since I was a kid in the very early 80s, and he was one of the first artists I became familiar with on MTV, along with other greats of that era like Michael Jackson, Madonna, Prince, Cyndi Lauper, and Duran Duran.  These acts defined music and pop culture at that time, so they remain, for me, larger than life figures.  Hearing their music also has a nostalgic aspect in transporting me back to simpler times.
I had a tradition of seeing Billy Idol perform every year at Mountain Winery in Saratoga in past years, as well caught as their appearance at Club Nokia in Los Angeles as part of the Grammy Foundation's MusiCares event 2012 and the special one off Play My Birthday Billy Idol show in Seattle and the follow-up in Oregon in the same year.
Born in England as William Michael Albert Broad, Billy Idol was a fan of the Sex Pistols in the mid 70s, and was actually a member of an early version of Siouxsie and the Banshees and then another group called Chelsea after that, but it was co-founding and fronting Generation X that lead to real recognition and fame, and where he found his voice, swagger, style, and trademark lip curl.  In 1981 he relocated to New York and started his career as a solo artist, and found an incredible partner in the amazing guitarist Steve Stevens.
Billy Idol adopted hit "Dancing With Myself" from his prior band, and though he published original hit after hit, it seemed as though his cover of the Tommy James and the Shondells' song "Mony Mony" is where he truly broke through to the mainstream with his signature pop infused punk sound.
His second album, Rebel Yell, is truly an 80s classic, and one of the all-time great albums of the entire decade.  It showcased his ability to create really unique but instantly catchy and hooky tracks, and included the title song and "Flesh for Fantasy", as well as "Eyes Without a Face", which showed a different side of his singing and songwriting.
More classics were included on Whiplash Smile, released in 1986, such as "Sweet Sixteen" and "To Be A Lover".
But, Billy Idol and his band continue writing and publishing new music, now with Kings & Queens of the Underground.  I have a basic synopsis of the album here…
This one was a real surprise for me, because frequently artist known for their 80s-era work don't typically deliver on a full album…  often there might be one or two stand out (i.e. "good" tracks), but nothing that measures up to the original favorites, and lots of filler.
Not the case with Billy Idol.  I was shocked, surprised, and blown away at how awesome and consistently awesome his seventh studio album – Kings & Queens of the Underground – turned out.  Great song after great song, that has the quality of his best work while leveraging the technology and advancements of today to make something that maybe couldn't have been done quite the same back in the day.
More, there are so many stand out moments for his band and their own high caliber talents and abilities.  The bulk of the songs share writing credits with Idol, Steve Stevens, and Billy Morrison.
The opener, "Bitter Pill", is one track that doesn't really sound (to me) like any of the past work, which isn't a bad thing – I think it reflects versatility.  I guess it is more rock and roll and not New Wave or punk/post-punk at all, but kicks things off with a "on a journey" sort of vibe.
"Can't Break Me Down" is maybe the most "Classic Billy Idol"-sounding of the lot.  I love this song.  It almost sounds like it was made back in the 80s and put in a time capsule.  It contains all of the elements that make his music work and well as distinctive Billy Idol.
"Save Me Now", with the synth opening and more ballad approach makes this one sound like it could have been featured in a John Hughes song (particularly The Breakfast Club, which, funny enough, Idol was the first one tapped to do the classic Simple Minds song, "Don't You (Forget About Me)").
"One Breath Away" showcases the more sultry Billy Idol, and makes excellent use of a more stripped down intro that builds up as it progresses.  Fantastic song.
"Postcards from the Past" is one of a couple songs that seems to be, thematically, about Idol and his history and his place in it.  It has a synth sort of bassline that feels very New Wave and cinematic, and also does a great job building, though this one builds into a more rocking song.  Great changes.
The title song is the most central focused on Idol and maybe his legacy (he also released his fascinating biography, Dancing With Myself).  Not just in the lyrics, references to other artists/pop culture at large, and timeline, but the inclusion of some strings and the more seriousness with which it approaches it all.  Idol waxing nostalgic.
"Eyes Wide Shut" makes me wonder if it is a titular reference to "Eyes Without A Face"?  This is another one that has a slower pace, reflecting maybe a more mature Idol.
"Ghosts in My Guitar" is another song that seems to be designed with some legacy impulses, being about Johnny Cash.  This one makes excellent use of some acoustic guitar.
"Nothing to Fear" is kind of a companion piece to go with the opener…  a bit slower in pace and different in genre – more traditional.  For sure, this album more than any before seems to be about things rather than using things as ideas for songs, if that makes sense.
"Love and Glory" is another more ballad-oriented piece, that builds into something more rocking as it goes along.  It almost sounds like it has some country influence on some level, as well as classic rock and roll.
"Whiskey and Pills" just screams Steve Stevens, unleashed with his guitar and crazy effects.  It also gives Idol an opportunity to throw down with a vocal style I've never heard from him before.
"Hollywood Promises" (a bonus track on iTunes) is a great closer, and is one that reminds me of some of his classic work in his attitude and approach, and the classic sort of riffs.
Honestly, I never expected an album like this from Billy Idol, so I am pleasantly thrilled that this was produced and released – fantastic work!
I've often made note of how amazing it is to attend shows like this, and how music artists differ from many other celebrities, like in the world of film and television.  A famous actor plays a part, plays a role, plays a character.  Billy Idol is Billy Idol.  He is the "character".  And I've always had the sense that Billy Idol lives his life – on stage and off – the same…  He is who he is: confident, brash, uncensored, happy… and is a living rock and roll legend.
Getting to Friday night's show, interestingly enough, it is the Kings & Queens of the Underground Tour – also the title track and title of the new album – but that song was not on the set list.
In any event, below is a photo of the set list from the show (Billy Idol handed this one to my sister during the concert):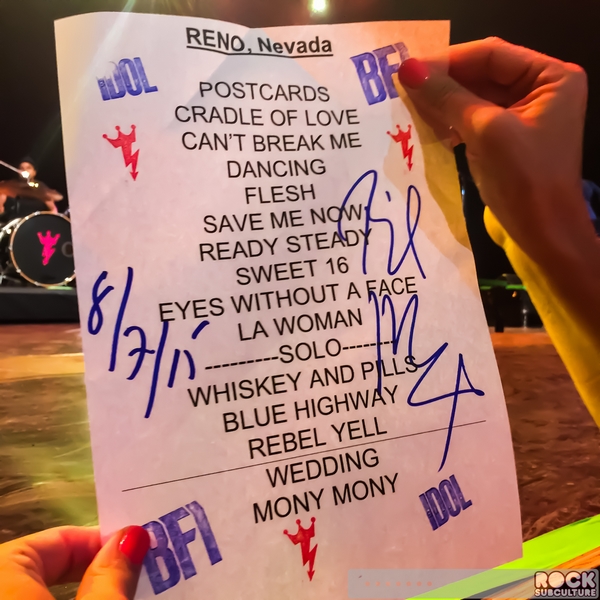 Below is the full set list:
Setlist:
Postcards from the Past
Cradle of Love
Can't Break Me Down
Dancing With Myself (Generation X cover)
Flesh for Fantasy
Save Me Now
Ready Steady Go (Generation X song)
Sweet Sixteen
Eyes Without a Face
L.A. Woman
Steve Stevens Guitar Solo
Whiskey and Pills
Blue Highway
Rebel Yell
Encore:
White Wedding
Mony Mony (Tommy James & the Shondells cover)
Reno was the place to be this weekend, as the Grand Sierra Resort and Casino is hosting their annual "Hot August Nights" classic car event.  One song that I thought might give a nod to this is "Hot In The City", which is one of my favorite Billy Idol songs, though I don't think I've ever seen them do it live myself (maybe the lack of the female vocals, though in 2012 they were doing another of my favs, "To Be A Lover", with bass player Stephen McGrath doing an excellent job filling in).
Overall, I thought the set list was great.  They have so much great music though, there are always going to be favorites that don't make the cut for any given show.
The highlights this time around would be some of the new tunes, like "Can't Break Me Down" (which they chose to open the show) and "Save Me Now".  I always love their live renditions of "Eyes Without a Face" and "White Wedding", and everything reached a crescendo by the time they hit "Rebel Yell" at the climax of the main set.
Ever the showman, by the end of the show I was wondering if Billy Idol goes through more costume changes than Madonna, constantly stripping his upper half and then coming back with a new shirt and/or jacket.
As is tradition, Idol gives some fan service by way of autographed memorabilia tossed into the crowd, from paper plates (some branded "BFI" for Billy Fucking Idol) to drumsticks to setlists.
But what he gives everyone, is everything he has in terms of his performance on the stage.  He never stops moving, making eye contact with fans up close and far away, and trying to ignite their inner rebel by way of intense hand movement and gazes, almost as if he is working on some latent psychic ability, to communicate with each of us beyond the music.
All in all, he has an innate youthful perspective when on stage – he's almost like a kid with the keys to Disneyland, inviting in all comers to explore the place sans authority.  These concerts definitely serve as a momentary escape from other concerns and worries… an outlet, maybe even an exorcism.
Posing like a Nordic god while bathed in colored light, there is almost a religiosity to the affair, scanning the crowd who seemed to be on their feet throughout, fully engaged with the man at center stage.
Billy Idol always gives credit to his band, giving each their moments to have a showcase (all at top notch musicians and artists in their own right).  I was particularly impressed with drummer Erik Eldenius, who did an incredible (but short) little solo bit toward the end.  Also, I don't remember the last time (if at all) I'd personally attended a Billy Idol concert with a dedicated keyboardist (in this case Paul Trudeux) and it really added a lot to the live sound.
Long time bass player Stephen McGrath is indispensable, with his wide-ranging basslines and styles keeping everyone on track.  I've always been a big fan of guitarist Billy Morrison, who manages to stand out with his playing in the midst of sharing the stage with guitarist Steve Stevens and even Billy Idol, who also plays a bit during the show.
Steve Stevens is without a doubt the most entertaining and impressive guitar player I've ever seen.  He has so much style and ability he can truly be mesmerizing, especially when he's standing just a few feet in front of you.  One of the more interesting things this time around, among a bag of tricks that includes playing behind his head and even with his teeth, is a special light-up ring that he uses for distortion effects, like a magician with an electric guitar.
Billy Idol spent much of his time running back and forth along the very wide stage, engaging all of the fans who made it up to the front.  But there seemed to be the same heightened level of excitement throughout the venue, front to back.  Maybe the phrase "moves like Idol" should be coined to describe Idol's special persona that comes to life when performing live, as he has a unique style and way of recreating his music in front of an audience.
It was more or less the perfect Billy Idol show, and he and the band continue to rank among my own favorite top live acts.  Highest recommendation.
Below are some photos of Billy Idol performing on stage (click any image to open a virtual lightroom with higher resolution versions of each photo):
Jason DeBord