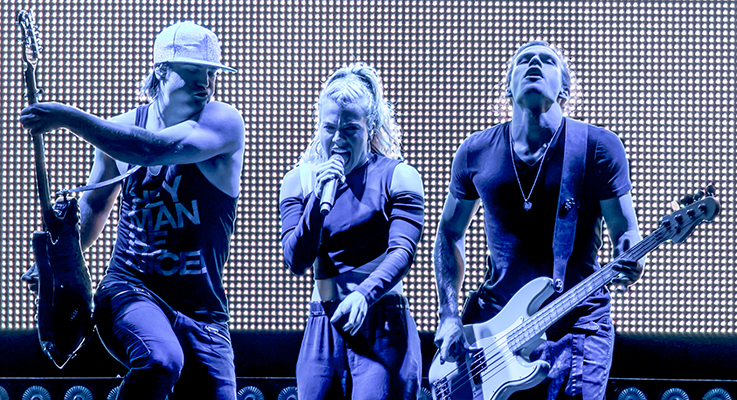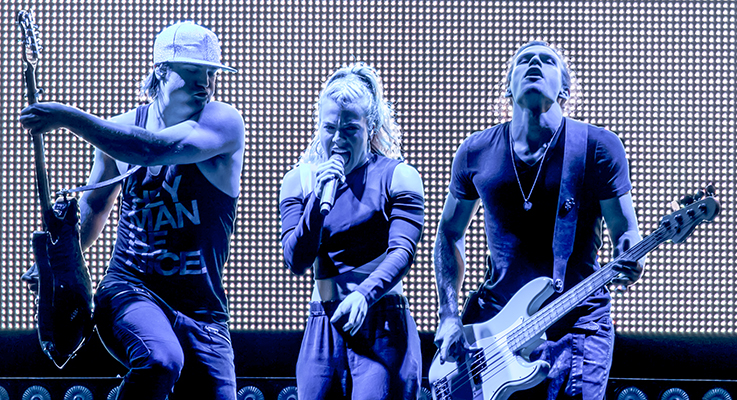 "You know what, it's on rare occasion that we get to play on someplace so beautiful…"  The Band Perry's Kimberly, taking in the gorgeous surroundings at Ironstone Amphitheatre in Murphy's.  The Grammy Award-winning trio played to thousands of fans in attendance, making excellent use of the newly renovated stage with their impressive production of lights, sound, smoke, and music.  It was a night of more contemporary country music, with a younger generation of artists which also included sets from Jana Kramer and Casey James.  It was definitely a different sort of audience too, skewing much younger and energetic, and just plain blissful, compared to those that have turned out for the more established acts during this Summer Concert Series.  They all put on top performances that showcased an evolving sound in the world of country music.
Who: The Band Perry
Supporting: Jana Kramer
Supporting: Casey James
Venue: Ironstone Amphitheatre at Ironstone Vineyards
Where: Murphys, California
Promoter: Richter Entertainment Group
When: August 11, 2015
Those who follow the Rock Subculture Journal might be surprised to see a country music entry among the latest concert reviews…  it is definitely outside of the genres I typically cover, as I've never been much of a fan with the exception of some of the more pop-infused variety with female vocals.  I've never cared too much for the traditional, kind of hokey male fronted country artists that employ the strong, over emphasized accents and "paint-by-numbers", me too style of song structure and lyrics and style.  It just has never connected with me at all.
I do photography for Richter Entertainment Group, and this was the one show in their Summer Concert Series which stood apart from the rest of the line up of 70s and 80s era artists.  But I was kind of intrigued to check it out, and I am glad I did – it was overall really quite fun and enjoyable, which was counter to my expectations going in.
This was originally scheduled for two days later, but got moved up and also had a change in the line-up, with Jana Kramer replacing Scott McCreery.  I am so happy for the change, as I was actually familiar with Scott McCreery from American Idol, and though he seems like a super nice guy, but his is the style of country music that I don't connect with at all.  Jana Kramer, who I was not at all familiar with, really impressed me (her and her amazing band), and I enjoyed her set immensely.
All in all, it was really an awesome intro to a "country music concert" for me…  the only other artist within the genre I've ever seen previously is Alison Krauss (who I loved).
In any event, I wanted to preface this article by emphasizing that the views and opinions presented are from someone who does not listen to country music at all, and I'm fairly ignorant about the artists and not really in an informed position to share much insight that would be of value.  But at the very least, I hopefully took some nice photos.
Casey James
Casey James is the one artist on the bill who I was familiar with prior to the concert, as I watched the ninth season of American Idol, in which he placed third.  He seemed like such a nice guy from the show, and while he is known as a country artist, his work crosses over into other genres such as rock, pop, and blues.
A singer-songwriter from Texas, he played alone on the stage last night, armed with his guitars.
Unfortunately, when he first came onto the stage, the sun was heading down directly across from his point of view, and he ended up borrowing some sunglasses from a fan in the audience for a bit.
He released his self-titled debut album in 2012, and had had some real success with some of his singles.
Late last year he released a new single, "Fall Apart", from his upcoming second album.
He is an excellent guitar player, has really nice vocals, and has a nice and friendly, disarming sort of stage persona.  He put on a great set, and seemed to have a lot of audience engagement.
Below are some photos of Casey James performing on stage (click any image to open a virtual lightroom with higher resolution versions of each photo):
Jana Kramer
Members
Jana Kramer is not only a country music artist, but quite a prolific actress as well.  She's appeared in quite a few TV shows in the past ten years in particular, as well as having released her eponymous debut album in 2012.
Funny enough, I visited her Facebook page the day before the show, and she announced that she and her husband were expecting their first child.  She discussed this and talked about her husband a bit here and their during the show, revealing that she has a killer sense of humor as well.  There was a lot of audience interaction, and she has a very quick wit that added another element of fun and excitement to the set.
She has done well with her first album, and her work translates well into live music played in front of thousands.  Accompanied by an excellent band, they have great chemistry and appear to be having a lot of fun interacting with one another as they play.
Jana has a ton of energy and as expressive as she is, her stunning voice and vocal ability is what won me over the most.  She has an amazing gift and knows how to channel it perfectly into her delivery.
Her set was so great, I was actually surprised that she is not headlining her own tour.
Like I said, I don't know much at all about country music, but I would be surprised if her career in music doesn't really take off.  The fact that none other than Steven Tyler contributed vocals to her song "Bullet" (slated for her sophomore album) speaks volumes.
Below are some photos of Jana Kramer performing on stage (click any image to open a virtual lightroom with higher resolution versions of each photo):
The Band Perry
Members
The Band Perry is a hugely successful (and rising) country act comprised of siblings Kimberly, Reid and Neil.
They released their eponymous debut album in 2010, and the single, "If I Die Young" hit #1 on the Billboard Country charts.
Their follow-up, Pioneer, came out in 2013, and featured two more #1 hits in "DONE" and "Better Dig Two", as well as a few Top Ten songs.
One of the most intriguing aspects of their career thus far, for me, is that they worked with producer Rick Rubin on Pioneer.  I've always thought that the man is a genius (one of the main forces behind early works by Run-DMC and Beastie Boys, among a wide-ranging and diverse group of artists and genres), so I found that to be really intriguing.
The Band Perry released a brand new single this week, "Live Forever", on Good Morning America on Friday.
With their show at Ironstone Amphitheatre, it was perhaps the most elaborate stage set-up there yet.  Center stage was a cascading set of stairs, with a giant jumbo screen set across the back that was put to constant use.  There were also smoke burst effects timed in with some of the songs.
The trio came out with confidence, making good use of the massive stage and posing and interacting like seasons pros, which was such a stark contrast to the Steve Miller Band show there a week or so earlier.  This concert was all about youth and energy.
While billed as a trio, it's Kimberly that really pushes the music and energy, with brothers on either side providing a solid foundation of everything else that fills out the show.
While Kimberly's voice is stellar, its when the brothers come in with harmonies that they reach their peak.
They closed out the main set with Queen's "Fat Bottomed Girls".
The two song encore featured their big hits, "If I Die Young" and "Better Dig Two", and the crowd seemed to suck up every note and sound blasted through the top end speaker system.
It was a top quality production through and through, and I can see how they've built a massive following so early on in their career.  Impressive.
Below is a photo of the set list: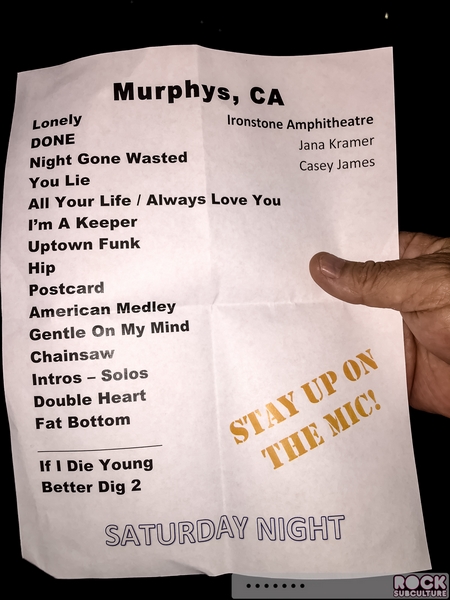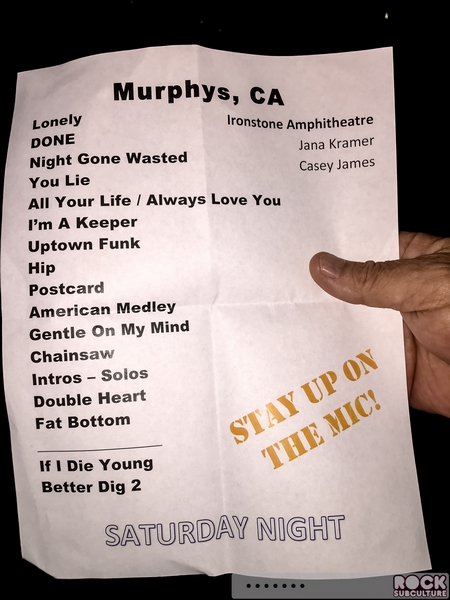 Below is the set list from the show at Ironstone Amphitheatre on August 11th, 2015:
Setlist:
Don't Let Me Be Lonely
DONE.
Night Gone Wasted
You Lie
All Your Life / I Will Always Love You (Dolly Parton cover)
I'm a Keeper
Uptown Funk (Bruno Mars cover)
Hip to My Heart
Postcard From Paris
American Pie (Don McLean cover) / Jack and Diane (John Mellencamp "John Cougar" cover) / Me & Bobby McGee (Kris Kristofferson cover)
Gentle on My Mind  (Glen Campbell cover)
Chainsaw
Double Heart
Fat Bottomed Girls (Queen cover)
Encore:
If I Die Young
Better Dig Two
Below are some photos of The Band Perry performing on stage; these were all shot from the soundboard from quite a distance (click any image to open a virtual lightroom with higher resolution versions of each photo):