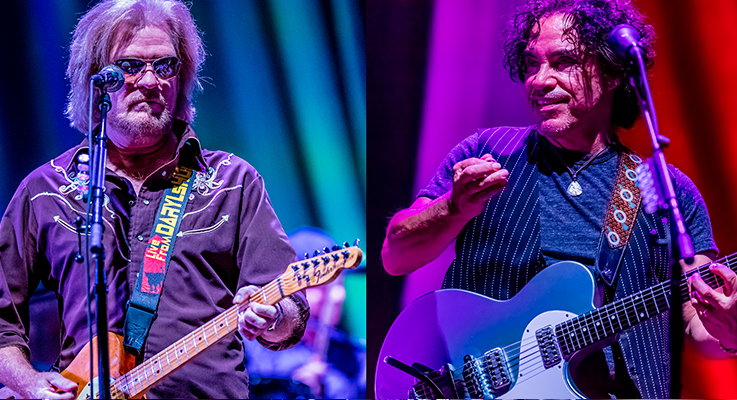 "It actually wasn't supposed to be on the album, but I'm glad we did it, because it's one of the greatest rock and roll songs of all time…"  Daryl Hall giving an intro to their cover of the classic Righteous Brothers hit, "You've Lost That Lovin' Feelin'".  Along with his partner, John, Hall and Oates have so many hit songs that they don't have time to get to in the span of a standard-length concert that it is the one rare cover song that they perform live, showing a respect and debt of gratitude to the record and artists that came before them.  Playing to a nearly sold out crowd of many thousands at the gorgeous Ironstone Amphitheatre at Ironstone Winery in Murphy's California, it was only fitting that they closed out their Summer Concert Series on such a high note.  I tend to see them every year (and less than a year ago at Mountain Winery in Saratoga), and they remain one of my all-time favorite live acts.  They are such a fantastic live band, their songs in concert tend to be even better and more vibrant than the familiar studio recordings.  A full band of exceptionally talented musicians, they play so well together than little improvisational flourishes make it all fresh and immediate.  As the most successful recording duo of all time, they at once exceed audience expectations yet leave everyone wanting more because they are just that brilliant on stage.

Who: Daryl Hall and John Oates (Hall & Oates)
Supporting: Mutlu
Venue: Ironstone Amphitheatre at Ironstone Vineyards
Where: Murphys, California
Promoter: Richter Entertainment Group
When: August 27, 2015
As mentioned, this was the last show on the docket for Ironstone Amphitheatre, which had a great run as promoted by Richter Entertainment Group this year.  The new stage is impressive and gives the artists a lot to work with, and the place is so vast I'm always amazed at how many people turn out for these concerts.  Even on a Thursday night for Hall & Oates, there was a massive line-up at the general admission gates before doors were officially open, made up of an enthusiastic crowd.
Mutlu
I've seen Mutlu a few times now, as the supporting artist opening for Hall at Oates at Mountain Winery, and he always puts on a show that seems to be a hit with the crowd, even if they aren't previously familiar with him and his work as it's very catchy and fun on first listen.  With his traditional singer-songwriter style, his work is a nice match for the Hall & Oates crowd in setting the mood for what follows.
Below are photos of Mutlu performing on stage (click any image to open a virtual lightbox with higher resolution images):
Daryl Hall and John Oates
Touring Members
The Philly duo hit makers were inducted into the Rock and Roll Hall of Fame last year (already recognized by the Songwriters Hall of Fame); each also have new solo work out in 2014 (John Oates' A Good Road To Follow and Daryl Hall's Laughing Down Crying).
Their official site is a great resource for details about upcoming tour dates, new and old albums, and Daryl Hall's Live From Daryl's House cable television series on Palladia… check it all out at www.HallAndOates.com.
Daryl Hall and John Oates are true legends of popular music. The Philly duo generated hit after hit in the late 70s and into the 80s in particular, though their music can't really be easily fit into one category. It truly infused elements of rock and roll, pop, R&B, and even modern rock as they evolved into the 80s.
In their career, they had 34 singles chart in the U.S. (including five reaching #1).
Of course, the one downside to seeing artists with such vast catalogs of favorite songs is that they cannot play them all in one set. Below is the set list from last night's performance:
Set List:
Maneater
Out of Touch
Did It in a Minute
Say It Isn't So
You've Lost That Lovin' Feelin'(Righteous Brothers cover)
Las Vegas Turnaround (The Stewardess Song)
She's Gone
Sara Smile
Do What You Want, Be What You Are
I Can't Go For That (No Can Do)
Encore #1:
Rich Girl
You Make My Dreams
Encore #2:
Kiss On My List
Private Eyes
They have so much awesome music, it's easy to come up with a list of incredible songs that is just as long that didn't make the cut, like "One On One", "Family Man", "Adult Education", "Method of Modern Love", "Everything Your Heart Desires", "It's Uncanny", "Cab Driver", "When The Morning Comes", "Everytime You Go Away", "Had I Known You Better Then", "Abandoned Luncheonette", "Getaway Car"…
I highly, highly recommend picking up the "Live At the Troubador" DVD or Blu-Ray – definitely conveys what these shows are like and is a bit longer than the typical show.
Daryl Hall seems to only get better with age, and in terms of sheer vocals, he ranks among the very top of my favorite male vocalists of all time. He has so much character to his voice and his performance is powered by such a soulfulness that he really stands apart as such a unique talent. He seems to have a great sense of humor and warmth as well, which makes the entire proposition that much more engaging.  Combining that with the amazing songs and songwriting ability and I can see how the duo have found such success over decades and decades.
John Hall always seems like he is having the most fun on stage (well, other than Porter Carroll on percussion!), and seems to be most engaged when Charlie "Mr. Casual" DeChant comes closer with his sax blasting those notes that we all know so well (Mr. Casual's presence is so strong in some classic songs it almost makes them a trio).
Shane Theriot (Grammy Award-winning Producer and Music Director of Live from Darryl's House) was the third man on stage with a guitar, other than Hall & Oates, and still managed to shine among the stars with his killer riffs.
As always, they put on a spectacular showcase of how live rock and roll can still send that chill down the spine.  They're that good, and the music is truly classic.
Below are photos of the band performing on stage (click any image to open a virtual lightbox with higher resolution images):
Jason DeBord