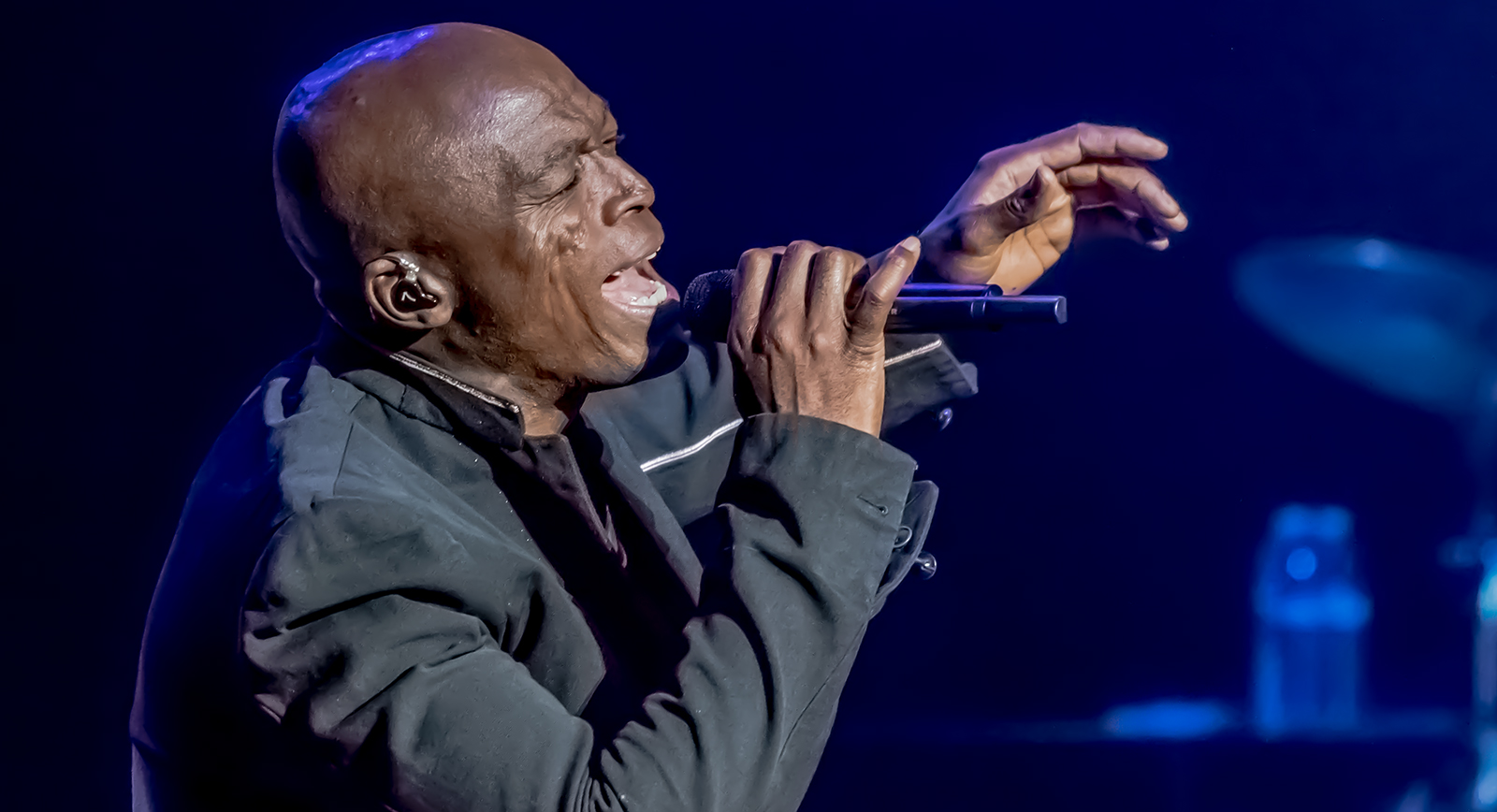 "So what's up Oakland?  I'm the one who's up?  Oh baby, you just made my day.  Thank you.  I'm up, we're all up tonight.  Well, far be it from me to state the obvious, but it's incredible being here tonight.  It's such a privilege to be able to play for you; to sing for you.  Every day I wake up and I have the to opportunity to do this, this thing that we love, I kiss the ground.  You've got a lot going on in your great city this weekend.  Well, apart from me; but thank you very much.  One of the reasons we're up here… to have fun.  Which is essentially the message I want to give to everyone tonight, whether you're in the back, whether you're in the middle, whether you're right at the end, I want you to have fun and understand that I see you.  I feel you."  The multi-Grammy Award winning singer-songwriter, Seal, taking a moment to express his feelings to a packed Fox Theater in Oakland on the eve of Super Bowl weekend.  Having met the incredible vocalist years ago – that last bit about seeing and feeling the audience – that could not be more true.  Seal has been prolific since his splash in music with "Crazy" back in 1991, with his own original work as well as fantastic covers of classic songs, particularly in the soul genre.  With this one off show this past week, the focus was on his latest (ninth) studio album, 7, released by Warner Bros. last year, with a compelling set list framed by some of his biggest hits.  One of the most earnest and talented live performers in music today, he did not disappoint with an engaging show that left me revisiting his catalog and dreaming about seeing him in concert again soon.
Who: Seal
Supporting: DJ Funklor
Venue: The Fox Theater
Where: Oakland, California
Promoter: Another Planet Entertainment and Red Devil Presents
When: February 5, 2016
As a semi-frequent patron of The Fox Theater, this was actually the first time I'd seen it reconfigured for an all-seated show, with chairs brought in and positioned to fill up the usual general admission standing floor in front of the stage (the loge and balcony raised above has fixed seating by design), though people up front were on their feet pretty much throughout the show regardless.
Though there were a lot of competing music events due to Superbowl weekend, it was none the less close to capacity with guests representative of Seal's fan base (which is quite diverse and boundless, drawing young and old).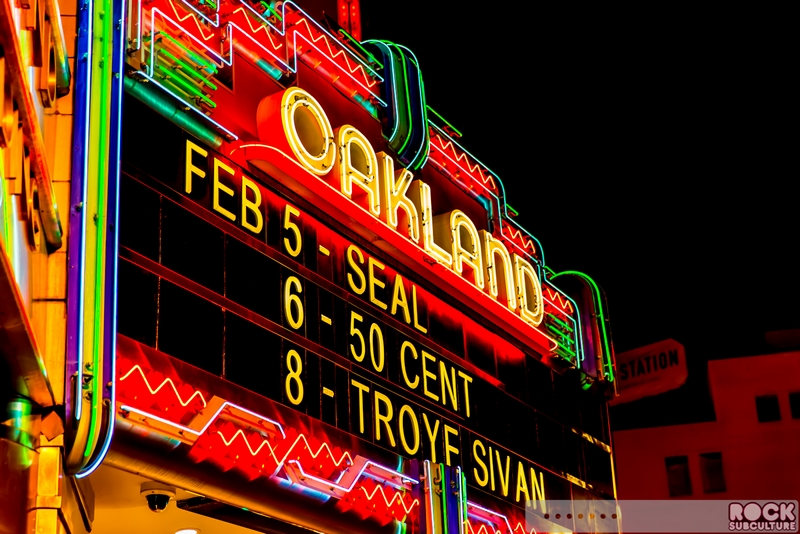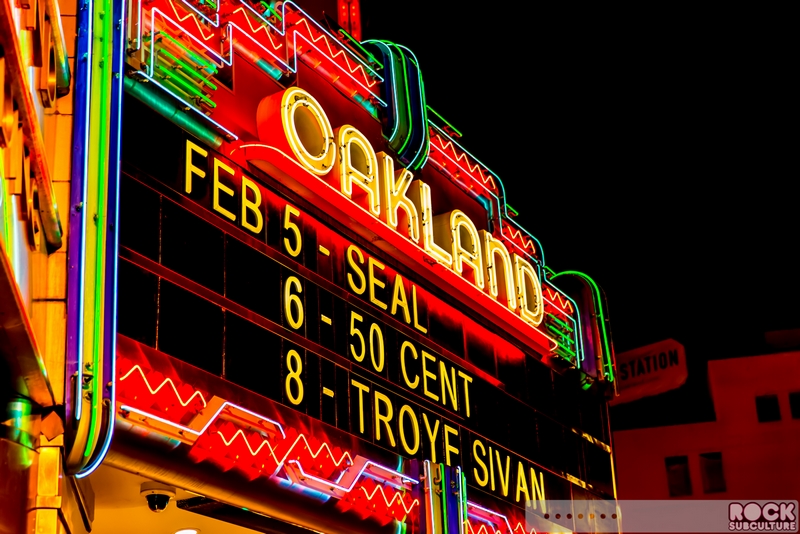 DJ Funklor
DJ Funklor put on a very unique set featuring a mix of music that well-suited the mood and Seal as headlining, spinning songs for about 45 minutes leading into Seal's "evening with" style of performance.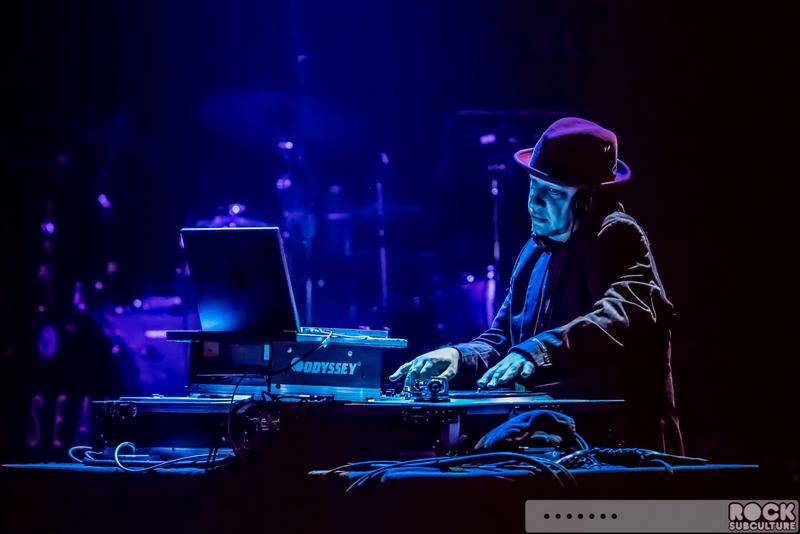 Seal
Members
Seal (vocals, rhythm guitar)
Chris Bruce (guitar, bass)
Simon Bloor (guitar)
Abe Rounds (drums)
Jamie Muhoberac (keyboards, vocals)
This was my second time seeing Seal perform live, and the two shows were quite different, as the 2012 concert I attending at Humphrey's By The Bay in San Diego was primarily in support of Soul II, with a corresponding set list.  The show on Friday was all about 7, with seven of sixteen songs from his latest album.
Seal (Seal Henry Olusegun Olumide Adeola Samuel) is a Grammy Award winning pop, alternative, soul and R&B singer-songwriter from the UK. Highly regarded by critics, he is tied (with Frank Sinatra) for the third highest number of Grammy Award nominations for "Best Male Pop Vocal Performance" (bested only by Sting and Elton John).
Seal played with a British funk band in his early years, but eventually broke off on his own.  He made his debut as the vocalist on British acid house producer Adamski's "Killer", which Seal later re-recorded as the second single on his own debut, self-titled album released in 1991.  But it was that debut single, "Crazy", that truly launched his career in music.
"Crazy" was a huge hit, and remains one of my all-time favorite songs.  I first heard it off Sire Records' Just Say Anything CD sampler right after graduating high school in '91 (which came out about a month after Seal's eponymous album), and I have followed his work ever since.
I've often written about how I personally view the 90's as a decade filled with some pretty dreadful music, but the stuff Seal was putting out was innovative and he kind of created a genre all his own, as his work did not sound like anything else that came before or after.  His music – from the ballads to the pop hits – have a timeless quality that makes them hard to place among any particular genre or movements or time perior.  He does his own thing.  And that voice!
As an artist, his works have a spirit to them that remind me somewhat of classic English poets… but formed as music and made contemporary, which seems so much more powerful.
Most music artists that find success are either geared toward the studio or the stage, but rarely both.  With Seal, there is such complexity to his music that it is obvious that there is a lot of work and talent and expertise employed in crafting his songs, yet at the same time I would guess it is the live stage – in front of an audience – where he feels most alive.
I am more informed from my experience at that San Diego show years ago…  part of a small meet and greet post show, I was fascinated as Seal approached each fan and recounted exactly where each stood during the show that happened an hour earlier… he is that tuned into his audience that he recalled with precision where everyone had stood before him as he put on an electric show.  He truly feeds off of his fans as he performs, returning that energy back and building the show, song to song, throughout the night.
With the show at The Fox Theater, he was frequently dropping down to the floor and the crowd up front and interacting with fans as he performed.  Toward the end of the show, he worked the whole crowd as he made his was back and forth and connected with fans all around.  He has a really remarkable relationship with his fans.
Below is the setlist from this show at The Fox Theater in Oakland on Friday night:
Set List:
Crazy
Killer
Don't Cry
Daylight Savings
Prayer For The Dying
Redzone Killer
Monascow
Every Time I'm With You
Love's Devine
Do You Ever
Padded Cell
My Vision
Fly Like An Eagle (Steve Miller Band cover)
Life On The Dance Floor
Encore:
Kiss From A Rose
Future Love Paradise
Reflecting on that list of songs, it seemed quite well constructed.  Opening and closing with the framework of his biggest hits from his first two albums, with the bulk of the center being songs from his latest, 7.  I thought it was a powerful way to open the show, going right to "Crazy".  A product of the time in which it was developed, it was (per Seal) about the fall of the Berlin Wall in 1990 and the Tianenmen Square Massacre the year prior.  Those events feel like a lifetime away now, but seem as important now as they did then.
I did not get a chance to listen to 7 until this year (in the last few weeks), but it is excellent.  I was particularly impressed with the live versions of "Redzone Killer" and "Life On The Dance Floor".  Brilliant.
I was really thrilled that they performed "Fly Like An Eagle", which I feel surpasses the original from Steve Miller Band (and even received one of his many Grammy nods).
Throughout the show, the sound was excellent – no earplugs and the (at times thumping) bass was very clean.
Seal is one of those few artists that can still give me that adrenaline tingle down the back of my spine, and after seeing his show, I can't wait to turn out for another.  He's that excellent.
That meet and greet a few years ago was definitely one of the two or three most memorable I'd ever been part of, and I was struck and impressed with his genuine and earnest approach and candid dialogue – he shared some really touching experiences with us – complete strangers – about his life growing up, his family – it was just amazing.  I feel so honored and touched to have been a part of it, and it was completely unlike anything I'd ever experienced following a concert.
At that meet and greet years ago another fan had asked Seal if he had a message… he didn't have an answer right away.  He really thought about it, worked it out in front of us, thinking aloud.  For Seal, it came down to one thing: "the dream".  He called himself "imperfect" (for delivering a message), but said he had four responsibilities (his four children) who "do as you do", and said he wanted to be someone that he hopes his kids can be better than; to be a responsible role model.  He said he does his music because he has to – that he's lucky enough to do the thing that he is most passionate about.  The phrase that he eventually came around to is "to keep the dream alive".  He said that is how he got to where he is in life – that he never stopped dreaming.  Growing up, he always wanted something better… that "you have to have dreams".  An inspiring artist, and an inspiring person outside of his art.
Below are some photos of Seal performing on stage.  I ordinarily post many photos in a virtual lightbox (with around 100 photos) in my concert reviews, but was limited to half a dozen as part of my agreement in photographing this show.  Additionally, these were taken from the two bars at the back of the venue, so quite a distance from the stage (due to the chairs brought into the venue for the reserved seating).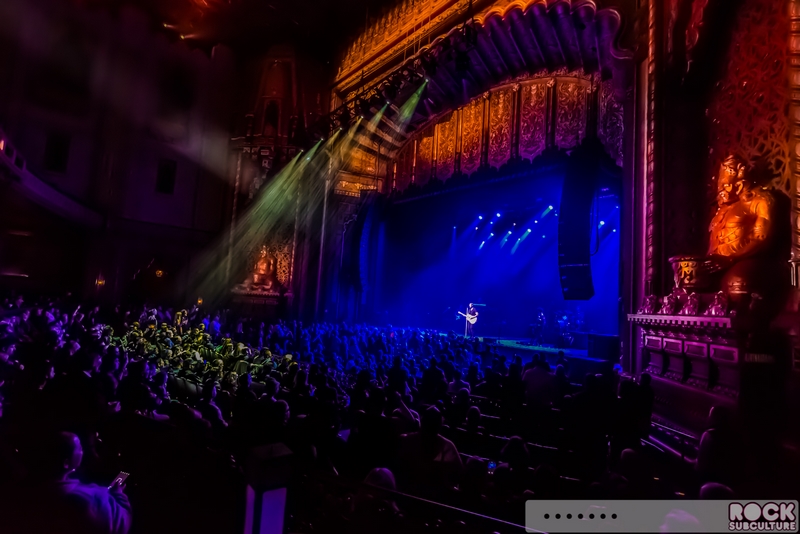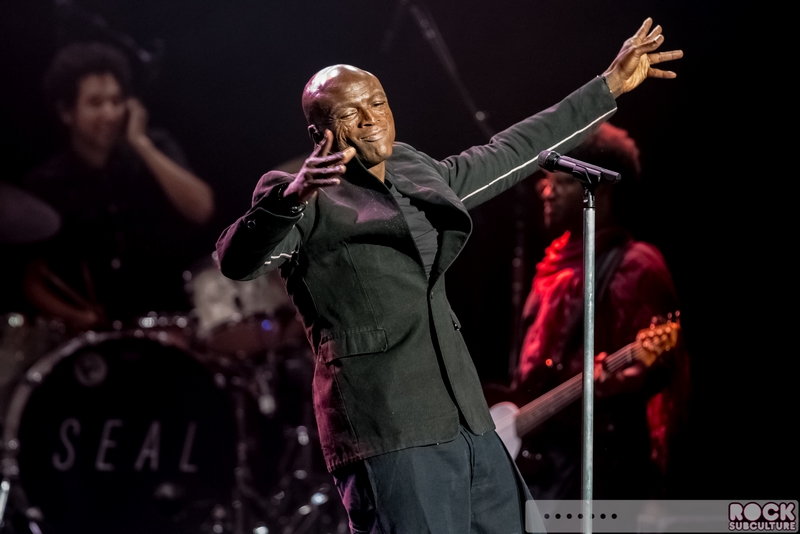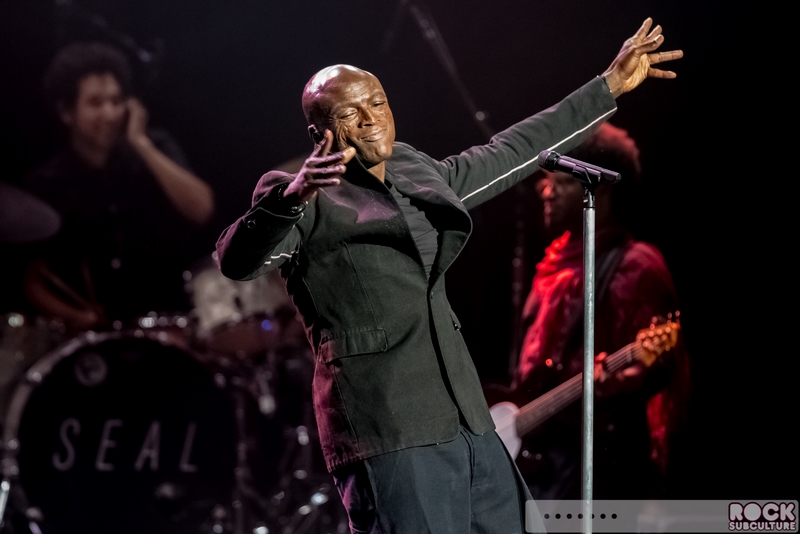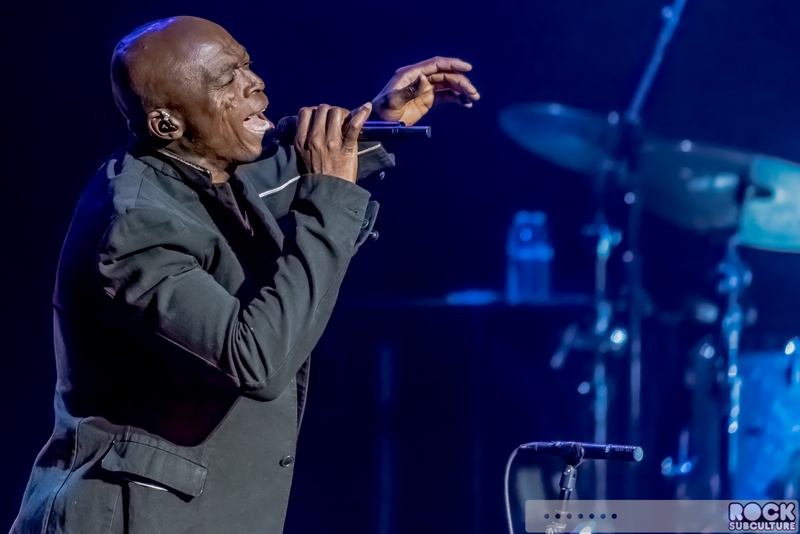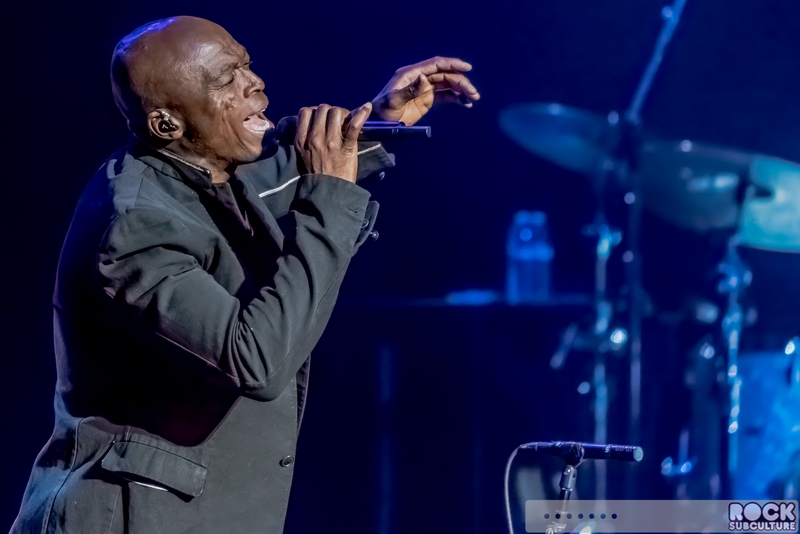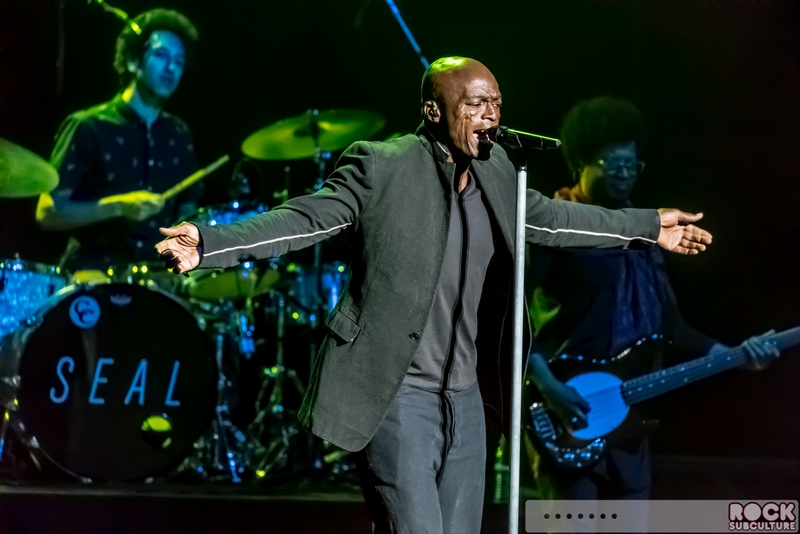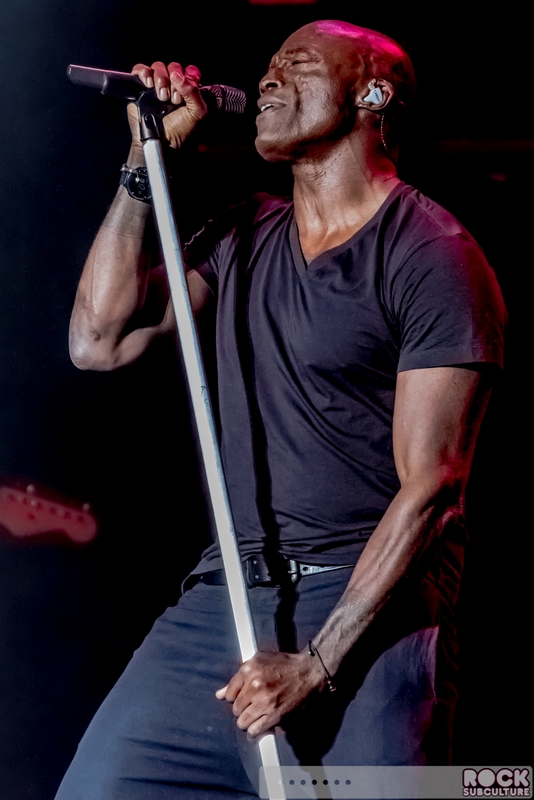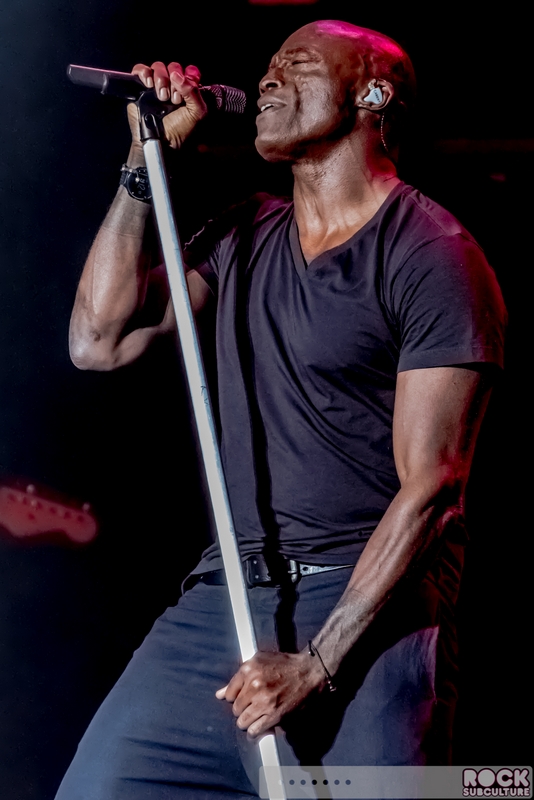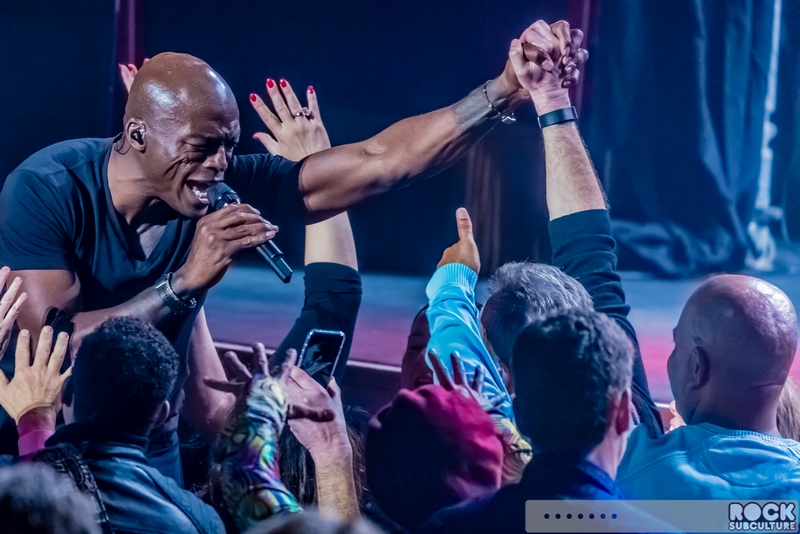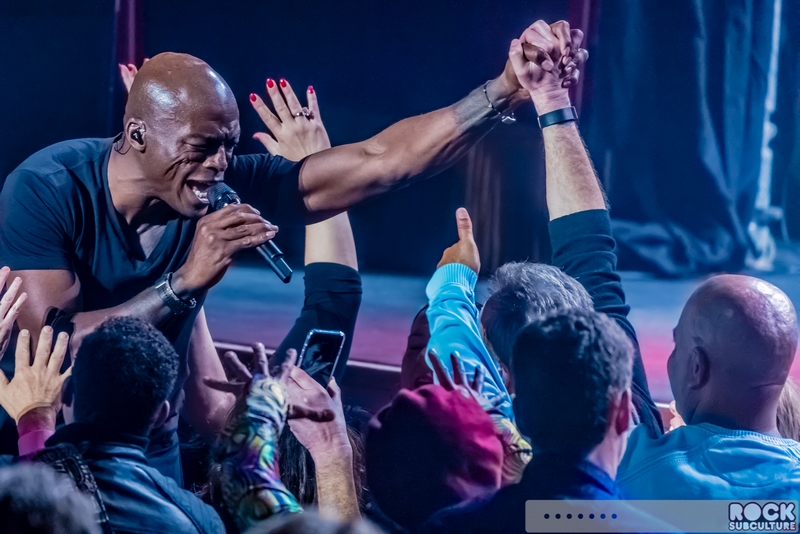 Jason DeBord