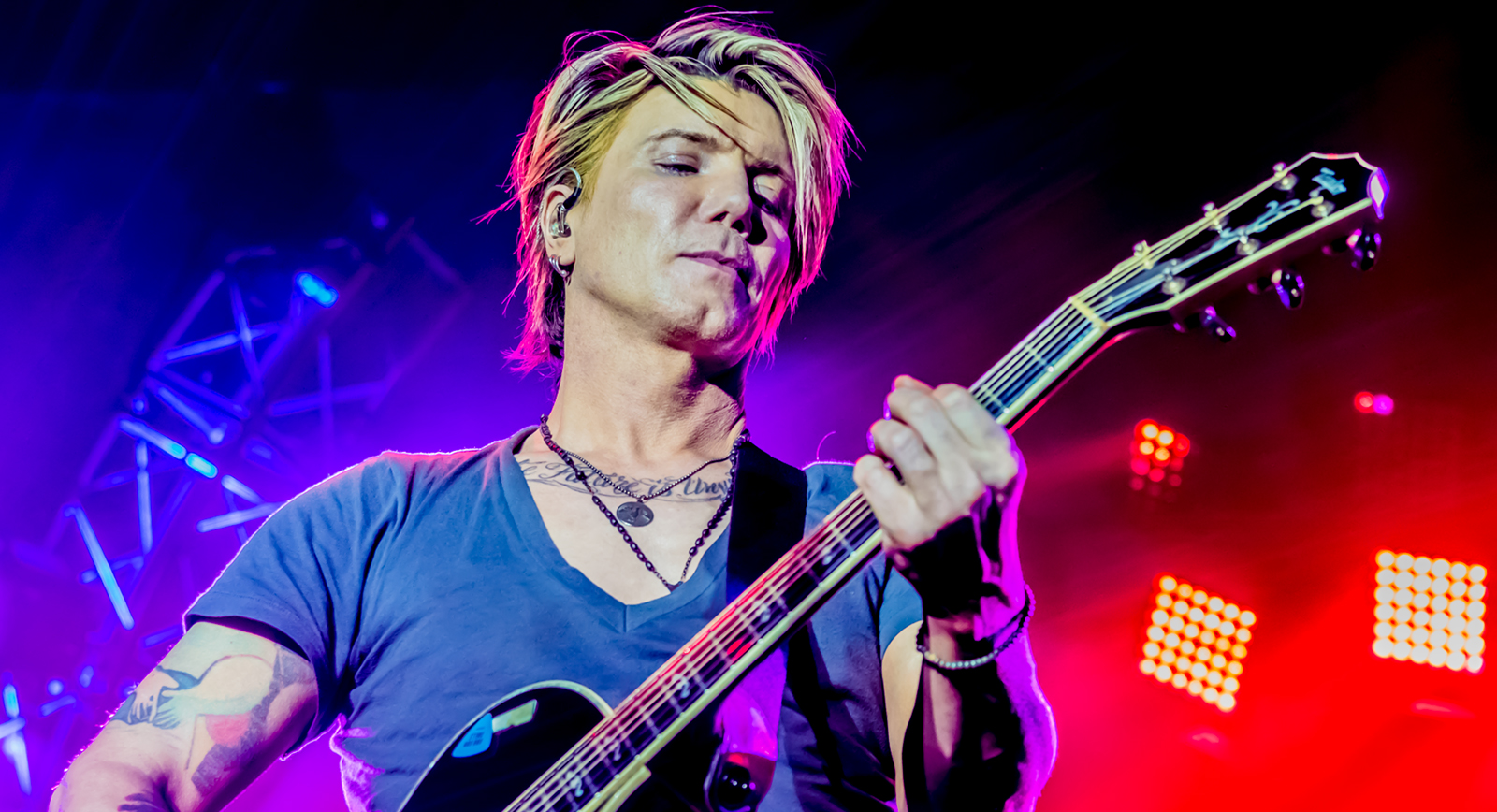 "…sort of the college kids version of owning a winery."  John Rzeznik of The Goo Goo Dolls at Ironstone Winery, talking about when he and Robby Takac met just out of high school many decades ago and starting selling weed to their friends.  Headlining a concert tour with Collective Soul and Tribe Society, this stop played to thousands at Richter Entertainment Group's summer concert series at Ironstore Amphitheatre in Murphys, California.  While both The Goo Goo Dolls and Collective Soul are most associated with the '90s (when both bands broke out with global success), each have endured and continued to produce new music and evolve with the times.  The Goo Goo Dolls' latest album, Boxes, is in my opinion one of the best albums of the year, and worth checking out, as is this awesome live tour.
Who: The Goo Goo Dolls
Supporting: Collective Soul
Supporting: Tribe Society
Venue: Ironstone Amphitheatre at Ironstone Vineyards
Where: Murphys, California
Promoter: Richter Entertainment Group
When: July 15, 2016
Seating: (house photographer)
The second concert in Richter Entertainment Group's summer concert series at Ironstone Amphitheatre occurred in as many days, with the first event taking place with Darius Rucker as headliner the night before. 

Situated in the foothills east of Sacramento and Modesto, Murphys has been called "The Next Napa".  It's a really unique a beautiful place to come and relax and get away from it all.  Wine, fine and casual dining, and an overall atmosphere that's to die for, Ironstone is a real gem nestled in Northern California and offers a completely unique concert going experience.
Richter Entertainment Group have put together state of the art staging, lights and sound for their summer concert series.  With the two shows thus far the season, the lighting has been nothing short of spectacular, and the sound is the best I've heard at an outdoor amphitheater – it is dialed in perfectly.
For the full schedule of upcoming shows at Ironstone Amphitheatre this summer, check out my preview article: LINK
My wife, Shelley DeBord, also provided photography duties with this show, so you can note her shots with the pink border watermark while mine have the white border watermark (she also took the main jump photo at the top of this article):
Tribe Society
Band:
Gavin McDevitt (vocals)
Rory Given (bass and guitar)
Bradford Alderman (synthesizer and keys)
Phil Boucher (drums)
Seth Hachen (flute and synths)
I was not familiar at all with Tribe Society before this show, and I absolutely loved their music and their set – they made me and instant fan, and I've already purchased their EP, Lucid Dreams, from iTunes.  Hailing from New York and billed as an alternative rock band, they have a very unique sound and style.  I think it's the first rock band I've ever seen that heavily features a flute with such vigor.
In addition to their own music, they did a killer cover of Smashing Pumpkins' "1979".
This is a definitely a band I see blowing up as they progress along and have more exposure by way of opportunities like this tour with The Goo Goo Dolls and Collective Soul.  I would personally turn out for their own headlining show – they are that good.
Below are some photos of Tribe Society performing on stage (click any image to open a virtual lightroom with higher resolution versions of each photo):
Collective Soul
Members:
Ed Roland (vocals)
Dean Roland (rhythm guitar)
Will Turpin (bass)
Johnny Rabb (drums)
Jesse Triplett (lead guitar)
Collective Soul are an alternative/grunge/post-grunge rock band hailing from Atlanta Georgia, and have been a thing going back to 1992.  Ed Roland, Dean Roland, and Will Turpin have been the foundation of the band throughout, and they have been steadily producing new music all along, with their latest album, See What You Started by Continuing, having come out last year and their eleventh album due out sometime next year.
I've had a few of my concert reviews over the years include a side discussion of my feelings over the music scene during the 90s – feeling that there was a lot of material and artists I just couldn't listened to mixed in with some fantastic work, but overall it was a mixed bag with more that didn't match up with my own tastes than not.  Having grown up in the 80s myself (graduating high school in '91), music in the 90s was in many ways a shift away from the 80s into genres and experimental music that was in many ways the antithesis.  However, as much as I did not care for some of the bands that were contemporaries with Collective Soul, I really did enjoy their output and particularly their hits, and respected the unique sound that they created with their band.  So I'd decidedly put Collective Soul in the favorable column on all counts.
But not being a die hard fan but casual fan myself, I'd never seen them perform live before this show at Ironstone, and I came away extremely impressed.  On a personal level, they were one of the most fun bands for me to photograph in some time, particularly Ed Roland, who knows how to move and pose to put on a show for the crowd.
The band hit in big in 1995 with their self-titled (and technically second) album in 1995, which was certified RIAA triple platinum and had a staggering number of popular songs including #1 hits "December," "Where The River Flows," and "The World I Know".  I was in film school in Los Angeles at the time and Collective Soul was in heavy rotation on KROQ.
Hitting smack in the middle of the decade, the band bridged early 90s grunge and broader "alternative rock" in a singular manner, though they have evolved more and more over the years, to settle into a sort of genre all their own.  As Ed Roland said in-between songs in the middle of their set, "we're a band from the 90s, not a band for the 90s; we still make fucking music today!"
Watching the crowd, I got the impression that many in attendance came for Collective Soul first and foremost, as they celebrated their music throughout the show with great enthusiasm.
I loved their set and would definitely turn out for them again, and was inspired over the weekend to revisit their back catalog to see what I've been missing all these years…  they sounded great with awesome music and made it fun for all.
Set List:
Heavy
Gel
Better Now
Exposed
AYTA
Shine
Rule #1
December
World I Know
Below are some photos of Collective Soul performing on stage (click any image to open a virtual lightroom with higher resolution versions of each photo):
The Goo Goo Dolls
Members:
John Rzeznik (vocals, guitar)
Robby Takac (vocals, bass)
Touring Members:
Brad Fernquist (guitar, mandolin, backing vocals)
Korel Tunador (keyboards, guitar, saxophone, backing vocals)
Craig Macintyre (drums, percussion, backing vocals)
"This whole story is one big lie…  I'm just making shit up.  Because I'm trying to be more honest. By being honest, I'm lying to you right now.  So am I lying now, or was I lying before? Don't suppose it matters much."  John Rzeznik was having a lot of fun on stage Friday night, telling stories to the crowd and creating some intimacy with his humor and candid, self-deprecating nature.
Since their last album, I've read that Rzeznik has taken a path of sobriety and gotten married, and at least going by his on stage presence, he seems to be in a happy place.  I have tremendous respect for those who can overcome biology and other factors to get through struggles with addiction, and it's awesome that Rzeznik is making incredible and inspiring music.
The Goo Goo Dolls were actually formed by Rzeznik and Takac in Buffalo, New York way back in 1986, along with original drummer George Tutuska (who is no longer with the band).  Though founded in the mid-80s, they didn't find mainstream success until nearly a decade later, when "Name" broke out as a hit on 1995's A Boy Named Goo (their fifth album).  Funny enough, both The Goo Goo Dolls and Collective Soul broke through to the mainstream with albums released on the same day, March 14, 1995.
Amid other hits that followed over the years, The Goo Goo Dolls are probably best known for their incredible hit, "Iris".  I remember seeing the music video a lot at the time (MTV's "120 Minutes"?) and it's definitely one of the seminal songs of the era (it even received no less than three Grammy Award nominations).
They've been relatively prolific over the years, with eleven studio albums, two greatest hits albums, and more.
I would say, as with Collective Soul, I've been more of a casual fan over the years.  I was intrigued enough upon hearing their latest single "So Alive" to check out their latest album Boxes in its entirety and, as mentioned, it's one of my favorite new albums of the year.  The songs with the anthem style stretches are right in my wheel house and they have managed to find the perfect blend of rock and roll with catchy pop elements.
This was my first time seeing The Goo Goo Dolls live and I came away a fan with them as well.  Rzeznik has an interesting stage presence…  he just oozes cool but with no pretense or arrogance.  He seems stripped down to who he is, and is an interesting guy for sure.  I was impressed that he stuck his mic stand right close to the edge of the stage, to get as close to the crowd and fans as possible.
Rzeznik's voice sounds amazing – probably even better with age.  I think what most impressed me is his guitar playing though…  The first "tell" was the arsenal of guitars lined up on a rack at the side of the stage.  This reminded me of a Lindsey Buckingham concert I covered years ago.  But the most important part is the playing.  I've only seen a handful of guitarists who play with the same magical effortlessness.  I won't name names, but those who pay attention to such things will immediately understand what I'm talking about.  Where you hear the broad spectrum of layers and layers of complex sounds coming out of the guitar and these gentle, flowing movements that make you wonder if something otherworldly is in play.
Takac counters this with another style all his own, to provide some contrast not just against guitar and bass but vocals on the times he contributes.  One of my favorite moments of the evening was Takac's vocals and their overall cover of "I Could Never Take The Place Of Your Man" – a cover and tribute to Prince.
The band spared no expense or lacked in creativity in the light show that they built as part of the concert.  As a photographer, I might appreciate it more than most, but it is rare when an artist or band has light coming in different colors and all directions in sequence with the music.  What a show.  And with this, my favorite element was the hidden word puzzle at the back of the stage for "Come To Me", which was unlike anything I'd seen before.  Very cool and captivating, as words appeared on cue with the lyrics of the song.
With all of that, my favorite moment of the night was the following sentiment from Rzeznik, which really speaks for itself:
"You know what's awesome about tonight?  The entire fucking world is insane.  But it's 'out there'.  And let's just leave it 'out there', right?"
I give my highest recommendations to go check out this very cool band, and hear their incredible new music.
Set List:
Over and Over
Long Way Down
Slide
Big Machine
Rebel Beat
Here Is Gone
Black Balloon
Smash
Bringing on the Light
Name
So Alive
Souls in the Machine
Better Days
Already There
I Could Never Take the Place of Your Man (Prince cover)
Come to Me
The Pin
Stay With You
Iris
Broadway
Long Way Home
Below are some photos of The Goo Goo Dolls performing on stage (click any image to open a virtual lightroom with higher resolution versions of each photo):
Jason DeBord