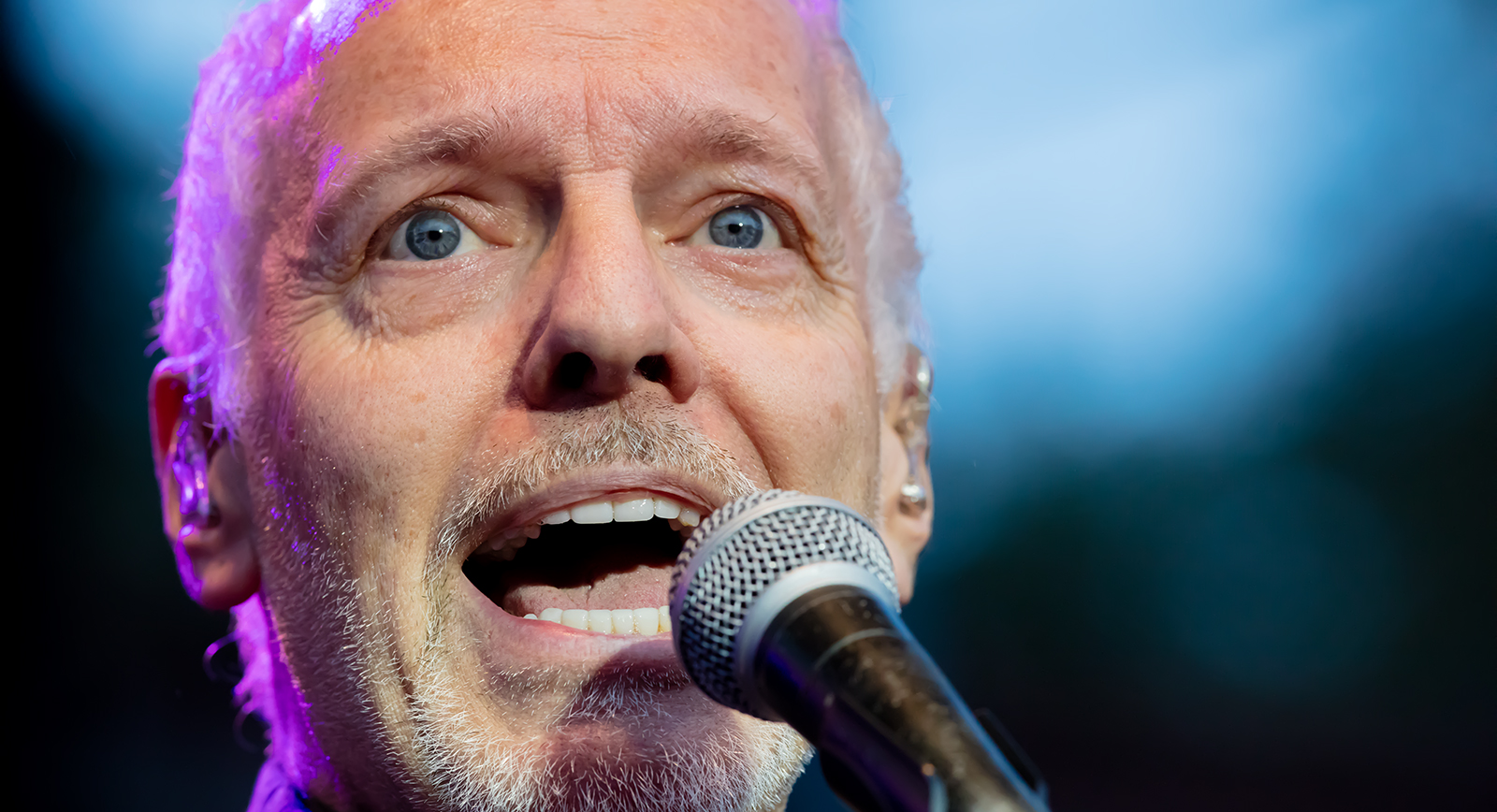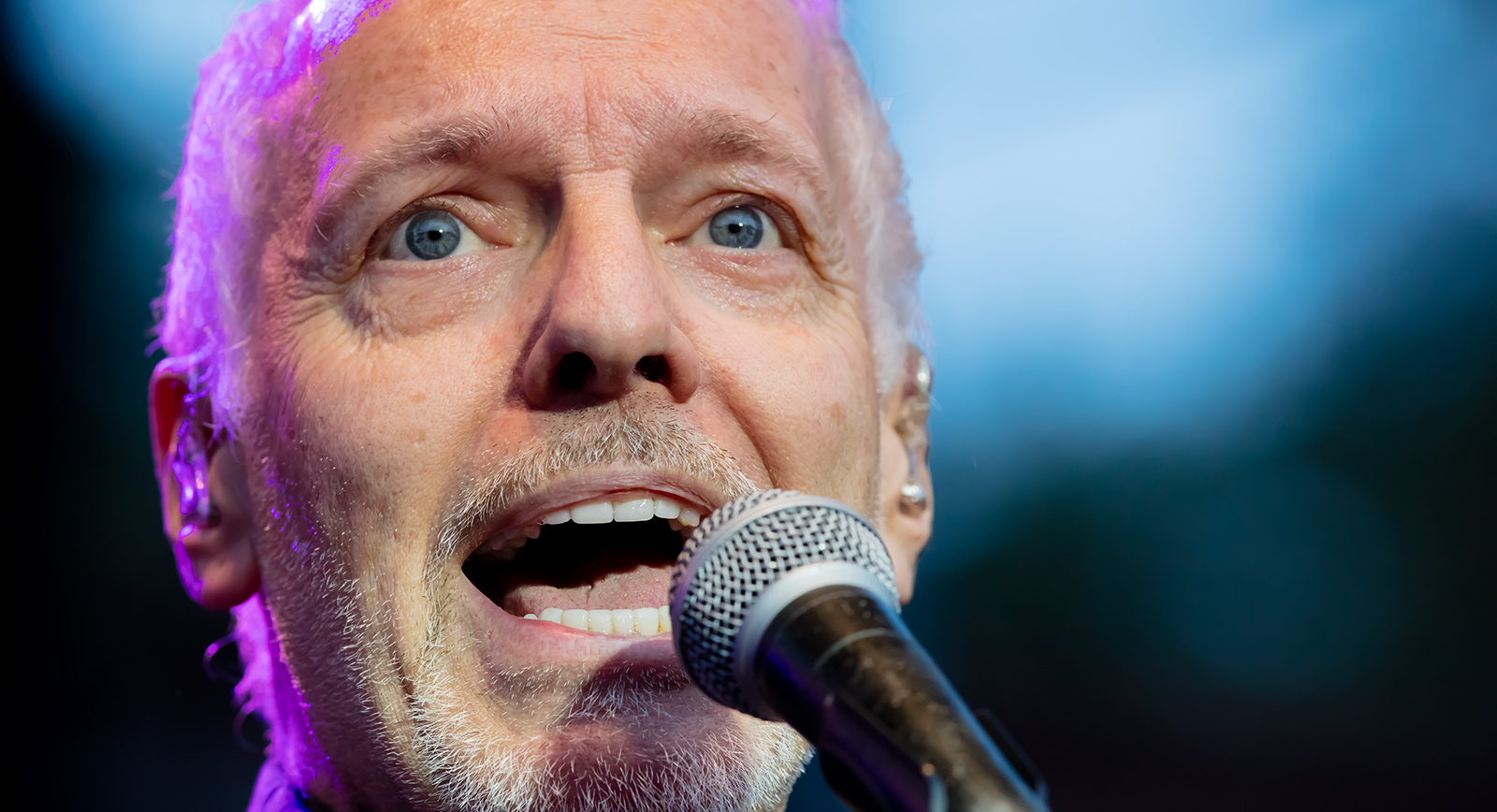 "I must say it's smelling awfully good out there…  I'm on duty… [laughs]"  Peter Frampton on stage and in front of a massive crowd at Ironstone Amphitheatre at Ironstone Vineyards in Murphys, California, part of a double-headlining show with Lynyrd Skynyrd, fittingly playing as the sun set and dusk settled in as he then went into his blazing cover of Soundgarden's "Black Hole Sun".   Darkness took over by the time he left the stage and southern rockers Lynyrd Skynyrd closed out the night, with vocalist and front man Johnny Van Zant trying to set the clock back through sheer force of will: "Now it's Sunday night… Sunday night… we need to make it a Saturday night…  Are you guys all in or what?"  There was a lot of gratitude exchanged between the two artists as each took turns holding stage, as it was the end of their joint tour together, which would appear to have been a successful pairing of two different styles of music on this Summer tour. 
Who: Lynyrd Skynyrd
Who: Peter Frampton
Supporting: Jack Broadbent
Venue: Ironstone Amphitheatre at Ironstone Vineyards
Where: Murphys, California
Promoter: Richter Entertainment Group
When: August 21, 2016
Seating: (house photographer)
This event was the sixth in Richter Entertainment Group's Summer Concert Series at Ironstone Amphitheatre at Ironstone Vineyards in Murphys, California (see reviews for Darius Rucker, Goo Goo Dolls, Sublime with Rome, Train, and Chris Young).
As one of the shows leading up to the Fall at Ironstone Vineyards in the foothills outside of Sacramento and Modesto, the weather was close to perfect for the show, with some clouds scattered across the sky to tone down the otherwise warm weather a bit.
As mentioned in past review, Richter Entertainment Group has put together this concert series with an interesting mix of musical artists, styles and genres, all benefiting from the state-of-the-art concert facility with top end sound and lighting to put the artist on a stellar stage that can showcase their performance.
The amphitheatre features traditional assigned seating in the section directly in front of the stage, with a vast area behind that is designated general admission and allows patrons to bring their own lawn chairs and blankets with an opportunity to find the best spot from which to enjoy the show.
My wife, Shelley DeBord, also did photography alongside me with this show, so you can note her shots with the pink border watermark while mine have the white border watermark:
Note: If images in each section don't appear to load correctly, please refresh the page (F5 on your keyboard) – works best with Google Chrome browser – sorry, it's just a lot of photos to load – thanks!  Click any image to view larger in virtual lightroom:

Jack Broadbent
Jack Broadbent, a bluesy singer-songwriter from rural England, had a very understated presentation compared with the legendary acts that followed, seated on his amp with a guitar on his lap and microphone positioned in front of him.
He definitely has a unique style, using a pewter whiskey flask as a slide on his guitar, with a very English sense of humor filling in between each song.
His latest album is 2015's Along The Trail of Tears. 
I really enjoyed his performance, and he did a great job engaging the audience for what was to follow.
Below are some photos of Jack Broadbent performing on stage (click any image to open a virtual lightroom with higher resolution versions of each photo):
Peter Frampton
Members:
Peter Frampton (vocals, guitar)
Rob Arthur (keys, guitar, vocals)
Dan Wojciechowski (drums)
Adam Lester (guitar, vocals)
Paul Peterson (bass, vocals)
"I've got a live album, I made a while ago…  You might want to get it… It's called Frampton Come's Alive!  [holding his guitar proudly] And this thing's on the front cover.  This same thing.  So, are you ready?  I don't believe you, are you ready?"  Peter Frampton, referring to his 1954 Gibson Les Paul that he played with Humble Pie and solo, before it was thought lost forever in a 1980 cargo plane crash.  The guitar was miraculously tracked down by fans and Frampton was reunited with the guitar in 2012.  It was originally gifted to him at a Humble Pie show in 1970, and he used it to record Humble Pie's Rock On and Rocking the Fillmore as well as his own live album, Frampton Comes Alive!, which is one of the top-selling live albums of all time.
This was my first time seeing Peter Frampton live at a show.  Before even coming on stage, a steam punk-looking guy came out to introduce him and literally "drop the mic".  Pretty funny.
He has such amazing energy, and obviously loves what he is doing.  A real legend in music, I got no sense of ego or pretense; he seemed to be all about connecting with the crowd and getting them engaged with the music…  sharing his own love and excitement for rock and roll.
And it wasn't even all about his own music, covering both David Bowie and Soundgarden, his choice in setlist reflects his own timeless interest in the work of other artists (both of whom he has worked with as well).
Of course, Peter Frampton is an English singer-songwriter, best known for his incredible, pioneering guitar playing.  He has a number of top songs always in rotation on classic rock radio, as well as his iconic look from back in the day.
Though associated with "classic rock", he seems like he's been pushing the envelope for what rock and roll even is his entire career.  One interesting contraption on the center of the stage Sunday night was his "Framptone" "Talk Box", which allows him to talk with/sing with his guitar with pre-Auto-Tune technology.
At 66 years old today, he looks amazing and full of life, which goes hand in hand with his rich music.  He's definitely one of the most interesting figures active in rock and roll today, and pretty amazing he travels and tours as much as he does to give fans new and old alike an opportunity to experience his special brand of music.  He's put out 18 solo records since 1972 (most recently this years Acoustic Classics) and even won a Grammy in 2006 for "Best Pop Instrumental Album".
His set was pretty amazing and the highlight of the night for me.
Set List:
Something's Happening
Rebel Rebel (David Bowie cover)
Doobie Wah
Lines on My Face
Show Me the Way
Go To The Sun
Black Hole Sun (Soundgarden cover)
(I'll Give You) Money
Baby I Love Your Way
Do You Feel Like We Do
While My Guitar Gently Weeps (The Beatles cover)
Below are some photos of Peter Frampton performing on stage (click any image to open a virtual lightroom with higher resolution versions of each photo):
Lynryd Skynyrd
Members:
Gary Rossington (lead and rhythm guitar)
Rickey Medlocke (drums, vocals, mandolin)
Johnny Van Zant (lead vocals)
Michael Cartellone (drums, percussion)
Mark Matejka (lead and rhythm guitars, backing vocals)
Peter Keys (keyboards)
Johnny Colt (bass, backing vocals)
Dale Krantz-Rossington (backing vocals)
Carol Chase (backing vocals)
Lynyrd Skynyrd of course have a long and stories history going back to the mid-60s, and are credited for bringing Southern Rock to the mainstream in the 70s.
Tragically, three of the members of the band were lost in an airplane crash in 1977, which has resulted in different and re-formed incarnations of the band.
They reformed in 1987 with Johnny Van Zant (younger brother of original founding singer Ronnie Van Zant) on vocals, who remains the frontman today.  Gary Rossington, lead guitarist, is a founding member of the band still touring with them today, and Rickey Medlocke was part of the band in the early 70s as well as now.
Of course, the band's best known hits are "Sweet Home Alabama" and "Free Bird".
I have to confess that Lynyrd Skynyrd and their music is completely outside of my wheelhouse, so I'm not really in a position to contribute very interesting thoughts or observations on their show, other than underscoring how much their fans went crazy for this concert.  This was the only show at Ironstone this year where fans in the general admission section were so engaged in the show that they were were pressed up against the barricade separating the two areas, wanting to be as close to the action as possible.
It was a bit of a tale of three audiences… it seemed like some came out primarily for Peter Frampton, some for Lynyrd Skynyrd, and the majority for both.
The band obviously puts on a ton of performances year after year and it shows, with a finely organized stage set-up that allows each member to have their showcase moments and been seen and heard throughout.  They also are very engaging with the audience, making it a very participatory experience.
Set List:
Workin' for MCA
What's Your Name
You Got That Right
Saturday Night Special
Honky Tonk Night Time Man (Merle Haggard cover)
That Smell
Simple Man
Gimme Back My Bullets
The Needle and the Spoon
Tuesday's Gone
Gimme Three Steps
Call Me the Breeze (J.J. Cale cover)
Sweet Home Alabama
Encore:
Below are some photos of Lynyrd Skynyrd performing on stage (click any image to open a virtual lightroom with higher resolution versions of each photo):
Jason DeBord