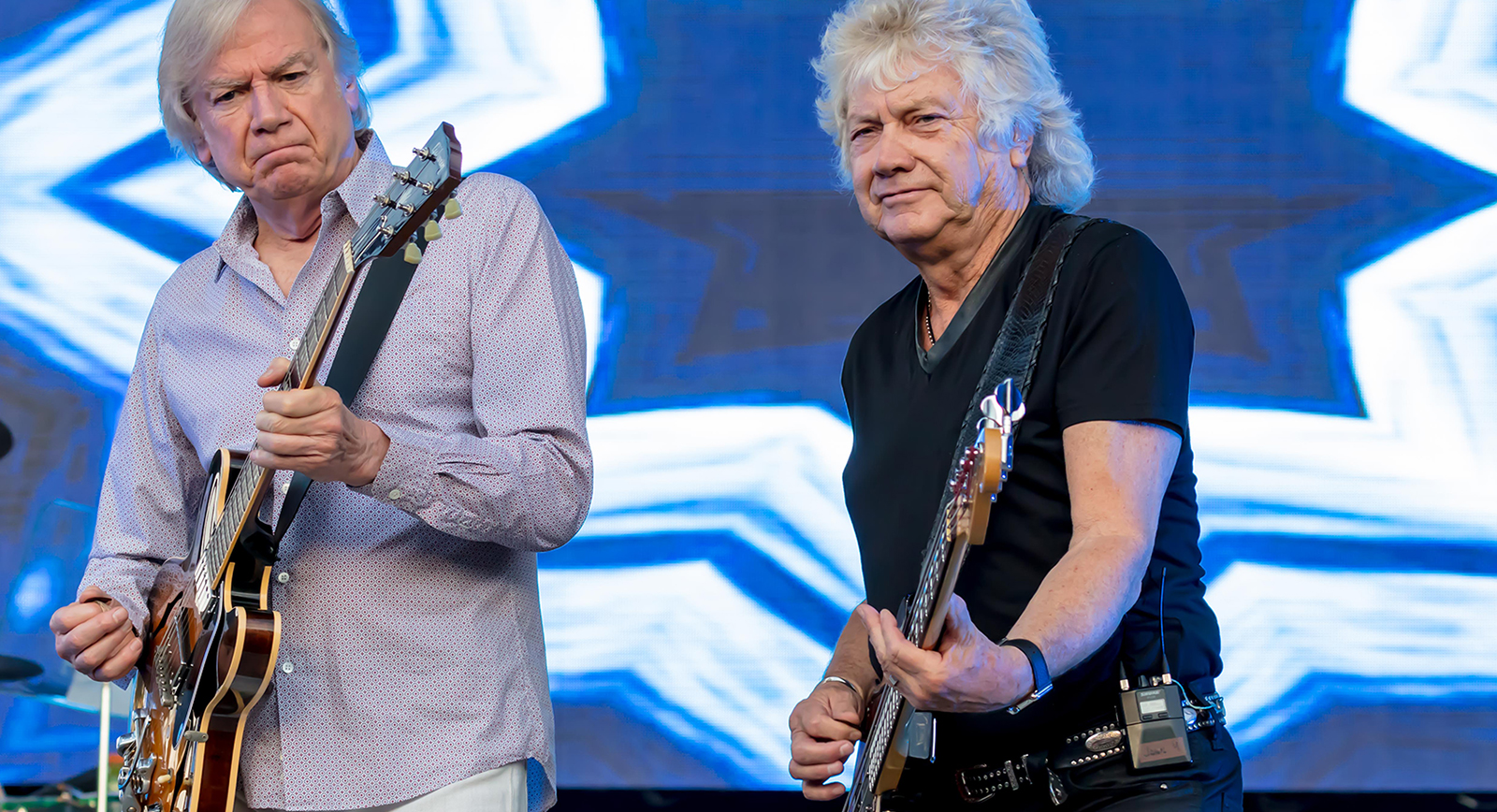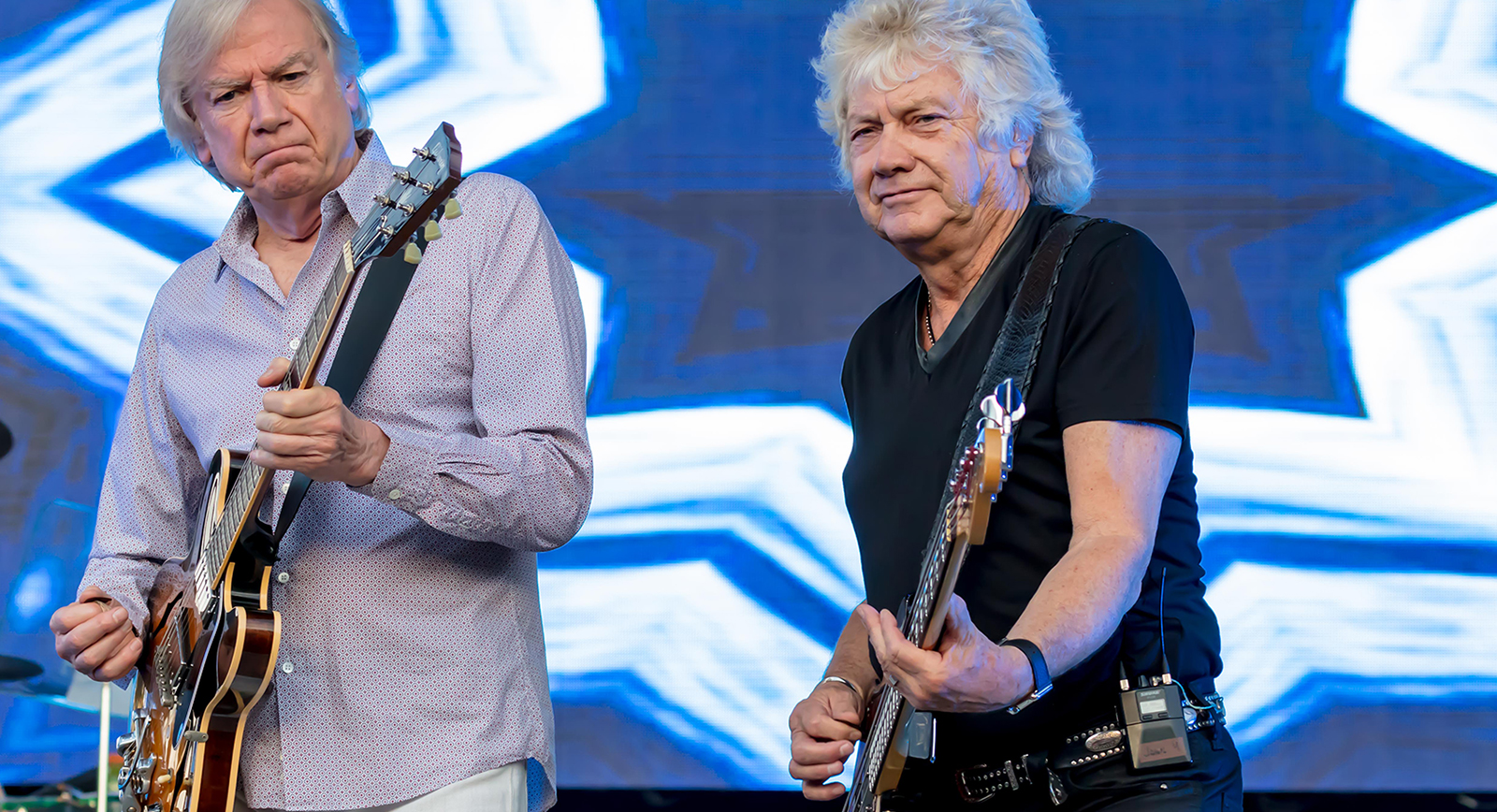 Fans of The Moody Blues got to experience the band like never before on Sunday night at Ironstone Amphitheatre.  Featuring "an evening with…" style concert presentation, The Moody Blues played two full sets in front of the massive crowd in attendance, the first with various hits from their career and the second presenting a track by track playing of every songs from their groundbreaking album, Days of Future Passed, which celebrates it's 50th anniversary this year.  They looked and sounded great, and there was a lot of magic in the air as they recreated this landmark album live on stage.
What: Days of Future Passed 50th Anniversary Tour
Who: The Moody Blues
Venue: Ironstone Amphitheatre at Ironstone Vineyards
Where: Murphys, California
Promoter: Richter Entertainment Group
When: June 18, 2017
Seating: (house photographer)
Richter Entertainment Group's Summer Concert Season at Ironstone Amphitheatre in Murphys in 2017 features Toby Keith, Boston, Joan Jett & The Blackhearts, John Mellencamp, The Moody Blues, Jason Mraz, Lindsey Buckingham and Christine McVie, matchbox twenty, Counting Crows, Steve Miller Band, Peter Frampton, Willie Nelson, Kenny G, George Benson, and more!  It's all taking place in June, July, August and September this year.
Richter Entertainment Group assembles an eclectic mix of musical artists, styles and genres every year, all benefiting from the state-of-the-art concert facility with top quality sound and lighting to placed each artist in the spotlight to showcase their music.
The amphitheatre features traditional assigned seating in the section directly in front of the stage, with a vast area behind that is designated general admission and allows patrons to bring their own lawn chairs and blankets with an opportunity to find the best spot from which to enjoy the show.
The greater setting of Ironstone Vineyards is stunning a beautiful – one of the rare concert venues where you can show up hours early and just take in the scenery, do some wine tasting, as well as have a stellar meal.
Learn all the details about this year's concert line-up and where to buy tickets on the official REG website at www.richtergroup.net.
Fri 06/09/2017 – Toby Keith with Grass Roots Revival
Sat 06/10/2017 – Boston with Joan Jett & The Blackhearts
Sat 06/17/2017 – John Mellencamp with Emmylou Harris, Carlene Carter, Lily & Madeleine
Sun 06/18/2017 – The Moody Blues
Sun 06/25/2017 – Jason Mraz & His Superband
Fri 07/21/2017 – Lindsey Buckingham and Christine McVie with The Wallflowers
Mon 07/24/2017 – matchbox twenty and Counting Crows with Rivers & Rust
Fri 08/11/2017 – Jake Owen with Drew Baldridge
Sun 08/13/2017 – Steve Miller Band with Peter Frampton
Fri 08/18/2017 – Willie Nelson & Family with Kacey Musgraves
Sat 09/09/2017 – Kenny G and George Benson
Below are some pre-show photos (which will load as you scroll down):
The Moody Blues
Members:
Graeme Edge (drums, percussion, vocals)
Justin Hayward (vocals, guitar)
John Lodge (vocals, bass, guitar)
Norda Mullin (flute, guitar)
The Moody Blues are an English band with music that spans several genres, a tribute to their longevity.  They've sold over 70 million albums.
Active sing 1964, this show is part of their Days of Future Passed 50th Anniversary Tour, a celebration of their second album which came out in 1967.
It was with that concept album – Days of Future Passed – that they made their mark on Art Rock and Progressive Rock.
Early on they went through some line-up changes and current members Justin Hayward and John Lodge joined up in 1966.  Just a year later saw their release of Days of Future Passed which found immediate critical and commercial success.
They were very prolific throughout the 60s, releasing several more albums.  The band took a break from 1974-1977 and produced some solo work (Hayward and Lodge's duo album, Blue Jays), and then had a reunion in 1997 and were active again through 1990.
Being a child of the 80s, my sentimental personal favorite of their catalog is the 1986 Top 10 hit, "Your Wildest Dreams", which they played at Ironstone on Sunday night.
The 90s were an interesting time for The Moodies, as they dedicated many years to touring and performing live with an orchestra.  Then they ended the decade with a new album in 1999, Strange Times.
By 2002, with the retirement of Ray Thomas, the current three members remained to keep The Moody Blues alive.
With their appearance at Ironstone Amphitheatre, it was "an evening with…" style show with no supporting artist.  Instead, the band performed two sets, one of favorite and hits and another celebrating Days of Future Passed.
They all seemed to be having so much fun on stage, feeding off of the energy of the crowd as the took us on a journey through their incredible music.  Truly an amazing show.
Set List:
Set 1:
I'm Just a Singer (In a Rock and Roll Band)
The Voice
Steppin' in a Slide Zone
Say It With Love
Nervous
Your Wildest Dreams
Isn't Life Strange
I Know You're Out There Somewhere
The Story in Your Eyes
Set 2 (Days of Future Passed):
The Day Begins (with Jeremy Irons)
Dawn Is a Feeling
Another Morning
Peak Hour
Tuesday Afternoon
(Evening) Time to Get Away
The Sunset
Twilight Time
Late Lament (with Jeremy Irons)
Nights in White Satin
Encore:
Below are some photos of The Moody Blues performing on stage (click any image to open a virtual lightroom with higher resolution versions of each photo; photos will load as you scroll downward):
Jason DeBord