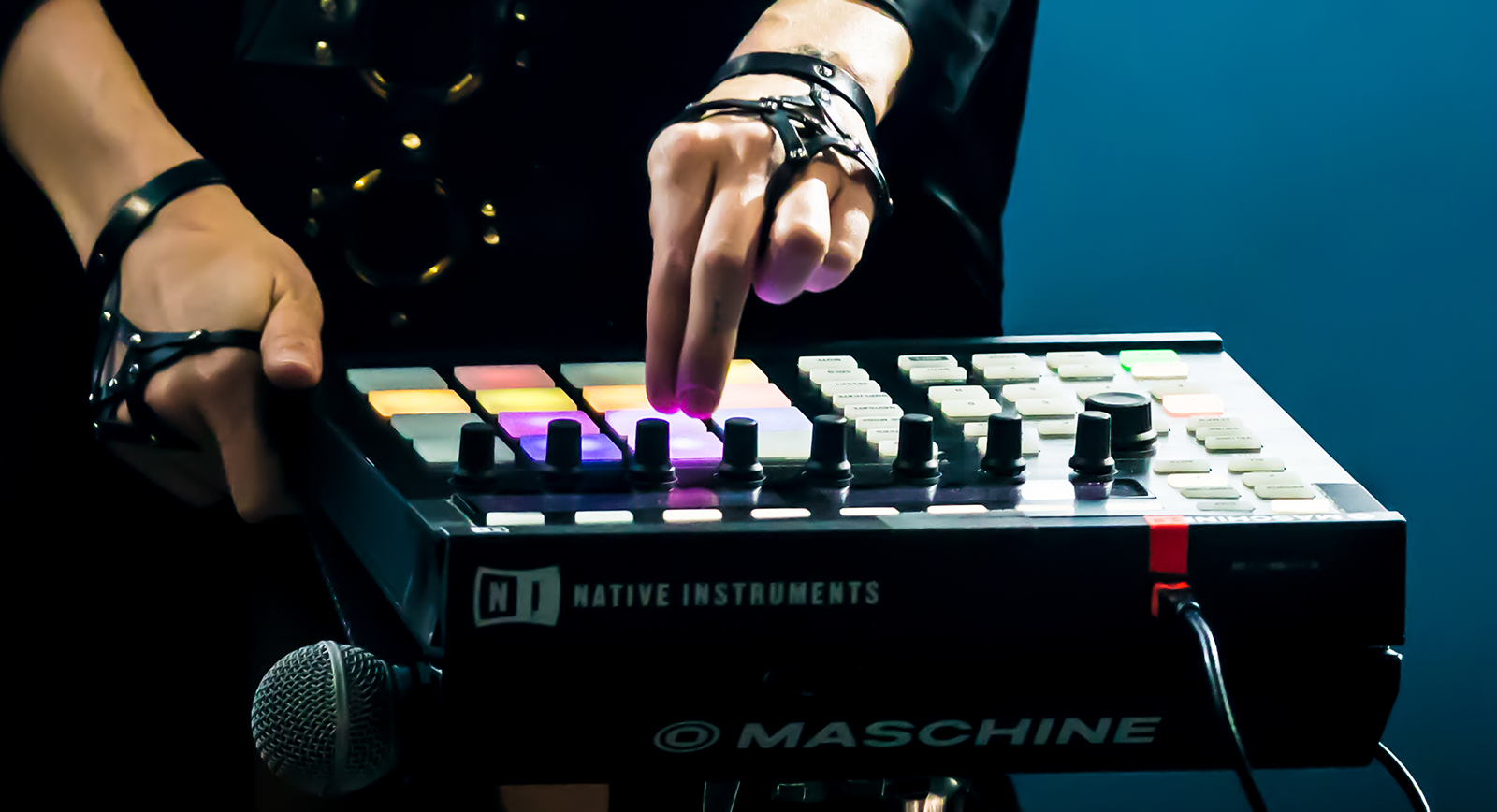 I usually open my reviews with a quote from the artist, but Phantogram didn't do too much talking during their set, and when they did their words were mostly lost among adulation from the cheering crowd.  Their live sets are still driven by songs from last year's Three, which I voted at the #1 album of 2016.  I've personally been dying to hear songs off this brilliant album live, as last year each time the duo and their band were playing local, I was traveling elsewhere.  So with their appearance at Grand Sierra Resort & Casino's Grand Theatre in Reno Friday night, I was not disappointed.  This was actually my favorite concert thus far in 2017.  Phantogram are so amazing right now the rest of the world needs time to catch on.
Who: Miike Snow
Who: Phantogram
Who: Klangstof
Venue: Grand Theatre at Grand Sierra Resort & Casino
Where: Reno, Nevada
Promoter: Another Planet Entertainment
When: June 30, 2017
Seating: General Admission (with photo pass)
Covering this show was a little bit of an unusual situation, as it was a double headliner concert, and I only was able to secure permission to photograph Phantogram.  So this review does not include a review of co-headliner Miike Snow.
As I've mentioned in past reviews, The Grand Theatre at the Grand Sierra Resort and Casino in Reno has become one of my favorite venues since their renovation back in 2015.
The venue boasts a one acre large stage (one of the largest in the world) that from 1978 to 1987 was host to MGM's "Hello Hollywood Hello". The entire venue has been redesigned, with a standing room-only GA floor space in front of the very wide and deep stage, the theater also features theater-style seating going up to the back of the venue.  There is also new special VIP seating areas up higher on the far sides of the two walls (see photos below).
The layout of the venue is awesome, with the GA standing floor with a stage that is relatively low considering how vast it is… quite long as well, it offers a lot of opportunity for being right up front and gives the artists a nice platform with which to move around and engage the audience.
There is assigned seating that goes up and back, above the main general admission floor, and there is honestly not a bad seat in the house. With some venues, you feel "too far back" or decidedly on one side or the other – at Grand Theatre, everything feels centered and sounds great. You feel like you are getting much more than your money's worth as it all "feels new" and your senses can tell you where money has been invested into it to make a richer experience… from the sound system to the lighting to the new LCD screens behind the stage, it's all quite state-of-the-art.
In terms of sound, it was exceptional as I've come to expect, based on all of the concerts I've attended.
As with my past experiences, the staff at Grand Sierra Resort impress.  This was a show by Another Planet, but it appeared to be the usual staff on hand.  I attend a lot of concerts, and the staff at the GSR are consistently very friendly and professional. I give the venue my highest recommendations!
Doors opened at around 6:45 for the 7:40 show start time.
Below are some new photos of the venue before the show started to give an idea of the venue and it's layout…
Klangstof
Members:
Koen van de Wardt (vocals, synth)
Wannes Salome (synth)
Jun Christian Villanueva (drums)
Jobo Engh (guitar)
Klangstof is a Dutch and Norwegian indie rock/electronic band based in Amsterdam.  I'd never heard of them or heard their music before this show.
I came away so impressed with them that I purchased their debut 2016 album, Close Eyes To Exit, after the show.  Loved their music and they had a lot of character on stage, especially front man Koen and his comments in-between their set… "We're only allowed to play 25 minutes.  We don't sell tickets."
Their music has a bit of that sprawling wall of sound thing at times, but then it's broken up with interesting vocals and a more abstract approach.  This came through more in the live show than it does on the album.
In any event, they have an original sound that have bits and pieces that bring a fleeting familiarity but more like mismatched puzzle pieces, as they take you on a unique sonic journey.
Below are some photos of Klangstof performing on stage (scroll downward and photos will begin to appear – click any image to open a virtual lightroom with higher resolution versions of each photo):
Phantogram
Members
Sarah Barthel (vocals, keyboards)
Josh Carter (vocals, guitar)
Chris Carhart (drums, drum samples)
Nick Shelestak (synth, keyboards)
Phantogram is a duo comprised of Josh Carter and Sarah Barthel.  They formed about a decade ago as "Charlie Everywhere" as an electro rock act.  The two have known each other and been friends since they were in middle school.
Though only together as a band for ten years, they've been fairly prolific, putting out four EPs and three studio albums – Eyelid Movies in 2009, Voices in 2014 and Three last year.
I did not start following them until the release of Voices when that amazing track "Black Out Days" caught my attention.
I've had the opportunity to see them live in concert once before at the Fox Theater Oakland in 2014.
Phantogram's second album, Voices, made me a fan.  I really enjoyed the album, but I was a bigger fan of certain songs (especially "Black Out Days" – damn, what a song!).  I've always been really fascinated with their sound, and looking up some live performances on video from time to time, their ability to play a song in a variety of ways, leaving you perplexed as to which is the best version (usually all of them).  It truly illustrates how much texture and life there is in every song that they create.  There is no such thing as album filler with them.  Everything could (and should) be a hit single.
So I was expecting – hoping for – more of the same with Three, and I came away kind of shocked.  Far and away their best work, it's truly stellar. The more I listened to Three, the more I came back to it to hear again and again.  It's infectious.  There is no cure… except for more Three.  Louder Three.  I love this album!
An interesting collection of songs, very different from one another, yet it still feels like an album proper.  It's so new and fresh, yet little aspects remind me of things I've loved in the past…  It taps into something in my brain that does not compute, and it's all held together by that kinetic internal battle and dance between analog and digital.  The music feels like it comes from some retro-futuristic contraption with lots of dials and switches.
More than anything, it is timeless.  It doesn't sound like the past, the current, or a future.  It's more like music from elsewhere.
I have a different sort of relationship with music and how I evaluate it.  Some I do on a more basic level – do I enjoy hearing it?  Some serves as a a kind of way point in life – an anchor back to how I felt and what I was doing at a certain time in this journey of life.  Very, very few albums are kind of landmarks in my mind as important albums.  With "albums" and the concept of albums disappearing more and more every day as we move more and more into this black hole of a digital era where physical products no longer exist and everything is in the cloud and it's all about the single and younger generations pay no attention to what the name of the artist even is…
But for me personally, Phantogram's Three represents one of just a handful of really important albums to me, as it connects on such a deep level and it is just so brilliant from front to back, song to song.  Being 44 years old today, the first album that had that kind of impression on me remains my favorite – Depeche Mode's Music for the Masses.  It was the pinnacle of the band at the height of their powers – everything that came before led to it's creation.  It was an important work and serves as one of the foundations to the soundtrack of my life.
Since that 1987, the next that moved me in the same sort of way was Coldplay's Viva la Vida or Death and All His Friends released in 2008.  Another album that just had such an impactful connection with me – with every song it was as if my brain was vinyl and the grooves for the song were already etched into it.  I was so taken by this album I even got the "Viva" guitar used to record many of the songs from the band.
So this kind of reaction to an album is rare for me…  but it's happened again with Phantogram's Three.  I'm so taken with it I don't even know where to begin to describe how awesome it is.  There is just so much originality and artistry on display throughout.  Each song is so different but all tied together with a certain vibe and style and sound signature.
"Funeral Pyre"…  as the album opener, it has a kind of displacing rhythm…  it's not catchy but transporting – it melts away whatever other music might have been on your mind before putting on this album.  You are drawn into this unfamiliar world with mixed fixed beats and raw vocals counterbalanced by overlapping guitar riffs and wails.
After the pause between songs, "Same Old Blues" (the best song on the album?) has more primal beats and vocal samples to ground us with something familiar and old, but then like with most Phantogram songs, it goes through these beautiful changes, feeling almost like a marriage between three unrelated songs with their own beats and movement and time and spirit weaving in and out, back and forth.  Sarah's vocals are soft and heartfelt, and that break with the throwback style guitar riffs and beats build on this song that feels like a train coasting on it's own momentum.  The song overall is kind of steampunk-like as it cobbles together things that at once feel from the unacquainted past and a fantastical future.
The third song on the album is "You Don't Get Me High Anymore", which was the first big hit off of Three.  As a piece of pop art, it is probably their biggest accomplishment to date.  The delivery and pacing of the lyrics at the base of the song mixed with the more melodic bit and then the additional shift and push into the chorus blend together so perfectly to create this song style that is soooo unique.  It's really more like there are two competing choruses, one more pop and one more rock, with accompanying feelings in the words that drive each.  Such an amazing song.  With the live show Friday night, Sarah wore something in a style similar to the outfit she wore in this music video, and they chose this song to close out their set.
"Cruel World" is another song I just can't get enough of…  again with the throwback style samples played and the old school style needle scratches with her passionate vocals laid over the traditional keys… the stops and changes.  And that raw emotion in her words.  The layered beats also give more for the listeners to hook into.  This song is a bit "Portishead-esque" in it's styling.
The one song on the album that didn't quite grab me is "Barking Dog".  I think just because any pop element has been squeezed out of it.  It does a good job of breaking up the album as a whole just as changes within each song do the same on a micro level, but the song for me doesn't stand on it's own as something I've listen to outside of the context of the album playing front to back.
"You're Mine".  Oh my God how I love the rhythm of this song, the repetition at the end of the lines, and the samples skipping in the background with accompanying drum beats doing the same…  how can you listen to this and sit still?  It's an animating song.  The back and forth on vocals between Sarah and Josh, which also makes it an inadvertent homage (in spirit, not sounds) to some of my favorite pop 80's hits like "Obsession".
"Answer".  Is this my favorite song on the whole album?  Maybe.  So hard to pick.  But while I listen to it, it moves me so much I can't imagine loving another more.  And it's such the perfect Phantogram song.  It's all on display.  Both of their earnest vocals laid bare.  The building…  the thought in lyrics… the changes…  the piano… the guitar…  fucking perfect piece of music.  It doesn't get any better than this.  In a perfect world, this would close out their live shows in the same way "Never Let Me Down Again" brings it all down for Depeche Mode.  But that song became more popular in retrospect, as time wore on, and maybe the same will be true here.  I don't think even Phantogram themselves realize how fucking perfect this song is.   Every little touch, like a classic artist adding just another stroke of paint here and there…  like that "two, three…"  It just makes it all real.  A stamp of authenticity on the level of Buckingham/Nicks.
"Run Run Blood"…  by the time you get to this song in the album, it's just overwhelming how incredible each song is as you move from one to the next.  With most artists and their albums, you hope to find one song this good.  With Three, it just never ends.  After all my gushing over "Answer", I get to this song and then feel like, "no, this is the best".  Everything about it is so hooky and catchy, and then it builds up and you think "oh no, don't end!" and it goes through another change and builds even more.  And that perfect chorus and mix of guitar and voice.  Sublime.
"Destroyer".  Again, I'm left wondering, "no, is this the best?"  Fucking love the up and down movement of this song.  And of all the songs on the album, this one feels like they have the most invested on an emotional level.  It just pulls you in.  So powerful.  This duo have so much power in their songwriting, recording, and performing.  They have it all.  This song is just so gripping yet so catchy.
"Calling All" is not my favorite, because everything else is so amazing it just doesn't work me in the same way.  But I love the catchiness of the chorus and that it dares to be different
Anyway, I write all this about the album because for me it serves as a foundation to where the band is at today and what they are playing live at their shows.  Thankfully, the set Friday night was very Three heavy, though they also included songs from the other albums and EPs.
My wife and I stood at the back of the GA floor, and I moved around for photography, but I was never up center front so I did not see the setlist.  But if memory serves, they opened with "You're Mine", which I wondered how it would translate live, since it's kind of complex in syncing up that staggered vocals, beats and samples but it was really quite phenomenal live.  Next was "Same Old Blues" followed up by "Black Out Days".
All in all, from Three, I think they played "You're Mine", "Same Old Blues", "Run Run Blood", "Answer", "Destroyer", "Calling All", "Cruel World", and "You Don't Get Me High Anymore"…  So everything but opener "Funeral Pyre" and "Barking Dog".
From Voices, in addition to "Black Out Days" they played "Bad Dreams", "Howling At the Moon", and "Fall In Love", as well as "Mouthful of Diamonds" and "When I'm Small" from Eyelid Movies.  They also performed "Turning Into Stone" and "Don't Move" from their Nightlife EP.
For a band that creates such gems in the studio, they really know how to put on a compelling concert.  Most bands are lucky to do one or the other well, but Phantogram is the full package.
In addition to the true duo of Josh Carter and Sarah Barthel, they have a touring band consisting of Chris Carhart on drums and Nick Shelestak on keyboards that really complete filling out the full and dynamic sound of their songs – a perfect mix of "real" and electronic.
With Sarah and Josh up front, they also mix up what they do on stage from song to song, with Sarah sometimes on vocals, sometimes on synth, sometimes on guitar… stationary sometimes, roaming the massive stage other times…  Josh also moves with his guitar from mic to roaming and changes things up.
Pretty much backlit throughout the entire show with some flashing strobes, the mood fits the music.  A video screen up and behind the group sometimes flashed colors, other times imagery in theme with the songs.
But in the end, it was all about the music, and it sounded amazing.  The performance was incredible and the sound quality was superb.  It was definitely my favorite show of the year thus far and I really hope to catch them again this year while they are still emphasizing Three, which is definitely one of my all-time favorite albums.
My highest recommendation!
Below are some photos of Phantogram performing on stage (scroll downward and photos will begin to appear – click any image to open a virtual lightroom with higher resolution versions of each photo):
Jason DeBord