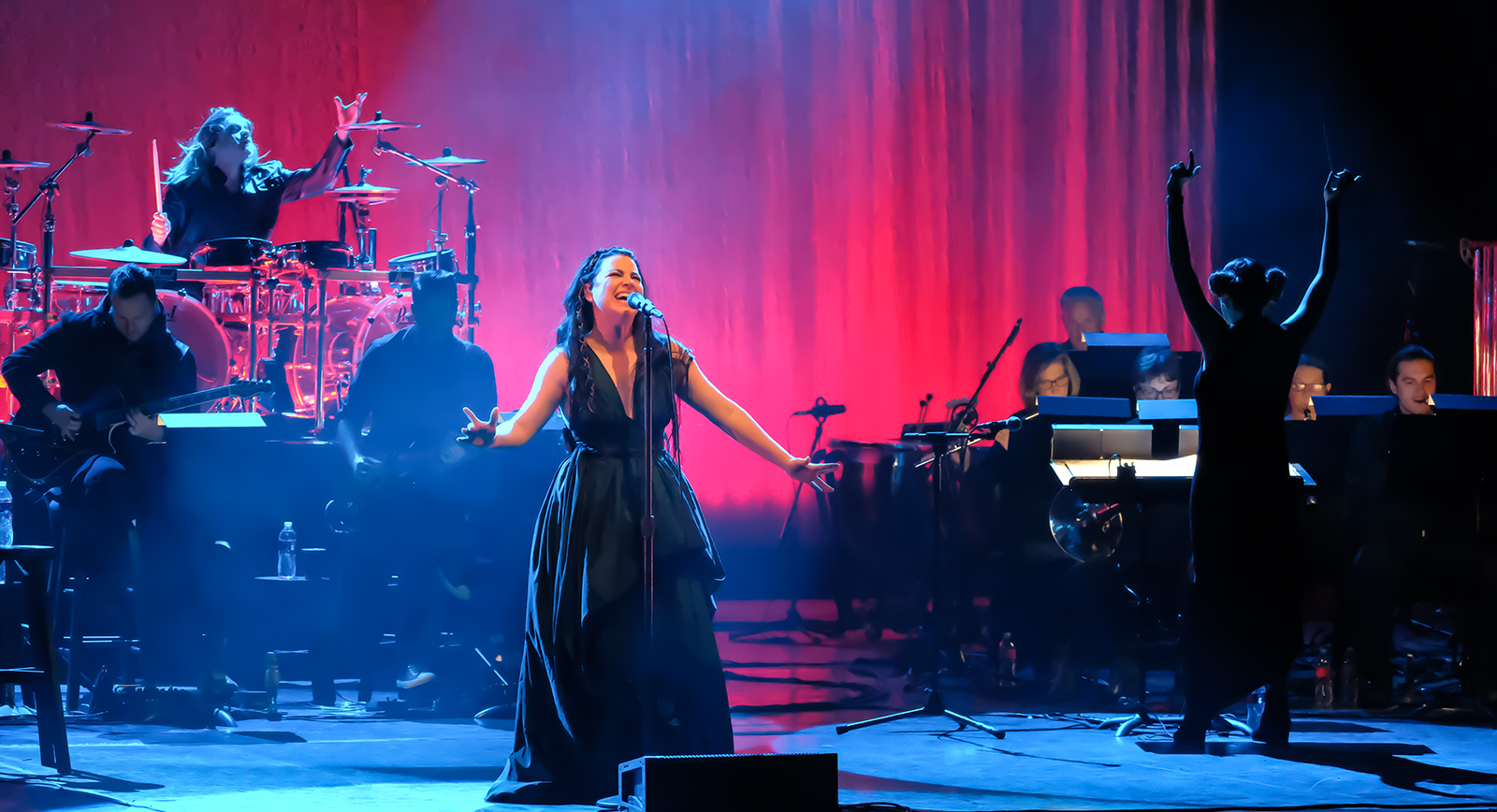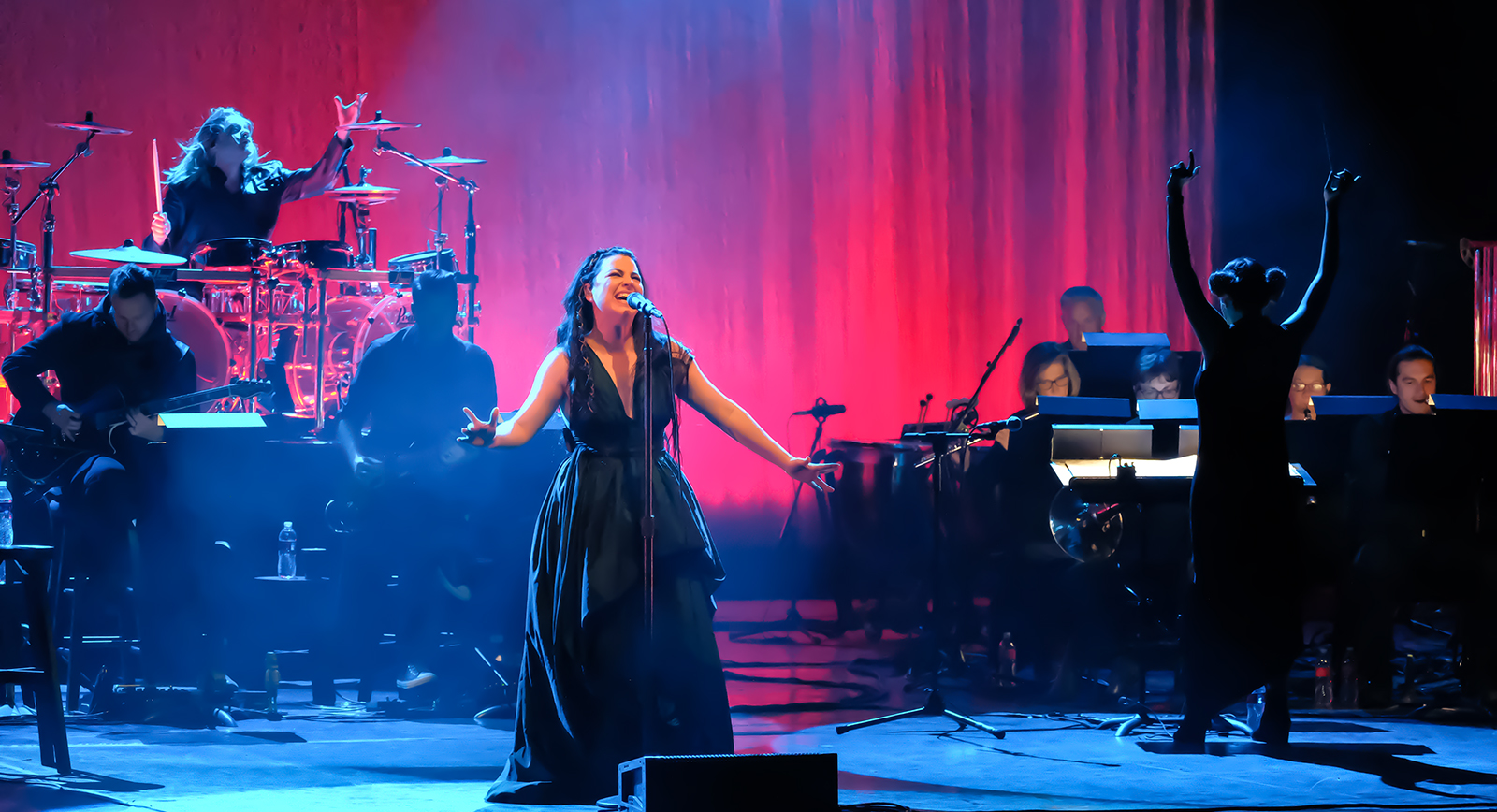 "This next song is one of our very, very oldest ones. One of the first ones… And I just wanted to say thank you, because it means a million times more to me now then it did years ago when it first came out and I owe that to you. Your hearts and your experiences and this whole thing that we've been sharing together for the past twenty years… so thank you!"  Amy Lee's preface to the Grammy nominated song "My Immortal" in her live performance to a sold out crowd at the Grand Theatre at Grand Sierra Resort & Casino in Reno, Nevada on Friday night.  The song was one of the singles off of their debut album, Fallen, in 2003.  In 2017, Amy Lee has brought that song and other Evanescence hits on the road in a completely rearranged and re-imagined form with this "Synthesis Live with Orchestra" tour, along with the release of their fourth studio album, Synthesis, which features the same music along with two new songs.  The concert itself was magnificent – marrying the original music and that incredible voice with her rock and roll band playing alongside a 28-piece full symphony orchestra – really it was a show unlike any I'd ever experienced.  I watched some snippets of past shows in advance to get some idea of what it might be like, but it is really something else to experience it and take it in at a venue like the Grand Theatre.  It was certainly the most impressive production I'd seen this year, and the performance overall was stellar.  It's really one of the best tours going in 2017.
Who: Evanescence "Synthesis Live with Orchestra" Tour
Venue: Grand Theatre at Grand Sierra Resort & Casino
Where: Reno, Nevada
Promoter: Grand Sierra Presents
When: June 30, 2017
Seating: Orchestra Left, Row M, Seats 17 & 18 (with photo pass)
The two-time Grammy Award-winning group Evanescence made their stop in Reno on Friday night, touring their orchestra rearranged and re-imagined catalog songs from the recently released Synthesis album.  Every concert ticket sold included a download of the new album, and there were also VIP ticket packages that included "the opportunity to meet and enjoy a champagne toast with the band, attend their soundcheck, and receive exclusive merchandise items".
Evanescence is one of those bands that seem to have a huge following of fans who would count them as their favorite, and there was certainly that vibe in and around the venue on Friday night.  I am personally just a casual fan of the band, so I can't promise any insightful commentary to the dedicated fan base in what follows, but at least I provide some images as well, to help memorialize the evening.
As I've mentioned in past reviews, The Grand Theatre at the Grand Sierra Resort and Casino in Reno has become one of my favorite venues since their renovation back in 2015.
The venue boasts a one acre large stage (one of the largest in the world) that from 1978 to 1987 was host to MGM's "Hello Hollywood Hello". The entire venue has been redesigned, with a standing room-only GA floor space in front of the very wide and deep stage, the theater also features theater-style seating going up to the back of the venue. There is also new special VIP seating areas up higher on the far sides of the two walls.  With the Evanescence show, the usual GA section in front of the stage was all seating, and this was my first show with this configuration.
In terms of sound, it was exceptional as I've come to expect, based on all of the concerts I've attended.
As with my past experiences, the staff at Grand Sierra Resort impress.  I attend a lot of concerts, and the staff at the GSR are consistently very friendly and professional. I give the venue my highest recommendations!
Doors opened at around 8:30 for the 9:00 show start time.
Evanescence
Evanescence was formed in Little Rock, Arkansas in 1995 by Amy Lee and Ben Moody (founding guitarist).  Fallen led to the band winning Grammy Awards and selling over 17 million copies of that debut album.
The band has been comprised of several different line-ups as they released new albums and toured over the years, with Amy Lee being the constant creative force.
Their latest and fourth studio album released this year showed a real change in the style and sound of the music.  According to Amy Lee, the new album is "the synthesis, the combination, the contrast, the synergy between the organic and the synthetic, also the past and present".
This was my first time seeing Evanescence live in any form, and what an introduction.
The evening began with an opening set from the orchestra, sans Amy Lee and her band.  This was incredibly impressive and really set the stage for what was to follow.
Both sets were under the direction of conductor Susie Seiter, though apparently the orchestra is different in each city, which is remarkable.
The second set lasted for about an hour and twenty minutes, with an 18 song set list.
I've always found music from Evanescence to be, well, dramatic… now imagine backing it all with a full orchestra.  It really transcends the typical rock and roll performance and becomes something really singular.
Personally, I love when rock and roll bands have piano, strings, and/or horns, but there is a huge difference between a smattering of these things and having a stage full of musicians playing in unison under the guidance of a conductor, and in conjunction with traditional rock and roll performers and instrumentation as well.
Lee opened on piano but before the first song was over, she was center stage at the microphone, with her amazing voice.  That siren voice… it is so powerful (and backed with real emotion) I couldn't come to grips with how it is possible for her to carry this show from end to end and so flawlessly.  Amazing.
The set included favorites such as "Bring Me to Life," "My Immortal," "Lithium" and "Your Star"… the one hit not included (nor is it on the Synthesis album) was "Call Me When You're Sober".
Interestingly, the "rap" part of "Bring Me to Life" has in 2017 been excised from the new studio recording and the live performance (with an interesting chat about it in this piece by Billboard).
Hearing the live show really convinced me that Amy Lee and the evolution of her music has truly realized maybe how she has imagined it all along, as the added orchestral elements almost felt like missing puzzle pieces being put into place.  The gravitas that those sound elements bring fill out the overall sound in a way that marries it all with her vocals and the emotions and meaning behind the songs and words and ideas.
Joining Lee at the center of the stage were her traditional bandmates Tim McCord on bass, Will Hunt on drums, Troy McLawhorn on lead guitar and backing vocals and Jen Majura on guitar and backing vocals.
Special mention to Will Hunt on drums… he was just mesmerizing to watch throughout the show.  I would pay money just to watch him on drums for an hour.  The guy is amazing.
All in all it was really a spectacular and unforgettable show.  Some of the songs I heard for the first time inspired me to seek out the original studio recordings, and I'm particularly interested to see what the future holds for Amy Lee and her musical endeavors.
Set List:
Orchestra Set
Moonlight Sonata (Ludwig van Beethoven cover)
Pavane (Gabriel Fauré cover)
Adagio Cantabile (Ludwig van Beethoven cover)
La strada (Nino Rota cover)
Lacrimosa (Wolfgang Amadeus Mozart cover)
Sally's Song (Danny Elfman cover)
Evanescence with Orchestra: Synthesis
Overture
Never Go Back
Lacrymosa
End of the Dream
My Heart Is Broken
Lithium
Bring Me to Life
Unraveling
Imaginary
Secret Door
Hi-Lo
Lost in Paradise
Your Star
My Immortal
The In-Between
Imperfection
Encore:
Speak to Me (Amy Lee song)
Good Enough
Weight of the World
Below are some photos of Evanescence performing on stage (scroll downward and photos will begin to appear – click any image to open a virtual lightroom with higher resolution versions of each photo):
Jason DeBord