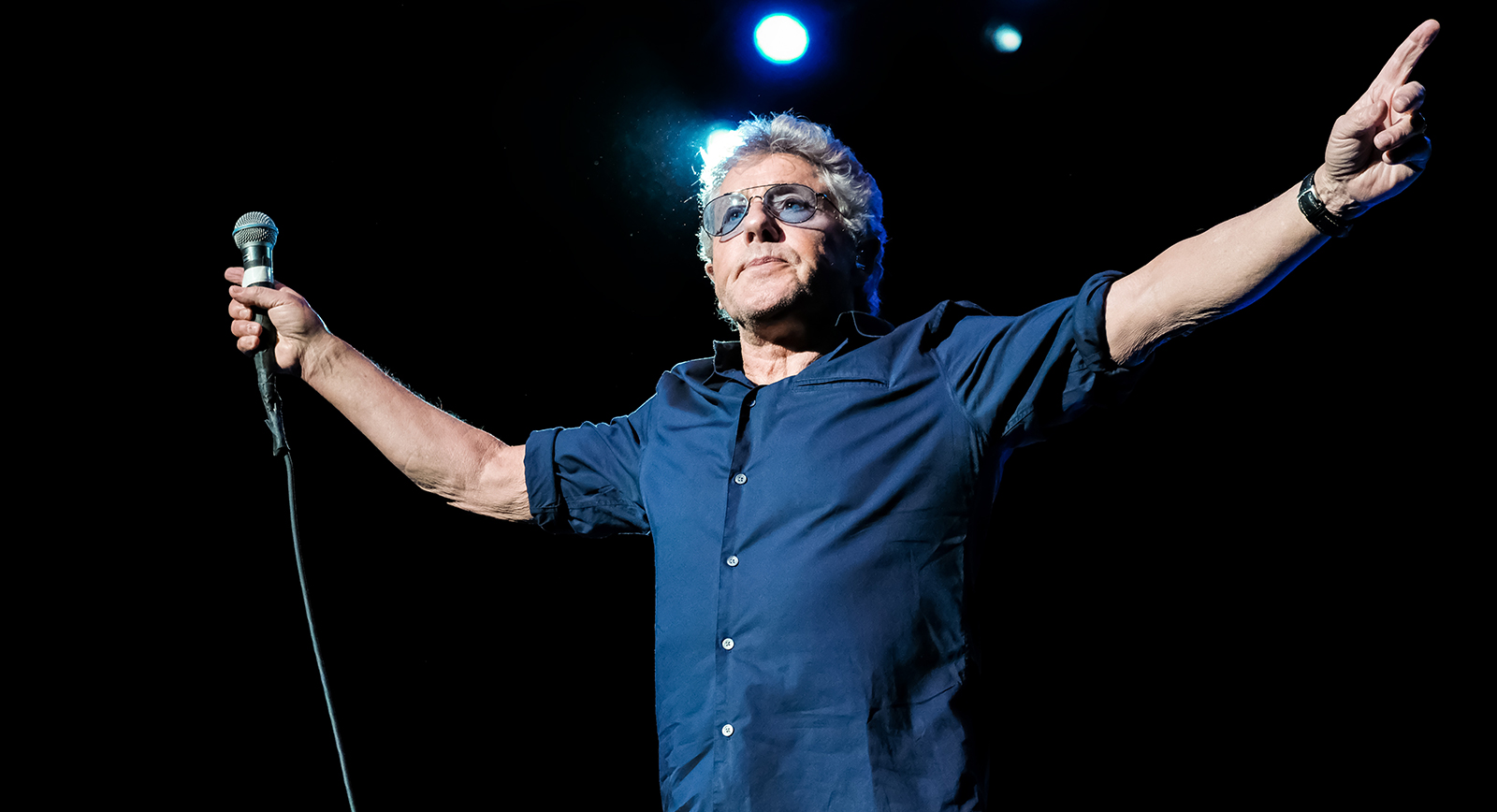 "…so for us, it was a very difficult time indeed. This song kind of sums it up, really quite well. Tonight, I'm going to dedicate this song to Rex Tillerson." Roger Daltrey's intro to "Another Trick Day", performing before a relatively intimate crowd at the Bob Hope Theatre in Stockton on Tuesday night, given that he is the front man for one of the bands most anyone would name as one of the greatest of all time.  This was my first time seeing any incarnation of The Who live on stage, and I was struck by how much Daltrey seemed to enjoy it himself.  A born performer with boundless energy and enthusiasm, he is also a storyteller, giving background, stories, contest and inspiration behind the music that he and The Who Band played for the crowd.  And that crowd… one of the best ones I've stood among in some time, looking around, it would seem to almost be a religious experience for a lot of the people who turned out for the show.
Who: Roger Daltrey with members of The Who Band
Supporting: Leslie Mendelson
Venue: Bob Hope Theatre
Where: Stockton, California
Promoter: Richter Entertainment Group
When: March 13, 2018
Seating: (photo pass; all photos taken for this event using a pair of Fuji X-H1)

This show was put on by Richter Entertainment Group, a promoter who I shoot for with their annual Summer Concert Season at Ironstone Amphitheatre in Murphys.  They are just beginning to roll out announcements for this year's concert line-up and where to buy tickets can be found on the official REG website at www.richtergroup.net.
Leslie Mendelson
Leslie Mendelson is a singer/songwriter who began playing piano by ear at a young age.  Her father is a jazz trumpet player who influenced her as she was born and raised on Long Island.   She received a Grammy nomination in 2009 for her album Swan Feathers.  The caliber of artists she has supported on tours around the world – like Roberta Flack, Bob Weir and Roger Daltrey – speaks to her talent.
She released her latest album, Love & Murder, last year, which represents her first new album in eight years.
This was my first exposure to her and her music, and I came away very impressed!  She had a great personality to accompany her music.  Joining her on stage was Steve McEwan.  In addition to her own music, they also did a cover of Roy Orbison's "Blue Bayou".
Below are some photos of Leslie Mendelson performing on stage (scroll downward and photos will begin to appear – click any image to open a virtual lightroom with higher resolution versions of each photo):
Roger Daltrey with members of The Who Band
Members:
Roger Daltrey
Simon Townshend (guitar, backing vocals)
Frank Simes (lead guitar, musical director)
Jon Button (bass guitar)
John Corey (keyboards, backing vocals)
Loren Gold (keyboards, backing vocals)
Scott Devours (drums, percussion)
With a career spanning nearly six decades, Roger Daltrey is a legend in music, as a founding member and lead singer of The Who.
In addition to his work and hits with The Who, Daltrey embarked on a parallel solo career in 1973, crafting his own hits spanning eight studio albums.
Daltrey has achieved great commercial success and critical acclaim over the years, including a Lifetime Achievement Award from the Grammy Foundation and having been inducted into the Rock and Roll Hall of Fame in 1990.
Outside of music, Daltrey has worked as an actor and film producer.
Born in west London in the 40s, Daltrey made his first guitar and joined a band called the Detours, eventually becoming the lead guitarist after his father bought him a real guitar.
Daltrey attented Acton County Grammar School in a working class suburban neighborhood with Pete Townshend and John Entwistle.  A self-described "school rebel", Daltrey was kicked out of school for smoking tobacco.
While employed as a sheet metal working, Daltrey eventually began to perform in pubs and at weddings with Townsend and Entwistle.  While the members of the band changed and changed roles, ultimately Townshend took on lead guitar, Daltrey lead vocals, Entwistle on bass and Keith Moon replaced Doug Sandom on drums.
After learning that another band was using the name the Detours, they changed their name to "the Who", though for an interim period they also called themselves "the High Numbers".
The rest is really quite a long history as the band made their mark not only on music but pop culture at large and abroad.
Particularly their song "My Generation" came to embody the feeling and soul of the 60s.
Among all of their landmark work, the band's series of "rock opera" albums Tommy (their fourth, released in 1969), Who's Next (their fifth, released in 1971) and Quadrophenia (their sixth, released in 1973) are perhaps the most innovative and well know from The Who.
Roger Daltrey played the lead role in the 1975 film adaptation of Tommy and received a Golden Globe nomination for "Best Acting Debut in a Motion Picture".
The band have suspended their work for long stretches only to come back together again over the years.  Of course, Keith Moon passed away in and 1978 and John Entwistle in 2002, leaving Daltrey and Townshed as the last remaining founding members.
Joining Roger Daltrey on this current tour is "No Plan B", also known as the Roger Daltrey Band and as members of The Who Band, they feature an array of incredibly talented musicians including Simon Townshend (Pete Townshend's younger brother) on guitar, Frank Simes on guitar, Jon Button on bass, Loren Gold on keyboards and Scott Devours on drums.
They truly put on a spectacular show with a sprawling set list.  Really quite an opportunity to see this legend up close and go on a journey with him through decades of music that has had a lasting impact on both music and pop culture.
Even at age 74, he is still creating new works, with an announcement today that he will be releasing a new studio album – As Long As I Have You – on June 1st via Polydor/Republic Records.  The new album is being produced by Dave Eringa and includes seven tracks with Pete Townshend on guitar.  You can listen to the first single here and you can pre-order the album here: LINK
Set List:
Overture (The Who song)
Pinball Wizard (The Who song)
Who Are You (The Who song)
Another Tricky Day (The Who song)
Behind Blue Eyes (The Who song)
Giving It All Away (Leo Sayer cover)
Athena (The Who song)
I Can See for Miles (The Who song)
Days of Light
After the Fire
Dreaming From the Waist (The Who song)
Going Mobile (The Who song)
How Many Friends (The Who song)
The Real Me (The Who song)
Without Your Love
Baba O'Riley (The Who song)
Young Man Blues (Mose Allison cover)
Naked Eye (The Who song)
Always Heading Home
Below are some photos of Roger Daltrey with members of The Who Band performing on stage (scroll downward and photos will begin to appear – click any image to open a virtual lightroom with higher resolution versions of each photo). NOTE: Please do not repost any images – I have permission to publish in the context of this article only – thank you…
Jason DeBord